White Bean Sausage soup is so hearty and comforting! It's loaded with bites of Italian sausage, kale, pasta, and white beans.
Busy weeknights call for easy dinners, and this healthy soup recipe is just what you need to get you through those busy nights. It can be made on top of the stove or in an Instant Pot in less than an hour.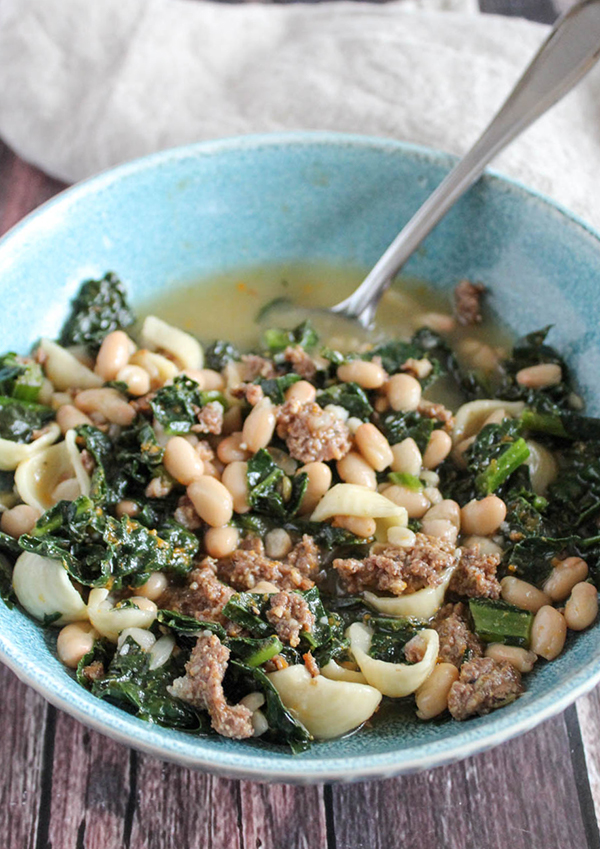 One big bowl of this soup is all you need for a nutritious and filling dinner. If you want to add extra veggies, serve it with a zesty arugula salad.
Recipe Highlights
It's Healthy! Full of nutritious vegetables.
It's quick and easy, dinner that can be on the table in less than an hour.
It's budget-friendly.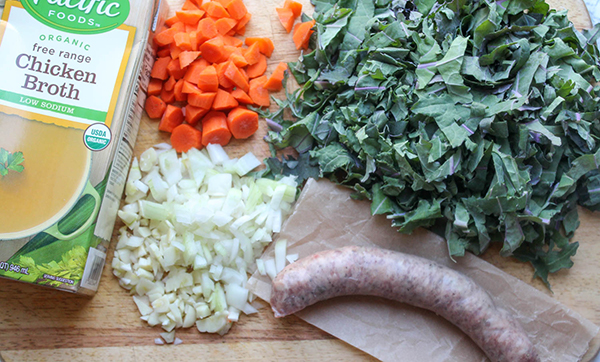 Here is What You Will Need
As an Amazon Associate, I earn from qualifying purchases
This is an overview of the ingredients and steps to make this recipe, scroll down for a printable recipe card with exact measurements and instructions.
This is an overview of the ingredients and steps to make this recipe, scroll down to see ingredient notes and substitutions as well as a printable recipe card with exact measurements and complete cooking instructions.
---
Ingredients
Olive Oil (1 tablespoon)
Italian Sausage (½ pound)
¾ cup chopped onions
Chicken broth (4 cups)
Chopped Kale (4 cups)
White Beans (1 ½ cups)
Garlic (4 cloves)
Carrots (1 cup chopped, about 3)
Small pasta shells (½ cup)
---
Here is How To Make White Bean Sausage Soup with Kale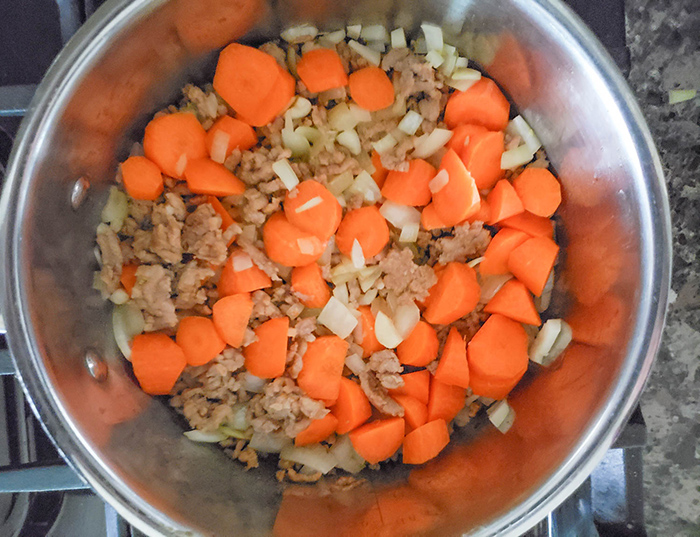 Brown the sausage, onions, garlic and carrots in a soup pot over medium to high heat.
TIP! If you are using sausage links remove the casing before browning the sausage by gently slicing it into the casing lengthwise and peeling the casing off.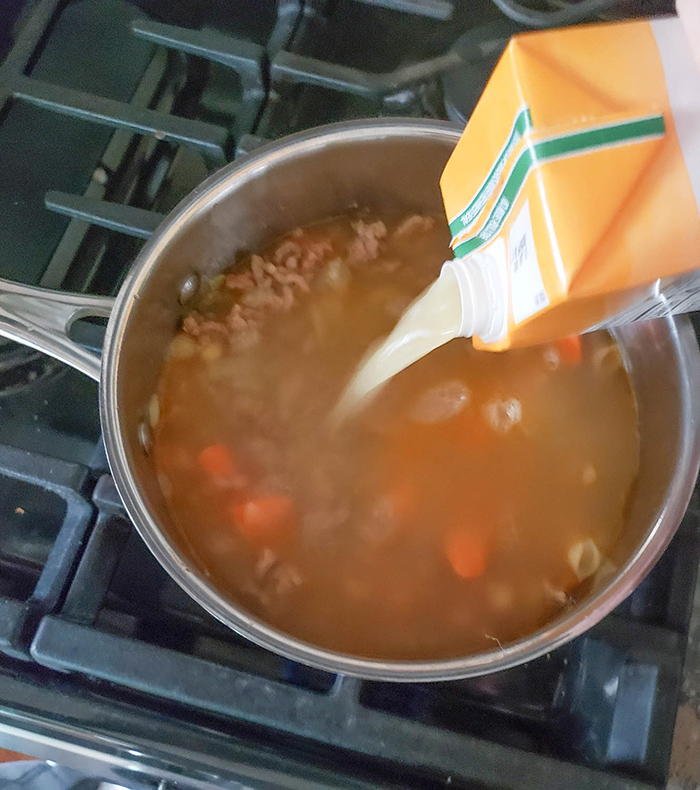 Once the vegetables begin to soften, add the broth and the pasta.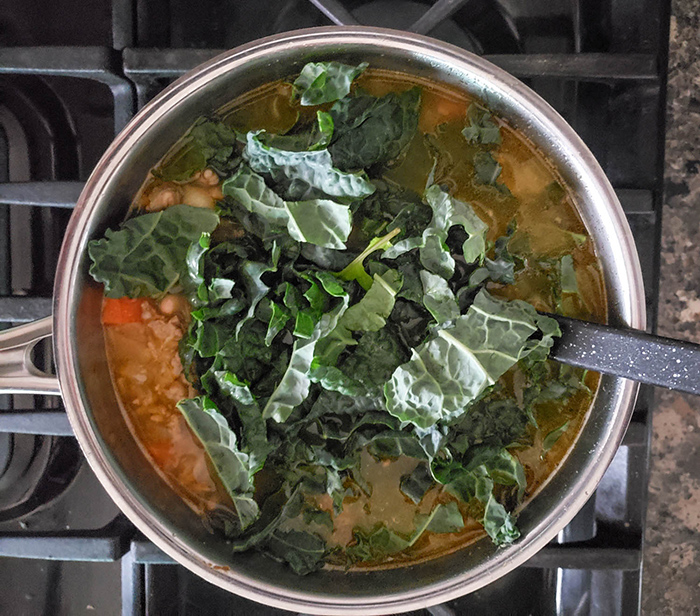 Once the pasta is cooked, add the white beans and kale.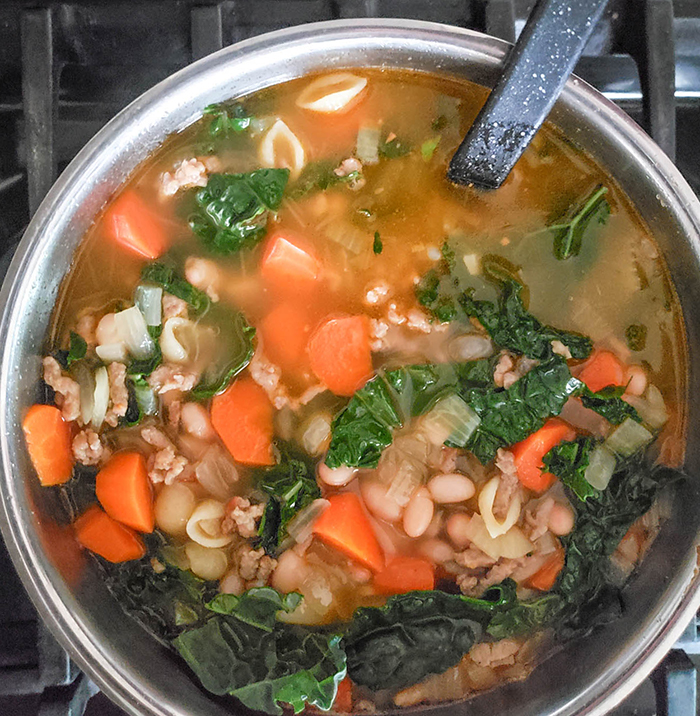 Cook for a few minutes longer until the kale wilts.
How to Make it in a Pressure Cooker (Instant Pot)
The steps to make white bean sausage soup in an instant pot are very similar to making it on top of the stove. The only difference is that the pressure cooker method takes about 10 minutes less time.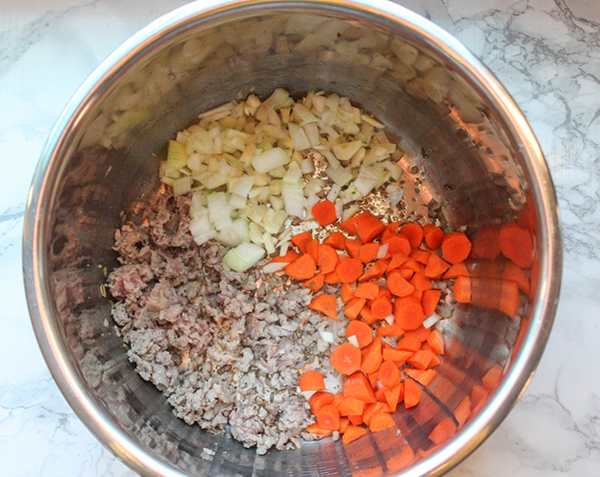 Set your pressure cooker to saute and cook the sausage, onions and garlic.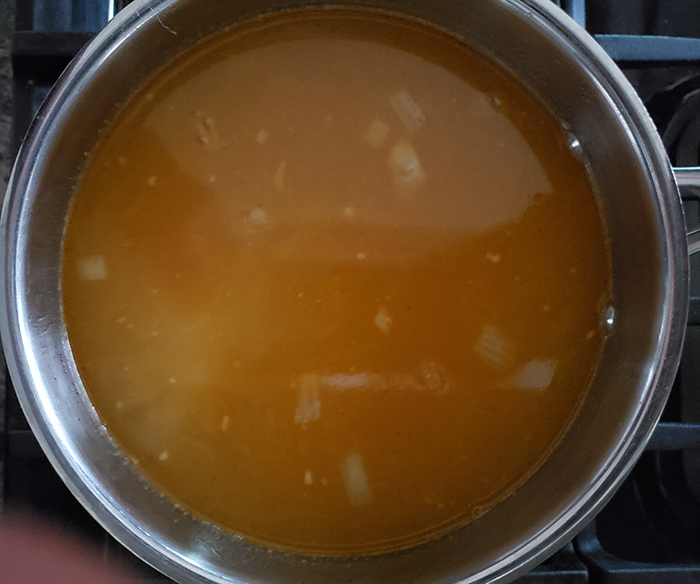 Add the broth and pasta; set the pressure cooker to medium pressure for 8 minutes.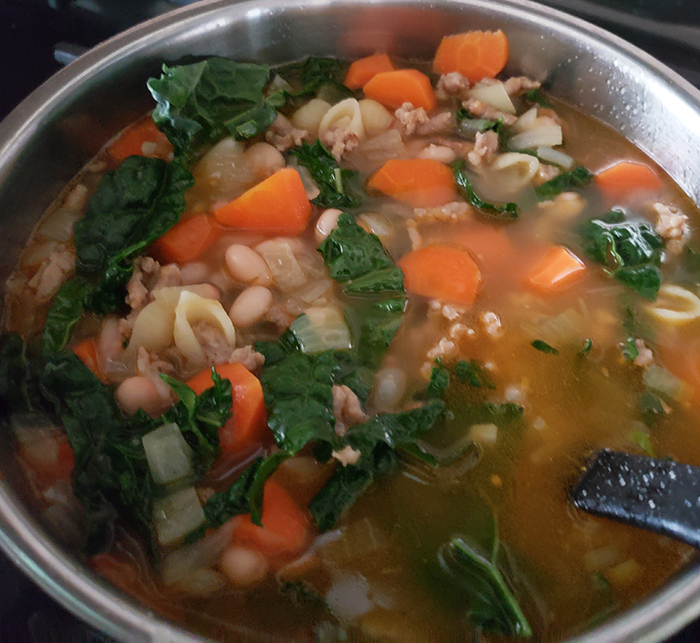 After 8 minutes, carefully quick-release the pressure cooker and add the kale and white beans. Cover to allow for the kale to wilt and the beans to heat through (about 5 minutes).
Ingredient Notes & Substitutions
Italian Sausage. The sausage adds a ton of flavor to this soup. You can use spicy or mild pork, turkey or chicken sausage in this recipe.
Chicken Broth. Can be substituted with an equal amount of vegetable broth.
Fresh Kale. Any variety of kale will work in this recipe. My preference is Lacinato or Russian Kale.
Kale substitutes. Fresh spinach, arugula, or escarole may be used in place of the kale in this soup recipe.
White Beans. Canned or dried beans that have been cooked will work in this recipe.
White Bean Substitutes. Kidney beans, baby lima beans, chickpeas or fava beans are good substitutes for white beans in this recipe. If you don't care for beans, they can be left out.
Pasta. Any shape of small pasta such as small pasta shells, elbow, ditalini, or rotini tastes great in this soup.
Make a gluten-free white bean kale soup. Use your favorite gluten-free pasta or leave the pasta out and add one medium diced potato with the vegetables.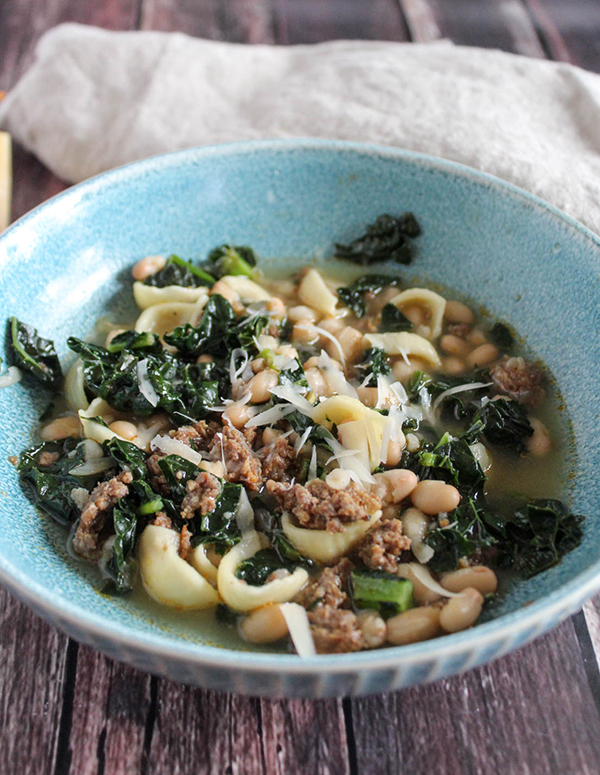 Make-Ahead Instructions
White bean and sausage soup can be made ahead of time by following the entire recipe but leave the pasta out. Just before serving, heat the soup on top of the stove over medium heat and prepare the pasta according to the package directions.
To serve, ladle the soup into bowls and add the cooked pasta.
Storing and Using Leftovers
Refrigerate it. Leftover sausage kale soup can be stored in the refrigerator for up to four days in an airtight container in the refrigerator.
Freeze it. Leftover soup can be stored in the freezer for up to three months. Here's how: once the soup has cooled off, place it into a freezer-safe container.
Thaw it in the refrigerator overnight.
Reheat it on top of the stove over medium heat or in the microwave.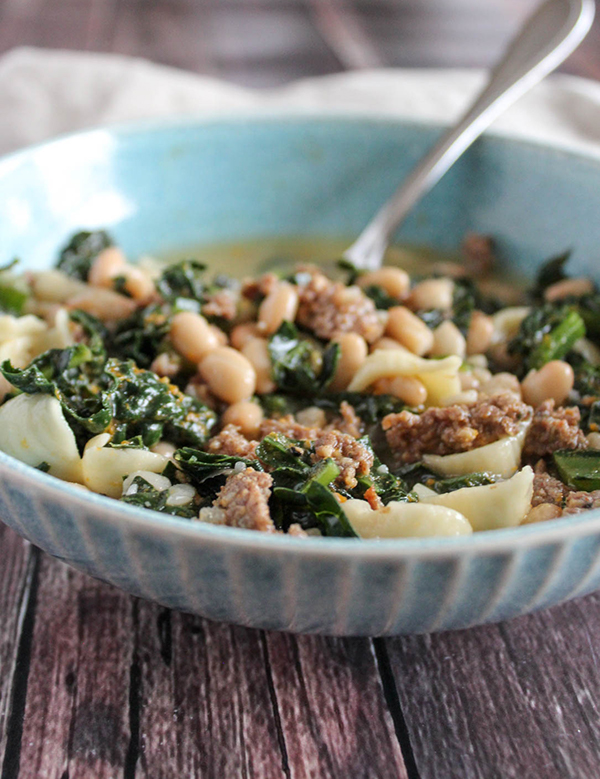 Have you Tried These Soup Recipes?