Homemade rosemary sourdough bread is slightly tangy with a hint of rosemary.  It's made with whole grain flour and is the perfect companion for a sandwich.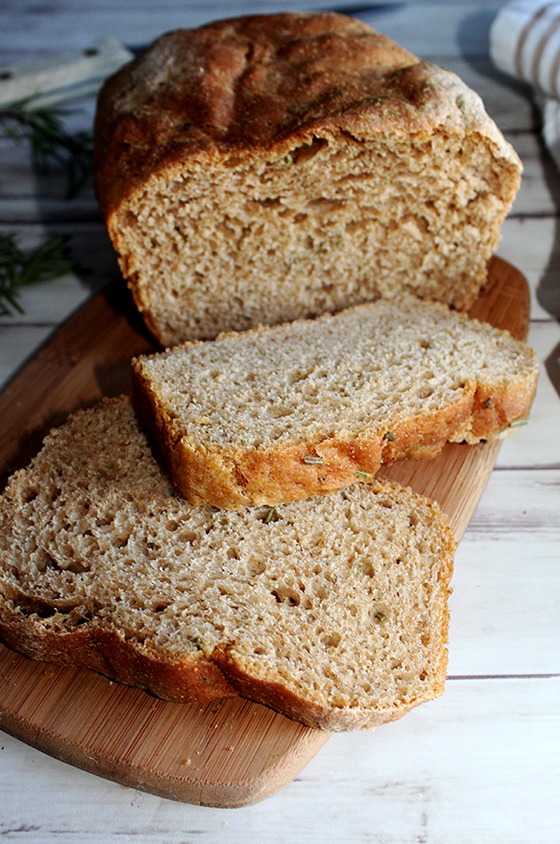 I  won't eat just any kind of bread.  It has to be worth eating, and homemade bread that's just out of the oven fits into that category.  Add some sourdough to the equation, well that's doubly worth it!
Rosemary Sourdough Bread
I'm not much of a baker, and I haven't tried to make sourdough bread until recently. It just seemed so intimidating.  Every time I looked at a recipe, I would put it down.  There are so many steps, you have to use a starter which you have to "feed" for several days before you can even make the bread. And then when it's time to make the bread, there are even more steps.
A few weeks ago,  I noticed a sourdough bread starter in the health food section in my supermarket, and I started thinking about sourdough again.  I decided to give it a try because it's the middle of winter and what else did I have to do?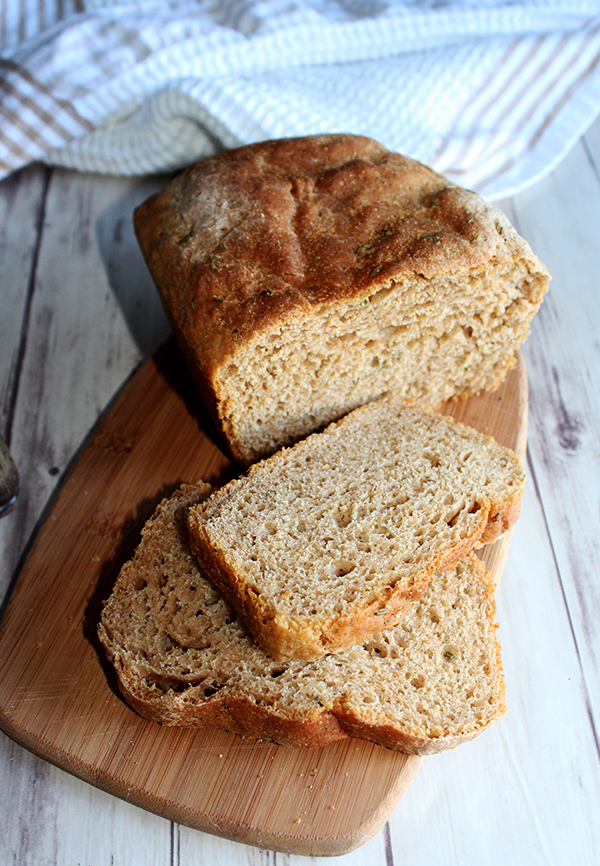 Typical sourdough bread is made with the only the starter which is essentially fermented dough, but it can also be made using a combination of cultured yeast and starter.  I found an easy recipe on the King Arthur website that uses a combination of cultured yeast and starter which I adapted.  It's more of a sandwich bread rather than the typical sourdough that has a crispy crust and a soft and elastic inside.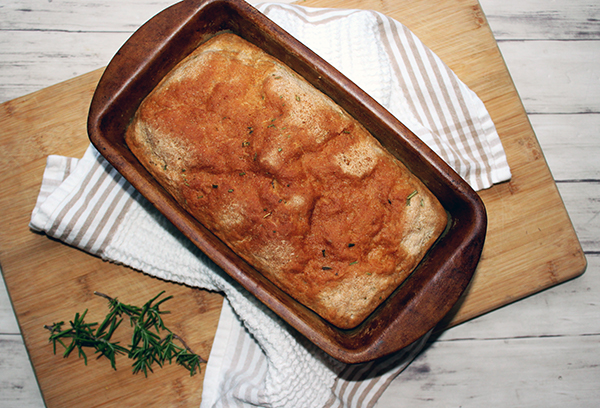 All of the time that was involved in making sourdough bread was definitely worth it. I'm going to be pulling my starter out of the fridge soon so I can wake it up and feed it to make another batch.
Even though this is more of a sandwich bread, the last time I made this bread, I served it with homemade stew.  It was perfect for mopping up all of the juice!
Print
Rosemary Sourdough Bread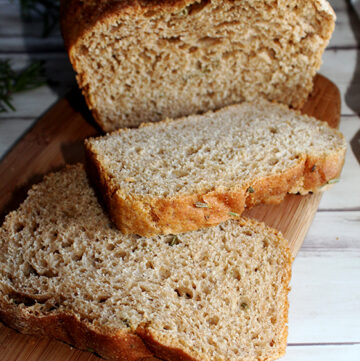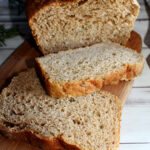 Adapted from King Arthur Flour Recipe. A slightly tangy sandwich bread that's got a hint of rosemary.
Author: Anne
Prep Time:

3 hours

Cook Time:

50 mins

Total Time:

3 hours 50 mins

Yield:

15

1

x
Scale
Ingredients
1 1/2 teaspoons

of instant yeast

1 1/2 teaspoons

sea salt

1 1/2 teaspoons

sugar

1 cup

of whole wheat flour

1 1/2 cups

sprouted wheat flour

2 cups

sourdough starter

1/2 cup

lukewarm water

2 tablespoons

chopped fresh rosemary

1

clove of crushed garlic mixed with 1/2 tablespoon olive oil
Instructions
combine all ingredients, except for the rosemary, garlic, and olive oil; mix by hand, mixer, or food processor to make a soft dough. This will take about 20 minutes by hand, 10 minutes in a mixer or food processor
place the dough in a lightly greased bowl and allow to rise for an hour. It will be puffy but may not have doubled ins size
grease a loaf pan
spread some oil on a work surface and gently deflate the dough and form it into a log
Pre-heat the oven to 350
Place the log in the pan. Cover and allow to rise for 90 minutes until it crests about one inch over the rim.
Crush the garlic, chop the rosemary and mix it together with the olive oil. Use a pastry brush to brush the mixture over the top of the loaf.
Bake for 45 to 50 minutes, until it turns golden brown
after a couple of minutes turn the bread out of the pan and allow to cool.
It's Recipe Redux time once again, click on the graphic below to find more yummy bread recipes.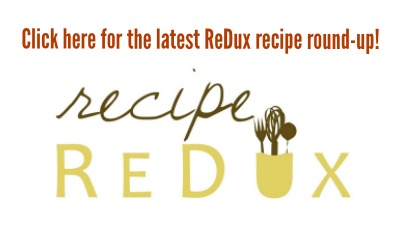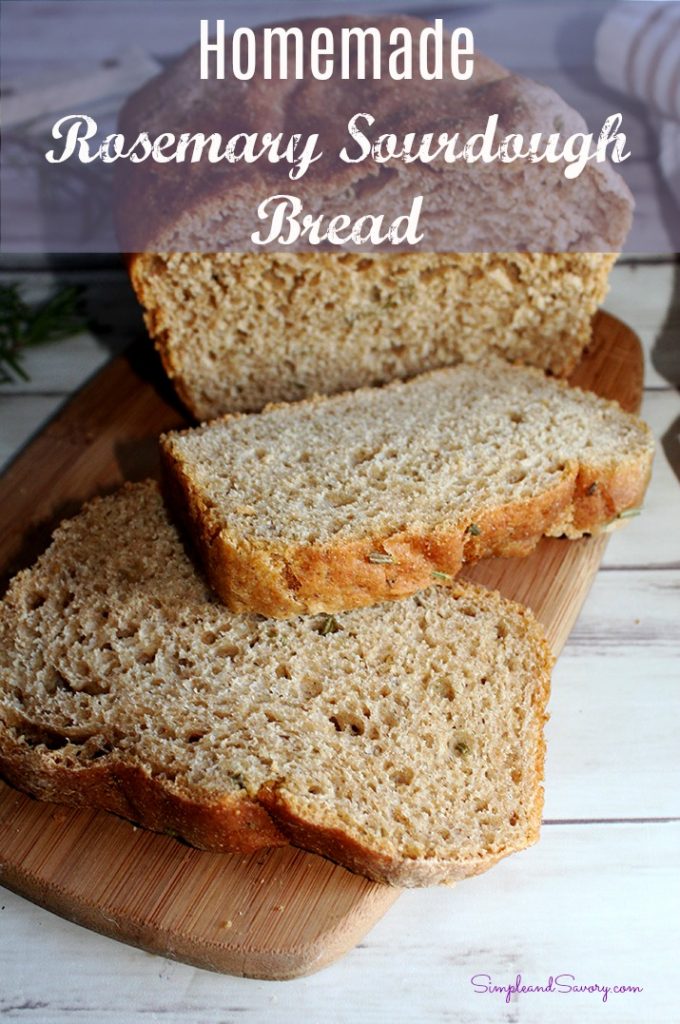 ***Please note that there are affiliate links on this page. This means that if you follow one of the links and make a purchase we will receive a small percentage of the sale at no extra cost to you. This helps us to continue to bring you good content. Thank you for your support! Simple and Savory is a participant in the Amazon Services LLC Associates Program, an affiliate advertising program designed to provide a means for sites to earn advertising fees by advertising and linking to amazon.com.***