This zucchini bread recipe for the bread machine is so simple to make! It's a slightly sweet quick bread that is perfect for using up your bounty of summer zucchini. Keep your kitchen cool and bake the bread in the bread machine or you can bake it in your oven.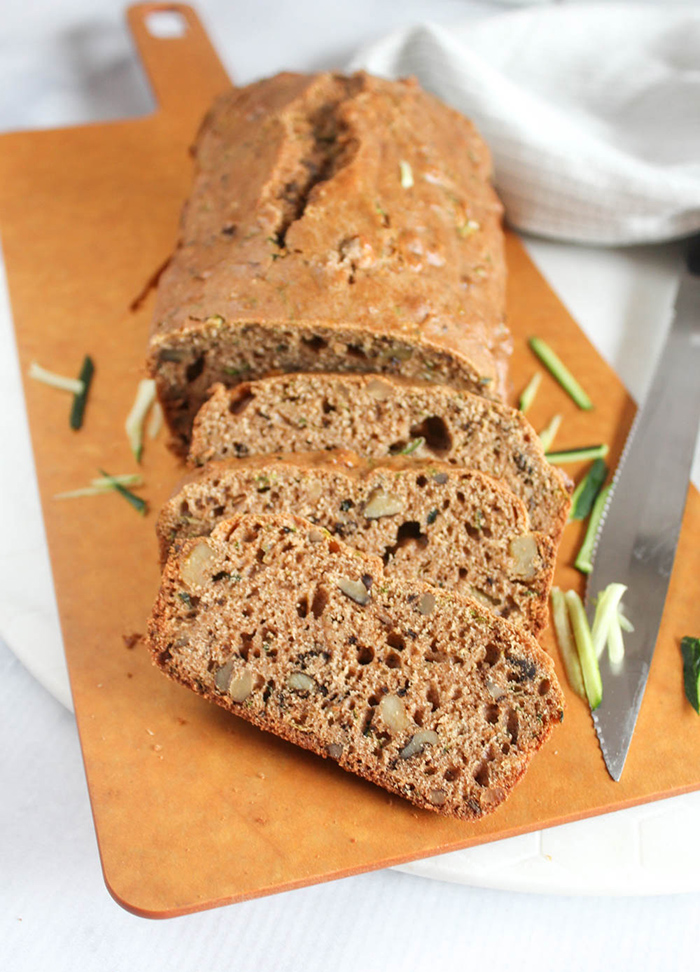 Bread machine recipes make it so easy to make bread! There is less mess; just add all of the ingredients to the machine, and set the bread machine to mix the dough for delicious homemade bread, like this rosemary garlic sourdough bread.
Jump to:
Why you will love this recipe
It's simple to make; no heating of the oven.
It's healthier than traditional zucchini bread; made with coconut oil instead of vegetable oil and less sugar.
Here is what you will need
As an Amazon Associate, I earn from qualifying purchases.
This is an overview of the ingredients and steps to make this recipe; scroll down for a printable recipe card with exact measurements and instructions.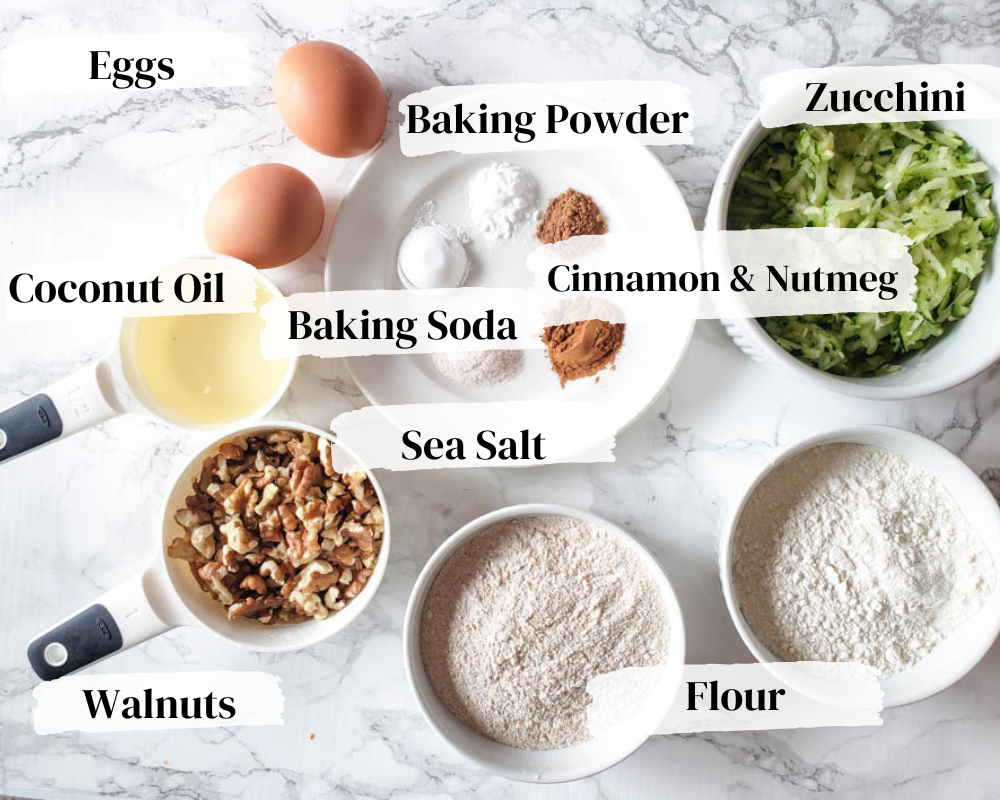 Ingredients
Baking powder
Baking soda
Salt
Cinnamon
Nutmeg
Coconut oil
Coconut or brown sugar
Eggs
Fresh zucchini
Chopped walnuts
Equipment
Box grater or food processor
Loaf pan (if you bake your zucchini bread in the oven)
How to make bread machine zucchini bread
Prepare the ingredients: Use a box grater or a food processor to shred the zucchini and set it aside.
Spray or gently coat the sides of the bread pan with nonstick cooking spray or coat it with a small amount of oil.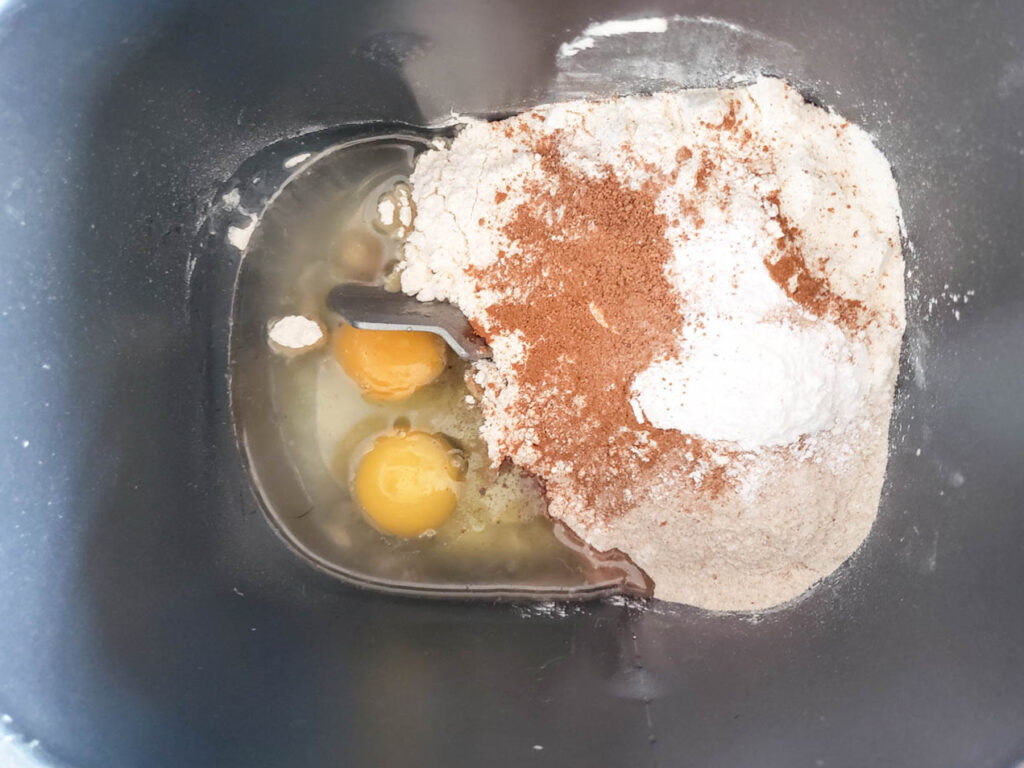 Place the dry ingredients into the bread machine bowl and then add the wet ingredients and grated zucchini. Select the sweet quick bread or cake cycle on your bread machine and press start.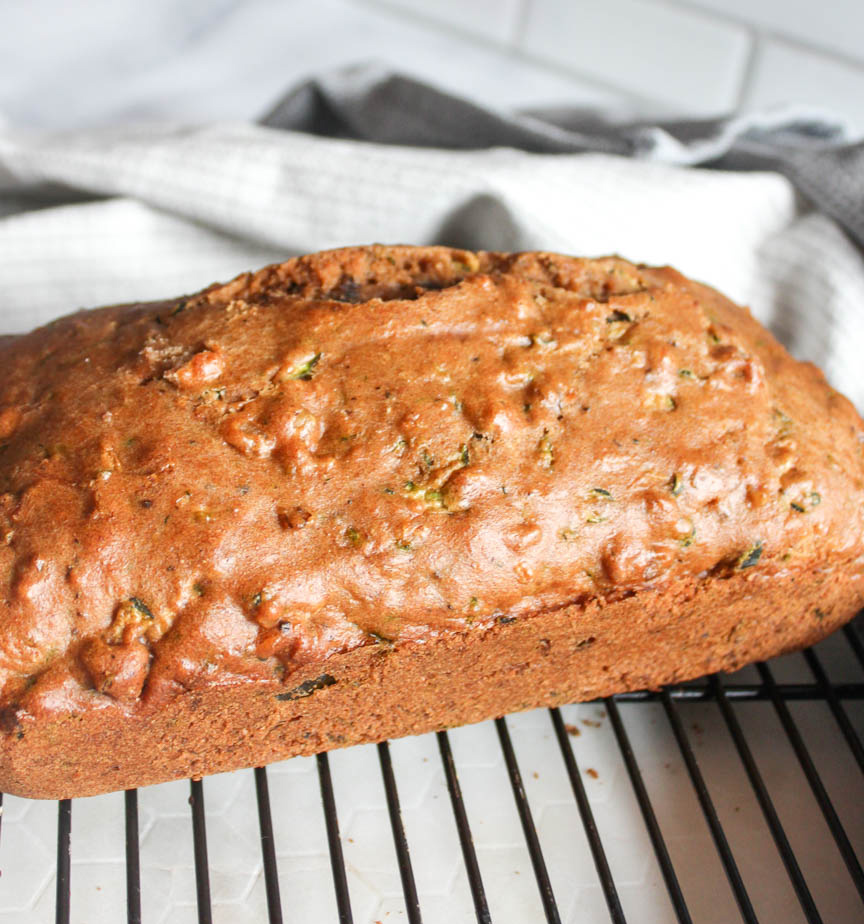 Once the bread has completed the cooking cycle, carefully open the bread machine and remove the pan. Allow the bread to cool for 10 minutes, and carefully remove it from the loaf pan. Continue to cool the bread on a wire rack.
NOTE: Bread machine models are all different, check the bread machine manual for the proper setting to make zucchini bread in the bread machine.
Ingredient Notes & Substitutions
The full list of ingredients to make this bread machine zucchini bread recipe is above. Below are notes about some of the ingredients along with ideas for substitutes.
Flour. I use a mix of whole wheat flour and white flour when I make this recipe, the whole wheat flour can be replaced with an equal amount of white flour.
Coconut oil. Coconut oil does not, in my opinion, add a coconut flavor, and should be melted before adding it to the bread machine. It can be substituted with an equal amount of olive oil or sunflower oil.
Coconut sugar. Is a healthier sugar choice, and can easily be substituted one for one with honey, maple syrup or white sugar.
Walnuts can be substituted with pecans or pistachios, and they can also be omitted from this recipe.
Variations
Try changing up this easy zucchini bread recipe with these suggestions:
Zucchini carrot bread - add a ½ cup shredded carrots.
Zucchini bread with dried fruit - add ½ cup of raisins, dried cranberries or dates to the bread batter.
Zucchini blueberry bread - add ½ to ¾ cup of blueberries.
Chocolate chip zucchini bread - add ½ cup of chocolate chips or mini chocolate chips.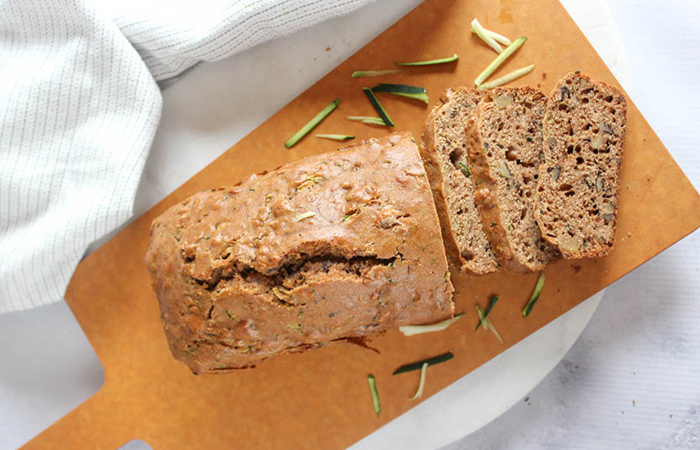 Serving suggestions
Serve this delicious zucchini bread for breakfast with scrambled eggs, a breakfast casserole, or quiche. It also makes a great addition to a light lunch or dinner salad.
Homemade zucchini bread also tastes great all by itself as a snack.
How to store zucchini bread
Store zucchini bread at room temperature wrapped in plastic, aluminum foil or a ziplock bag for a few days. You can also freeze leftover bread wrapped tightly for up to three months.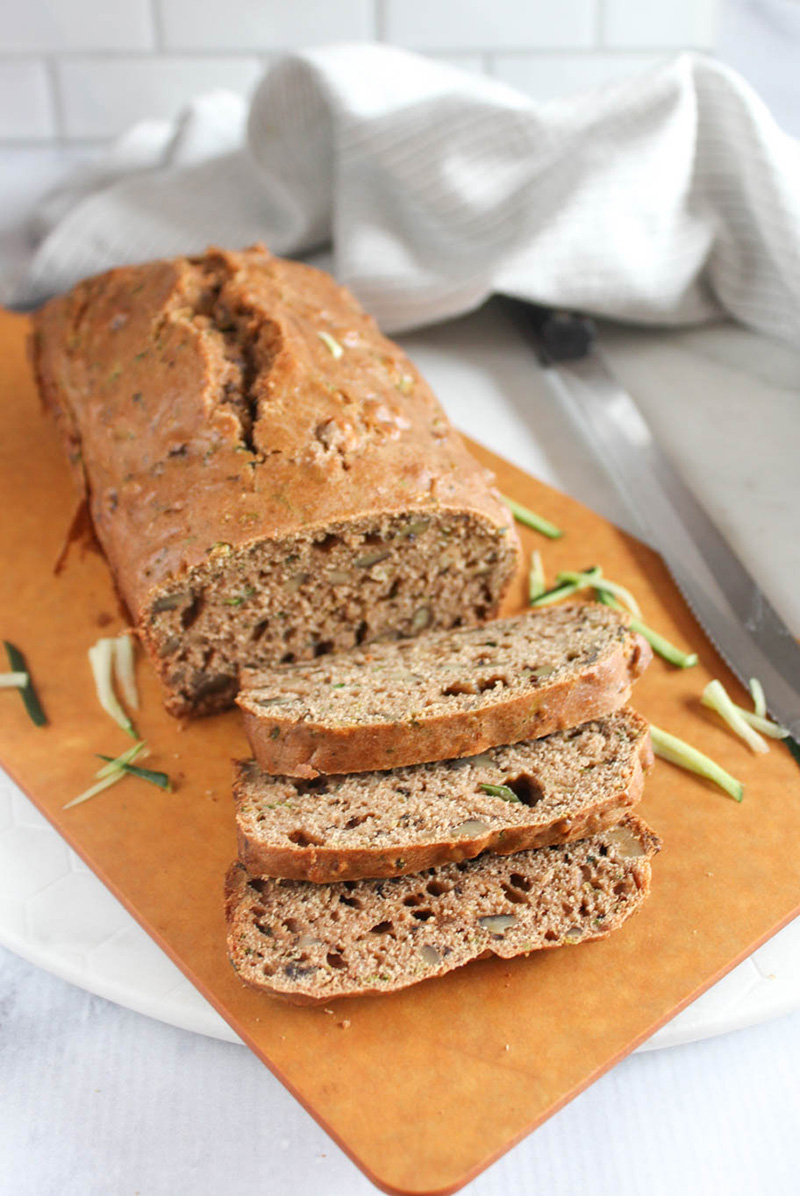 Recipe tips and questions
Slice the bread before freezing for individual portions.
Read the manufacturer's directions for your bread machine, and be sure to select the correct setting for a quick bread recipe which should be sweet quick bread or cake setting.
Do not squeeze the moisture out of the shredded zucchini, zucchini contains a lot of water which is what gives the batter or dough its moisture.
You may need to remove the seeds if you use a large zucchini.
Use oven mitts to lift the pan out of the bread machine.
To peel or not to peel zucchini?
There is no need to peel the skin off of the zucchini, that is where most of the nutrition is.
Can I bake bread machine zucchini bread in the oven?
Yes, you can. Place ingredients into the bread machine, and select the dough cycle. Once the batter has been mixed, which will be after about 10 minutes, open the bread machine and use a rubber spatula to remove the batter or dough from the bread machine pan and pour it into a small loaf pan. Bake in a preheated 350-degree oven for 50 minutes or until a toothpick inserted into the center comes out clean.
For more simple and delicious recipes like this, subscribe to our newsletter and receive a free e-book and meal suggestions straight in your inbox!
You might like these recipes
If you like this recipe, please comment and rate it below!
Check out more of our Salad Recipes here!