Homemade sourdough pizza crust is the best tasting homemade pizza crust you will ever eat. It contains only six ingredients. It's full of flavor and it's crispy.
Just about everyone loves pizza, and making it at home is much easier and tastes better than you might think. It does take some time to make, but it's well worth it. When you make pizza at home you can get creative with your toppings or not. Sometimes a plain old pizza will do and other times I will pile on the veggies like this pizza with shaved brussels sprouts and bacon.
Here is what you will need to make sourdough pizza crust: Sourdough starter, whole wheat flour, organic white flour, yeast, salt, honey, and olive oil.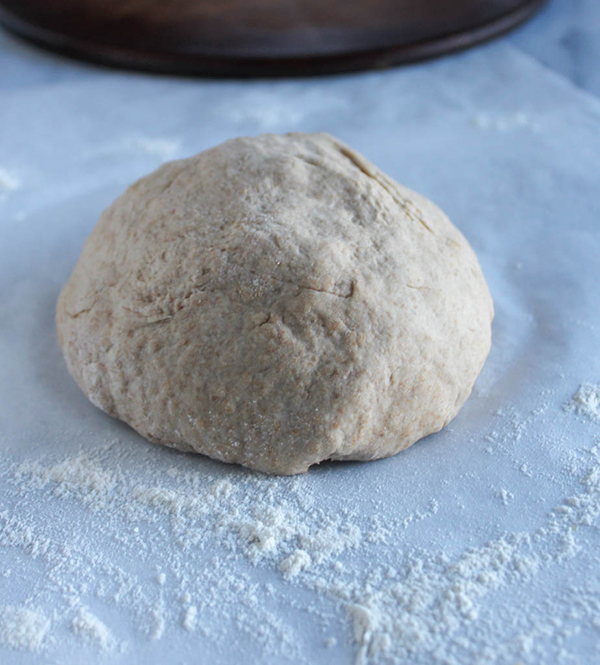 What Is Sourdough?
I started making this crust last year when I picked up a starter kit to make sourdough bread and it's been my go to pizza dough ever since. If you aren't familiar with sourdough, it's fermented dough that adds a sour taste to bread. Sourdough also aides in the process of rising the dough and it makes a super flavorful pizza crust.
Once you get your sourdough starter going, it needs to be fed every day or less often if you store it in the fridge. Before the dough is fed, a portion of the starter is taken away (discard) which is what I usually use when I make my sourdough pizza crust.
Some sourdough recipes don't use yeast and rely on the sourdough starter for the dough to rise, but it's a very slow process. Even though it's worth the wait, I added some yeast to the recipe to speed up the process. If you have the time, you can leave the yeast out of this recipe and let your dough rise overnight.
This pizza dough is soft on the inside and crispy on the outside, and it makes enough dough for two large pizzas. If you don't need to make two pizzas you can easily freeze the leftover crust.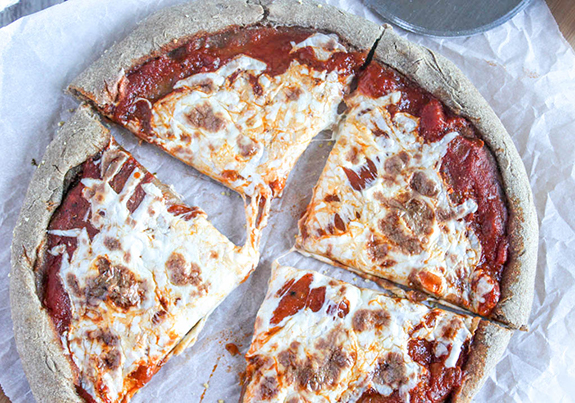 Here is How to Make Sourdough Pizza Crust
Dissolve the yeast, salt and honey in warm water
Pour the sourdough mixture into a bowl
Stir in the yeast mixture
Gradually add flour
Knead the dough
Place dough in a warm place to rise
Punch dough down
Allow to rise once more
Make your pizza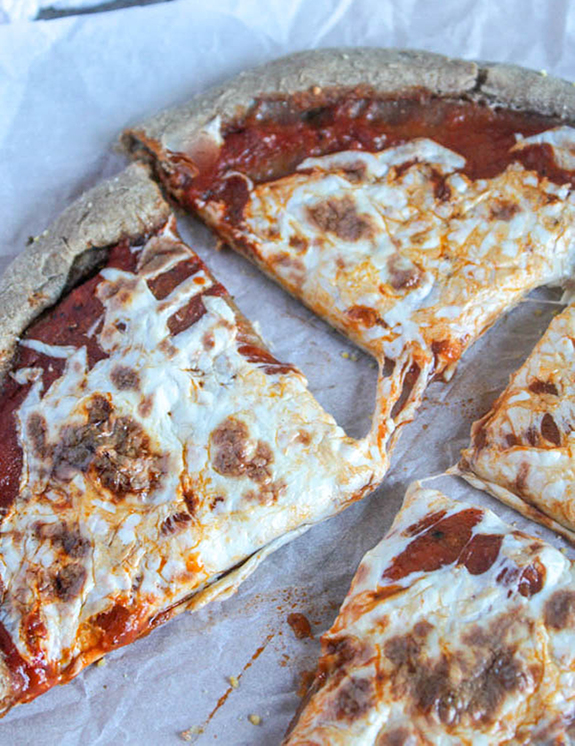 Tips for Making Sourdough Pizza Crust
Use Filtered or Bottled Water when Making Sourdough Pizza Crust
Sometimes tap water contains chlorine which can interfere with the rising process, especially with fermented dough. Chlorine can be present in bottled water but is't not as common in bottled water.
Freeze Sourdough Pizza Crust
After the first rise of the pizza dough, punch it down and rub olive oil onto the dough and wrap it in parchment, then plastic or a re-usable silicon bag and freeze for up to three months. Thaw in the fridge overnight. Bring to room temperature before stretching out the dough.
Accelerate the Rising Time for Sourdough Pizza Crust
Sourdough pizza crust takes a bit longer to rise, placing it in a warm oven will speed the process. Heat your oven to the about 175. Cover the dough and place it in the oven and turn the oven off.
Other Uses for sourdough pizza crust
Print
Sourdough Pizza Crust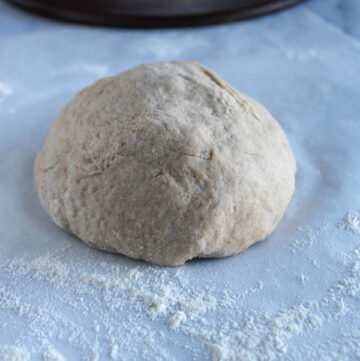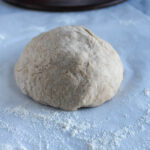 Sourdough pizza crust is a tangy and flavorful pizza crust
Author: anne
Prep Time:

2 hours

Total Time:

2 hours

Yield:

2

pizzas

1

x
Category:

dinner

Cuisine:

Italian
Scale
Ingredients
1 cup sourdough starter
2 teaspoons yeast
1/2 cup warm filtered water
1 1/2 teaspoons sea salt
1 1/2 teaspoons honey
3 cups organic flour (I use 1/2 whole wheat and 1/2 white)
Instructions
Dissolve yeast, salt and honey in warm water
Place starter into a mixing bowl and add the yeast mixture
Gradually add up to 3 cups of flour until the dough is no longer sticky.  You can use a mixer or a spoon for this.
Knead the dough 8 to 10 minutes using mixer or your hands.
Coat the dough with oil and place into a bowl and cover.  Place in a warm place and allow it to rise until it has doubled in size.  This can take a few hours.
Once the dough has doubled in size, punch it down and allow it to rise for an hour longer.
Follow your favorite pizza recipe to make a pizza
Notes
Nutrition information is provided by Nutrifox,  an online calculator and is meant to be used for informational purposes only.  Even though I try to provide accurate information, these figures should still be considered as estimates
Keywords: homemade pizza, homemade pizza dough, pizza
***Please note that there are affiliate links on this page. This means that if you follow one of the links and make a purchase we will receive a small percentage of the sale at no extra cost to you. This helps us to continue to bring you good content. Thank you for your support! Simple and Savory is a participant in the Amazon Services LLC Associates Program, an affiliate advertising program designed to provide a means for sites to earn advertising fees by advertising and linking to amazon.com.***