Whole wheat Irish Soda bread is super simple to make and so good! It's a quick bread that is slightly sweet, made with caraway seeds and raisins and tastes great with your favorite St. Patrick's Day dinner or a cup of coffee.
This recipe was originally posted in 2016. The photos and recipe have been updated.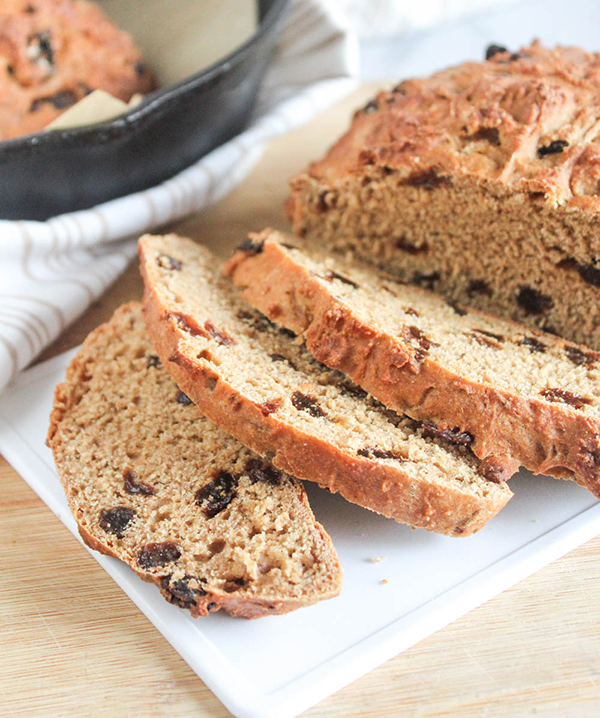 If you have any Irish roots, your family probably has a cherished Irish soda bread recipe. This recipe is a healthy riff on my mother's recipe. She would smear the top of the bread with butter, but we like it plain served with coffee an egg casserole at breakfast.
Why This Recipe Works
It's simple! Soda bread is a quick bread to make. It takes about an hour from start to finish, proofing the dough is not necessary.
This recipe uses healthier ingredients, but still tastes great!
As an Amazon Associate, I earn from qualifying purchases
This is an overview of the ingredients and steps to make this recipe, scroll down for a printable recipe card with exact measurements and instructions.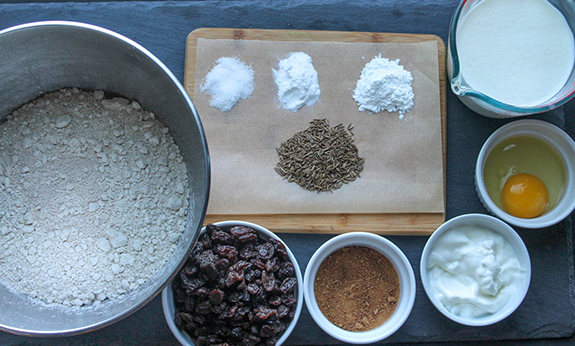 Whole Wheat Irish Soda Bread Ingredients List
Greek Yogurt
Whole-Wheat Flour
All Purpose Flour
Coconut sugar (optional)
Baking Powder
Baking Soda
Buttermilk
Sea Salt
Egg
Equipment List
Here is How to Make Whole Wheat Soda Bread
Prepare: Measure the ingredients, preheat the oven to 375, line a pan with parchment paper.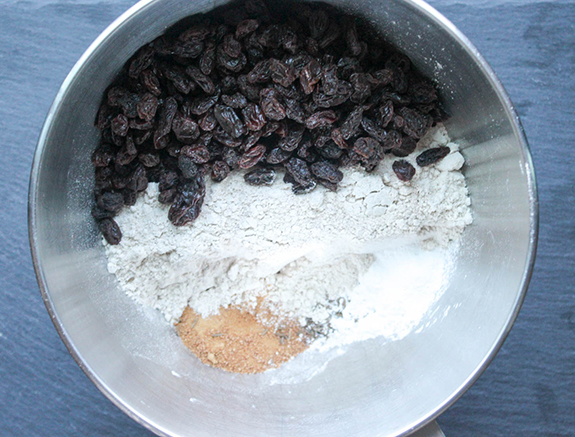 Step 1. Combine the Dry Ingredients
combine flour, baking soda, baking powder, salt, sugar, caraway seeds and raisins in a large bowl. Gently stir them together with a wooden spoon.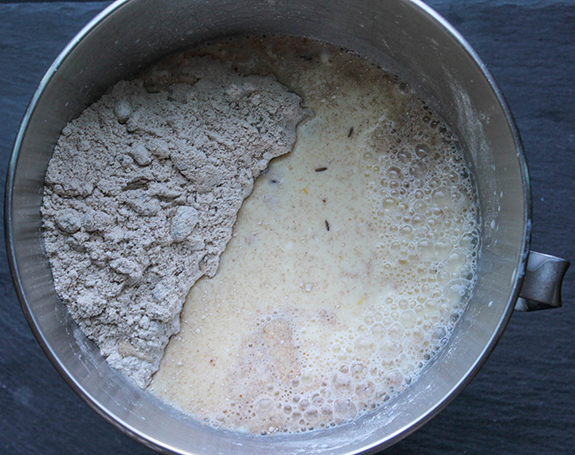 Step 2. Combine the Wet Ingredients
Whisk together the egg, buttermilk, and yogurt in a small bowl and add the buttermilk mixture to the large bowl with the dry ingredients.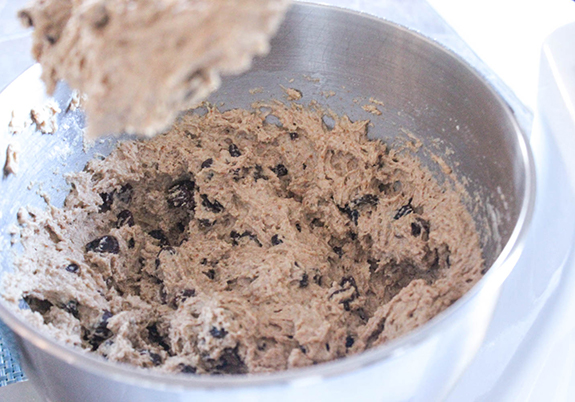 Step 3. Mix Everything Together
Blend the wet and dry ingredients together using a wooden spoon, or an electric mixer at low speed until everything is combined and a sticky dough forms.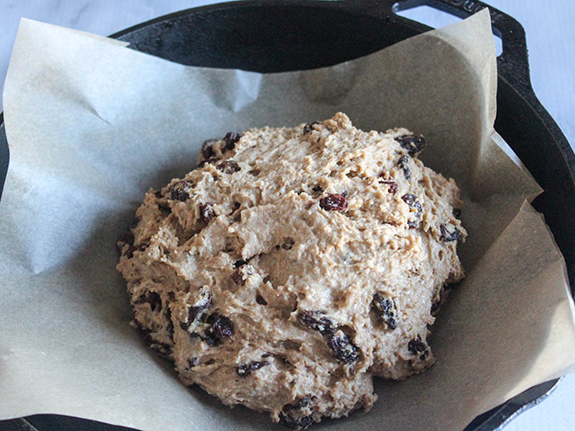 Step 4. Place the Dough in a Baking Pan
Form the dough into 2 mounds of equal size and place them into a prepared baking sheet or pan and bake it for 45 Minutes.
Note: The dough will be very sticky, use your hands or a rubber spatula to mound the dough into loaves.
Total Estimated Time to Make This Recipe: 60 to 75 Minutes
Ingredient Notes & Substitutions
Whole wheat flour. Choose an all-purpose whole wheat flour, white whole wheat flour, whole wheat pastry flour, or sprouted wheat flour. Whole wheat bread flour is not recommended in this recipe.
White all-purpose flour is best for making quick bread recipes. As with whole wheat flour, bread flour is not recommended.
Buttermilk. Soda bread has the best texture when it's made with real buttermilk. But if you don't have buttermilk available, you can make your own with similar results.
Here's how to make your own buttermilk: Add 2 tablespoons of vinegar or lemon juice to 1 1 ¾ cup of regular milk and let it sit for about 5 minutes before adding it to the batter.
Sugar is optional. I've made this bread with it and without it. The raisins sweeten the bread nicely all by themselves.
Baking soda. Is a major component of this recipe and should not be left out. When mixed with the buttermilk it acts as a leavening agent to make the bread soft on the inside.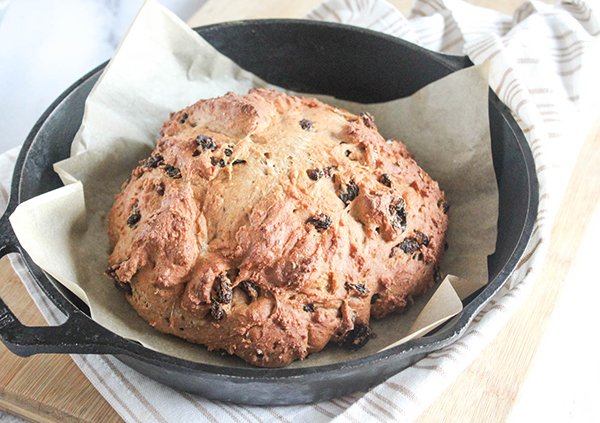 Serving Suggestions
Serve homemade soda bread plain or with butter smeared on it at breakfast with a breakfast pie or quiche, as a side with corned beef and cabbage, or your favorite St. Patrick's Day dinner.
How to Store Irish Soda Bread
Irish soda bread is best when eaten shortly after it's been baked, but will last for two to three days wrapped in parchment paper or aluminum foil.
It also freezes well. This recipe makes two loaves and you can freeze one loaf once it's reached room temperature by wrapping it in parchment paper and foil. It will keep in the freezer for up to three months.
Thaw frozen Irish soda bread at room temperature overnight.
Irish Soda Bread Recipe Variations
Regular Soda Bread. Leave out the raisins and caraway seeds for a more traditional Irish soda bread.
Nutty Soda Bread. Add ½ cup of chopped walnuts, pecans, almonds or pistachios to the bread dough.
Irish Soda Bread Muffins. Instead of two loaves, add the mixed dough to a muffin tin or cupcake tin and bake for 30 minutes.
Gluten-Free Soda Bread. Replace both the whole wheat flour and white flour with an equal amount of gluten-free flour blend.
Egg Free Soda Bread. Use a flax egg (1 tablespoon flaxseed meal mixed with 3 tablespoons water).
Dairy-Free Soda Bread. Use plant-based yogurt and milk. For a vegan version, use a flax egg in addition to plant-based dairy products.
For more simple and delicious recipes like this, subscribe to our newsletter and receive a free e-book and meal suggestions straight in your inbox!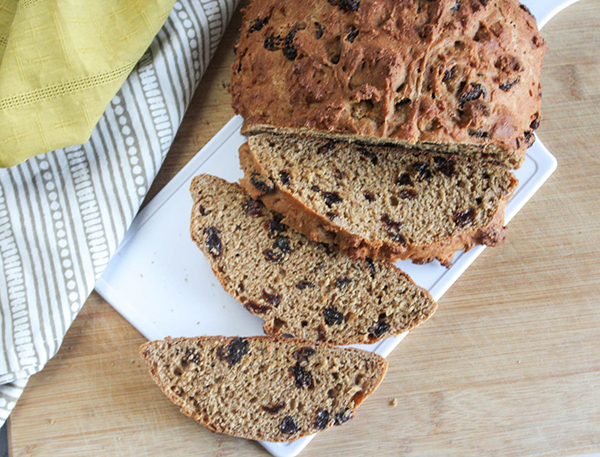 Try These Healthier Baked Goods Recipes
If you like this recipe, please comment and rate it below!