Home-cured corned beef is easy to make a home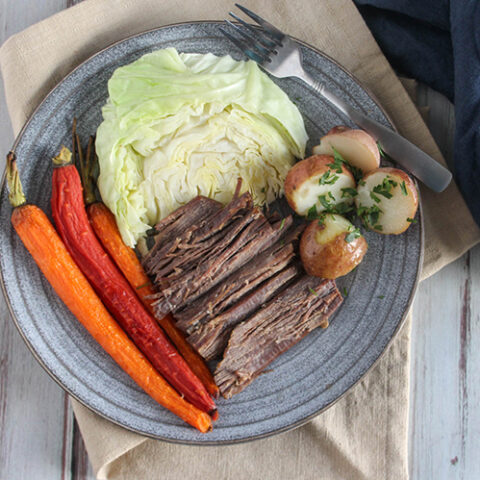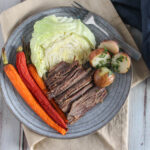 Beef brisket is brined in a salty seasoned mixture to make nitrate-free corned beef. It's fork-tender, delicious, tastes much better than store-bought corned beef. It's perfect to serve on St. Paddy's Day or any day.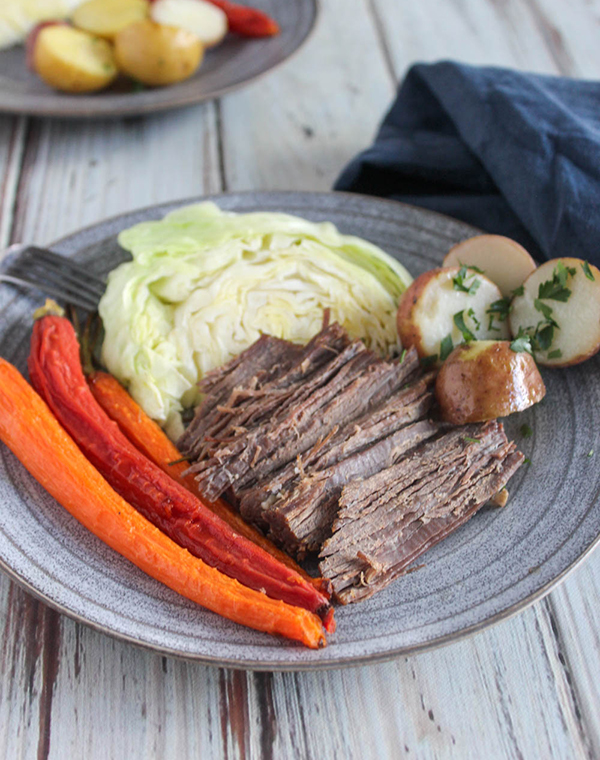 You will be surprised at how and it's easy to make your own corned beef. All it takes is a little planning ahead and some extra room in your refrigerator.
Why This Recipe Works
It's healthier than packaged corned beef; this recipe is lower in sodium, free of refined sugar, and sodium nitrate (pink curing salt) which is a preservative that also gives cured meats a pink color.
You can select the quality and cut of meat, and seasonings. We like grass fed beef brisket brined in homemade pickling spice to make this recipe.
Here is what you will need to Make Nitrate Free Corned Beef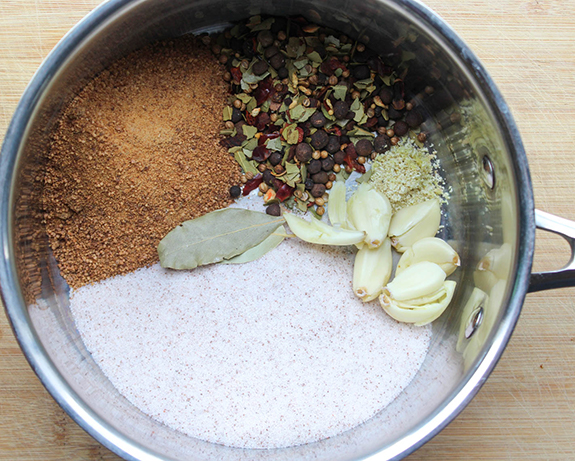 This is an overview of the ingredients and steps to make this recipe, scroll down for a printable recipe card with exact measurements and instructions.
Ingredients List
Flat cut beef brisket
Sea salt or kosher salt
Coconut Sugar
Garlic
Fresh grated ginger
Bay leaves
Crushed ice
Water
Equipment
Here is how to make home cured corned beef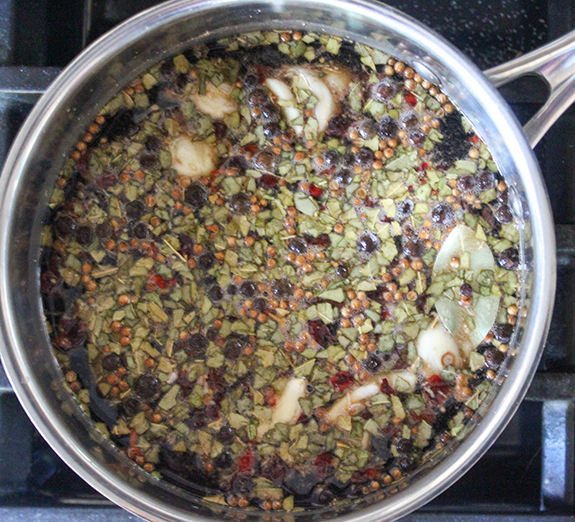 Step 1. Make the brine
Five to six days before cooking your corned beef, add the brine ingredients to a medium saucepan and heat it over medium heat. Cook the brine mixture until the sugar and salt have completely dissolved.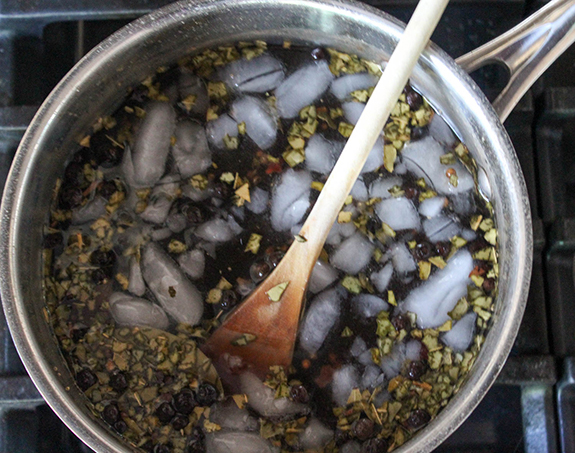 Step 2. Cool the brine
Stir crushed ice into the brine to cool it off, and place it into the refrigerator for at least an hour until the brine is completely chilled.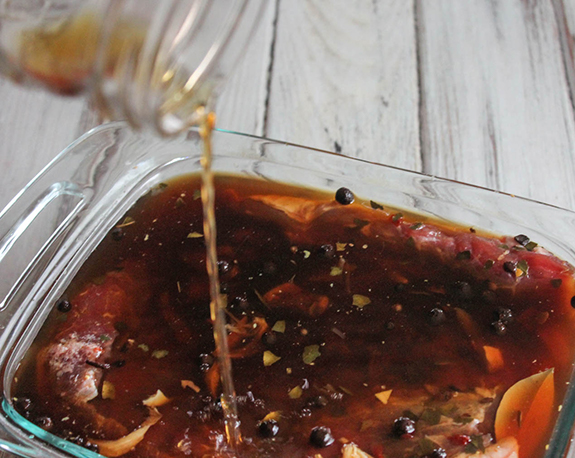 Step 3. Add the brine to a glass container
Remove the chilled brine from the refrigerator. Place the beef into the container and pour the brine over it until the meat is fully submerged.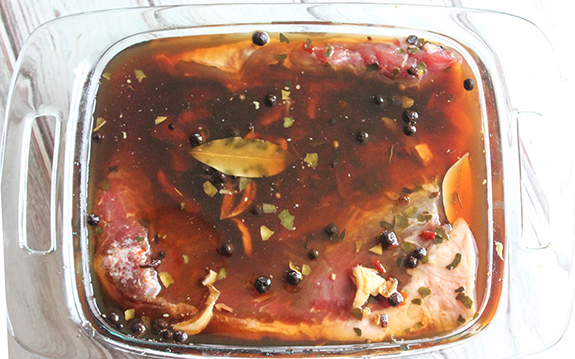 Step 4. Brine the meat
Store the meat and brine mixture in the refrigerator for 5 days. Each day turn the meat to ensure that it is brined evenly.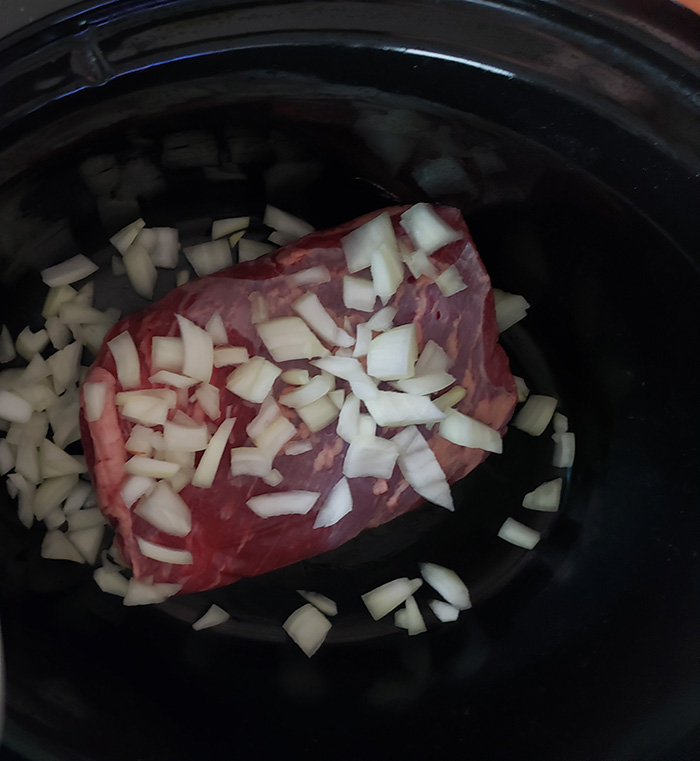 Step 3. Cook the meat
Drain and rinse the meat quickly under cold water. Add the beef to a slow cooker, sprinkle it with onions, garlic and pickle spice and cover it with water and cook for 6 hours.
Ingredient Notes & Substitutions
Beef Brisket. I like to use grass-fed beef brisket when I make home-cured corned beef.
It can, however, be substituted with another cut of beef such as round or a tri-tip roast.
Check out ButcherBox for high-quality grass-fed beef.
Coconut Sugar is unrefined and the type of sugar I when I cook. It can be substituted with maple syrup or honey or brown sugar if that is what you normally use.
Pickle Spice. I use homemade pickle spice, and you can also use a packaged pickle spice.
Garlic & Ginger can be substituted with ¼ teaspoon per clove of garlic and ¼ teaspoon ground ginger per tablespoon grated ginger.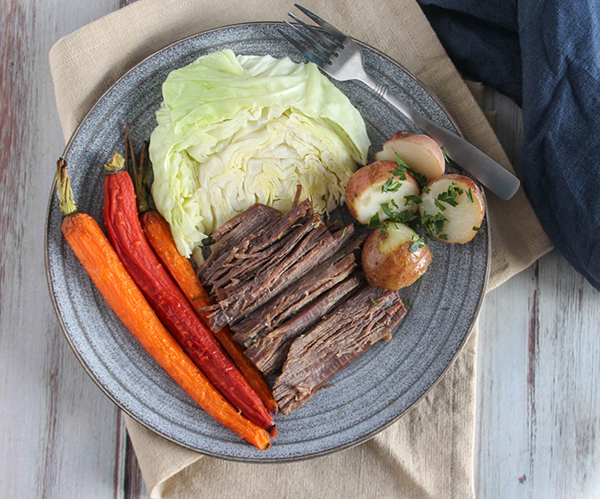 Serving Suggestions
Serve home-cured corned beef with a side of steamed cabbage and potatoes. We enjoy corned beef with any combination of simple boiled potatoes with butter and parsley, smashed baby potatoes, air fryer baby potatoes, roasted carrots, green beans, air fryer broccoli and cauliflower and a salad.
Tips
Make sure the top of the beef is submerged through the brining process for even brining.
If you don't like the unappetizing brownish-gray meat color, add ¼ cup of beet juice to the brine which will give the beef a pink tint.
To avoid the growth of bacteria, make sure the brine is cold before adding the meat to it.
Storing and Using Leftovers
Store leftover cooked corned beef in an air-tight container in the refrigerator for up to 4 days.
Use leftover corned beef to make a sandwich, a Reuben sandwich with swiss cheese and homemade sauerkraut or cut the meat into cubes and fry it with onions and potato cubes until crispy for quick corned beef hash.
Freeze corned beef. Uncooked corned beef can be frozen for up to three months. Once the brining process is complete, rinse and pat the beef dry. Wrap it tightly in a freezer-safe wrap.
Thaw it out in the refrigerator overnight and cook it the next day.
Freezing cooked corned beef is not recommended since we have not tried it.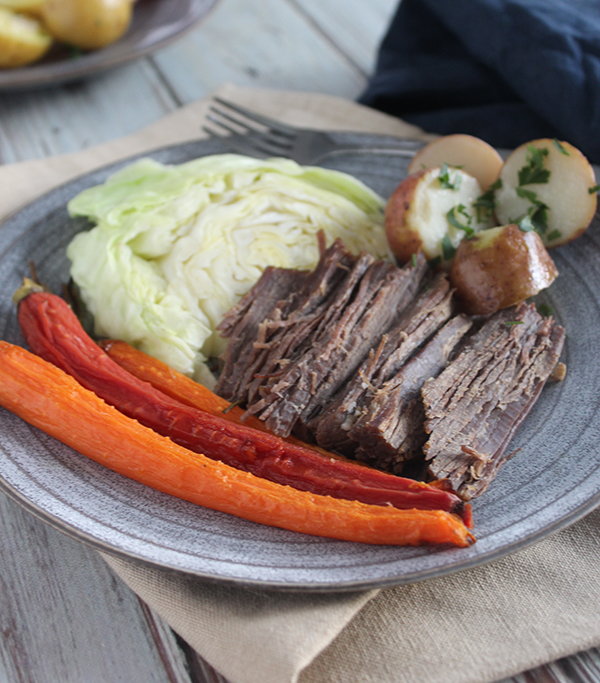 St. Paddy's Day dinner is not complete unless there is Irish Soda Bread.
Homemade Corned Beef Recipe Variations
Spicy Corned Beef and Cabbage. Add a few teaspoons of red pepper flakes to the cooking liquid.
Add more spices to the cooking liquid such as any combination of cinnamon stick, celery powder, bay leaf, juniper berries or cloves.
Beer corned beef and cabbage. Add a bottle of Guinness to the slow cooker and a little bit of water to cover the meat.
How do you make homemade corned beef and cabbage in the oven?
Place the brisket into a dutch oven with spices and a little bit of water or beer. Cover it and bake at 350 degrees for 2 ½ hours. Remove the cover and cook for 30 minutes longer.
How do you make stovetop nitrate-free corned beef?
Place the home brined brisket into a large stockpot, add seasonings and submerge it in water. Cook the beef over low heat (do not let the water boil rapidly) for approximately 3 hours.
For more simple and delicious recipes like this, subscribe to our newsletter and receive a free e-book and meal suggestions straight in your inbox!
You Might Like These Recipes
If you like this recipe, please comment and rate it below!
📖 Recipe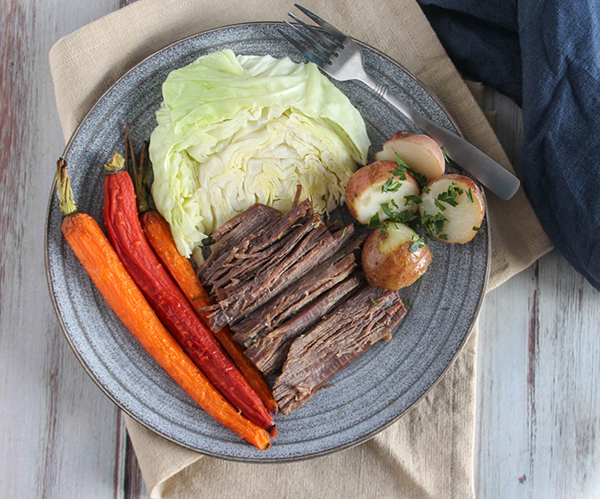 Click on serving size to scale this recipe
Ingredients
1 3 to 4-

pound

flat-cut beef brisket

¾

cup

sea salt

½

cup

coconut sugar

7

cloves

garlic smashed

5 for brine & 2 for cooking

1

tablespoon

fresh grated ginger

5 ½

tablespoons

pickling spices

4 ½ for brine & 1 for cooking

2

bay leaves

1

cup

crushed ice

Water to cover the meat

about 1 to 2 cups
Instructions
Add ¾ cup sea salt, ½ cup coconut sugar, 5 cloves of smashed garlic, 1 teaspoon grated ginger, 4 ½ tablespoons pickling spices, and 2 bay leaves and 4 cups water to a saucepan and heat it over medium heat. Cook the mixture until the sugar and salt have dissolved.

Turn the heat off and add 1 cup of crushed ice to cool the brine off.

Once the brine has cooled to room temperature, place it in the refrigerator for approximately one hour.

Pour the cold brine into a glass or ceramic dish and add the meat to the brine in the casserole dish, make sure that the meat is completely covered with the brine. Cover and place it in the refrigerator for five days.

Flip the meat over every day.

COOK THE MEAT: After the meat has gone through the brining process, rinse it off and place it into a slow cooker. Add 2 cloves of smashed garlic and 1 tablespoon pickling spice and enough water to cover the meat.

Place the cover on the slow cooker and cook on low for 4 hours.
Nutrition
Serving:
1
|
Calories:
592
kcal
|
Carbohydrates:
11
g
|
Protein:
56
g
|
Fat:
35
g
|
Saturated Fat:
14
g
|
Polyunsaturated Fat:
16
g
|
Cholesterol:
203
mg
|
Sodium:
8586
mg
|
Sugar:
10
g
Nutrition information provided is an estimate and can vary based on cooking methods and ingredients used