Air fryer broccoli and cauliflower is tender-crisp and flavorful. Bite-size broccoli pieces and cauliflower are cooked quickly in a small amount of oil for a healthy side dish that can be on your dinner table in just minutes.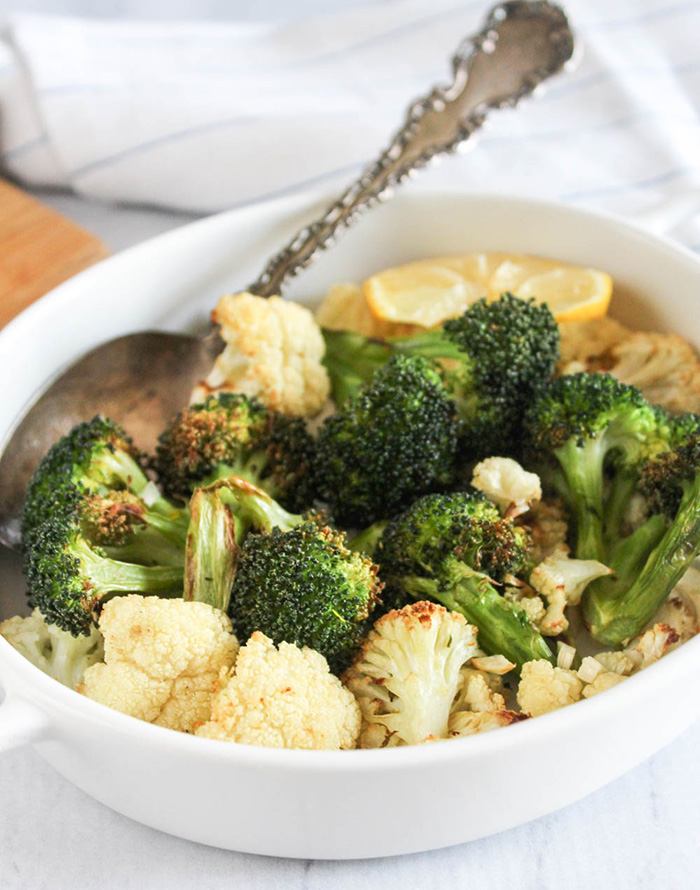 If you are new to using an air fryer, air frying vegetables is a great way to get started. They cook fast and taste fantastic.This Buffalo cauliflower bites recipe is our favorite air-fryer cauliflower recipe.
Why You Will Love this Recipe
Easy! The air fryer is an easy way to cook vegetables.
It's a healthy recipe with only four ingredients.
It's a delicious side dish! The air fryer brings out the natural sweetness of the vegetables.
Here Is What You Will Need
As an Amazon Associate, I earn from qualifying purchases.
This is an overview of the ingredients and steps to make this recipe, scroll down for a printable recipe card with exact measurements and instructions.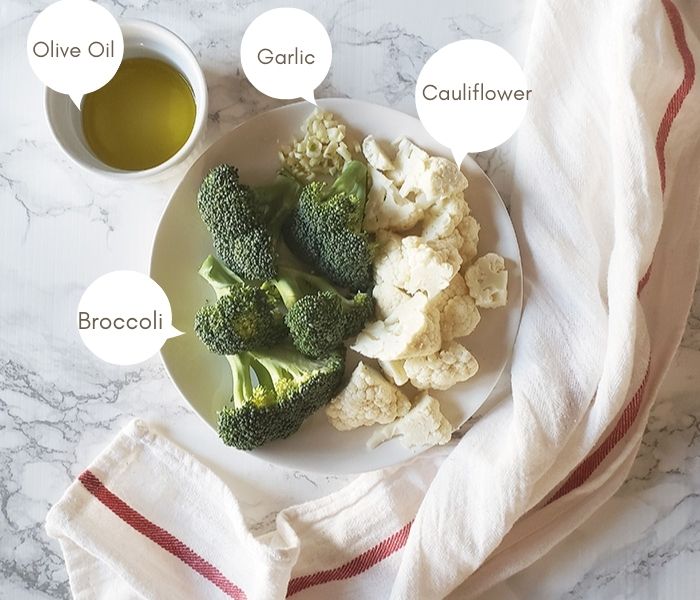 Ingredients
Fresh Broccoli
Fresh Cauliflower
Olive Oil
Chopped Garlic
Equipment
Here is How to Make Air Fryer Broccoli and Cauliflower
Prepare the Ingredients: Cut the broccoli into small pieces that are approximately 2 inches in size and cut the cauliflower florets into slightly smaller pieces, about 1 to 1 ½ inches in size. Mince the garlic and measure the oil. Preheat the air fryer to 375 degrees f.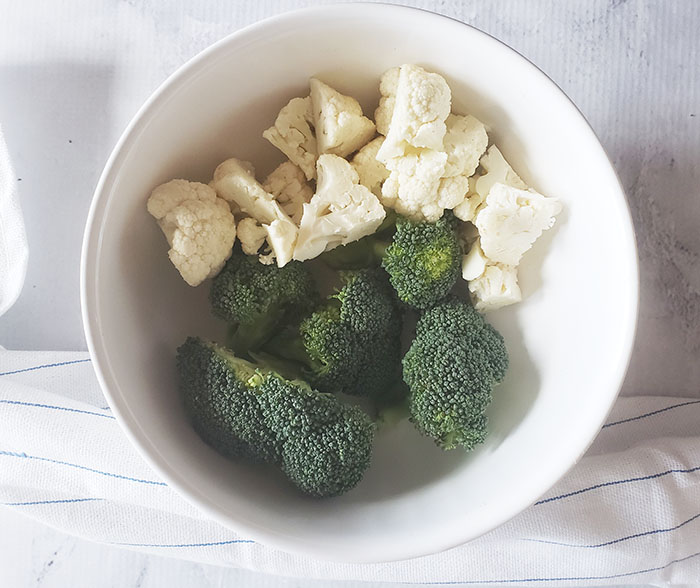 Step 1. Combine the Ingredients
In a large bowl, combine the broccoli, cauliflower and olive oil.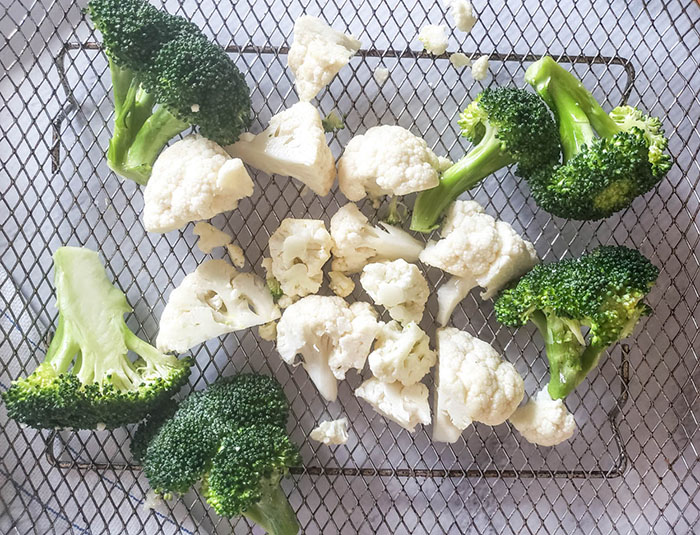 Step 2. Arrange the Vegetables in the Air Fryer
Place broccoli florets and cauliflower in a single layer in the air fryer basket or air fryer tray.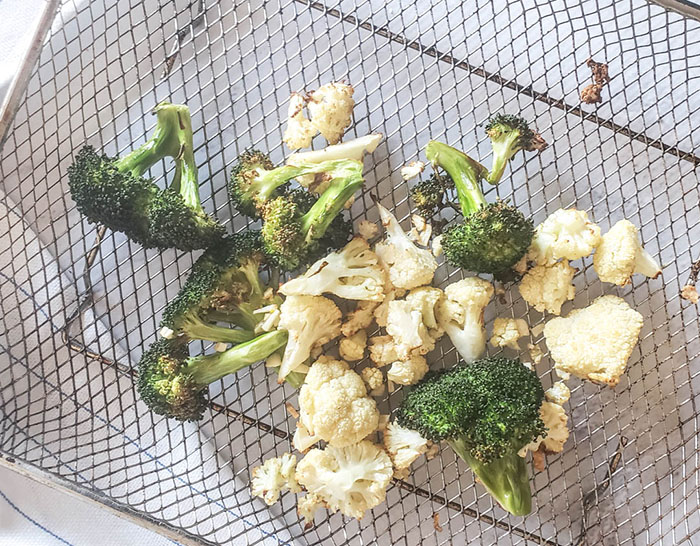 Step 3. Air Fry the Vegetables
Air fry the broccoli and cauliflower for 8 minutes. Remove the basket or tray, shake it and add the chopped garlic. Cook for 2 minutes longer.
Note: Cook time can vary depending on the type of air fryer that you have. Keep an eye on the vegetables and remove them once they begin to turn golden brown.
Ingredient Notes & Substitutions
Broccoli cooks faster than cauliflower, so it's important that it's larger in size to prevent it from burning.
Olive oil can be replaced with an equal amount of avocado oil, or you can use a few spritzes of olive oil spray.
Fresh garlic can be replaced with ½ to a teaspoon of garlic powder or a mixture of onion powder and garlic powder to taste.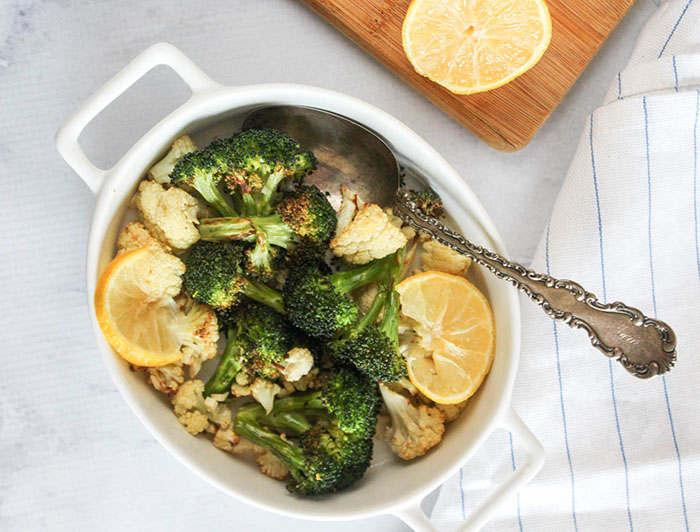 Make Ahead Instructions
This easy side dish can be made ahead of time by cutting the broccoli and cauliflower a few days ahead of time.
Store the uncooked vegetables in an airtight container in the refrigerator until it's time to make this crispy broccoli and cauliflower in the air fryer.
What to Serve Air Fryer Broccoli and Cauliflower With
This recipe tastes great garnished with a sprinkle of black pepper, a splash of lemon juice or lemon zest as a side with grilled chicken, pork, or beef.
It can also be tossed into a bowl of pasta with pesto sauce , Asian chicken pasta salad or used for meal prep in salads with shredded chicken or served as a topper to baked potatoes with a dollop of sour cream and shredded cheese.
Variations
All Broccoli or All Cauliflower in the Air Fryer. Use all of one of the vegetables instead of using both.
Spicy Air Fryer Broccoli and Cauliflower. Just before serving, toss in red pepper flakes to taste.
Parmesan Air Fryer Cauliflower and Broccoli. Add ⅛ to ¼ cup of shredded parmesan cheese during the last two minutes of cooking.
Pesto Air Fryer Broccoli and Cauliflower. Toss the vegetables in up to a tablespoon of garlic pesto sauce just before serving.
These breaded air fryer cauliflower bites are always a hit too!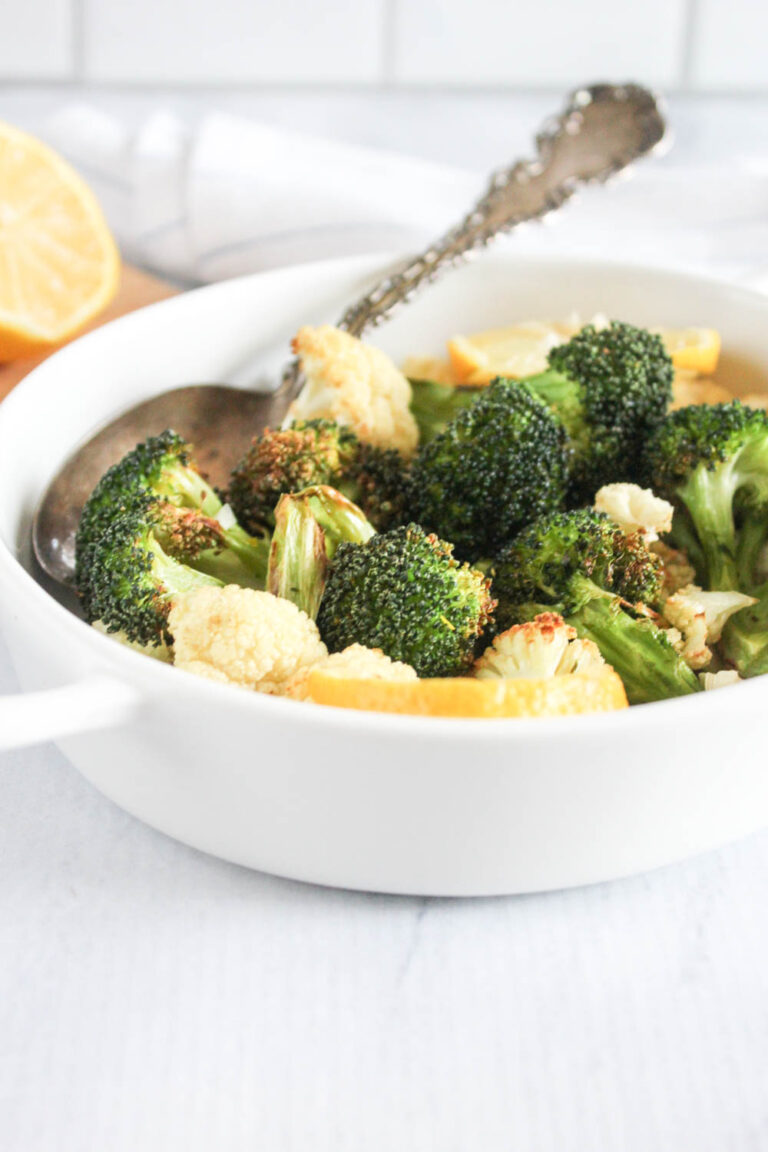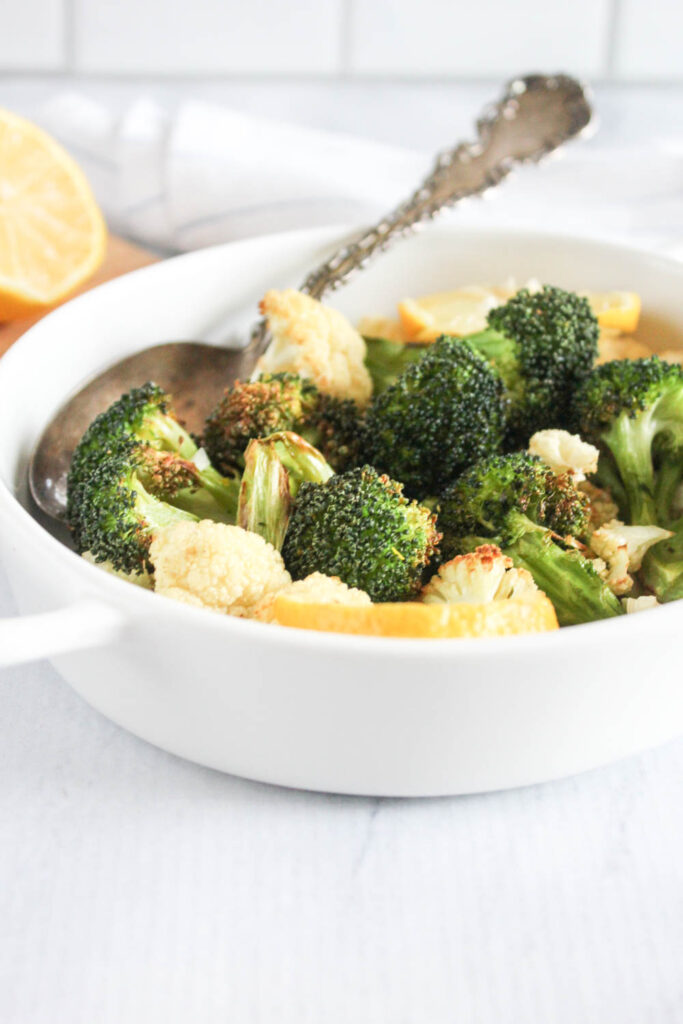 How to Store and Use Leftovers
Refrigerate leftover air fryer broccoli and cauliflower in an airtight container for up to four days.
Leftovers taste great all by themself as a snack, in a salad, or mixed into your favorite whole grains or pasta for a healthy lunch.
Top tips
Save time and buy pre-cut broccoli and cauliflower from your grocery store.
For best results, keep an eye on the vegetables at the end of the cooking cycle and remove any broccoli with crispy edges and starting to turn brown.
Here's how to Make Air Fryer Broccoli and Cauliflower in the oven
If you don't have an air fryer, you can easily make this recipe in the oven with just a few easy steps.
Arrange the vegetables in an even layer on a parchment-lined sheet pan and bake at 400 degrees F for approximately 20 minutes. Turn the vegetables over after 10 minutes of cooking time.
If you like this recipe, please comment and rate it below!
Have you Tried These Air Fryer Recipes?
For more simple and delicious recipes like this, subscribe to our newsletter and receive a free e-book and meal suggestions straight in your inbox!