You are going to love this Asian Chicken Pasta salad recipe, it is packed with baby spinach and tender chicken and tossed in an Asian-inspired homemade dressing.
This recipe was originally posted in 2017, it's been updated for content and photos.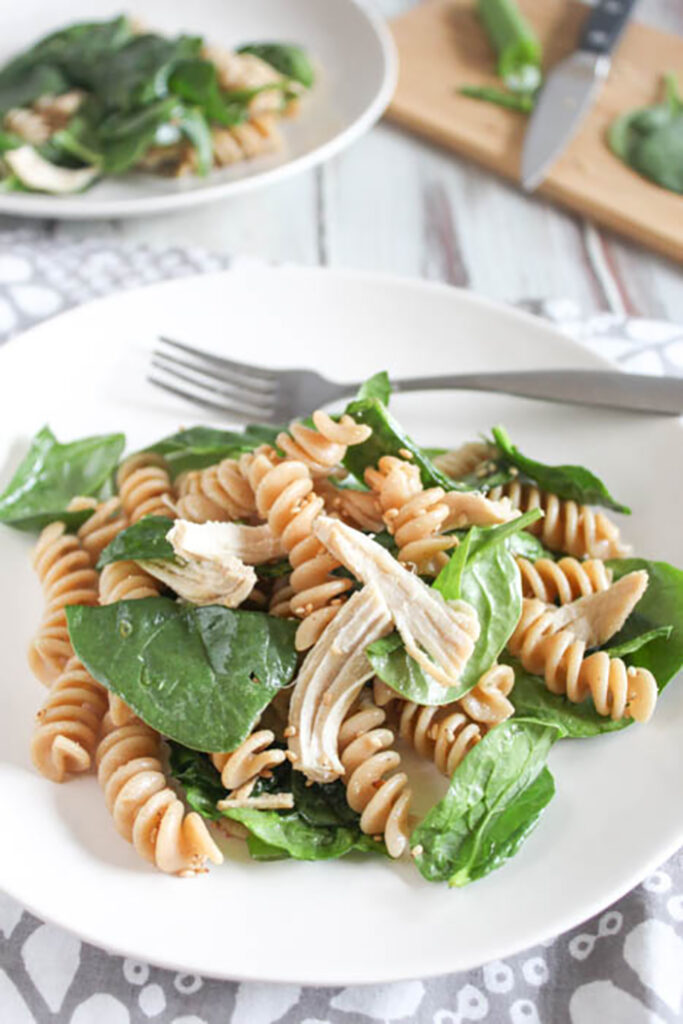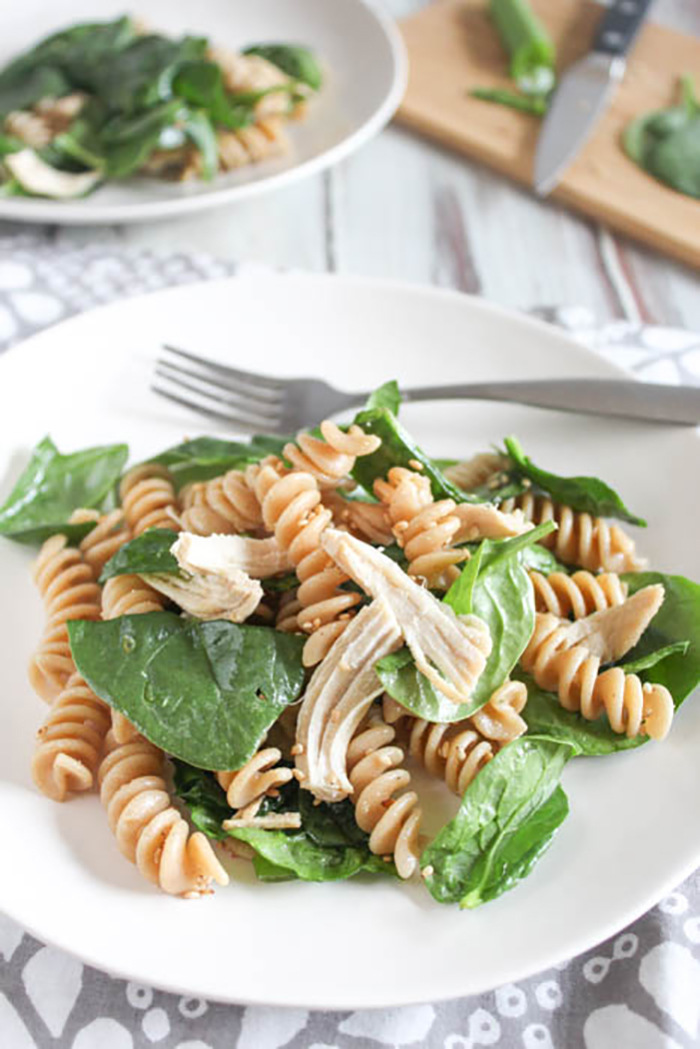 This Chinese chicken pasta salad recipe is a tasty dish that's hearty enough for a dinner and also great as a side dish.
Serve it at room temperature or cold which makes it perfect for a meal that can be prepared ahead of time; perfect for easy weeknight dinners. It's perfect for using up leftover chicken or you can make your own shredded chicken to use in this salad.
Why This Recipe Works
It's an easy dinner idea that can be ready in minutes.
Chicken pasta salad is versatile! Serve it as a side dish, dinner, or lunch.
It can be easily made ahead of time and is perfect to bring to your next potluck.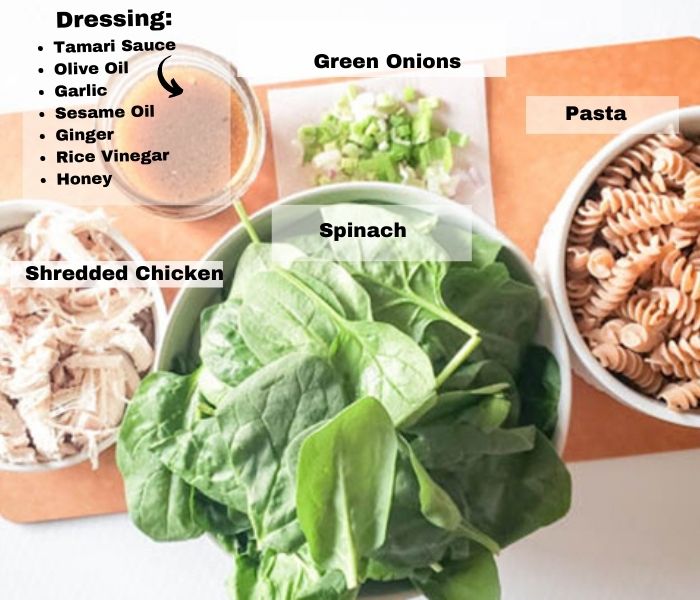 Here is What You Will Need
As an Amazon Associate, I earn from qualifying purchases
This is an overview of the ingredients and steps to make this recipe, scroll down for a printable recipe card with exact measurements and instructions.
---
Ingredient List
Baby spinach
Cooked chicken
Green onions
Sesame seeds
Olive oil
Honey
Garlic
Ginger
Equipment
Here Is How to Make Chicken Pasta Salad with Sesame Dressing
Get all of the ingredients ready: Rinse and dry the spinach, cut or shred the chicken into bite-sized pieces, slice the onions and make the dressing.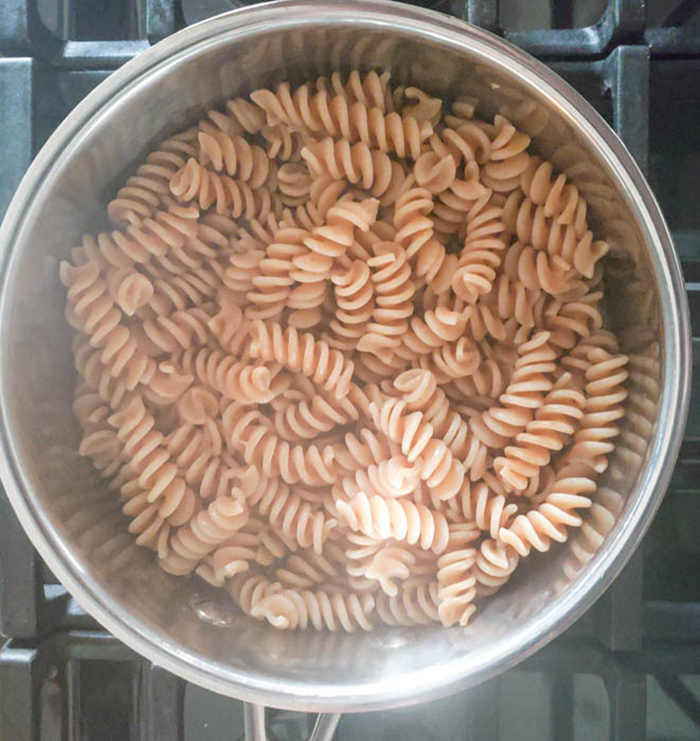 Step 1. Cook the pasta
Cook the pasta according to the package directions until it's al dente. Drain and rinse it in cold water and set it aside.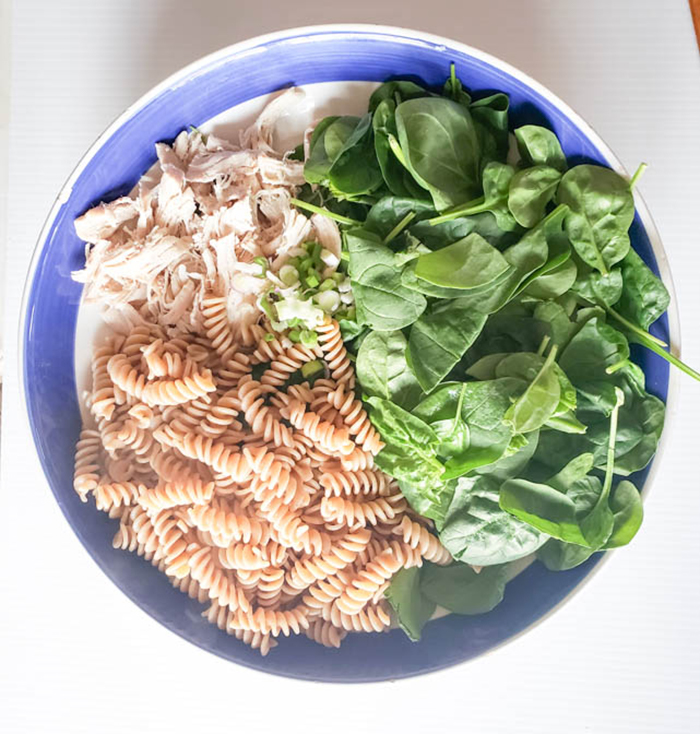 Step 2. Add the ingredients to a bowl
Place the cooked pasta, spinach chicken and onions into a large bowl.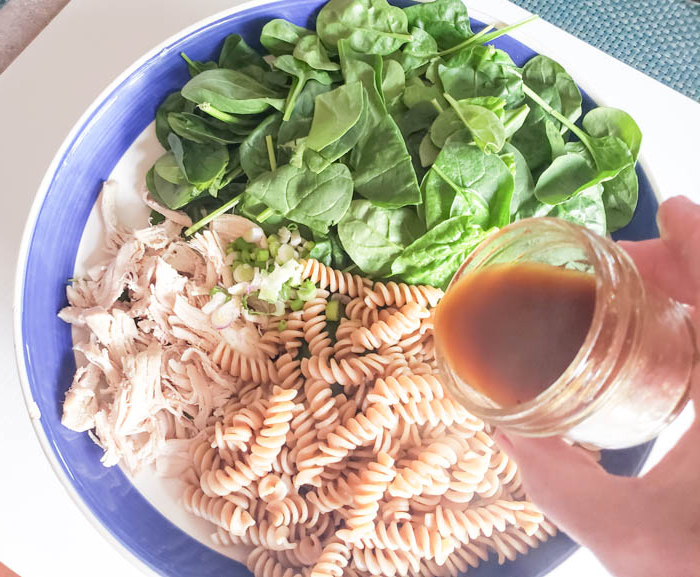 Step 3. Add the Dressing
Shake up the dressing and pour it over the ingredients in the bowl.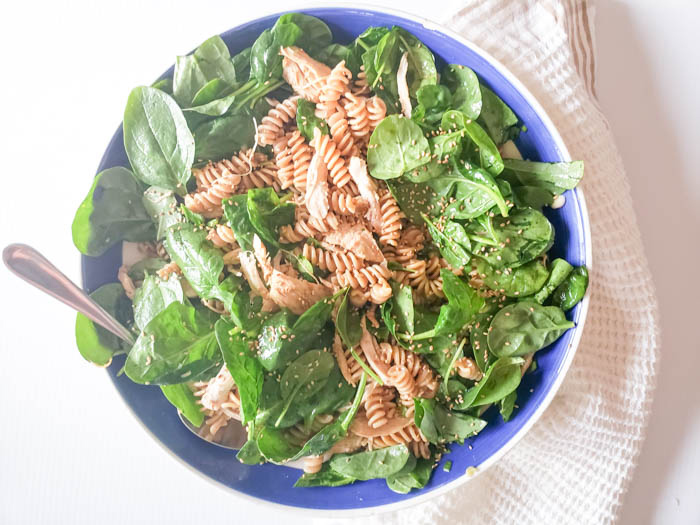 Step 4. Mix it up and Serve.
Mix everything together and serve at room temperature or cold.
Total Estimated Time to Make this Recipe: 30 to 40 Minutes
Ingredient Notes & Substitutions
Pasta. You can use your favorite pasta in this recipe. we like whole-wheat penne, bow tie pasta, or rotini for their different textures. The nooks and crannies are perfect for holding onto all of those delicious flavors.
Chicken. This recipe is a great way to use up leftover grilled or rotisserie chicken from the grocery store or you can make a batch of shredded chicken.
Tamari Sauce. Is a Japanese soy sauce. It's darker than soy sauce and has a more robust flavor. It can be substituted one for one with soy sauce or coconut aminos
Rice Vinegar. Can be substituted with white wine vinegar or apple cider vinegar.
Honey. Substitute honey one for one with maple syrup or brown rice syrup.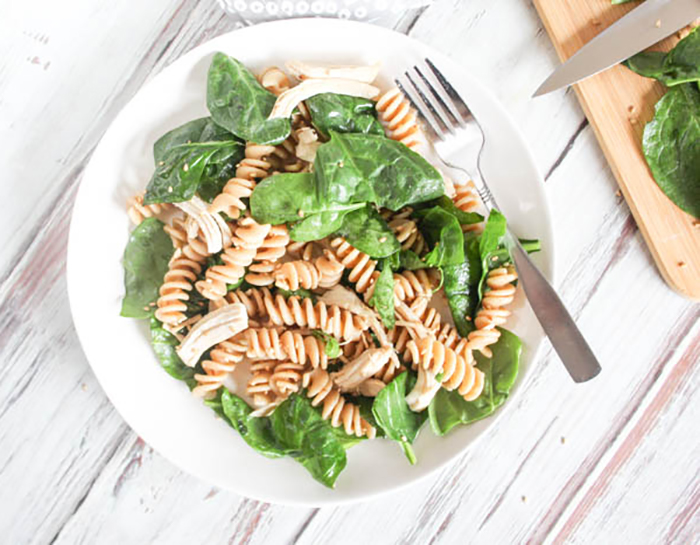 Serving Suggestions
Serve this Asian pasta salad as a side dish garnished with green onions and chopped fresh cilantro as a side dish with burgers, shrimp cakes or as a main with a side of air fryer broccoli and cauliflower.
Make-Ahead Instructions
This pasta salad recipe is the perfect recipe to make ahead and put together just before serving.
Here's how: combine the cooked chicken and pasta together, mix the dressing, slice the onions and prepare the spinach. Refrigerate the salad components separately for up to two days.
To serve, bring the ingredients to room temperature, add the vegetables to the pasta and chicken mixture and pour on the dressing.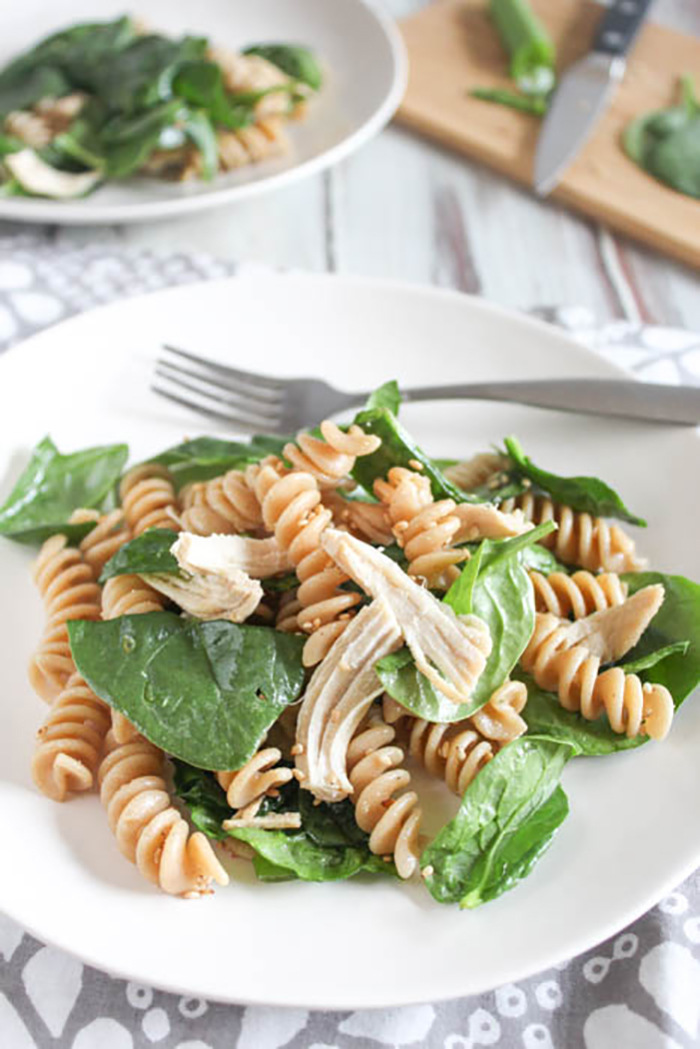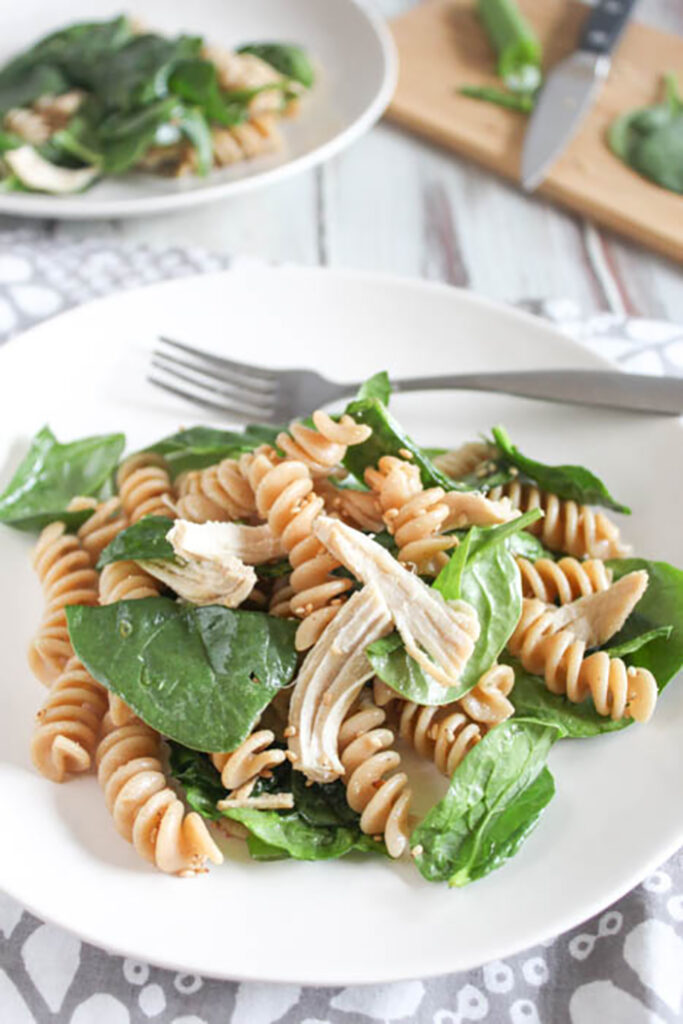 Recipe Variations
Vegetarian Pasta Salad with Sesame Dressing. Replace the chicken with a 14-ounce block of tofu that has been drained, brushed with olive oil cut into cubes; roast at 375 for 20 minutes.
Gluten-Free Chicken Pasta Salad. Replace the whole wheat pasta with your favorite gluten-free pasta or zucchini noodles.
Add More Fresh Veggies. Toss in ½ to 1 cup of sauteed mushroom, shredded carrots, zucchini or bell peppers.
Spice it up. Add ½ teaspoon or more (to taste) of red pepper flakes or hot sauce such as sriracha sauce to the dressing.
Add some crunch. Instead of or in addition to sesame seeds, add ¼ cup of toasted sliced almonds to the pasta salad.
Storing and Using Leftovers
Store leftover chicken pasta salad with sesame dressing in the refrigerator for 3 to 4 days.
Use up leftover pasta salad for lunch or as a side dish for dinner.
Tip! If the leftover pasta salad is dry after being stored in the fridge, stir in a little bit of olive oil and tamari sauce.
Your Questions Answered
Here are the most commonly asked questions about this Chicken Pasta Salad with Sesame Dressing recipe. If your question isn't answered below, leave me a comment below and I will get back to you as soon as I can.
Can I leave the sesame oil out of this recipe?
Yes, you can however, the sesame oil adds a lot of flavor to this salad.
Is this Asian chicken pasta salad unhealthy?
Some pasta salads can be unhealthy when they are filled with fat and white pasta. This salad is made with whole wheat pasta, healthy spinach and lean chicken, so it's a great recipe for healthy eating!
You can cut back on the pasta and add more spinach to make it even healthier! t
For more simple and delicious recipes like this, subscribe to our newsletter and receive a free e-book and meal suggestions straight in your inbox!
You Might Like These Easy Healthy Recipes
If you like this recipe, please comment and rate it below!
Check out more Pasta Recipes Right Here!