Easy Greek pasta salad with cucumbers and tomatoes has all of the flavors of a Greek salad with addition of pasta. It's refreshing and so easy to make.
Make up a batch of this tasty salad to serve at your next party or take it to a potluck. It is filled garden fresh ingredients and tossed in a homemade lemon garlic dressing. It's so refreshing and delicious, your guests will say thank you.
This recipe was originally posted in May, 2018. It has been updated for content and photos.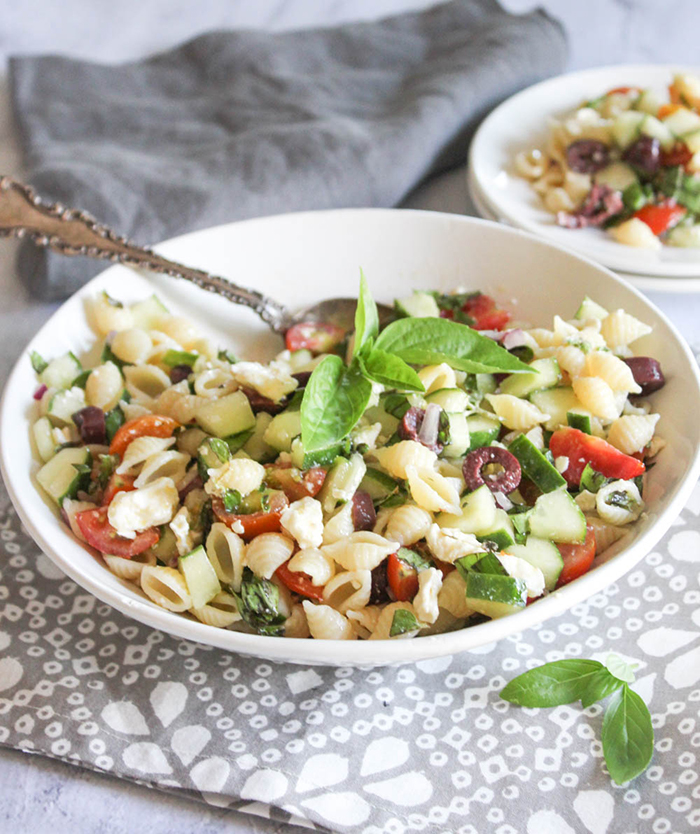 Recipe Highlights
An e

asy to make recipe that is perfect to make ahead of time

.

It's made with less pasta and more vegetables

.
It's a versatile vegetarian recipe! It can be made

vegan or with mea

t see the variations below.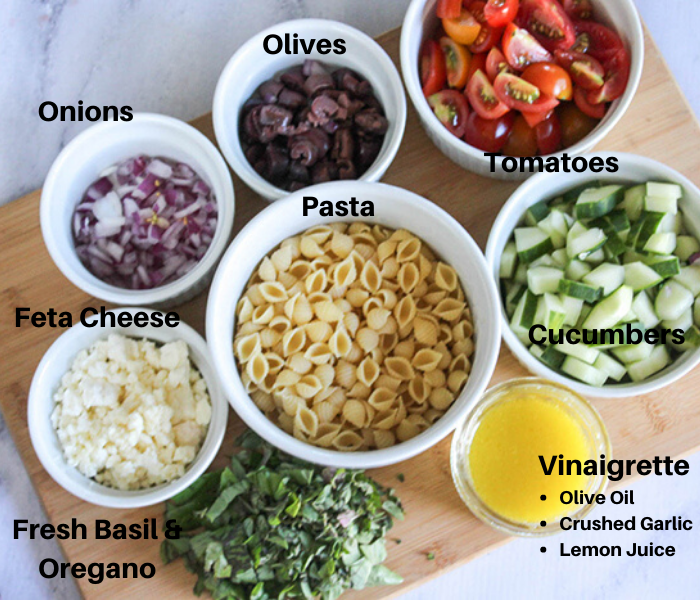 Here is what you will need
As an Amazon Associate, I earn from qualifying purchases
This is an overview of the ingredients and steps to make this recipe, scroll down for a printable recipe card with exact measurements and instructions.
Cucumbers

Tomatoes

Red Onions

Fresh Basil & Oregano

Feta Cheese Crumbles

Lemon Juice

Crushed Garlic
Estimated Time To Make This Recipe: 25 to 35 minutes
How to make it

This salad really can't get any easier to make, here's how to make it: cook the pasta according to the package directions. While the pasta is cooking, chop the vegetables and mix up the dressing. Place the vegetables, cheese and pasta in a bowl. Add the dressing and stir it up.
Please see the recipe card below for detailed instructions.
Make ahead and storage
This salad can be made up to a day ahead of time by following the recipe instructions saving ½ of the dressing on the side. Store the assembled salad in a glass container in the refrigerator. Ten minutes before your serve the salad, add the remainder of the dressing and enjoy!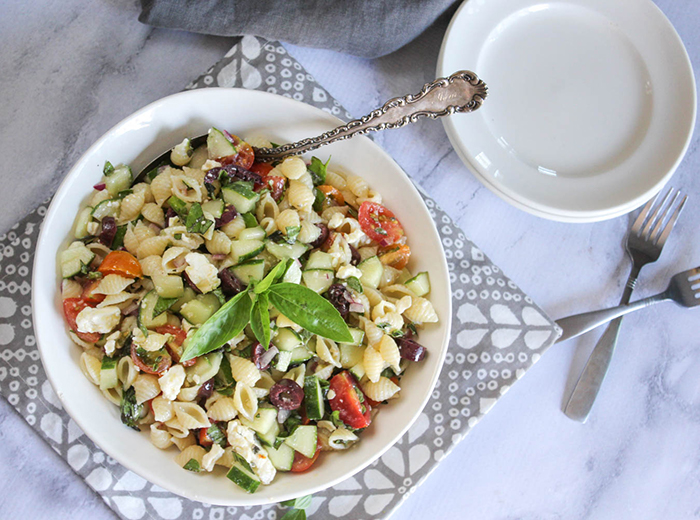 INGREDIENT NOTES
The pasta
The best pasta to use in this recipe is really any kind of pasta. We prefer the smaller shells, but I have also made it with rotini, and penne. If you follow a gluten-free diet, any gluten free pasta will work too.
The Tomatoes
Cherry tomatoes and grape tomatoes are bite-sized and just perfect for Greek pasta salad. If you don't have small tomatoes, you can use larger fresh tomatoes that have been cut into bite sized pieces.
TIP! When choosing your tomatoes look for tomatoes that are firm and red for the best tasting tomatoes.
The Onions
Red onions are my onion of choice in this recipe as with most summer salads. They are cripsy, add a little bit of color and we love the peppery flavor of them. If you prefer a milder onion, choose yellow, white or sweet onions.
TIP! To reduce the strong taste of an nion, soak the chopped pieces in water for 20 minutes. Drain the water off and add the onions to the salad.
The Cheese
Feta cheese which is made with either cow, goat or sheep milk adds a salty, tangy flavor to this salad. Sheep and goat milk feta cheese is more mild than cow's milk feta, and either one will work in this salad.
The Olives
Kalamata olives are stronger in taste than regular black olives. If you prefer a milder tasting olive try using black olives or you can completely leave out the olives.
The Herbs
Fresh oregano and basil can be replaced with 2 teaspoons of dried oregano and basil.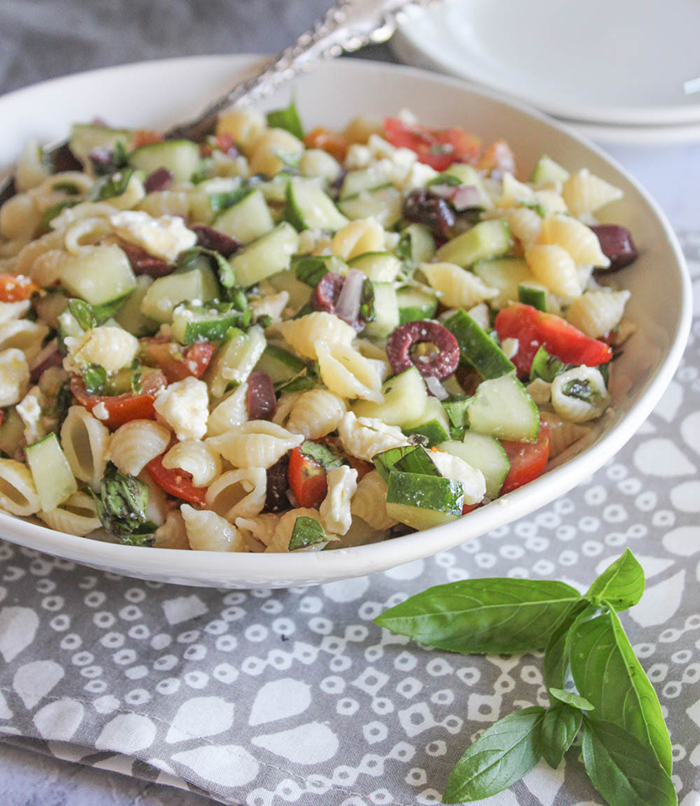 Recipe Variations and Tips
Make it Vegan
For a vegan version of this salad, leave out the cheese. If you like a little bit of cheesy taste, sprinkle in 2 to 3 tablespoons of nutritional yeast.
Make it a meal
Add chopped grilled chicken breasts or tofu to the salad for a complete meal.
Change up the ingredients
Replace the feta cheese with little mozzarella balls or freshly grated parmesan cheese.
Add fresh chopped mint or dill to the oregano basil mixture.
Serving Suggestions
Serve Greek Pasta salad with your favorite burgers, like this Greek turkey burger or grilled chicken or shrimp
You Might Also like these pasta recipes