Healthy tuna macaroni salad is a healthy take on a classic macaroni salad. It's a creamy macaroni salad made with simple ingredients and it is just as flavorful as the classic favorite and perfect for a side dish, healthy lunch or a main course.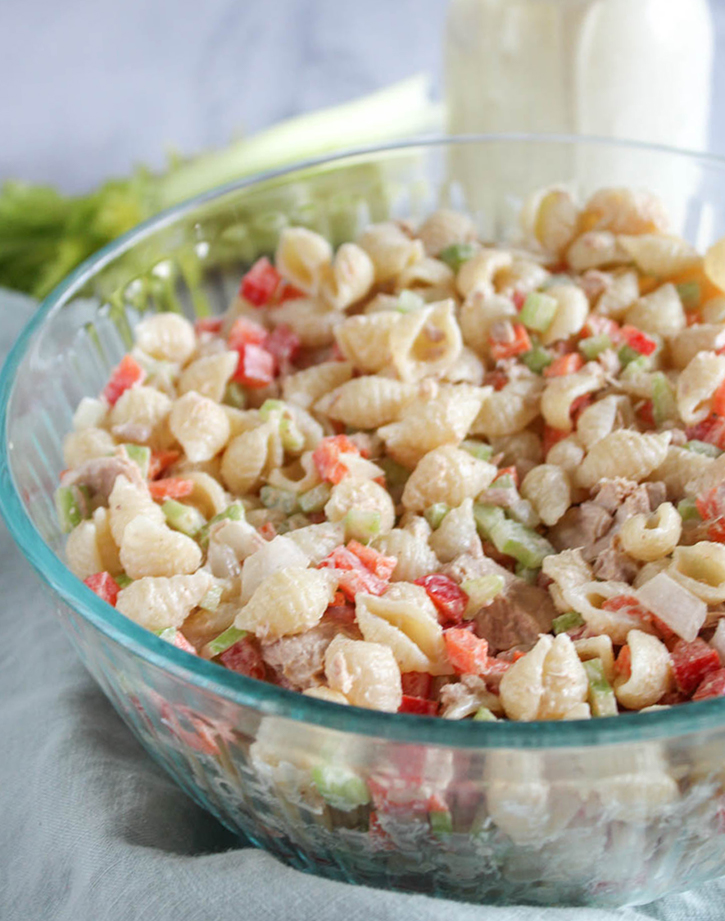 Most macaroni salad recipes have a lot of mayonnaise in them. This salad is different, it is made with a mix of protein-packed Greek yogurt, mayonnaise, and extra fresh vegetables to make this tuna macaroni salad lighter and refreshing.
This is the perfect salad to serve with grilled onion burgers at your next summer party or to bring to a potluck.
Why This Recipe Works
It's healthier! Made with a lot of fresh chopped veggies, Greek yogurt and avocado mayonnaise.
It's a simple salad that comes together quickly and can be served as a main course or a side dish.
It's a versatile recipe! Use any combination of ingredients, and you can even make it gluten-free or dairy-free!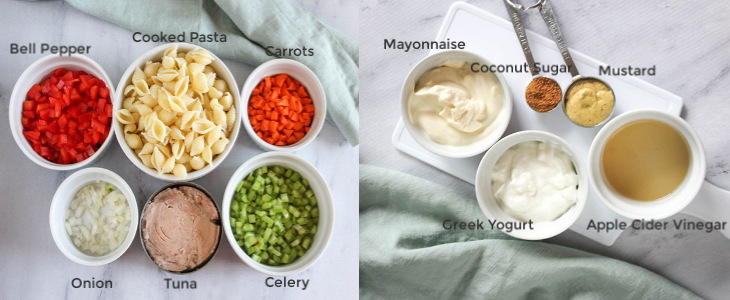 Here is What You Will Need
As an Amazon Associate, I earn from qualifying purchases
This is an overview of the ingredients and steps to make this recipe, scroll down to see ingredient notes and substitutions as well as a printable recipe card with exact measurements and complete cooking instructions.
Ingredients
Celery
Red Bell peppers
Carrots
Red Onion
Greek yogurt
Mustard
Sugar or honey
Paprika
Equipment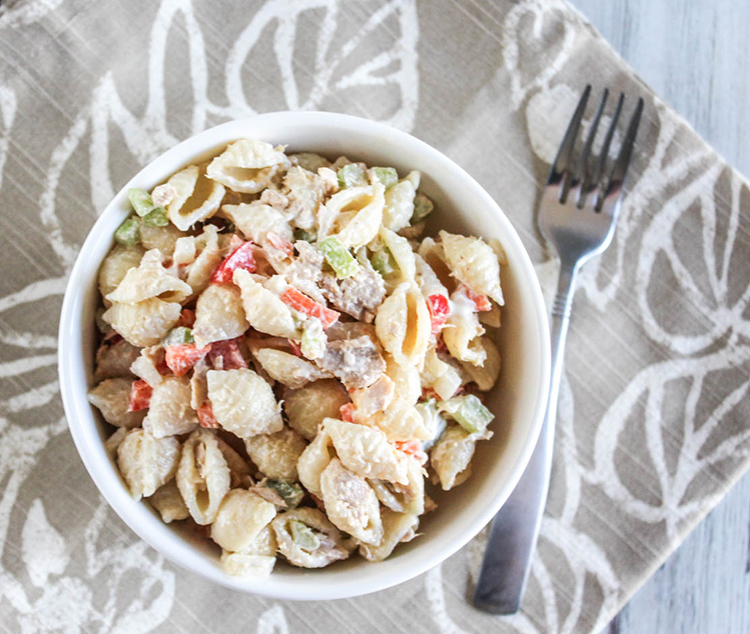 How To Make Healthy Tuna Pasta Salad
Prepare the ingredients: cook the pasta according to the package directions, drain and rinse it in cold water. While the pasta is cooking, drain and rinse off the tuna, chop up the vegetables into bite-sized pieces.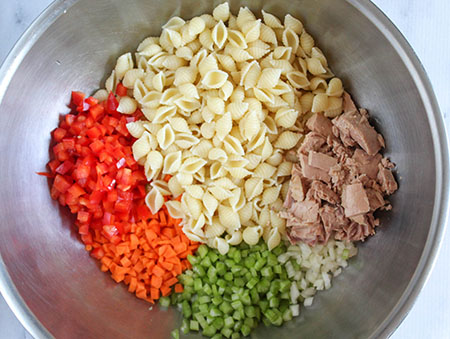 Step 1. Add the salad ingredients
Place the cooked pasta, vegetables, and tuna in a large mixing bowl.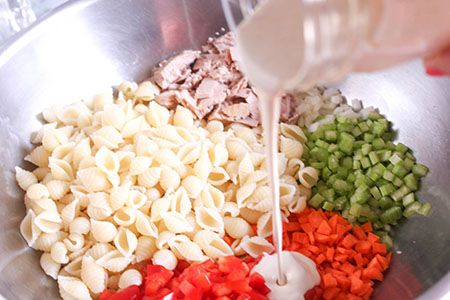 Step 2. Make the Dressing
Mix the dressing ingredients together in a small bowl or mason jar and pour ¾ of the dressing over the salad ingredients in the bowl.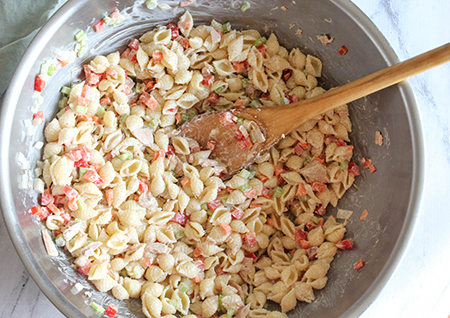 Step 3. Combine the ingredients
Use a wooden spoon to combine all of the ingredients together and refrigerate the tuna macaroni salad until it's time to serve.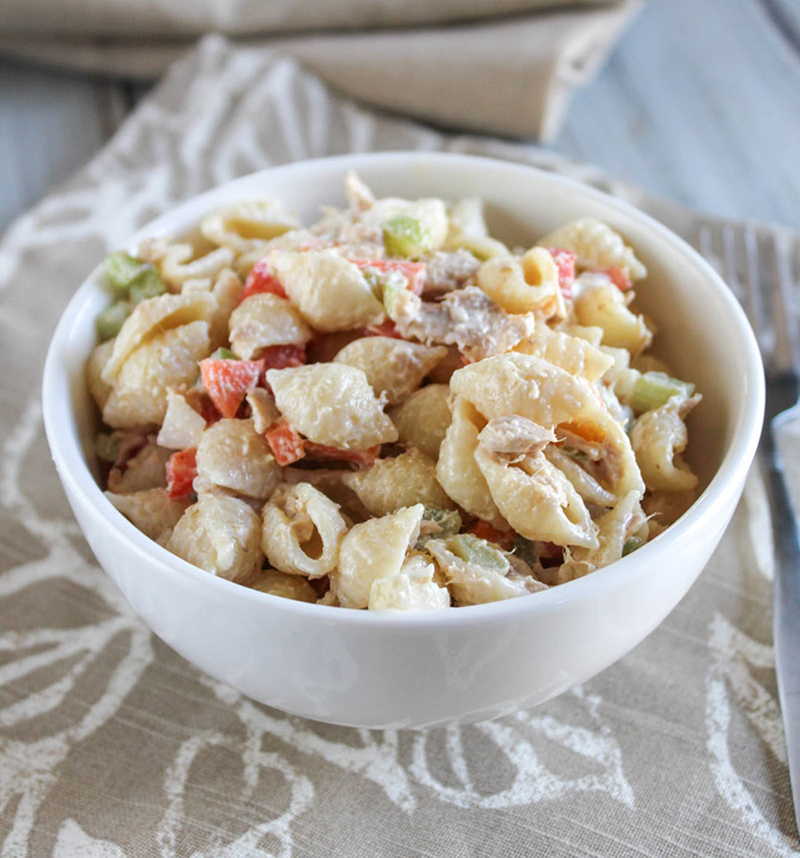 Step 4. Adjust the consistency
To serve the salad, take it out of the refrigerator 10 to 15 minutes before serving and adjust the consistency by adding more dressing.
Tip! If you are not serving the salad within an hour after making it, the salad may be dry, adjust the texture with more dressing. Try adding a little at a time until it's how you like it.
Ingredient Notes & Substitutions
The full list of ingredients to make this tuna macaroni salad recipe is above. Below are notes about some of the ingredients along with ideas for substitutes.
Pasta - Even though I usually cook with whole wheat pasta, smaller-sized white pasta works best in this salad. We like the baby shells or macaroni pasta (elbows) because the little nooks and crannies hold onto the dressing. You can also use a larger pasta such as gemelli or fusilli pasta.
Tuna - I like to use a high-quality solid white albacore to make this salad. When choosing tuna, look for a brand that follows responsible fishing practices and check the ingredient label for additives.
Vegetables - You can use any combination of vegetables that you like. If you don't care for bell peppers, leave them out and add more celery or carrots.
Mayonnaise - I like to use mayonnaise with avocado oil or olive oil, but any kind will work in this tuna mac salad recipe.
Plain Greek yogurt - Adds creaminess, flavor and it lightens up this macaroni salad. If you prefer more mayonnaise, you can use less yogurt or vice versa if you prefer yogurt over mayonnaise. I like using equal amounts of each.
Greek yogurt can be substituted with Icelandic yogurt, regular yogurt or sour cream.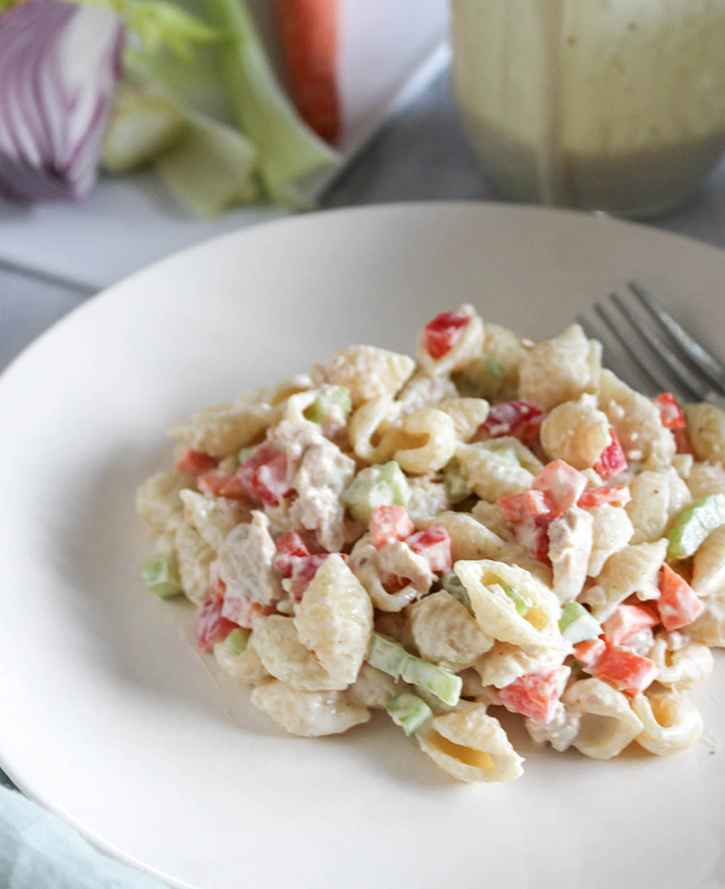 Serving Suggestions
Healthy macaroni salad with tuna can be served as an easy meal with a side salad or it can be served as a side with Caramelized Onion Burgers, Spinach Feta Turkey Burgers or Grilled Jerk Chicken Breasts.
Make Ahead Instructions
This healthy tuna pasta salad recipe is the perfect recipe to make ahead of time. You can make it one to two days before serving it by mixing the cooked pasta together with the diced vegetables and leaving the dressing off.
Store the unassembled salad in the refrigerator in an airtight container for no longer than two days. About 15 to 20 minutes before serving the salad add the dressing.
How to store leftover tuna macaroni salad
Store leftover tuna macaroni salad in the refrigerator for 3 to 4 days in an air-tight container.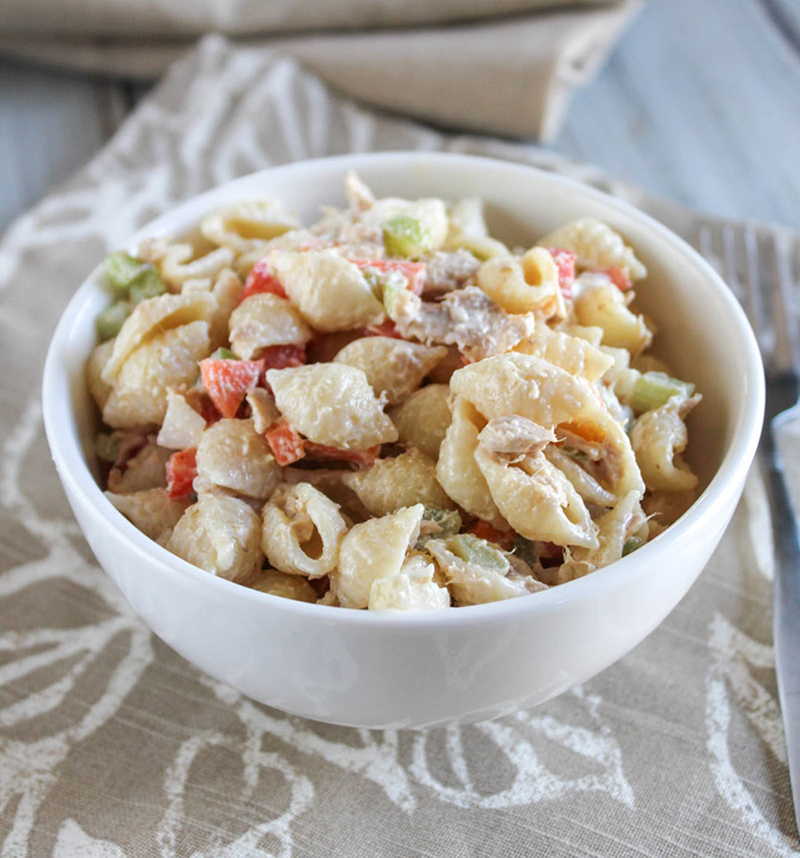 Recipe Variations
Vegetarian Macaroni Salad - leave out the tuna.
Chicken Macaroni Salad - Instead of tuna, use ¼ cup of shredded chicken.
Vegan Macaroni Salad - For a vegan and dairy-free version, replace the mayonnaise with vegan mayonnaise, the Greek yogurt with a plant-based yogurt, and the honey with maple syrup.
Gluten-Free Macaroni Salad - Replace traditional wheat pasta with gluten-free pasta.
Macaroni Salad add-ins - Try adding in any combination of these; thawed frozen peas, chopped hard-boiled egg, pickle relish or chopped pickles.
Recipe Tips and Questions
Recipe Tips
If you run out of dressing, you can also freshen up the salad by adding a teaspoon or two of mayo or Greek yogurt along with a splash of lemon juice.
Questions
How do I keep the pasta from absorbing the mayonnaise in the salad?

Try mixing in a teaspoon or two (gradually) to the pasta until the pasta is lightly coated with the oil. Then pour on the dressing.
Can I freeze leftover tuna macaroni salad?
Freezing macaroni salad is not recommended. The mayo and yogurt will separate and the pasta will become extremely soft.
You Might Also Like these Salad Recipes
Check out more of our pasta recipes here!