Easy no mayo coleslaw is a healthy coleslaw recipe that is light and fresh. It's made with crunchy cabbage, sweet carrots and onions then tossed in a slightly spicy lemon-based dressing.
If you like coleslaw without mayonnaise, this recipe is for you. It's made with no mayo or vinegar, and it's a great option for a lunch or dinner side. Try this coleslaw when you are hosting your next pot-luck with friends and family.
This recipe was originally posted in 2018, it's been updated for content and photos.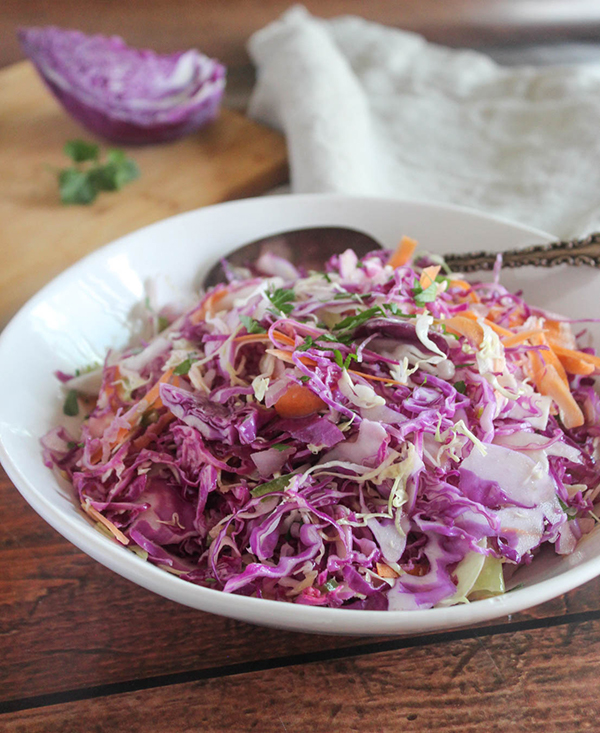 This coleslaw recipe with no mayo is slightly creamy and more like a cabbage salad than traditional coleslaw. We like it on top of a pulled pork sandwich for a little extra crunch.
Why this Recipe Works
It's healthy! Cabbage is filled with nutrients.
There is no mayonnaise, which means no saturated fat!
It's versatile; you can change up the ingredients each time you make it.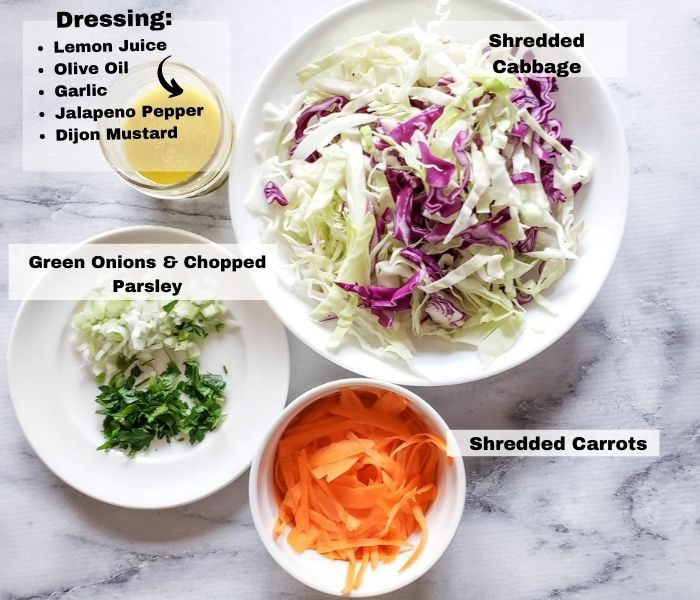 Here is What You Will Need
As an Amazon Associate, I earn from qualifying purchases
This is an overview of the ingredients and steps to make this recipe, scroll down to see ingredient notes and substitutions as well as a printable recipe card with exact measurements and complete cooking instructions.
Ingredients
Cabbage
Carrots
Green Onions
Chopped Parsley or Cilantro
Freshly Squeezed Lemon Juice
Dijon Mustard
Olive Oil
Jalapeno Pepper
---
Here is How To Make No-Mayo Coleslaw
Get all of the ingredients ready: Shred the cabbage and carrots using a sharp knife, box grater, mandoline slicer or food processor.
Chop the onions, jalapeno peppers, and parsley or cilantro. Squeeze the lemon juice and mix the dressing ingredients together in a small bowl or mason jar.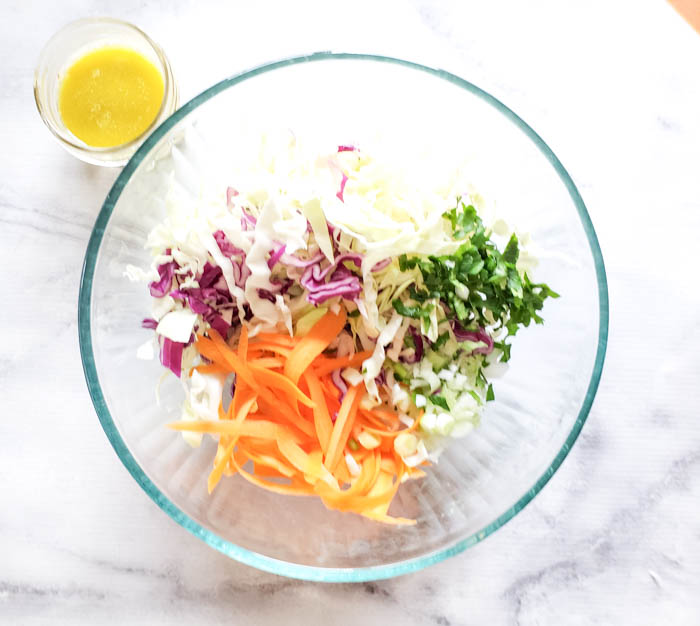 Step 1. Add the vegetables and herbs to a mixing bowl.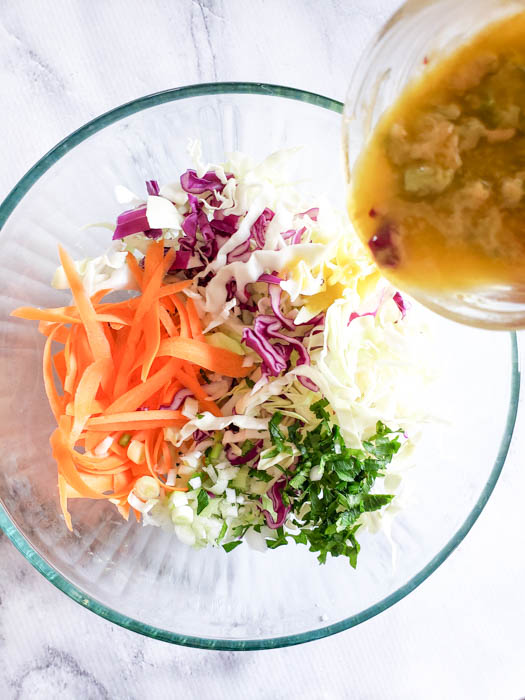 Step 2. Stir or shake the dressing and pour it over the vegetables in the bowl.
Tip! Pour ½ to ¾ of the dressing into the coleslaw and reserve the rest to pour it over the vegetables just before serving.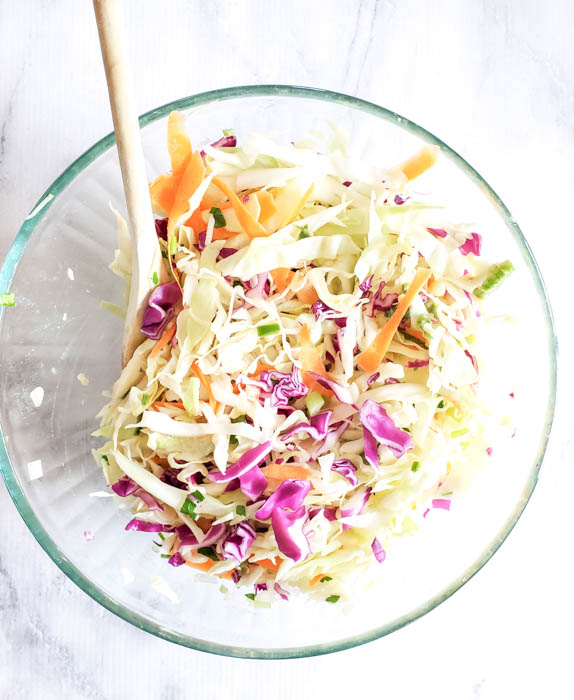 Step 3. Mix everything together and serve or store in the refrigerator until it's time to serve.
Total Estimated Time to Make this Recipe: 20 to 30 minutes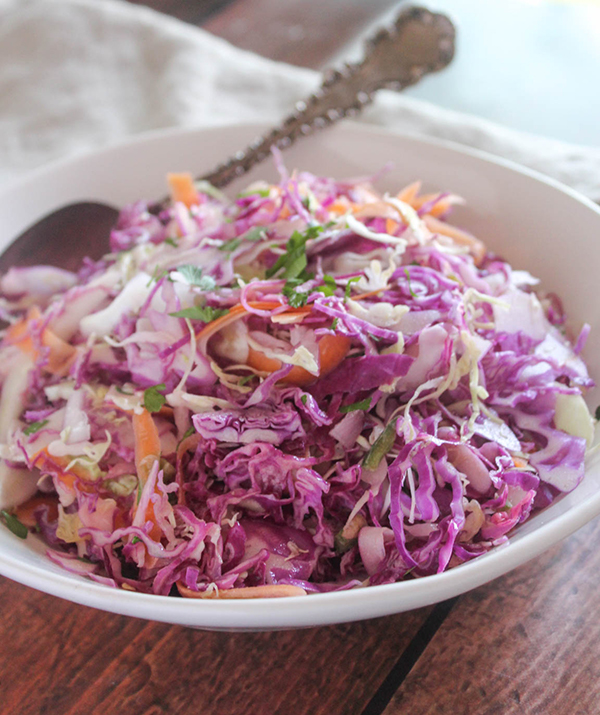 Ingredient Notes & Substitutions
Cabbage I like to use a mixture of red and green cabbage in this recipe, but you can use only green or only red. You can also use an equal amount of savoy or napa cabbage.
Green onions can be substituted with an equal amount of chopped chives or chopped yellow or red onions.
Lemon Juice brings out the flavor in this salad, and it can be replaced with an equal amount of apple cider vinegar.
Jalapeno pepper adds a touch of spice to the slaw and can be left out if you don't like the heat.
Dijon mustard makes the dressing zesty and adds a bit of a creamy texture. It can be replaced 1 to 1 with spicy brown mustard.
Make-Ahead Instructions & Tips
Making this coleslaw recipe ahead of time is highly recommended for the freshest flavor! It's best to make your slaw at least 30 minutes ahead of time and up to a day before. Simply assemble the salad and store it in the fridge and reserve ½ of the dressing until it's time to serve.
Make-Ahead instructions for more than a day before. Chop and shred the vegetables, make the dressing. Store the vegetables and salad dressing in the refrigerator in separate containers for up to three days.
Pour the dressing over about 30 minutes before serving your coleslaw.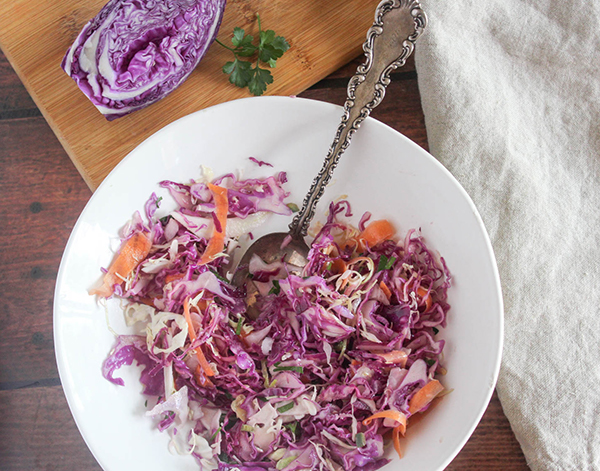 Storing and Using Leftovers
Store leftover coleslaw in the refrigerator for up to four days. If the slaw becomes dry, add a little bit of olive oil and a few drops of olive oil.
Use leftover coleslaw in sandwiches, tacos, wraps, or toss it into a salad.
Recipe Variations
Mexican Coleslaw. For the dressing, combine 2 tablespoons lime juice, 1 tablespoon Greek yogurt, 1 chopped jalapeno, ¼ cup oil for the dressing and sprinkle the coleslaw with cilantro and add ¼ to ½ cup black beans.
Asian Coleslaw. For the dressing, mix together 1 tablespoon tamari or soy sauce, 2 tablespoons rice vinegar, 1 teaspoon sesame oil, ¼ cup olive oil. Toss in ¼ to ½ cup sliced almonds or peanuts.
Serving Suggestions
Crispy and fresh coleslaw tastes great with just about anything. Here are a few suggestions: serve your slaw with a side of pulled bbq pork, grilled chicken, or tacos.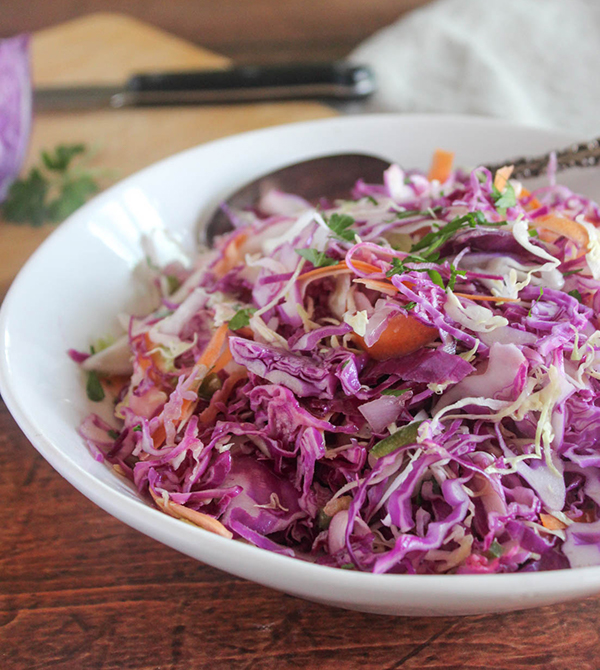 Healthy Coleslaw Questions Answered
Here are the most commonly asked questions about this coleslaw recipe. If your question isn't answered below, leave me a comment and I will get back to you as soon as I can.
Is coleslaw really healthy?
Yes! Coleslaw can be healthy. Cabbage which is part of the cruciferous family of vegetables is loaded with fiber, vitamins and minerals. It's the dressing that gives coleslaw a bad reputation. Stay away from the creamy mayo-filled dressings which usually contain a fair amount of sugar too. That being said if you must have mayo in your coleslaw, add a few teaspoons!
My head of cabbage is bigger than what I needed to make this recipe, what can I do with the cabbage before it goes bad?
Cabbage will last in the refrigerator if it's not chopped or cut for up to two weeks. You can also make your own sauerkraut with it, which will last for months in the fridge.
You Might Like These Recipes
Join our Facebook Group Make it Healthy, Keep it Simple for kitchen tips!