A delicious healthy salad filled with whole grains and fresh vegetables.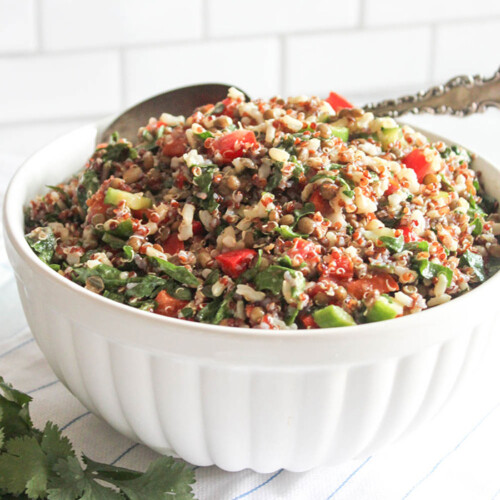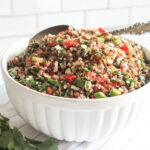 This Costco Quinoa Salad recipe is a refreshing summer salad that's packed with delicious flavors. It's easy to make and it's healthy too! It's made with whole grains, lentils, and freshly chopped vegetables then tossed in a delicious lemon dressing.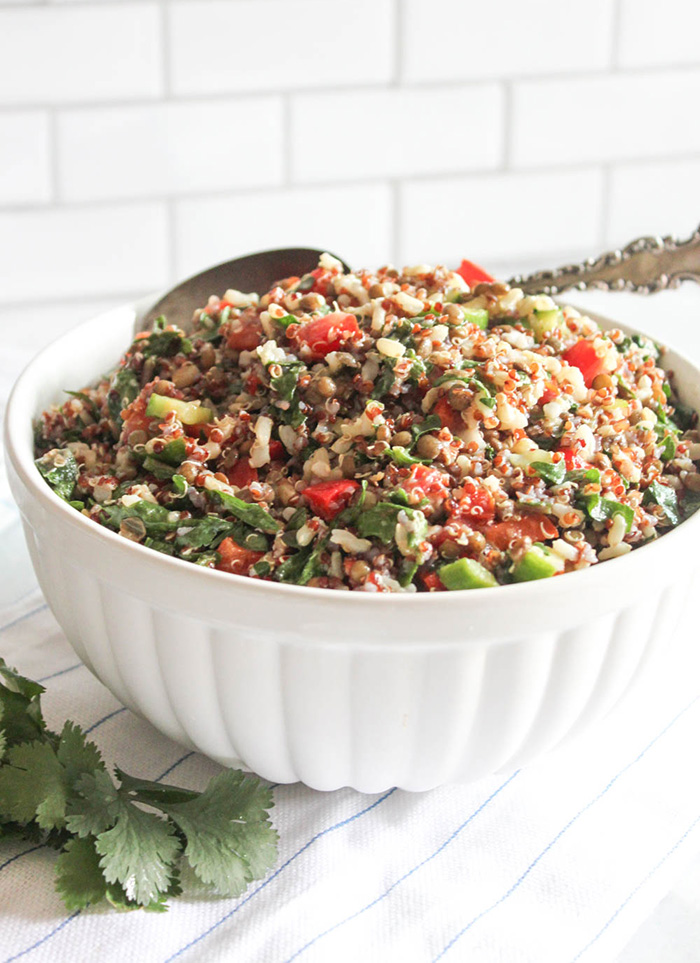 Summer salads are the best! They can be served as a side dish or a main meal for an easy dinner like this pasta and chicken salad which is on our table a lot when it's too hot to cook.
Jump to:
Why you will love this recipe
It's a delicious side dish, or it can be served as a full meal.
Easy to make ahead!
This copycat Costco quinoa salad recipe is versatile! Change up the ingredients for different flavors.
Here is what you will need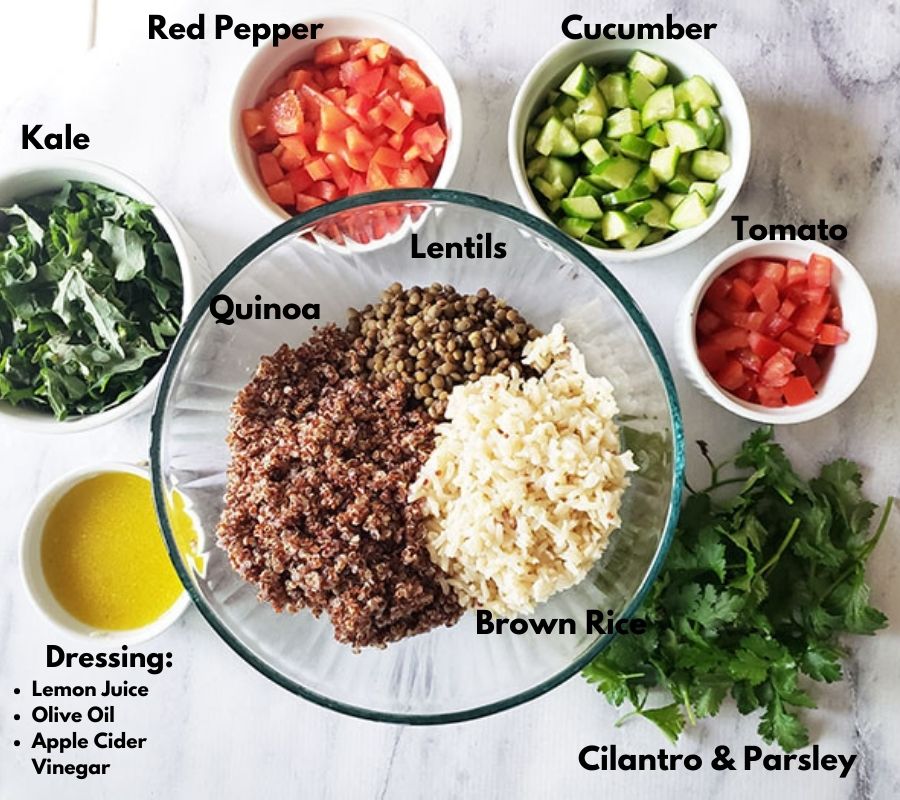 Ingredient List
Red Bell Pepper
Tomato
Cucumber
Fresh Parsley
Fresh Cilantro
Garlic
Kale
Extra-Virgin Olive Oil
Fresh Lemon Juice
Apple Cider Vinegar
Maple Syrup
Sea Salt
Black Pepper
Equipment
Here is how to make Costco Quinoa Salad
Prepare the ingredients: Cook the rice, quinoa and lentils according to package instructions. Chop the veggies and whisk together the tangy dressing in a small bowl or jar.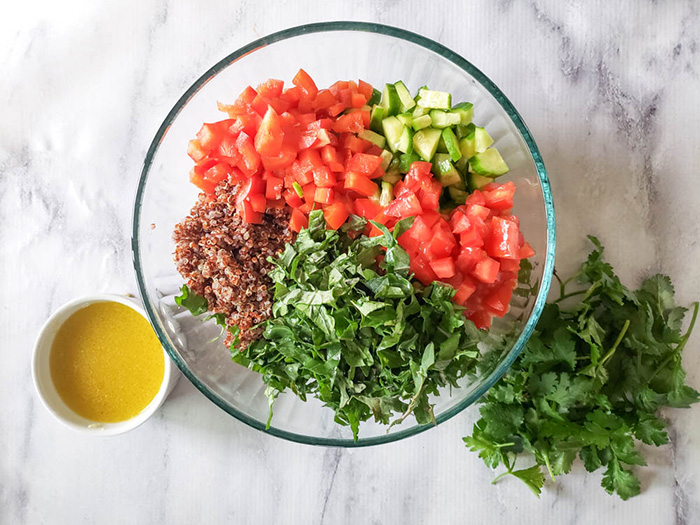 Step 1. Place ingredients into a bowl
Place the cooked quinoa, brown rice, lentils vegetables into a bowl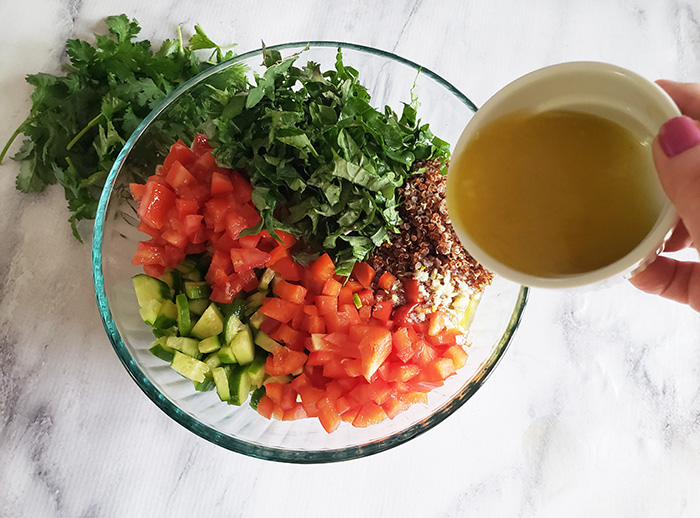 Step 2. Add dressing
Pour on half of the dressing and stir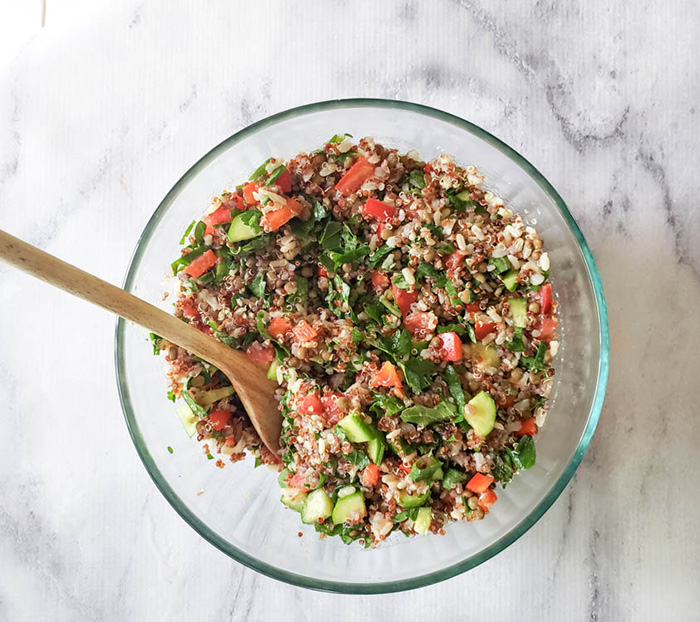 Step 3. Mix it all together
Add the fresh herbs and mix everything together. Season with sea salt and pepper. Serve immediately or refrigerate.
Time Saving Tip! Use pre-chopped veggies from the supermarket to make this recipe.
Ingredient Notes & Substitutions
The full list of ingredients to make Costco quinoa salad is above. Below are notes about some of the ingredients along with ideas for substitutes.
Quinoa - comes in a variety of colors, all are similar in taste, but some may take a little bit longer to cook. You can use any color of quinoa in this salad.
The Costco recipe is made with white quinoa, but I like to add a little more color and use red quinoa in my homemade version.
Kale - is a sturdy green that holds up well in this salad. It can be replaced with chopped spinach if you don't care for kale or if kale isn't available.
Cucumber - any type of fresh cucumber that you have on hand will work in this recipe. English cucumber is my preference; it has a sweeter flavor and smaller seeds.
Substitute the cucumber with small zucchini.
Lentils - small lentils such as red lentils or French lentils work the best in this recipe. They are similar in size to rice and quinoa.
Rice - I use long grain brown rice which isn't as starchy and sticky like short grain rice is, but you can use any type of cooked rice that you like.
Substitute rice with a cup of quinoa.
Vinegar - apple cider vinegar adds a bit of a fruity flavor to the dressing, and it can be replaced with red wine vinegar, white wine vinegar, and even balsamic vinegar.
White vinegar is not recommended in this recipe, its flavor is too strong and sharp.
Maple Syrup - adds just the right amount of sweetness to this delicious salad. Honey is a good substitute for maple syrup in this salad.
Extra Virgin Olive Oil - Extra virgin is lighter in flavor and perfect for making salads. It can be substituted with avocado oil or regular olive oil.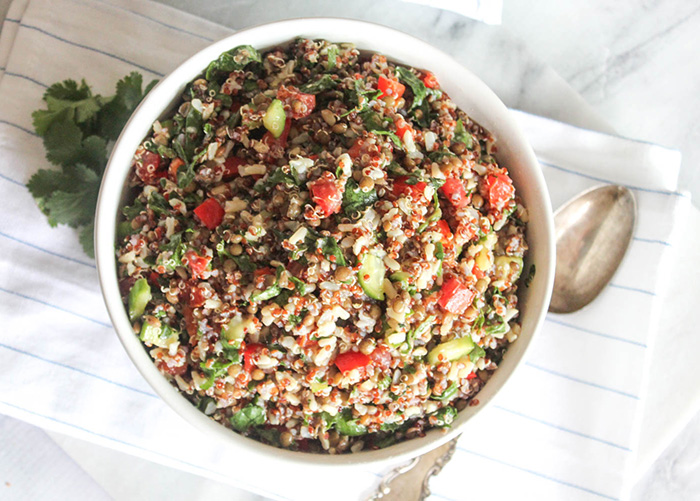 How to make Costco quinoa salad ahead of time
This delicious salad is so easy to make ahead of time! Cook the quinoa, rice and lentils up to two days ahead and store them separately in the refrigerator.
Chop up the vegetables, and store the chopped veggies separately in the refrigerator for two to three days.
When it's time to serve the salad, combine all of the salad ingredients in a large serving bowl. In a smaller bowl whisk the dressing ingredients together and stir in the dressing and herbs.
Variations
This healthy salad is so versatile! You can follow the recipe instructions or get creative and try making this great salad in different ways! Here are some suggestions.
Change the fresh vegetables - use any combination of cooked chopped mushrooms, steamed chopped broccoli, carrots or chopped asparagus.
Greek quinoa salad - Toss in ¼ to a half cup of kalamata olives and ¼ cup of feta cheese.
Spicy Quinoa Salad - add ½ to a teaspoon of red pepper flakes to the salad.
Serving suggestions
Serve this zesty quinoa salad as a main dish or a side dish. It tastes great topped with a dash of lemon zest alongside grilled pork chops, burgers or chicken. It's also perfect to bring to your next potluck!
How to store leftover quinoa salad
Leftover quinoa salad will last in the refrigerator in an airtight container for 3 to 4 days.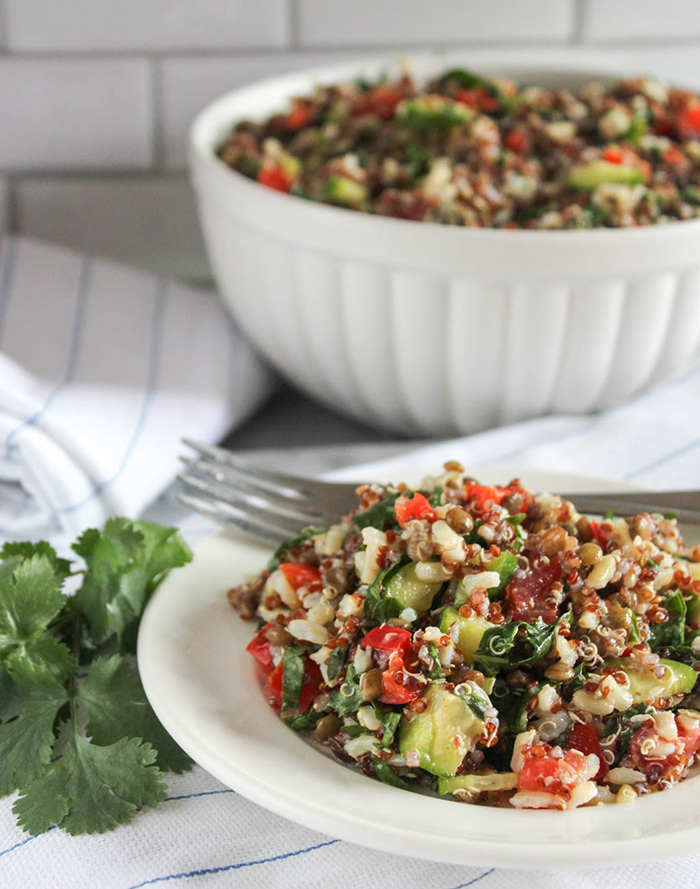 Recipe tips and questions
Tips
This easy quinoa salad recipe is a great way to use up leftover rice or quinoa.
Play around with the ratio of rice, quinoa, and lentils to your preference. There should be about 2 ½ cups of whole grains and lentils. I like an equal amount of rice and quinoa and fewer lentils. If you love lentils, add more of them! This salad is that versatile!
Questions
Can you freeze quinoa salad?
Freezing Costco quinoa salad is not recommended, the vegetables and dressing add a considerable amount of moisture to this salad and will be soggy once it has thawed out. You can, however, freeze plain-cooked quinoa and rice. Place cooked room temperature quinoa and rice into an airtight bag, for up to three months. Thaw it out in the refrigerator overnight and use it to make the salad.
Is Costco quinoa salad vegan?
Yes, this salad is vegan. It's a good source of protein and fresh veggies!
You might also like these healthy recipes
📖 Recipe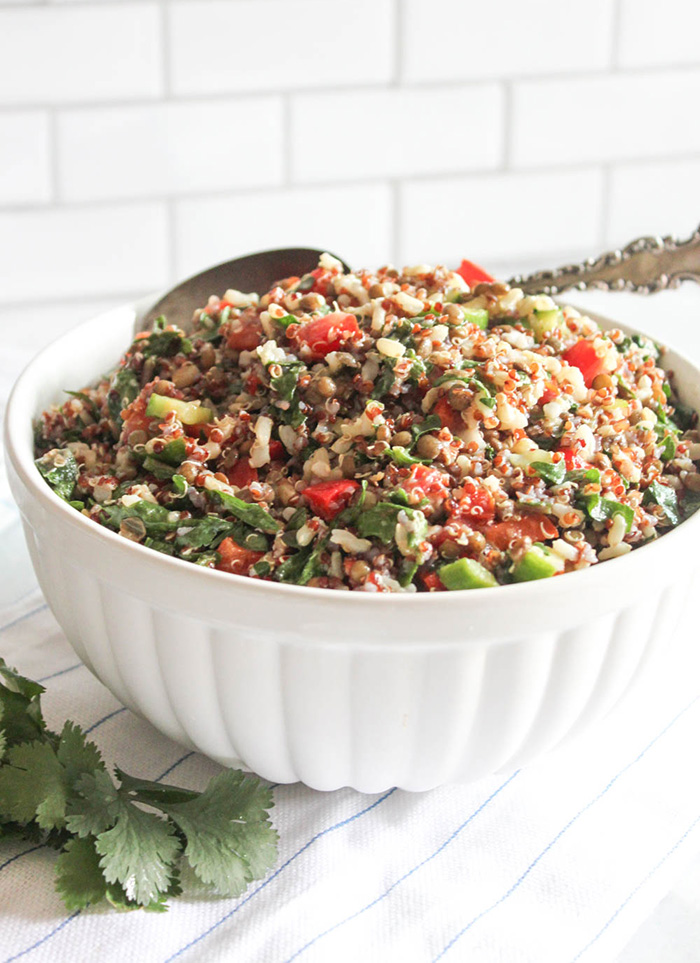 Click on serving size to scale this recipe
Ingredients
¼

cup

uncooked Red or French Lentils or ½ cup cooked

¼

cup

uncooked long grain brown rice or 1 cup cooked

¼

cup

uncooked quinoa or 1 cup cooked quinoa

½

of a medium to large red bell pepper chopped

1

small tomato chopped or half of a large tomato

1

small cucumber or ½ of a large chopped

¾

cup

baby kale chopped fine or shredded.

¼

cup

of chopped flat leaf parsely

¼

cup

chopped cilantro

¼

cup

extra virgin olive oil

¼

cup

apple cider vinegar

The juice of one lemon

Sea salt and pepper to taste
Instructions
If they are not already cooked, cook the whole grains and lentils according to package instructions.

While the whole grains are cooking, chop the vegetables.

Place the cooked whole grains and lentils into a large mixing bowl and add the chopped vegetables.

Mix in half to ¾ quarters of the dressing and serve and then add the parsley and cilantro - season with sea salt and pepper.

Serve immediately with extra dressing on the side or refrigerate until it's time to serve.
Notes
This recipe will serve two as a full meal.
Store leftover quinoa salad in the refrigerator for three to four days.
Nutrition
Serving:
3
/4 cup approximately
|
Calories:
338
kcal
|
Carbohydrates:
42
g
|
Protein:
9
g
|
Fat:
16
g
|
Saturated Fat:
2
g
|
Polyunsaturated Fat:
13
g
|
Sodium:
98
mg
|
Fiber:
7
g
|
Sugar:
5
g
Nutrition information provided is an estimate and can vary based on cooking methods and ingredients used
Check out more of our salad recipes here!