Sauteed cauliflower is an easy side dish recipe that will soon be your favorite way to make cauliflower.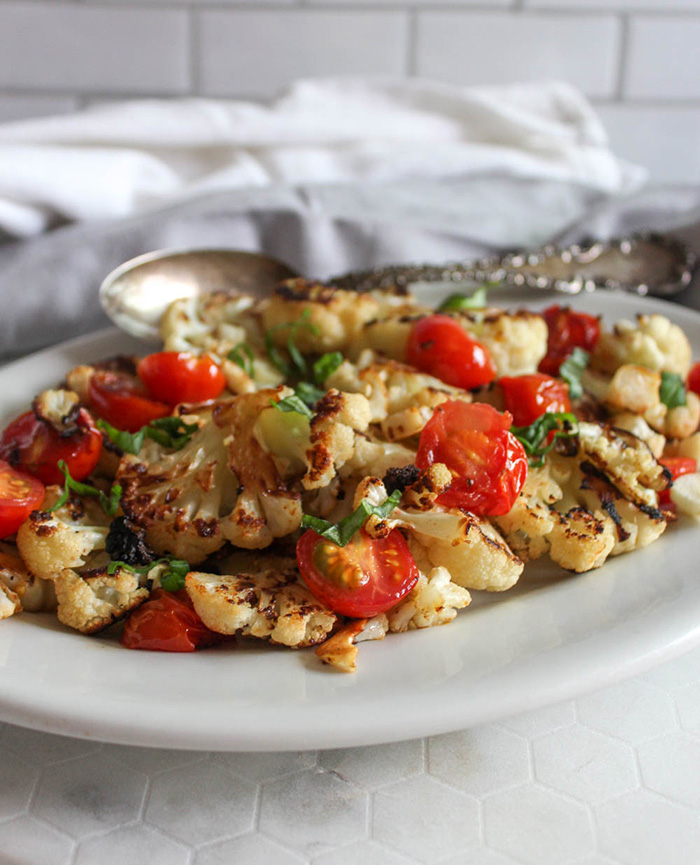 Cauliflower is a versatile vegetable! There are so many different ways to prepare it. You can turn it into cauliflower rice or buffalo bites, but this sauteed cauliflower recipe lets this delicious vegetable shine and be what it's meant to be - cauliflower.
Jump to:
Why you will love this recipe
It's a simple recipe, made with only four ingredients.
Sauteed cauliflower is versatile, see suggestions for variations below.
Here is what you will need
As an Amazon Associate, I earn from qualifying purchases.
This is an overview of the ingredients and steps to make this recipe, scroll down for a printable recipe card with exact measurements and instructions.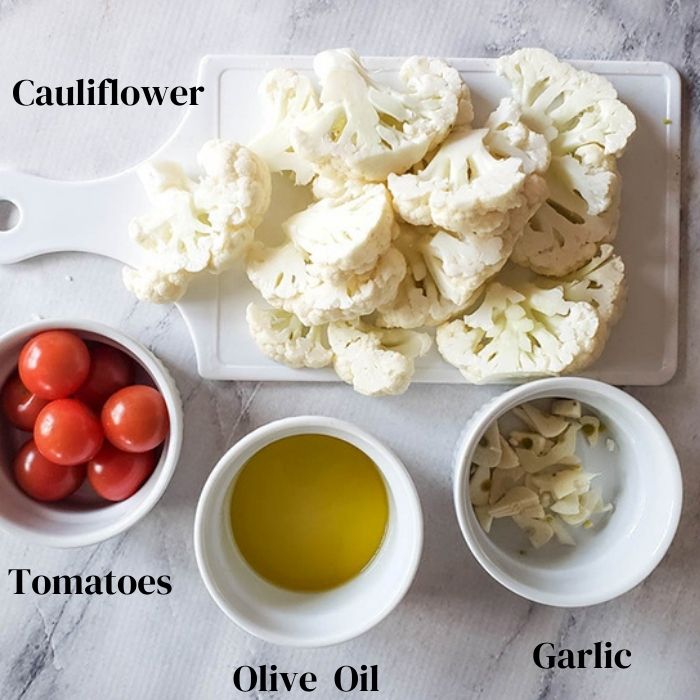 Ingredients
Small Whole Head of Cauliflower
Fresh Garlic
Cherry Tomatoes
Equipment
How to make sauteed cauliflower
Prepare the ingredients: remove the outer leaves of the cauliflower and cut the head into slices, remove the stems and break the cauliflower apart into smaller pieces. Rinse the cauliflower pieces under cold water and pat them dry.
Rinse the cherry tomatoes and slice them in half, chop the garlic, and heat the olive oil in a skillet over medium-high heat.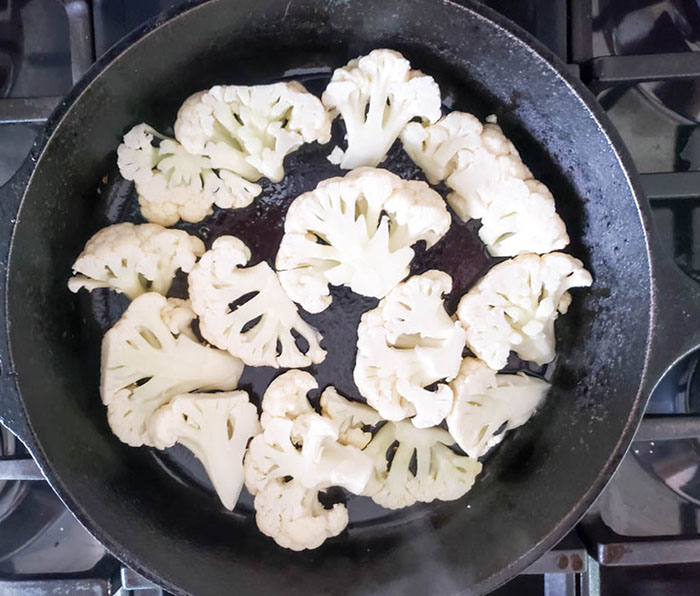 Step 1. Sear the cauliflower
Once the skillet is hot, add the cauliflower pieces and sear them for a few minutes until the underside begins to turn golden brown and flip them over.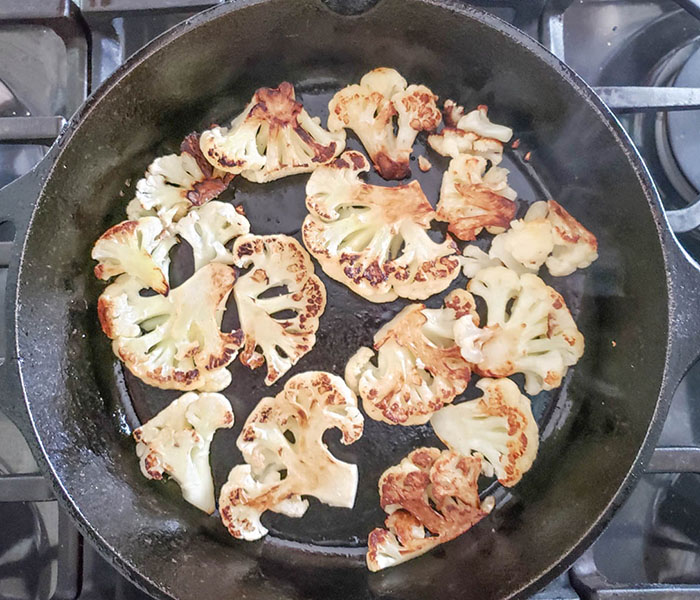 Step 2. Add the garlic
Continue to cook the cauliflower until both sides are golden brown in color. Reduce to medium heat and add the garlic and toss it in the skillet.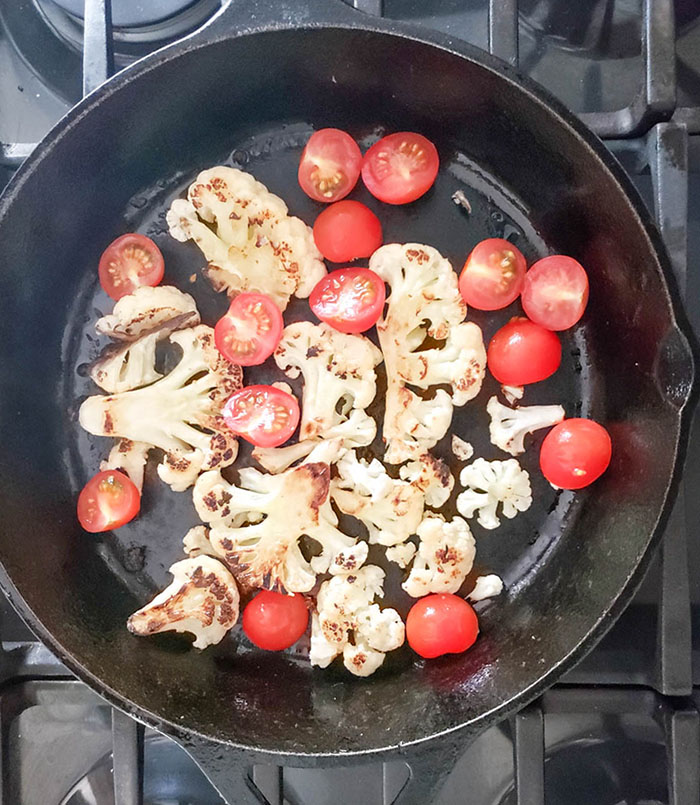 Step 3. Add the tomatoes
Add the tomatoes to the skillet and toss them around until they begin to soften.
Short cut tip! Save some time and pre-cut cauliflower florets, in your produce section and slice them in half.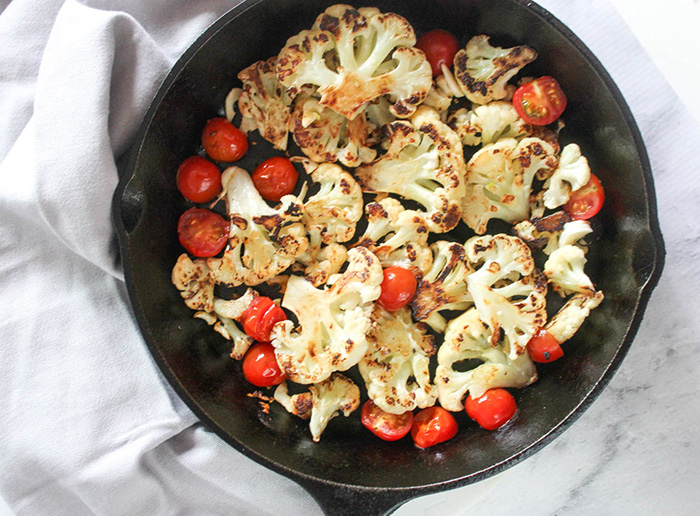 Ingredient Notes & Substitutions
The full list of ingredients to make this sauteed cauliflower recipe is above. Below are notes about some of the ingredients along with ideas for substitutes.
Cauliflower - I recommend using fresh cauliflower in this recipe. It is available in the grocery store year-round and is easy to find.
The texture of the cauliflower in this recipe will have a bite, which will not work with frozen cauliflower.
Garlic - I like to use fresh garlic in this recipe. If it's not available you can use ½ teaspoon of garlic powder.
Cherry tomatoes - add some brightness to this recipe. If cherry tomatoes aren't available, they can be substituted with grape tomatoes or one medium-sized chopped tomato. You can also leave the tomatoes out.
Variations
This recipe is so versatile! You can change up the flavor by adding any combination of ingredients, here are some suggestions:
Add more vegetables - add sliced mushrooms, bell peppers, or sun-dried tomatoes to the cauliflower at the end of the cooking process.
Make it spicy- sprinkle the cauliflower with a teaspoon or two of red pepper flakes just before serving
Add cheese - Add a few tablespoons of freshly shredded parmesan cheese.
Add breadcrumbs - Toss in a handful of toasted breadcrumbs just before serving.
Lemon and herb sauteed cauliflower- Add a few teaspoons of fresh lemon juice and a few sprigs of fresh herbs such as chopped dill, parsley, oregano or cilantro just before serving.
Olives - add ¼ to a half cup of sliced olives to the cauliflower just before serving.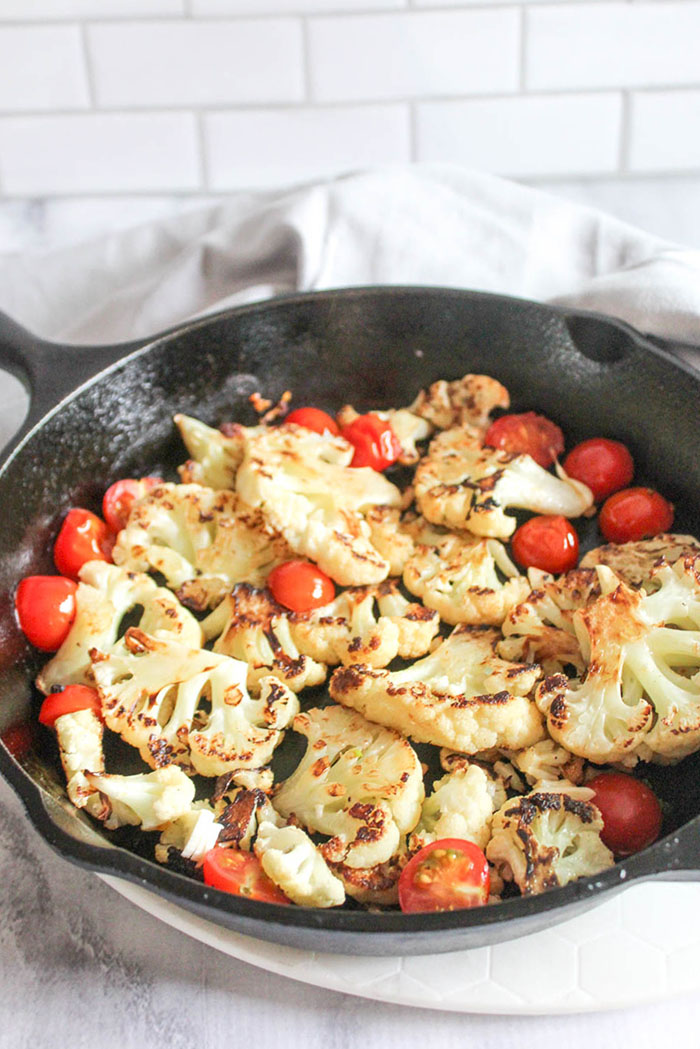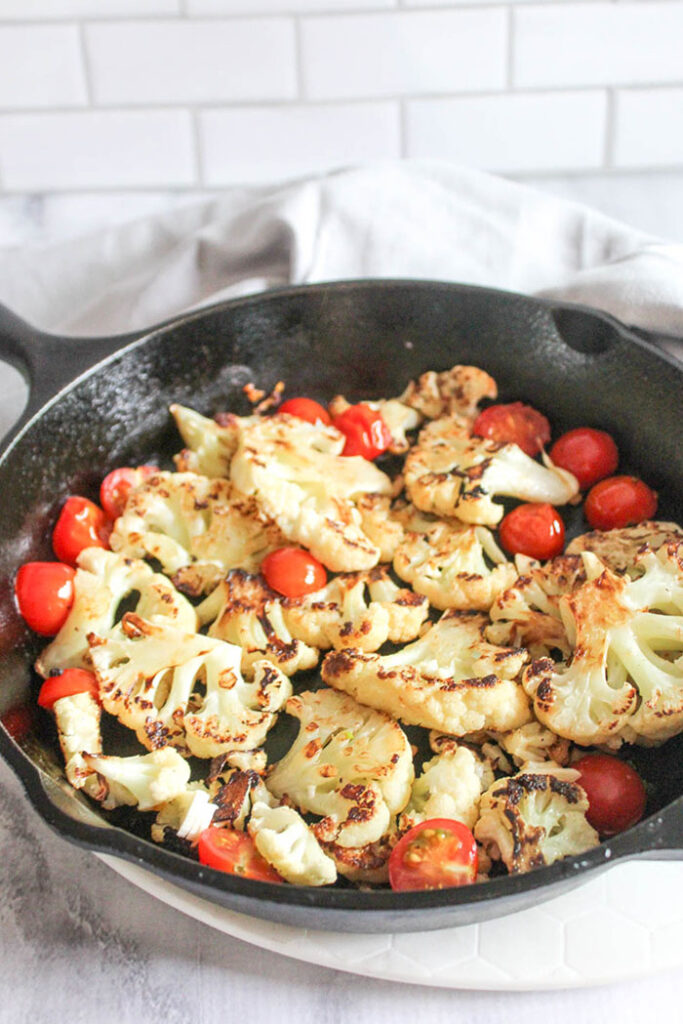 Serving suggestions
Serve this delicious side dish with grilled chicken, pork chops or shrimp. You can also enjoy this as a light vegetarian entree.
Serve sauteed cauliflower as an entree for two topped with grilled chicken breast, white beans, or whole wheat pasta.
How to store leftovers
Store leftover sauteed cauliflower in the refrigerator for up to three days in an airtight container.
Leftover sauteed cauliflower can be reheated in the oven, microwave, or enjoyed cold.
For more simple and delicious recipes like this, subscribe to our newsletter and receive a free e-book and meal suggestions straight in your inbox!
Recipe tips and questions
Tips
Slice the cauliflower so that the ends are flat, which will help to brown the edges.
Make sure the cauliflower is completely dry before adding it to the hot skillet, this will also help to brown the edges of the cauliflower and keep it from becoming mushy.
Spread the cauliflower out in the skillet leaving room between pieces so that the cauliflower doesn't steam.
Questions
Do I need to cover the skillet when cooking the cauliflower?
No, do not cover the skillet! The texture of the cauliflower in this recipe will be crisp-tender. Covering the skillet will make the cauliflower turn soft and mushy.
Is it necessary to boil the cauliflower before sauteeing it?
No, you don't need to boil the cauliflower before sauteeing it unless you prefer a softer textured cauliflower. If you prefer a softer texture, you can add the cut cauliflower to boiling water for two to three minutes, remove, drain and rinse in cold water then dry it completely.
If you like this recipe, please comment and rate it below!
Check out more of our side dish recipes here!