Creamy, flavorful Instant Pot Asparagus Risotto is made with simple and fresh ingredients that bring the flavors of spring together.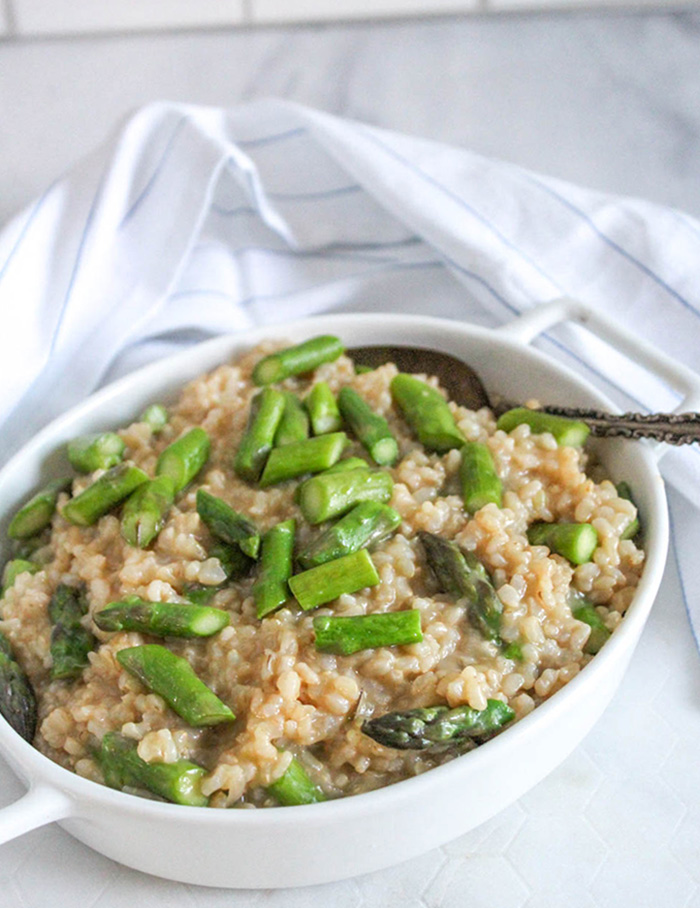 The traditional way to make creamy risotto requires a lot of hands-on time and can be intimidating to make. But when you make risotto in an Instant Pot, it's so easy and the risotto turns out perfect! Just toss in the ingredients and walk away until it's done.
The instant pot can make some traditional recipes taste fantastic, like this recipe and it's also is a great way to make mashed potatoes.
Jump to:
Why you will love this recipe
It's quick, easy, and hands-off with no stirring over a hot stove.
Instant pot asparagus risotto is made in one pan which means easy clean-up!
It's healthy, made with brown rice and fresh asparagus.
Here is what you will need
This post may contain affiliate links, as an Amazon Associate, I earn from qualifying purchases.
This is an overview of the ingredients and steps to make this recipe, scroll down for a printable recipe card with exact measurements and instructions.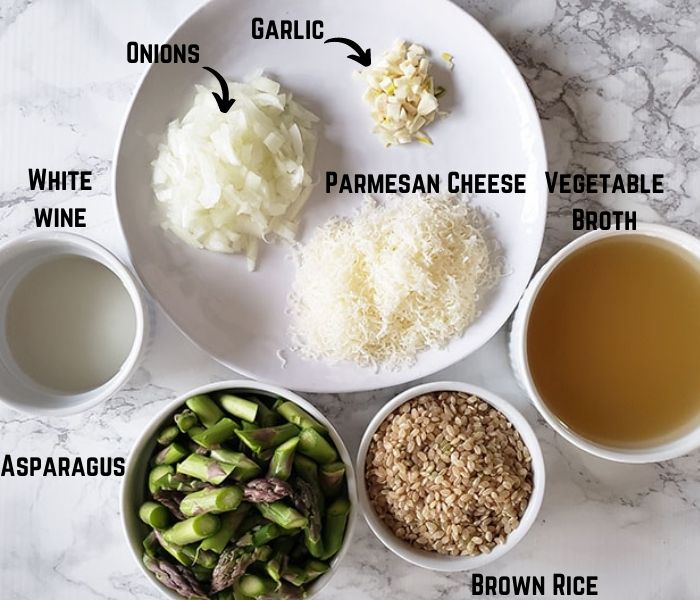 Ingredients List
White wine
Vegetable broth (this is my recipe for vegetable broth)
Freshly grated parmesan cheese
Onion
Garlic
Equipment
How to make this Instant Pot Risotto Recipe
Prepare the ingredients: Clean and cut the asparagus spears into bite-sized pieces, chop the onions and garlic. Shred the parmesan cheese, and measure the broth, rice, and white wine.
Set the instant pot or pressure cooker to the saute setting.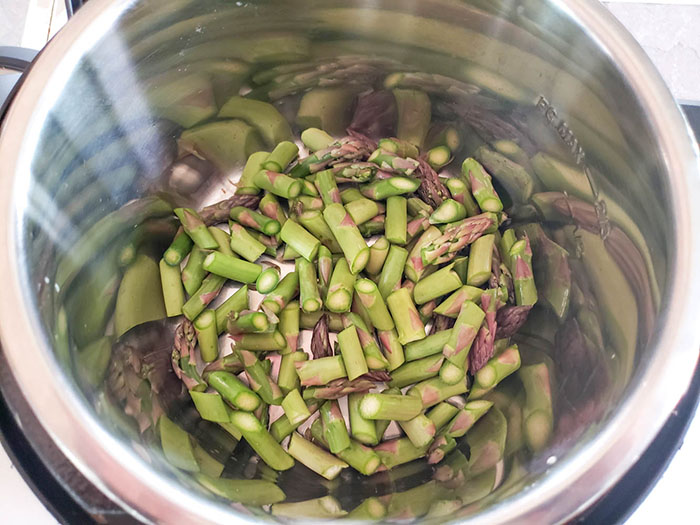 Step 1. Cook the Asparagus
Once the Instant Pot is hot, add the olive oil and asparagus. Cook for a few minutes until the asparagus becomes crisp-tender. Remove it from the Instant Pot.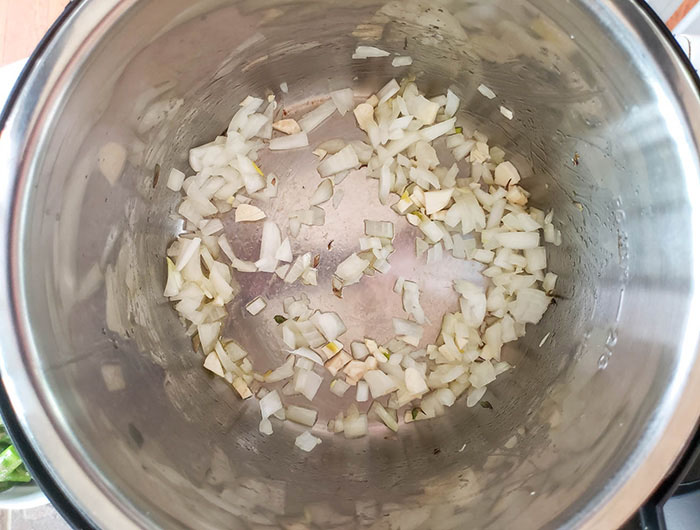 Step 2. Cook the onions
Add the onions and garlic to the hot instant and cook them for a few minutes; stir in the rice and cook for a few minutes longer.
Step 3. Add the broth
Press cancel to turn off the saute function, and add the broth and wine to the instant pot.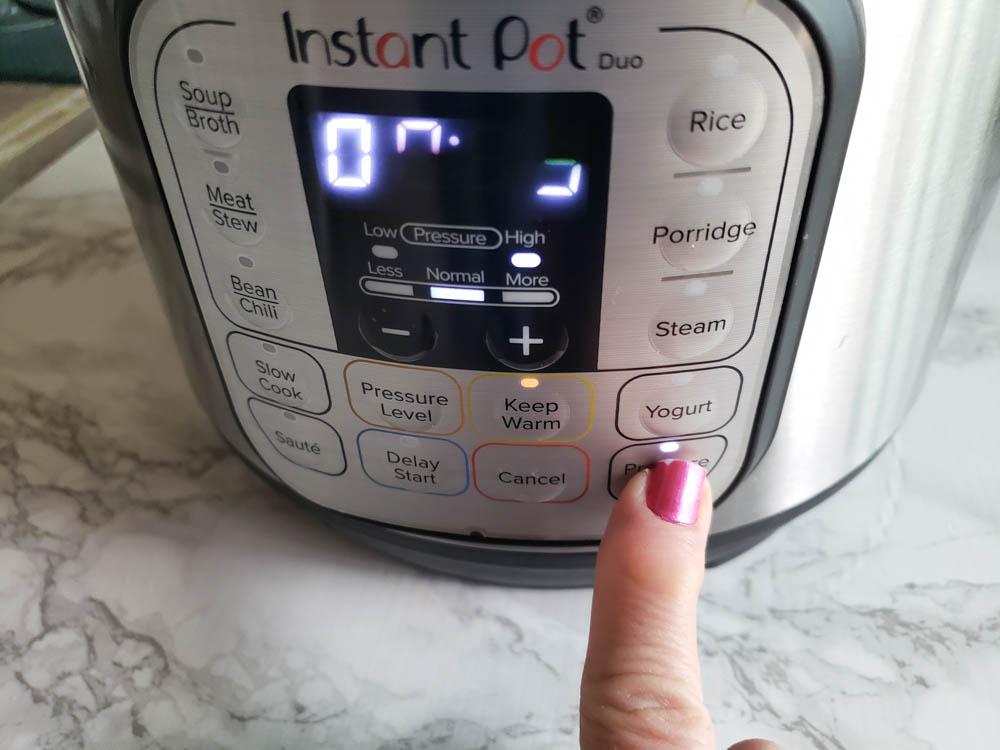 Step 4. Set the pressure cooker
Set the pressure cooker to high heat and cook for 20 minutes and slow release after 5 minutes.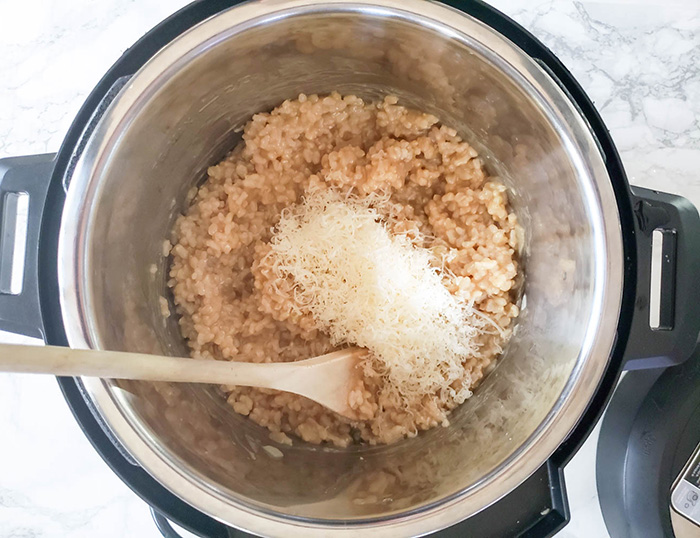 Step 5. Add the cheese and asparagus
Carefully remove the lid from the instant pot and stir in the parmesan cheese and asparagus.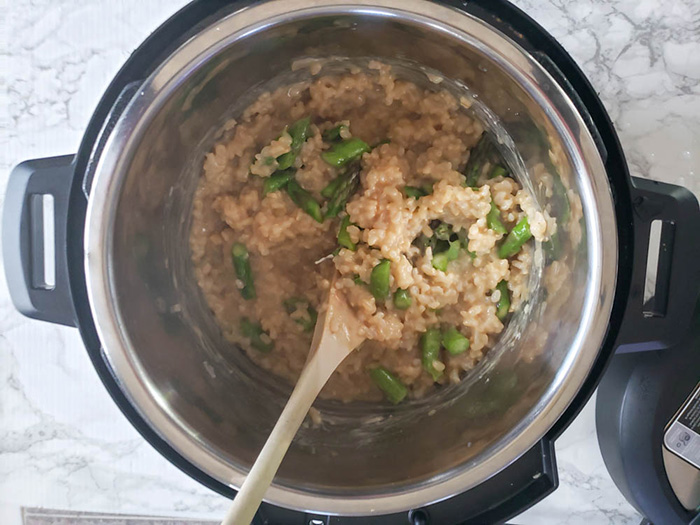 Step 6. Add asparagus
Stir in the asparagus and serve.
TIP: If the risotto isn't creamy enough, add some broth a little bit at a time until it reaches a consistency that you like.
Ingredient notes & substitutions
The full list of ingredients to make this Instant Pot risotto is above. Below are notes about some of the ingredients along with ideas for substitutes.
Brown short grain rice. Traditional risotto is made with white arborio rice which is short grain white rice. To keep this recipe nice and healthy, I like to use short grain brown rice, and the risotto always turns out perfect.
You can replace short grain brown rice with white arborio rice, but the cooking time will need to be adjusted to 10 minutes, and released after 5 minutes.
Vegetable broth. Adds flavor to this vegetarian risotto and can be substituted with chicken broth for a nonvegetarian version.
White wine. For an alcohol-free version, the wine can be replaced with an equal amount of broth.
Try our homemade vegetable broth recipe to make risotto!
Variations
One of the many great things about risotto is that it is very versatile! You can add any kind of cooked seasonal veggies, or add some protein and make it a full meal. Here are some suggestions:
Add more vegetables - Stir in a cup of fresh spinach at the end of the cooking process or add any combination of cooked sliced mushrooms, peas, broccoli or your favorite in-season veggies.
Asparagus lemon risotto - Add 2 tablespoons of freshly squeezed lemon juice with the broth and wine, and garnish it with lemon zest.
Stir in fresh herbs - Add a few sprigs of chopped fresh herbs such as fresh thyme, parsley, or tarragon.
Change up the cheese- Instead of using parmesan cheese try using pecorino romano or gruyere cheese.
Add protein - For a fully nutritious meal, add ½ pound of diced cooked chicken breast, or cooked shrimp.
Vegan asparagus instant pot risotto - For a vegan version, replace the parmesan cheese with an equal amount of nutritional yeast.
Change up the grains - Even though short grain rice makes the best risotto, you can also try making risotto with long grain rice or any whole grain such as farro or barley, and adjust the creaminess if needed with more broth or milk.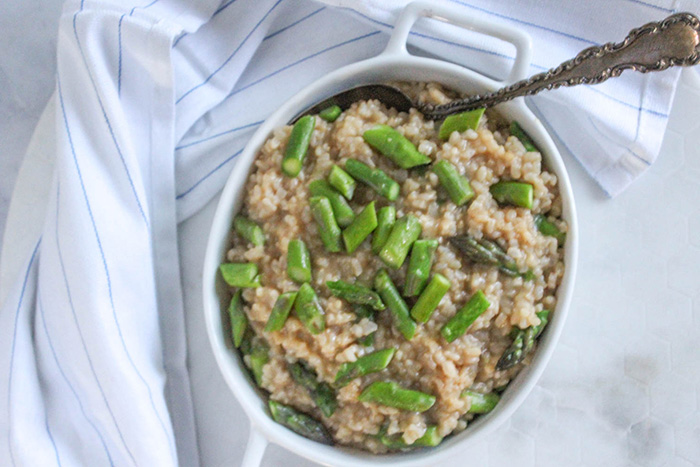 Serving suggestions
Even though risotto can be a meal all by itself, it also tastes great as a side dish with grilled chicken, lemon chicken with broccoli, or grilled pork chops or pork chops with vinegar and peppers.
How to store leftover risotto
Store leftover asparagus risotto in an airtight container in the refrigerator for 3 to 4 days.
Reheat it on top of the stove over low heat with a little bit of broth or water to restore the creamy texture.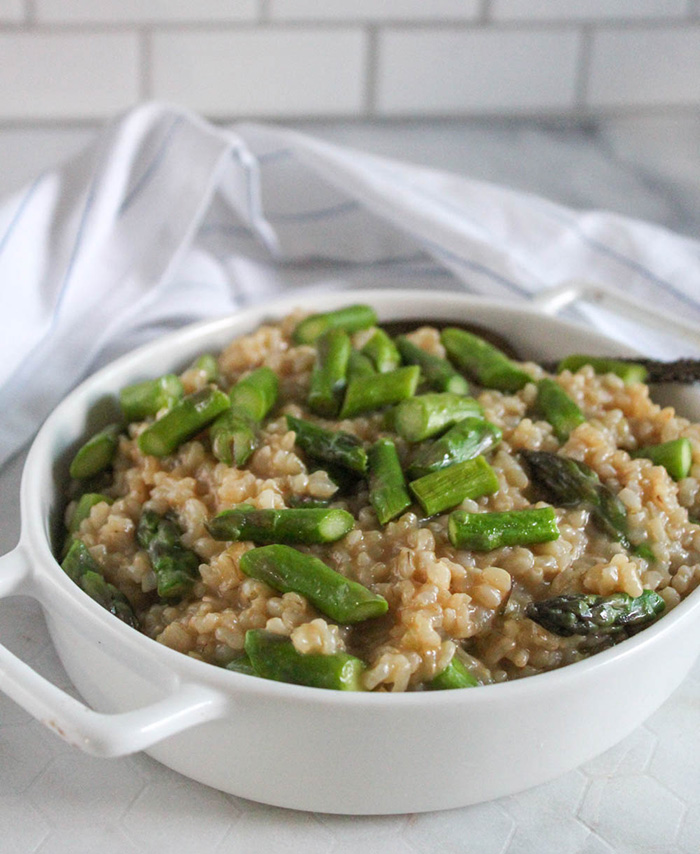 Recipe tips and questions
Top Tips
FAQs
Can I make brown rice Instant Pot risotto with arborio rice?
Yes, you can! Use the same amount of rice and liquid as stated in the recipe card, and adjust the cooking time to 10 minutes on high heat and release after 10 minutes.
What is risotto?
Risotto is a creamy Italian dish that is made with rice and simmered slowly with broth and onions or garlic. The slow cooking allows the rice to release its starches, and when the cheese is added it creates a rich and flavorful sauce.





For more simple and delicious recipes like this, subscribe to our newsletter and receive a free e-book and meal suggestions straight in your inbox!
You might also like these side dish recipes
If you like this recipe, please comment and rate it below!
Check out more of our Instant Pot Recipes Here!