Grilled jerk chicken breasts have been  soaked in a spicy jerk marinade then grilled for a quick and healthy dinner.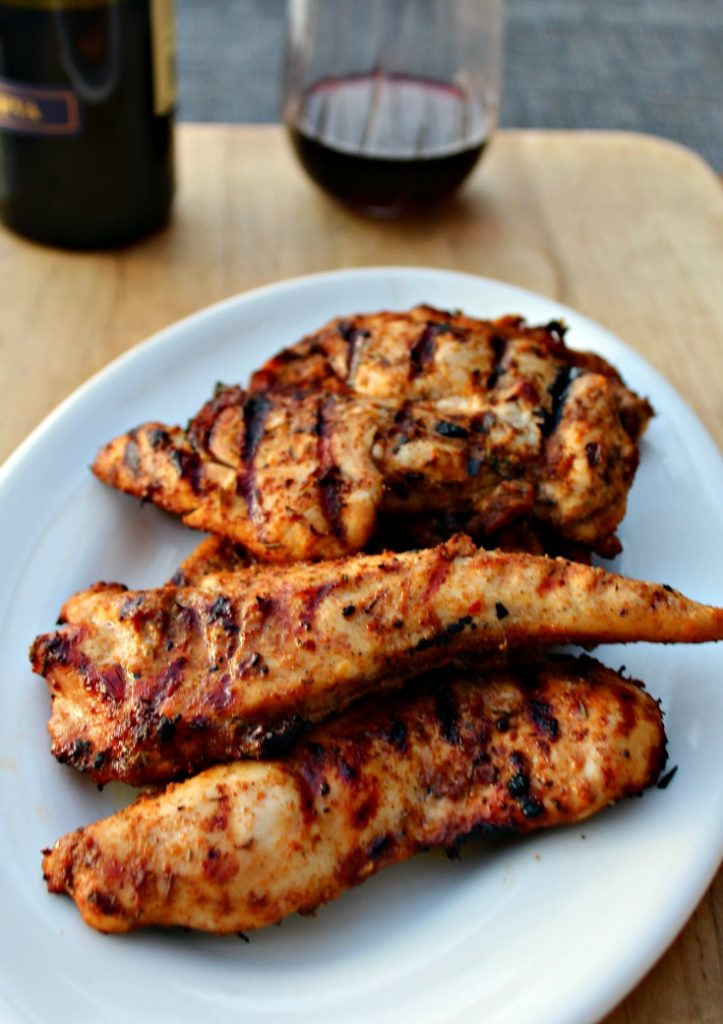 This is a post sponsored by PC Richard and Son. All opinions are my own.
Welcome to grilling season!  I have a recipe for you that you are going to love, it's  easy and deliciously spicy – Grilled Jerk Chicken Breasts with Pineapple.  Grilling is one of my favorite ways to cook, and I can usually cook my entire dinner on the grill which means super easy cleanup.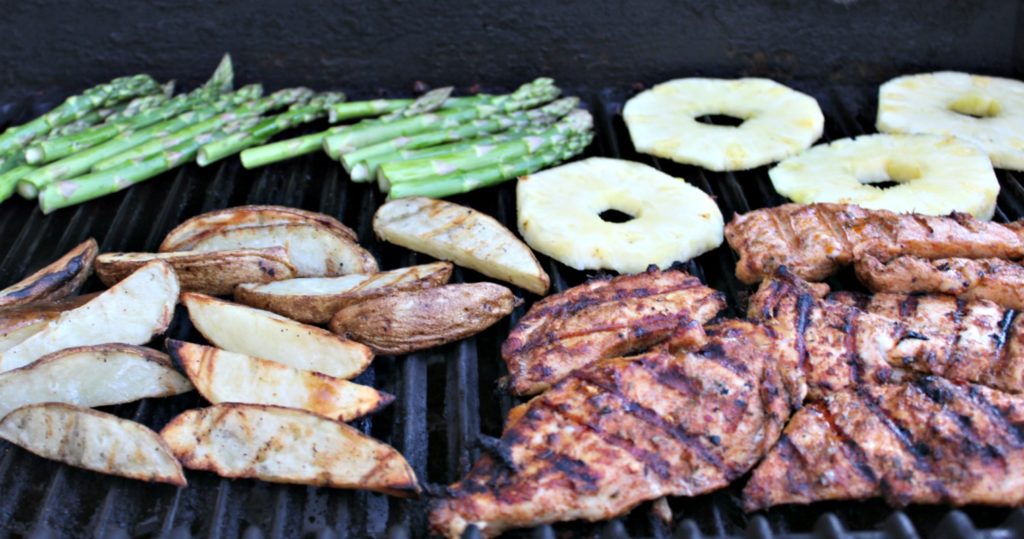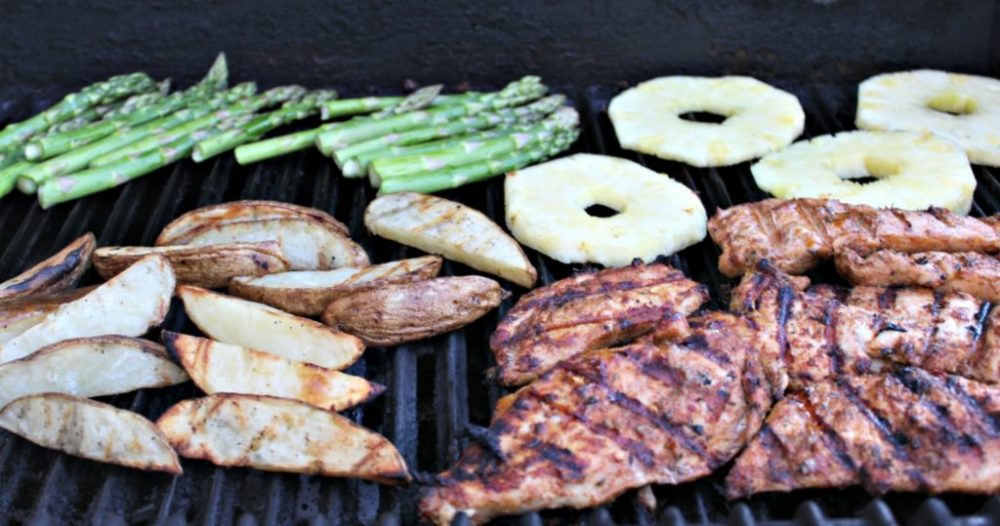 If you aren't familiar with jerk seasoning, its's a spicy blend that features two main ingredients: habanero (really hot) peppers and allspice. You can buy pre-made jerk seasoning, but it's just as easy and more flavorful to make your own. Since I can't always find habanero peppers, I often substitute them with cayenne pepper and red pepper flakes, which is what I used for this recipe.  Jerk seasoning can be used as a dry rub on meat, but I like to add a few liquid ingredients to this recipe and then let it do its magic to the chicken as it soaks in the marinade.  The addition of grilled pineapple rounds out the mix of flavors in this dish of sweet, salty and spicy chicken.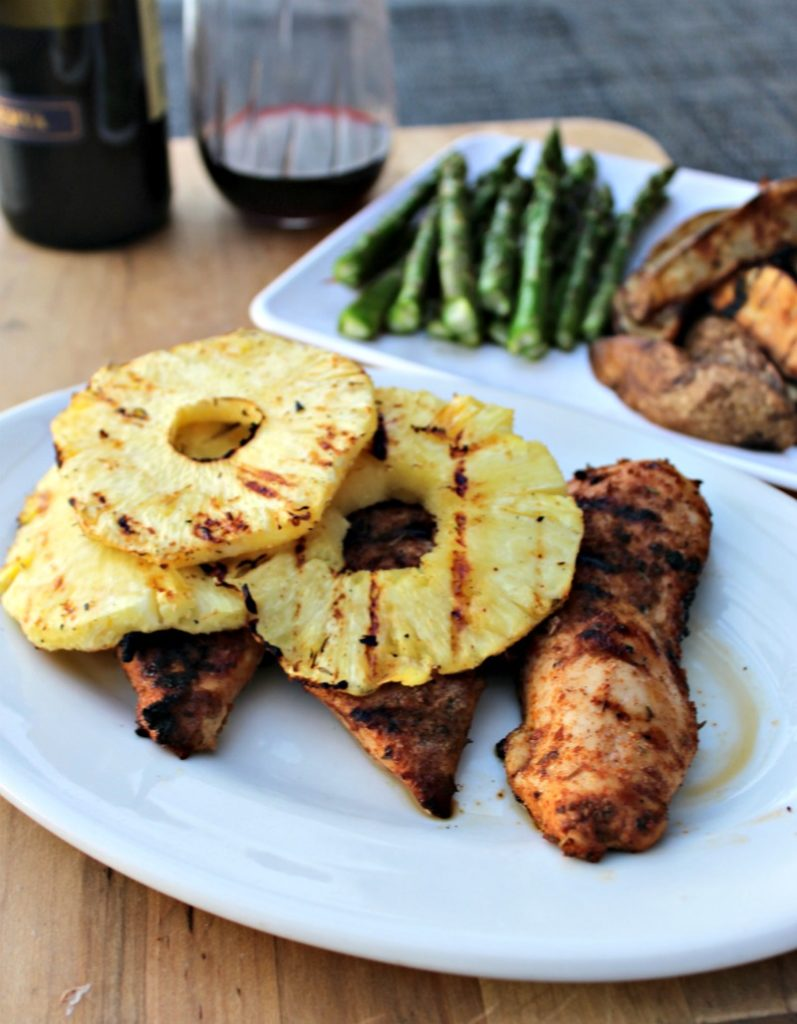 Grilling is such an easy way to prepare a meal, and cooking outside is fun!  Especially with a grill like this Weber Genesis grill which comes in multiple colors and has four burners. I'm pretty sure you can cook a few meals on that grill!☺  If you have been in the market for a grill lately, you know that there are sooo many types of grills to choose from, just take a look at PC Richard and Son's grill selection on their website.  There are built-in grills, plain old charcoal grills, fancy charcoal grills, gas grills, propane grills and portable grills for people o the go – there's a grill for everyone!  If you are confused about what type of grill you should buy, they have you covered! Just scroll down PC Richard and Son's grill page for a quick video that has useful tips to help you decide what type of grill is right for you.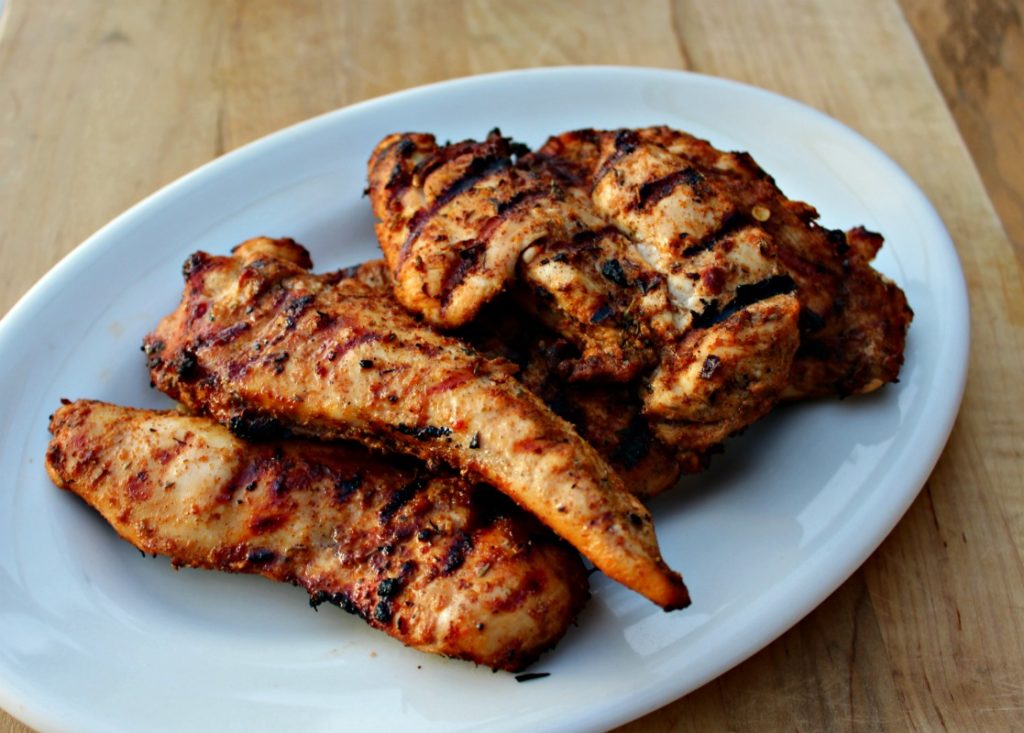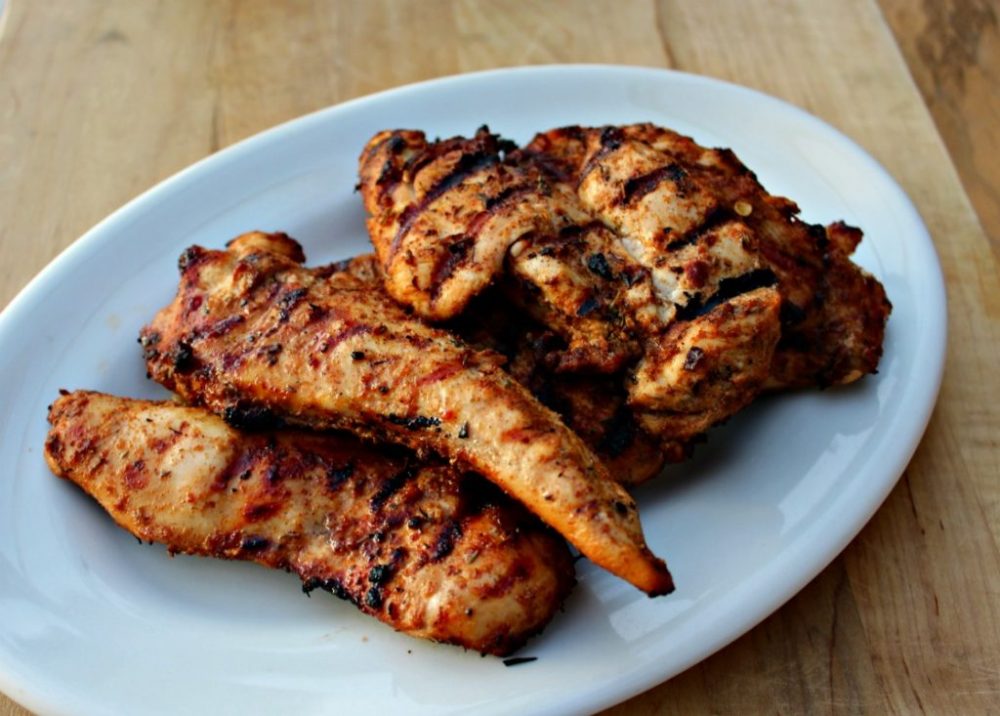 So join me in welcoming the start of another grill season and grill up some jerk chicken on your new (or old) grill.  Here's the recipe. . .
Print
Grilled Jerk Chicken with Pineapple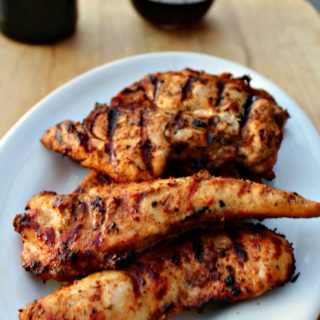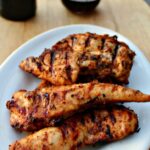 Author: Anne
Prep Time:

20 mins

Cook Time:

30 mins

Total Time:

50 mins

Yield:

4

-

6

1

x
Scale
Ingredients
For The Season Mix

1 tablespoon

onion powder

1 tablespoon

cayenne pepper

1 teaspoon

dried crushed red pepper

2 teaspoon

s died thyme

1 tablespoon

garlic powder

1 teaspoon

black pepper

2 teaspoon

s sea salt

1 teaspoon

coconut sugar

1/2 teaspoon

ground nutmeg

1 1/2 teaspoon

s allspice

1 1/2

pounds boneless chicken breasts

3 tablespoon

s olive oil

2 tablespoon

s tamari sauce

1 tablespoon

apple cider vinegar
Optional — Vegetables

2 tablespoon

s olive oil

4

potatoes each cut into

8

wedges

1

bunch of asparagus trimmed
Instructions
CHICKEN AND PINEAPPLE
Mix the spices through allspice together
In a glass bowl that's large enough to hold the chicken add 3 tablespoons of the spice mix, the olive oil, tamari, and vinegar and mix well – it will be a bit pasty
add chicken breasts and cover with marinade mixture
place in the refrigerator for at least 2 hours – the longer the better
preheat a gas grill on medium to high heat – until it reaches about 450
place the chicken breasts and pineapple on the grill being careful to not let the pineapple touch the raw chicken – cook both on each side about 4 minutes.
FOR VEGETABLES
POTATOES
Coat the potatoes with oil and add your favorite seasonings, such as garlic, rosemary, dill
place the wedges on the grill over direct medium heat and close the lid – checking them periodically and turning them as they begin to brown – until they are tender on the inside and crispy on the outside – about 15 to 20 minutes.
ASPARAGUS
Coat asparagus with oil and your favorite seasonings
Place the spears on the grill checking occasionally and turning them until desired texture
Nutrition
Serving Size:

4 oz chicken

Calories:

384

Sugar:

16g

Sodium:

570

Fat:

21.1g

Saturated Fat:

4.5g

Unsaturated Fat:

13.8g

Carbohydrates:

24.5g

Protein:

25.8
TIPS:
If cooking veggies on the grill too, start the potatoes and asparagus ahead of time and keep them warm on the side while chicken and pineapple cooks.
Leftover Idea – serve chicken on top of a bed of salad greens with your favorite dressing.
Store extra jerk seasoning in a glass jar for up to three months
VARIATIONS:
Vegetarian option – slice a block of firm tofu in half (horizontally) – marinate for several hours and grill 5 minutes on each side.
Substitute chicken with a pork tenderloin or boneless pork chops – grill until pork reaches at least 145 degrees.
And Be sure to follow PC Richard and Son on social media. . .
Facebook | Twitter  | Pinterest | Instagram