Grilled Jerk Chicken breasts are made with a simple, yet spicy homemade marinade that is a combination of savory, spicy and sweet; just perfect for mild-tasting chicken breasts.
Grilled jerk chicken breasts are zesty and filled with flavor. The jerk chicken marinade is a simple one made with spices and condiments that you most likely have in your kitchen already. It's an easy jerk chicken recipe that everyone will love.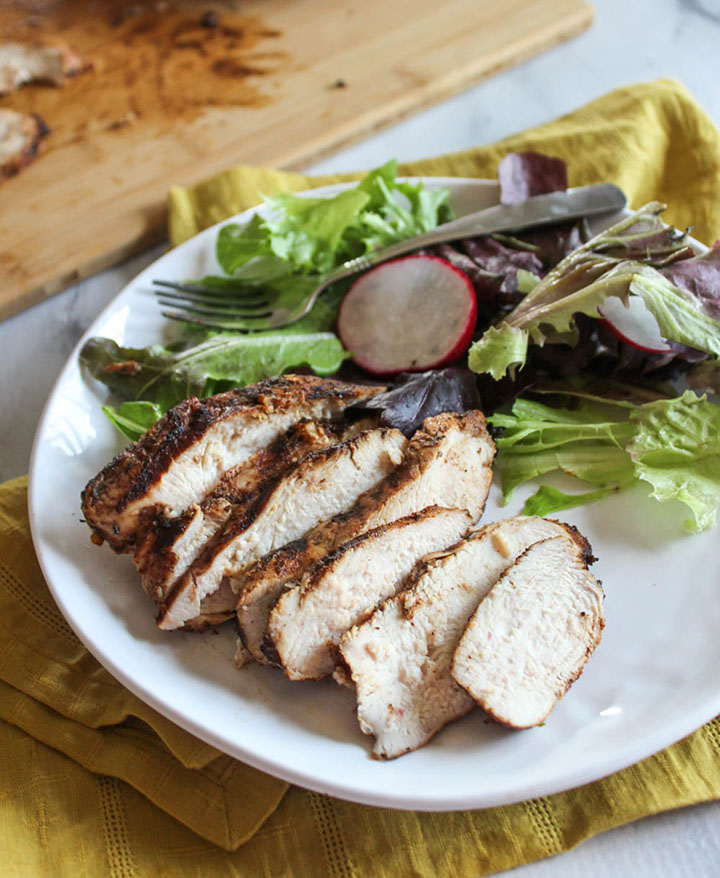 Many grilled jerk chicken recipes are made with habanero peppers which I can't always find so I make my own jerk seasoning blend using dried spices. The homemade spice blend easy to make, and once it's made, it can be stored in the spice cabinet for a few months.
---
Here is What You Will Need
As an Amazon Associate, I earn from qualifying purchases
This is an overview of the ingredients and steps to make this recipe, scroll down for a printable recipe card with exact measurements and instructions.
This is an overview of the ingredients and steps to make this recipe, scroll down to see ingredient notes and substitutions as well as a printable recipe card with exact measurements and complete cooking instructions.
---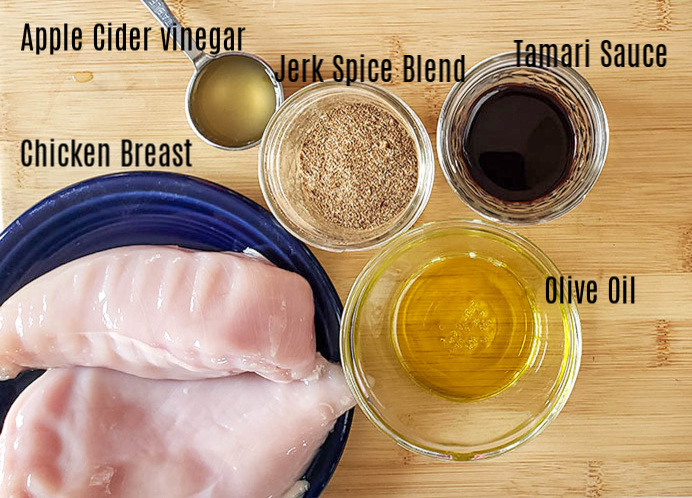 Here is How To Make Grilled Jerk Chicken Breasts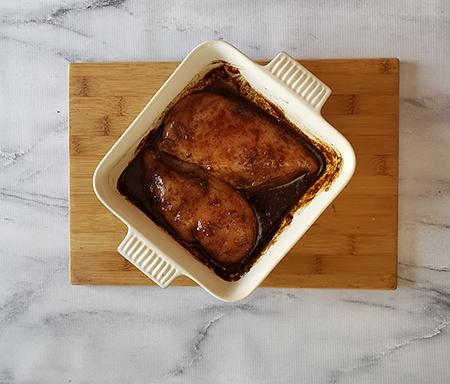 Step 1. mix up the marinade ingredients, place it into a bowl and add the chicken. Marinate the chicken for at least one hour.
Tip! The longer the chicken marinates, the flavor will intensify. If you have the time marinating overnight is best.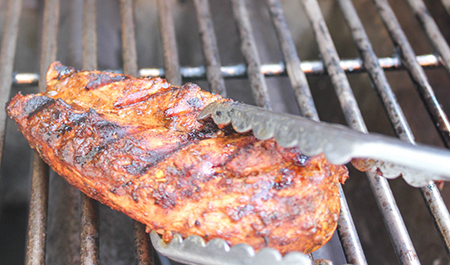 Step 2. Preheat the grill, once it's hot add the chicken to the grill and cook it for about 5 to 8 minutes depending on how thick the chicken is.
Tip! The chicken will be ready to flip over once it no longer sticks to the grill.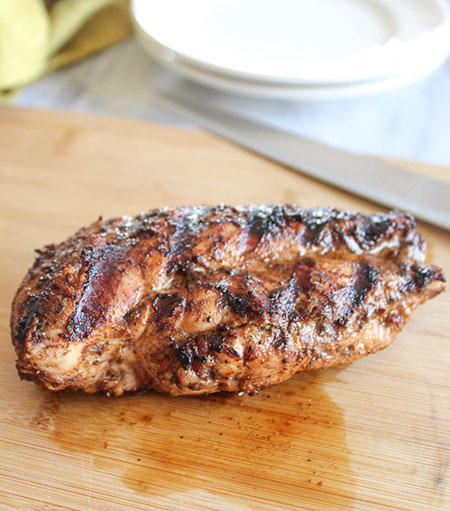 Step 3. Flip the chicken breasts over and cook for 5 to 8 minutes longer until the chicken reaches an internal temperature of 165. Remove the chicken from the grill and let it stand for 5 minutes before serving.
Note: This recipe can also be made in the oven; place the chicken marinated chicken breasts on a baking sheet or roasting pan, and bake at 350 until chicken reaches 165 (about 20 minutes).
Estimated Time To Make This Recipe: 90 to 110 minutes ( includes one hour to marinate the chicken).
Ingredient Notes & Substitutions
Chicken. Boneless chicken can be replaced with bone-in chicken, however cooking time will be longer, check the internal temperature of the chicken before swerving with an instant-read meat thermometer.
Tamari Sauce. Is a fermented so sauce, it's usually gluten free and has a umami flavor and less salty.
Substitute Tamari Sauce 1 to 1 with soy sauce or coconut aminos which is soy free.
Jerk Seasoning Blend. Packaged jerk spice blends will work as a one to one substitute for homemade jerk seasoning.
Mild Season Blend. If you don't care for hot food, leave the cayenne pepper out of the homemade spice blend or use less of it.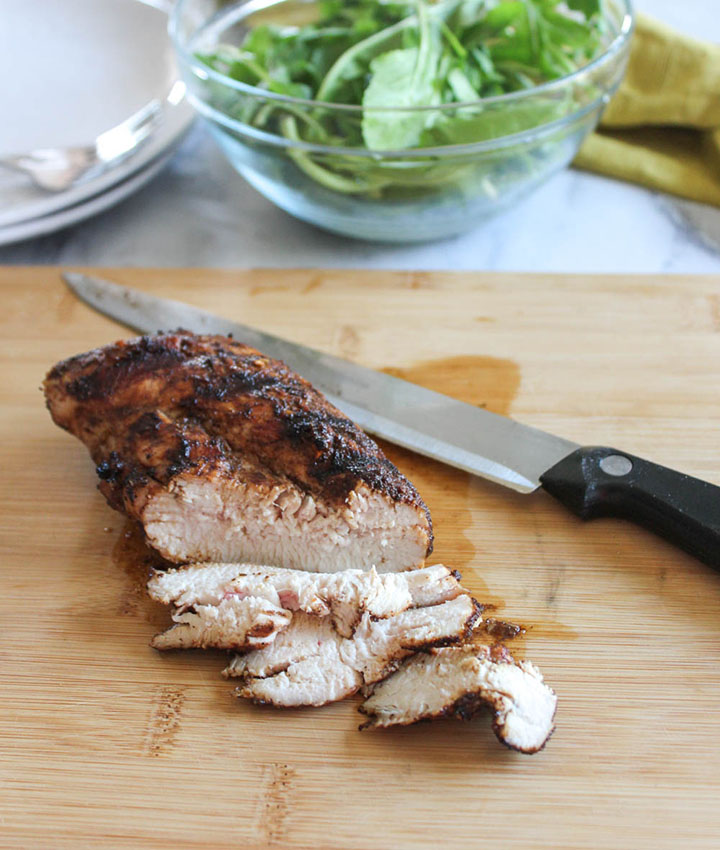 Storing and Using Leftovers
Store leftover grilled jerk chicken in an airtight container in the refrigerator for 3 to 4 days.
Leftover uses - This is a great recipe to double; leftover grilled jerk chicken breasts have so many uses. Serve them in a salad, nachos, in a sandwich, wrap, quesadilla or pita bread.
Recipe Variations
Dry Rubbed Jerk Chicken. Instead of marinating, rub some spice blend onto the chicken breasts without the marinade about 20 minutes before girlling it for a quicker and easy jerk chicken recipe.
Change up the Meat. Replace the chicken with bonelss pork chops, or pork tenderloin. We've tried them all and they all taste great!
Make it Vegetarian. Slice a block of firm tofu in half (horizontally), marinate it for several hours, then grill it for 5 minutes on each side.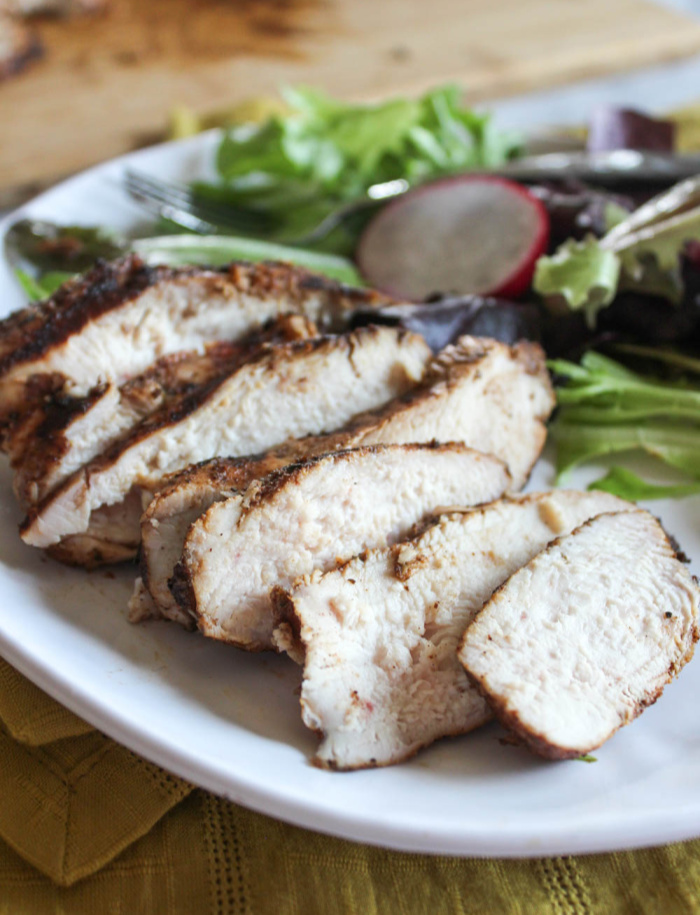 Serving Suggestions
You might also like these recipes