Grilled Jerk Chicken breasts are made with a simple, yet spicy marinade that is the perfect balance of savory, spicy and sweet.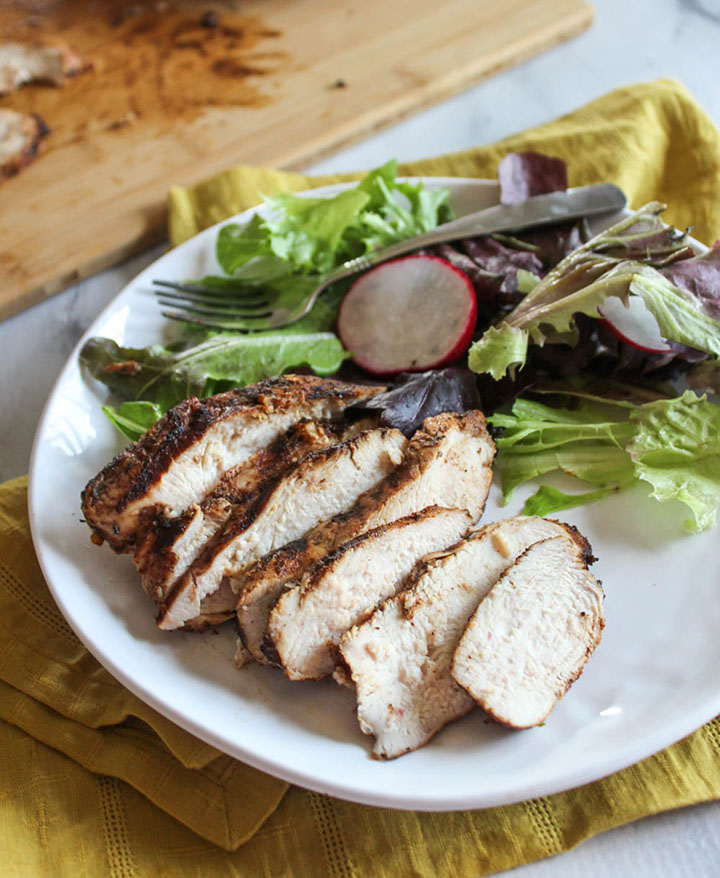 Here is what you will need to make this recipe
As an Amazon associate, I earn from qualifying purchases
Boneless chicken breasts or thighs or a combination of both
Jerk Seasoning Blend – here is my recipe for Jerk Seasoning Blend
Estimated Time To Make This Recipe: 90 to 110 minutes ( includes one hour to marinate the chicken)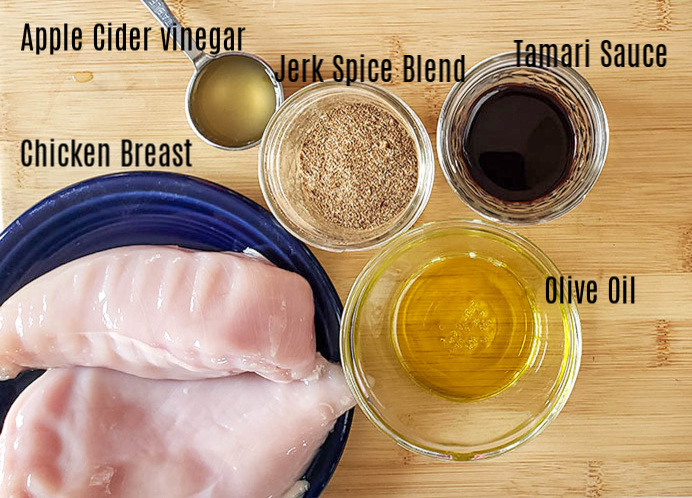 A Flavorful Recipe
There is so much flavor going on in this recipe. It's a little bit spicy, but you can easily adjust the heat.
If you aren't familiar with jerk seasoning, it is a bold blend of spices that features two ingredients: habanero peppers and allspice. Since I can't always find fresh habanero peppers to make a fresh jerk marinade for this recipe, I make my own jerk seasoning blend with dried spices. It's easy to make, and once it's made, it can be stored in the spice cabinet for a few months.
How to make it
There aren't a lot of steps requied to make this easy recipe. Mix up the marinade ingredients, add the chicken. Allow the chicken to marinate for at least an hour or overnight.
Pre-heat the grill and cook the chicken for about 10 to 15 minutes (depending on the thickness of the chicken) and enjoy.
Please see the instrutions for full recipe details below in the recipe card.
Oven Method
Jerk chicken can also be made in the oven, here's how:
Place the marinated chicken onto a baking sheet and bake it at 350 for 20 minutes or until the internal temperature reaches 165.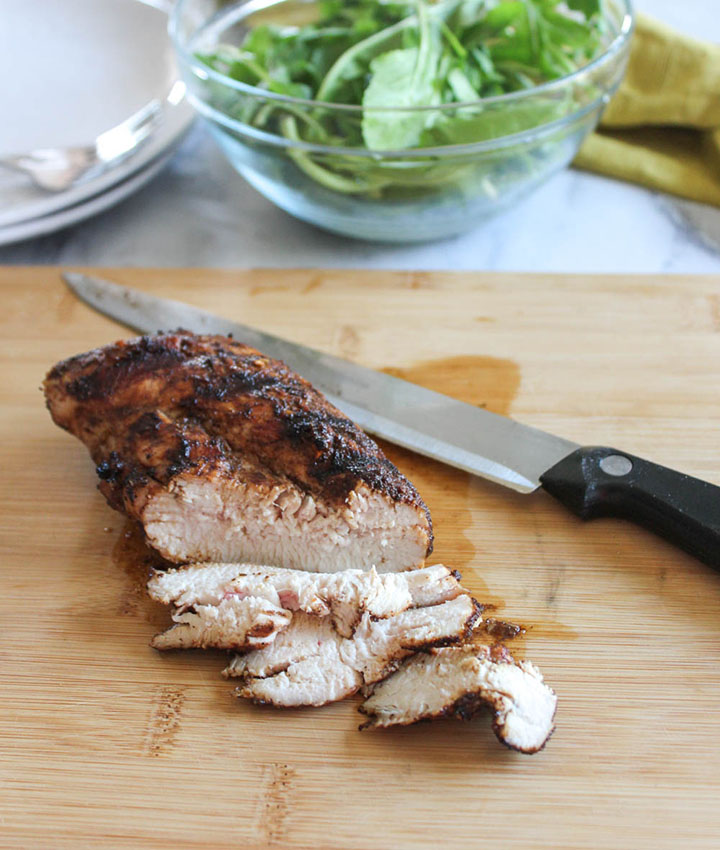 Recipe tips & variations
The Marinade
You can easily rub some spice blend onto chicken without the marinade and grill it, but the marinade. It takes this dish to another level.
The meat should marinate for at least one hour and ovenight is even better. The longer you can let that chicken soak in that marinade, the better it will taste.
TIP! If you don't like hot food, you can adjust the amount of cayenne pepper or leave it out.
The Meat
You can make this recipe with boneless chicken thighs, bone in chicken breasts, thighs and legs and even bonelss pork chops or pork tenderloin. We've tried them all and they all taste great!
Make a Vegetarian Version
Slice a block of firm tofu in half (horizontally) and marinate it for several hours, then grill it for 5 minutes on each side.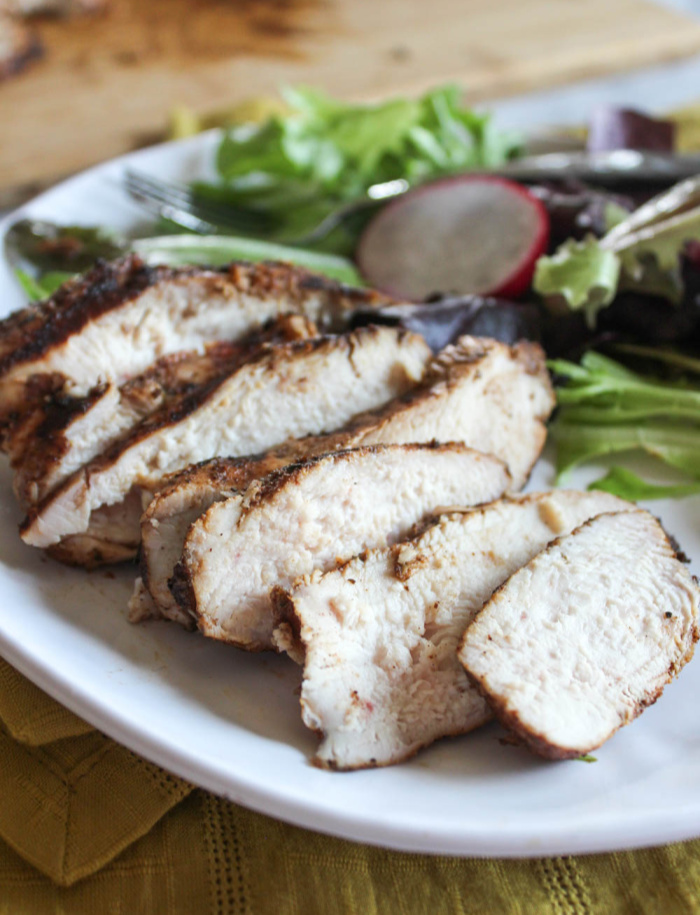 Serving Suggestions
Serve grilled jerk chicken with a baked potato and a Greek Chopped Salad or Arugula Salad
Just before the chicken has finsihed cooking on the grill, add a few slices of pineapple, grill them and serve them with the chicken.
Top the grilled chicken with mango strawberry salsa
Storage
Store leftover jerk chicken in the refrigerator for up to 4 days in an airtight container. I have not tried freezing leftover chicken so I can't recommend it.
Leftover Suggestions
Serve sliced leftover jerk chicken on top of salad greens or slice it up and serve it on a roll or whole wheat bread.
You might also like these recipes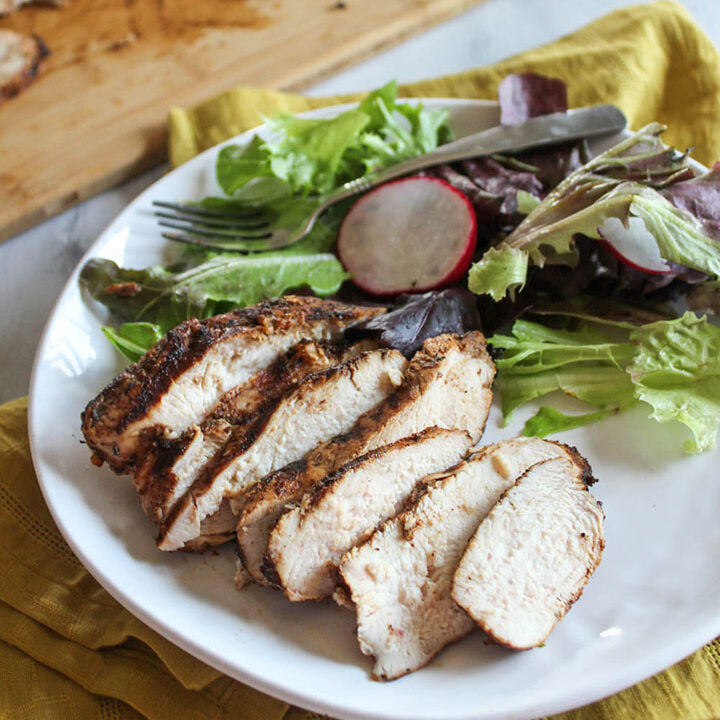 Grilled Jerk Chicken with Pineapple
A flavorful chicken dinner that takes just minutes to cook.
Ingredients
1 pound of boneless chicken breasts
2 tablespoons tamari sauce
3 tablespoons olive oil
3 tablespoons jerk seasoning blend
Instructions
Make the marinade: add 3 tablespoons seasoning mix, 2 tablespoons tamari sauce, 3 tablespoons olive oil to a glass bowl that's large enough to hold the chicken and mix well.
Add the chicken breasts to the marinade in the bowl and turn them in the bowl until they are coated with the marinade. Cover the chicken and refrigerate for at least one hour.

Preheat a gas grill on medium to high heat.
Notes
Recipe Variations
Make it vegetarian - Slice a block of firm tofu in half (horizontally) and marinate it for several hours, then grill it for 5 minutes on each side.
Substitute boneless chicken breasts with boneless chicken thigh, bone in chicken breasts or thighs, boneless pork chops, pork tenderloin
Nutrition Information:
Yield:

4
Serving Size:

¼ pound chicken
Amount Per Serving:
Calories:

297
Total Fat:

15g
Saturated Fat:

3g
Trans Fat:

0g
Unsaturated Fat:

12g
Cholesterol:

96mg
Sodium:

735mg
Carbohydrates:

2g
Fiber:

0g
Sugar:

2g
Protein:

36g
Nutrition information is provided by an online calculator and is meant to be used for informational purposes only. Even though I try to provide accurate information, these figures should still be considered as estimates.