If you are a garlic lover, you will love this garlic scape pesto recipe! A bit of a twist on regular pesto, it has a mild garlic flavor and tastes great on pasta, and it's easy to make with just a few simple ingredients.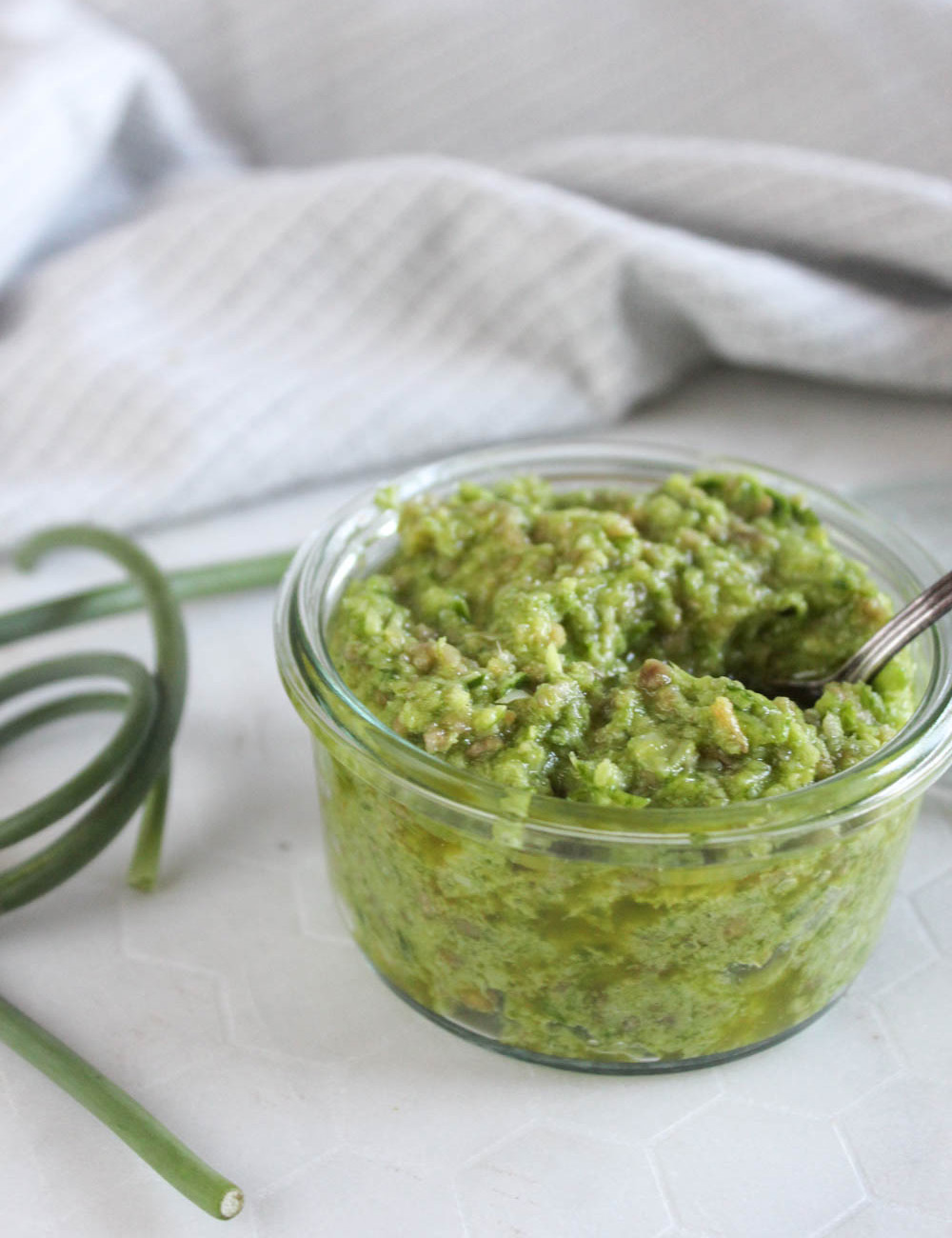 Pesto is a great way to use up summer produce. Try our broccoli pesto, asparagus pesto, arugula pesto, and traditional basil pesto made with cashews.
Jump to:
Why you will love this recipe
It's a simple pesto recipe to make with only five ingredients.
It's versatile, there are so many ways to enjoy pesto sauce.
Here is what you will need
As an Amazon Associate, I earn from qualifying purchases.
This is an overview of the ingredients and steps to make this recipe; scroll down for a printable recipe card with exact measurements and instructions.
Ingredients
Garlic Scapes
Extra virgin olive oil
Sunflower Seeds
Parmesan Cheese
Fresh Lemon Juice
Sea salt and cracked black pepper (optional)
Equipment
How to make garlic scape pesto sauce
Prepare the ingredients: Roughly chop the garlic, shred the cheese and extract the lemon juice.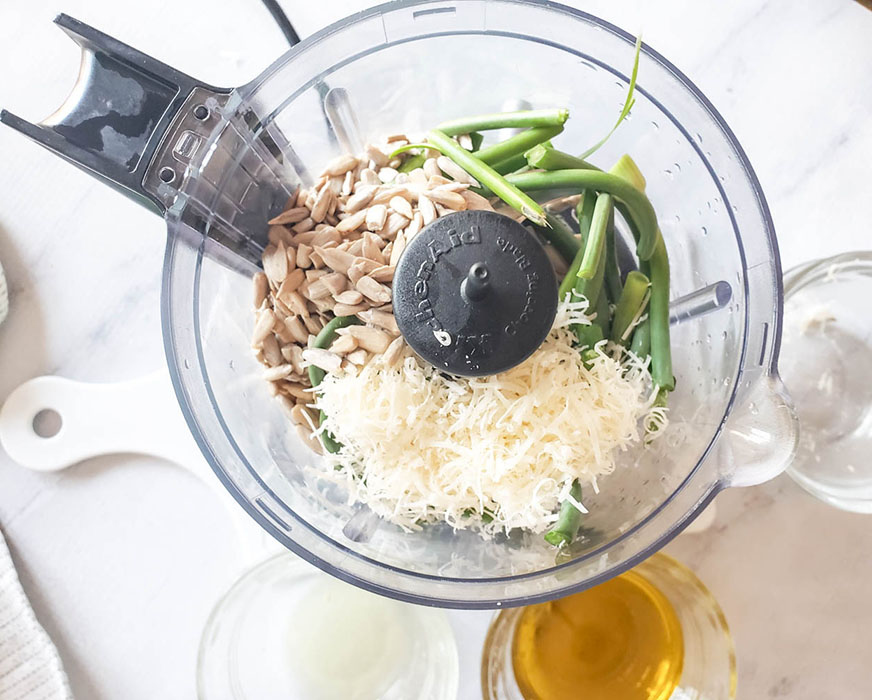 Step 1. Pulse the dry ingredients
Place the garlic scapes, sunflower seeds and shredded cheese into the bowl of a food processor. Pulse until the mixture forms a thick paste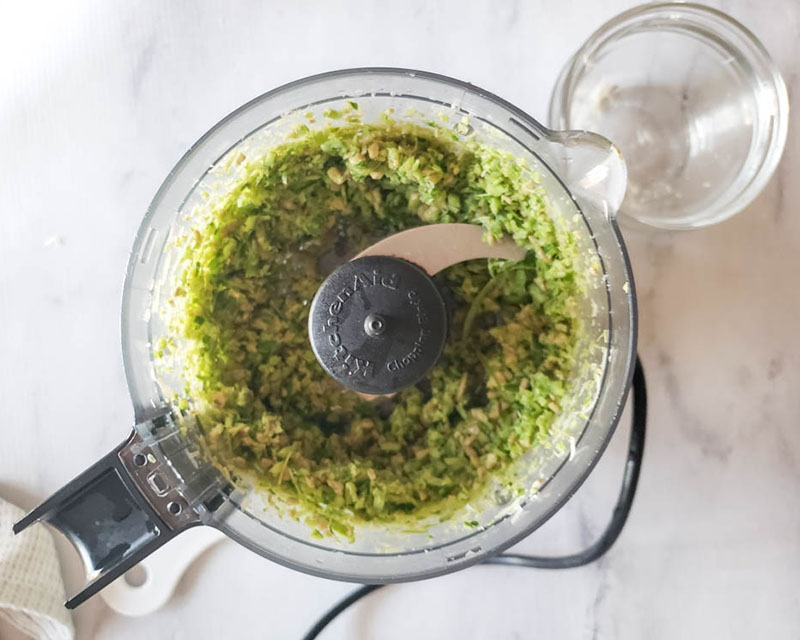 Step 2. Add the oil
Gradually pour in the olive oil into the feed tube and process until thin paste forms.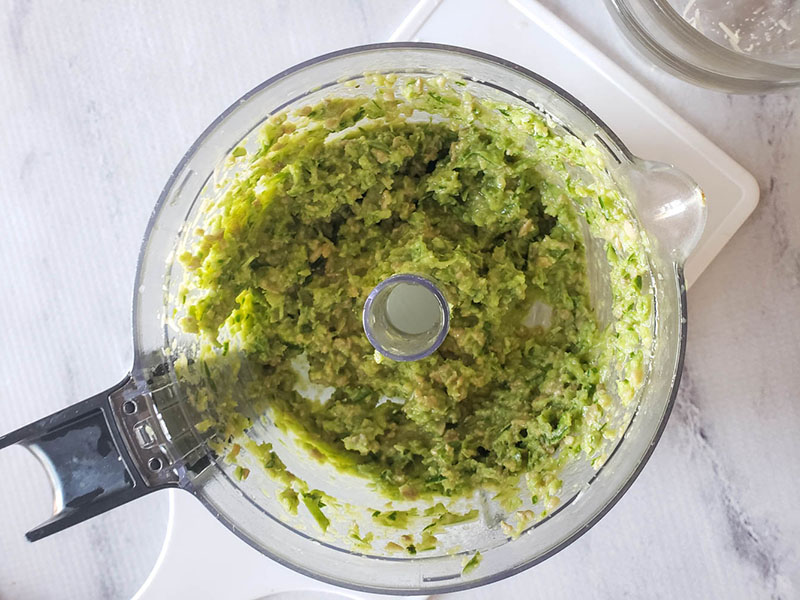 Step 3. Adjust the texture
Adjust the texture of the pesto by gradually adding water, or a small amount of additional olive oil.
Ingredient Notes & Substitutions
The full list of ingredients to make garlic scape pesto is above. Below are notes about some of the ingredients, along with ideas for substitutes.
Sunflower seeds. Traditional pesto sauce is usually made with pine nuts.I like to sunflower seeds. They are easier to find and more economical. You can replace sunflower seeds with pine nuts, walnuts, or cashews.
Parmesan cheese. Freshly grated cheese is the best choice for pesto sauce. I do not recommend using pre-grated parmesan cheese in this fresh-tasting garlic pesto.
Variations
One of the many great things about pesto recipes is their versatility! You can spice it up or down and add any herbs or veggies. Here are some suggestions:
Basil garlic scape pesto - add ½ cup of fresh basil leaves to the food processor.
Spicy garlic scape pesto- add a teaspoon of red pepper flakes into the pesto sauce.

Vegan garlic scape pesto - replace parmesan cheese with an equal amount of nutritional yeast or vegan parmesan cheese.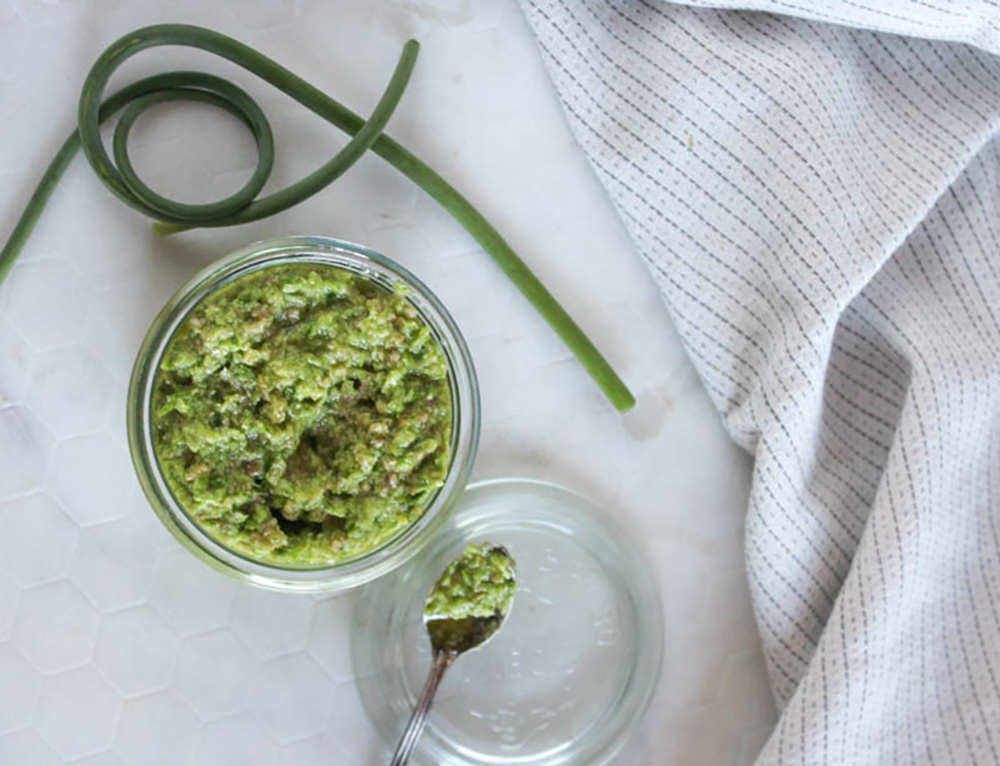 Serving suggestions
Garlic scape pesto has so many uses. Brush it on grilled meat, use it as a marinade, sandwich spread, add it to butter for garlic butter, and smear it on fresh bread to make garlic bread.
Pesto also tastes great when it's added to classic hummus for a great garlic flavor, tossed on roasted potatoes, or add it air-fried broccoli and cauliflower or a pasta salad.
How to store leftover pesto
Store leftover pesto in an airtight container (small Mason jars work well for this) in the refrigerator for up five days.
Freeze pesto for up to three months.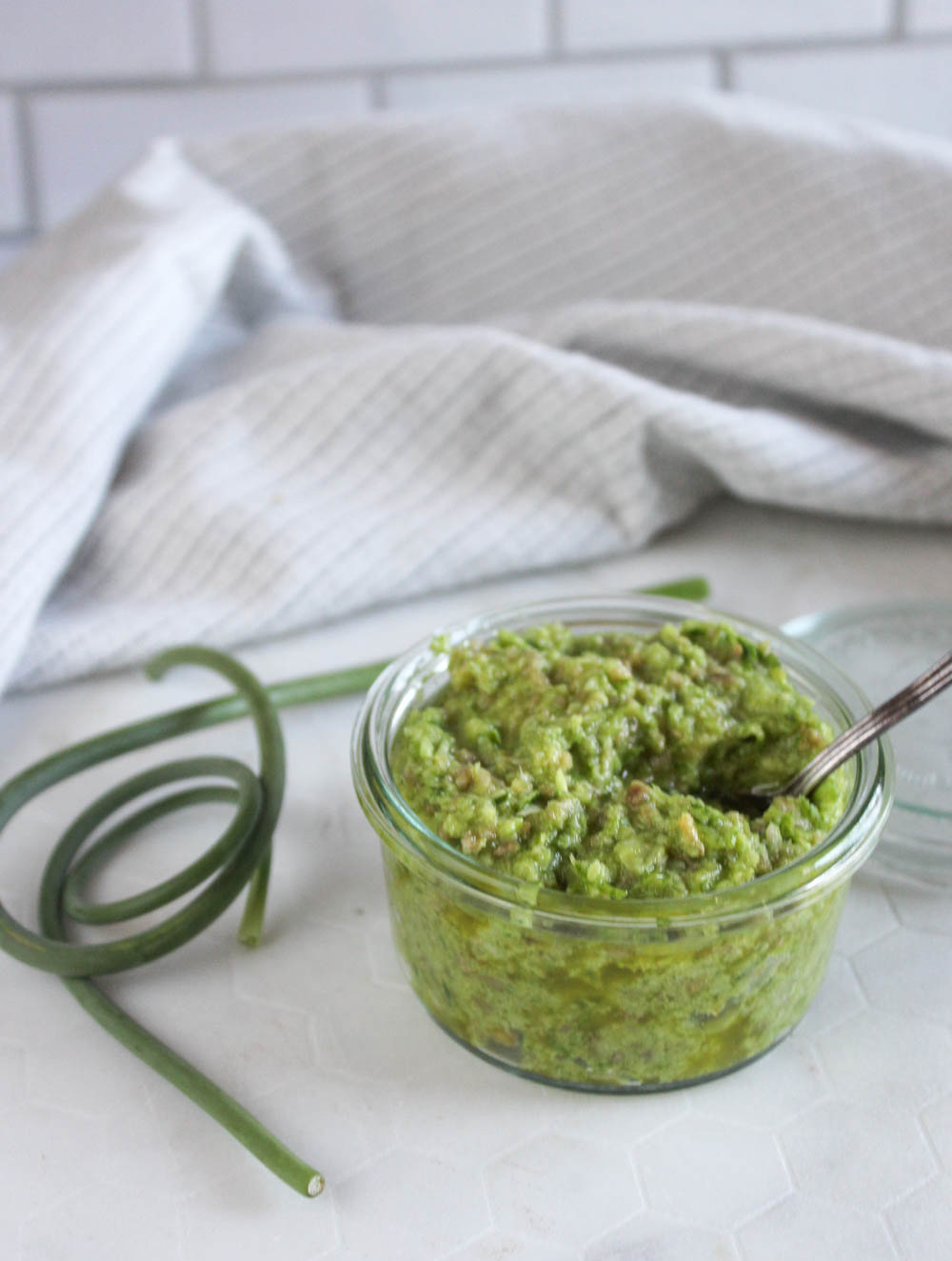 Recipe tips
Tone down the garlic flavor by adding a small handful of fresh herbs such as parsley or basil.
Freeze leftover pesto in ice cube trays for individual portions of pesto sauce for future use.
What are garlic scapes?
Garlic scapes are the long tender stems, part of the garlic plant that sprout from the garlic bulbs. If the scapes aren't harvested, the flower bud will bloom into flowers. The scapes are trimmed off of the garlic so that all of the plant's energy is channeled directly to the garlic bulb to produce larger bulbs.
Where can you buy garlic scapes?
Garlic scapes can be found in late spring, early summer in your local farmer's markets or grocery store.
For more simple and delicious recipes like this, subscribe to our newsletter and receive a free e-book and meal suggestions straight in your inbox!
You might also like these recipes
If you like this recipe, please comment and rate it below!
Check out our Plant-Based Recipes Here!