Grilled Chicken Parmesan is fresher and lighter than the traditional version of chicken parmesan. It's an easy dinner with minimal prep work!
This recipe is made with simple ingredients; grilled boneless chicken breasts, fresh tomatoes, basil, and fresh mozzarella cheese. It's not breaded and fried, just simply grilled for a lighter version of no breading chicken parmesan.
This recipe was originally posted in 2018, it's been updated for content and photos.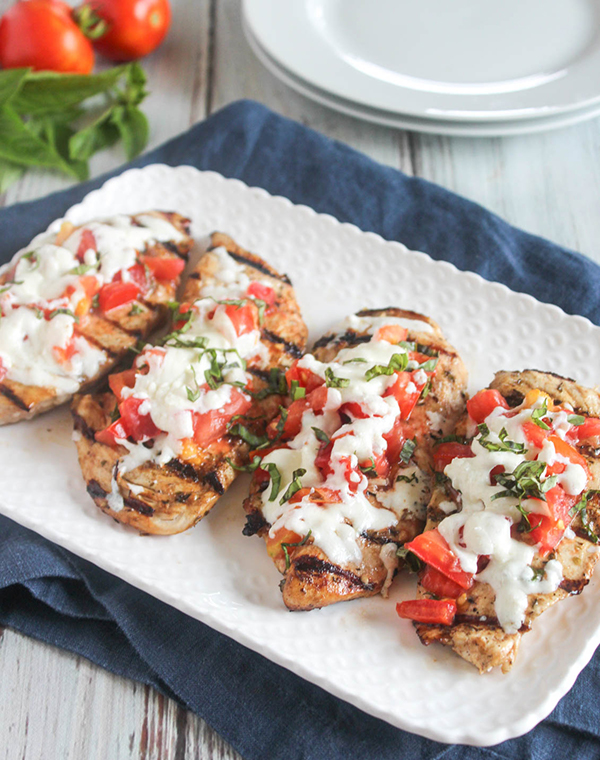 Grilled Chicken Parmesan with fresh melted mozzarella cheese is a great recipe to make in the summer and a fantastic dinner idea for an outdoor get-together.
It cooks quickly, and the ingredients can be prepared ahead of time so you can enjoy time with your guests. We like to serve it with a zesty arugula salad.
Why this Recipe Works
This easy chicken parmesan recipe is ready in no time because you don't need to bread and fry the chicken.
It's a made with fresh ingredients - a healthy alternative to traditional chicken parmesan that the whole family will love.
Here is What You Will Need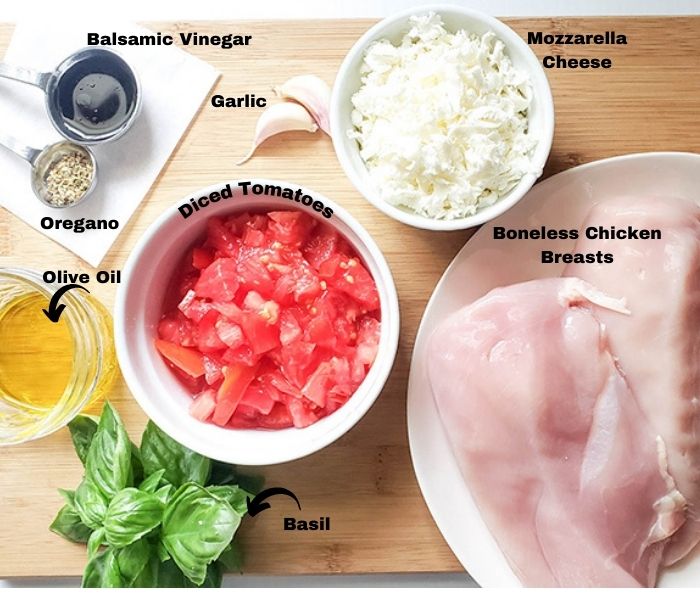 As an Amazon Associate, I earn from qualifying purchases.
This is an overview of the ingredients and steps to make this recipe, scroll down to see ingredient notes and substitutions as well as a printable recipe card with exact measurements and complete cooking instructions.
---
---
Here is How To Make Grilled Chicken Parmesan
Prepare the ingredients: Dice the tomatoes, crush the garlic and slice the basil. Measure the ingredients for the marinade.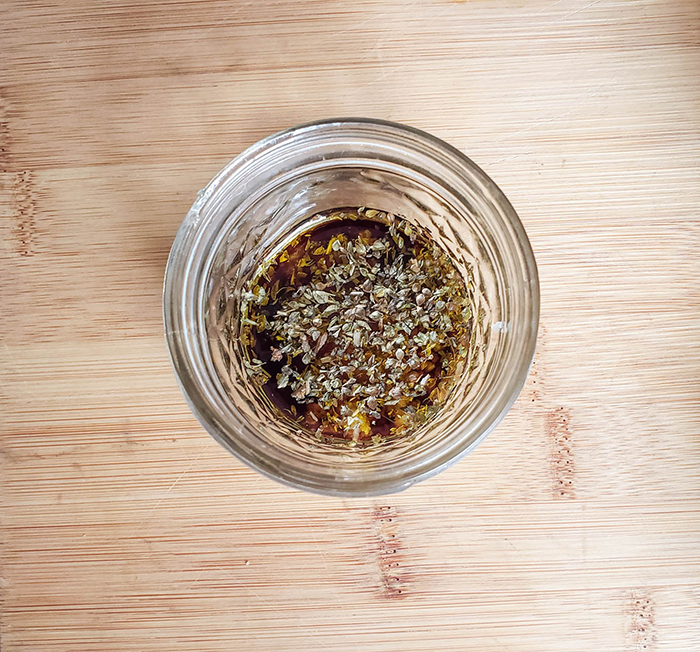 Step 1. Whisk the marinade ingredients together in a small bowl or jar.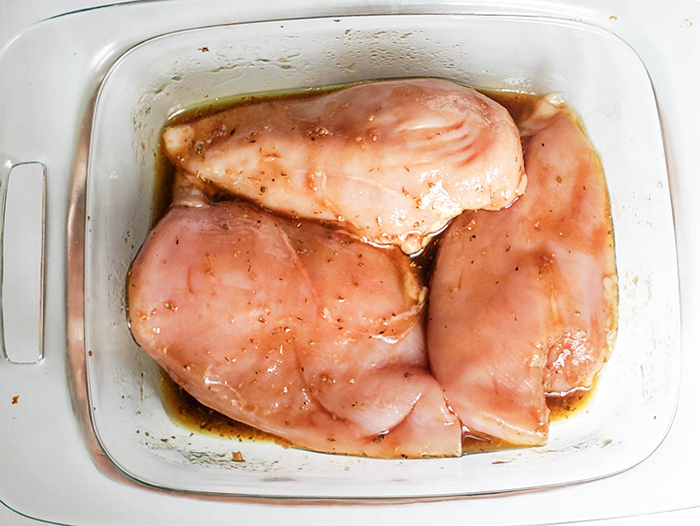 Step 2.Place the boneless chicken pieces into a glass bowl, and pour the marinade over the top. Set the chicken aside for 15 to 20 minutes. Preheat the grill at medium heat.
Tip! The marinade can be made a day ahead of time, and store the marinated chicken in the refrigerator overnight.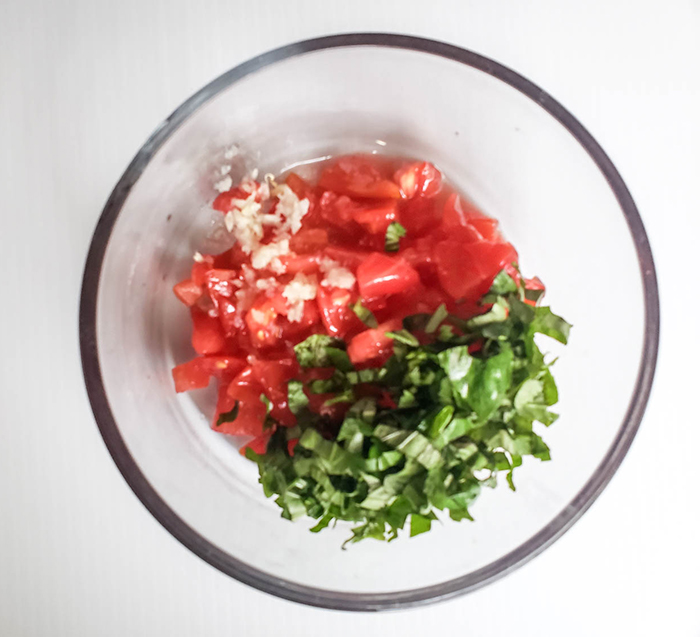 Step 3. Place the chopped tomatoes into a bowl along with the crushed garlic and fresh basil.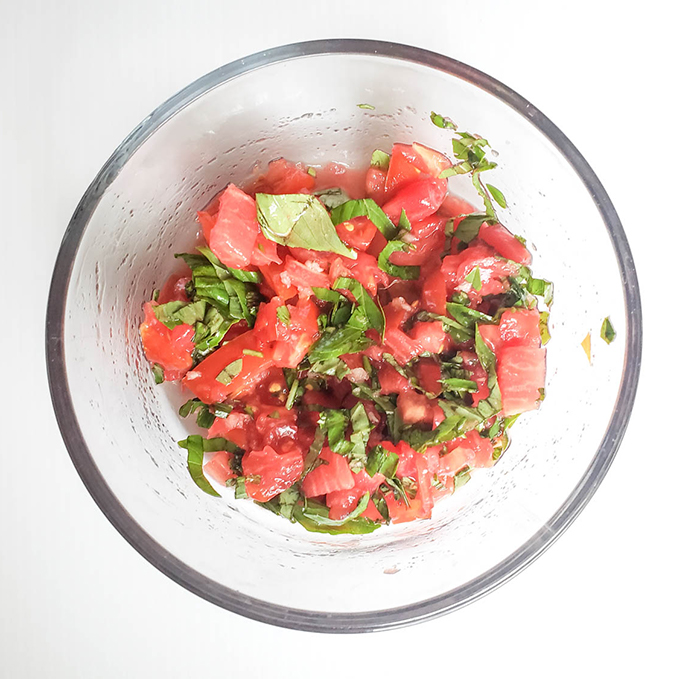 Step 4. Mix all of the ingredients together and set the bowl aside.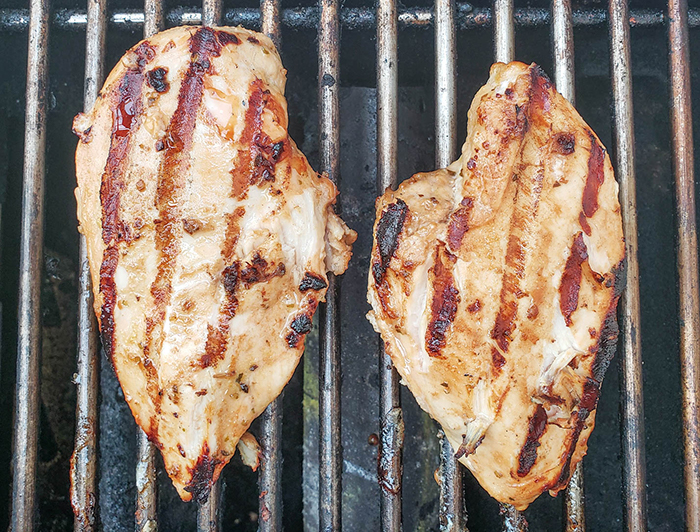 Step 5. Once the grill is hot (about 375 degrees) place chicken pieces on the grill and cook them for about 7 minutes and flip them over.
Cook the chicken for 4 to 5 minutes longer until the chicken reaches an internal temperature of 165 degrees.
Tip! The top of the chicken should be golden brown on the side facing the flame and not stick to the grill, if it is sticking to the grill, it's not ready to be turned. Wait a minute or two before flipping the chicken.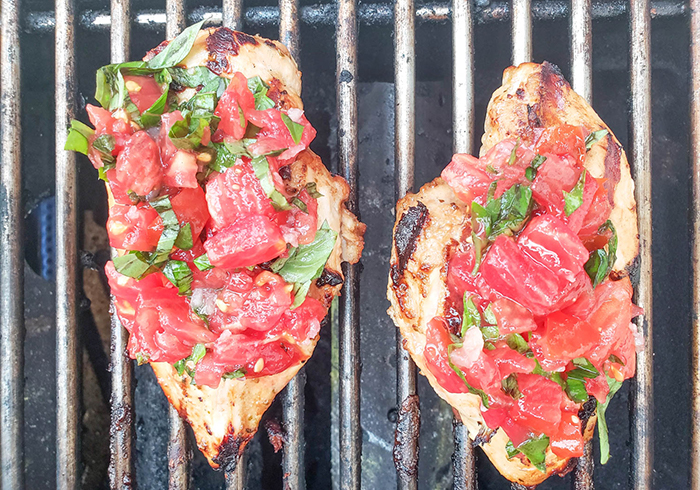 Step 6. Use a spoon to carefully top the chicken with the tomato basil mixture.
Tip! Use a meat thermometer to check the internal meat temperature.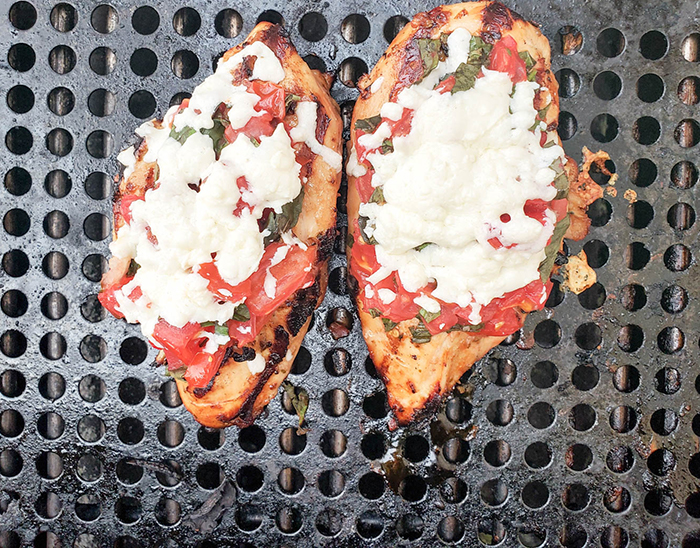 Step 6. Add the mozzarella cheese; reduce the heat to low, cover the grill and cook for a few minutes longer until the cheese melts.
Tip! A grill topper will help to keep the tomatoes from falling through grates.
Ingredient Notes & Substitutions
Chicken Breasts. The chicken breasts should be sliced about ¼ to ½ inch thick. If they are large chicken breasts, you can slice them or pound them with a meat mallet.
Note: If you prefer your grilled chicken thicker, you may need to cook it for a few minutes longer.
Tomatoes. This recipe is made with fresh diced plum tomatoes and you can use any kind of fresh tomato. The tomatoes can be diced with a knife or you can pop them into your food processor for a pureed sauce. If you choose the food processor method, you may have to strain some of the liquid from the tomatoes.
If fresh tomatoes are not available, they can be substituted with an equal amount of canned diced tomatoes, tomato sauce or homemade marinara sauce.
Garlic. I use a garlic crusher to crush the garlic for this recipe, you can also dice the garlic.
Substitute fresh garlic with ¼ to ½ teaspoon of garlic powder.
Mozzarella cheese. I use fresh mozzarella cheese and use a cheese grater to shred it. You can also slice the mozzarella cheese thin instead of shredding it.
Substitute provolone cheese for mozzarella cheese.
Expert Tip - To easily shred fresh mozzarella cheese, which is a soft cheese, place it in the freezer for at least an hour before you shred it.
Fresh basil. Adds a ton of flavor to this recipe, though it will not taste as fresh, you can substitute it with 1 teaspoon of dried basil.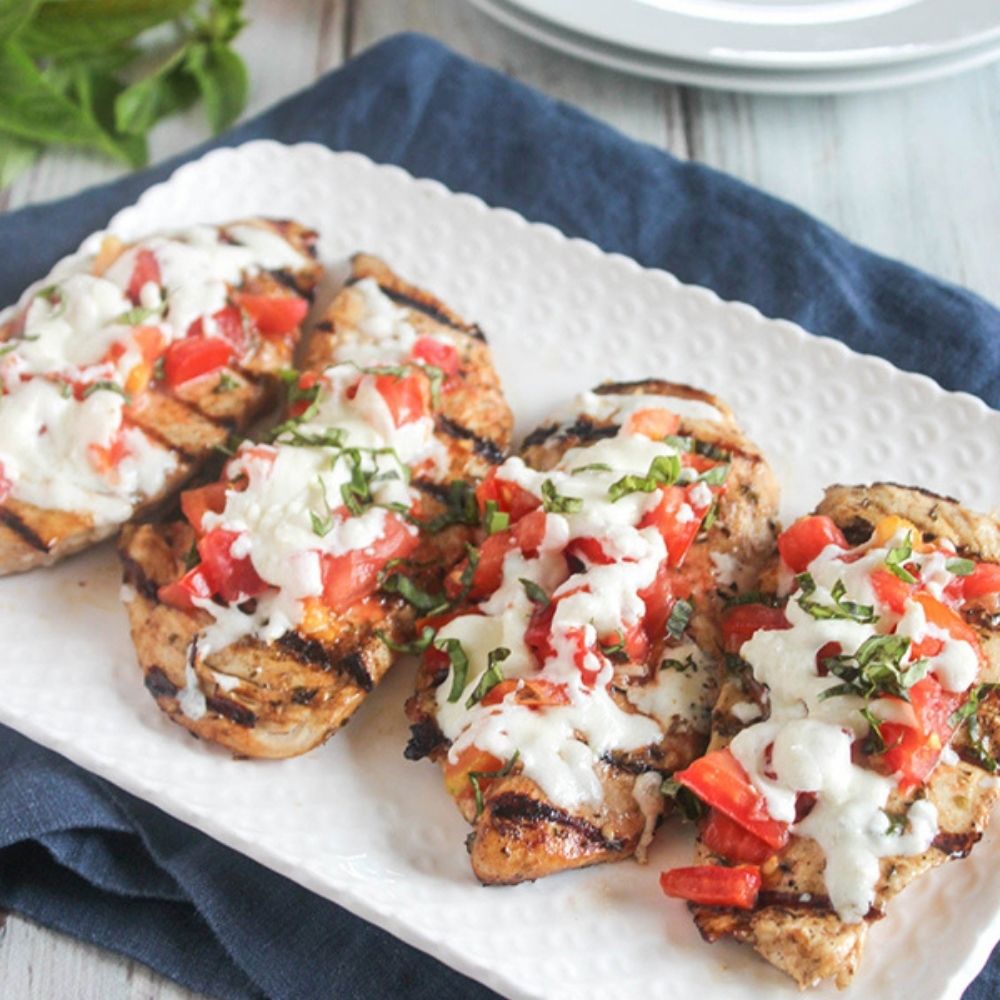 Serving Suggestions
The best way to serve this chicken is on top of whole wheat or regular pasta and a side salad like our kale caesar salad, or green beans with almonds.
Grilled chicken Parmesan also tastes great over a bed of zucchini noodles or spaghetti squash for a low-carb chicken parmesan dinner.
Make-Ahead Instructions
This recipe is an easy recipe to make one or two days ahead of time. Here's how:
Prepare the marinade, and marinate the chicken overnight in the refrigerator.
Combine the tomatoes, basil and garlic in a bowl; cover and store it in the refrigerator.
Shred the cheese and store it in an airtight container in the refrigerator.
When it's time to cook your grilled chicken parmesan, proceed with grilling instructions in the recipe.
Storing and Using Leftovers
Store leftover grilled chicken parmesan in an airtight container in the refrigerator for up to three days.
Re-heat it in the oven or in a skillet on top of the stove.
Leftovers taste great as they are reheated or cold. This chicken recipe also tastes great on a ciabatta roll or crusty baguette or served in a leafy green salad.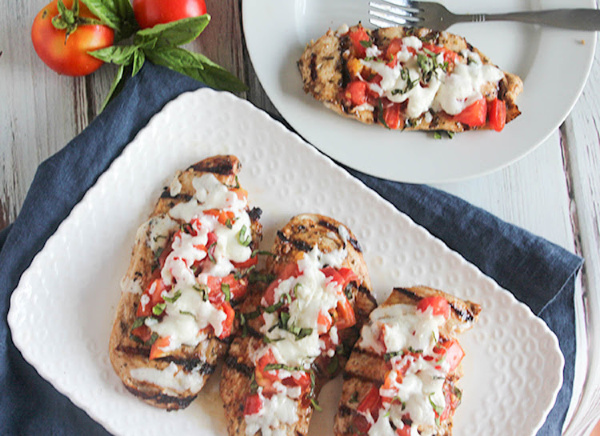 Recipe Variations
Pesto Chicken Parmesan - brush fresh pesto sauce on the chicken just before grilling it instead of marinating it.
Mexican Grilled Chicken Parmesan. Replace the fresh basil with fresh chopped cilantro and add chopped jalapeno peppers.
Make it spicy. Add some red pepper flakes and Italian seasoning to the tomatoes.
Make it on top of the stove. Don't have a grill, no problem! The best way to make grilled chicken parmesan indoors is to brown the chicken on top of the stove in a cast-iron skillet or grill pan over medium heat for about 7 to 8 minutes, flip the chicken over and cook until the chicken has reached an internal temperature of 165.
Place the tomato and basil mixture on top of the chicken breasts and sprinkle on the cheese. Reduce the heat, cover, and cook until the mozzarella cheese has melted.
Your Questions Answered
Here are the most commonly asked questions about this grilled chicken parmesan recipe. If your question isn't answered below, leave me a comment and I will get back to you as soon as I can.
Is chicken parmesan healthy?
Yes! This is a healthy chicken parmesan recipe. It's not breaded and fried and loaded with cheese which is what makes classic chicken parmesan less healthy. When healthy ingredients are used, chicken parmesan can be a healthy choice and delicious choice!
Can I make this chicken parmesan recipe with eggplant?
Yes, you can! Grill the eggplant until it becomes soft and top it with tomatoes (it's a good idea to use tomato slices on the eggplant which might be flimsy), chopped basil, a sprinkle of garlic powder, a drizzle of olive oil, and a slice of fresh mozzarella cheese.
You Might Also Like These Easy Recipes
Join Our Mailing List to Receive Weekly Menu Ideas and More!