Asparagus pesto is a light and fresh pesto sauce that is just perfect for the spring. It's so easy to make and you can use it the same way that you would use traditional basil pesto.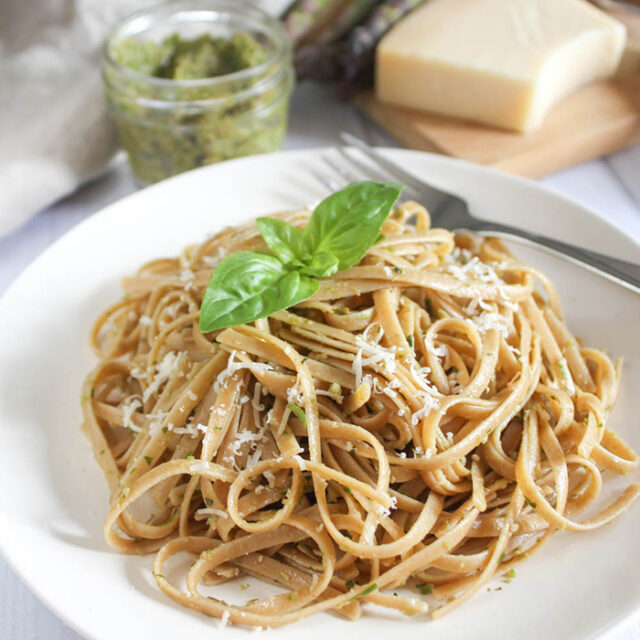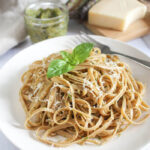 This asparagus pesto recipe is a light and fresh pesto sauce that is just perfect for the spring. It's so easy to make and it can be used the same way that you would use traditional basil pesto.
Pesto is a delicious sauce typically made with basil, oil, garlic, parmesan cheese, and pine nuts. I like to keep it interesting and add different ingredients to pesto sauce, and I recently discovered just how tasty asparagus pesto sauce with sunflower seeds is.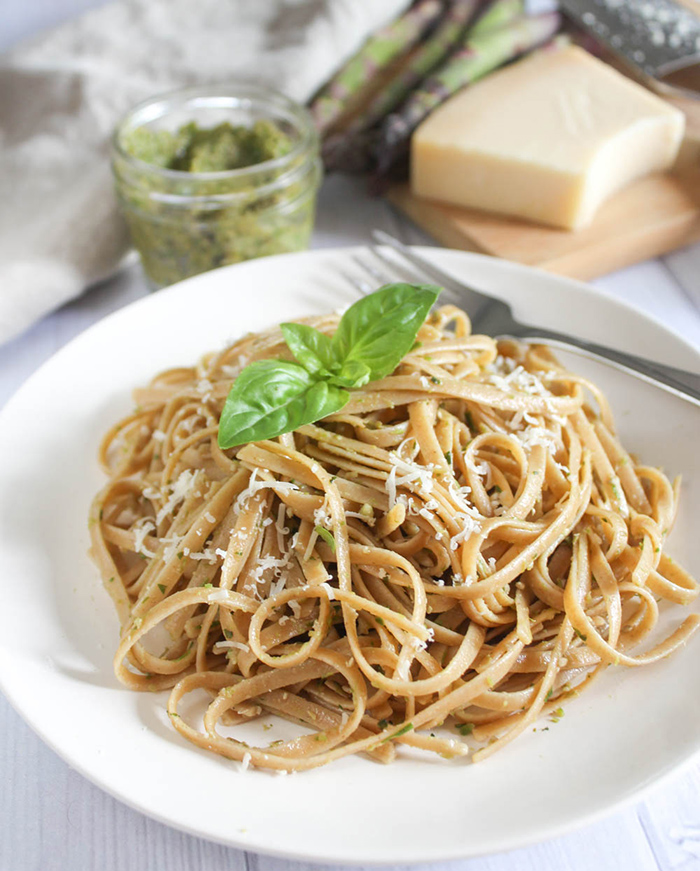 Fast, easy, and delicious asparagus pesto is perfect for a quick and healthy pasta sauce. If you love pesto, try garlic scape pesto, arugula pesto and broccoli pesto too!
Why This Recipe Works
Asparagus Pesto is quick, healthy, easy recipe; and it's made with simple ingredients!
It is a great way to use up leftover cooked asparagus.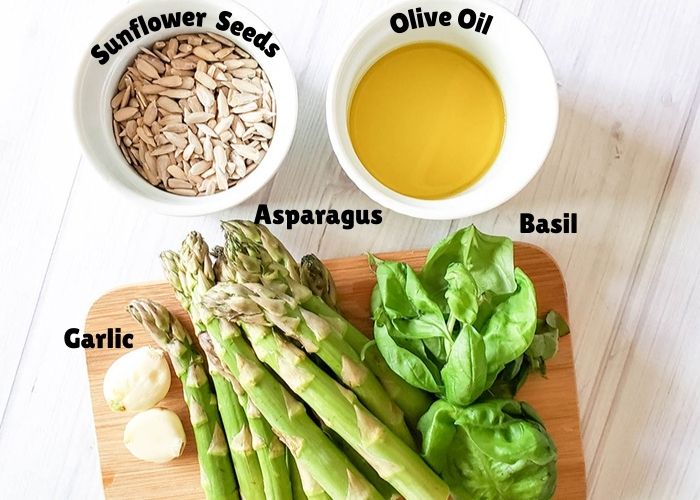 Here is What You Will Need To Make This Recipe
Ingredients
Fresh asparagus
Basil leaves
Garlic
Sunflower seeds
Extra-virgin olive oil
Fresh lemon juice and grated parmesan cheese or pecorino romano cheese for garnish.
Equipment
Here Is How to Make Asparagus Pesto Sauce
Prepare the ingredients: Rinse the asparagus and snap off the rough ends. Rough chop the garlic clove, measure the seeds and olive oil.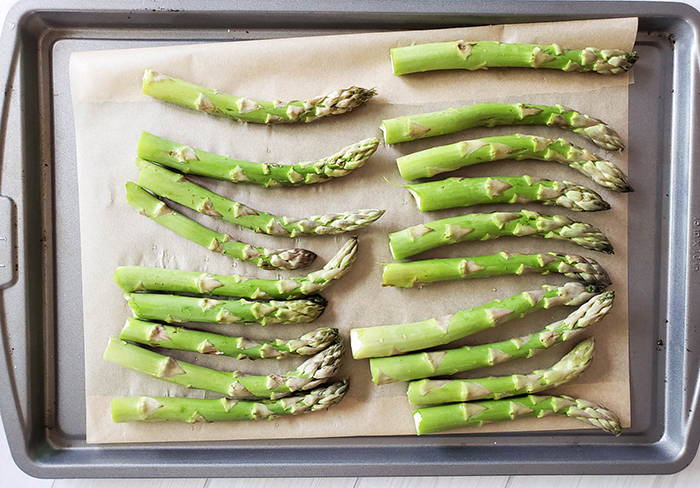 Step 1. Roast the asparagus
Arrange the asparagus spears in a single layer on a parchment-lined baking sheet and brush them with a thin layer of olive oil.
(Skip this step if you are using leftover asparagus.)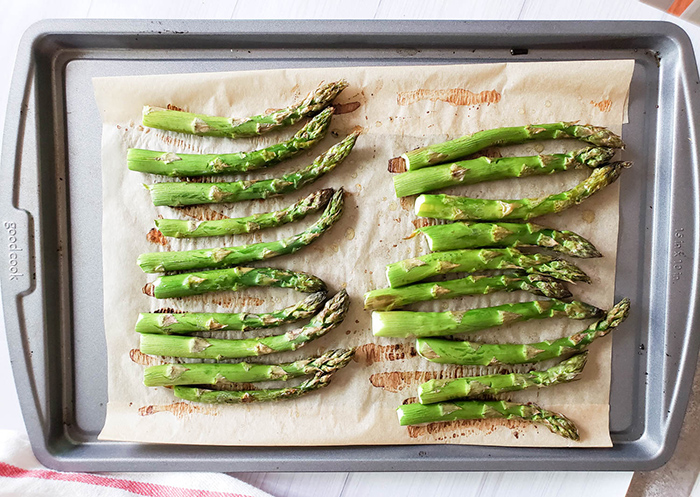 Step 2. Remove the asparagus from the oven.
Roast the asparagus in the oven until it's fork-tender, about 15 to 20 minutes. Remove the asparagus and let it cool off.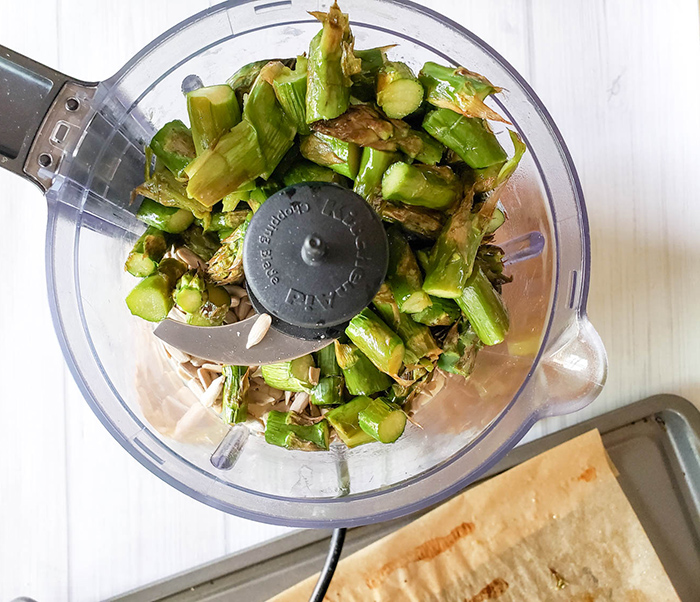 Step 3. Chop the asparagus
Once the asparagus is cool enough to handle, chop it into chunks about 1 inch in size and place it in the food processor with the sunflower seeds and garlic.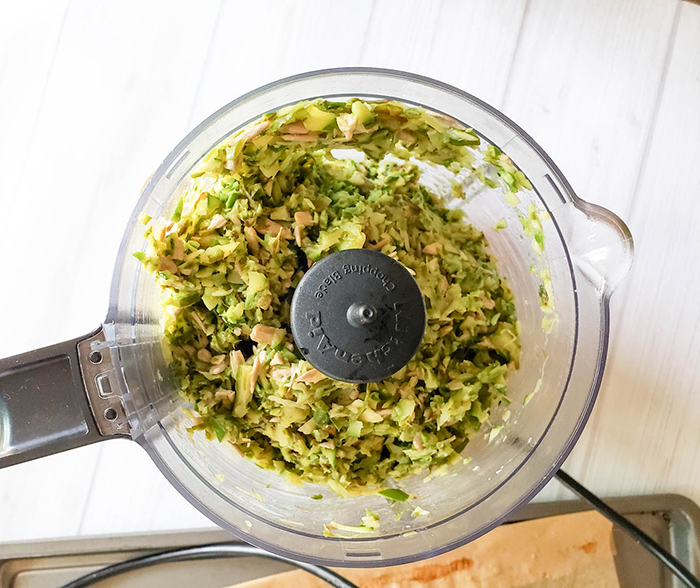 Step 4. Process the mixture
Process the mixture into small pieces.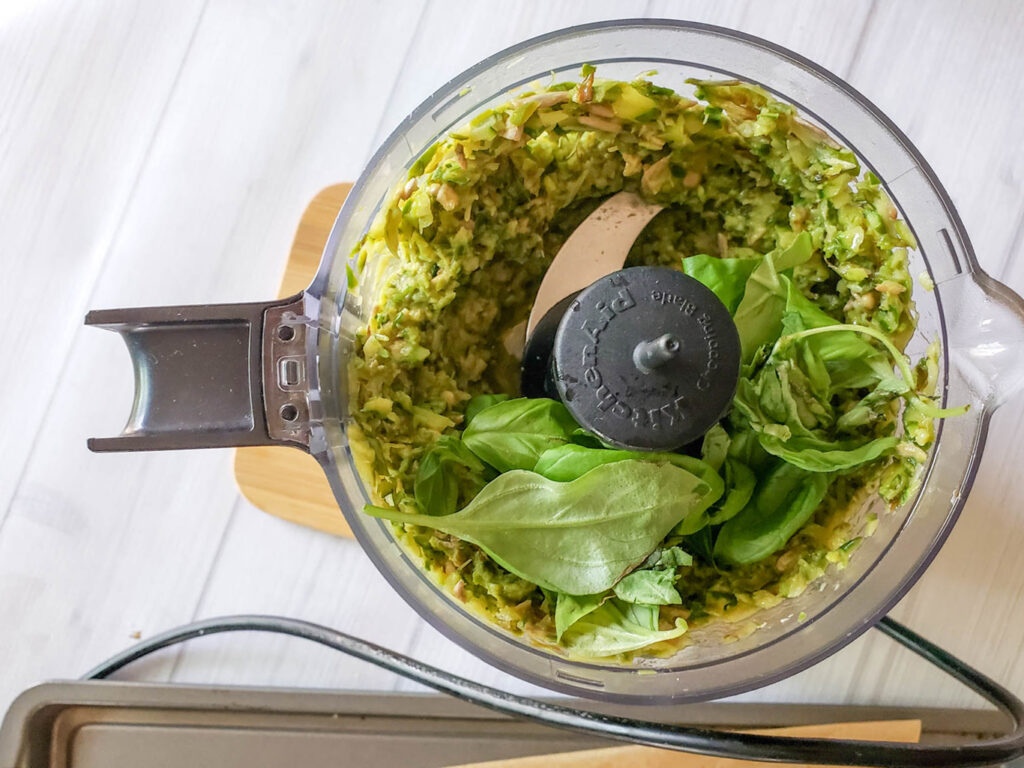 Step 5. Add the remaining ingredients
Add the basil, and process once again while adding the oil through the feeding tube.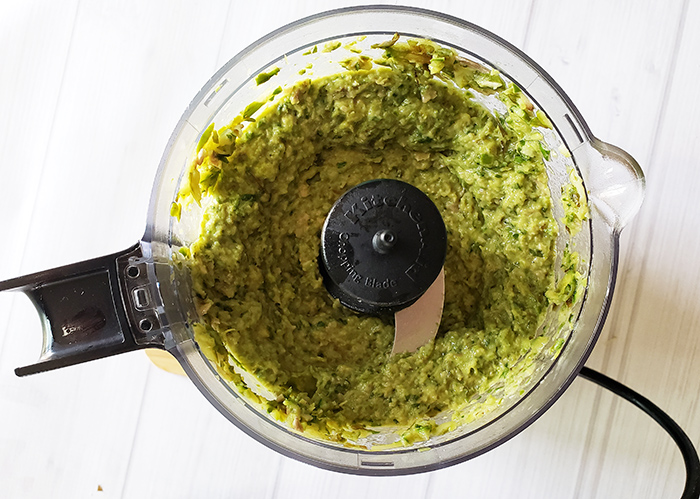 Step 6. Adjust the texture
The pesto will be slightly thick, if you prefer thin pesto adjust the sauce to your preference by adding more oil or water.
Tip! Adding the basil at end of the cycle will prevent the basil from becoming bruised and brown.
Check out these tips on how to choose, clean and cook asparagus.
Pesto Ingredient Notes & Substitutions
The full list of ingredients to make this homemade pesto sauce recipe is above. Below are notes about some of the ingredients along with ideas for substitutes.
Asparagus. I like to use roasted asparagus in this recipe, but you can use asparagus that is cooked any way that you like; steamed, blanched, or grilled. It's also a great way to use up leftover asparagus.
Basil. Fresh basil leaves add a ton of flavor to pesto sauce and it doesn't take over the earthy flavors of the asparagus. If you don't like to use basil, it can be left out.
Sunflower Seeds. Pesto is usually made with pine nuts which have become very expensive. You can use them in this recipe in place of sunflower seeds and you can also use walnuts or pistachio nuts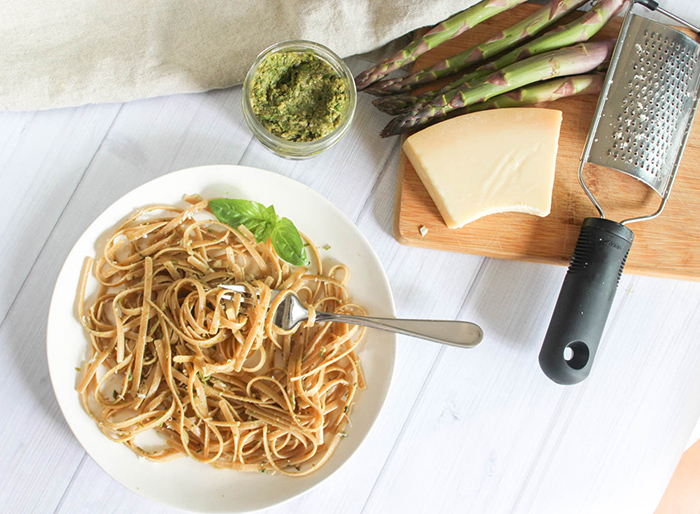 Serving Suggestions
There are so many ways to enjoy asparagus pesto. Serve it garnished with lemon zest and a pinch of salt over al dente pasta, rice, or zucchini noodles or add it to your favorite pasta salad.
Asparagus pesto also tastes great drizzled over freshly sliced tomatoes, or brushed on grilled meat, spread on a sandwich, on a pizza crust or flatbread with sliced tomatoes, basil, and mozzarella cheese.
How to store leftover asparagus pesto
Refrigerate leftover pesto
Leftover asparagus pesto will last in the refrigerator for three to four days in an airtight container.
Use the leftover sauce as a spread on sandwiches or drizzle it over cooked vegetables.
Freeze leftover pesto
Asparagus season seems so short, and freezing this delicious sauce will extend the season.
Asparagus pesto can be frozen for up to six months in a freezer container or placed into an ice cube tray for individual-sized portions. Once the pesto is frozen solid in individual portions, remove it from the ice cube tray and store it in a bag.
Individual portions are great for adding to homemade marinara sauce and even to homemade salad dressing!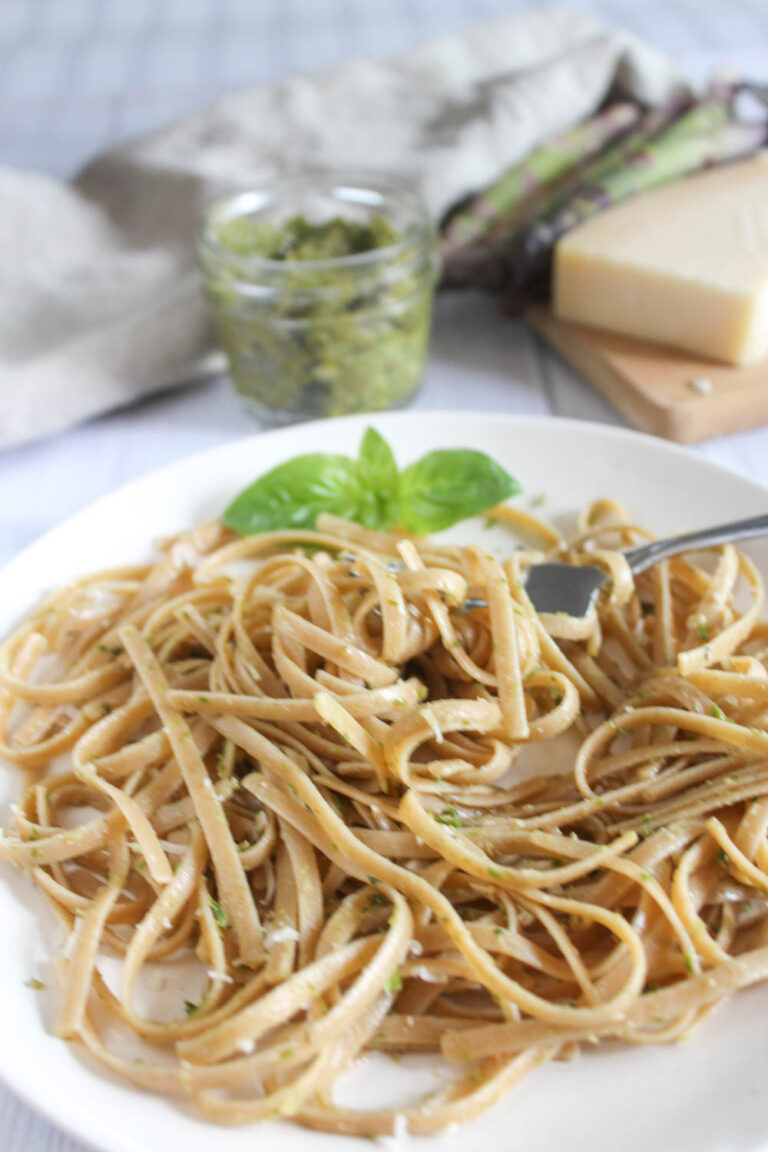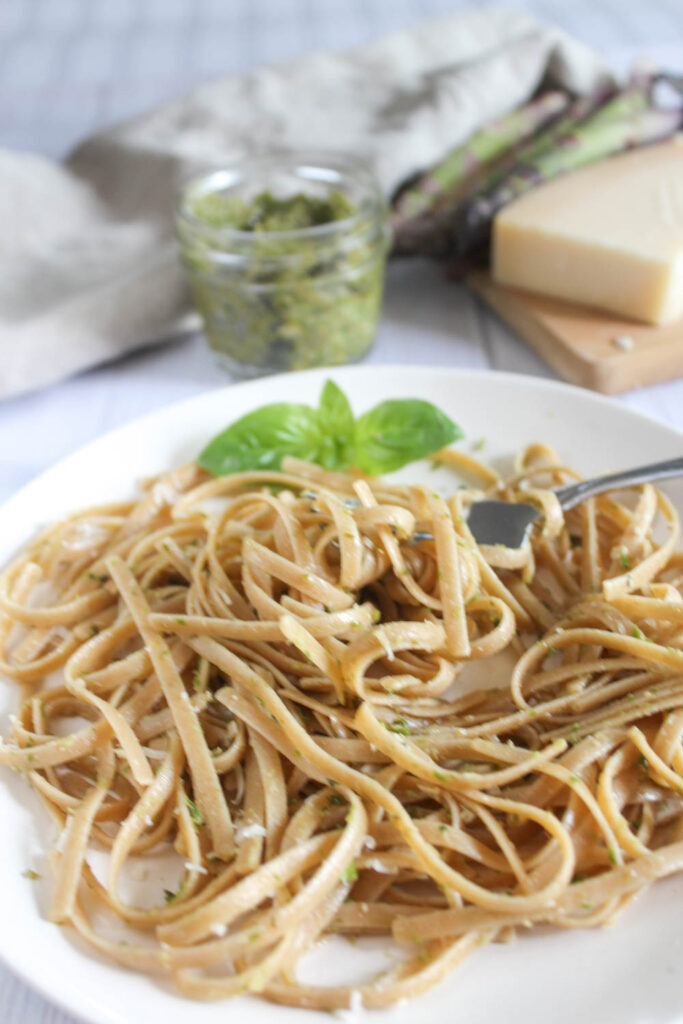 Recipe Variations
Change up the seeds and use an equal amount of chopped walnuts, almonds, or cashews.
Spinach and asparagus pesto - Add a handful of baby spinach leaves to the food processor with the asparagus.
Sun-dried tomato and asparagus pesto - Add a ¼ cup of sun-dried tomatoes to the food processor with the asparagus.
Asparagus Pesto Sauce Questions & Tips
How do I make my pesto sauce thinner after storing it?

Pesto sauce can become thick when it is stored in the refrigerator, just before serving gradually stir in a little bit of olive oil or water until the sauce reaches a consistency that you like. If you are making pasta with your pesto, the pasta water works well for this.
How do you steam asparagus for asparagus pesto?
Place a steamer basket filled with trimmed asparagus into a pan with a little bit of water. Cover the pan and steam the asparagus for about 8 minutes.
Or add one to two inches of water to a large skillet and place the asparagus in the skillet. Cover and steam for 6 to 8 minutes.
You Might Like These Asparagus Recipes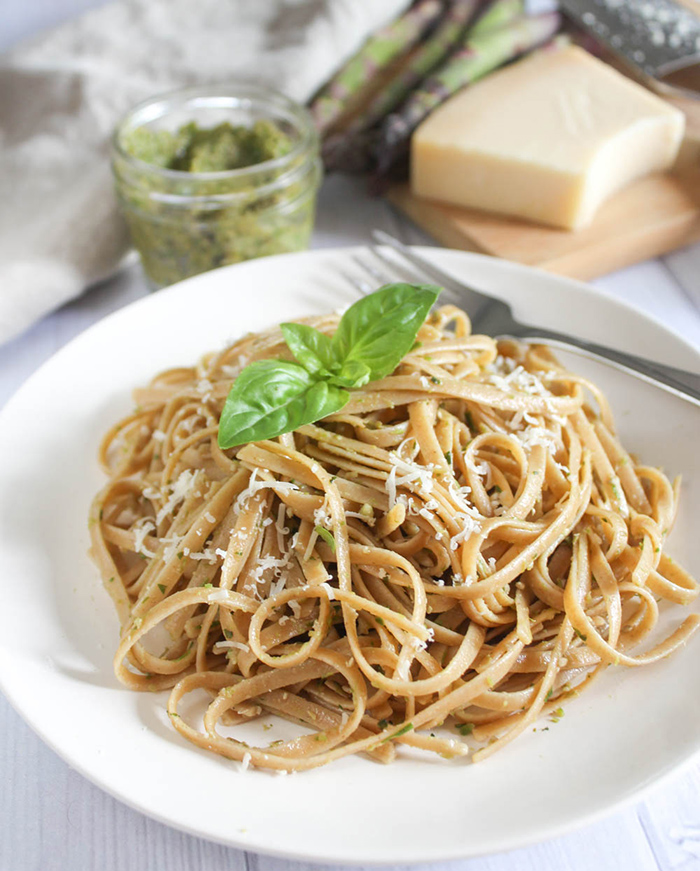 Click on serving size to scale this recipe
Instructions
Preheat the oven to 400 degrees.

Line a baking sheet with parchment paper or a reusable Silpat baking mat.

Arrange the asparagus spears on the baking sheet in a single layer and brush with olive oil.

Place the asparagus in the oven and roast for 15 to 20 minutes until it becomes tender.

Remove the asparagus from the oven. When it's cool enough to handle, cut it into chunks and place it into a food processor with the oil, and sunflower seeds.

Process the mixture until it becomes a thick paste.

Add the basil leaves, and process the mixture again while pouring in the oil through the processor feed tube.

Adjust the consistency with water or additional olive oil.
Notes
How to store leftover pesto sauce:
Refrigerate it for three to four days in an airtight container
Freeze it for up to six months
Serving Suggestions:
over pasta with parmesan cheese
drizzle it over vegetables
spread it on grilled meat
Nutrition
Serving:
1
/8 cup
|
Calories:
154
kcal
|
Carbohydrates:
5
g
|
Protein:
3
g
|
Fat:
15
g
|
Saturated Fat:
2
g
|
Polyunsaturated Fat:
12
g
|
Sodium:
655
mg
|
Fiber:
2
g
|
Sugar:
1
g
Nutrition information provided is an estimate and can vary based on cooking methods and ingredients used