Roasted asparagus with Garlic Miso Butter is an easy and healthy spring side dish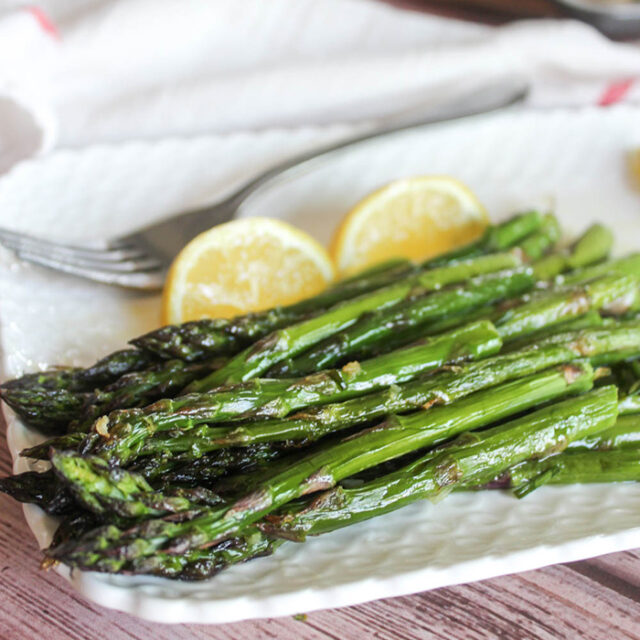 Roasted asparagus with garlic butter is a simple recipe and the perfect side dish that can be served with seafood, beef, pork or poultry.
This recipe was originally posted in 2018, it's been updated for content and photos.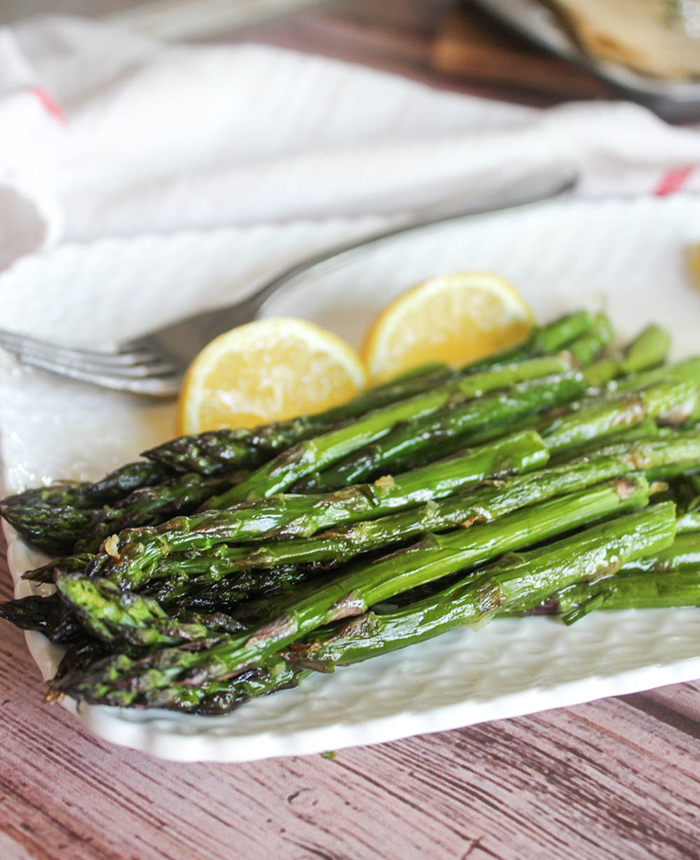 Asparagus is a low-maintenance vegetable to prepare and roasting it is one of the easiest and in my opinion the best way to enjoy it. It only takes minutes to roast with just a few fresh simple ingredients just like this grilled asparagus salad.
Why this Recipe Works
It's delicious - made with crisp-tender asparagus, butter, garlic, and fresh herbs.
It's healthy! Asparagus is low in calories and a good source of fiber, among its many health benefits.
Roasted garlic butter asparagus is an easy recipe to make with just 5 ingredients.
Here is What You Will Need
This is an overview of the ingredients and steps to make this recipe, scroll down to see ingredient notes and substitutions as well as a printable recipe card with exact measurements and complete cooking instructions.
Ingredients
Fresh asparagus
Olive oil
Unsalted butter
Fresh Garlic
Chopped herbs such as fresh chives, fresh dill, or fresh parsley
Lemon slices or wedges for garnish (optional)
Equipment
Here is How To Make Roasted Garlic Butter Asparagus
Prepare: preheat the oven to 400 degrees f, and line a baking sheet with parchment paper or a re-useable non-stick baking mat.
Clean and trim the asparagus, chop or crush the garlic, chop the herbs, and melt the butter.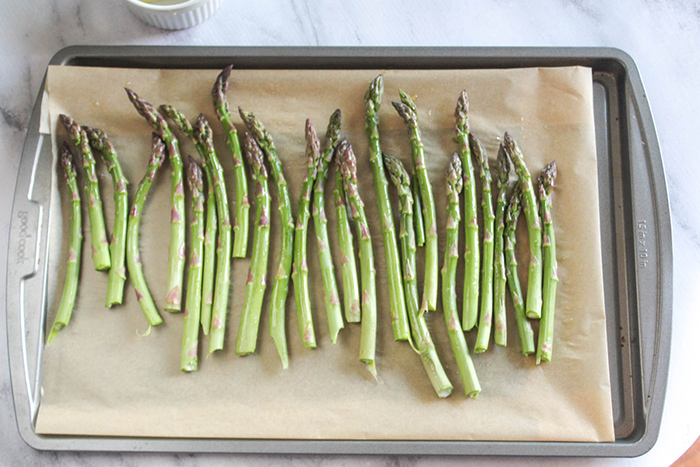 Step 1.
Place the cleaned and trimmed asparagus onto the baking sheet in a single layer.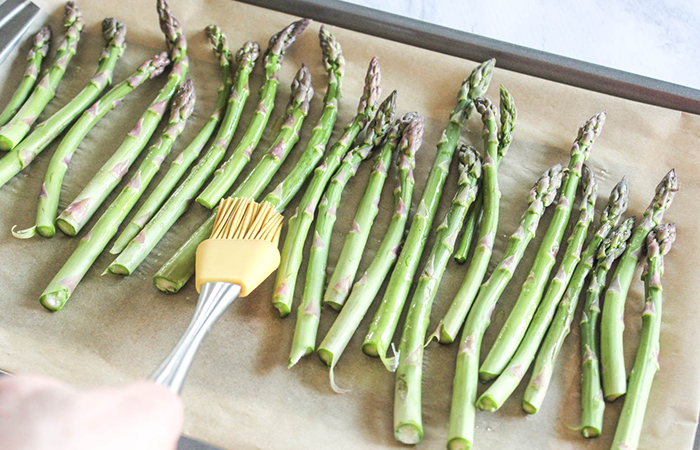 Step 2.
Use a pastry brush to brush the olive oil on the asparagus spears and roast them for 15 minutes.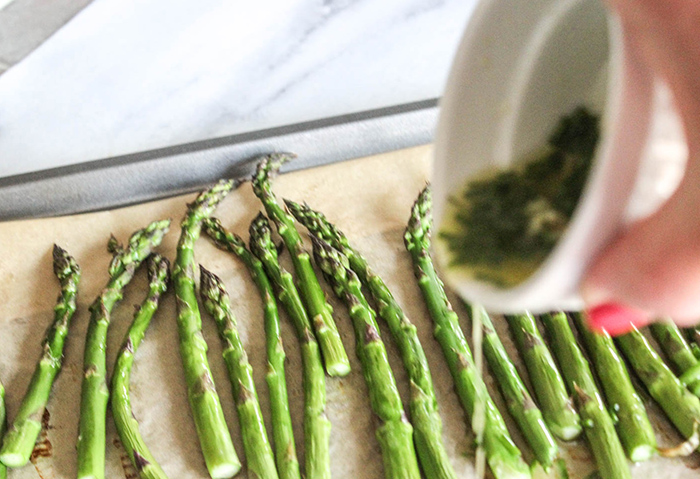 Step 3.
Remove the asparagus from the oven. Add the chopped herbs and garlic to the melted butter, pour it over the top of the asparagus and gently toss the asparagus around so that the butter is mixed in.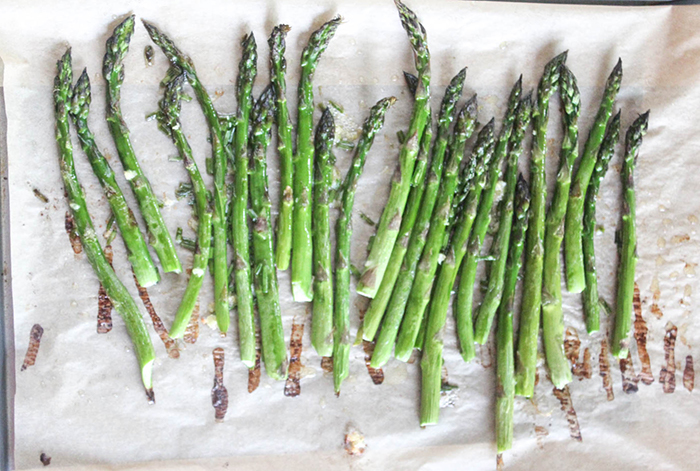 Step 4.
Place the asparagus back into the oven and roast the asparagus for 5 minutes longer.
Check out these tips on how to choose, clean and cook asparagus.
Ingredient Notes & Substitutions
Asparagus. I like to use medium to thicker asparagus spears when I roast them. Thin asparagus spears might end up overcooking and the tips will burn.
If thin stalks are used, you may need to reduce the roasting time. Check it after 5 to 8 minutes to make sure it isn't burning.
Butter. Unsalted butter is what I use in this recipe and it can be substituted with an equal amount of olive oil.
Garlic. Substitute the garlic clove with ⅛ teaspoon of garlic powder.
Fresh Herbs, are optional and can be left out or replaced with a few sprinkles of dried herbs.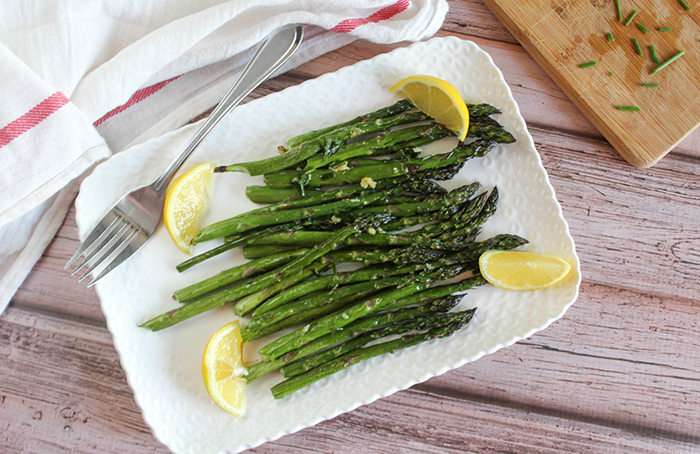 Storing and Using Leftovers
Store leftover asparagus in an airtight container in the refrigerator for up to 3 days.
Reheat it in the oven or microwave or enjoy it cold.
Uses for leftover garlic butter asparagus - heat it up and serve as a side dish, chop it into bite-sized pieces and add it to a salad, scrambled eggs, or an omelet.
Freezing leftover asparagus is not recommended.
Serving Suggestions
Serve this healthy side dish garnished with lemon and a dash of lemon zest with pork tenderloin, pork chops, chicken, or seafood.
If you like this recipe, please comment and rate it below!
Recipe Variations
This roasted asparagus recipe is a delicious side dish just as it is, or you can add any of the following ingredients to change it up:
Cheese - Sprinkle the asparagus with grated parmesan cheese, gruyere cheese, or feta cheese just before serving.
Nuts - Top the asparagus with ¼ cup toasted chopped almonds, walnuts, pecans, or pistachios.
Bread Crumbs - After adding the butter, top the asparagus with crispy panko bread crumbs.
Olives - Add ¼ cup of chopped kalamata olives or sun-dried tomatoes just before serving.
Lemon garlic butter - add a teaspoon of fresh lemon juice to the butter for lemon garlic butter roasted asparagus.
Recipe tips and questions
Tips
The asparagus will be crisp-tender after 15 to 20 minutes of roasting time. If you prefer softer asparagus, leave it in the oven for a few minutes longer.
The butter is added at end of cooking time to prevent burning, if you don't use butter, you will only need to add the garlic and herbs at the end of the cooking cycle.
Questions
Can I make this roasted asparagus recipe on top of the stove?
Yes, you can. Heat the olive oil in a skillet over medium-high heat. Once the oil is hot, add the asparagus to the skillet and reduce the heat to medium. Toss the asparagus in the skillet until the asparagus begins to soften, stir in the butter and garlic; cook for a few minutes longer and add the fresh chopped herbs.
You might enjoy these recipes
For more simple and delicious recipes like this, subscribe to our newsletter and receive a free e-book and meal suggestions straight in your inbox!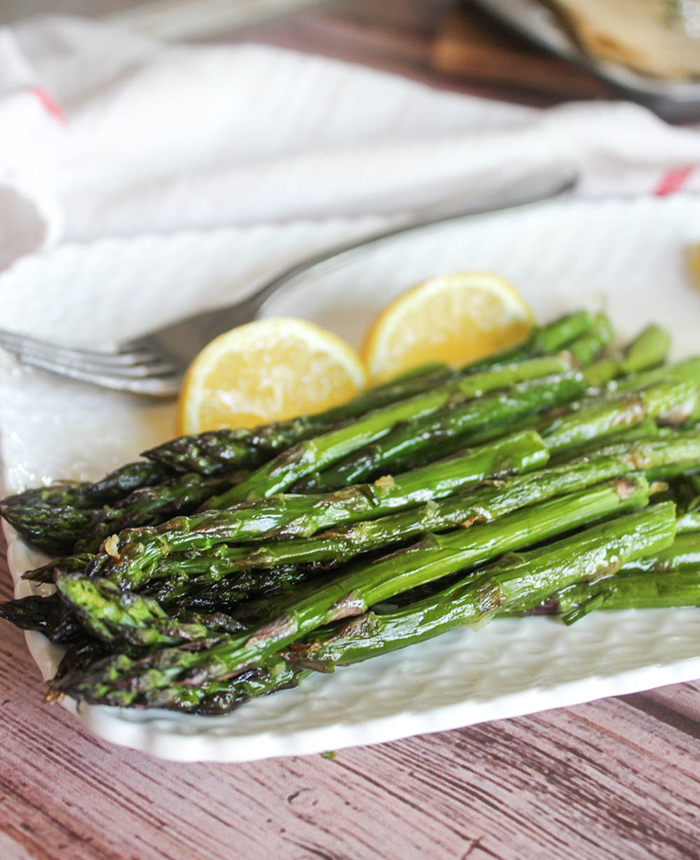 Click on serving size to scale this recipe
Ingredients
1

tablespoon

unsalted butter at room temperature

1

clove

crushed garlic

1

pound

fresh asparagus

1

teaspoon

olive oil

A handful of fresh herbs
Instructions
pre-heat the oven to 400 degrees

clean and trim the asparagus by snapping off the rough ends

place the asparagus on a parchment-lined baking sheet

brush the asparagus spears with olive oil

roast for 15

while asparagus is roasting add the garlic and herbs to the butter.

remove asparagus from the oven and add the garlic butter of butter to the asparagus and toss to coat.

place the buttered asparagus back into the oven for 5 minutes longer.
Notes
This recipe was made with medium-sized stalks of asparagus. If you use thin stalks, you may need to reduce the roasting time. Check it after 5 to 8 minutes to make sure it isn't burning.
The asparagus will be crisp-tender. If you prefer softer asparagus, leave it in the oven for a few minutes longer.
Substitute butter one for one with olive oil for a vegan version of this recipe.
Garlic can be substituted with ⅛ teaspoon of garlic powder.
Fresh Herbs are optional and can be left out or replaced with a few sprinkles of dried herbs.
Nutrition
Nutrition information provided is an estimate and can vary based on cooking methods and ingredients used
Check out more of our side Dish Recipes here!