This delicious grilled corn salad recipe incorporates sweet, salty, spicy, and smoky flavors for an awesome-tasting salad.
With grilled corn kernels, creamy avocado, red onion, crunchy jalapenos, and cotija cheese all tossed in lime juice this street corn salad will become your favorite side for any occasion.
This recipe was originally posted in 2018, it's been updated for content and photos.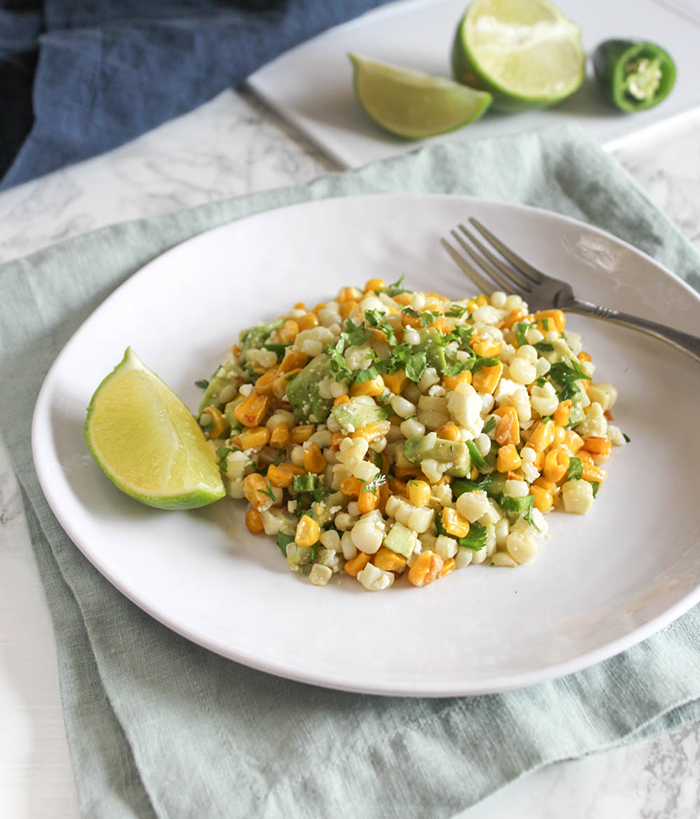 Grilled corn salad is a perfect side dish for the summertime. It's a quick recipe and it pairs well with cilantro lime shrimp or even steak!
Why this Recipe Works
It's an easy summer salad, perfect to make ahead of time, in fact it tastes better if it's been made a few hours before serving!
It's a great recipe to bring to your next pot luck! There is no mayonnaise, so it is safe to serve at room temperature.
Here is What You Will Need
As an Amazon Associate, I earn from qualifying purchases.
This is an overview of the ingredients and steps to make this recipe, scroll down to see ingredient notes and substitutions as well as a printable recipe card with exact measurements and complete cooking instructions.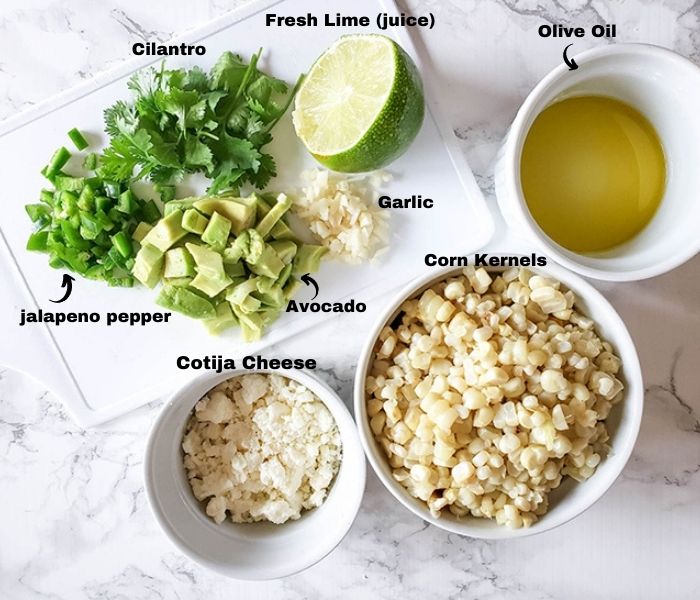 ---
Ingredients
Fresh Sweet Corn on the Cob
Olive Oil
Fresh Jalapeno Pepper
Garlic
Fresh Lime Juice
Cotija Cheese
Fresh Cilantro
Avocado
---
Here is How To Make Grilled Corn Salad
Prepare the ingredients: Husk the corn, rinse and pat it dry. Chop the jalapeno peppers, cilantro, avocados and mince the garlic - place the peppers, cilantro, avocados, and garlic in a medium bowl. Preheat a gas or indoor grill at medium-high heat.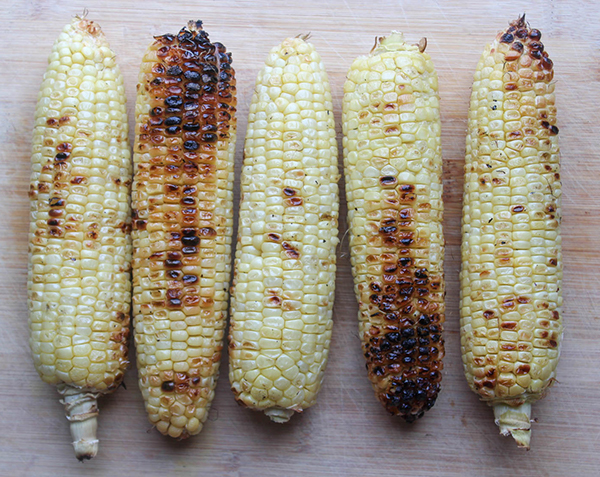 Step 1. Brush ears of corn with a little bit of oil and place them onto a hot grill; and cook them until they become charred.
Pro Tip! This recipe is a great way to use up leftover corn on the cob. Toss the pre-cooked corn on the grill and cook it for a few minutes until it becomes charred or see the pan tips below.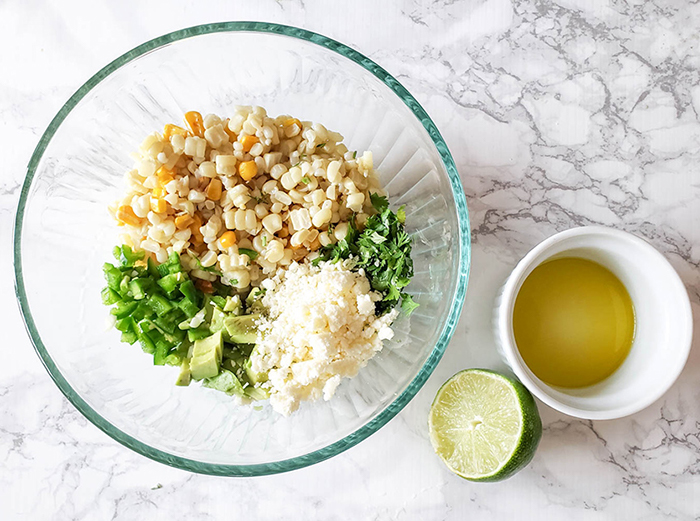 Step 2. Once the corn has cooked and cooled, cut the corn kernels off of the cob with a sharp knife and place them into the bowl with the peppers, avocado, cheese and cilantro.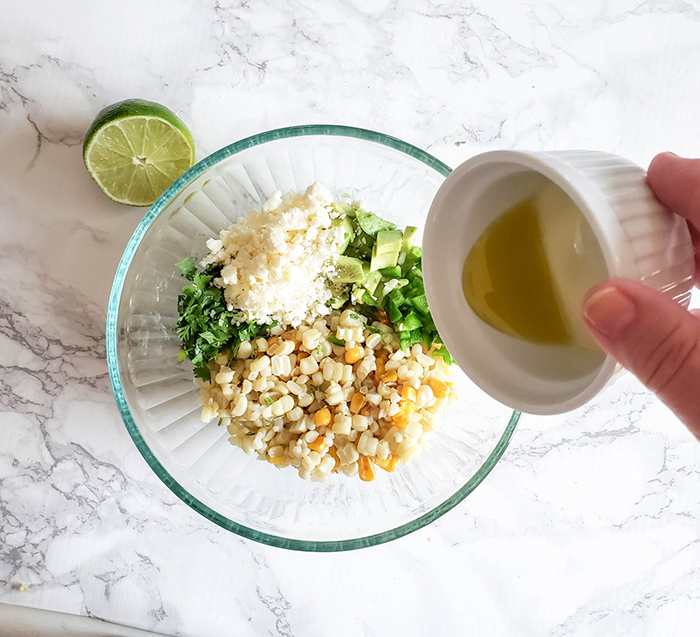 Step 3. Use a citrus juicer to extract the lime juice and pour it over the ingredients in the bowl.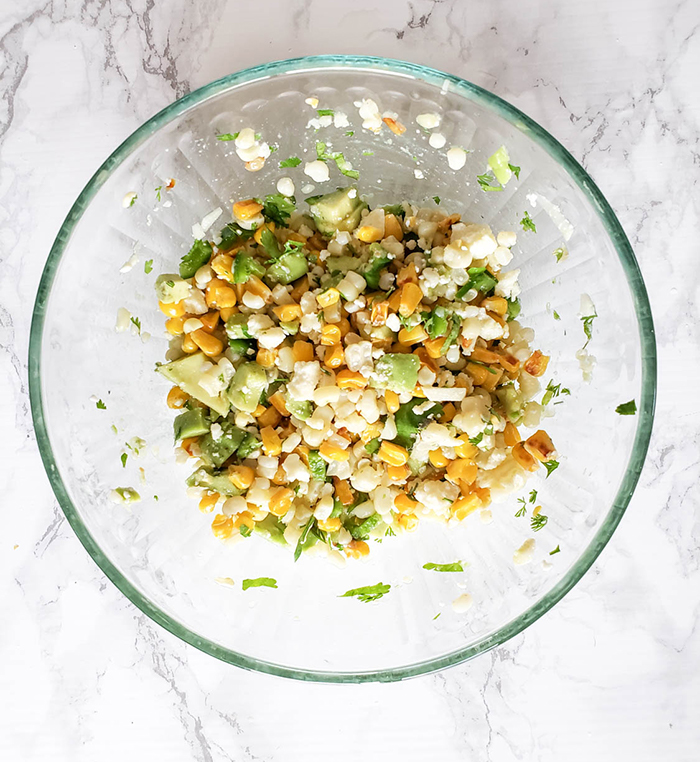 Step 4. Mix everything together and store in the refrigerator. Serve corn salad chilled or at room temperature.
Ingredient Notes & Substitutions
Corn on the cob. Any variety of fresh corn on the cob from your favorite farmer's market will work (white, yellow or bi-color). Look for fresh corn that has bright green corn husks and are tightly wrapped. The tassels should be brown and slightly damp. Peel the husk down just a tiny bit to check for bright and plump kernels.
TIP! Don't husk your corn until you are ready to cook it! The husks keep the corn moist and fresh.
Substitute fresh corn on the cob with frozen corn, see instructions for how to make corn salad without a grill below.
Substitute Fresh garlic with ¼ teaspoon of garlic powder.
Cotija cheese is very similar in flavor and texture to feta cheese and can easily be substituted with feta cheese or parmesan cheese.
Jalapeno peppers can be substituted with any hot pepper, and if you don't like heat, replace them with green or red bell pepper or mild poblano peppers.
Fresh Cilantro can be substituted with any of your favorite fresh herbs such as oregano, basil, or parsley.

Storing and Using Leftovers
Store leftover corn salad in an airtight container for up to five days.
Leftover Idea! Serve leftover corn salad as a dip with tortilla chips.
Serving Suggestions
This grilled corn salad recipe tastes great with your favorite grilled protein such as grilled chicken, or pork chops. It's also the perfect side dish for nachos, tacos or quesadillas.
How to Make Grilled Corn Salad Without a Grill
If you don't have an outdoor grill, you can make this delicious corn salad with fresh or frozen corn on top of the stove. It may not have the same smoky flavor as grilled corn but it's still good. Here's how:
If you are using fresh corn, remove the corn husks and rinse the corn off.Add the corn into a pot of boiling water; cover the pot, and reduce the heat to low and cook for 5 to 8 minutes. Drain and rinse the corn in cold water to cool it off.
Grab a cutting board and a sharp knife and cut the kernels off. If you are using frozen corn, open the bag, and add it straight to the pan.
Heat a cast-iron skillet with 1 tablespoon of olive oil over medium to high heat. Once the pan is hot, add the corn kernels and cook them until they cook through and have a slight char on them.
Add the corn kernels to the mixing bowl with the other ingredients and mix everything together.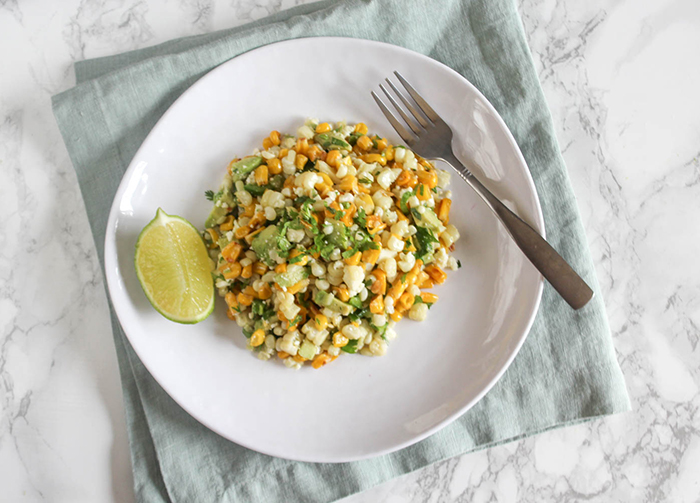 Recipe Variations
More veggies, toss in any combination of a handful of chopped cherry tomatoes, black beans or sweet peppers such as green or red bell peppers.
Change up the cheese. Try using shredded pepper jack, queso fresco, or parmesan cheese.
Make it a Meal and add Protein. Stir in ½ cup shredded or diced chicken to the salad.
Add Mayo. Add ⅛ cup of avocado mayonnaise with a few tablespoons of Greek yogurt or sour cream for a more authentic street corn salad.
Garnish Ideas. Top your salad with chopped green onions and olives.
Your Questions Answered
Here are the most commonly asked questions about this recipe. If your question isn't answered below, leave me a comment and I will get back to you as soon as I can.
Is corn salad healthy?
Yes, this corn salad recipe is healthy. It's made with fresh ingredients and without mayonnaise.
Can I use canned corn to make this corn salad recipe?
You can, but I would not recommend it. Canned corn does not taste as fresh as frozen and of course fresh corn.
You Might Also Enjoy These Summer Salad Recipes
Check out these Recipes From My Blogging Friends