Grilled Mexican street corn salad is smoky, spicy and creamy.  It has all of the classic flavors of traditional Mexican street corn without the mess.
This post may contain affiliate links for more information, please see our Disclosure.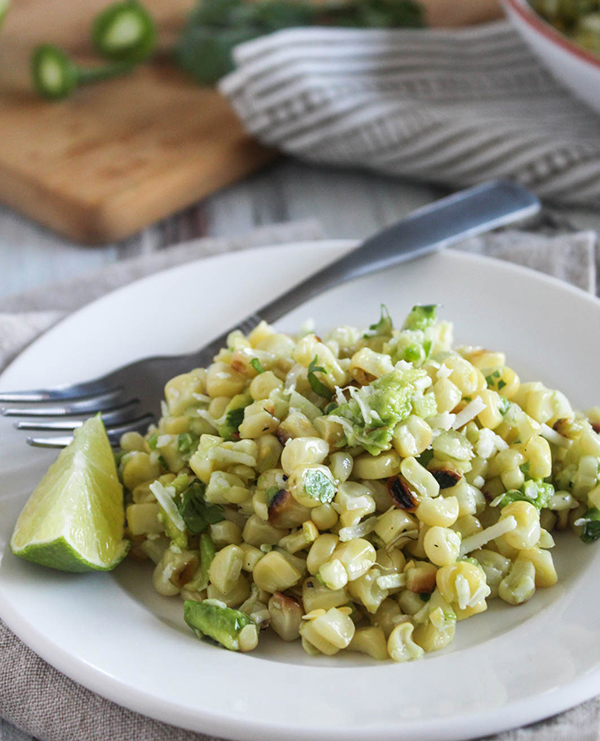 Un-traditional Grilled Street Corn
Traditional Mexican Street corn is grilled corn on the cob that's coated with cotija cheese, mayonnaise, sour cream then topped with jalapeno peppers, cilantro and more cheese. It's super tasty, but just a little bit unhealthy.
I decided to make a better for you version without the mayonnaise and sour cream and replace them with a creamy avocado. While I was at it, I took the corn off the cob for a less messy version. The result, a tasty and easy to eat version of Mexican street corn.
I highly recommend that you grill the corn if you have a grill, it adds a slightly smoky flavor to the salad. If you don't, you can cook the corn on top of the stove in a very hot cast iron pan which will char the corn (instructions are below for this method).
This Grilled Mexican Street Corn Salad recipe comes together quickly with only a few ingredients. It is a perfect side for grilled chicken, taco lettuce wraps or cilantro lime shrimp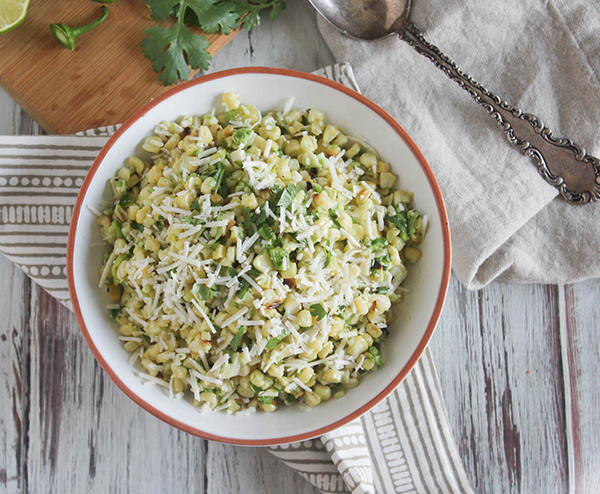 Here is what You will Need
Grilled & Charred Corn on the cob – it is the base of this recipe; it is sweet, smoky and slightly charred..
Olive Oil – to keep the corn from sticking to the grill, and  to add moisture to the salad.
Jalapeno Peppers –  to add a little bit of heat.
Minced Garlic – to kick up the flavor.
Fresh Lime Juice – brings all of the flavors together.
Cotija Cheese – a Mexican cheese that tastes similar to feta cheese and adds a hint of salty flavor.
Fresh Cilantro – accentuates the fresh ingredients.
Ripe Avocado – the avocado chunks break down and add a nice creamy texture without mayonnaise and sour cream.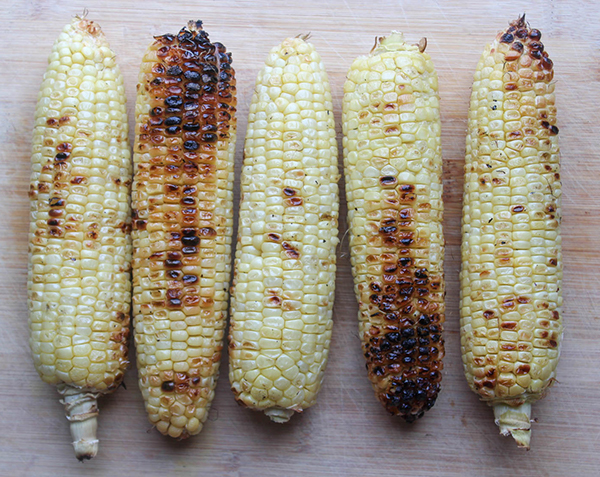 Here is How to Make It
Husk the corn, wash and dry it
Brush the corn with olive oil and place it on a hot grill
While the corn is cooking, chop the jalapeno peppers, mince the garlic, cilantro and avocado
Remove the cooked corn from the grill and allow  it to cool off
Cut the kernels off of the corn cob and place them into a bowl
Add the chopped peppers, minced garlic, lime juice, cilantro, cheese and mix well
Add the avocado and give it a quick stir and serve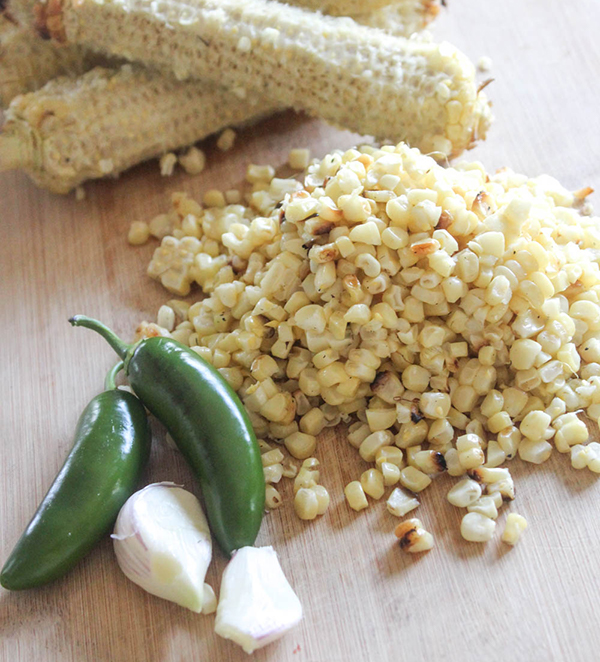 Recipe Tips and Variations 
Don't husk the corn until you are ready to cook it! The husks protect the kernels from drying and will keep the corn fresh tasting. It only takes a few minutes to do it at home.
Do not overcook the corn.–  The corn should have patches of charring along with  yellow patches for the best flavor.
Use a cast-iron skillet if you don't have a grill. Heat a cast-iron skillet over medium to high heat with 1 tablespoon oil. If you are using corn on the cob, use a sharp knife to cut the kernels off of the cob.  Add the kernels to the pan and cook the corn stirring occasionally until corn becomes charred – about 15 to 20 minutes.
Replace corn on the cob with 3 cups frozen corn kernels that have been thawed, and cook them using the cast-iron method above.
Grilled Mexican street corn salad is vegetarian. For a vegan version, omit the cheese.
Cotija cheese can be substituted with feta or Parmesan cheese.

You Might Also Like These
Print
Mexican Street Corn Salad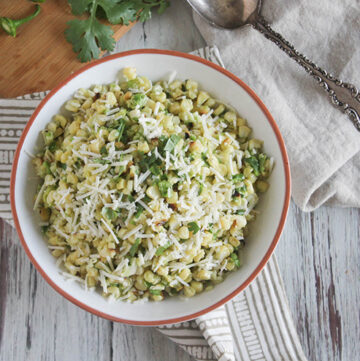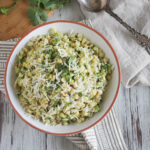 Mexican Street Corn Salad – Grilled corn that's been removed from the cob and tossed with a tangy blend of ingredients.
Scale
Ingredients
6 ears of corn
2 jalapeno peppers, diced
2 cloves garlic, minced
1 1/2 tablespoons olive oil
2 tablespoons fresh lime juice
3 tablespoons cotija cheese shredded or crumbles
3 tablespoons chopped fresh cilantro
1 avocado cut into small chunks
Instructions
Prepare the Ingredients
husk the corn
chop the peppers, avocado and cilantro
mince the garlic
Make the Salad
heat a gas grill to medium-high heat
using a pastry brush, lightly coat each ear of corn with 1/2 tablespoon olive oil
place the corn on the grill and cook covered for 20 minutes total turning them occasionally until they begin to char
remove the corn from grill and allow to cool
using a knife cut the kernels off of the corn and place them into a bowl
place the remaining ingredients into a bowl and combine
serve immediately or allow to chill
Notes
Make the corn in a cast iron pan: heat a pan over medium to high heat, add 1 tablespoon oil, add the corn kernels.  Cook stirring occasionally  until corn becomes charred – about 15 to 20 minutes
Nutrition information is provided by Nutrifox,  an online calculator and is meant to be used for informational purposes only.  Even though I try to provide accurate information, these figures should still be considered as estimates.
Check out these Recipes Made with Fresh Produce