Boneless chicken cooks slowly with tomatoes, garlic, onions and jalapeno peppers for super flavorful crockpot chicken tacos. An easy dinner that everyone will love.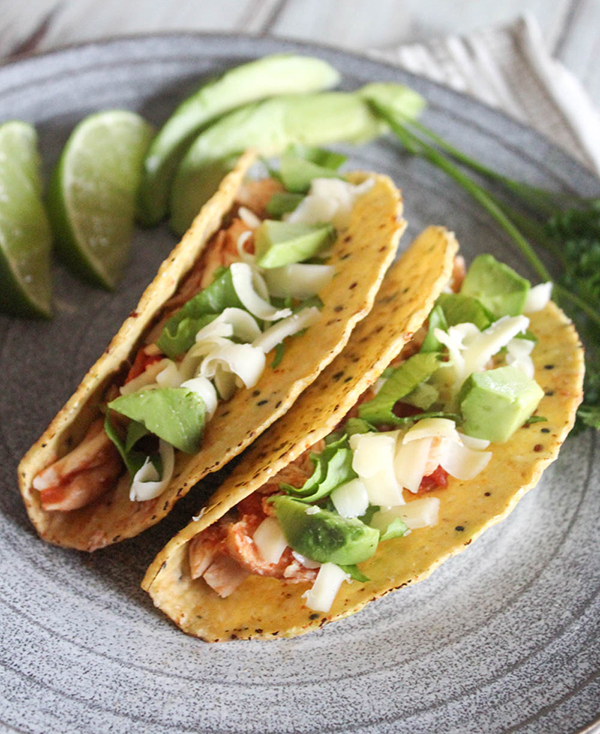 As an Amazon Associate, I earn from qualifying purchases
Here is what you will need to make easy crockpot chicken tacos
boneless chicken breasts or tenders
canned or fresh tomaotes
fresh garlic or garlic powder
onion
Soft or hard taco shells
slow cooker
Tacos Fixings such as: chopped lettuce, cabbage, diced onions, avocado, cilantro, shredded pepper jack or cheddar cheese, salsa, lime wedges, greek yogurt, salsa.
Total estimated time for this recipe: 4 ½ to 5 hours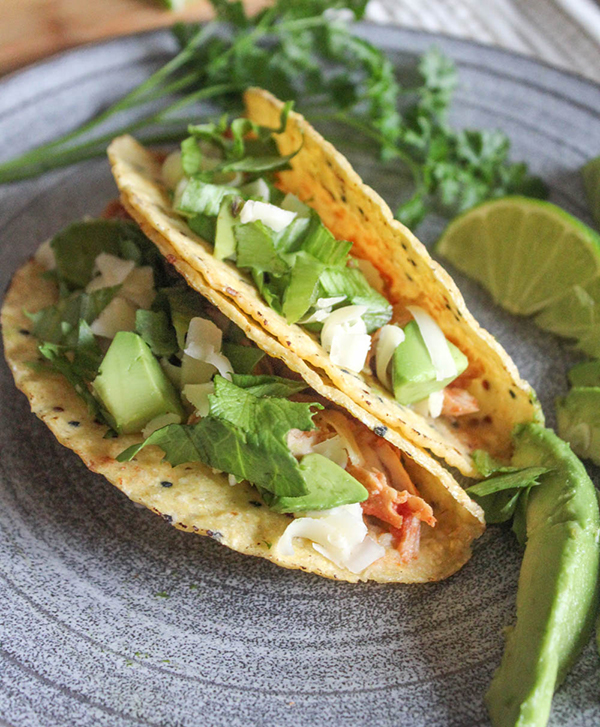 Tacos just got a lot easier
I used to make meat for tacos on top of the stove in a skillet. That is until I discovered just how unbeleivably easy is to make them in a slow cooker.
Except for the chopping of onions and garlic, there really isn't a lot preparation time required to make these tacos - toss the ingredients into a slow cooker, set it on low and walk away!
When it's time to eat, you will have a crockpot full of tender chicken that is ready to stuff in a soft or hard taco shell. You can double this recipe and freeze the leftovers for another day.
Serve them with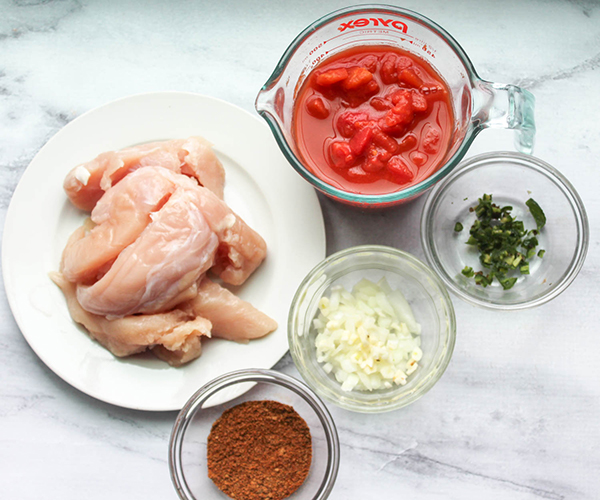 Recipe ingredient notes/substitutions:
Chicken - I like to use chicken tenders becasue they shred nicely. Boneless chicken breasts can also be used.
Tomatoes - When tomatoes are in season, I like to use fresh tomatoes in this recipe for a fresh flavor. When they aren't in season, I use organic, low sodium tomatoes.
Jalapeno pepper - Is an optional ingredient. My preference is fresh jalapeno peppers, if you don't have fresh jalapenos, about 2 tablespoons of chopped pickled jalapenos will work.
Fresh Garlic - You can substitute ⅓ teaspoon garlic powder for one clove garic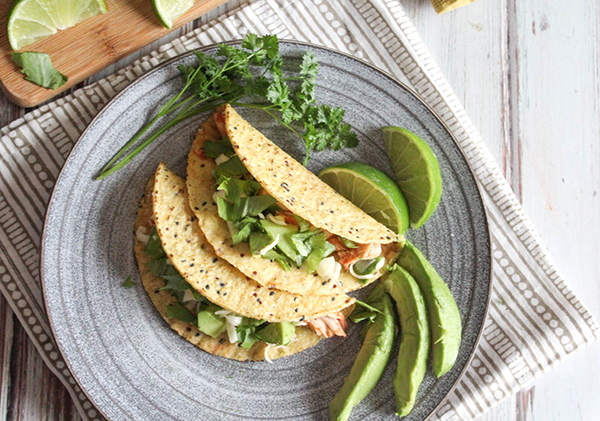 Recipe tips
Freeze leftover chicken in an airtight container or a stasher bag in the freezer for up to three months. Thaw the chicken the refrigerator overnight and re-heat it on top of the stove over low heat or in the microwave.
Store leftover chicken in an airtight container in the refrigerator for 3 to 4 days.
Add more Veggies - Add one to two diced carrots or zucchini (or both) to the crockpot. This was an old trick I used to use when my kids were young and would not eat vegetables.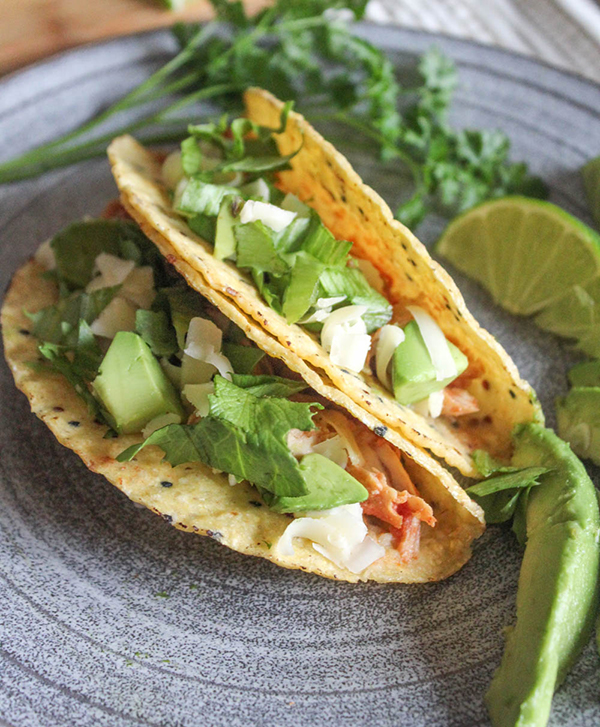 Have you tried these Crockpot (slow cooker) recipes?
Easy Crockpot Chicken Tacos
Ingredients
1 pound boneless chicken breasts or tenders
1 ½ cups diced tomatoes (about small to medium tomaotes)
1 clove garlic, chopped
¼ cup chopped onions (about ½ of a small to medium onion)
1 jalapeno pepper diced
½ tablespoon chili powder
½ teaspoon ground cumin
Taco Fixings suggestions: chopped lettuce and cabbage, diced onions, avocado slices, cilantro, salsa, lime wedges, shredded jack or cheddar cheese, Greek yogurt, guacamole.
Instructions
Prepare the ingredients: chop the onions, garlic and jalapeno pepper and combine the cumin and chili powder
Add the onions, tomaotes and peppers and sprinkle on the remaining seasoning mixture and give it a quick stir.

Cover and Bake for 4 ½ hours on low.
Serve it in your favorte taco shell or in a salad with taco fixings.
Notes
Store leftover chicken in an airtight container in the refrigerator for 3 to 4 days. Freeze it for up to three months.
Add diced carrots or zucchini to the crockpot for an extra serving of vegetables.
Nutrition Information:
Yield:

4
Serving Size:

¼ pound chicken
Amount Per Serving:
Calories:

471
Total Fat:

22g
Saturated Fat:

6g
Trans Fat:

0g
Unsaturated Fat:

14g
Cholesterol:

116mg
Sodium:

703mg
Carbohydrates:

26g
Fiber:

10g
Sugar:

7g
Protein:

45g
Nutrition information is provided by an online calculator and is meant to be used for informational purposes only. Even though I try to provide accurate information, these figures should still be considered as estimates.