Marinated grilled asparagus is an easy and delicious side dish recipe, perfect for the spring.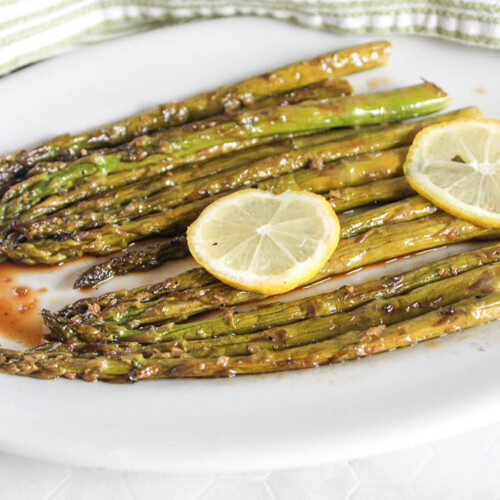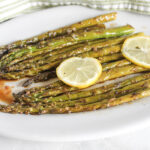 This marinated grilled asparagus recipe is made with fresh asparagus that's soaked in a flavorful marinade then grilled to perfection. It's the perfect spring side dish for any occasion.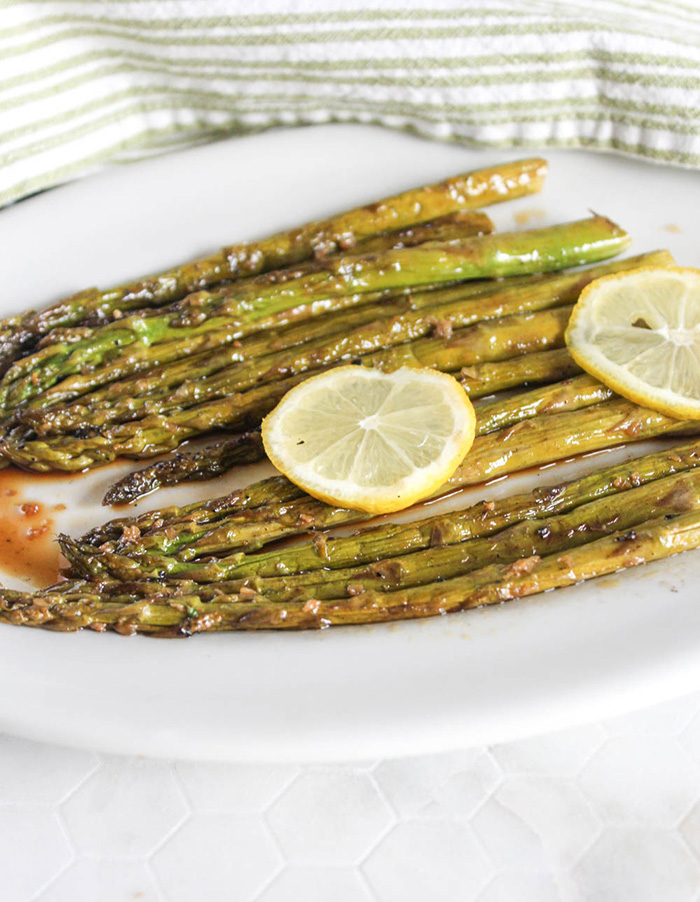 Green, tender spears of asparagus, and spring just go together! When it's in season, asparagus is on our table almost every night. We will roast it or turn it into an asparagus salad with beans and tomatoes.
Why you will love this recipe
It's a simple recipe to make and cooks fast!
Asparagus is low in calories and a great source of nutrients. (source)
Here is what you will need to make grilled marinated asparagus
This is an overview of the ingredients and steps to make this recipe; scroll down for a printable recipe card with exact measurements and instructions.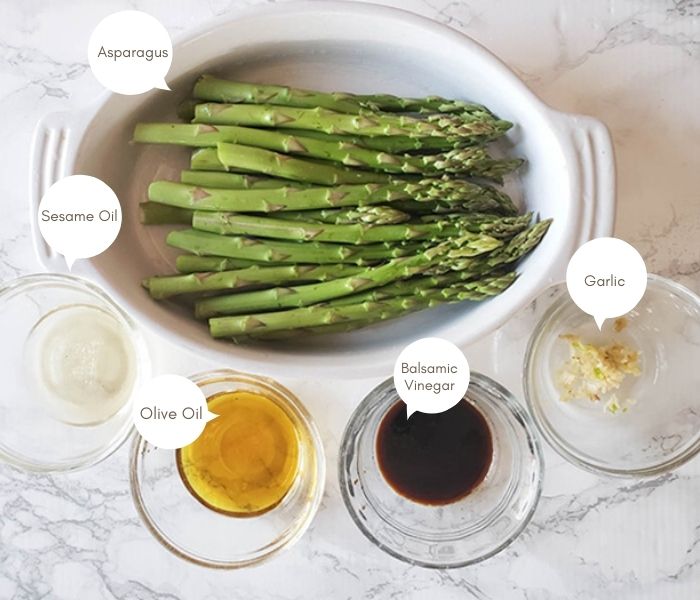 Ingredient List
Fresh asparagus
Garlic
Sesame Oil
Equipment
Here is how to make marinated grilled asparagus
Prepare the ingredients: clean and trim the asparagus, and measure the marinade ingredients.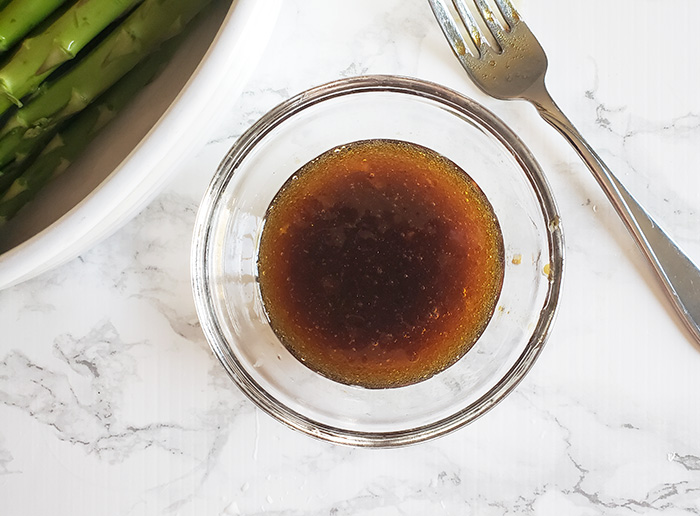 Step 1. Prepare the marinade
Mix up the marinade ingredients in a small bowl or small mason jar, and pour it over the trimmed asparagus.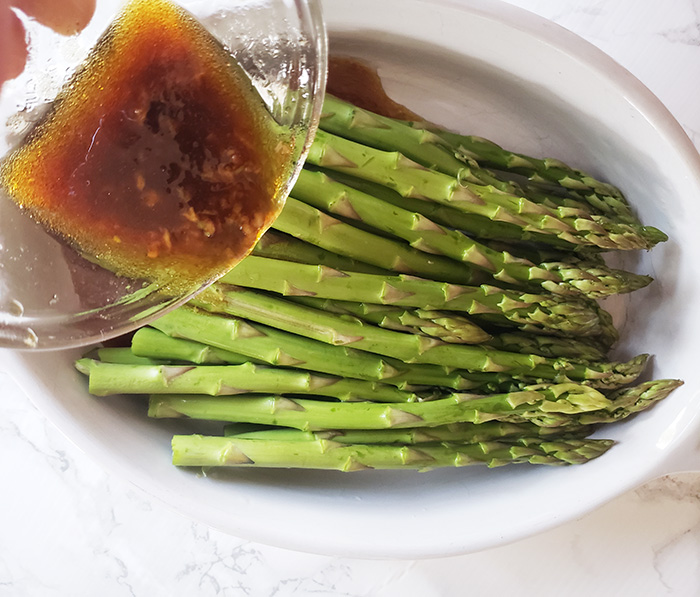 Step 2. Marinate the asparagus
Let the asparagus marinate for at least 30 minutes at room temperature or overnight in the refrigerator.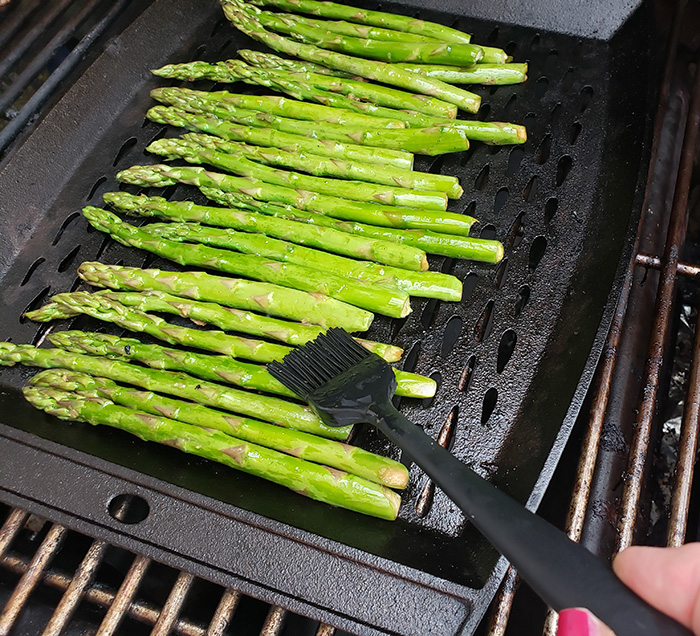 Step 3. Place the asparagus on the grill
Place asparagus in a single layer on a preheated grill over medium heat, and grill asparagus basting periodically.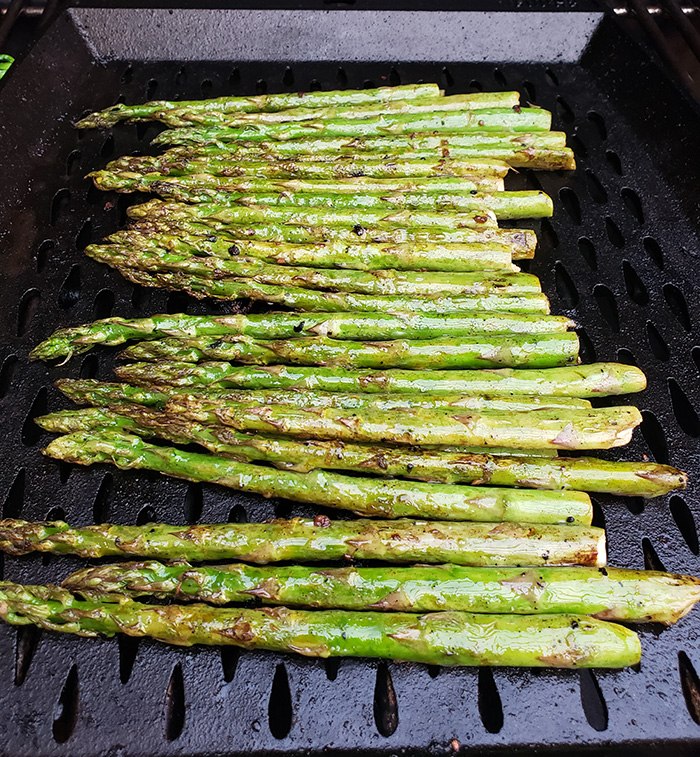 Step 4. Cook the asparagus
Continue to cook the asparagus for approximately 8 minutes until it's tender. Transfer the asparagus spears to a serving plate and pour the remaining marinade over the top.
Tip! If you don't have a grill topper, try this: place spears on a skewer to keep the asparagus spears from falling through the grill grates, or use a large piece of tin foil and spread it on the grill.
Ingredient notes and substitutions
The full list of ingredients to make this marinated grilled asparagus recipe is above. Below are notes about some of the ingredients along with ideas for substitutes.
Garlic powder can be substituted with ¼ teaspoon per clove of garlic.
Sesame oil adds a nice flavor to this dish. If you don't care for the flavor or don't have sesame oil, you can leave it out.
Tamari sauce is a Japanese soy sauce that is gluten-free. It can be substituted with soy sauce one for one.
Check out these tips on how to choose, clean and cook asparagus.
How to store leftover marinated asparagus
Leftover marinated grilled asparagus can be stored in the refrigerator for up to four days in an airtight container. Leftovers can be enjoyed reheated, cold, or add them to a salad.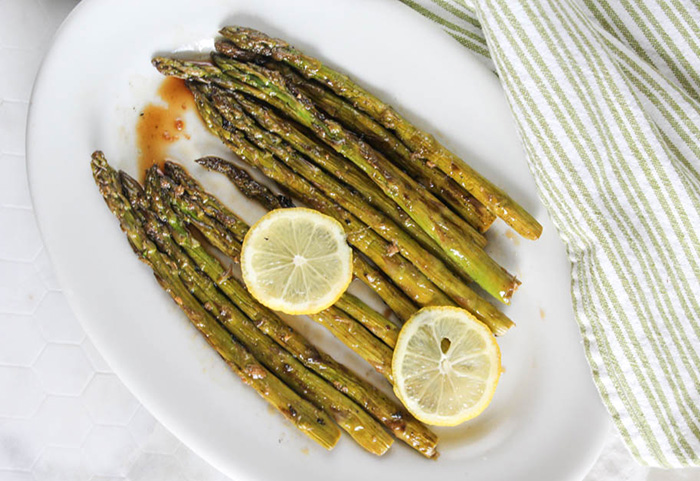 Grilled marinated asparagus variations
Here are a few variations of the marinade that you can use on your grilled marinated asparagus:
Spicy - Add a pinch or more red pepper flakes to the marinade.
Marinated garlic and lemon asparagus Replace the tamari sauce with 2 tablespoons of fresh lemon juice and leave out the sesame oil.
Balsamic Mustard - Leave out the tamari sauce and sesame oil, and add a teaspoon of dijon mustard and a half teaspoon of maple syrup or honey.
Add Cheese - Just before removing the asparagus from the grill, sprinkle it with a tablespoon or two of freshly grated parmesan cheese.
Marinated roasted asparagus - Change cooking methods, instead of grilling the asparagus, arrange the marinated spears on a baking sheet and roast at 400 degrees f for 10 to 15 minutes until they are fork-tender.
Serving Suggestions
Served marinated grilled asparagus garnished with lemon rind or lemon slices with grilled chicken, pork or shrimp. Grilled marinated asparagus is also a great addition to a salad like this simple arugula salad.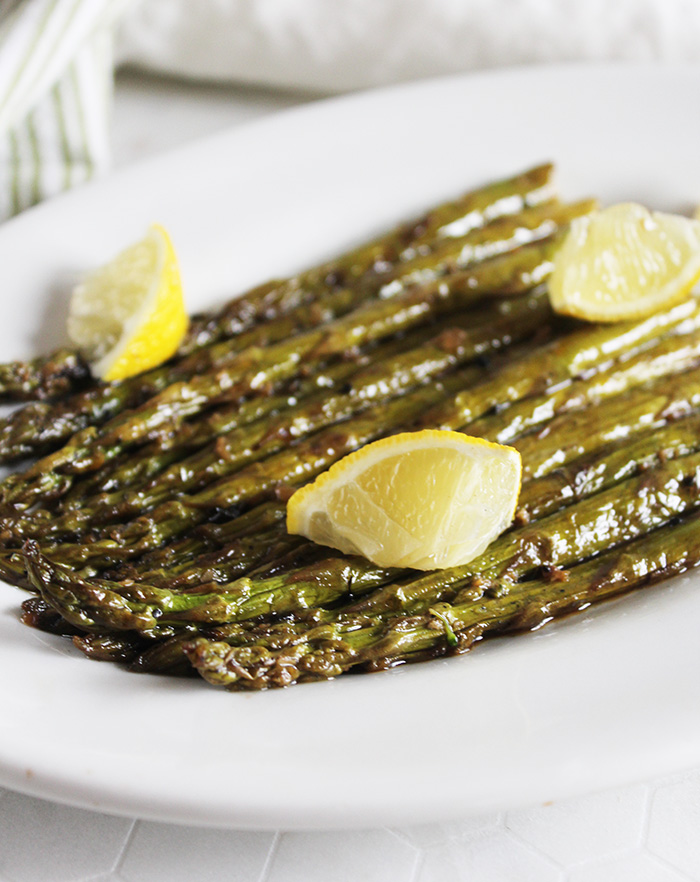 Recipe tips and questions
Below are tips and questions for choosing and cooking fresh asparagus on the grill. If you have a question that is not answered below, leave me a comment and I will respond.
What should you look for when choosing fresh asparagus?
Look for asparagus that is not limp or wilted. It should be bright in color which can be green, purple, or white depending on the variety, and the tips should be compact and dry.
Should you soak asparagus before cooking it?
Fresh asparagus can be gritty, so you will need to rinse it well or soak it in a bowl of cold water for a few minutes, then rinse it off to remove the grit.
How do you trim fresh asparagus?
The easiest way to trim fresh asparagus is to pick up a stalk and hold it in the middle and at the end. Gently bend the stalk until it snaps.
How do you know when grilled asparagus is fully cooked?
Asparagus cooks quickly, so keep an eye on it to avoid overcooked asparagus. The stalks should be tender with slight browning on the tips when it is fully cooked.
More delicious asparagus recipes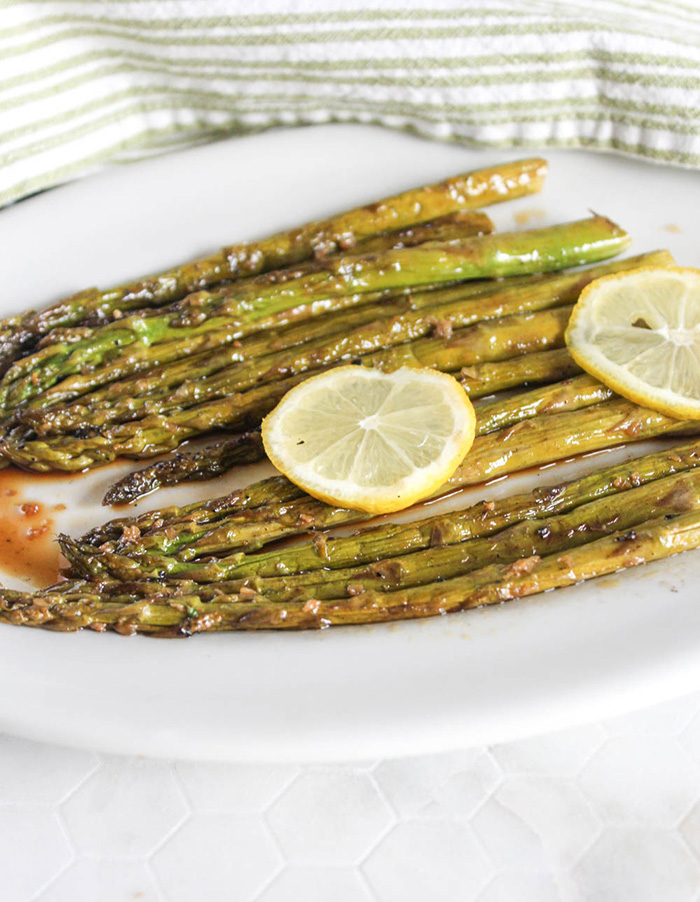 Click on serving size to scale this recipe
Ingredients
1

pound

fresh asparagus

3

tablespoons

olive oil

2

tablespoons

tamari sauce

2

tablespoons

balsamic vinegar

2

cloves

garlic

crushed

2

teaspoons

sesame oil
Instructions
Chop or crush the garlic, and mix the ingredients for the marinade together.

Clean the asparagus and trim off the ends and place the asparagus into a bowl.

Pour the marinade over the asparagus and marinate for at least 30 minutes.

Preheat a grill over medium to high heat. Once the grill is hot, arrange the asparagus on a grill topper or grill grates and cook them for 8 minutes.
Notes
Store leftover grilled marinated asparagus for up to four days in the refrigerator. Enjoy leftovers cold, heated or in a salad
Nutrition
Serving:
1
/4 pound
|
Calories:
149
kcal
|
Carbohydrates:
7
g
|
Protein:
4
g
|
Fat:
13
g
|
Saturated Fat:
2
g
|
Polyunsaturated Fat:
10
g
|
Sodium:
521
mg
|
Fiber:
2
g
|
Sugar:
3
g
Nutrition information provided is an estimate and can vary based on cooking methods and ingredients used
Check out more of our side dish recipes here!