Easy Instant Pot mashed potatoes are creamy, garlicky, and super simple to make with just four ingredients in under 30 minutes.
Once you make Instant Pot mashed potatoes with the no drain method, you will never go back to making them on top of the stove.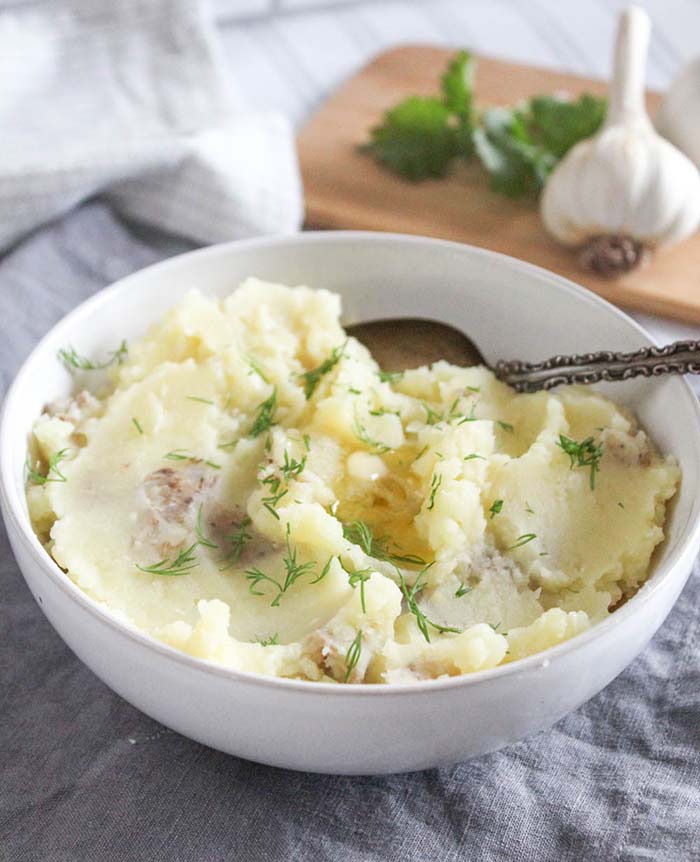 This is my favorite Instant Pot recipe, the potatoes turn out perfect every time! An Instant Pot also makes it so easy to cook soups and chili like this mushroom barley soup.
Why This Recipe Works
It's a quick and easy way to make the best mashed potatoes ever.
The potaotes soak up the water when they are cooked in the Instant Pot, so there is no draining of the water from a hot pot.
Using the instant pot frees up space on top of your stove, and after the mashed potatoes are mashed, they will stay warm in the instant pot until it's time to serve them.
Here is What You Will Need To Make Garlic Instant Pot Mashed Potatoes
As an Amazon Associate, I earn from qualifying purchases.
This is an overview of the ingredients and steps to make this recipe. Scroll down to see a printable recipe card with exact measurements and complete cooking instructions.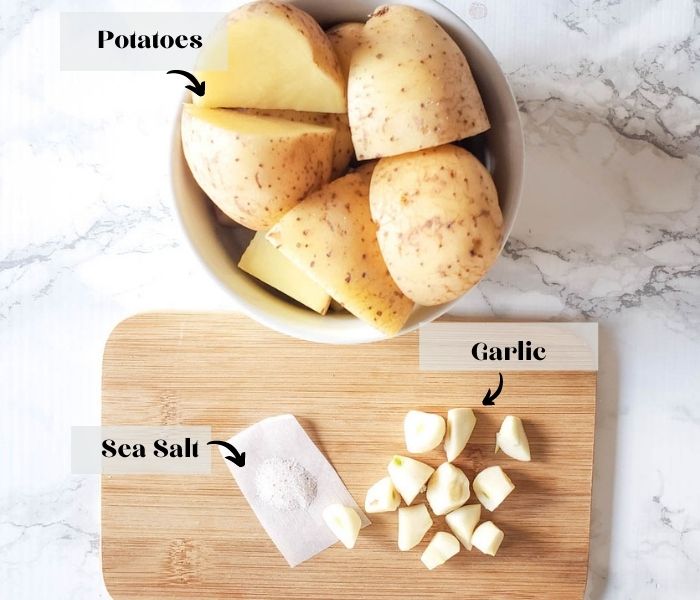 Ingredient List
Potatoes
Garlic
Sea Salt
Butter or Milk
Water
Equipment List
How To Make Mashed Potatoes in the Instant Pot
Prepare the ingredients: Peel the garlic cloves and roughly chop them. Wash and cut the potatoes into chunks that are uniformly approximately sized 1 to 1 ½ inches in size.
Note: The potatoes are not peeled in this recipe. If you prefer your potato skins off, peel the potatoes before cutting them into chunks.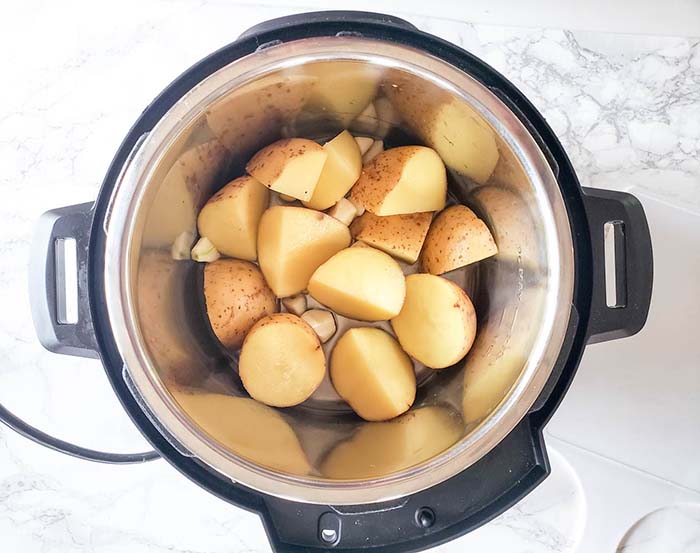 Step 1. Add the ingredients
Place the cut potatoes, water, sea salt, and garlic into the instant pot. Cover and seal the lid and cook on high pressure for 8 minutes of cooking time.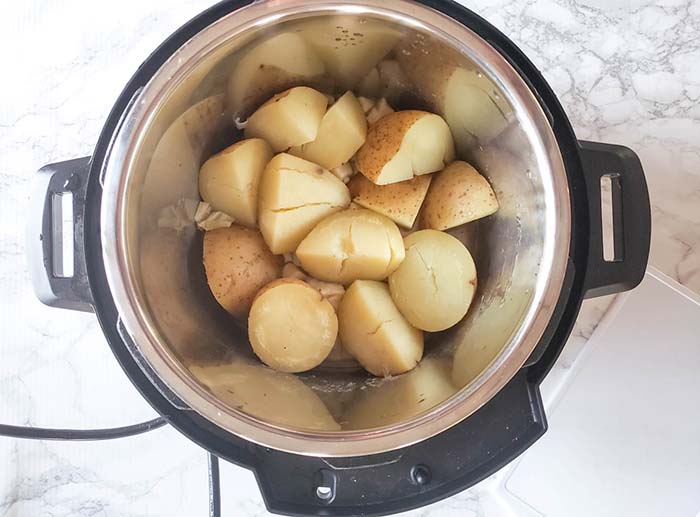 Step 2. Release
Once the timer goes off, let the potatoes slow-release for five minutes. Then carefully press the steam release valve and remove the lid of the instant pot. The potatoes will be cooked, almost falling apart and soft.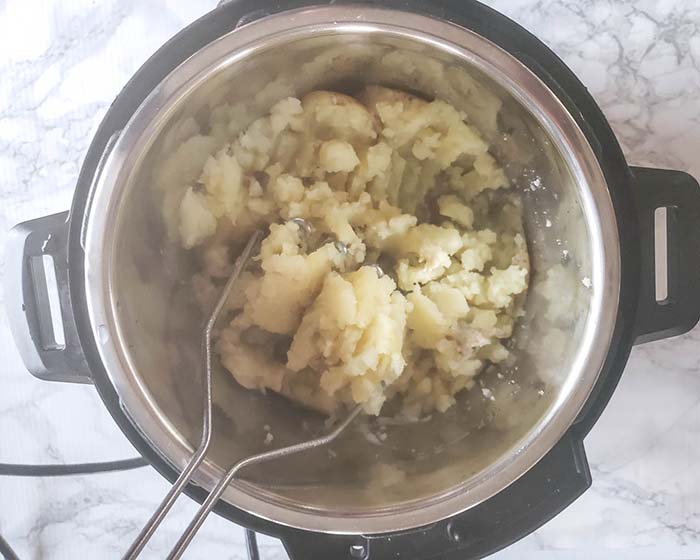 Step 3. Mash the Potatoes
Mash the potatoes with a potato masher and add a little bit of butter or milk and a dash of black pepper and serve.
Ingredient Notes & Substitutions
Potatoes. High-starch potatoes such as Yukon gold potatoes (yellow potatoes) or russet potatoes make the best mashed potatoes. The high starch content causes the potatoes to fall apart easily when they are cooked, which makes them easy to mash; perfect for fluffy mashed potatoes.
Fresh Garlic. Fresh garlic adds a delicious flavor to these easy mashed potatoes. Fresh garlic can be replaced with ½ teaspoon of garlic powder added after they are cooked.
If don't want to cook the garlic with the potatoes, you can add a few cloves of roasted garlic when you mash the potatoes with the butter.
Water. If you prefer more flavor to your mashed potatoes, substitute a cup of water with a cup of vegetable or chicken broth.
Instant Pot Mahsed Potato Recipe Variations
Mashed potatoes are the perfect side dish and a blank slate to add flavors to. Here are a few of our favorite ways to change up the flavor.
Creamy Mashed Potatoes. Instead (or in addition to) add a little bit of heavy cream or whole milk when you are mashing the potatoes for a more creamy texture.
Yogurt (or Sour Cream) and Chive Mashed Potatoes. Use ⅛ to ¼ cup of yogurt or sour cream to mash the potaotes and stir a handful of chopped chives to taste.
Herb Mashed Potatoes. Stir in a hanful of fresh chopped herbs or dried herbs such as: parsley, rosemary or dill once the potatoes have been mashed.
Bacon and Cheddar. Add ¼ cup of cheddar cheese, one to two strips of crumbled bacon and a tablespoon or two of chopped green onions.
Cheesey Mashed Potatoes. Add ¼ cup (more or less to taste) of shredded or crumbled cheese. Our favorite way is cheddar cheese, blue cheese or parmesan cheese.
Vegan Mashed Potatoes. This is such an easy recipe to make vegan. Instead of butter, use a few tablespoons of olive oil, vegan butter, vegetable broth or plant based milk such as almond milk or oat milk to mash the potatoes.
Herb Vegan Mashed Potatoes. Add any combination of fresh herbs mentioned above to the vegan mashed potatoes.
Try this delicious mashed potato recipe with savory beef stew with vegetables.
How to Store and Reheat Leftovers
Store leftover mashed potatoes in an airtight container in the refrigerator for up to three days.
Freezing is not recommended since we have not tried freezing Instant Pot mashed potatoes.
How to Reheat Leftover Mashed Potatoes
Stove-Top. Reheat leftovers over low heat on top of the stove adding a little bit of water, butter, broth, or milk at a time until they reach a consistency that you like.
Instant Pot. Place the mashed potatoes in the instant pot and press the saute button, once it's hot add the potatoes and add water, butter, broth or milk a little at a time until they reach a consistency that you like.
Serving Suggestions
Mashed potatoes are pure comfort food and taste fantastic with just about anything, like meatloaf, vegetarian meatloaf, Braised Pot Roast or Swedish meatballs.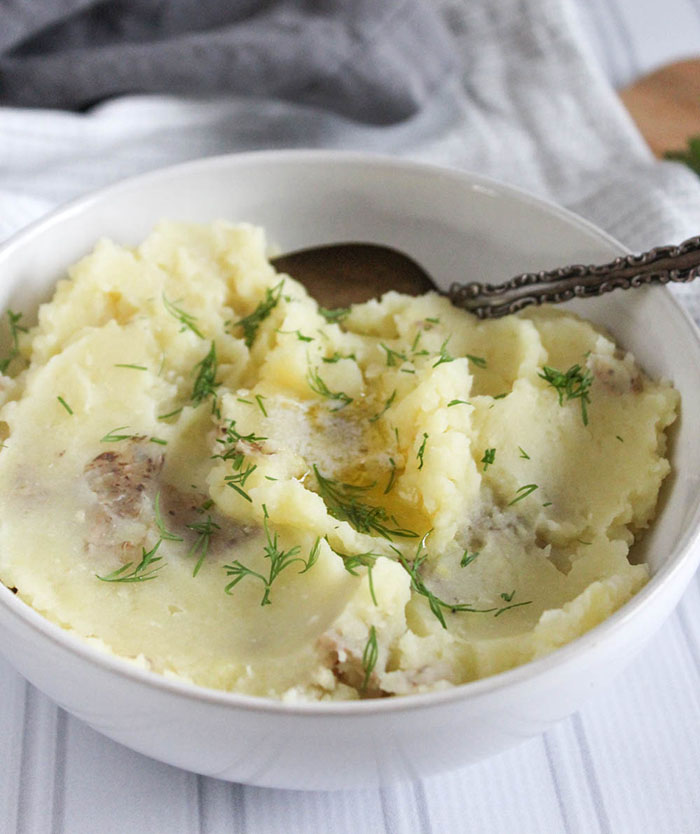 Top Tips
There will be a little bit of water remaining in the instant pot when you remove the lid. Once you begin to mash the potatoes, the water will be absorbed and the potatoes will turn out nice and smooth. At this point add butter or milk a little bit at time until the potatoes reach a consistency that you like.
To double this recipe, increase the amount of potatoes to 3 pounds, but use the same amount of water and the same cooking time.
It will take the Instant 5 to 15 minutes to come to pressure before the cooking process begins. Therefore, the entire cooking time will be longer than 8 minutes.
Instant Pot Mashed Potatoes Questions Answered
Here are some of the most commonly asked questions about this recipe. If your question isn't answered below, leave a comment and I will respond as soon as I can.
Can I use red potatoes to make this mashed potato recipe?
If you only have red potatoes, you can still use them but due to their lower starch content and firmer flesh, they will require more time to mash and can end up turning into mashed potato paste.
Why aren't the potatoes peeled in this recipe?
We don't usually peel the potatoes because the potato skins have more nutrients and fiber than the inside of the potato. The skin also helps to keep the potatoes from becoming too soggy when they are cooked in water.
Can I use a potato ricer to make Instant Pot mashed potatoes?
Yes, you can. But you will have to remove the potatoes from the Instant Pot to rice them which takes away from the ease of this recipe.
You Might Like These Comfort Food Recipes Too
For more simple and delicious recipes like this, subscribe to our newsletter and receive a free e-book and meal suggestions straight in your inbox!
If you've tried this recipe or any other recipe on simpleandsavory.com, don't forget to rate the recipe on the recipe card and leave a comment below. I would love to hear if you liked it, or you can tag me on Instagram or Facebook with photos of your creation too!