Home-style turkey meatloaf is juicy and full of flavor - the perfect comfort food.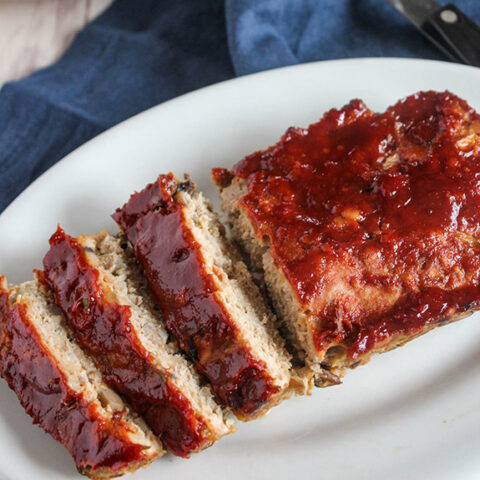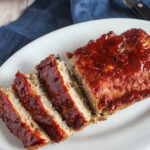 Home-style turkey meatloaf with mushrooms is a moist and flavorful turkey meatloaf with a lighter twist. The glaze on top adds the right amount of sweetness and spice to round out the flavors for the best turkey meatloaf ever! It's classic comfort food that the entire family will love.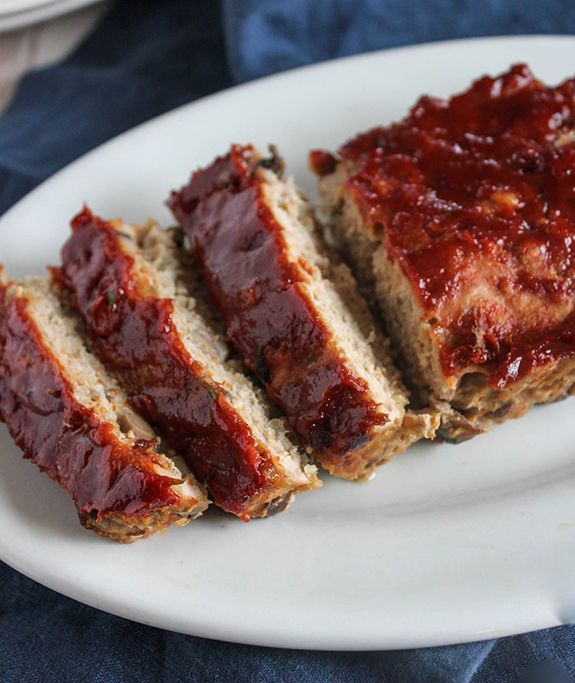 Ground turkey can be dry, but when you add mushrooms to the mix, it makes meatloaf so unbelievably moist and flavorful with just a touch of spice from the sriracha sauce.
Recipe Highlights
It's easy to make! Just mix the ingredients in a bowl, form them into a meatloaf and bake.
You can make it ahead of time.
It's an easy recipe to double and freeze one meatloaf for another day.
Here is What You Will Need
As an Amazon Associate, I earn from qualifying purchases
This is an overview of the ingredients and instructions that you will need to make this recipe. Scroll down a bit further for ingredient substitutions, and full recipe instructions without photos which are in the printable recipe card at the bottom of this post.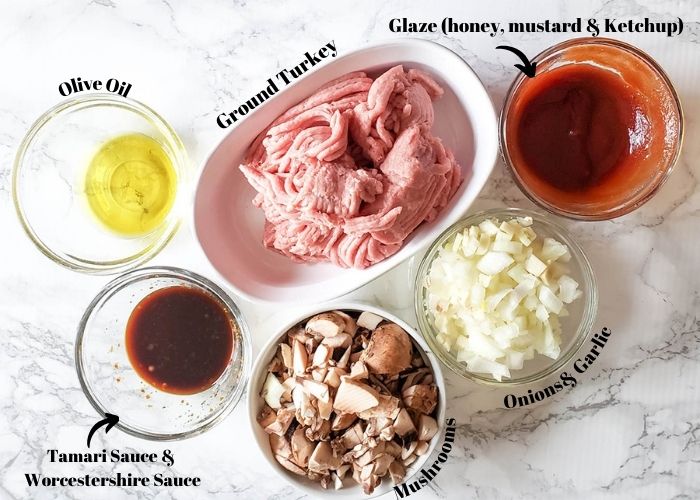 ---
Ingredients
Ground turkey (one pound)
Onion
Baby Bella (cremini) mushrooms
Garlic cloves
Honey
Ground mustard seed
Equipment
---
Here is How To Make Turkey Meatloaf with Mushrooms
Prepare all of the ingredients: chop the mushrooms, garlic, and onions. Measure out the tamari and Worcestershire sauce. In a small bowl mix up the glaze ingredients and preheat the oven to 375.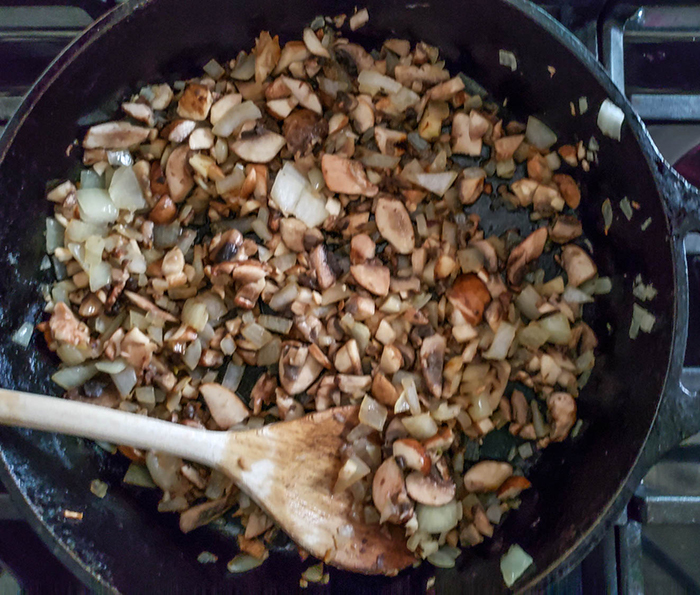 Step 1. Cook the vegetables
Heat olive oil in a large skillet over medium heat. Add the chopped onions, garlic, and mushrooms; reduce to medium heat and cook mushrooms until they begin to soften (approximately 5 minutes) and remove them from the heat and allow them to cool off.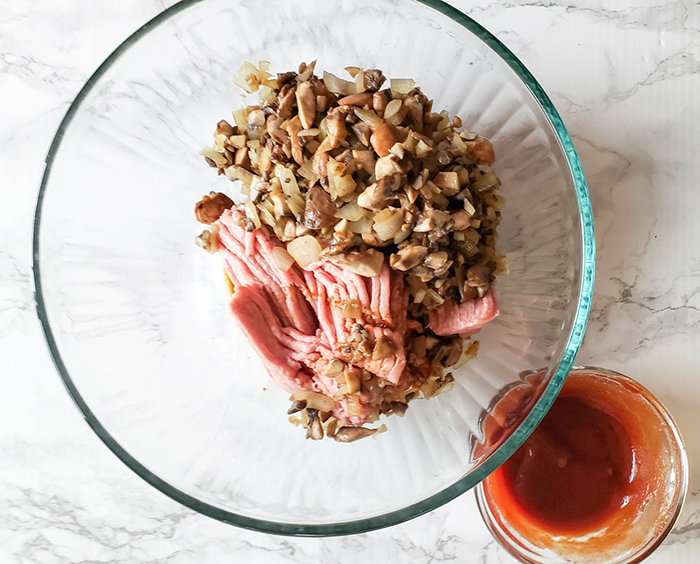 Step 2. Add the ingreients to a bowl
Add the ground turkey, cooled mushroom mixture, Worcestershire, and tamari sauces to a large bowl.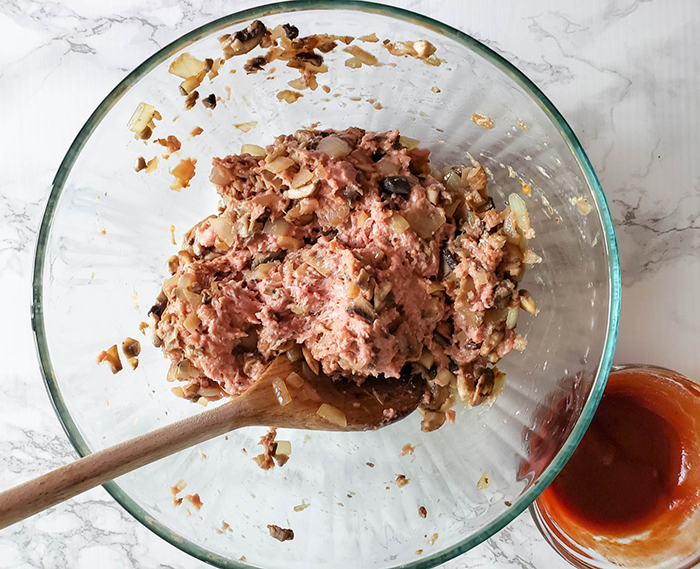 Step 3. Mix everything together
Use a wooden spoon or your hands and gently mix all of the ingredients together.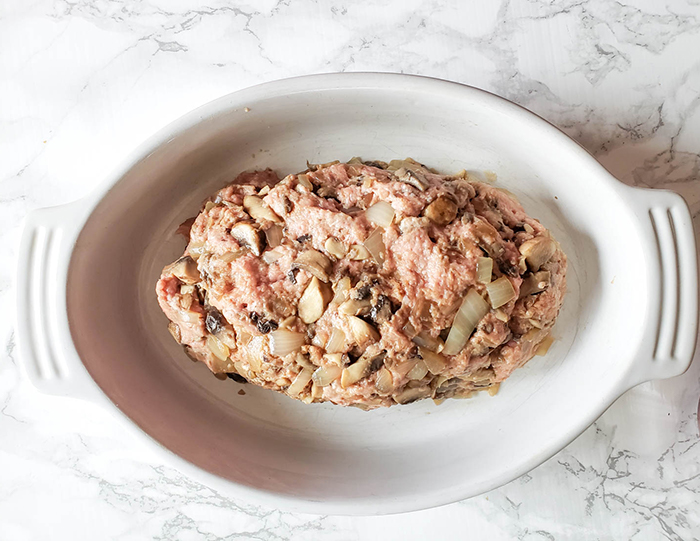 Step 4. Form the meatloaf
Form the turkey mixture into a loaf and place it into a baking dish or a loaf pan.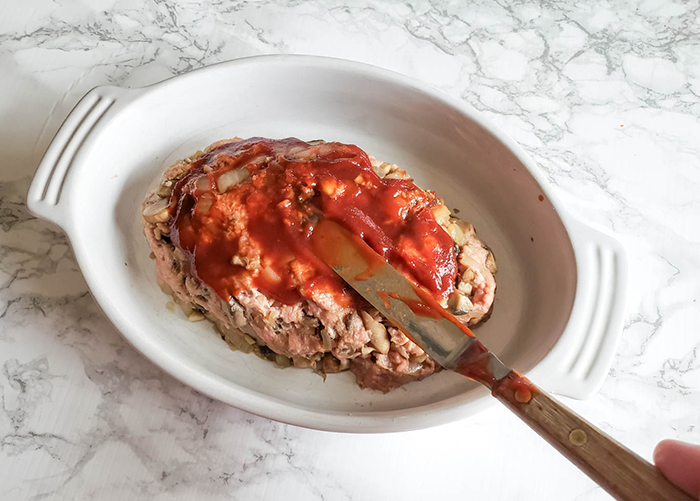 Step 5. Add the glaze
Spread the glaze on top of meatloaf and bake it for 45 minutes; or until the internal temperature reaches 165.
Total Estimated Time to Make This Recipe: 50 to 60 minutes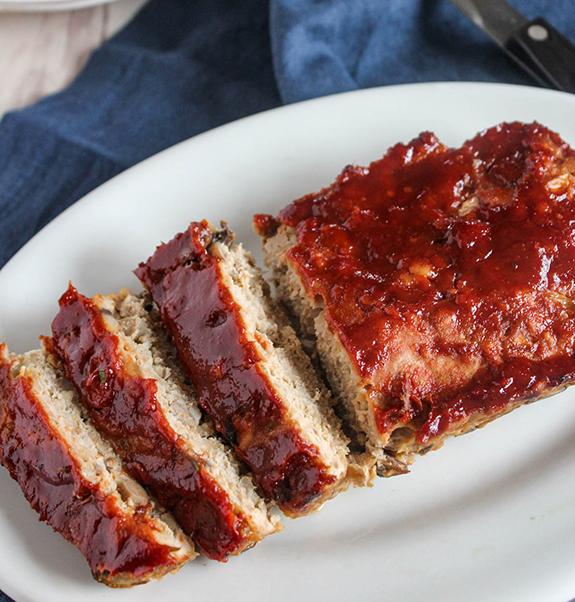 Ingredient Notes & Substitutions
Ground Turkey Breast or a mix of white and dark meat will both work in this recipe.
Substitutes for Ground Turkey - a one-to-one swap of lean ground beef or ground chicken.
Check out ButcherBox for the best tasting ground turkey.
Mushrooms are in this recipe for moisture and to add a hint of flavor. Any combination of baby bella (cremini mushrooms), white (white button mushrooms), shitake mushrooms, or portobello mushrooms will work in this recipe. Chop them up as small or as large as you like.
Mushroom substitutes - If you don't like mushrooms, you can also add half a cup of shredded carrots or zucchini to the meatloaf mix.
Substitute the garlic cloves with ¼ teaspoon garlic powder or ½ teaspoon garlic flakes.
Tamari sauce is very similar to soy sauce and can be replaced with an equal amount of soy sauce.
Sriracha sauce adds a touch of heat to this savory turkey meatloaf. It can be left out if you don't like hot food.
Try this recipe for homemade sriracha sauce!
Worcestershire sauce - Adds a little depth to the meatloaf, it can also be substituted with tamari or soy sauce. Use 2 tablespoons of tamari sauce instead of 1 tablespoon of Worcestershire sauce and 1 tablespoon tamari sauce.
Honey adds a touch of sweetness to the meatloaf glaze and can be replaced one for one with maple syrup, brown rice syrup or molasses.
Substitute Ground Mustard Seed with ½ teaspoon of dijon mustard.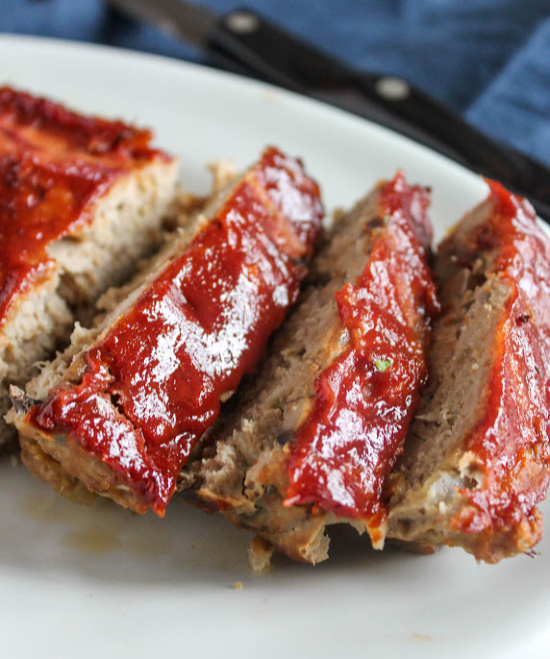 Tips!
Allow some time for the mushrooms to completely cool off before adding them to the meat. If you are in a hurry, place them in the refrigerator for a few minutes.
Avoid crumbly meatloaf by letting the meatloaf sit for about 10 minutes before slicing. it.
If you prefer your mushrooms finely chopped, use a food processor.
Serving Suggestions
Serve ground turkey mushroom meatloaf with any combination of side dishes, such as green beans and almonds, roasted brussels sprouts, air fryer broccoli and cauliflower,twice-baked potatoes, mashed potatoes, or a baked potato.
Make-Ahead Instructions
Make the meatloaf up to one day ahead of time. Follow the recipe instructions up to forming the meatloaf. Wrap the meatloaf mixture up or place it in an airtight refrigerator container and store it in the refrigerator for up to one day.
When you are ready to cook your meatloaf, mix up the glaze, spread it on the meatloaf, and bake it.
Freeze uncooked meatloaf. Place the uncooked meatloaf onto a baking sheet and place it in the freezer. Once the meatloaf is frozen through, wrap it in freezer-safe wrapping and store it in the freezer for up to 6 months.
Thaw the uncooked raw meatloaf in the refrigerator overnight.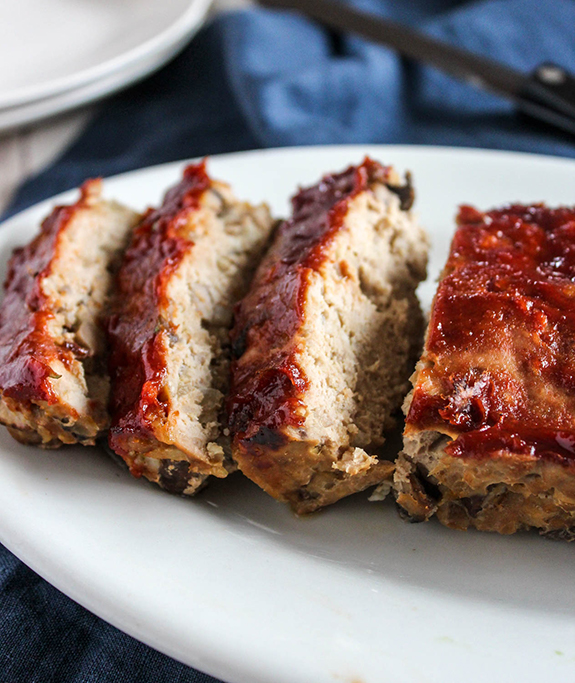 Storing and Using Leftovers
Meatloaf always tastes great the next day and leftover meatloaf is easy to store too.
Store leftover Turkey meatloaf in the refrigerator for up to three days. Reheat it in the oven at 350 until it is heated through or you can re-heat it in the microwave.
Freeze cooked turkey meatloaf in the freezer after it has completely cooled off. Wrap it whole or slice it and wrap each slice separately. Place the slices in a freezer container in the freezer for up to two months.
Defrost cooked turkey meatloaf in the refrigerator overnight.
Leftover turkey meatloaf ideas - slice and re-heat leftover turkey meatloaf and enjoy it as it is, or crumble the meatloaf and use it as a base to make nachos or tacos.
Toss it with pasta, chopped tomatoes, and cheese. Make meatloaf sliders or add a slice of leftover turkey meatloaf to a grilled cheese sandwich.
Variations
Add Fresh Herbs. Chop up a handful of fresh herbs such as fresh parsley, oregano, or thyme and mix them into the meatloaf mixture.
Add More Veggies. Stir in chopped bell pepper, shredded zucchini or carrots.
Mini Meatloaves. Instead of making one big meatloaf, try mini-meatloaves and place them into a 5-inch loaf pan.
Try our vegetarian meatloaf for another delicious dinner idea!
Turkey Meatloaf Questions Answered
Here are a few frequently asked questions about this recipe. If you don't see the answer below, leave a comment or send me an email. I will get back to you as soon as I can.
Can I double this turkey meatloaf with mushrooms recipe?
Yes! This is a great recipe for meal preparation; make a double batch and use it up during the week (see leftover ideas above) or freeze the second meatloaf for later. All that you need to do is double the ingredients in the recipe and form them into two meatloaves. Cooking time will be the same for two separate meatloaves. See the freezing instructions above.
There are no breadcrumbs or eggs in this recipe, won't the meatloaf fall apart without them?
I don't like to add a lot of filler to meatloaf. I make this recipe regularly and have never had a problem with the meatloaf falling apart. If you would rather add eggs and bread crumbs, stir in one beaten egg and ½ cup breadcrumbs.
You can also add ½ cup of rolled oats for a gluten-free meatloaf.
Try out these Ground Turkey Recipes!
For more simple and delicious recipes like this, subscribe to our newsletter and receive a free e-book and meal suggestions straight in your inbox!
If you like this recipe, please comment and rate it below!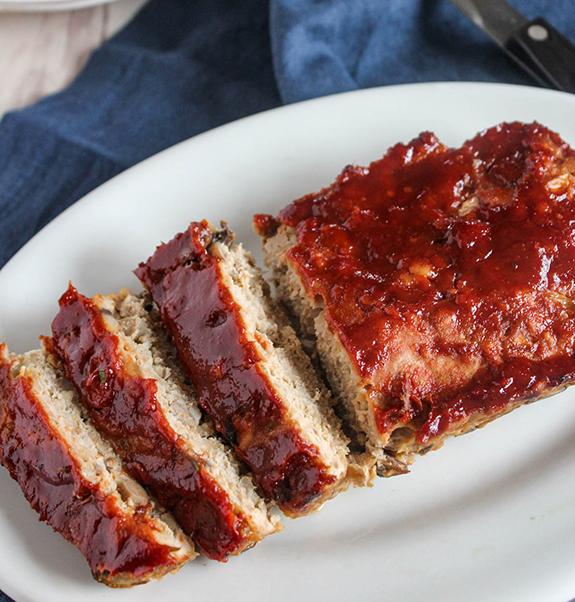 Click on serving size to scale this recipe
Ingredients
1

tablespoon

olive oil

1

pound

ground turkey

2

cups

of onion small dice - about one medium sized onion

8

ounce

package of mushrooms

chopped fine

3

cloves

garlic

chopped

1

tablespoon

[tamari sauce]

1

tablespoon

sriracha sauce - optional

1

tablespoon

[Worcestershire sauce]
TOPPING:
¼

cup

organic ketchup

1

tablespoon

real maple syrup or honey

⅛

teaspoon

dry mustard
Instructions
Preheat the oven to 375

Prepare the ingredients: chop the mushrooms, garlic, and onions. Measure the tamari, Worcestershire sauce, and sriracha sauce.

Mix up the glaze (ketchup, honey, and mustard) and set it aside.

Meanwhile, heat the oil in a frying pan over medium heat and add the chopped mushrooms, onions, and garlic. Saute the vegetables until they become soft. Remove them from the heat and allow them to cool for 10 to 15 minutes.

Place the ground turkey, tamari, sriracha, Worcestershire sauce and vegetables in a mixing bowl and gently mix.

Shape the meat mixture into a loaf or place it into a loaf pan.

Spread the glaze over the top of the meatloaf and bake it 45 minutes until the internal temperature reaches 165 degrees
Notes
Add ½ cup of rolled oats for a slightly firmer textured meatloaf.
If you don't like mushrooms, shred up a half cup of zucchini or carrot and add them to meatloaf
For a meaty texture, chop the mushrooms up small so that they blend in with the meat. If you prefer chunky mushrooms leave them larger
If you don't like the heat from sriracha, leave it out
Nutrition
Serving:
1
g
|
Calories:
372
kcal
|
Carbohydrates:
30
g
|
Protein:
36
g
|
Fat:
12
g
|
Saturated Fat:
3
g
|
Polyunsaturated Fat:
9
g
|
Cholesterol:
124
mg
|
Sodium:
363
mg
|
Fiber:
3
g
|
Sugar:
19
g
Nutrition information provided is an estimate and can vary based on cooking methods and ingredients used