Chicken Picadillo is a quick and healthy dish that is full of flavor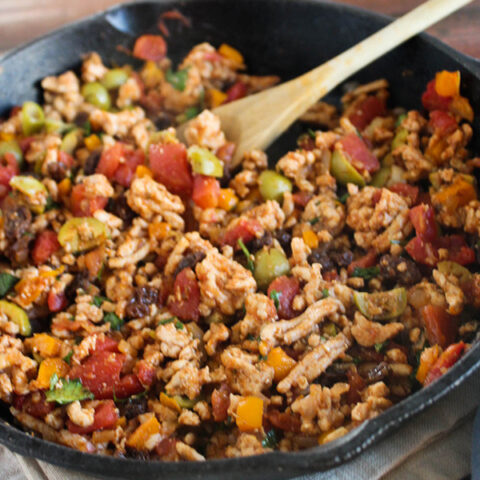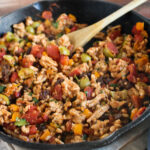 Chicken Picadillo is a twist on the Latin American classic dish that typically contains ground beef. Instead, this picadillo recipe is made with ground chicken. It's sweet, salty, and savory all in one bite and the perfect recipe for a busy night.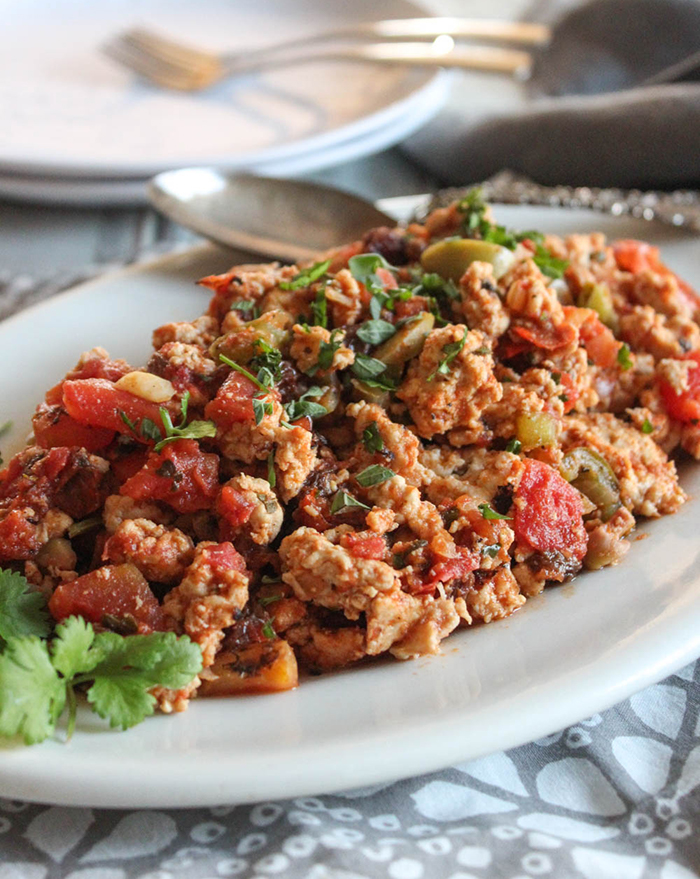 This picadillo recipe is simple enough to make and will become a new favorite in your dinner rotation. It's made with mild-tasting ground chicken which absorbs all of the flavors that it cooks with.
Because of its mild flavor, ground chicken is so versatile. We also like this spicy ground chicken and black bean casserole for an easy dinner.
Why you will 🤍 this recipe
It's versatile! There are so many uses for picadillo (see below for ideas).
Flavor! It's packed with so much flavor.
Chicken picadillo is easy to make ahead of time, and it's a healthy recipe.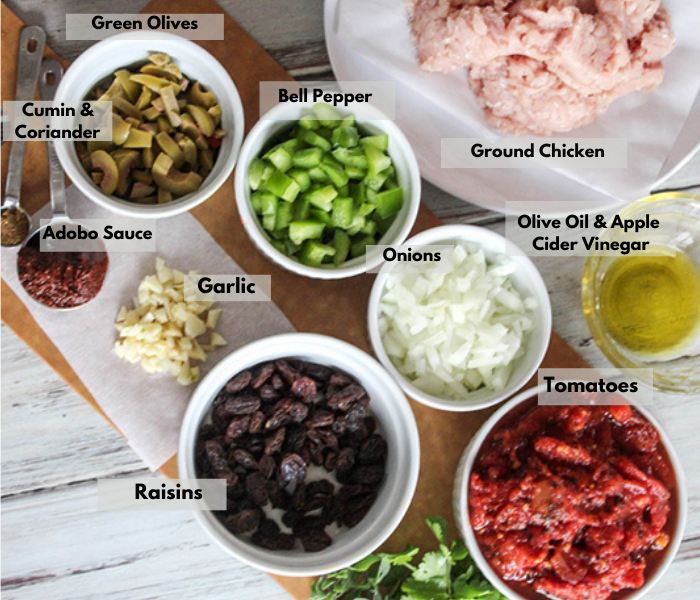 Here is What You Will Need
As an Amazon Associate, I earn from qualifying purchases
This is an overview of the ingredients and steps to make this recipe, scroll down to see ingredient notes and substitutions as well as a printable recipe card with exact measurements and complete cooking instructions.
🛒Ingredients
ground chicken breast
green bell pepper
garlic
onion
raisins
green olives
ground cumin
coriander
oregano
fresh cilantro
🥄Equipment
How To Make Chicken Picadillo
Prepare the ingredients: chop the bell pepper, garlic, onions, olives, cilantro, and tomatoes (if you are using fresh tomatoes); set them all aside.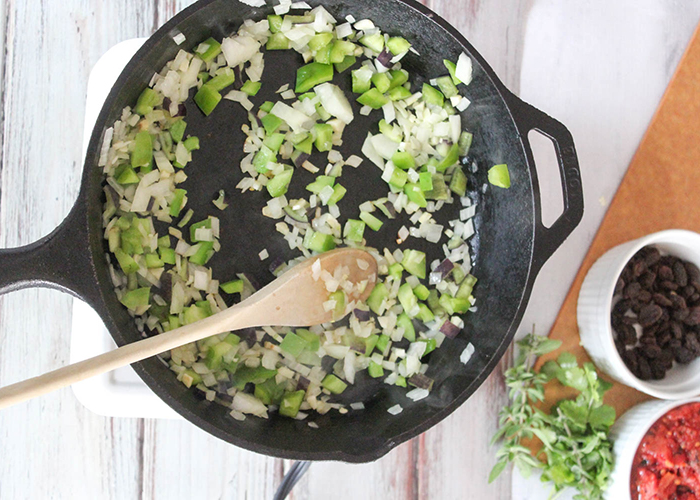 Step 1. Cook the vegetables
Heat oil in the skillet over medium-high heat. Once the skillet is hot, add the bell peppers, garlic and onions, and cook for a few minutes.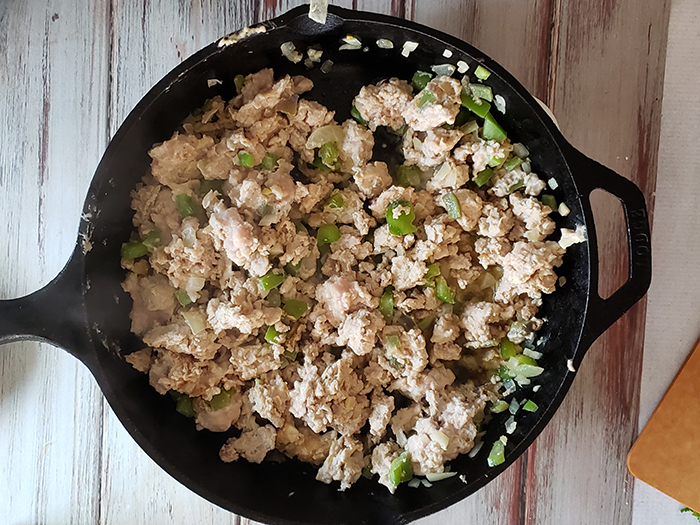 Step 2. Cook the chicken
Reduce the heat to medium heat and add the ground chicken breast and brown chicken with the onions until the chicken is cooked through.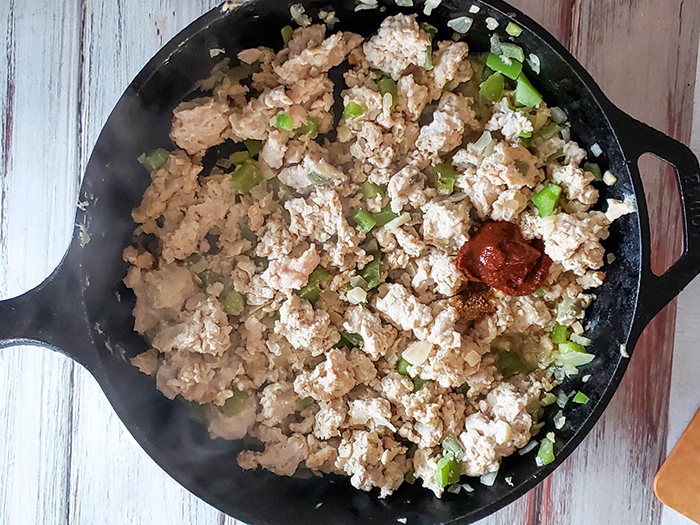 Step 3. Add the flavors
Add the adobo sauce, vinegar, and spices to the cooked ground chicken mixture.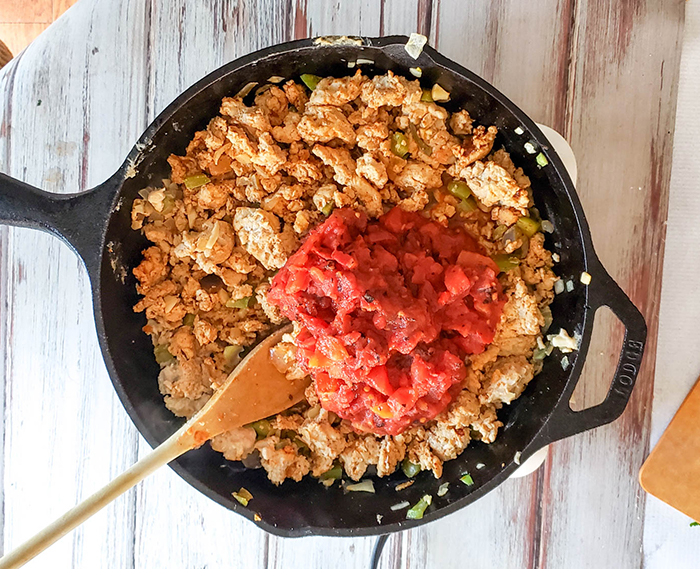 Step 4. The tomatoes
Stir in the tomatoes with a wooden spoon.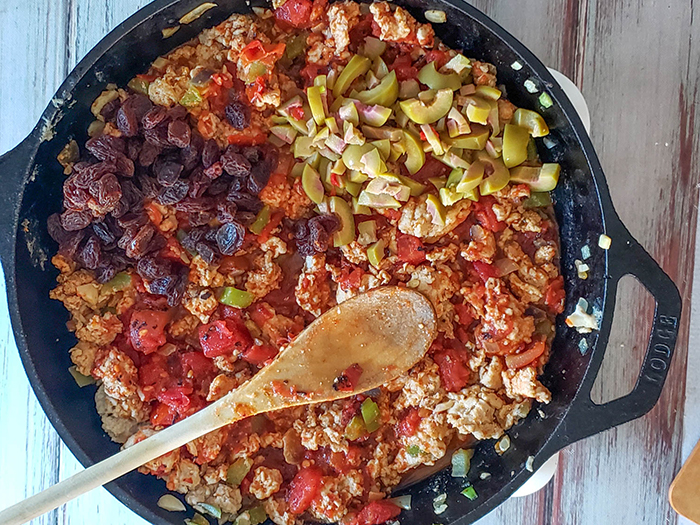 Step 5. Olives and Raisins
Stir in the remaining ingredients (olives and raisins), reduce the heat to low heat and simmer.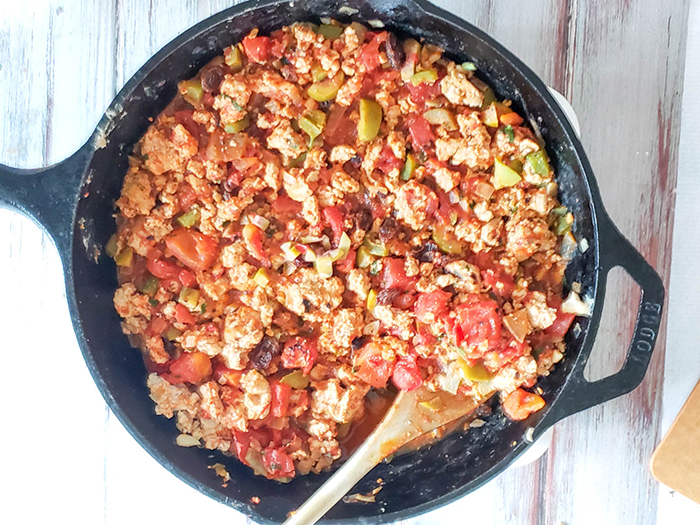 Step 6. Simmer and Serve
Sprinkle the picadillo with fresh chopped cilantro and serve.
Ingredient Notes & Substitutions
The complete list of ingredients to make this tasty dish is above. Below are notes about some of the ingredients, along with ideas for substitutes.
Ground chicken is mild tasting and absorbs all of the flavors from this recipe. Both ground chicken breast or ground chicken which is a mix of white and dark meat will work.
Substitute ground chicken with any ground meat such as turkey, beef, or pork.
Tomatoes - I like to use fresh chopped tomatoes or low-sodium diced canned tomatoes.
Tomato sauce can be used as a one-for-one substitute if you don't have canned tomatoes.
Bell peppers. Any color of bell peppers will work in this recipe. Green bell pepper, yellow bell pepper, red pepper, or a mix of colors will all work.
If you prefer a little extra spice, you can substitute bell peppers with a poblano chile pepper.
Adobo sauce is a spicy, tangy Mexican flavor that you can find in most supermarkets, and is important to the flavor profile in this recipe.
Substitute adobo sauce with an equal amount of the sauce from chipotle pepper in adobo sauce if you can't find plain adobo sauce.
Olives add a salty briny flavor to this dish. If you don't like olives, swap them out with ¼ cup capers.
Substitute fresh garlic with ½ teaspoon of garlic powder for each clove of garlic.
Substitute fresh oregano with 2 teaspoons of dried oregano.
Storing and Using Leftovers
This is one of those recipes that taste even better the next day and you can freeze it, so be sure to make extra.
Store leftover chicken picadillo in the refrigerator in an airtight container for three to four days.
Freeze chicken picadillo for up to six months in a freezer-safe container and defrost it in the refrigerator overnight.
Reheat it on top of the stove in a skillet or saucepan.
Variations
There are many ways to make picadillo here are a few suggestions to help you make your own delicious variation of this traditional recipe.
Super spicy chicken picadillo - add a quarter pound of Mexican chorizo mixed with the ground chicken while browning it or add one diced jalapeno pepper or serrano chile pepper.
Cuban picadillo with potatoes - Add one cup of diced cooked potatoes at the end of the meat browning.
Mexican picadillo with corn - Add ½ cup frozen corn and a dash of chili powder to the picadillo after adding the tomatoes.
Serving Ideas
There are so many ways to serve picadillo! You can easily add picadillo to your meal plan rotation.
We enjoy it over brown or white rice, cauliflower rice with steamed vegetables, or a salad and a glass of wine.
Chicken picadillo tastes great stuffed into a quesadilla, taco, empanada, egg roll skin, or wrapped in pizza dough for a picadillo calzone.
Top salad greens with picadillo, and add ripe avocado chunks and cheese for a filling chicken picadillo salad.
Instead of fried shrimp in this recipe, try serving chicken picadillo on top of tostones (fried plantains).
📝Sign Up!
Drop your email below and receive tips, recipes, and more!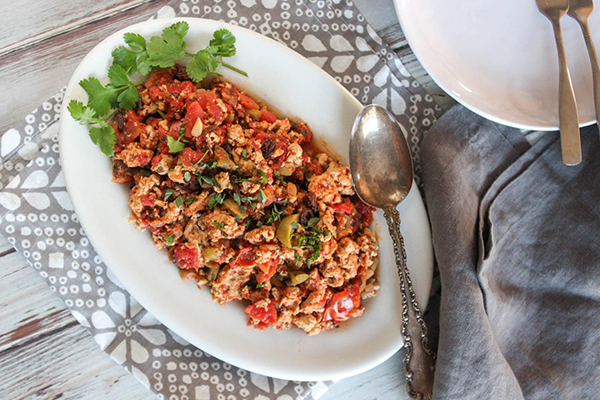 💡Tips
Add a little umami flavor with a drop of soy sauce or tamari sauce just before serving.
If you aren't a fan of raisins, don't leave them out, but cut back on the amount used.
If the ground chicken stick to the skillet, add a little bit of water to the pan.
What is picadillo?
Picadillo is a traditional dish in many Latin American countries and the Philippines. It's warm and comforting, very similar to chili with a sweeter flavor.
Can I make chicken picadillo in a slow cooker?
Yes! You can make this picadillo recipe in a slow cooker. Brown the meat and veggies in a skillet and add them to a slow cooker with the spices, olives, raisins, and tomatoes. Set the slow cooker to low and cook for at least 1 ½ hours.
You might also like these easy recipes
Do you like this recipe?
Please comment and give it a ⭐⭐⭐⭐⭐ rating below!
📖 Recipe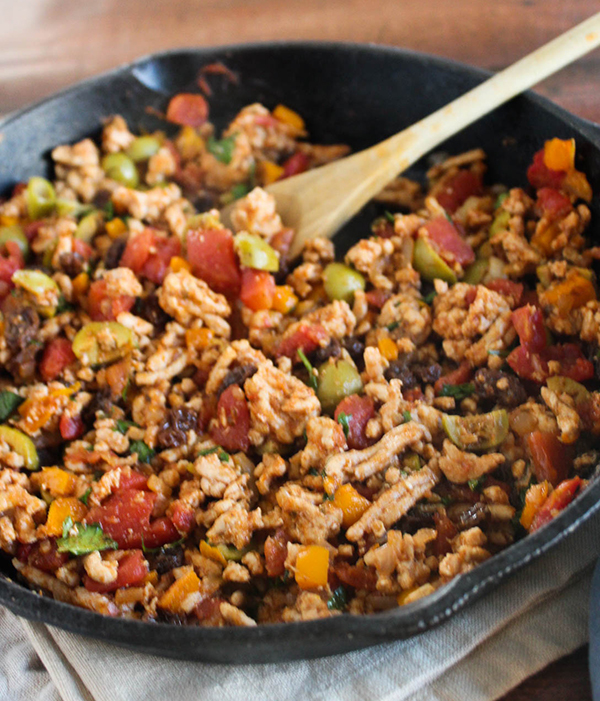 Click on serving size to scale this recipe
Instructions
Prepare the ingredients: chop the peppers, onions, garlic, and tomatoes if you are using fresh and set them aside.

Add the olive oil to the skillet over medium heat. Once the oil is hot, add the onions, garlic, and peppers and cook them until they begin to turn soft.

Add the chicken and cook it until it is almost cooked through - you may need to add a little bit of oil if the chicken is sticking to the pan.

Stir in 1 tablespoon adobo sauce, 2 tablespoons apple cider vinegar, ¼ teaspoon coriander, ¼ teaspoon cumin, and 2 teaspoons oregano.

Next add 1 ½ cups diced tomatoes, raisins, and olives - mix everything together.

Reduce the heat to low and simmer for at least 15 minutes.

Sprinkle the picadillo with the chopped cilantro, simmer for 5 to 10 minutes longer and serve.
Notes
Recipe Variations
Replace the ground chicken with ground beef, pork or turkey.
Add a quarter pound of Mexican chorizo to the ground chicken while browning it for extra flavor.
Add one cup of diced potatoes at the end of the meat browning for a Cuban-style picadillo.
For a spicy version, add one diced jalapeno pepper.
Nutrition
Serving:
1
person
|
Calories:
262
kcal
|
Carbohydrates:
19
g
|
Protein:
22
g
|
Fat:
12
g
|
Saturated Fat:
3
g
|
Polyunsaturated Fat:
2
g
|
Monounsaturated Fat:
6
g
|
Trans Fat:
0.1
g
|
Cholesterol:
98
mg
|
Sodium:
988
mg
|
Potassium:
1019
mg
|
Fiber:
4
g
|
Sugar:
5
g
|
Vitamin A:
1266
IU
|
Vitamin C:
51
mg
|
Calcium:
104
mg
|
Iron:
4
mg
Nutrition information provided is an estimate and can vary based on cooking methods and ingredients used