Spicy salsa chicken with chorizo is a combination of seasoned chicken breasts, homemade salsa and spicy Mexican chorizo sausage for a flavor-packed chicken dinner.
This recipe is so good! The Mexican chorizo adds just the right amount of flavor and spice to mild tasting chicken for a hearty and healthy dinner.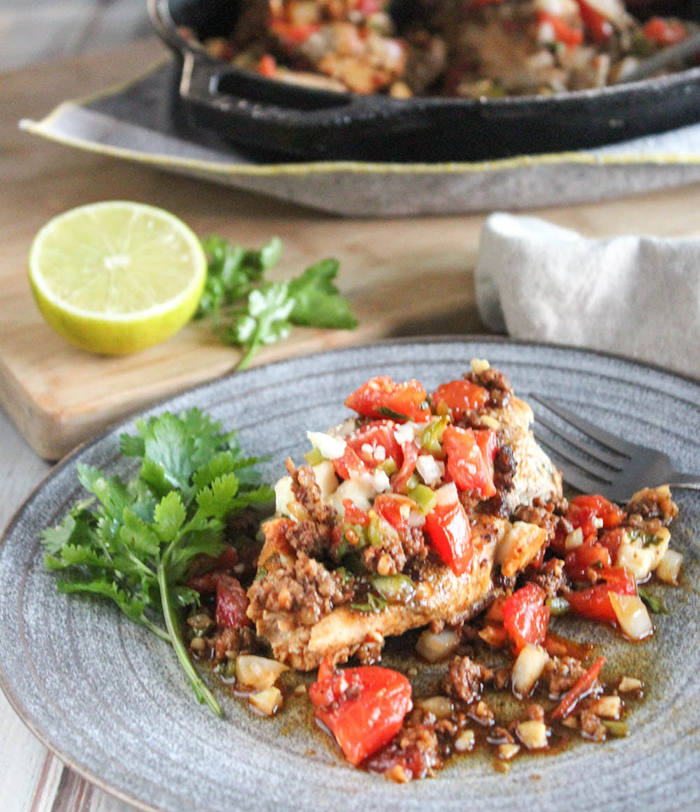 Recipe Highlights
It's easy - make it in one pan for easy cleanup.
It's made with fresh ingredients and is customizable.
What you Will Need
As an Amazon Associate, I earn from qualifying purchases
This is an overview of the ingredients and steps to make this recipe, scroll down for a printable recipe card with exact measurements and instructions.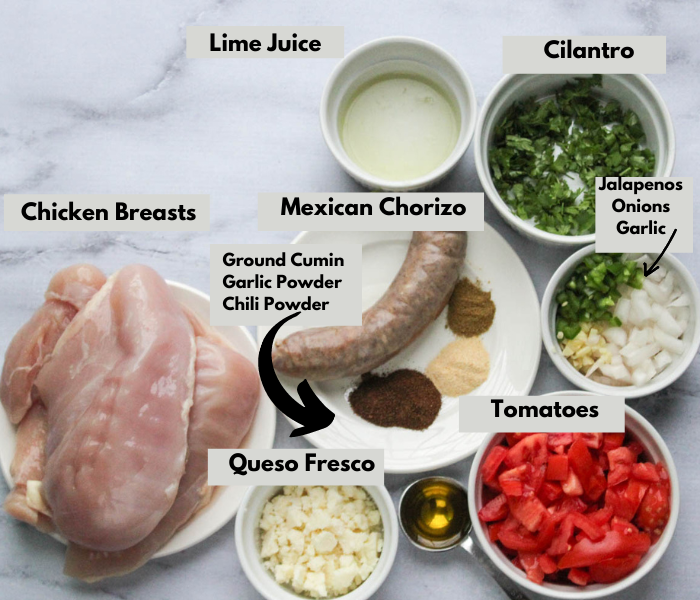 You Will Also Need
A skillet or braising pan that can go from stovetop to the oven to make this recipe. I like to use a cast iron cast iron skillet it's easy to cover it up and pop in the oven.
If you do not have an oven proof skillet, you can brown the sausage and chicken on top of the stove and place it in an ovenproof casserole dish.
Ingredient Notes & Substitutions
Chorizo Sausage - this recipe calls for Mexican chorizo which is not the same as Spanish chorizo. Spanish is a cured hard sausage while Mexican chorizo is made with raw ground pork. If you can't find Mexican Chorizo, hot Italian sausage would be a better substitute in this recipe.
Chicken - I like to use boneless chicken breasts when I make this recipe, but you can use boneless chicken thighs too.
Queso Fresco - is a mild fresh tasting Mexican cheese. It can easily be substituted with mild feta cheese, Monteray jack, or Cotija cheese.
Tomatoes - Fresh tomatoes taste best in this recipe, if they aren't available you can use diced canned tomatoes. I like to use low sodium diced tomatoes from Muir Glen.
Jalapeno Pepper - If you don't care for spicy food (the sausage might be hot enough for you) the jalapeno pepper can be left out of this recipe, or you can substitute it with a half of a poblano pepper which is less spicy.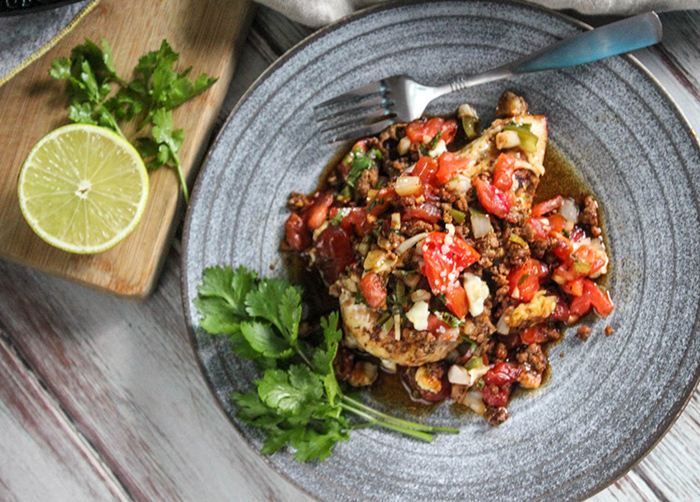 How to Make Salsa Chicken with Chorizo
Mix up the salsa ingredients and set them aside; mix the spices together and set them aside.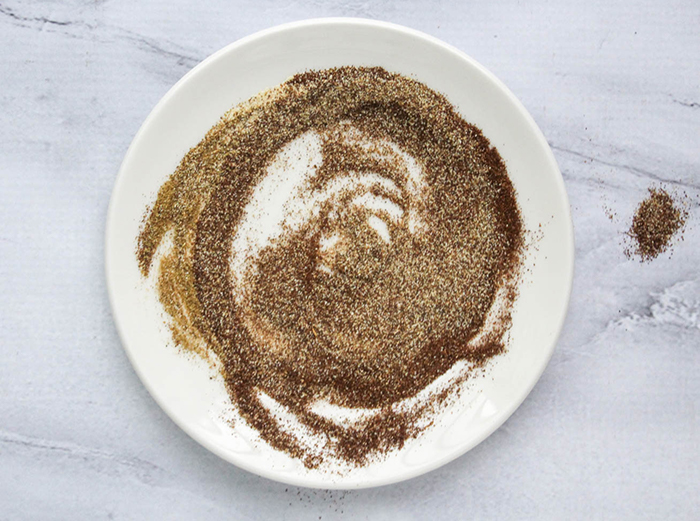 Preheat a skillet over medium to high heat. Add ½ of the oil and the brown chorizo in the skillet. Once it has cooked through, remove it from the skillet and set it aside.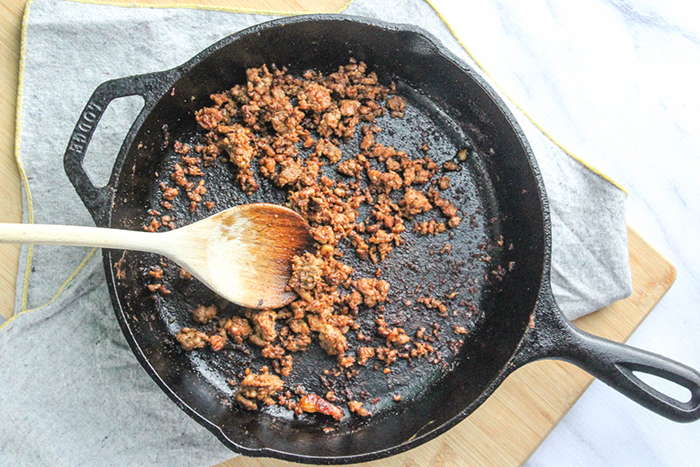 Add the remaining oil to the skillet, sprinkle the spice mixture onto both sides of the chicken breasts and cook them until they begin to turn golden on the outside.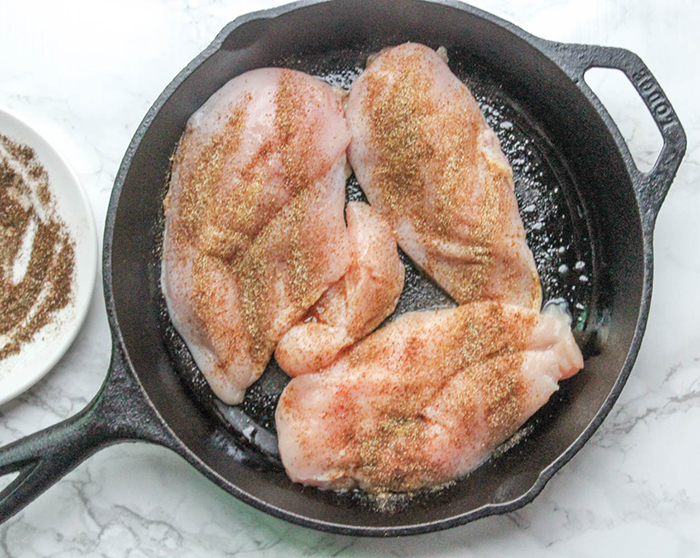 Turn the heat off and pour the salsa, sausage crumbles and cheese over the chicken pieces, cover and bake.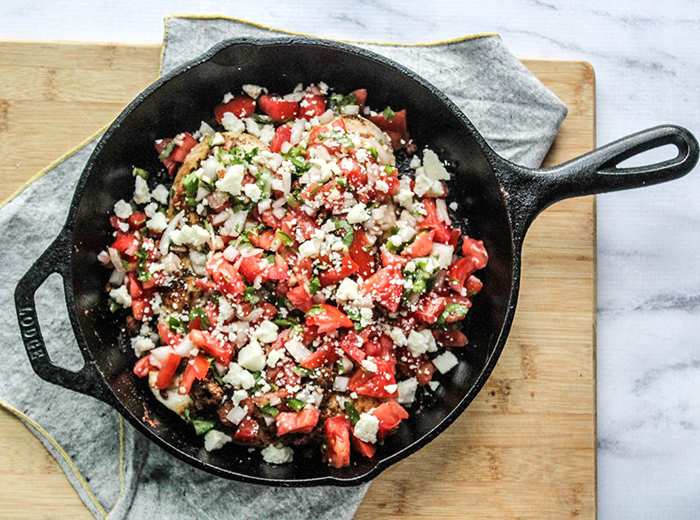 Total Estimated Time to Make This Recipe: 40 to 50 Minutes
How to Store it and leftover ideas
Salsa chicken makes great leftovers. You can store your leftovers in an airtight container in the fridge for up to four days.
To re-heat it, place it in an oven or the microwave. Leftover salsa chicken tastes great on top of a salad, steamed brown rice, in a wrap or quesadilla.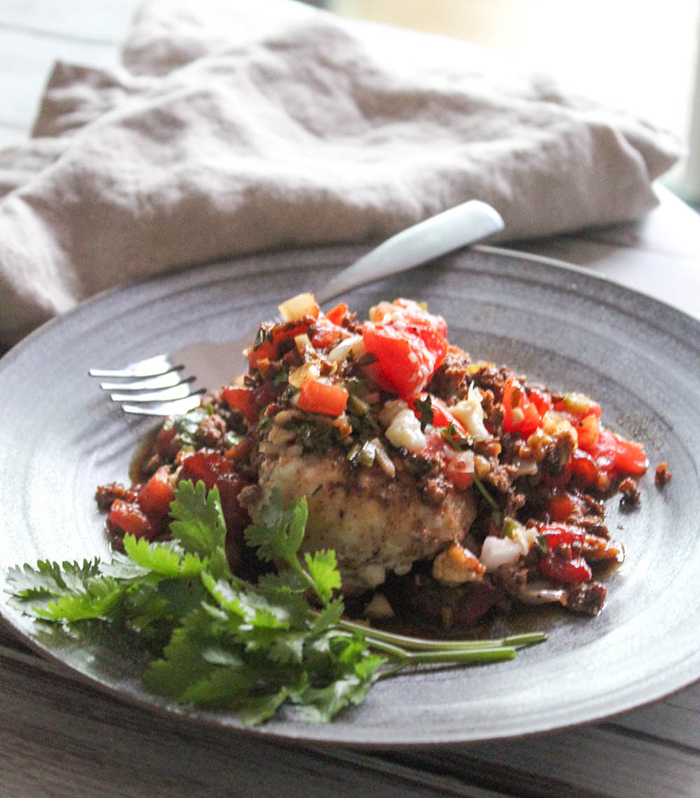 Serving Suggestions
Serve spicy salsa chicken with a side of green beans, salad, and your favorite whole grain or cauliflower rice for a low carb version.
You Might Like These Mexican Recipes