Homemade manicotti is made with homemade crepes that are filled with creamy ricotta cheese, topped with marinara sauce and mozzarella cheese. It's a light, delicious, and filling vegetarian dish that both carnivores and vegetarians will just love.
This recipe was originally published in 2019, it's been updated for content and photos.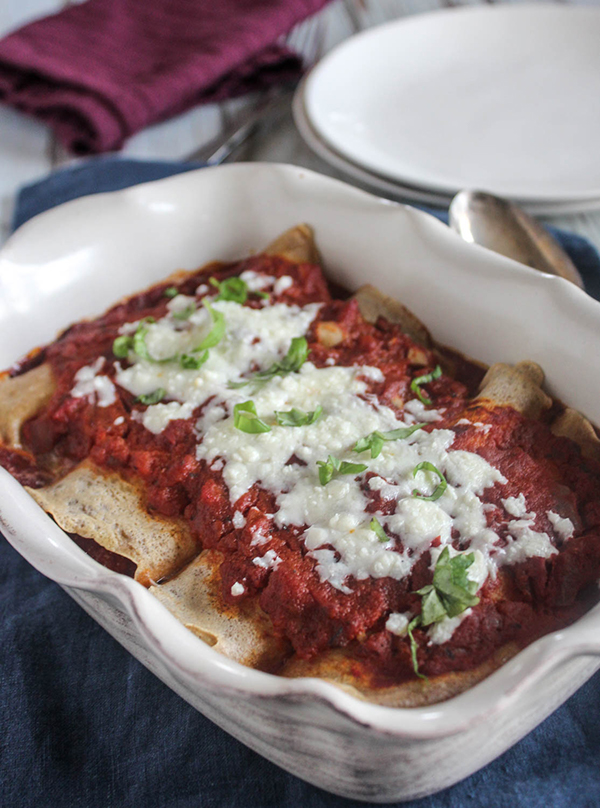 This easy manicotti recipe is worth the time it takes to make. The crepes are so light and you will feel delightfully full and not weighed down after eating these, you might even have room for a healthy dessert.
Why This Recipe Works
Even though it takes a little extra time, homemade manicotti is easy to make!
It's a great recipe to make ahead of time, which makes it perfect for entertaing.
Here is What You Will Need
As an Amazon Associate, I earn from qualifying purchases.
This is an overview of the ingredients and steps to make this recipe. Scroll down to see a printable recipe card with exact measurements and complete cooking instructions.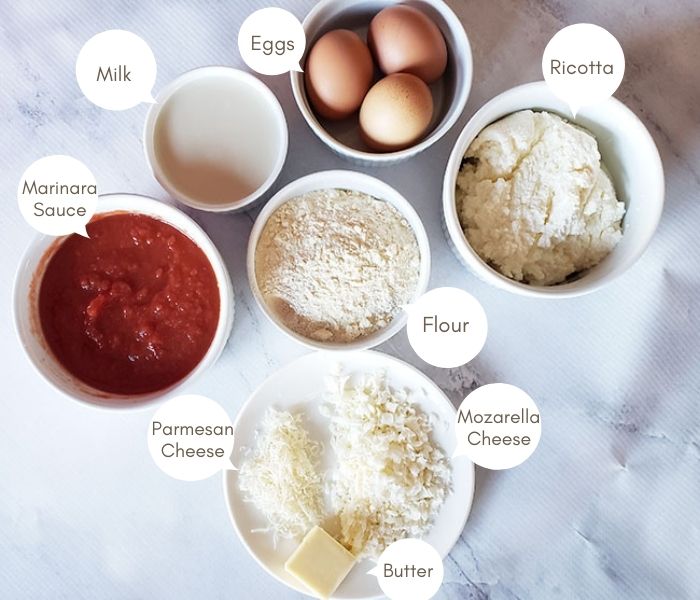 Ingredients List
Whole Wheat Flour
White Flour
Eggs
Olive Oil
Butter
Milk
Ricotta Cheese
Parmesan Cheese
Equipment
Here is How to Make Homemade Manicotti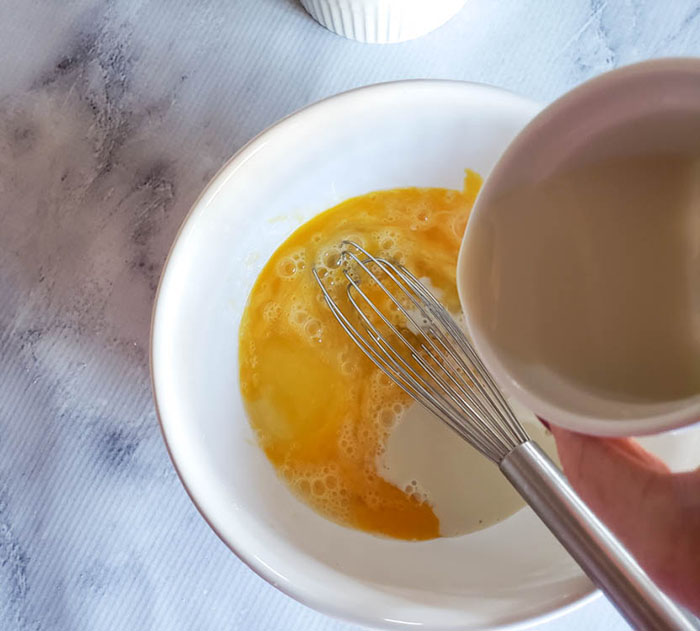 Step 1. Make the crepe batter
Whisk the eggs and milk together in a small mixing bowl.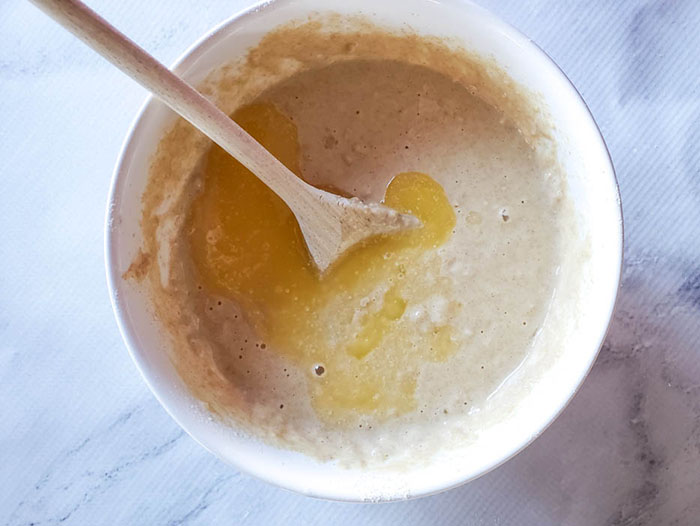 Step 3. Mix in the Flour
Mix in the flour with a wooden spoon and then stir in the melted butter, still until the batter is smooth.
Step 4. Chill the batter
Place the batter in the refrigerator 20 to 30 minutes to thicken the batter.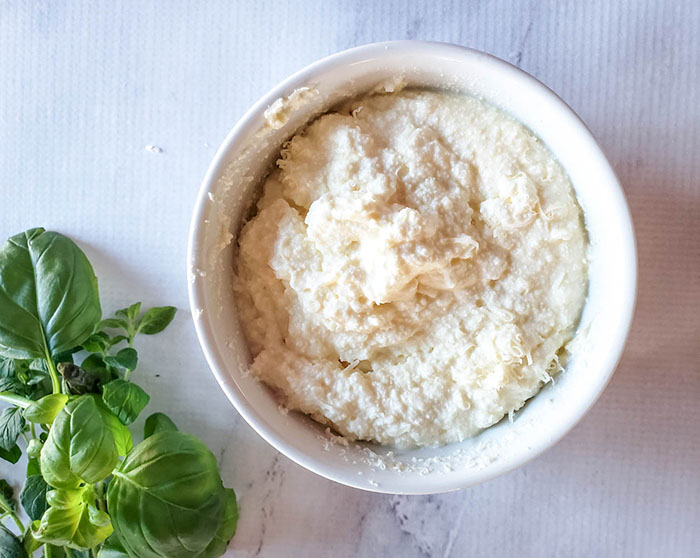 Step 5. Make the ricotta cheese filling
While the crepe batter is chilling, combine ricotta with the eggs and parmesan cheese.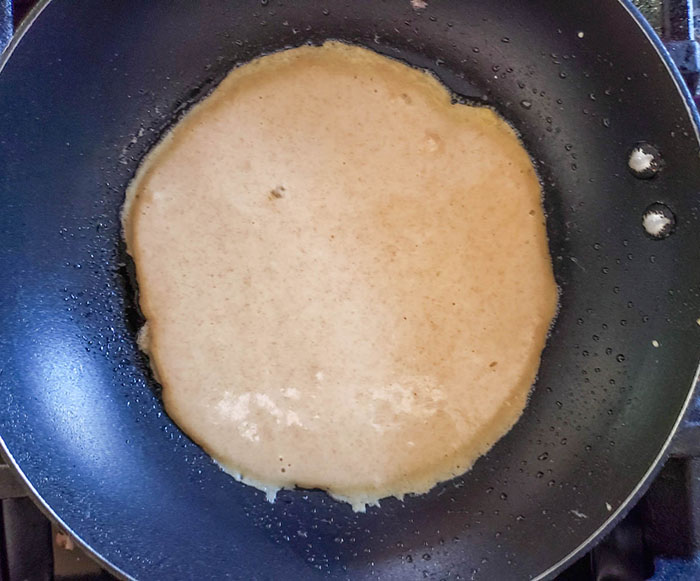 Step 6. Make the crepes
Heat an 8-inch skillet or crepe pan over medium-low heat and coat it with olive oil. Add ⅛ cup of the batter to the pan and swirl it around so that it will cover the bottom of the pan.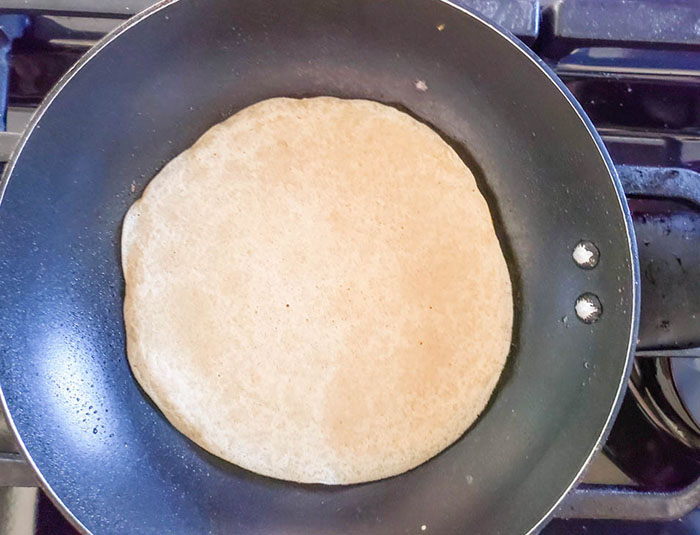 Step 7. Cook and Flip
Cook the batter for one to two minutes, carefully flip the crepe over, and cook for another minute or two longer. Remove the crepes from the pan as they are cooked and stack them on a plate.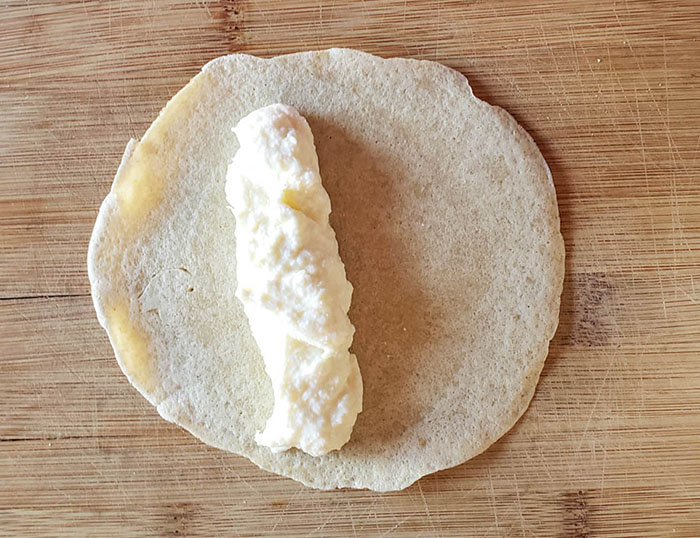 Step 8. Fill the Crepes
Lay pasta crepes on a flat work surface and add ⅓ cup of cheese.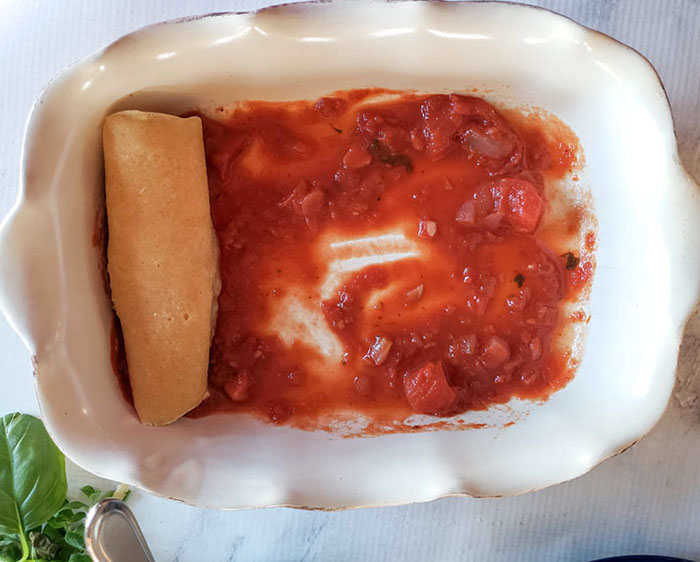 Step 9. Roll the crepes up
Roll crepes up. Pour half of the spaghetti sauce into a casserole dish, and place the filled crepes on top in a single layer.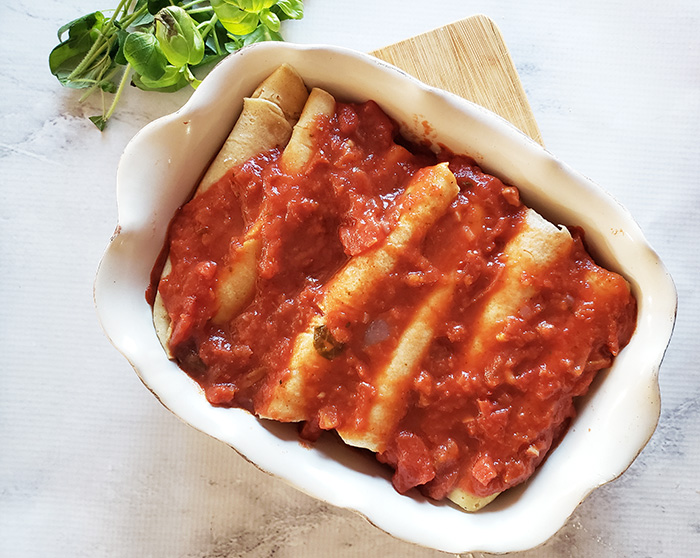 Step 10. Cover with Sauce
Place the filled crepe in a single layer in a baking dish over a layer of sauce and cover them with more marinara sauce. Cover the casserole dish, and bake until bubbly. Remove the cover and top with mozzarella cheese.
Ingredient Notes and Substitutions
Flour. I like to use a mix of white and whole wheat flour when I make the crepes for this homemade manicotti recipe. You can use also use all white flour. I don't recommend using all whole wheat flour.
Butter can be substituted with an equal amount of olive oil in the crepe batter.
Milk can be substituted with plant-based milk or water.
Ricotta Cheese can be substituted with an equal amount of cottage cheese or a combination of the two.
Marinara Sauce. I like to use homemade marinara sauce, with my manicotti. You can also use your favorite sauce in a jar.
How to Make Homemade Manicotti Ahead of Time
Manicotti is an easy recipe to make ahead of time. The entire recipe can be put completely together or just parts of the recipe. Below are a few tips for making homemade manicotti ahead of time:
Make the crepes ahead of time, and stack them up with wax paper between each crepe. Cover the crepes tightly with aluminum foil, or a reusable freezer bag, and store them in the fridge for up to 2 days.
Crepes can also be stored in the freezer for up to 3 months. Thaw frozen crepes in the refrigerator overnight and stuff them with your favorite filing once they have thawed out.
Make the filling ahead of time and store it in the fridge for up to two days, and in the freezer for up to 3 months. Defrost the filling in the refrigerator overnight.
Assemble the entire recipe without the mozzarella cheese topping, and store in the refrigerator covered for up to two days or freeze it for up to 3 months. Defrost frozen manicotti in the refrigerator overnight.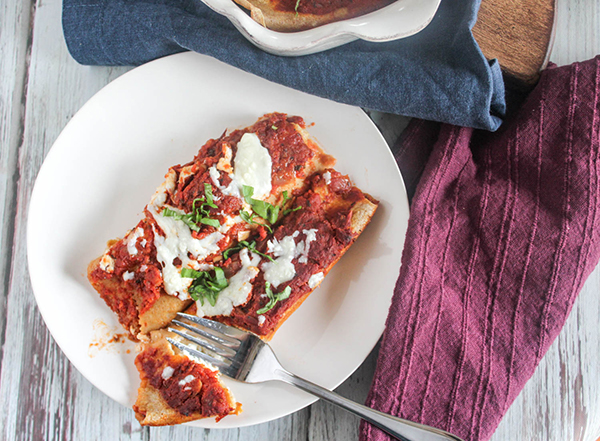 Serving Suggestions
Serve homemade manicotti with your favorite salad such as a kale caesar, Zucchini ribbon salad, or arugula salad.
How to Store Leftover Manicotti
Leftover manicotti will last in the refrigerator covered in an airtight container for up to three days.
Reheat leftover manicotti in an oven that's been preheated to 350 until it's heated through.
Top Tips
As the crepes complete the cooking process, stack them on a plate separated with parchment or wax paper to keep them from sticking together.
When you are cooking the crepes, make sure the pan is evenly coated with oil, so they don't stick to the pan. Add more oil as needed.
Make a double batch of this recipe for a large crowd, or freeze it for a quick meal on busy weeknights. Manicotti reheats easily and it's perfect to have on hand for a busy weeknight.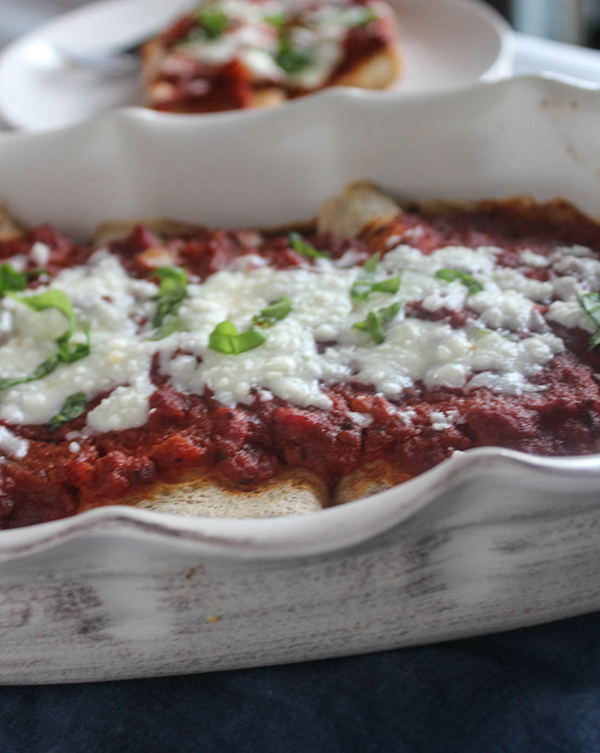 Serve this recipe with a side of eggplant meatballs for a full vegetarian dinner.
Recipe Variations
Vegetable Manicotti. Add 1 cup of sauteed vegetables such as zucchini, bell peppers, eggplant, spinach, or mushrooms to the cheese mixture.
Manicotti with Meat. Add ¼ to ½ pound of cooked ground beef, pork, chicken, or Italian sausage to the filling.
Change up the sauce and use Bolognese Sauce in place of marinara sauce.
For more simple and delicious recipes like this, subscribe to our newsletter and receive a free e-book and meal suggestions straight in your inbox!
Have you Tried These?
If you like this recipe, please comment and rate it below!