Homemade Bolognese sauce is a super flavorful meat sauce. Even though it takes a few hours to make, it is an easy recipe since most of the time is hands-off cooking time
The best Bolognese sauce recipes start with the holy trinity of flavors; celery, onions, and carrots combined with garlic and olive oil. The flavor from the vegetables builds as the meat and other ingredients are gradually added to the sauce. Once you have a taste of this amazing sauce you will agree it was well worth the time waiting for it to cook.
This recipe was originally posted in 2018, it's been updated for content and photos.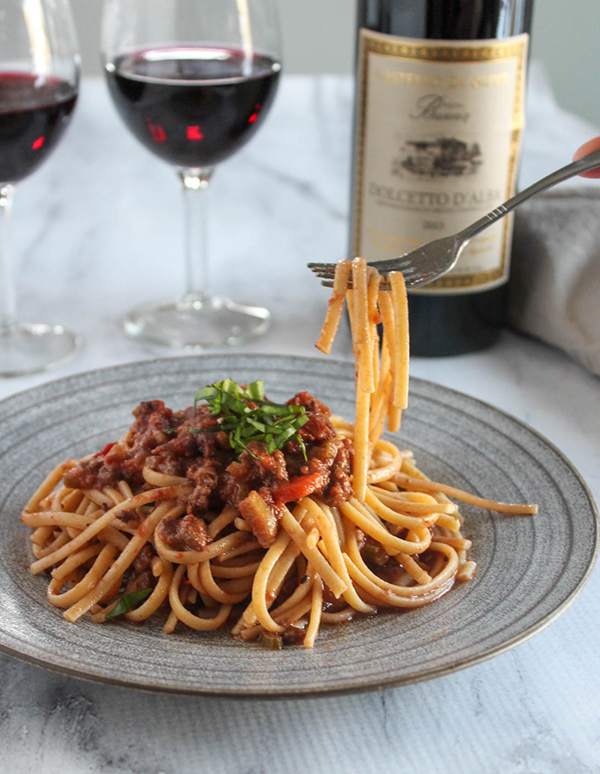 Recipe Highlights
Homemade Bolognese sauce is the perfect comfort food recipe.
It's made with simple and fresh ingredients.
Bolognese sauce is a versatile sauce: serve it over your favorite pasta or use in in lasagna, manicotti or baked ziti.
Here is what you will need
As an Amazon Associate, I earn from qualifying purchases
Ground beef
Italian sausage
Celery
Onion
Garlic
Carrots
Red wine
Fresh or Strained Tomatoes
Milk
Freshly Grated Parmesan (optional)
Skillet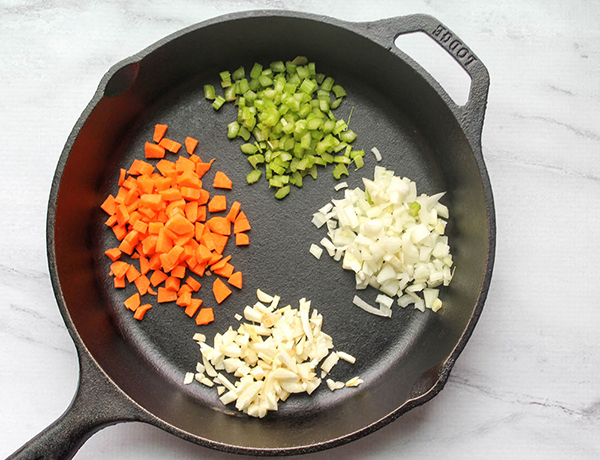 How to Make Simple Bolognese Sauce
Heat a cast-iron pan or a Dutch oven over low to medium heat, when the pan is hot add the onions, garlic carrots and celery and them until the begin to soften.
Add the sausage and ground beef to the pan and continue to cook over medium heat until the meat is almost cooked through (approximately 10 minutes).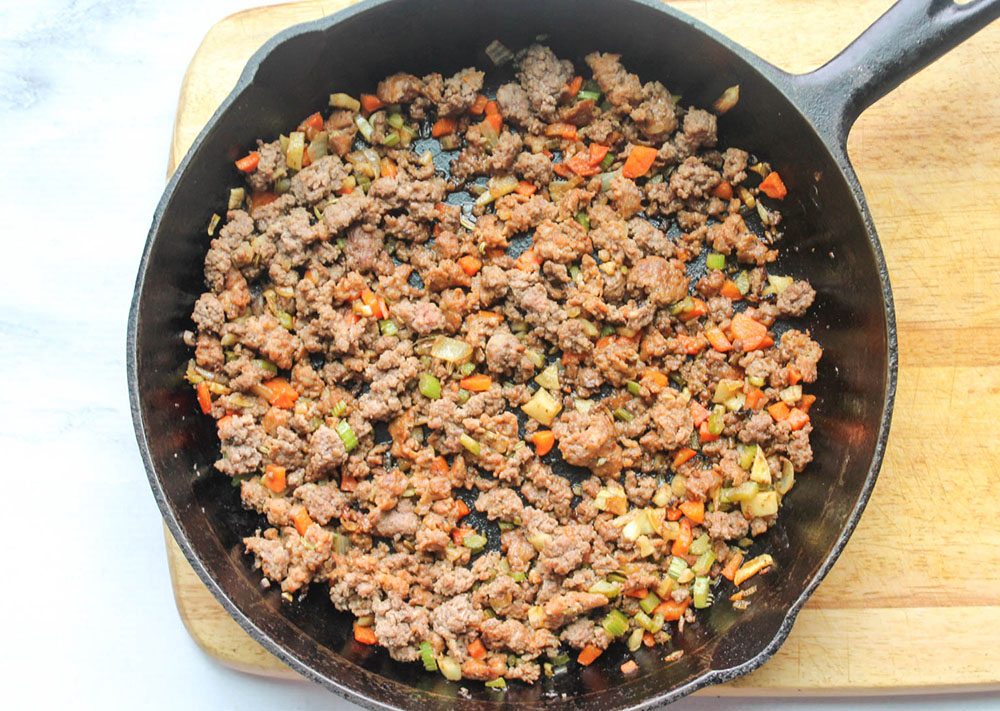 Gradually add the wine to the meat and vegetable mixture allowing it to evaporate after each addition. Once all of the wine has been added, stir in the tomatoes, nutmeg and bay leaf. Reduce the heat to low and simmer the sauce for an hour.
Remove the bay leaf and stir in the milk. Cover the pan loosely and simmer for 30 minutes longer over low heat.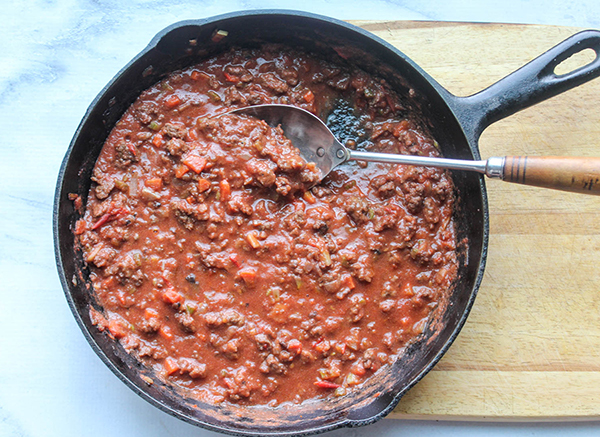 Total Estimated Time to Make This Recipe: 2 hours to 2 hours 20 minutes
Homemade Bolognese Sauce Ingredient Notes
The Wine
It's a good idea cooking with wine is to use the wine that you are going to drink with the meal in your recipe. If that doesn't work, try a good Cabernet, Merlot, or Pinot Noir. It should be the same quality as the wine that you would drink. If you won't drink it, it shouldn't be in your food.
Wine substitution- If you don't like to use wine in your cooking, you can substitute the with beef, chicken or vegetable broth. The wine adds so much flavor to this sauce and the alcohol cooks out so I highly recommend using wine if at all possible.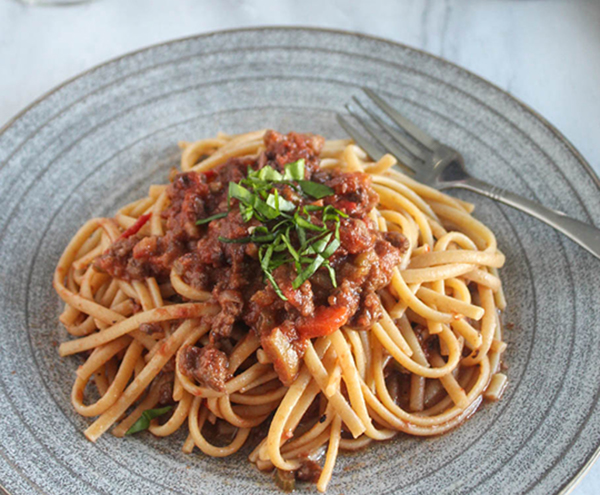 The Meat
There are many variations and ways to make Bolognese sauce. I like to use half ground beef and half Italian Sausage. Other options are a combination of ground, beef, pork and veal; ground beef and pancetta or just ground beef. This is the kind of recipe that you really can't mess up, so use whatever you like for meat.
The tomatoes
My preference is to use pure fresh diced plum tomatoes or strained organic tomatoes without added salt like these strained tomatoes from Bionature . You are looking for a pure tomato taste in this recipe and these tomatoes are pure tomatoes without any additives. They taste fresh, and you can control the amount of salt in the sauce by seasoning it to the way you like it.
The Milk
Non-Dairy milk such as oat milk or your favorite nut milk can be substituted for a dairy-free version or you can leave the milk out.
Serving Suggestions
Bolognese sauce tastes great with a heartier pasta such as linguine, tagliatelle, pappardelle, rigatoni, ravioli, baked ziti, or lasagna.
Serve pasta with Bolognese with a side salad like this Arugula Salad with Pistachios or this Arugula and Fig Salad with Balsamic Vinaigrette.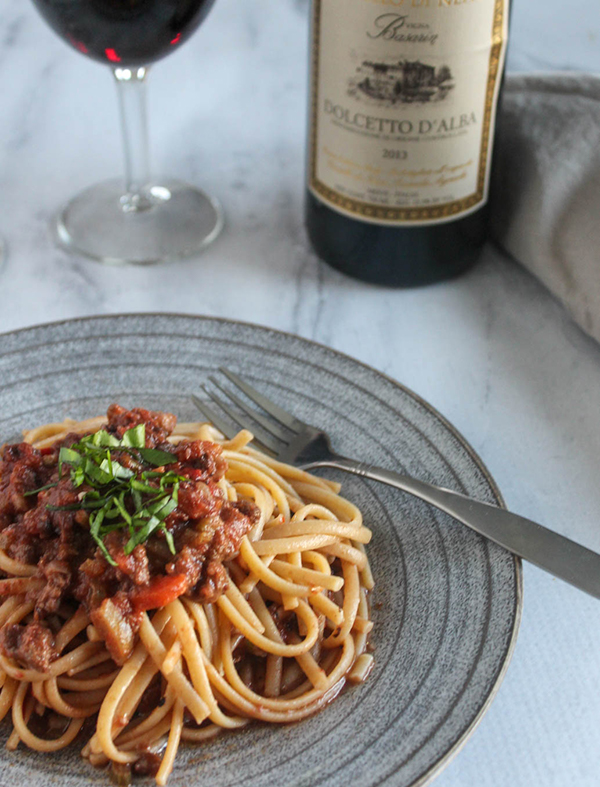 How to Store Leftovers
In the Refrigerator - Store leftover Bolognese sauce in the refrigerator for up to 3 days in an airtight container.
In the Freezer - Bolognese sauce freezes well, and might even taste a little better after it has been frozen. Place the leftover sauce in a freezer-safe container in the freezer for up to 3 months.
Thaw it in the refrigerator overnight. It can be heated on top of the stove over low heat or in the microwave.
Check out These Recipes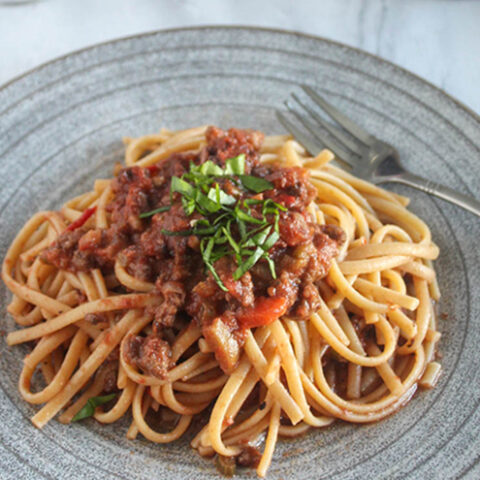 Homemade Bolognese Sauce
Homemade Bolognese sauce is a simple and savory sauce.
Ingredients
½ pound lean ground beef
½ pound Italian pork sausage
1 tablespoon olive oil
¼ cup diced carrots (about 2 carrots)
¼ cup diced celery (about 2 stalks)
¼ cup minced onion (1bout ½ onion)
3 to 4 cloves minced garlic
¾ cup red wine
1 ½ cups diced or strained tomatoes
a pinch of nutmeg
1 bay leaf
freshly grated Parmesan cheese for sprinkling
¼ cup whole milk or light cream
Instructions
Heat a cast-iron pan or dutch oven over medium heat.
Add the onions, garlic, carrots, and celery - cook stirring occasionally until they begin to soften which will take about 6 to 8 minutes.
Add the ground beef and sausage to the pan and for 8 to 10 minutes until it's almost cooked through.
Gradually add the wine in intervals, allowing it to evaporate before adding more.
Stir in the tomatoes, nutmeg, and bay leaf. Reduce the heat to low and let it simmer for an hour on very low heat.
Remove the bay leaf and stir in the milk. Cover the pan loosely and simmer for 20 minutes longer and serve over your favorite pasta.
Notes
If the sauce becomes too thick, use water or a little bit of milk to thin it out.
Ground beef only or sausage only may be used in this recipe in place of the combination of the two.
Recommended Products
As an Amazon Associate and member of other affiliate programs, I earn from qualifying purchases.
Nutrition Information:
Yield:

6
Serving Size:

1
Amount Per Serving:
Calories:

296
Total Fat:

19g
Saturated Fat:

7g
Trans Fat:

0g
Unsaturated Fat:

12g
Cholesterol:

60mg
Sodium:

347mg
Carbohydrates:

6g
Fiber:

1g
Sugar:

3g
Protein:

19g
Nutrition information is provided by an online calculator and is meant to be used for informational purposes only. Even though I try to provide accurate information, these figures should still be considered as estimates.