Almond nuggets in dark chocolate are made with crunchy almond bits, a combination of seeds, and toasted coconut wrapped in homemade dark chocolate. They are a delicious and healthier way to enjoy chocolate.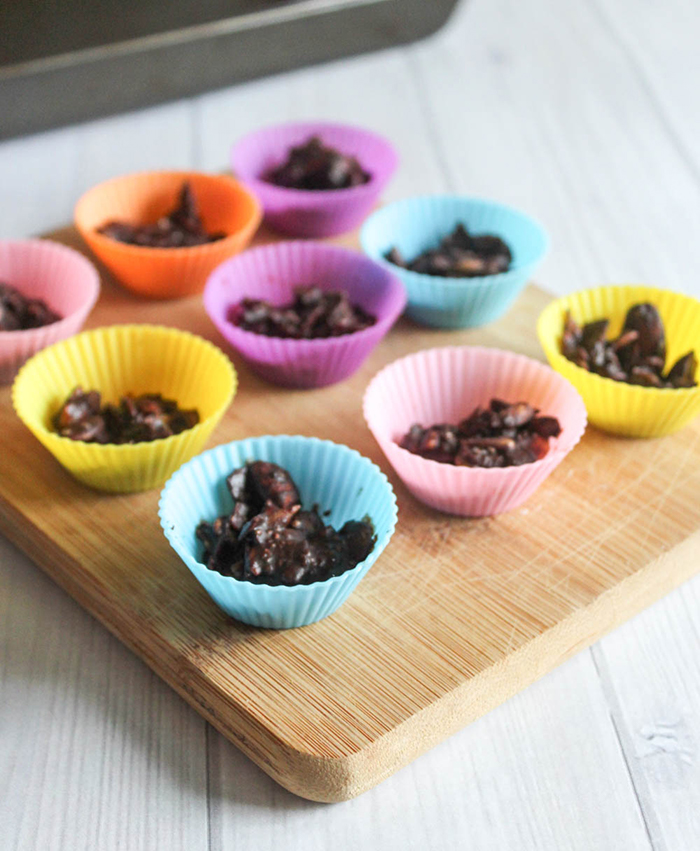 As an Amazon Associate, I earn from qualifying purchases
If you like Dark Chocolate Almond Nuggets from Inno Foods, you will love this homemade version of them. You might also like this Coconut Clusters Recipe which is another homemade version of an Inno Foods snack.
Recipe Highlights
Dark chocolate almond nuggets make a great gift during the holidays or an anytime gift.
It's an easy recipe to make with very little cooking involved.
Almond nuggets so good, and are naturally sweet with very little added sugar.
Here is What You Will Need
This is an overview of the ingredients and instructions that you will need to make this recipe. Scroll down for ingredient substitutions and complete cooking instructions that are printable in the recipe card at the bottom of this post.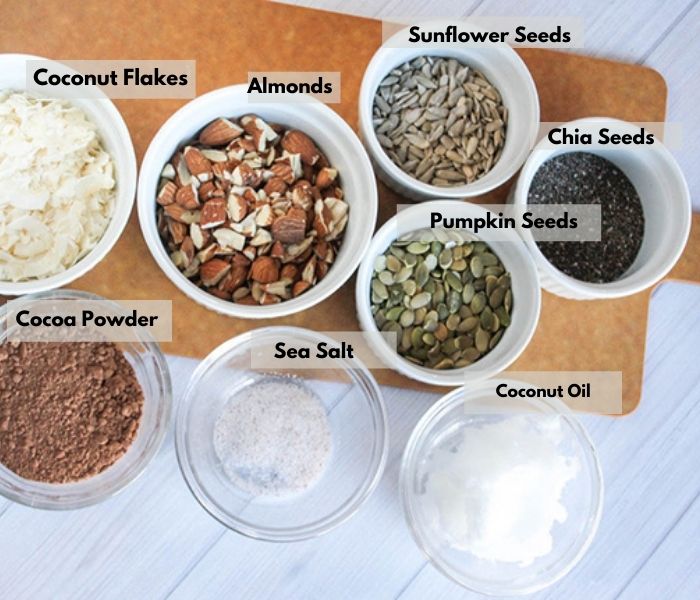 Dark Chocolate Almond Nugget Recipe Ingredients
Tools Needed to Make this Recipe
Here is How to Make Dark Chocolate Almond Nuggets
Prepare: preheat the oven to 375 degrees, line a baking sheet with parchment paper and gather the ingredients. Chop the almonds if they aren't already chopped.
Arrange silicone baking cups on a tray or spread a small amount of coconut oil on the bottom of an 8X8 baking dish,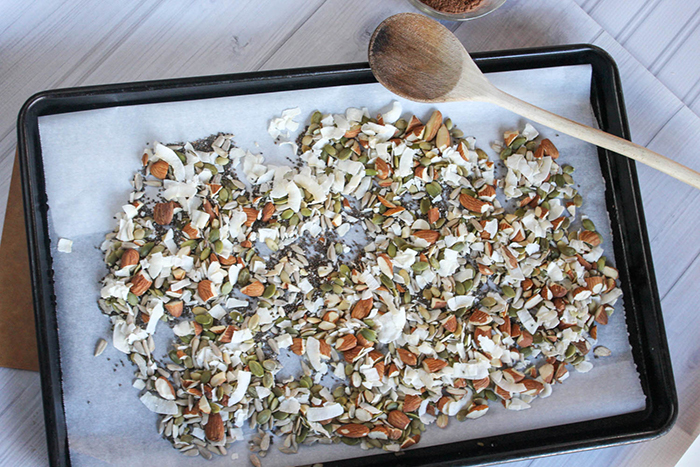 Step 1. Toast the Ingredients
Spread the almonds, seeds, and coconut flakes on a parchment-lined baking sheet and toast in the preheated oven for 5 to 8 minutes.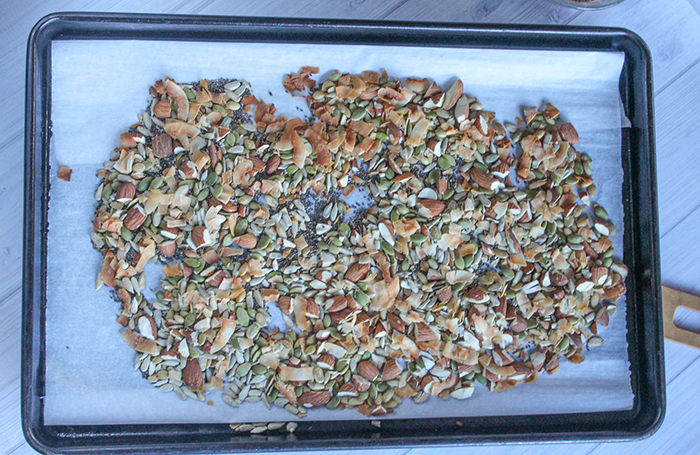 Step 2. Cool the Ingredients
Once the nuts and seeds have turned golden brown, remove them from the oven and let them cool off.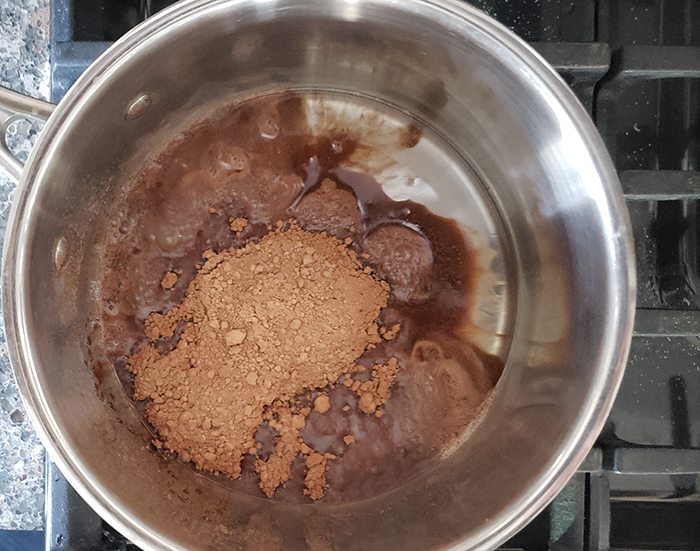 Step 3. Make the Chocolate
Melt the coconut oil in a saucepan over medium heat. Once the coconut oil is melted, stir in the cocoa powder and maple syrup.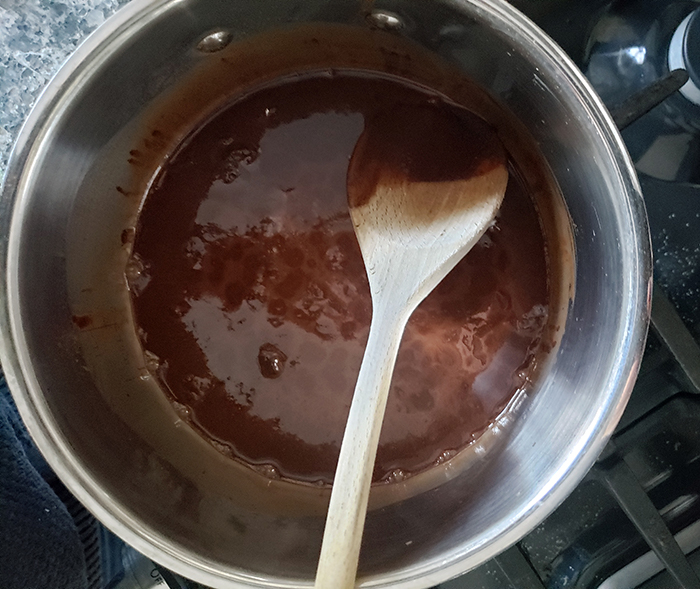 Step 4. Finish the making chocolate
Turn the heat off and continue to stir the chocolate mixture for a few minutes making sure the syrup dissolves into the chocolate and coconut oil and the mixture is smooth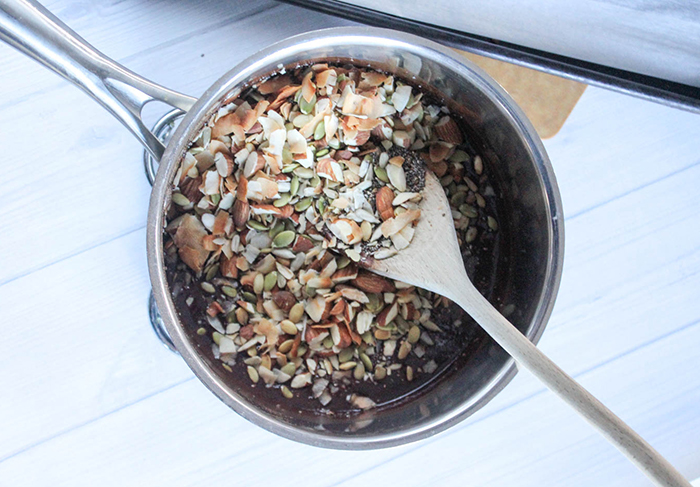 Step 5. Combine all of the ingredients
Add the salt, toasted nuts, and seeds to the melted chocolate mixture.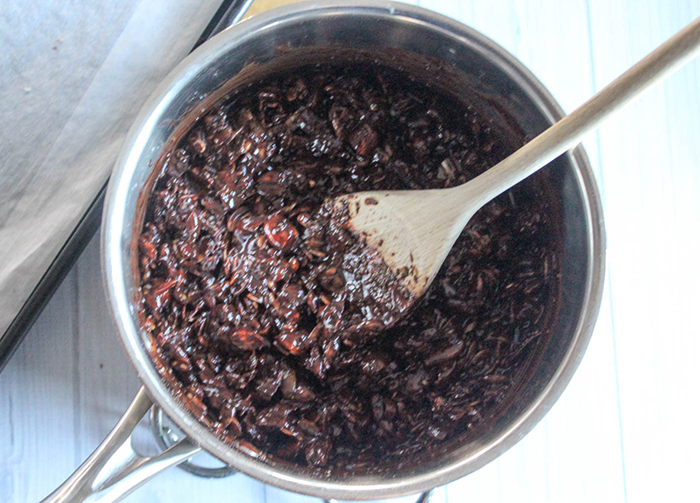 Step 6. Mix it all togehter
Stir until all of the ingredients are coated in chocolate. The mixture will be thick.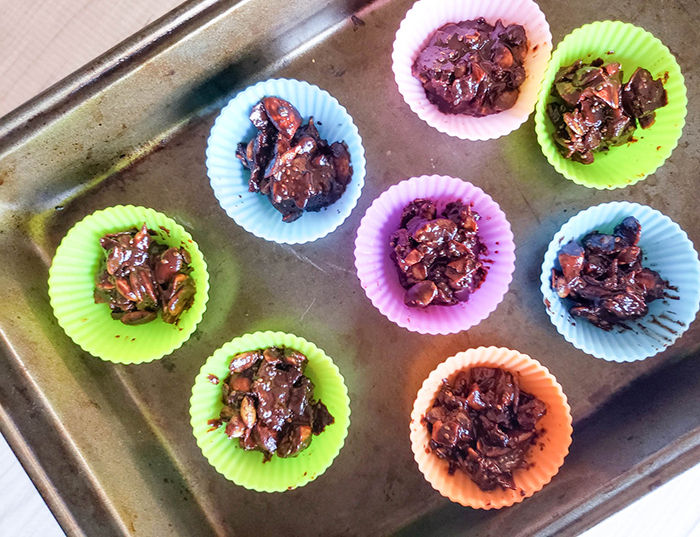 Step 7. Make the clusters
Drop the mixture into silicone baking cups or spread the cluster mixture in a prepared 8X8 baking pan.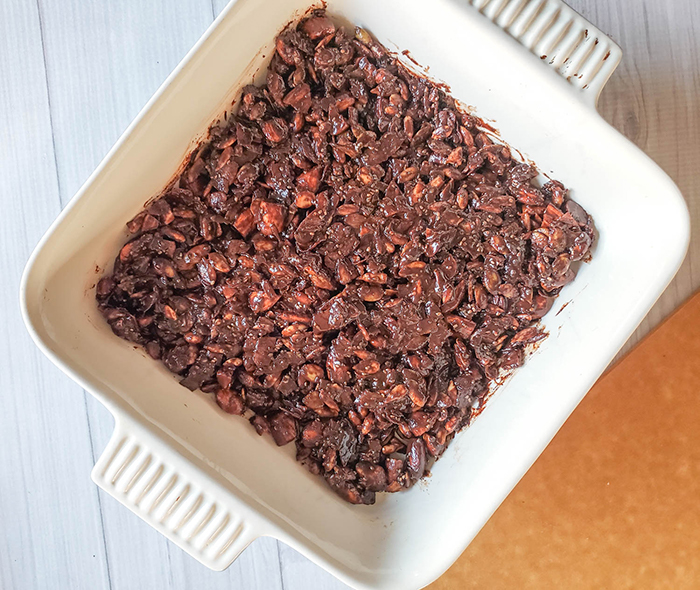 Step 8. Refrigerate
Place the almond nuggets into the refrigerator for at least one hour until the mixture is thoroughly chilled and solid. Remove the nuggets from the baking cups or break the mixture in the pan into pieces.
Ingredient Notes and Substitutions
Raw Almonds - Toasted chopped almonds add a nice texture and flavor to this recipe. You can also use sliced almonds or your can leave the raw almonds whole.
Salt - An equal amount of kosher salt can be substituted for sea salt. Even though it's a small amount of salt, don't leave it out, it really makes a difference in the flavor or the almond nuggets.
Syrup - An equal amount of local honey or organic brown rice syrup will work in this recipe too.
Chocolate - You can substitute 10 ounces of organic dark chocolate (70 percent cocoa) and melt it on top of the stove in place of the cocoa powder, coconut oil, and maple syrup in this recipe.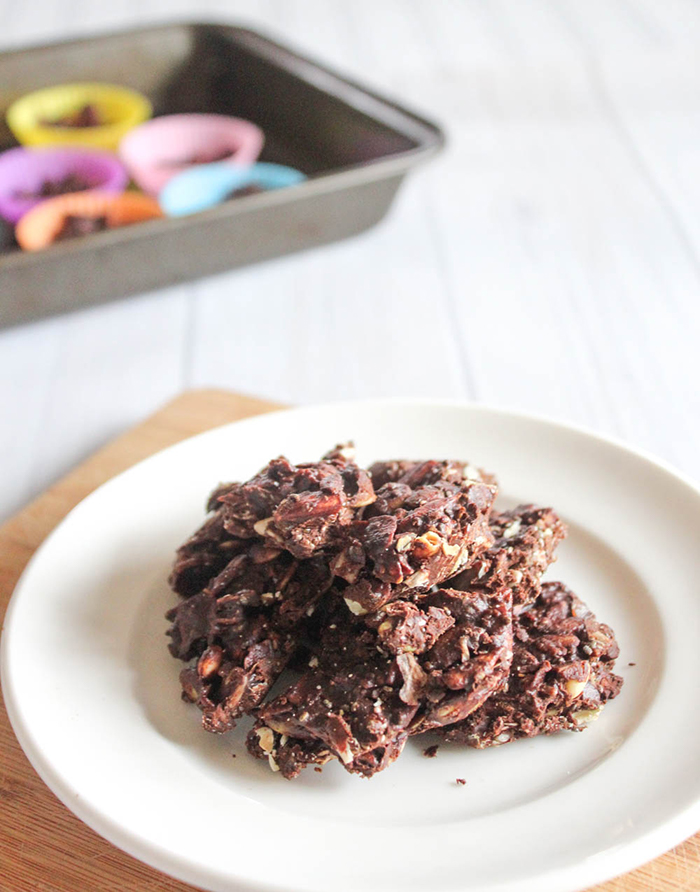 How to Store Dark Chocolate Almond Nuggets
These crunchy almond bites are so good they may not last long! But if they do, here are some easy storing suggestions:
Refrigerator. Store these delicious chocolate pieces in an airtight container for up to one week.
Freezer. Arrenge the almond nuggets on a baking sheet and place them into the freezer. Once they are frozen solid, remove them from the baking sheet and place them in a freezer-safe container for up to six months. Thaw them out in the refrigerator or enjoy them frozen.
Recipe Variations
Change up the Nuts and substitute the almonds for chopped walnuts, cashews, or macadamia nuts.
Change up the seeds and use any of your favorite seeds such as quinoa, sunflower, sesame.
You Might Also Like These Naturally Sweet Recipes
Sign up for our mailing list and receive free menu ideas and more!