Dark chocolate almond toffee is the best toffee ever! Not only is it delicious, you will be surprised how easy it is to make with just four simple ingredients.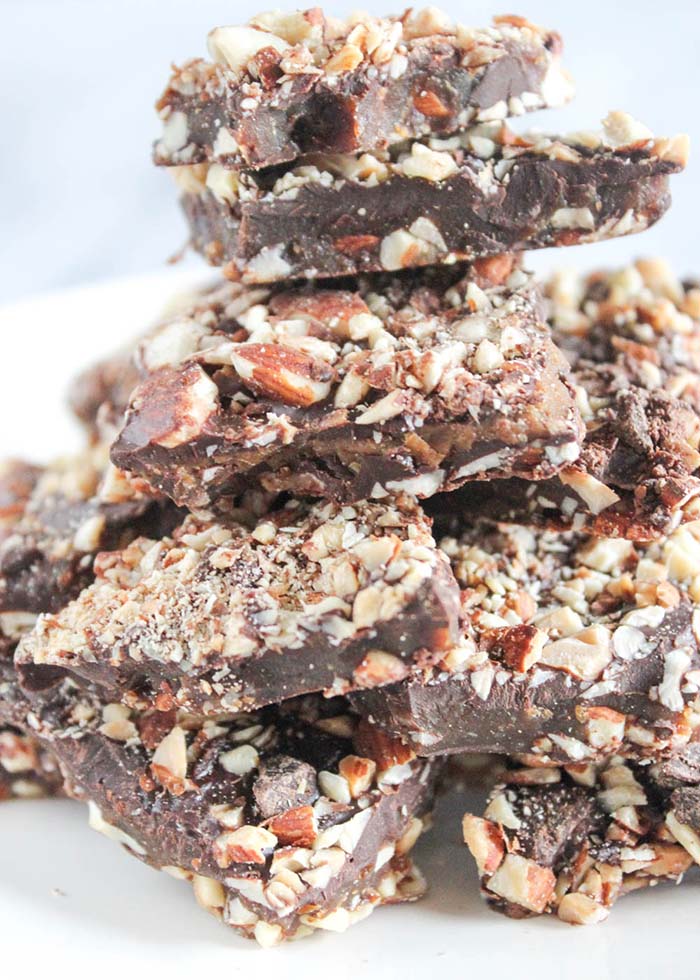 This buttery toffee candy recipe is similar to almond roca and was inspired by an old family recipe that was made with refined sugar, corn syrup, and margarine.
Instead of using overly processed ingredients, I updated the recipe with healthier ingredients. It still tastes delicious, just like these healthier peanut butter blossoms and healthy buckeye balls.
Why This Recipe Works
Almond toffee is super simple to make!
It's so good, you will be hooked after your first bite.
Dark chocolate almond toffee makes a great Christmas gift during the holidays.
Ingredients
As an Amazon Associate, I earn from qualifying purchases.
This is an overview of the ingredients and steps to make this recipe, scroll down for a printable recipe card with exact measurements and instructions.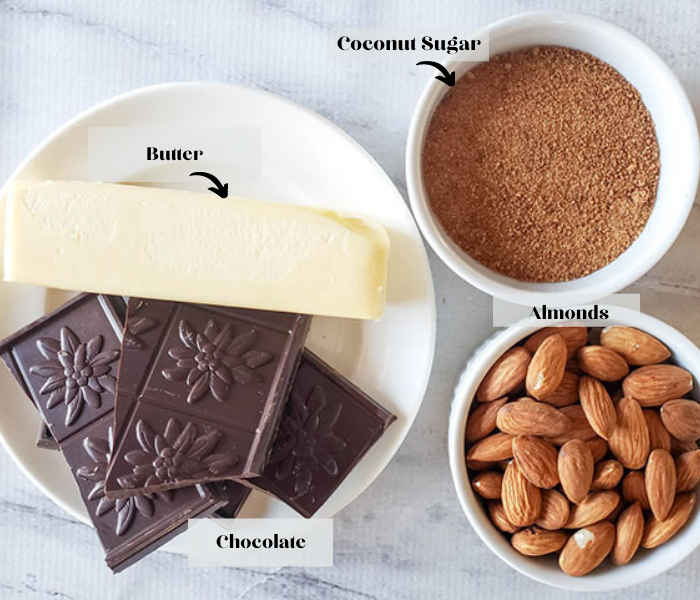 Unsalted Butter
Coconut Sugar
Equipment Needed To Make This Recipe
Food Processor or sharp knife to chop the almonds and chocolate
Candy Thermometer to keep track of the temperature of the syrup mixture.
Wooden Spoon
Parchment Paper to keep the candy from sticking from the pan and make clean up easy!
Rubber Spatula
Here is How to Make Dark Chocolate Almond Toffee
Preheat the oven to 350 degrees f and line a baking sheet with parchment paper.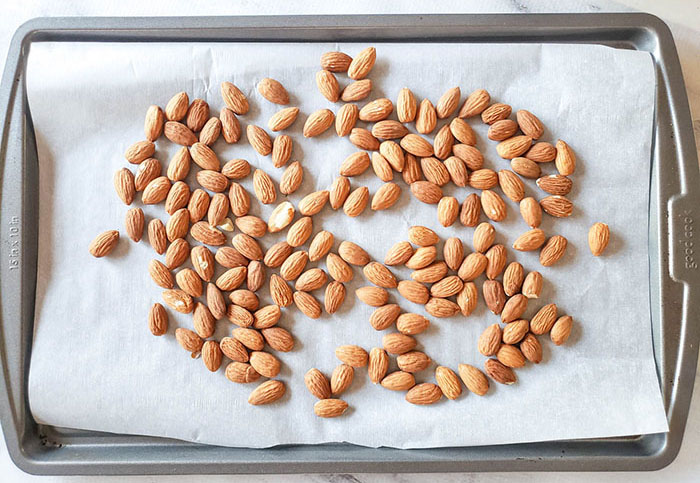 Step 1.
Spread the almonds on top of the parchment-lined baking sheet. Place the pan in the oven and bake the almonds for for 10 minutes.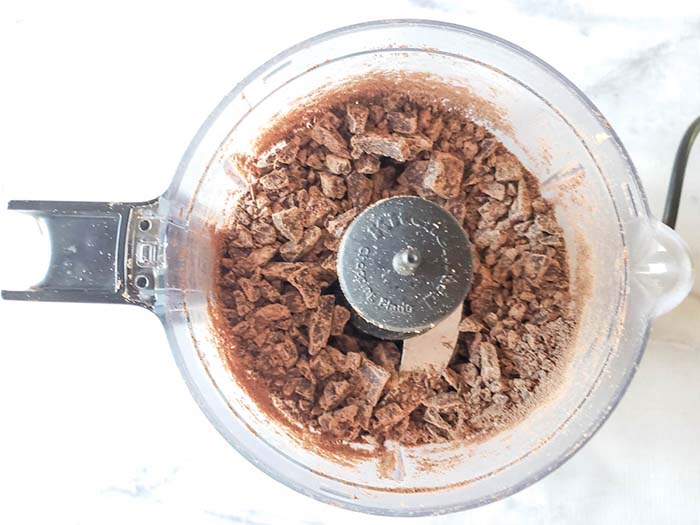 Step 2.
While the almonds are in the oven, place the chocolate pieces into a food processor bowl and pulse a few times to break the chocolate up into small pieces.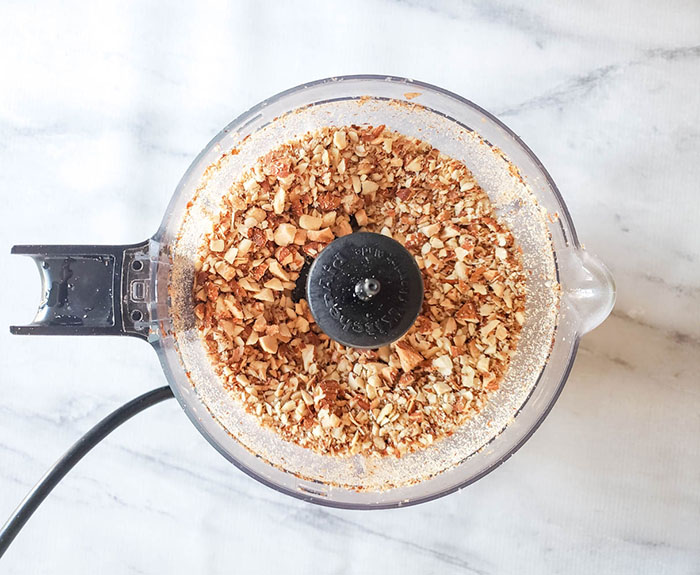 Step 3.
Once the almonds have been toasted and are cool enough to handle, add them to the food processor and pulse them a few times until they are broken up.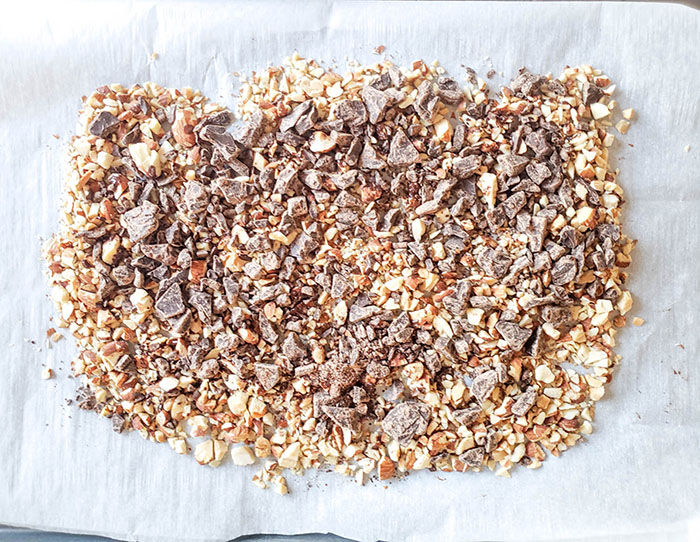 Step 4.
Sprinkle half of the crushed almonds in a single layer on the parchment-lined baking sheet and then sprinkle half of the chopped chocolate on top.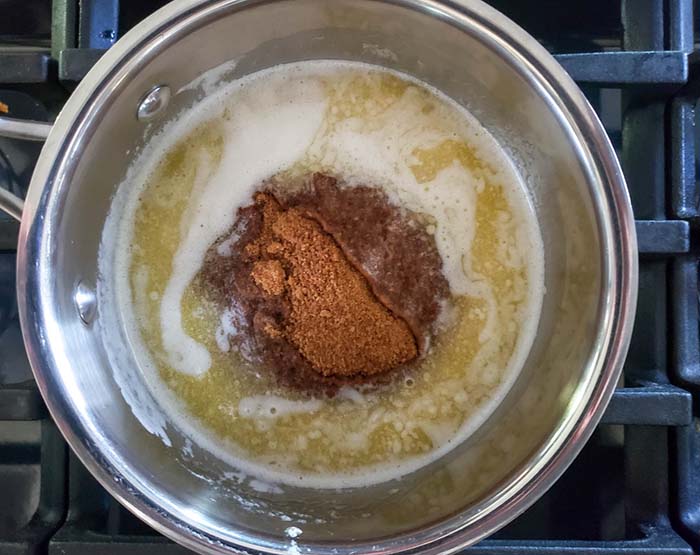 Step 5.
Melt the butter over medium-high heat in a heavy saucepan. Once the butter melts, add the water and sugar; cook stirring occasionally.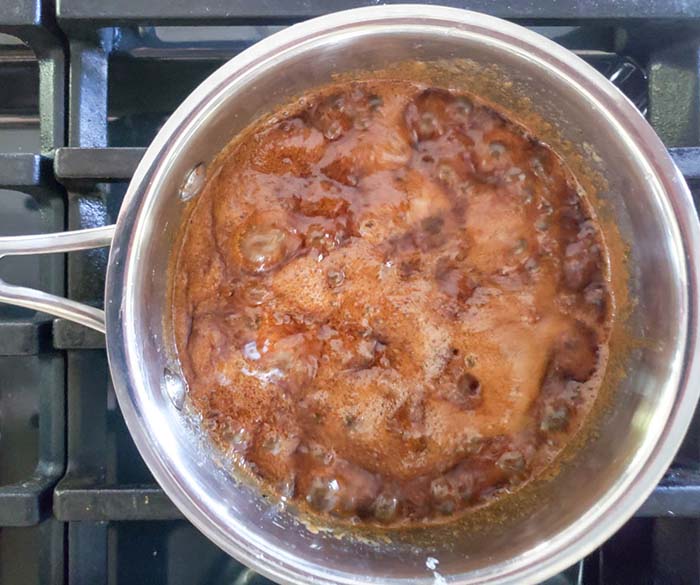 Step 6.
After several minutes of cooking the sugar will start to dissolve. Once the sugar is fully dissolved and the mixture transforms into a bubbly dark-colored syrup watch the temperature closely until it reaches 290 degrees F (soft crack stage). This step can take about 30 to 40 minutes.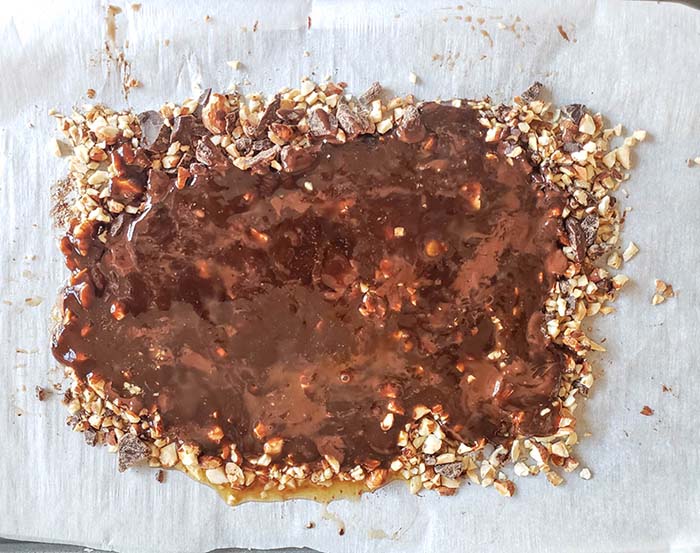 Step 7.
Once the thermometer reaches 290, carefully and quickly pour the hot syrup mixture evenly over the nuts and chocolate on the baking sheet and smooth it out with a rubber spatula.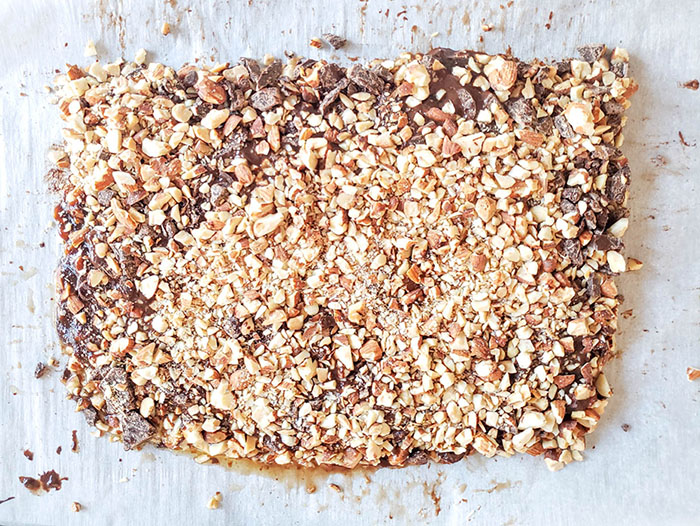 Step 8.
Top the toffee mixture with an even layer of the remaining chopped chocolate and nuts. Store it in the refrigerator until the toffee is set and the chocolate hardens.
Top Tip! Before melting the butter be sure to have all of the ingredients ready and the sheet pan with the nuts and chocolate close by. Once the butter/sugar mixture reaches 290 degrees, you will have to work fast to spread the toffee out and add the remaining nuts.
Ingredient Notes & Substitutions
Coconut Sugar has a light but distinctive flavor and is similar to brown sugar. Coconut sugar is a healthier alternative to refined sugar because it is less processed. But that does not mean coconut sugar is a healthy food, sugar is sugar in any form. If you don't have coconut sugar, you can substitute it with white sugar one for one.
Unsalted Butter and coconut sugar are the base of this recipe. While coconut sugar can be substituted with white sugar, there is no good substitute for butter in this recipe.
If you don't have unsalted butter, or if you prefer a saltier candy, you can use salted butter in place of unsalted butter.
Almonds. Toasting raw almonds before adding them to this recipe adds so much flavor and a nice crunchy texture to the toffee. Toasted almonds can be replaced with your favorite toasted nuts such as walnuts, pecans, cashews, macadamia nuts, or hazelnuts.
Dark Chocolate. Dark chocolate is less sweet than milk chocolate and pairs perfectly with sweet toffee. If you prefer milk chocolate almond toffee, you can replace the dark chocolate toffee with milk chocolate or you can use semi-sweet chocolate chips.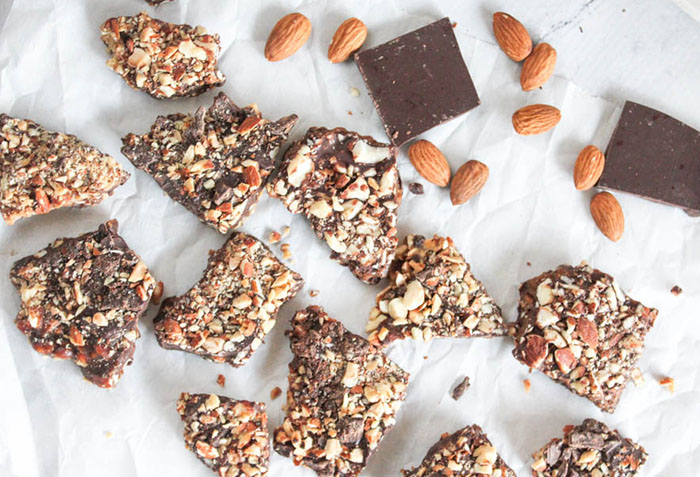 Recipe Variations
Spicy Dark Chocolate Almond Toffee - Add a pinch or two of cayenne pepper to the chocolate in the food processor.
Salty Dark Chocolate Almond Toffee - Add a touch of sea salt to the chocolate in the food processor.
If you love chocolate desserts, check out these three-ingredient no-bake brownies!
How to Store Dark Chocolate Almond Toffee
Store the toffee in an airtight container for up to two weeks in the refrigerator or at room temperature for one week in a pyrex or glass container.
Freezing is not recommended, we have not tried it.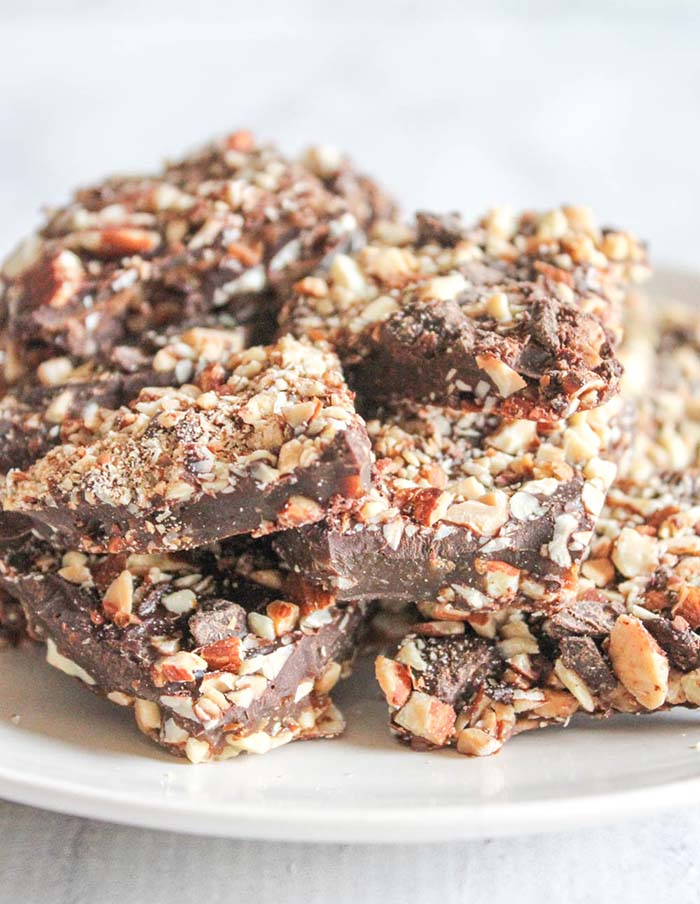 Recipe Tips
Use a high-quality saucepan with a heavy bottom to prevent the butter and sugar from burning.
The size of the saucepan may seem too large for the butter and sugar, however as the mixture heats up it will bubble up and expand in the pot.
The last stage of the butter & sugar cooking can seem like it takes forever, be patient and keep stirring until it reaches 290 degrees.
If the toffee separates during the cooking process, carefully stir in up to ¼ cup hot water a tablespoon at a time. Stir constantly until the mixture goes back together.
You can make a big batch of this homemade toffee by doubling all of the ingredients in the recipe and you will need a large baking sheet.
Test your candy thermometer in boiling water before making the toffee. If the water boils at a temperature other than 212 degrees f, adjust the temperature accordingly.
For easier clean-up drop the candy thermometer in a glass of warm water after removing it from the toffee mixture.
Cooking Safely with Hot Butter and Sugar
The hot sugar and butter mixture should be handled carefully. At the soft crack stage (260 to 290 degrees f) the mixture will burn your skin if it comes in contact. Since it is sticky, it can adhere to your skin instead of rolling off which can cause a severe burn. Stir the syrup and pour it with care so that it doesn't splatter or spill and burn your skin.
You Might Also Like These Naturally Sweet Recipes
If you like this recipe, please comment and rate it below!
For more simple and delicious recipes like this, subscribe to our newsletter and receive a free e-book and meal suggestions straight in your inbox!