Satisfy your sweet tooth in a healthy way with homemade dark chocolate bark.  It's vegan, gluten-free and naturally sweet.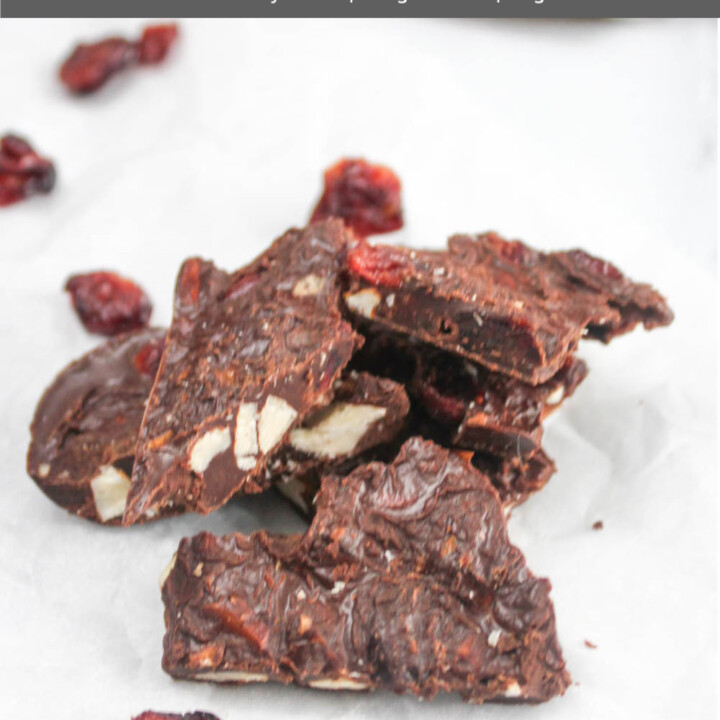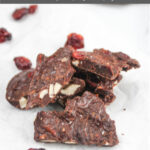 Dried cranberries and almonds are surrounded by dark chocolate in this healthy chocolate bark with Cranberries and Almonds. It's naturally sweet, vegan, gluten-free and delicious!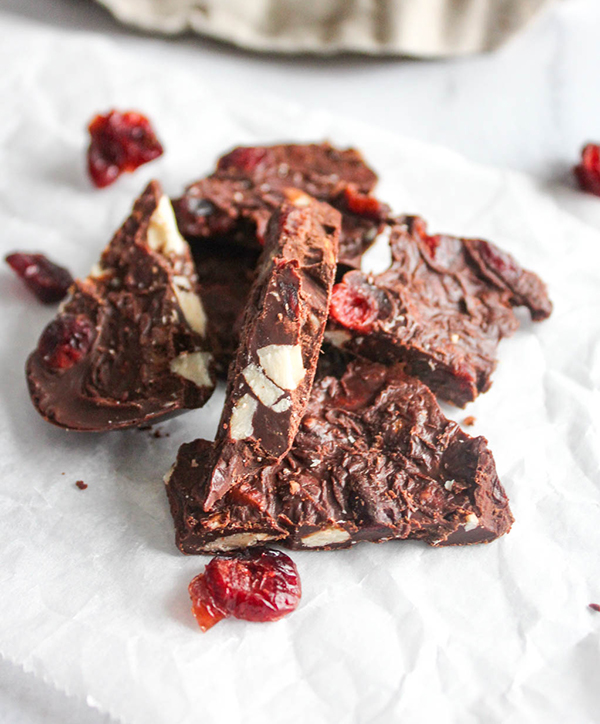 Easy, Healthy Homemade Dark Chocolate Bark with Cranberries and Almonds
Your chocolate craving will be satisfied after just one bite of this cranberry almond dark chocolate bark. It's slightly sweet, rich and creamy - you might even wonder why you ever settled for the store-bought stuff after you have a taste of this.
It is ridiculously easy it is to make vegan chocolate with coconut oil, It literally takes less than 15 minutes to mix up the ingredients and pour it into a pan for a rich and creamy tasting bite of chocolate.
Once I stared making my own chocolate, it's become a regular in our fridge. There so many add-in choices so it doesn't get boring. You can make the chocolate plain or add a few nuts and if you like spice, add a dash of cayenne pepper for Mayan Chocolates.
This version with the combination of almonds and cranberries is one of our favorites. The dried cranberries to add a touch more sweetness to the chocolate.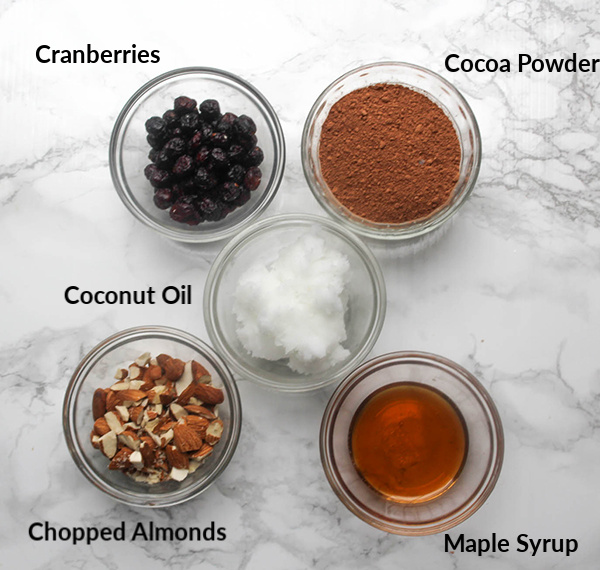 What you Will Need to Make Vegan Chocolate with Coconut Oil
There are only four simple ingredients needed to make your own dark chocolate bark and a few items from the kitchen.
Coconut oil - virgin coconut oil or refined. Virgin coconut oil will add a touch of coconut flavor in your chocolate. If you don't want the coconut flavor, choose refined and look for coconut oil that has been ethically sourced and steam refined to avoid chemicals in your coconut oil.
Maple syrup - real honest to goodness maple syrup, not the pacaked syrup that is made from high fructose corn syrup.
Organic coco powder, preferably organic such as Navitas
Raw Almonds that have been roughly chopped, if you prefer toasted almonds toast them in the oven for a few minutes before adding them to the chocolate
One Quart Sauce Pan for melting the coconut oil and mixing up the ingredients
Parchment Paper - to keep the chocolate from sticking to the pan
Small pan (8X6 or smaller) to spread the chocolate in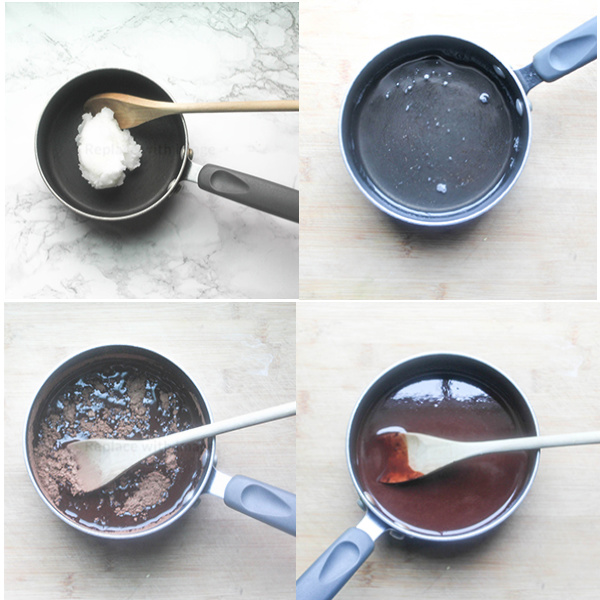 How to Make Homemade Cranberry Almond Healthy Dark Chocolate Bark
Melt the coconut oil on top of the stove over low heat
Stir in the coco powder and maple syrup
Turn the heat off to prevent the mixture from buring
Pour the liquid chocolate mixture into a pan
Top the chocolate with cranberries and almonds
Chill
Break the bark into pieces and enjoy!
Tips for Making Homemade Chocolate Bark With Cranberries and Almonds
After adding the syrup to the chocolate mixture, be sure to stir gently for about a minute to make sure the syrup has been completely mixed in.
The melted coconut oil and chocolate will be thin, be sure to use enough parchment paper in the pan so that it comes ½ to half way up the sides to avoid the liquid from seeping under the parchment paper.
For a quicker chill, place the chocolate bark in the freezer for 30 minutes
Always store the chocolate in the refrigerator in an air-tight container. If the chocolate is left at room temperature it will melt.
Chocolate will last up to a week in the fridge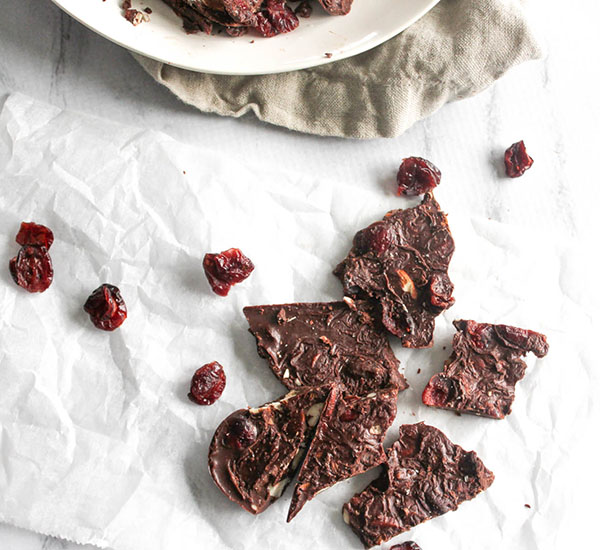 Change It Up
Even though this recipe is for cranberry almond Dark Chocolate bark, you can add just about anything you like to the chocolate. Try some of these add-ins:
Substitute the almonds for cashews, pistachios, macadamia nuts, or peanuts.
Add a ½ cup uncooked quinoa, puffed rice or shredded coconut to the chocolate before pouring it into the pan in place of the nuts.
Substitute dried cranberries with dried cherries, raisins, or figs,
Here are More Healthier Sweet Options for You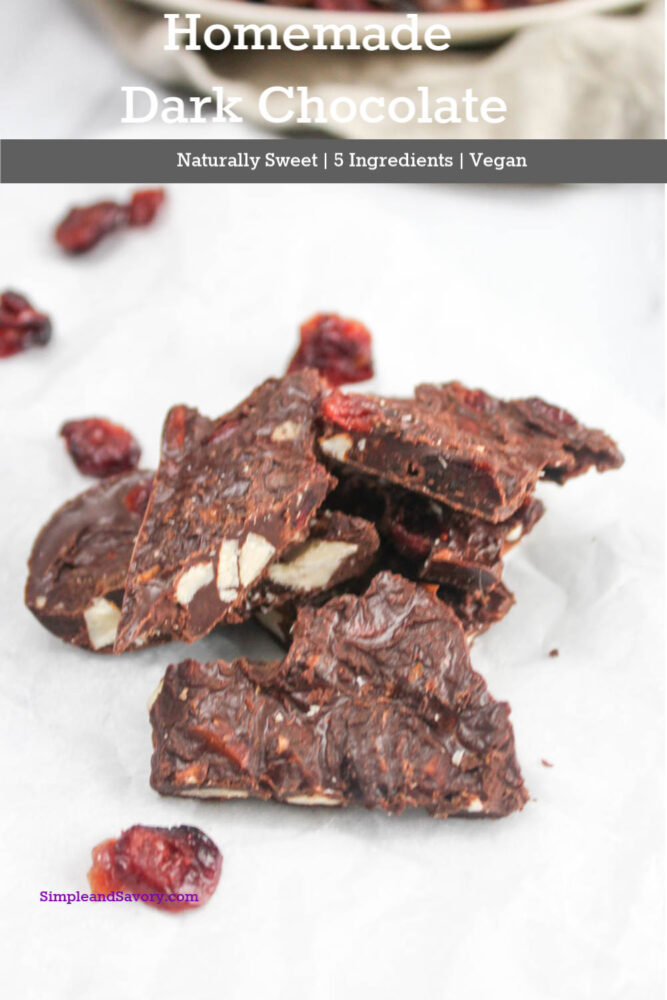 Click on serving size to scale this recipe
Instructions
Line a small (8X6) pan with parchment paper making sure the paper comes ¼ of the way up the sides or coat the pan with coconut oil

Melt ¾ cup of coconut oil over medium to low heat

Once the coconut oil has completely melted, stir in the coco powder powder and maple syrup

Turn the heat off and continue stirring to ensure that all of the ingredients are mixed together

Pour the mixture into the pan, gently stirring as you pour

Sprinkle the top of the almonds and cranberries over top, the mixture will be watery and the nuts and fruit will sink into the chocolate.

Place the bark in the fridge for at least an hour to allow chocolate to harden

Store the bark in the fridge for up to 10 days
Notes
Change it up:
use any of your favorite nuts in place of almonds - we like pistachios, macadamia nuts, walnuts, cashews, peanuts
other mix-ins: shredded coconut, puffed rice, quinoa
Nutrition
Serving:
1
piece
|
Calories:
103
kcal
|
Carbohydrates:
6.4
g
|
Fat:
8.3
g
|
Saturated Fat:
5.7
g
|
Polyunsaturated Fat:
1.8
g
|
Fiber:
0.9
g
|
Sugar:
4
g
Nutrition information provided is an estimate and can vary based on cooking methods and ingredients used