Healthy buckeyes are made with only five ingredients and are easy to make! They are the perfect no-bake dessert.
These healthier buckeyes are amazing! You would never know that they are made with a healthy twist on the traditional recipe which contains a lot of added sugar.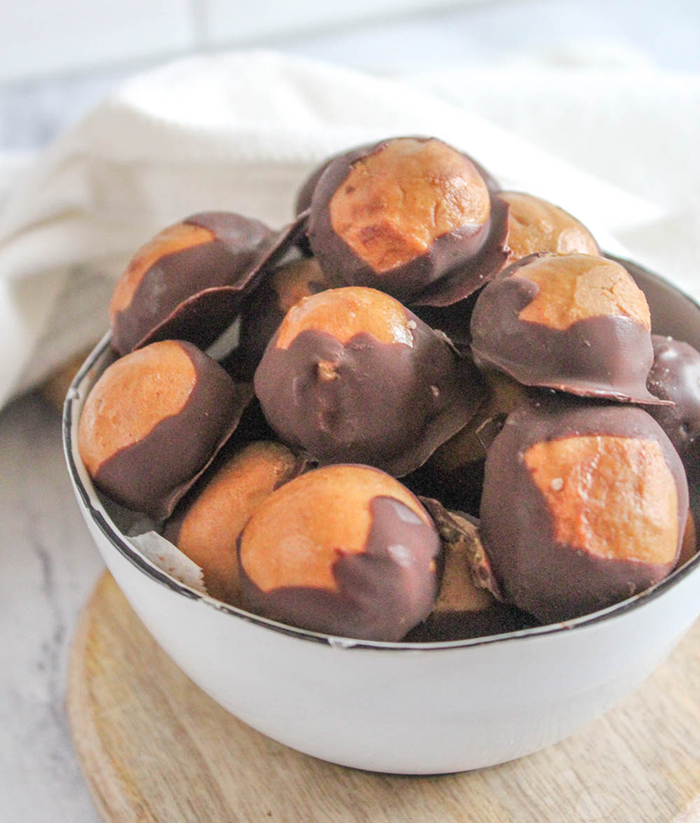 There are some sweet treats that belong on the table during the holiday season like healthier peanut blossoms cookies, Almond Toffee, and of course these healthy buckeyes!
Why this Recipe Works
They are less sweet, made with less sugar, natural peanut butter and almond flour - and no powdered sugar.
Healthier buckeye balls are a naturally sweetened with maple syrup and taste delicious!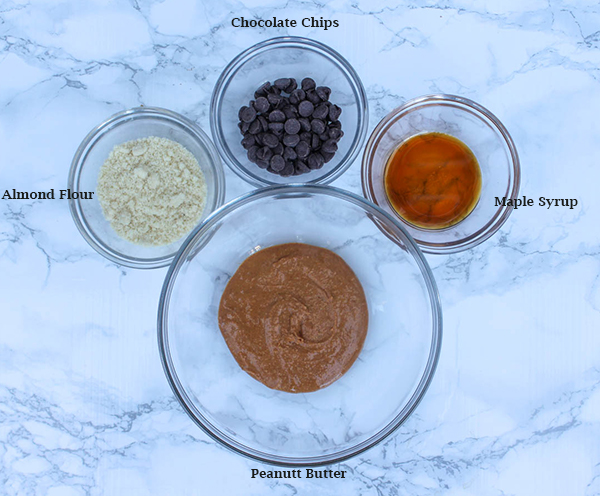 Healthy Buckeyes Ingredients List
As an Amazon Associate, I earn from qualifying purchases
Tools/Equipment that You Might Need to Make This Recipe
Medium Mixing Bowl - to mix the dough ingredients together.
Small Bowl - to hold the melted chocolate.
Wooden Spoon or Hand Mixer - to mix the peanut butter dough together
Parchement Paper or Waxed Paper - use either one of these to line the bakingsheet or cutting board
Baking Sheet or Cutting Board - these solid surfaces are helpful to arrange the buckeyes
Small Cookie Scoop - helps to form the peanut butter mixture into balls
Toothpicks or small spoon - to dip the peanut butter balls into the chocolate
Here is How to Make This Healthy Buckeye Balls Recipe
Prepare: Line a baking sheet with parchment paper or waxed paper and set it aside. Measure out the ingredients.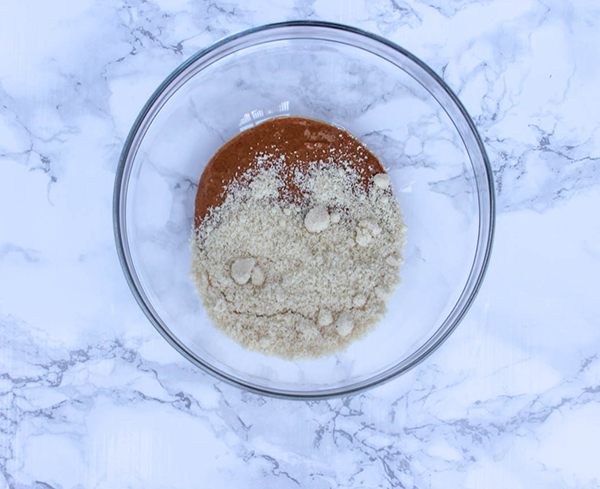 Step 1.
Place the almond flour and peanut butter into a mixing bowl. Use a wooden spoon or hand mixer to combine the peanut butter together.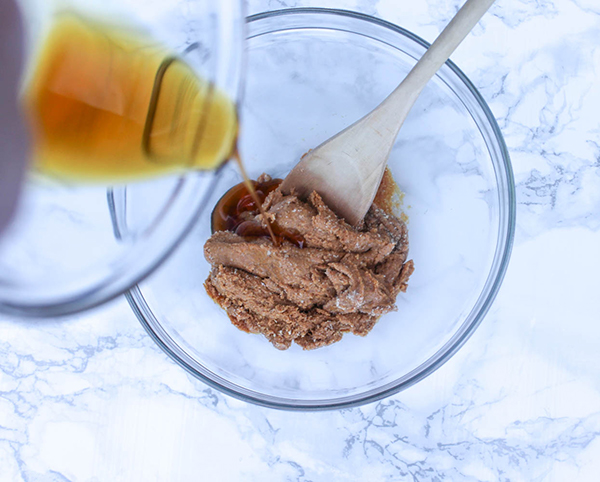 Step 2.
Add the maple syrup and stir until everything is combined. Place the dough in the refrigerator for 15 to 20 minutes.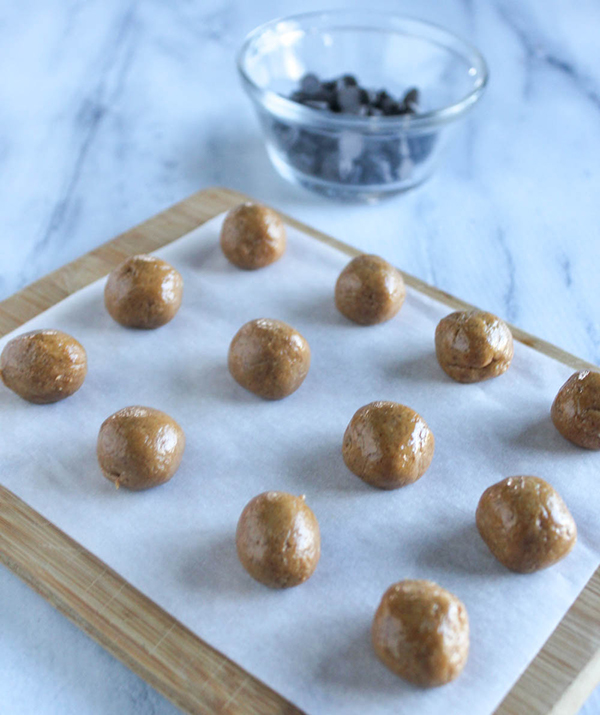 Step 3.
Remove the dough from the refrigerator and roll the dough into balls that are about ¾ to 1 inch in size.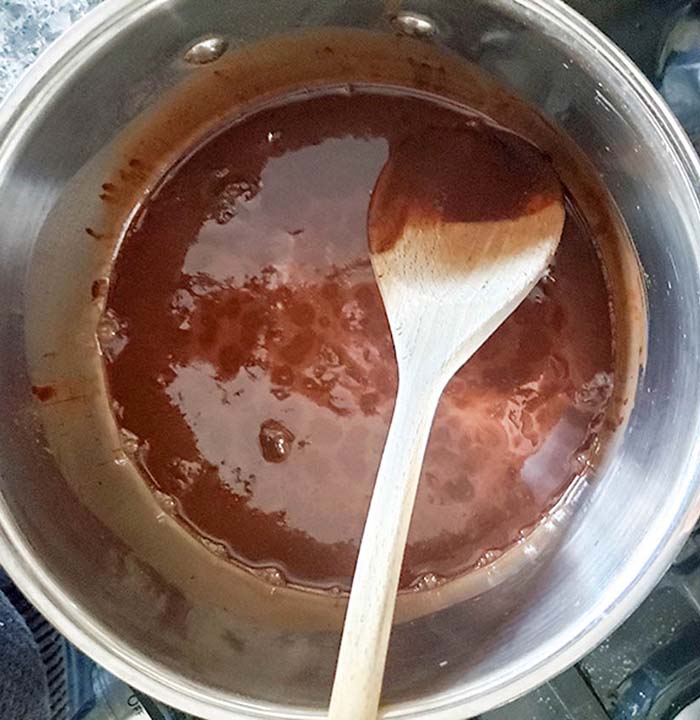 Step 4.
Add the chocolate to a saucepan with the coconut oil and melt the chocolate over medium heat. Alternatively, place the chocolate and coconut oil in a microwave-safe bowl and melt it in the microwave.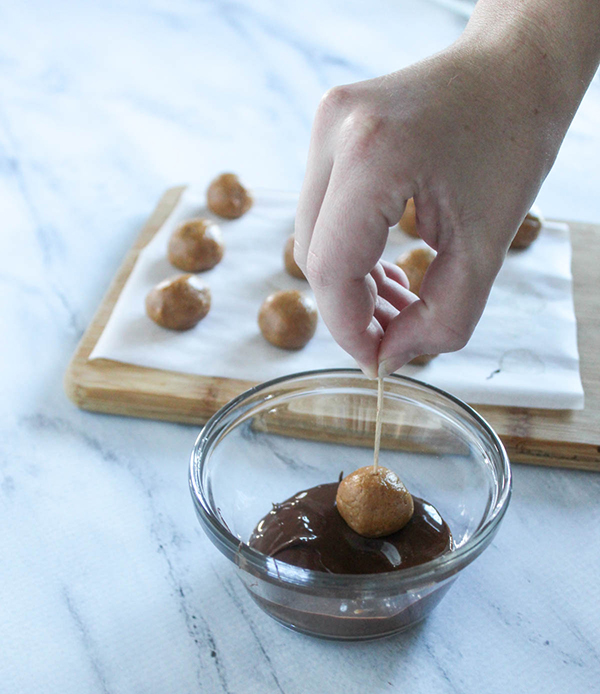 Step 5.
Dip the peanut butter balls into the melted chocolate using a toothpick or small spoon.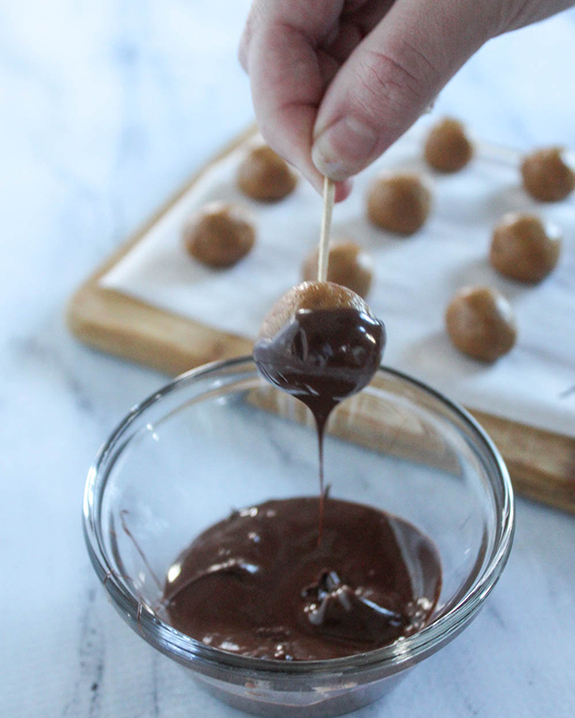 Step 6.
Let the excess chocolate drip off of the balls before placing them onto the parchment paper.
Ingredient Notes & Substitutions
Peanut Butter. Look for natural peanut butter that does not have any added sugar. Peanut butter can be substituted one for one with any type of nut butter such as almond butter or cashew butter.
Almond Flour. Helps to form the peanut butter into a dough without adding more sugar to the buckeye balls. You can substitute the almond flour with an equal amount of oat flour.
Maple Syrup adds enough sweetness to the healthy buckeyes without overpowering the peanut butter and dark chocolate in this recipe. Maple syrup can be substituted with an equal amount of honey in this recipe.
Dark Chocolate Chips contain a little less sugar and additives than milk chocolate and we love the flavor of dark chocolate. If you prefer milk chocolate, you can substitute milk chocolate for dark chocolate.
Coconut Oil helps to melt the chocolate into a smooth texture which makes it easy to dip the peanut butter balls into. It can be replaced with avocado oil or your favorite vegetable oil.
How to Store Buckeye Peanut Butter Balls
Refrigerate buckeye balls in a glass container for up to two weeks.
Freeze Buckeye balls by arranging them on a cookie sheet and placing them in the freezer for about an hour.
Once they are frozen remove them from the tray and store them in a freezer container for up to 3 months.
To thaw the frozen buckeye balls, leave them out a room temperature for 30 minutes to an hour or just leave them in the refrigerator overnight.
They also taste pretty good frozen!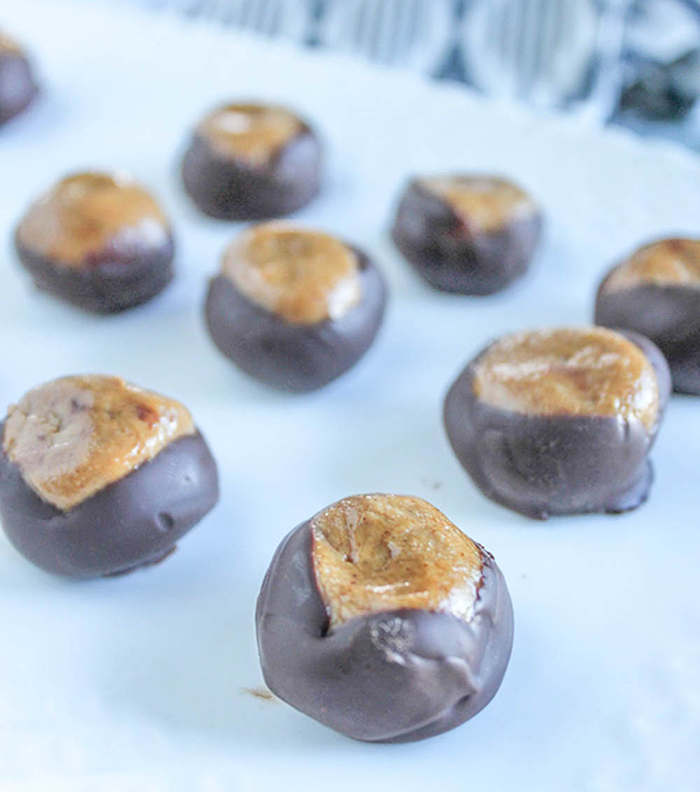 Recipe Tips
A small cookie scoop to will help to form the buckeye balls into uniformly sized balls.
Use a teaspoon or toothpick to dip the peanut butter balls into the melted chocolate.
If you use a toothpick to dip the peanut butter balls, smooth out the top of the peanut butter ball with the back of a spoon or your fingers.
Depending on the brand of flour that you use, the consistency of the dough may differ. If it's too dry and does not shape easily,add more peanut butter. If it's too soft and will not shape, add a little more flour until it reaches the right consisenecy.
How to Melt Chocolate For Buckeye Balls
Melt the chocolate on top of the stove - Place the chocolate with the coconut oil in a small saucepan and heat it over low heat, stirring often until the chocolate melts and is smooth in texture - gradually add up to a teaspoon more of coconut oil to adjust the texture if necessary.
Melt the chocolate in the microwave - in a pyrex (heat proof) dish, set the timer for 30 seconds, and give the chocolate a stir, repeat at 30-second intervals until all the chocolate has melted. If it is too thick, add ½ to 1 teaspoon melted coconut oil.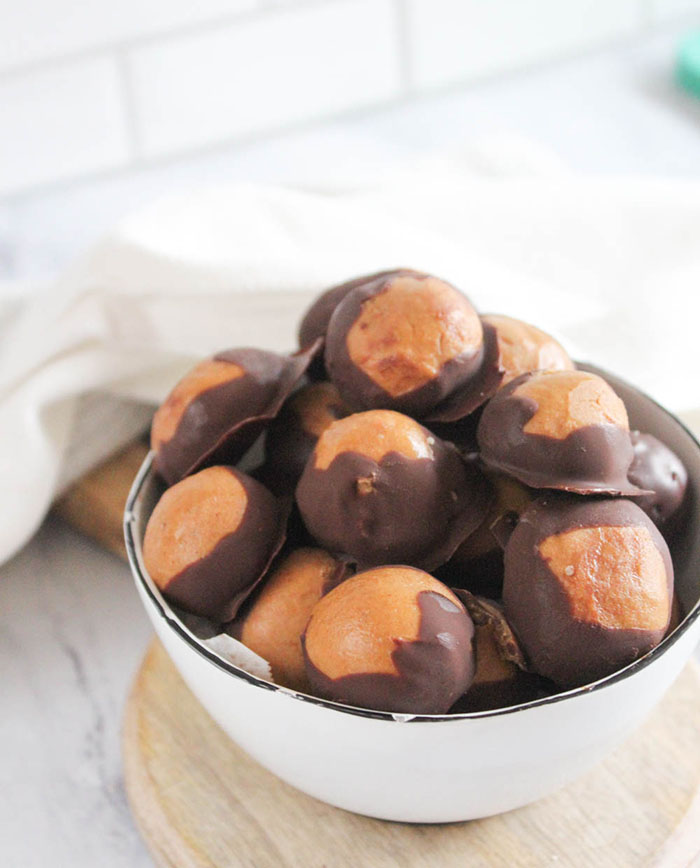 Healthy Buckeye Balls Recipe Variations
Dark chocolate salted buckeye balls. Add a pinch up to a quarter teaspoon of sea salt to the peanut butter dough when mixing and sprinkle the finished buckeyes with a dash of sea salt.
Vegan healthy buckeyes. Use vegan chocolate chips such as Enjoy Life Chocolate Chips to make vegan buckeyes.
Buckeye bars. Instead of rolling the dough into balls, use a rolling pin and roll the dough out, and spread the melted chocolate on top. Place the mixture in the refrigerator for an hour to set and then cut them into squares.
Healthy Buckeys Questions Answered
Can I use coconut flour in place of almond flour in this recipe?
Yes! You can but you will need to adjust the amount of flour since coconut flour absorbs more liquid. Start with ¼ cup and adjust the amount of flour from there. Depending on the brand of coconut flour you may need to add more flour for peanut butter.

Where did buckeye balls get their name from?
Peanut butter buckeye balls look very similar to the nut from a buckeye tree which is native to Ohio.
Does the peanut butter dough for buckeye balls need to be chilled before rolling?
The dough does not have to be chilled, but it will make it much easier to form the balls. If you are short on time, try placing them in the freezer for 5 to 10 minutes.
Sign Up! For our Newsletter and Recieve Recipes and Meal Suggestions
Try These Healthy Treats