Healthier buckeye peanut butter balls are riff on a classic holiday treat. They are made with 5 simple ingredients and they are naturally sweet.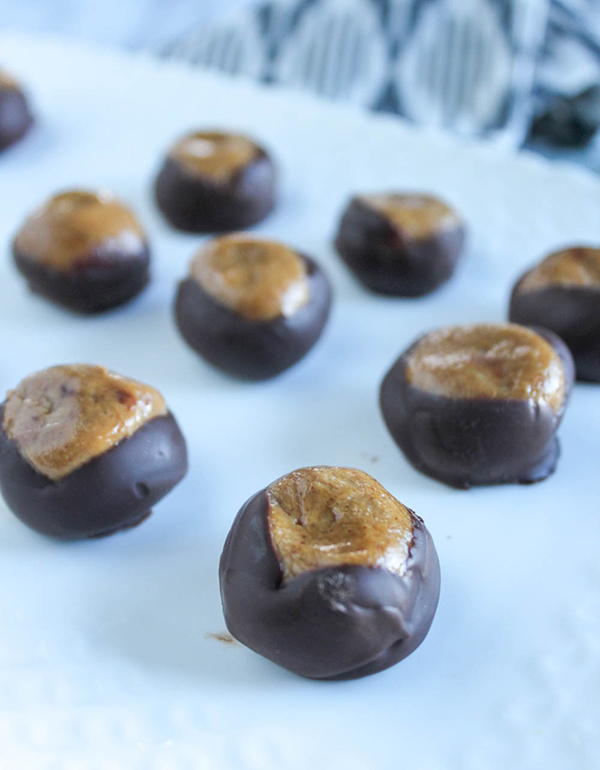 A Healthy Buckeye Recipe
There are some foods that belong on the table during the holidays like spinach balls, stuffed mushrooms, chocolate chip cookies and buckeye peanut butter balls.
My mother would make buckeye balls every year, and they would be the first of the sweets to disappear. Always. Because who doesn't love chocolate, sugar and peanut butter?
Several years ago, I stopped making buckeye balls because there was way too much sugar in them. Three cups of confectioners sugar mixed with only one cup of peanut butter. That is a lot of sugar, and not a lot of peanut butter!
Recipe Highlights
They are less sweet, made with natural peanut butter and no powdered sugar.
Healthier buckeye balls are a naturally sweetened with maple syrup; the powdered sugar has been replaced with almond flour and syrup.
They are easy to make.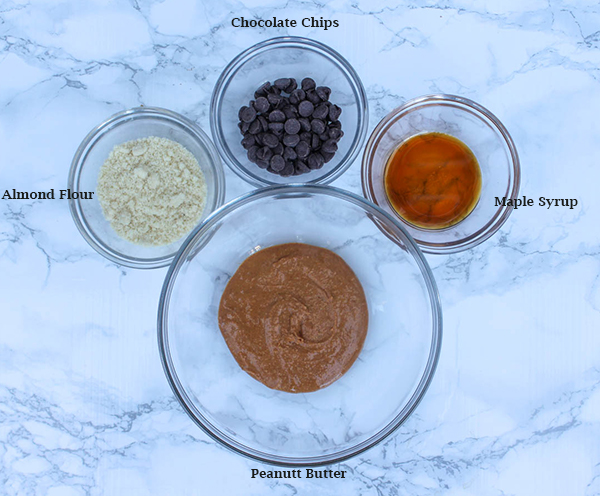 As an Amazon associate, I earn from qualifying purchases
Here is what you will need to make Healthy Buckeyes
Natural unsweetened peanut butter
Almond flour
Real maple syrup
Good quality dark chocolate chips or chocolate squares (at least 60% cacao)
Coconut oil
Mixing Bowl
Wooden Spoon or electric mixer to mix up the dough

Ingredients Note: Most buckeye ball recipes call for the addition of butter to the peanut butter dough. I tried making them with and without the butter and didn't notice a difference in the texture, so I left the butter out. If you want to try the butter add ¼ cup unsalted butter to the dough mixture.
How to make Buckeyes
It takes just a few quick steps to make buckeye balls. Here's how:
Combine the peanut butter and almond flour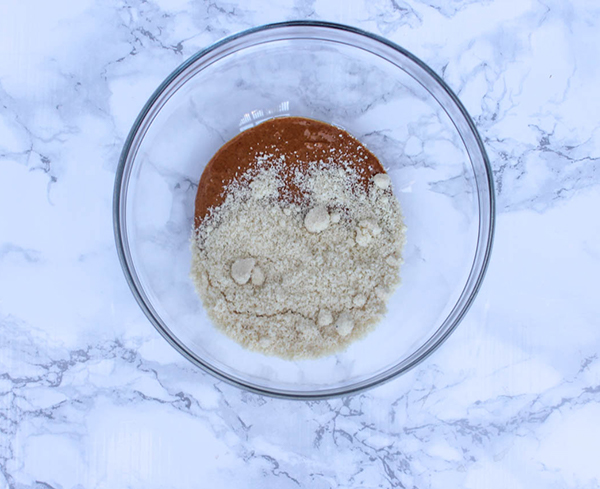 Add the syrup and make sure everything is combined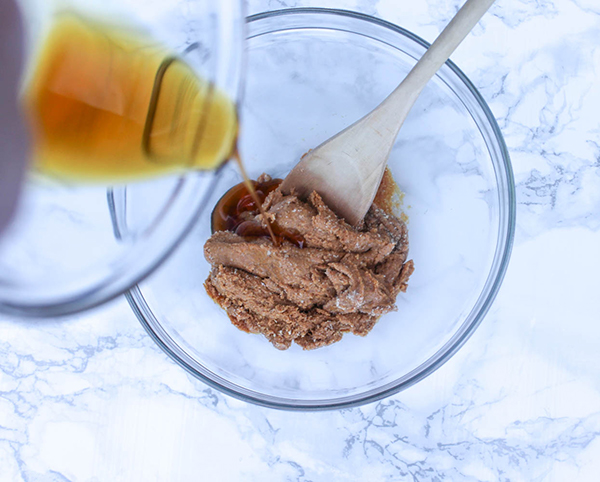 Form the peanut butter mixture into balls & chill them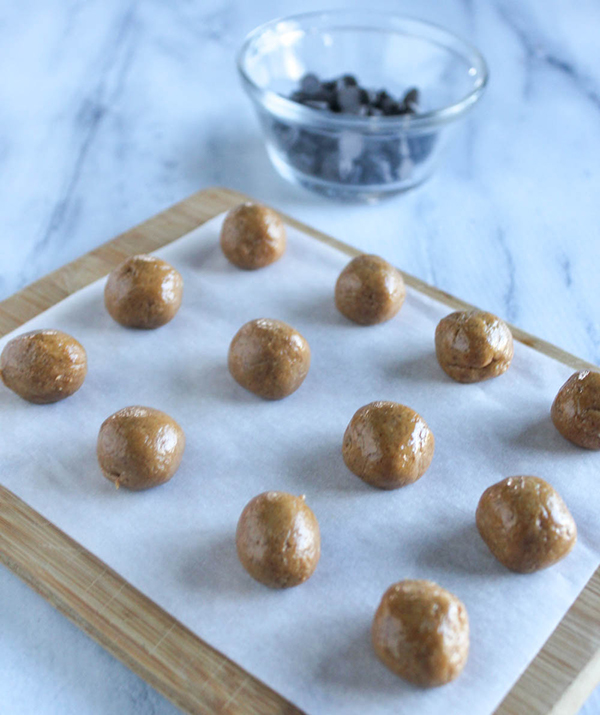 Melt the chocolate and dip the peanut butter balls into the chocolate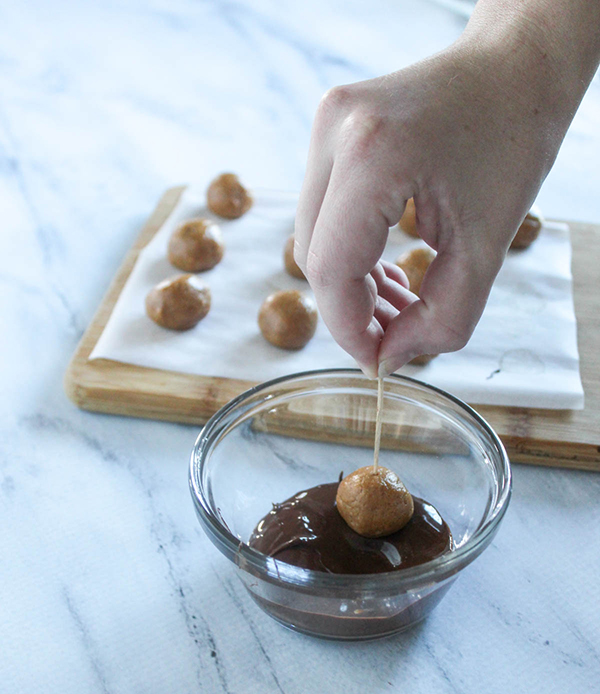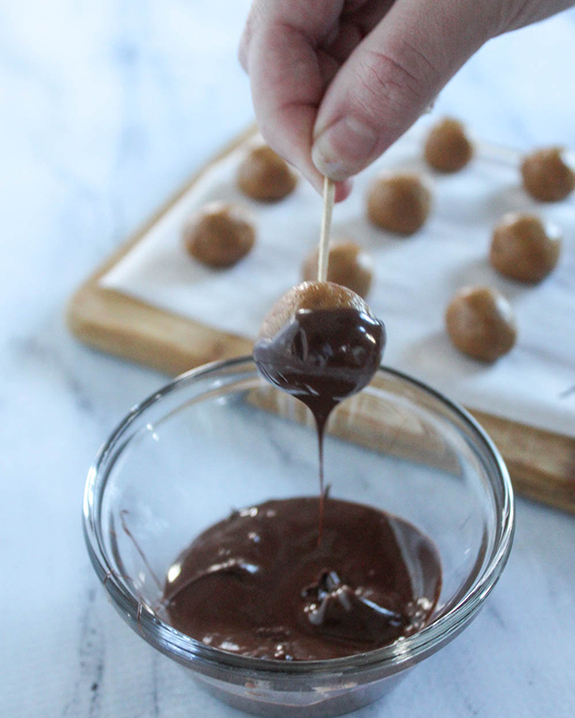 Recipe Tips
How to Make Uniform Sized Buckeye Balls
Use a measuring teaspoon (affiliate link) to measure and form the balls into uniform sized balls.
Chill the peanut butter balls before dipping them in Chocolate
I like to roll the peanut butter balls before chilling them so that they are nice and chilled when they are dipped into the warm chocolate. The mixture of peanut butter and almond butter will not be as thick as the powder sugar version, so the chilling really helps to keep them from becoming flat.
How to Melt the Chocolate
Melt the Chocolate in the microwave – in a pyrex (heat proof) dish, set the timer for 30 seconds and give the chocolate a stir, repeat at 30 second intervals until all the chocolate has melted. If it is too thick, add ½ to 1 teaspoon melted coconut oil.
Melt the chocolate on top of the stove – Place the chocolate in a saucepan and heat it over low heat, stirring and checking often. Stir in ½ to 1 teaspoon coconut oil to thin out the chocolate if necessary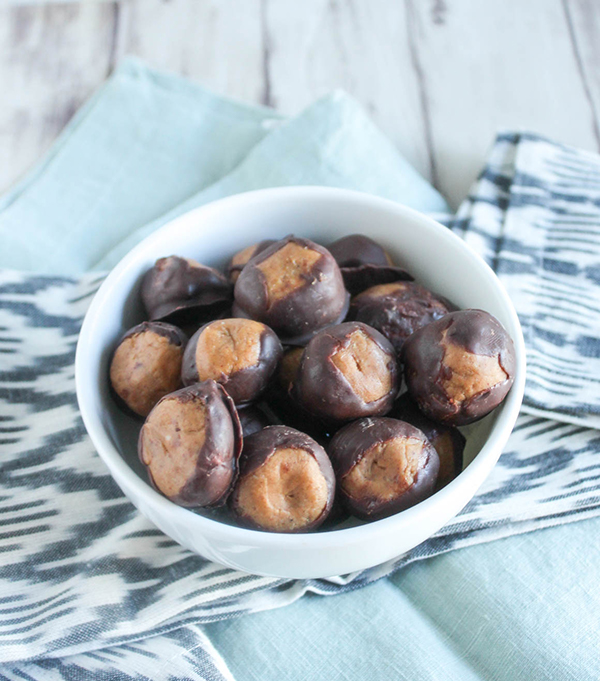 How to Store Peanut Butter Buckeyes
Store buckeye balls in the refrigerator in a glass container for up to a week
Freeze Buckeye balls by arranging them on a cookie sheet and placing them in the freezer for about an hour. Once they are frozen remove them from the tray and store them in a freezer container for up to 3 months.
To thaw them, leave them out a room temperature for 30 minutes to an hour.
Try These Healthy Holiday Favorites
Cranberry Dark Chocolate Almond Bark
Nutrition information is provided by Nutrifox, an online calculator and is meant to be used for informational purposes only. Even though I try to provide accurate information, these figures should still be considered as estimates.