Chocolate dipped figs with pistachios are dried figs dipped in dark chocolate and pistachios. It's a simple combination yet the sweetness of the figs combined with the bitterness of the dark chocolate and a touch of saltiness from the pistachios is the perfect balances of sweet, salty and crunchy.
This recipe really isn't much of a recipe, but when something tastes so good all by itself what else needs to be done to it? And that's how it is with naturally sweet figs. Since it's the holiday season, I thought I would jazz them up and add them to the holiday cookie tray.
Here is what you will need to make dried figs dipped in chocolate and pistachios: dried figs, dark chocolate, coconut oil, chopped pistachios, heatproof bowl, saucepan, parchment paper, and a cutting board or tray.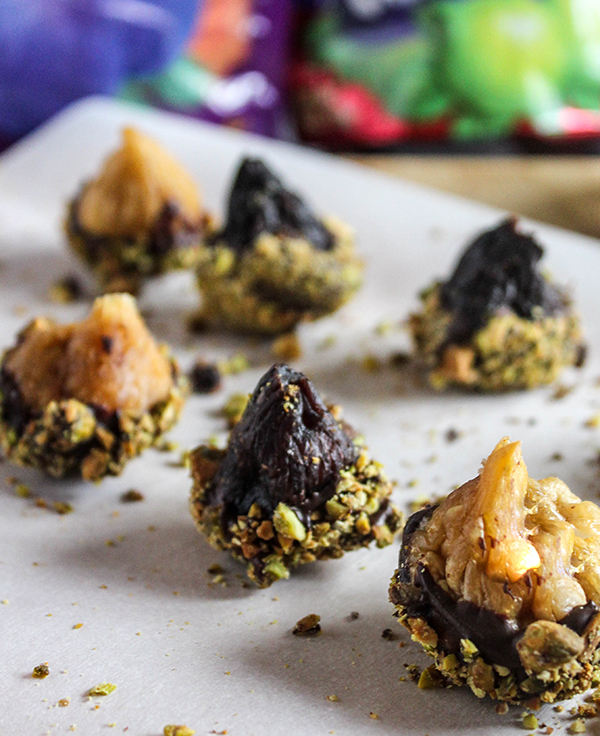 This giveaway has been sponsored by Valley Fig. I was sent a California Fig Care Package purpose creating this recipe, but all opinions are my own. #ad #VFigFeed #ValleyFigHolidays #12DaysofChristmas #giveaway
Dried figs are naturally sweet, a good source of fiber, vitamins and minerals. They are also a staple in my pantry. I often refer to them as nature's candy. When I'm craving something sweet, instead of candy, I pop a mission fig in my mouth to satisfy my sweet tooth.
I also toss them into salads like this arugula and fig salad, or use them to make a quick appetizer like these cucumbers with goat cheese.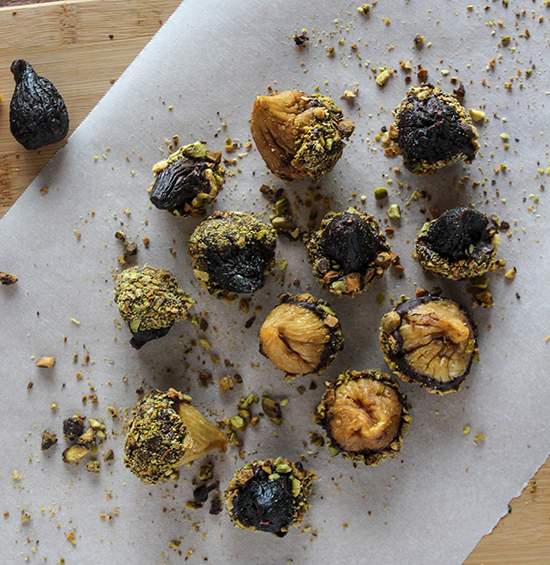 How to make chocolate dipped figs with pistachios
Melt the chocolate
Chop the pistachios
Dip the figs into the chocolate and then the pistachios
Tips for making chocolate dipped figs with pistachios
Reshape the figs before dipping them
For a quick method, place the dipped figs into the refrigerator for 30 minutes to allow the chocolate to harden
Find the highest level of cocoa possible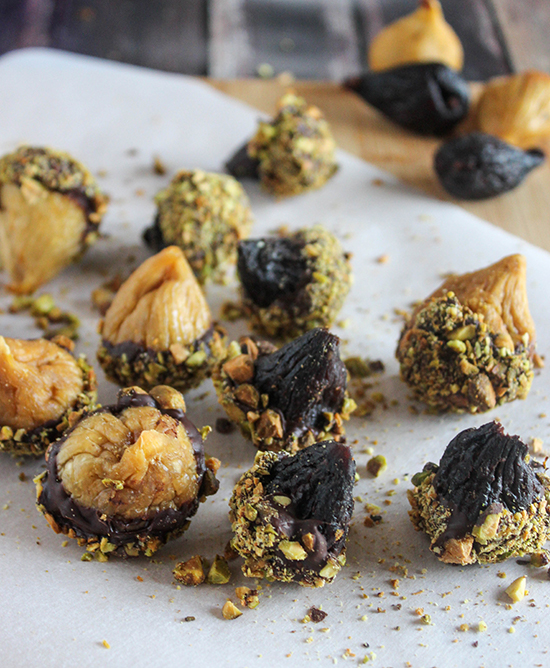 Variations of chocolate dipped figs
Replace pistachios with chopped toasted peanuts, cashews, walnuts or almonds
Leave nuts out for plain chocolate dipped figs
Use a touch of sea salt in place of nuts