Peanut butter blossoms cookies have been given a make-over into a better for you version.  They taste just as delicious  as the original version.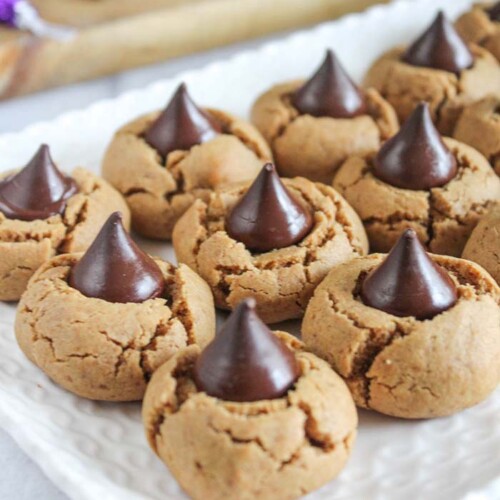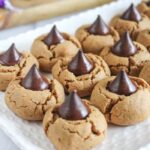 Healthy peanut butter blossoms are a healthier twist on a favorite holiday cookie; peanut butter blossoms which are peanut butter cookies with a Hershey kiss in the middle. Even though this cookie is popular during the holiday season, you can enjoy these cookies all year long!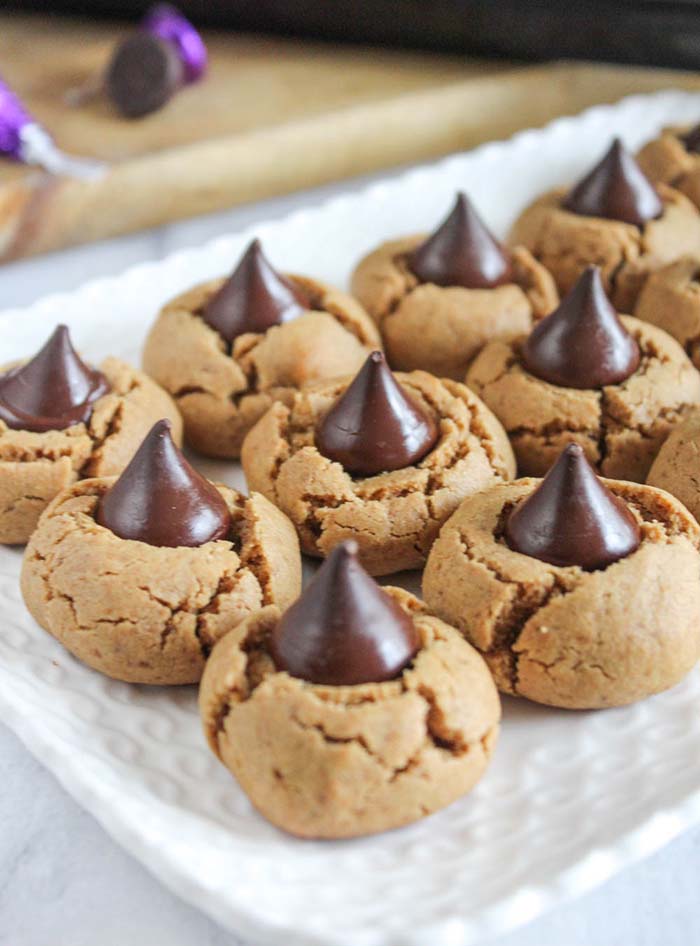 Peanut butter and chocolate is a favorite combination, have you tried this healthy version of buckeye balls?
Why This Recipe Works
Healthy peanut butter blossom cookies are made with wholesome simple ingredients.
They are made with half the amount of sugar that is in the traditional cookie recipes.
Even though they are a healthier version, they still taste delicious!
Here is what You Will Need to Make Healthy Peanut Butter Blossoms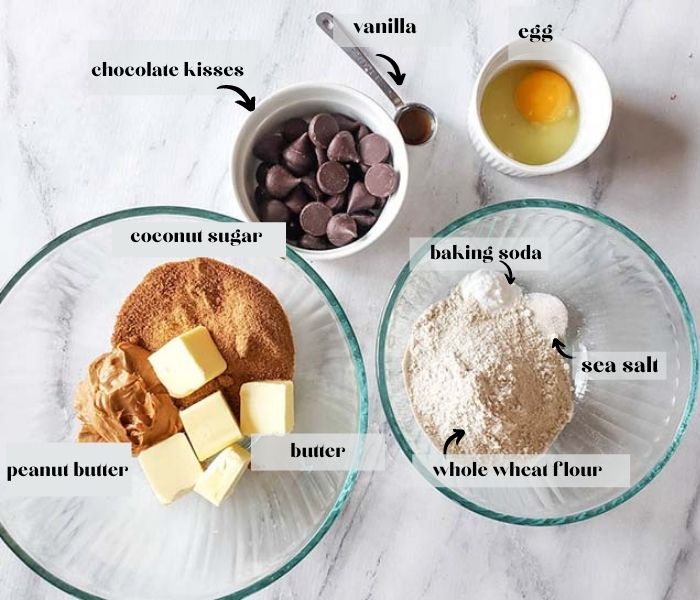 As an Amazon Associate, I earn from qualifying purchases.
This an overview of the ingredients and steps to make this recipe, scroll down for a printable recipe card with exact measurements and instructions.
Ingredient List
whole wheat flour
unsalted butter
natural peanut butter
dark chocolate hershey kisses
baking soda
vanilla extract
Equipment List
Here's How To Make Peanut Butter Blossom Cookies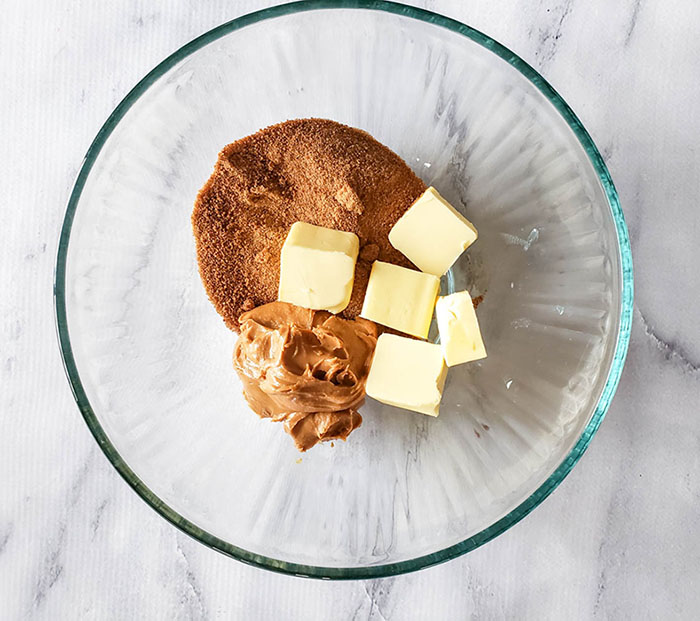 Step 1.
Place the sugar, butter, and peanut butter into a large bowl and blend with an electric mixer or wooden spoon until well blended.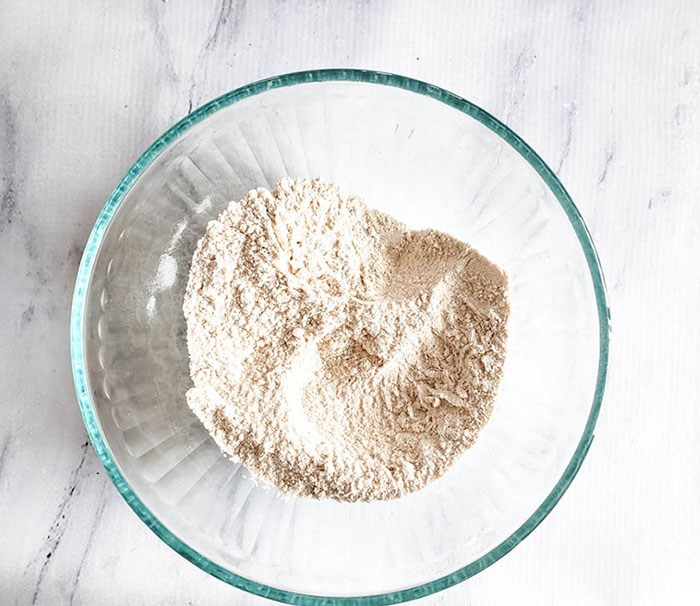 Step 2.
Mix the flour, salt and baking soda together in a small bowl.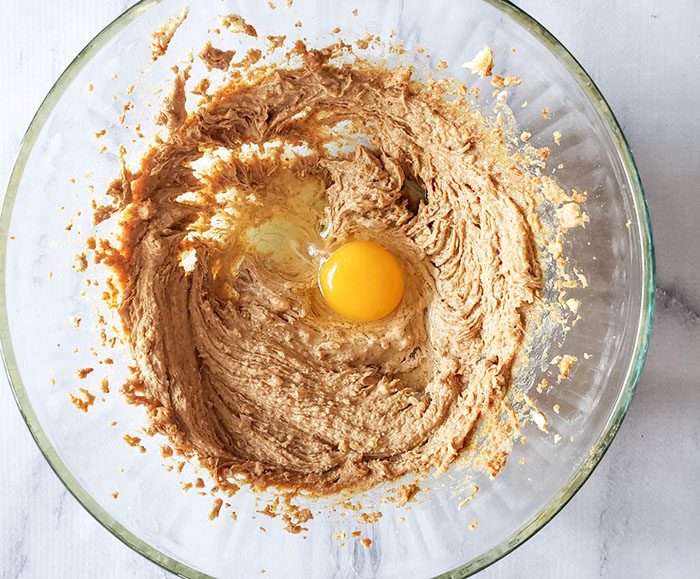 Step 3.
Blend the peanut butter mixture together with an electric mixer or wooden spoon until well blended and creamy - add the egg and vanilla and blend again.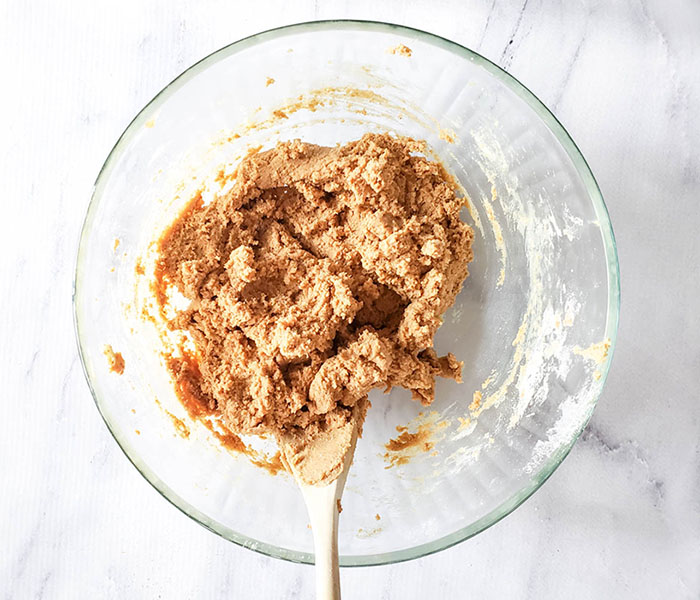 Step 4.
Gradually stir in the dry ingredients to the peanut butter mixture with a wooden spoon until a dough forms.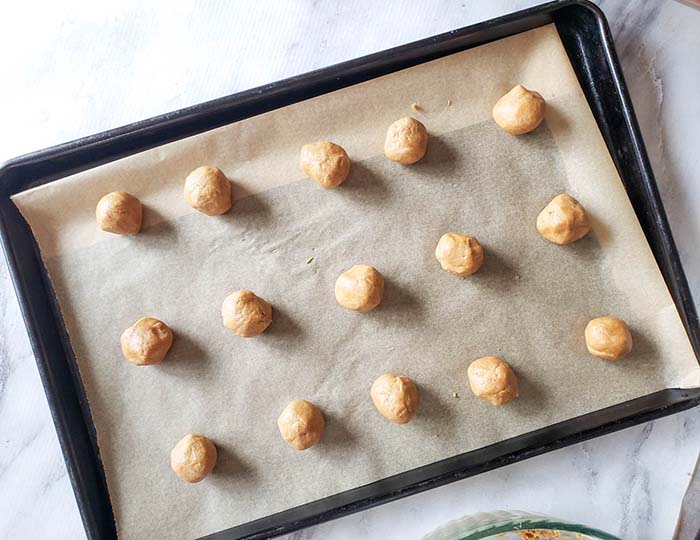 Step 5.
Shape the cookie dough into1-inch balls and place them on a prepared baking sheet and bake for 10 to 12 minutes.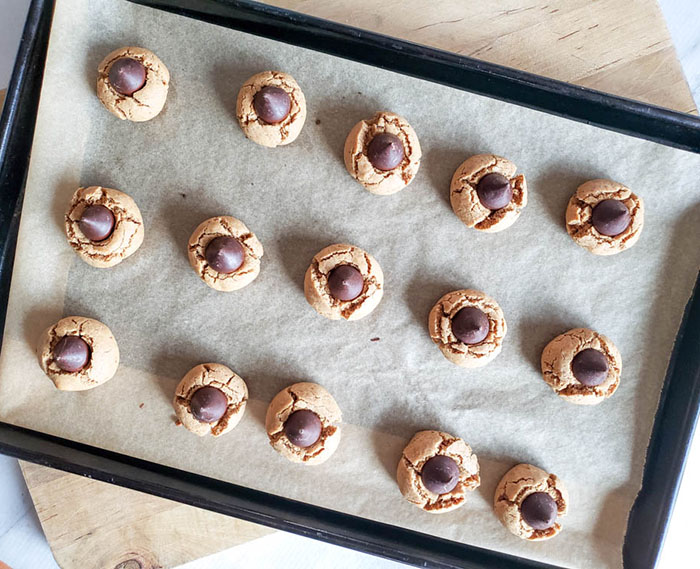 Step 6.
Remove the cookies from the oven and place a dark chocolate Hershey's kiss in the center of each cookie.
Ingredient Notes/Substitutions
Whole wheat flour is more nutritious than white flour and can be substituted with white flour in most recipes. White whole wheat flour, despite its name, is still whole wheat flour that is made with white wheat instead of red wheat. If white whole wheat flour is not available all-purpose regular whole wheat flour will work in this recipe too.
Peanut butter. Look for natural peanut butter that does not contain added sugar or oils. The only ingredients in natural peanut butter should be peanuts and salt.
Dark Chocolate Kisses. Dark chocolate is our favorite kind of chocolate and it typically contains less sugar, but that's not the case with Hershey's kisses. You can substitute the dark chocolate kisses with milk chocolate if that is your preference.
Coconut Sugar. Most cookie recipes contain more sugar than is necessary. I cut out half of the sugar in this recipe and replace the refined sugar with coconut sugar.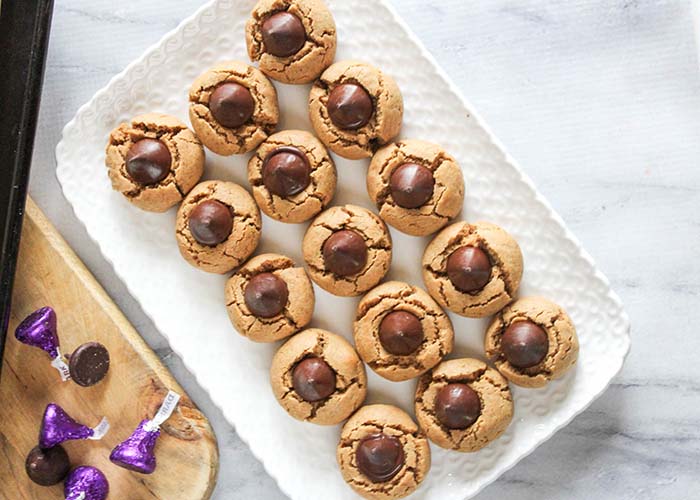 Recipe Tips
Remove the wrappers from the chocolate kisses before the cookies come out of the oven so that they are ready to place on top of the cookies while the cookeis are still warm.
Use a cookie scoop to make it easier to roll the cookies into and the roll them into balls.

Allow the cookies to cool off on cooling rack until the chocolate hershey's kisses become hard.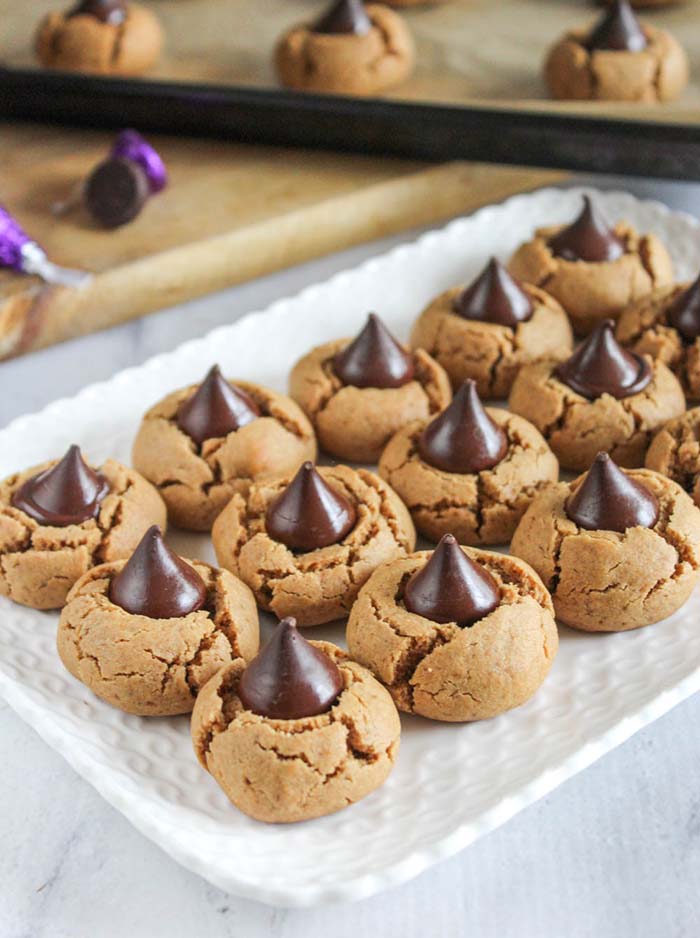 Recipe Variations
Almond blossoms cookies. Replace the peanut butter with an equal amount of almond butter.
Gluten-free peanut butter blossoms cookies. Replace the whole wheat flour with an equal amount of almond flour. The cookies will be moister.
How to Store Peanut Blossoms Cookies
Store peanut butter blossoms cookies in a cookie jar or ceramic container for up to two weeks at room temperature.
How To Freeze Peanut Blossom Cookies
Freeze extra healthy peanut blossoms cookies by arranging them in a single layer in a sealable container for up to three months. Defrost the cookies at room temperature for a few hours before eating them.
Have you Tried These Healthier Sweets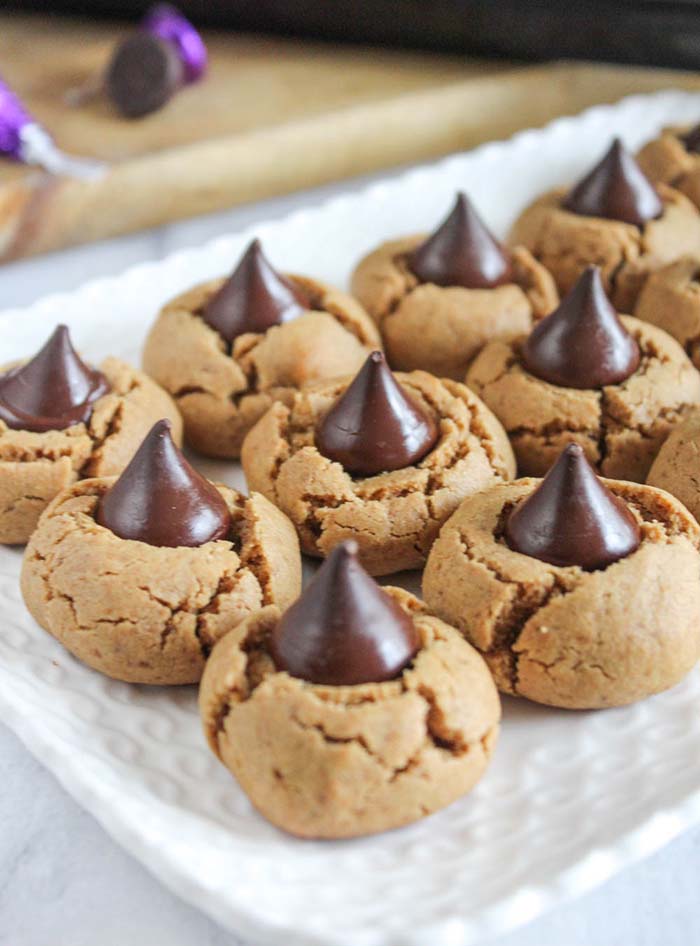 Click on serving size to scale this recipe
Scale this Recipe
Cookies
Instructions
Preheat the oven to 375 and line two cookie sheets with parchment paper and unwrap the chocolate candies.

Combine the sugar, butter and peanut butter in a bowl and beat with a mixer at medium speed.

Add the egg and vanilla - mix at low speed until everything is combined

Stir in the flour, salt, and baking soda with a mixer or wooden spoon - mix until all ingredients are combined.

Roll the dough into 1 inch balls and place them onto the prepared baking sheets.

Remove the cookies from oven and gently press a kiss into the top of each cookie
Nutrition
Serving:
1
cookie
|
Calories:
104
kcal
|
Carbohydrates:
13
g
|
Protein:
2
g
|
Fat:
6
g
|
Saturated Fat:
3
g
|
Polyunsaturated Fat:
0.2
g
|
Monounsaturated Fat:
1
g
|
Trans Fat:
0.2
g
|
Cholesterol:
18
mg
|
Sodium:
101
mg
|
Potassium:
12
mg
|
Fiber:
1
g
|
Sugar:
8
g
|
Vitamin A:
128
IU
|
Calcium:
16
mg
|
Iron:
0.3
mg
Nutrition information provided is an estimate and can vary based on cooking methods and ingredients used