These Chocolate bourbon balls are made with a healthy twist! Instead of traditional Kentucky bourbon balls which have a super sweet and buttery filling, these chocolate bourbon balls are made with dark chocolate, dates and chopped pecans for a decadent and boozy treat.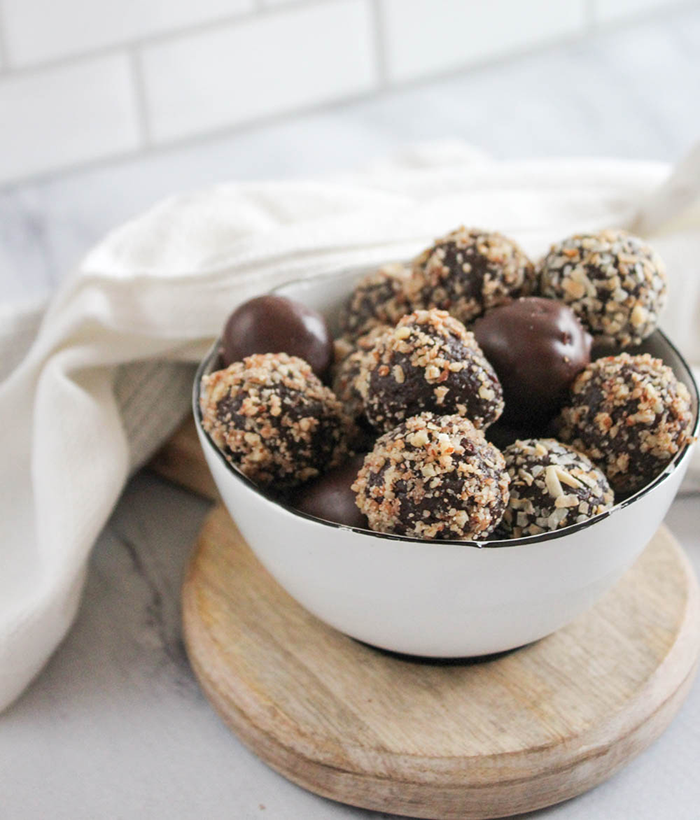 This recipe was originally posted in 2018, it has been updated for content and photos.
If you like using dates to make sweet treats to sweeten your food, try these peanut chocolate energy bites.
Why This Recipe Works
Chocolate bourbon balls are an easy no-bake dessert that will last for weeks!
They taste great even though they are made with healthy ingredients - no confectioner's sugar.
This chocolate bourbon balls recipe is gluten-free.
Here Is What You Will Need to Make This Easy Bourbon Ball Recipe
As an Amazon Associate, I earn from qualifying purchases.
This is an overview of the ingredients and steps to make this recipe. Scroll down for a printable recipe card with exact measurements and instructions.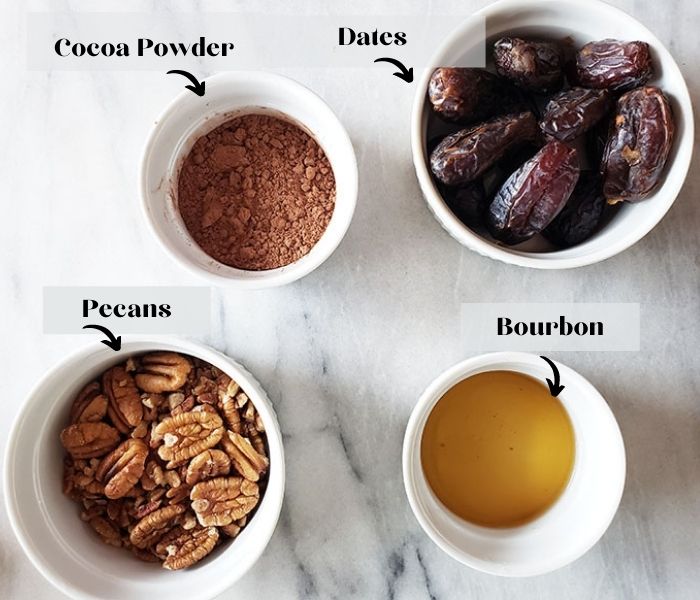 Healthy Chocolate Bourbon Balls Ingredients List
As an Amazon Associate, I earn from qualifying purchases.
Tools/Equipment Needed to Make this Recipe
Food Processor - I like to use a mini food processor for recipes like this.
Baking Tray or Cutting Board
Here is How to Make Healthy Chocolate Bourbon Balls
Prepare: Preheat the oven to 350, line a baking sheet with parchment paper, remove the pits from the dates and measure the ingredients.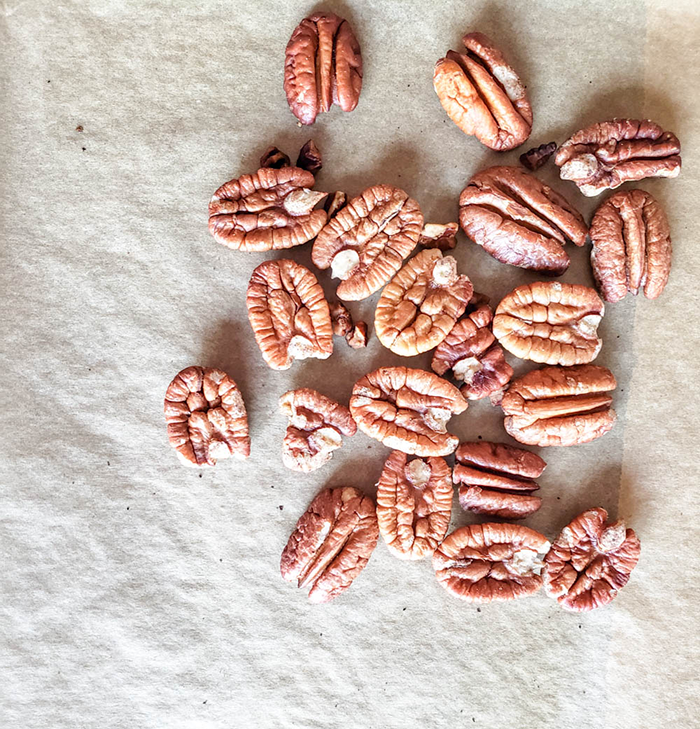 Step 1. Toast the Pecans
Arrange the pecans on a parchment-lined baking sheet and place them into the oven and bake for 8 to 10 minutes.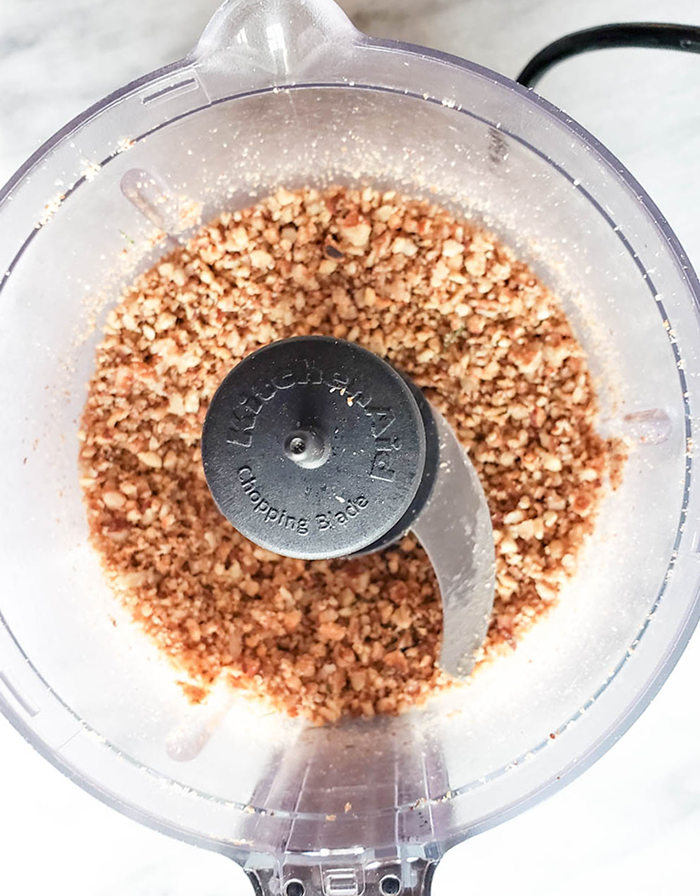 Step 2. Chop the Pecans
Once the pecans have been toasted allow them to cool off for about 10 minutes and place them into a food processor and pulse them into fine crumbs.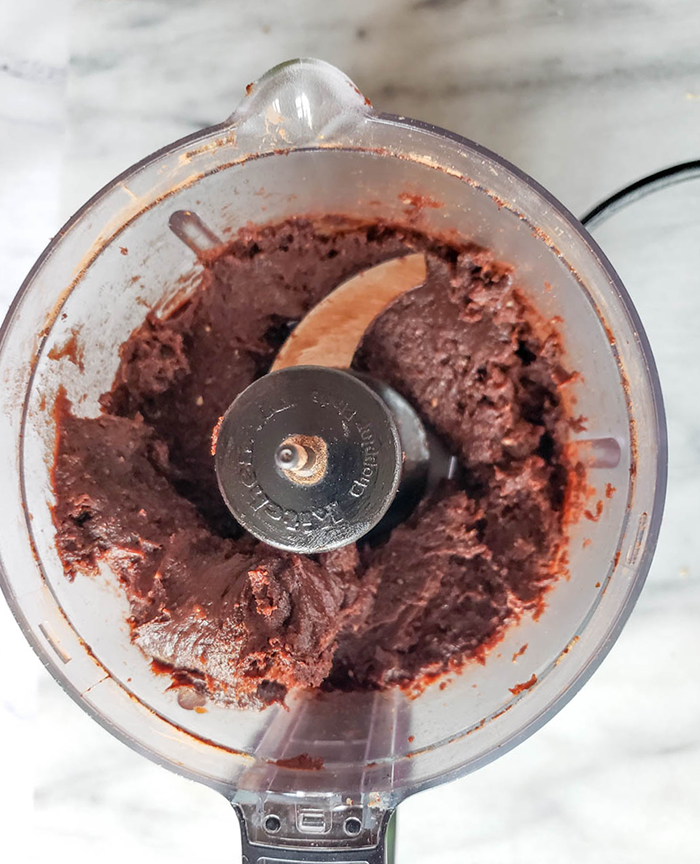 Step 3. Make the Filling
Add the dates, bourbon and cocoa powder to the food processor bowl and mix everything together until it forms a dough. Transfer the chocolate mixture into a small bowl and place it in the refrigerator for about 15 minutes.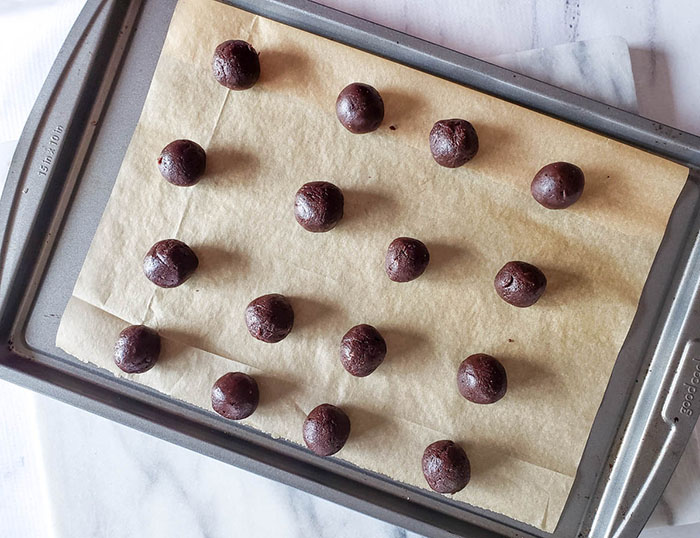 Step 4. Roll the dough into balls
Remove the chilled dough from the refrigerator and use your hands or a small cookie scoop to roll dough into 1-inch balls.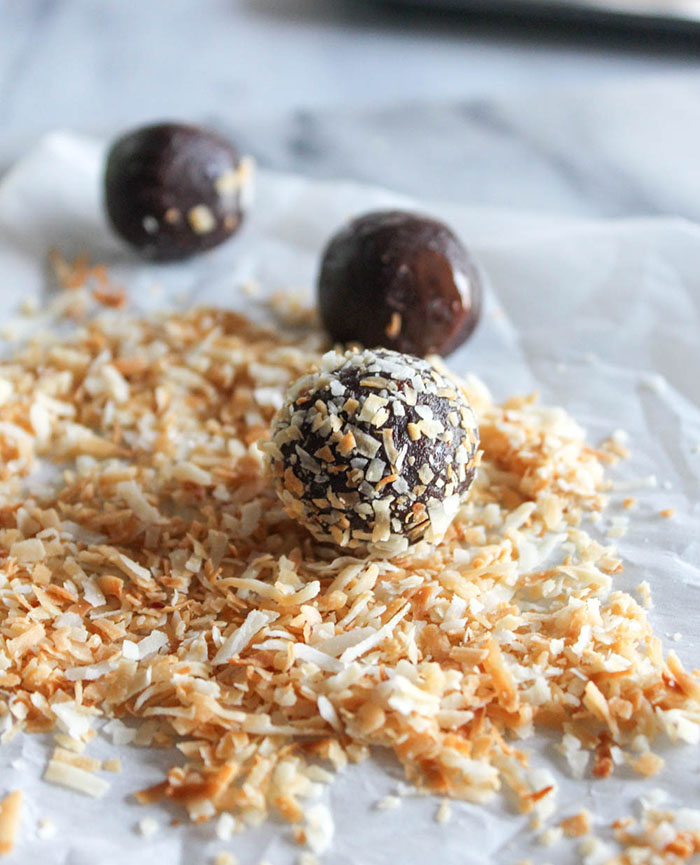 Step 4. Coat the bourbon balls
Roll the balls in chopped pecans, coconut flakes or melted dark chocolate.
Ingredient Notes & Substitutions
Pecans. The toasted pecans give the bourbon balls a crunchy texture similar to the texture the cookie crumbs from the vanilla wafers do in the traditional recipe.
Pecans also add a nutty flavor which pairs well with chocolate and bourbon. Pecans can be substituted with an equal amount of chopped walnuts or almonds.
Dates. Instead of powdered sugar or vanilla wafer cookies which are traditional ingredients and add a sweet flavor, the dates are what add natural sweetness to this recipe. When they are processed with chocolate, toasted pecans, and bourbon they are similar to chocolate nougat filling.
Bourbon. The bourbon adds a warming deliciousness. Be sure to choose a bourbon that you enjoy because there will be enough alcohol for you to taste the bourbon.
Even though this recipe calls for 3 tablespoons of bourbon, you can adjust the amount up or down to your taste.
Cocoa Powder. This brings all of the flavors together.
Toppings. Once the balls are rolled, they are ready to be dipped into your favorite toppings. Here are some of our favorites: Melted chocolate from semisweet chocolate or dark chocolate chips, with a pecan half on top, chopped pecans, shredded coconut, cinnamon or cocoa powder.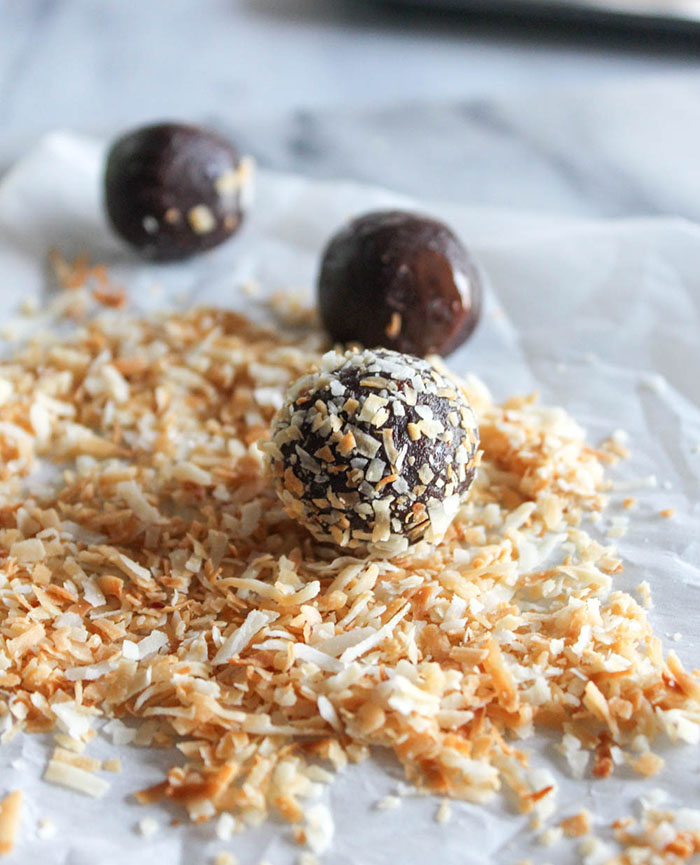 Recipe Tips
If you aren't in a time crunch, make these bourbon balls the day before serving them, they will taste much better on day two.
A small cookie scoop will help to form the dough into uniformly sized balls.
Adjust the bourbon flavor to your taste; you can add more or less gradually to your taste. Keep in mind that the flavor of the bourbon will intensify a little bit the next day.
How To Store Chocolate Bourbon Balls
Refrigerate. One of the best things about these homemade bourbon balls is that they will last in the refrigerator for a week or two when you place them into an airtight container.
Freeze. You can also freeze these healthy chocolate bourbon balls for up to three months without the toppings. Arrange them on a baking sheet and pop them into the freezer.
Once they are frozen remove them from the baking sheet and place them into a freezer-safe container.
Thaw them out in the fridge or at room temperature and dip them in your favorite toppings.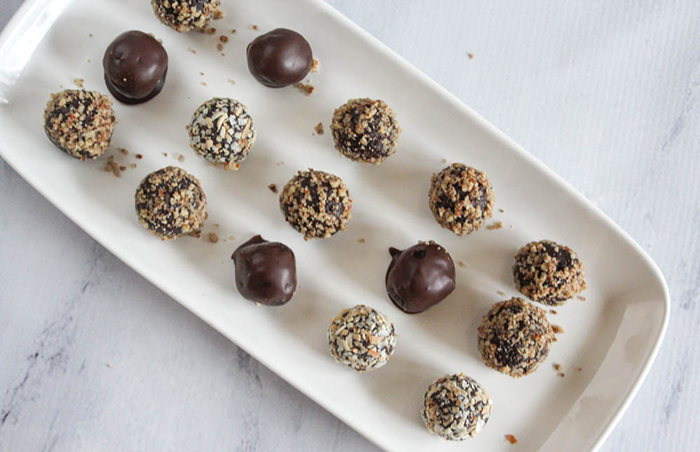 Recipe Variations
Rum Balls. Swap out the bourbon and add the same amount of rum or spiced rum.
Kaluha Balls. Use the same amount of kaluha in place of bourbon, add a dash of cinnamon and replace the pecans with toasted hazelnuts or almonds.
Amaretto Balls. Use amaretto, toasted almonds, and a half teaspoon of orange zest.
Non-alcoholic bourbon balls. Instead of alcohol try an equal amount of pomegranate, apple or orange juice.
Have you Tried These Healthy Dessert Recipes?
Healthy Chocolate Bourbon Balls Questions Answered
Can I use another type of date instead of Medjool dates?
Yes! You can. Medjool dates are soft, sweet, and have a chewy texture with a caramel taste. That's why they are perfect for making healthier sweets. Regular pitted dates are usually smaller with a more firm texture and sweet and are a good substitute for Medjool dates.

Can these bourbon balls be made without nuts?
Yes. You can use ¾ cup of chopped toasted sunflower or pumpkin seeds instead of nuts.
Sign up to receive menu ideas, new recipes and more!