Cold brew coffee with homemade bourbon cream perfect for an after dinner drink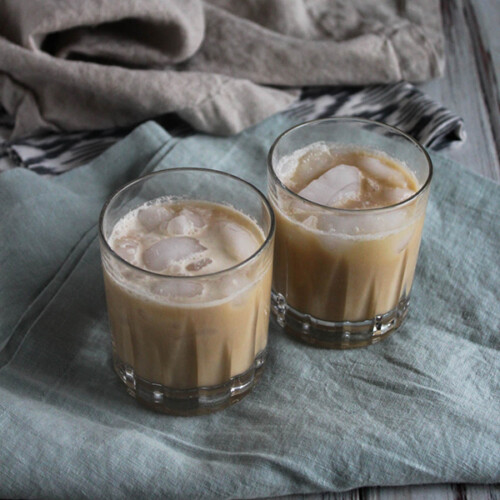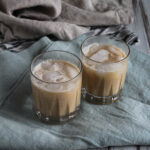 Cold brew is not just for breakfast. Make up a batch of this easy cold brew coffee, add a splash of slightly sweet homemade bourbon cream for a tasty cocktail treat.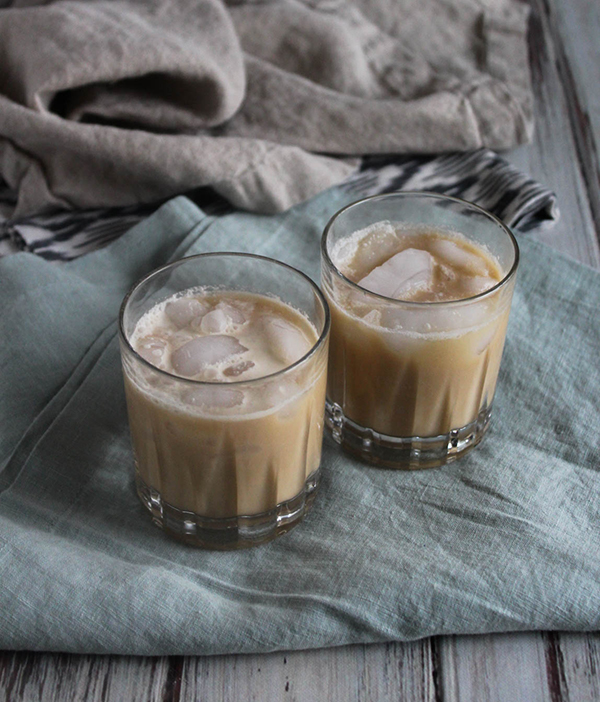 This post contains affiliate links
Easy Cold Brew Coffee
I had cold brew coffee for the first time a few years ago and instantly became hooked. I started out using pre-made concentrate, which is very convenient but it can be pricey. Since I like making things myself, I tried to make my own brew using a mason jar and cheese cloth to strain. It was messy so I went back to buying the concentrate.
That is until I discovered that you can easily make cold brew with a cold brew coffee maker. Now I use this Fresco Cold Brew Coffee Maker from JoyJolt and it is a game changer. It's so easy and no mess!
All that you have to do to make your own cold brew is add coarsely ground coffee to the infuser, add filtered water and let it sit at room temperature several hours. Easy, right?
I make up a batch of cold brew every weekend and drink it all week long. On the mornings that I want a hot cup of coffee, I heat the coffee up and enjoy.
How is Cold Brew Different than Iced Coffee?
Cold brew as its name suggests is not heated. It is made by steeping coffee grinds for several hours at room temperature which creates a concentrate.
Iced coffee is cold coffee that has been brewed the traditional way and has a bitter taste. Since cold brew is not heated, it's less acidic, tastes slightly sweeter and a bit milder than regular coffee. It's very easy to drink plain, although it tastes pretty good with homemade bourbon cream.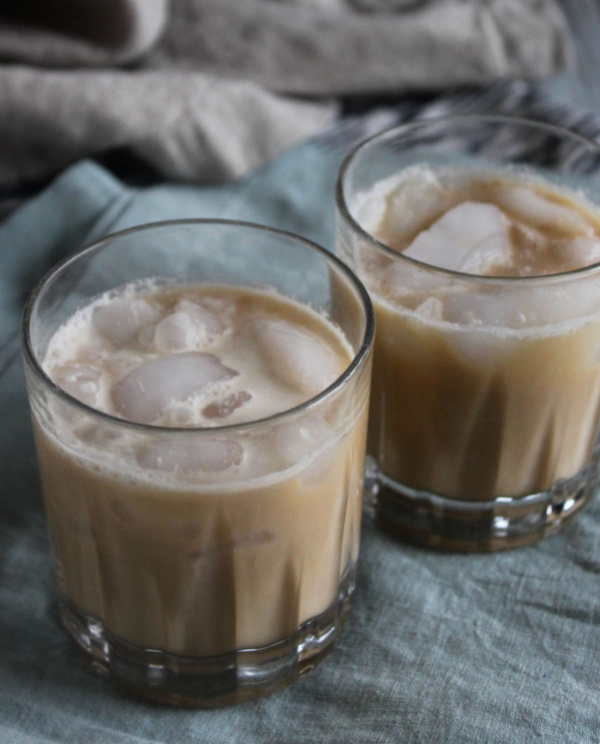 Homemade Bourbon Cream
Homemade bourbon cream is made with heavy cream with a splash of bourbon and maple syrup. I like to make my own because I can make a small batch and not feel like I will waste the rest if I don't drink it. One cup seems to disappear pretty fast. Bourbon cream tastes great all by itself and even better when poured into cold brew coffee.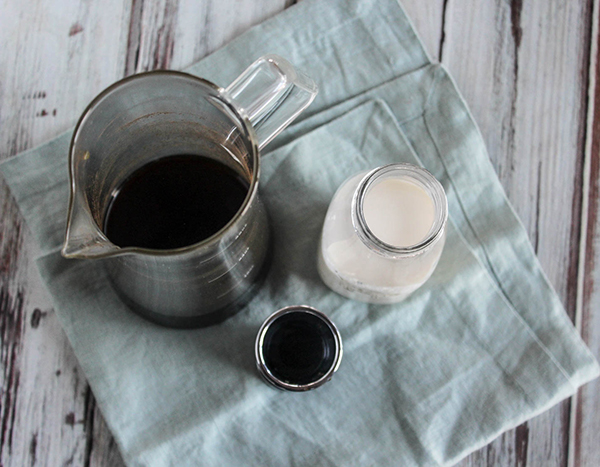 Here is what you will need
Heavy Cream - preferably organic
Bourbon
Here is How to Make It
Place coarse coffee grinds into the infuser and fill the canister up with filtered water.
Allow the cold brew cold brew mixture to sit at room temperature for at least 8 hours
Remove the infuser and store the coffee in the fridge until you are ready to use it
Make the bourbon cream by placing the cream into a small pitcher and stir in the maple syrup and bourbon
Pour the cold brew into a glass and add the bourbon cream to the cold brew

Tips and Variations
You can serve your cold brew with bourbon cream in small glasses as an after dinner drink or these beautiful double wall insulated glasses from JoyJolt for a large glass of cold brew.
Change it up! Substitute rum, Irish whiskey or brandy for the bourbon
Add in a sprinkle of cinnamon or nutmeg to the coffee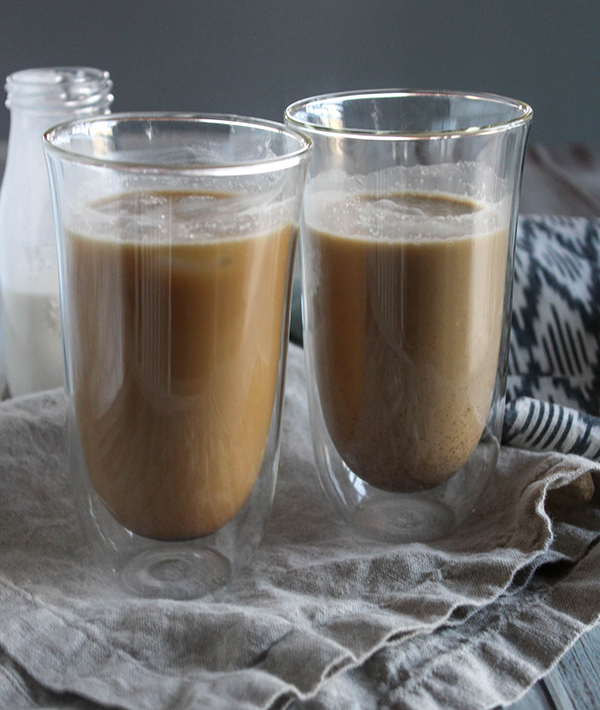 Serve your Cold Brew With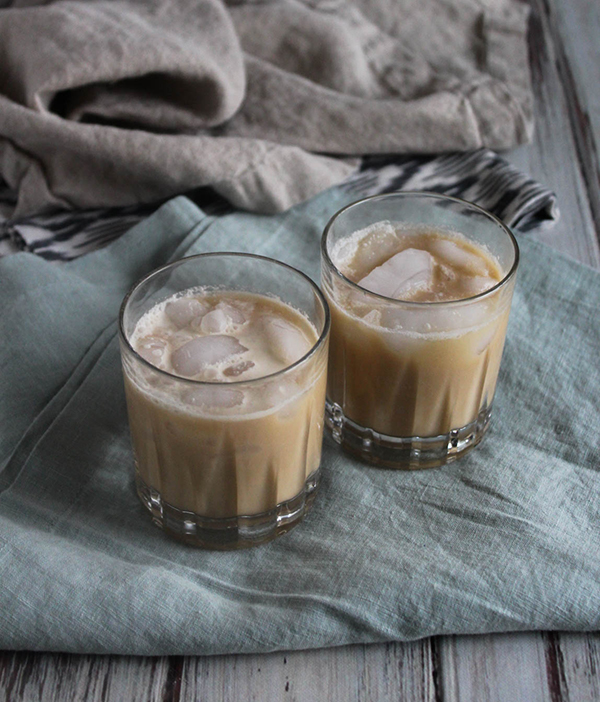 Click on serving size to scale this recipe
Ingredients
6 to 8

tablespoons

Coarsely ground coffee

Filtered Water

1

cup

Heavy Cream

2

tablespoons

or more Maple Syrup

3 to 4

tablespoons

bourbon - use more or less to adjust to your taste
Instructions
Make the Cold Brew
Place 6 to 8 tablespoons ground coffee into the infuser of the cold brew maker

Fill the cold brew maker up with filtered water

Place the infuser basket into the brew maker

Allow the coffee and water to sit at room temperature for at least 8 hours
Make the Bourbon Cream
Add one cup of heavy cream to a pitcher or mason jar

Stir in the bourbon and syrup
Cold Brew with Bourbon Cream
Pour the cold brew into a glass filling it about ¾ of the way

Add the Bourbon cream, and ice
Nutrition
Serving:
1
cup
|
Calories:
127
kcal
|
Carbohydrates:
4
g
|
Protein:
1
g
|
Fat:
11
g
|
Saturated Fat:
7
g
|
Polyunsaturated Fat:
3
g
|
Cholesterol:
34
mg
|
Sodium:
10
mg
|
Sugar:
4
g