Quick and easy coconut clusters made with only a few ingredients are perfect for satisfying a sweet tooth!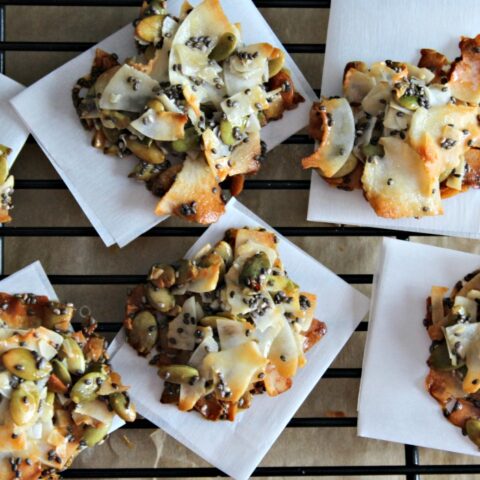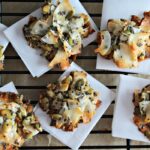 Coconut clusters are a naturally sweet, crispy, and healthy treat that will satisfy your sweet tooth. They are made with 4 ingredients, and without butter, oil or sugar.
This post was originally published in April 2018 and has been updated with better content.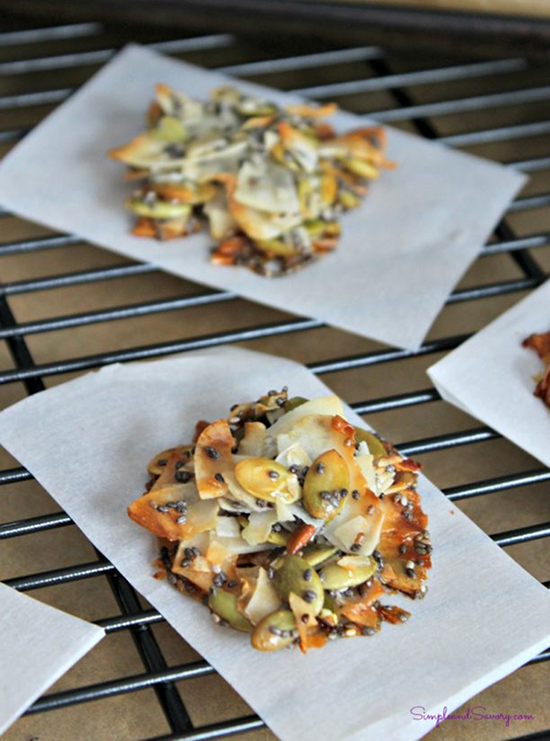 Coconut clusters are a popular packaged treat from Creative Snack Company and Inno Foods. They are made with crispy flakes of coconut, nuts, and seeds coated in honey or maple syrup. They are so good, but a little bit pricey, so I tried to recreate them myself. After one or two tries, I discovered that they are super easy to make.
If you like this recipe, you might also like my copycat recipe for Cashew Clusters with Almonds. It's another simple recipe that takes minutes to make.
Why you will love this recipe
These clusters are so easy to make! Simply mix the 4 ingredients together, drop them onto a baking sheet, and bake.
They are full of healthy fats, and protein and they are naturally sweet and will satisfy your sweet cravings.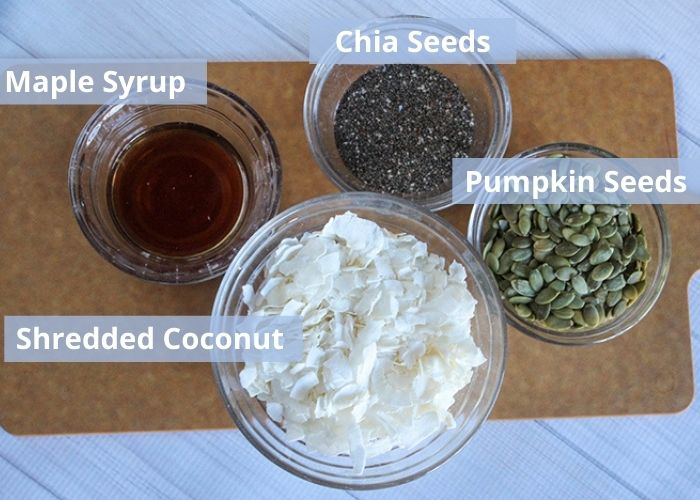 Here is What You Will Need
As an Amazon Associate, I earn from qualifying purchases.
This is an overview of the ingredients and instructions that you will need to make this recipe. Scroll down for ingredient substitutions and complete cooking instructions that are printable in the recipe card at the bottom of this post.
🛒Ingredients
Pumpkin seeds
Maple syrup
🥄Equipment
How to make this coconut clusters recipe
Preheat the oven to 350 degrees f and line a sheet pan with parchment paper, or a Silpat baking mat.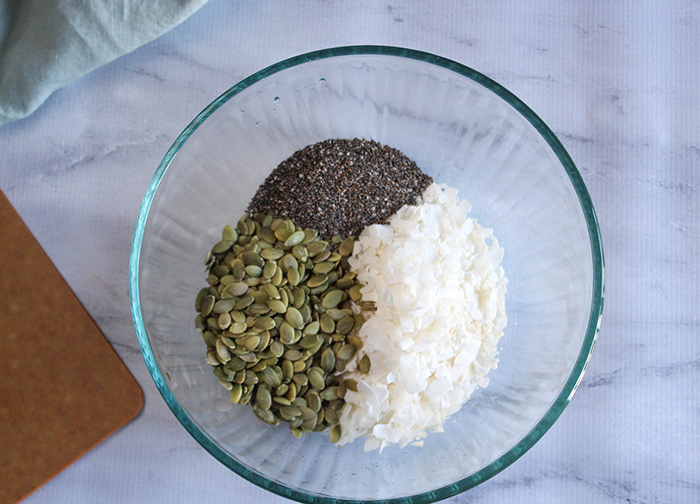 Step 1. Place the dry ingredients into a bowl
Place the coconut flakes, pumpkin seeds, and chia seeds in a medium mixing bowl.
Step 3. Add natural sweetener
Add the syrup to the dry ingredients and mix all of the ingredients together.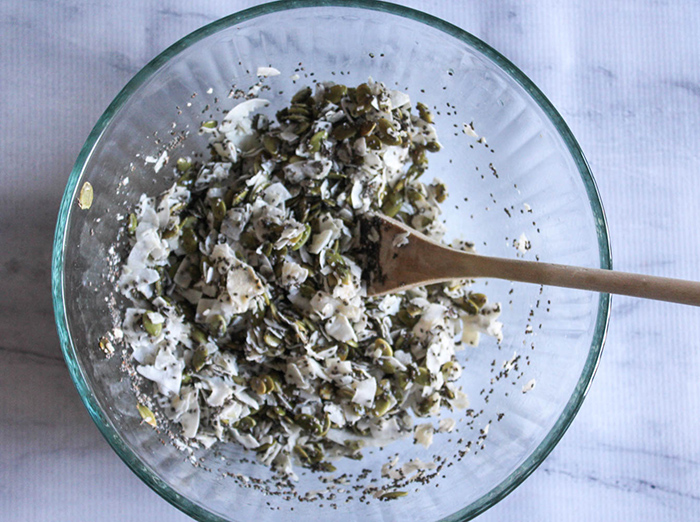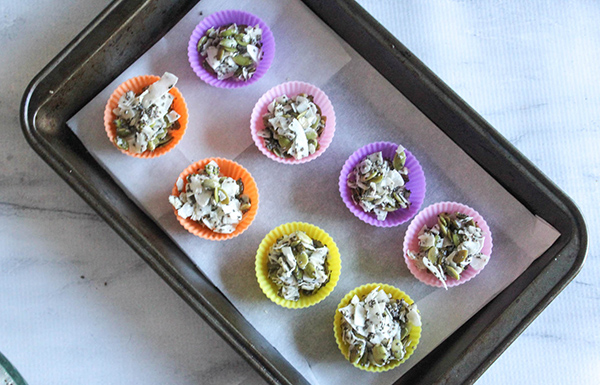 Step 4. Drop the clusters onto a
Drop the cluster mixture into the mini-cupcake cups, or use two teaspoons to pile the clusters onto a prepared baking sheet.
Step 4. Form the clusters and bake
Drop the cluster mixture onto the prepared baking sheet. Place in the center rack of the oven and bake until golden crispy - about 10 to 12 minutes.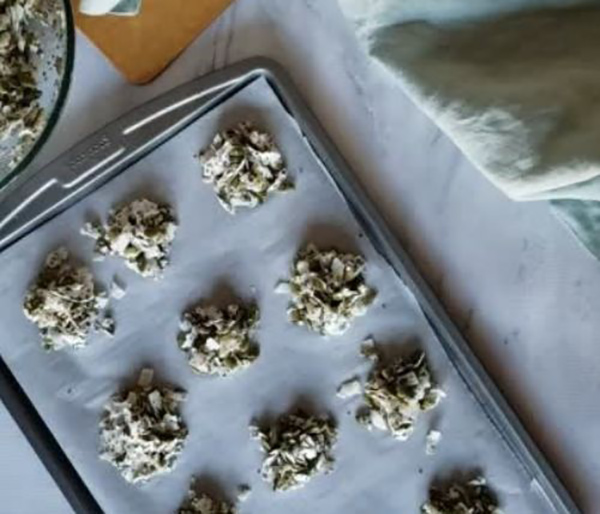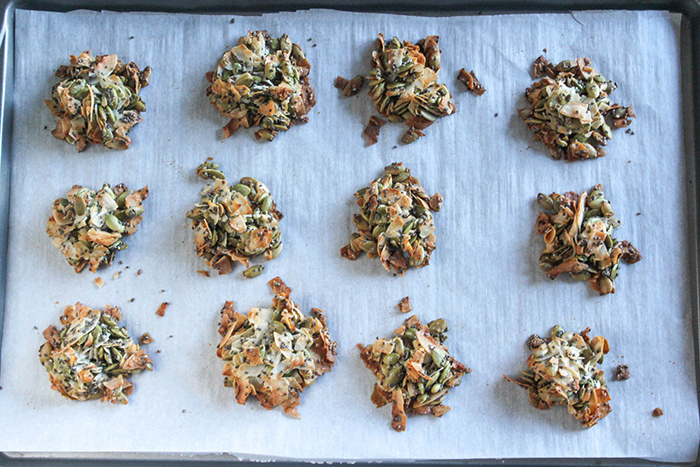 Step 5. Cool and remove
Cool the clusters on the baking sheet completely (for at least 45 minutes) and then carefully lift them from the baking sheet and enjoy!
NOTE: if liquid from the sweetener spreads out onto the baking sheet gently push it back toward the cluster using a spatula - this is what holds the cluster together once they have cooled.
Ingredient Notes & Substitutions
Coconut Flakes. Large raw and unsweetened coconut chips are the best type of coconut to use in this recipe.
Do not use toasted coconut chips, they will become too crispy once they are baked and may burn.
Chia Seeds - These add a nice crispy texture to the coconut clusters. If you don't have chia seeds, they can be substituted with quinoa or sesame seeds.
Maple Syrup - Produces the best results in this recipe. Be sure to select pure real maple syrup and not pancake syrup which is made with corn syrup.
Substitutes for maple syrup are an equal amount of honey or brown rice syrup. Using these alternatives may produce clusters that don't hold together well.
How To Store Coconut Clusters
Store your coconut clusters at room temperature in a loosely covered glass container. They will last for up to five days.
Refrigeration is not recommended, it will make the clusters soggy.
Freeze coconut clusters for up to three months by placing them on a baking sheet and into the freezer. Once they are frozen carefully remove them from the baking sheet and store them in a freezer-safe bag or container.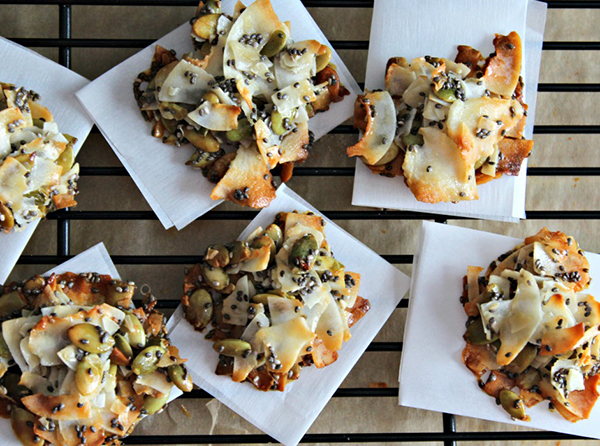 Recipe Variations
The complete list of ingredients to make this delicious coconut clusters recipe is above. Below are notes about some of the ingredients, along with ideas for substitutes.
Change up the Nuts & Seeds. This is a very versatile recipe! Try using different combinations of nuts and seeds such as sunflower seeds, cashews, pecans, walnuts, or almonds.
Add Fruit. Dried fruit makes a nice addition to coconut clusters. Try adding ½ cup of dried fruit to the coconut mixture such as dried cranberries, raisins, chopped figs, or dates.
Add Chocolate. Stir in ¼ cup dark chocolate chips ( 60 % cacao or higher) the mixture before baking. Or drizzle melted dark chocolate over the top of cooled coconut clusters.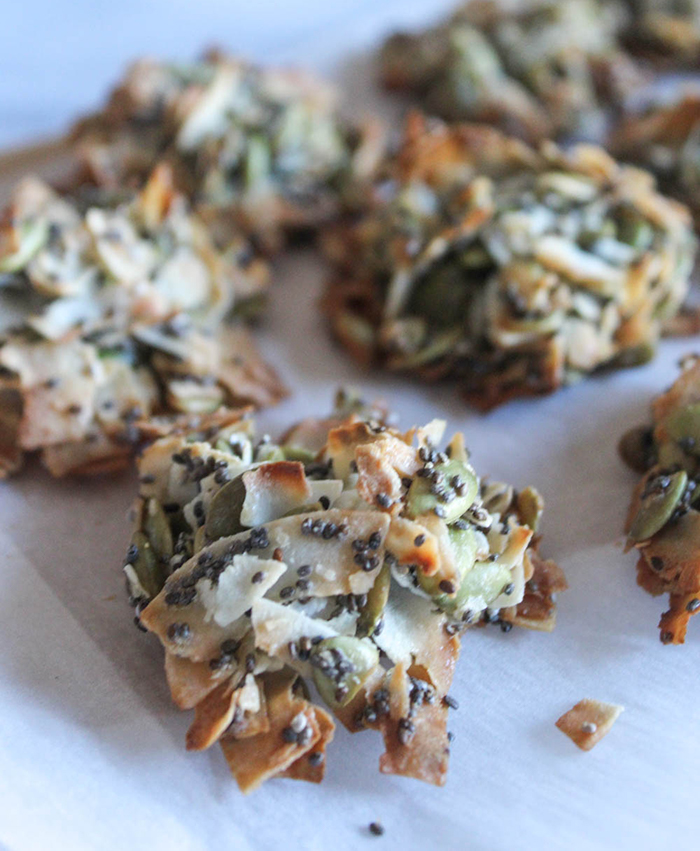 How to serve coconut clusters
Homemade coconut clusters taste great as a snack all by themselves. They are also delicious crumbled and served on top of plain greek yogurt, homemade ice cream, or oatmeal.
💡Tips
Keep an eye on the coconut clusters during the baking process and remove them from the oven as soon as they begin to turn brown. They will turn from golden to burned quickly at this point.
The coconut cluster mixture will be loose before baking the clusters. Pile the ingredients into small clumps. The syrup will melt and hold the clusters together from the bottom of the clusters as they bake.
It is important to allow the coconut clusters to cool off completely on the baking pan until the syrup hardens for about 40 minutes. Then carefully remove the clusters using a spatula to lift them from underneath each cluster.
Use mini silicone cupcake liners to help hold the coconut clusters together.
Coconut Cluster Questions Answered
Here are the most commonly asked questions about this recipe. If your question isn't answered below, leave a comment for me and I will get back to you as soon as I can.
I made this coconut clusters recipe and they turned into a crumbly mess, what did I do wrong?

Make sure to stack the mixture up into clusters on the baking sheet. Once they come out of the oven, don't touch them until they are cooled off completely. The syrup will harden and hold them together. Remove them carefully from the parchment paper using a spatula and lift them off from the bottom.


Will the ingredients in the coconut clusters toast enough while baking them if I use my silicone cupcake liners?
Yes! If they are stacked high enough the ingredients will toast, and make sure they are completely cooled off before removing them from the liner.
Can I freeze coconut clusters, to extend their shelf life?
Yes! You can freeze coconut clusters for up to a month. Allow them to cool completely before freezing them. Place them in a freezer-safe container, to defrost them And defrost at room temperature. They will have to be consumed shortly after removing them from the freezer and they will not be as crispy.
What is the best kind of syrup to use to make coconut clusters?

The best syrup to use in this recipe is real maple syrup, not pancake syrup. Pancake syrup is made with corn syrup.
Are Coconut Clusters Healthy?

Yes! Coconut clusters are fairly healthy. They contain a small amount of naturally sweet maple syrup and are filled with nutritious nuts and seeds.
You might also like these Healthy Recipes for Snacks
Do you like this recipe?
Please comment and give it a ⭐⭐⭐⭐⭐ rating below!
"I made these exactly as written and they turned out delicious! My new favorite recipe is something easy and sweet. Thank you!" -Marlene-
📖 Recipe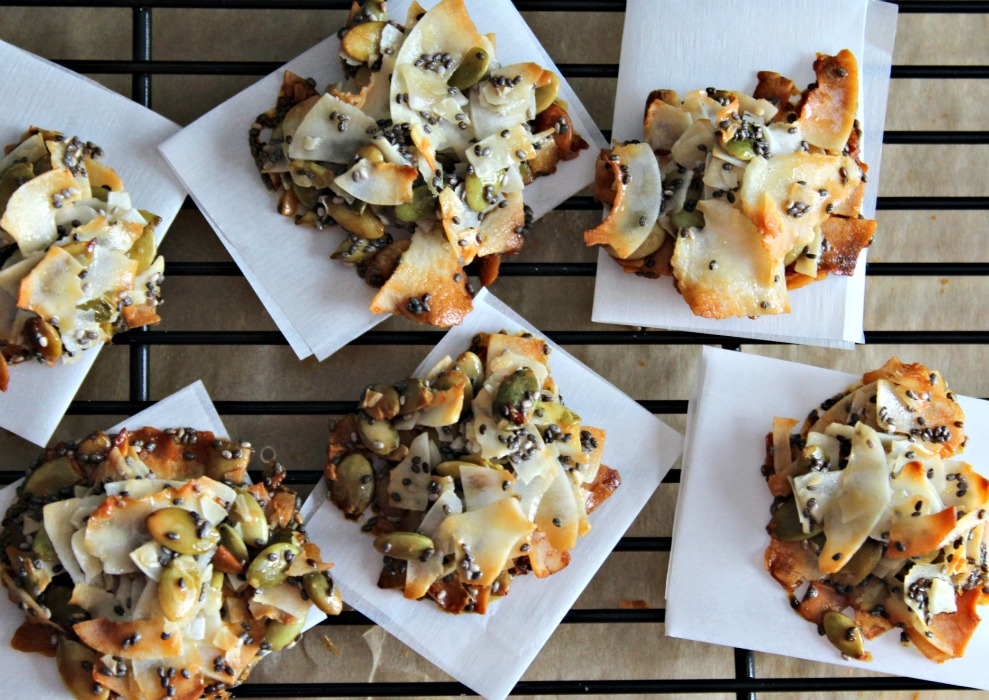 Click on serving size to scale this recipe
Instructions
pre-heat the oven to 350 degrees and line a baking sheet with parchment paper or arrange 24 silicone mini muffin cups on a baking sheet.

place all of the ingredients into a mixing bowl and combine well making sure everything is covered with the syrup.

use two teaspoons to drop the clusters onto the baking sheet or drop the ingredients into the mini cupcake liners.

bake the clusters for 12 to 15 minutes - until the coconut just begins to turn golden.

remove the baked clusters from the oven.

allow to the clusters cool for at least 40 minutes

carefully remove them from the baking sheet and enjoy!
Notes
Note
If the liquid from the sweetener spreads out onto the baking sheet gently push it back toward the cluster using a spatula - this is what holds the cluster together once they have cooled.
Swap out pumpkin seeds for ¾ cup of sunflower seeds, cashews, or almonds OR use ¼ cup pumpkin seeds or sunflower seeds and ½ cup almonds or cashews
Add ¼ cup of dried cranberries, raisins, or cacao nibs
Even though maple syrup works best in this recipe, substitute maple syrup with brown rice syrup or natural honey.
Nutrition
Serving:
1
cluster
|
Calories:
64
kcal
|
Carbohydrates:
4
g
|
Protein:
1
g
|
Fat:
5
g
|
Saturated Fat:
3
g
|
Polyunsaturated Fat:
1
g
|
Monounsaturated Fat:
1
g
|
Trans Fat:
0.004
g
|
Sodium:
3
mg
|
Potassium:
60
mg
|
Fiber:
2
g
|
Sugar:
2
g
|
Vitamin A:
1
IU
|
Vitamin C:
0.1
mg
|
Calcium:
17
mg
|
Iron:
0.5
mg
Nutrition information provided is an estimate and can vary based on cooking methods and ingredients used