Magic Cookies or Seven Layer Cookies are a healthier version of the classic cookie bars. They are gluten-free and naturally sweet.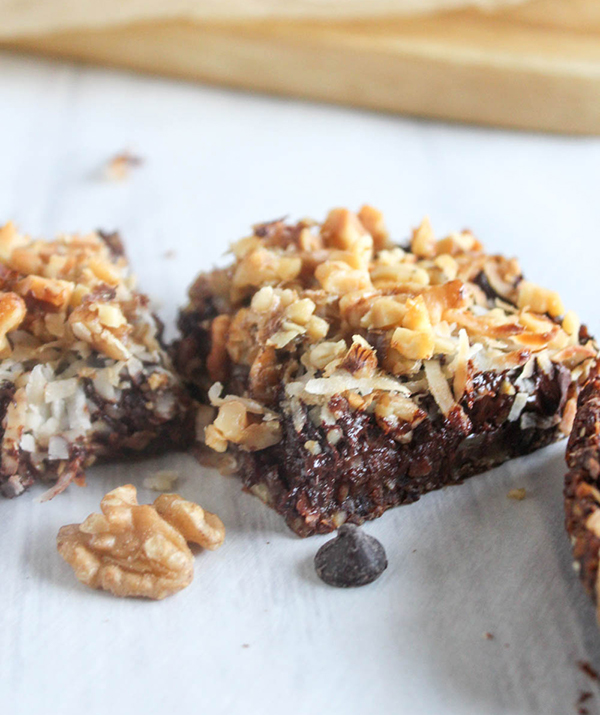 Magic Cookies

or Seven Layer Bars?

Some people call them seven-layer bars and some people call them magic cookie bars. I call them magic cookies because I gave them a makeover and they still taste delicious even though they are less sweet.

Magic cookie bars were always on our holiday table, full of sugary sweetness, so good, and definitely in need of a healthy update. I replaced the sweetened condensed milk, graham cracker crust, and semi sweet chocolate chips with better ingredients. The end result is a moist and tasty magic cookie bar.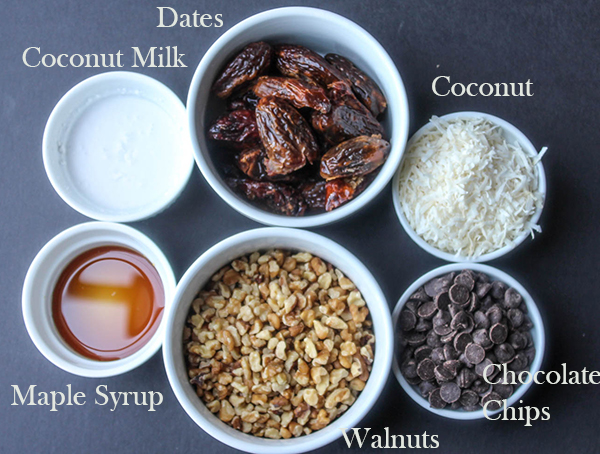 Here is What You will Need
As an Amazon Associate, I earn from qualifying purchases
Medjool Dates
Walnuts
Shredded Unsweetened Coconut
Coconut Milk
Dark Chocolate Chips
Food Processor
8×8 Baking Pan
How to Make Healthier Magic Cookie Bars
These 7 Layer magic bars have to be the easiest cookies to make ever! All that needs to be done is make the crust by blending the dates and walnuts in a food processor.
Press the crust on the bottom of a pan and add the remaining ingredients in layers, then bake the cookies.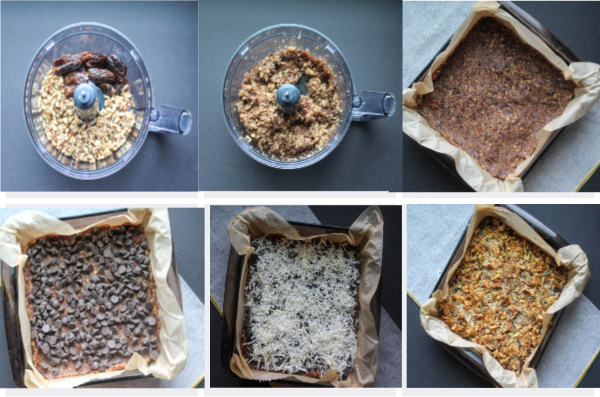 Recipe Tips
If the dates are overly dry, try soaking them in water for 5 to 10 minutes before adding them to the food processor, then drain them and place them in the food processor and blend them.
Parchment paper is not necessary but will make it much easier to remove the cookies from the pan. If you don't have parchment paper, be sure to coat the pan heavily with coconut oil or butter.
How To Store Magic Cookies
These cookies are a little fragile and will hold up better when they are stored in the refrigerator in an airtight container for up to two weeks.
Freeze magic cookies by placing them on a cookie sheet in a single layer and place it in the freezer. Once the seven-layer cookies are frozen solid, remove them from the cookie sheet and place them in a freezer container.
Thaw them in the refrigerator overnight or at room temperature for a few hours.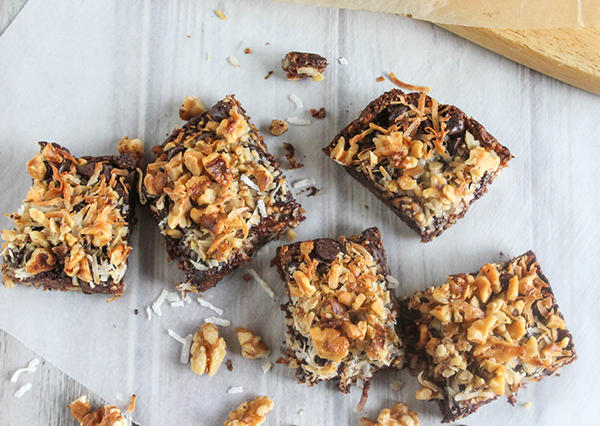 Recipe Variations
Change up the nuts and replace the walnuts with an equal amount of pecans, almonds, cashews or macadamia nuts.
Add a quarter to a half of a cup of dried raisins or cranberries as a cookie layer.
Substitute the coconut milk with your favorite nut milk.
For a vegan version, use vegan chocolate chips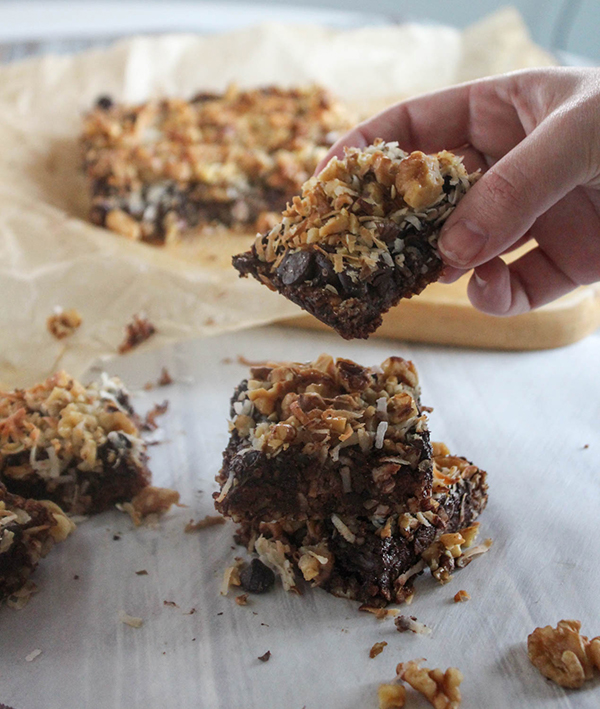 Try These Healthier Treats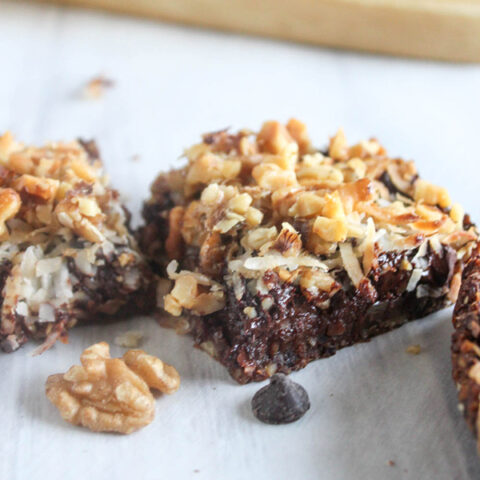 Healthier Magic Cookie Bars
Magic cookies are a healthy remake of a classic cookie.
Ingredients
15 pitted medjool dates
2 cups walnut pieces divided
1 cup dark chocolate chips
1 cup shredded unsweetened coconut
¼ cup coconut milk
1 tablespoon maple syrup
Instructions
Pre-heat the oven to 375
place 15 pitted dates dates and 1 ½ cups of walnuts into a food processor and process until they are in tiny pieces and start to form into a ball
line an 8X8 baking baking pan with parchment paper and press the walnut date dough down using a spoon or your hands
Take another piece of parchment paper and place it over the dough and run your hands or back of a spoon over to smooth the dough out
Layer the chocolate chips, coconut flakes and walnuts on top of the date walnut crust
Stir in one tablespoon of syrup into the coconut milk and pour it over the layered mixture
Place the pan in the oven and bake for 25 minutes - until coconut begins to turn golden and chocolate melts
Nutrition Information:
Yield:

12
Serving Size:

1 bar
Amount Per Serving:
Calories:

334
Total Fat:

21g
Saturated Fat:

9g
Trans Fat:

0g
Unsaturated Fat:

12g
Cholesterol:

1mg
Sodium:

7mg
Carbohydrates:

36g
Fiber:

5g
Sugar:

29g
Protein:

4g
Nutrition information is provided by an online calculator and is meant to be used for informational purposes only. Even though I try to provide accurate information, these figures should still be considered as estimates.