Chocolate grain-free granola bars are a healthy, naturally sweet snack that is a tasty twist on traditional granola bars.  They are  gluten-free and a good source of healthy fats and protein.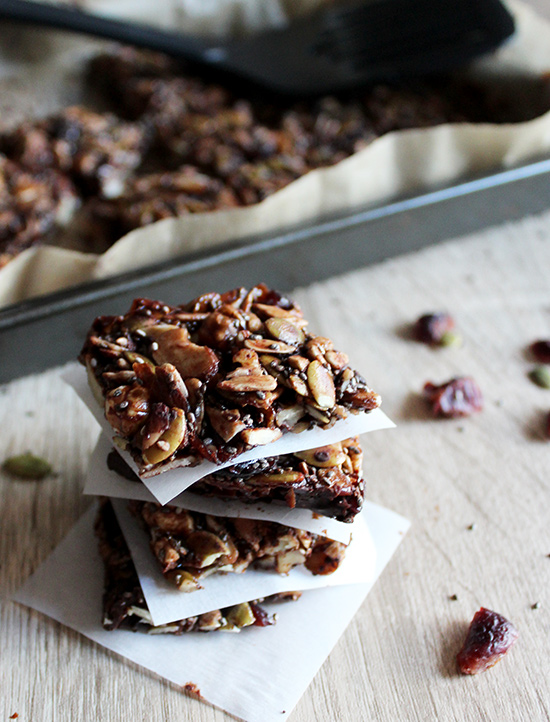 Don't you just love snacks that are a little bit sweet and actually good for you? I know I do, and these all natural chocolate grain free granola bars are made with all kinds of good for you ingredients including dark chocolate that is naturally sweetened with honey. These grain free granola bars will keep you feeling full too, thanks to the protein and healthy fats, they really are the  perfect sweet snack!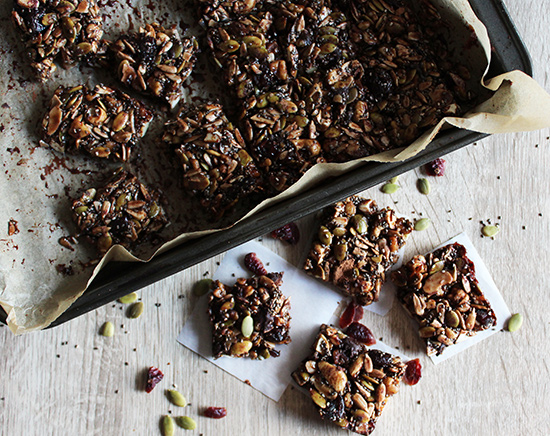 The Ingredients
You can use any combination of nuts, seeds and dried fruit that you like, my formula is 1 cup nuts of any combination of suggestions below, 1/4 cup of dried fruit, 1 1/2 cups of seeds. Chia seeds or shredded coconut are optional.
Nuts: cashews, almonds, walnuts, pecans, hazel nuts, macadamia nuts
Dried Fruit: Raisins, dried cranberries, dried cherries, chopped dates, chopped figs
Seeds:  pumpkin seeds, sunflower seeds, sesame seeds
Unsweetened coco powder
Dark chocolate chunks
Honey or maple syrup
Optional: chia seeds, shredded coconut
Tip:  Most of the ingredients above can be ordered from Nuts.com, they have a wide selection of dried fruit, nuts, seeds, and other yummy snack ideas that are super fresh and delivered right to your door.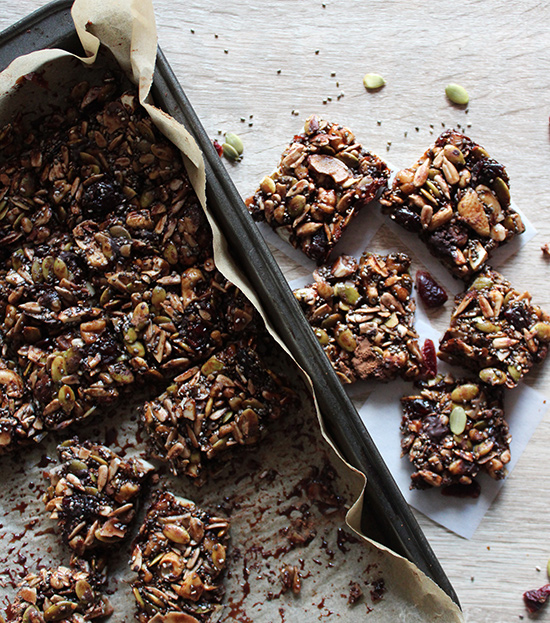 Recipe Steps for Chocolate Grain Free Granola Bars
Please note that this a list of steps to give you an idea how to make this recipe. Full details are in the recipe card below. 
Pre-heat the oven and line an 8X8 baking pan with parchment paper
Chop all of the nuts and chocolate and add them to a mixing bowl
Add the remaining ingredients to the bowl and mix well
Spread the mixture into the baking pan, and press down with a spatula
Place the pan into the oven and bake
Remove the pan from the oven and press down on the mixture in the pan again
Set the pan aside to cool off for about 30 minutes or place it in the refrigerator
Total Estimated Time to Make this Recipe: 20 to 30 minutes plus 30 minutes of cooling time
Tips and Variations for Chocolate Grain Free Granola Bars
Store your chocolate grain free granola bars in the refrigerator – they are fragile, so it's best to keep them cold.  They will last for up to 5 days in the fridge.
Make them vegan – substitute the honey with maple syrup
You Might Also Enjoy These
Cranberry Almond Dark Chocolate Bars
Print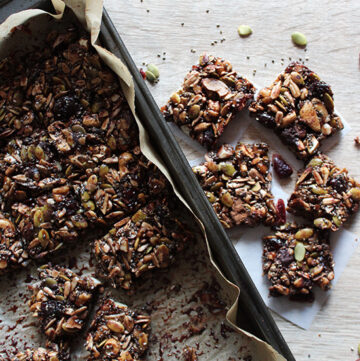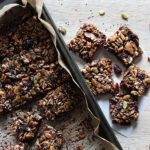 The Best Chocolate Grain Free Granola Bars
---
Description
Chocolate Grain Free Granola Bars are a healthy snack that is filled with nuts, seeds, dried fruit and cacao powder.
---
---
Instructions
Pre-heat oven to 325
line a 8×8 pan with parchment paper
place all of the ingredients into a bowl and mix well
spread mixture in the baking pan and press down with a wooden spoon or spatula
bake for 12 to 15 minutes
remove from the oven and press the mixture down again
allow to cool for about 30 minutes (or refrigerate for 15 minutes) and cut them into squares.
store in the refrigerator for best results