Mini apple crisp is a healthy, individual apple crisp recipe. It's naturally sweet and delicious and easy to make.
I hope you are ready for a quick and super tasty dessert because that's what this apple crisp recipe is. It's full of fresh apples and topped with healthy oats, walnuts, and graham cracker crumbs.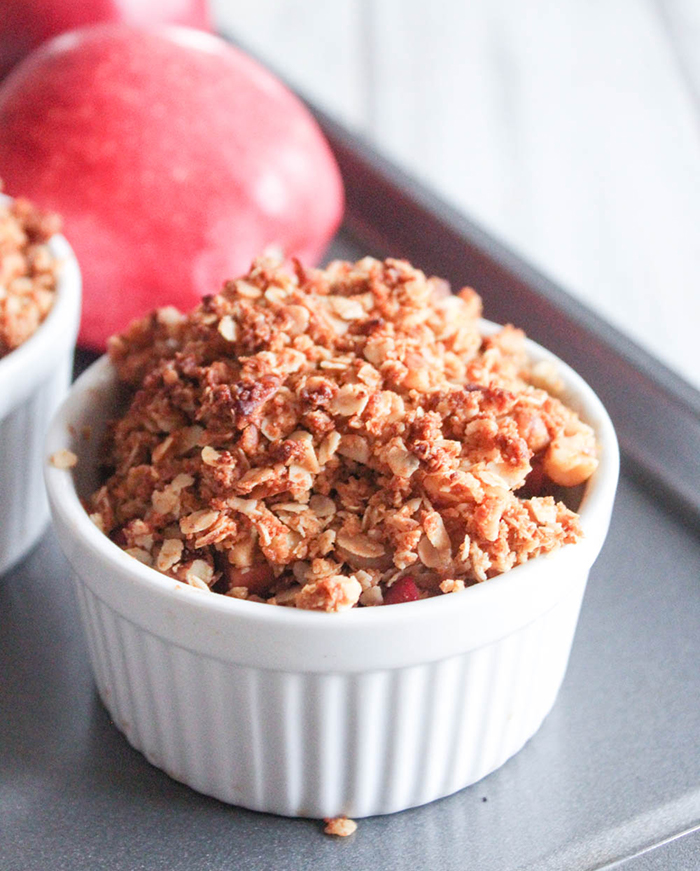 Recipe Highlights
It's Easy! It takes only 7 ingredients and less than one hour to make this recipe
This mini apple crisp recipe is healthy! It's made with naturally sweet maple syrup, whole grains and walnuts.
It's customizable. You can make one or two of these or as many as you want.
Here is what you will need to make Mini Apple crisp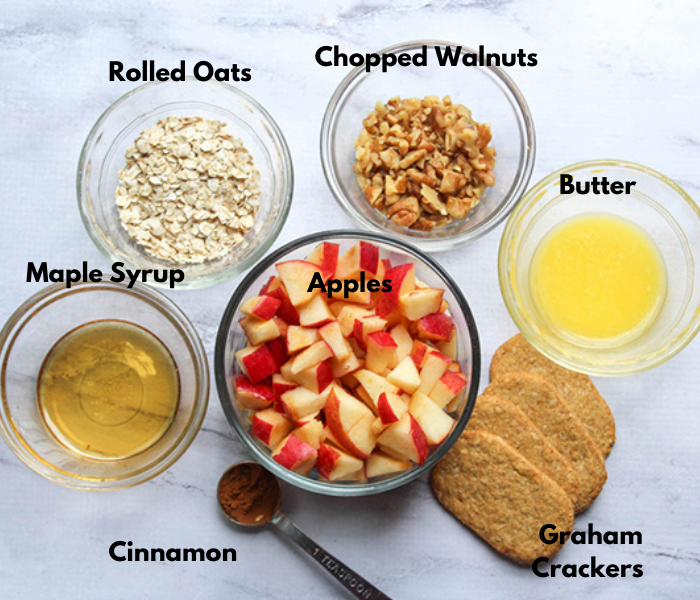 As an Amazon associate, I earn from qualifying purchases
You will only need a few simple ingredients to make this recipe; Apples, Old Fashioned Oats, Crushed graham crackers, Walnuts, Cinnamon, Butter and Maple Syrup.
How to Make it
This is such an easy recipe with just a few steps to a healthy dessert! Here is what you need to do:
Dice a few apples and mix them with cinnamon and maple syrup.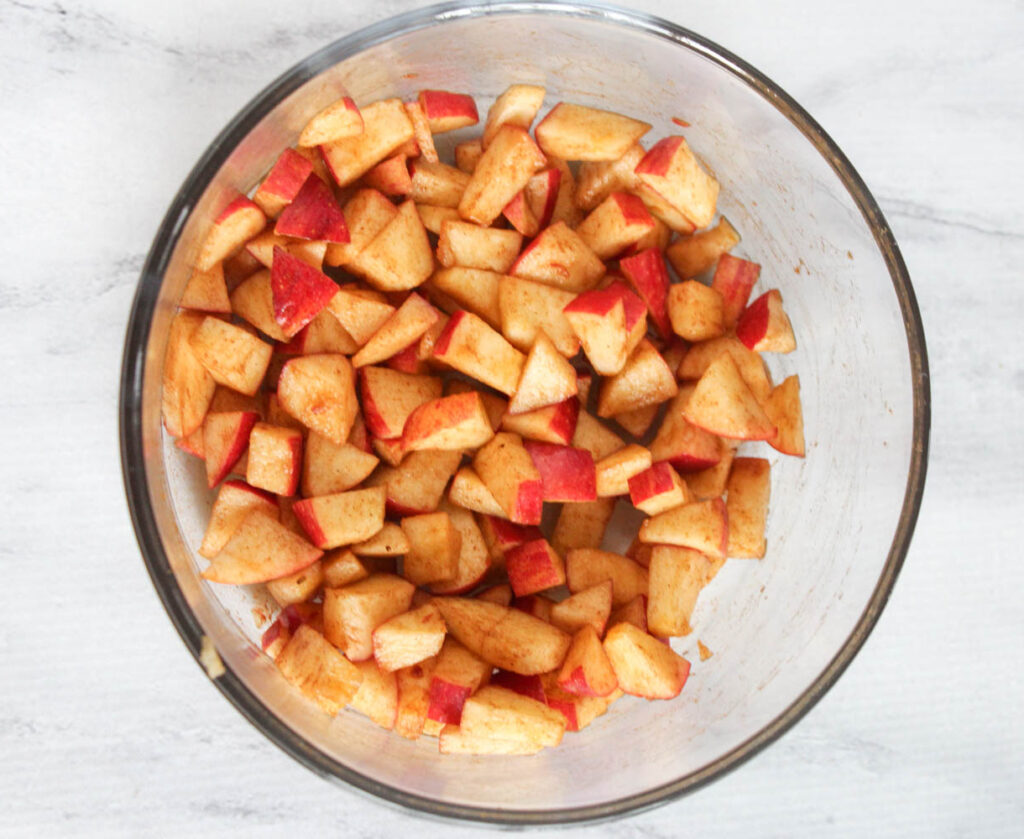 Place half of the apples into one ramekin and the other half in another ramekin.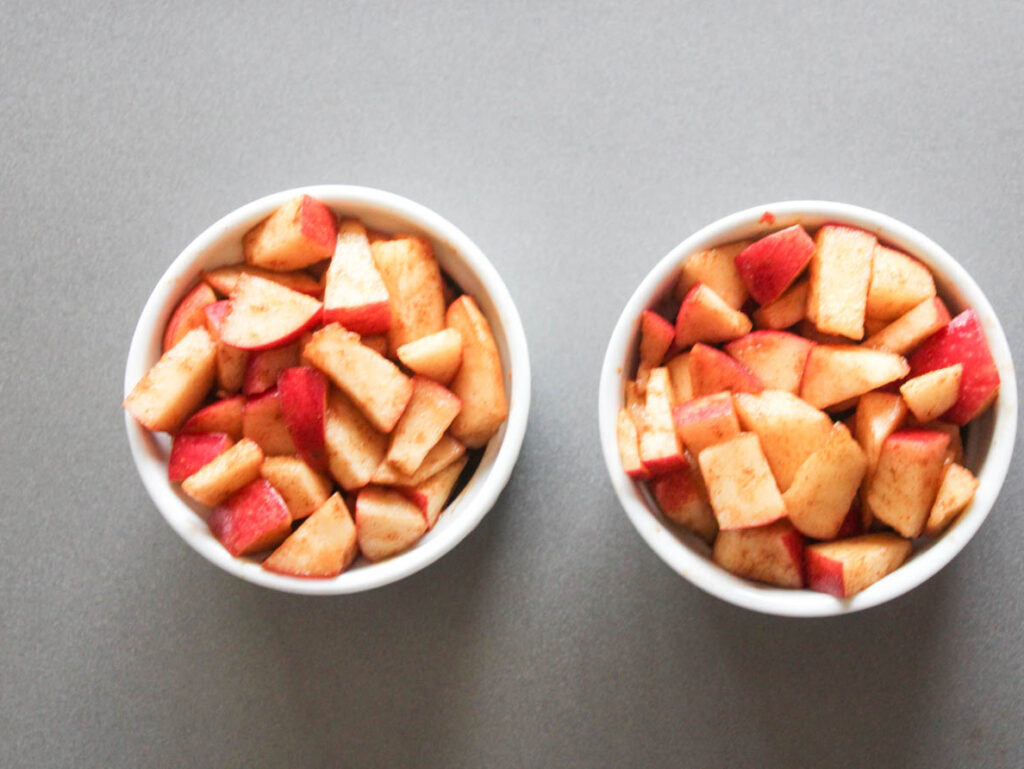 Crush the graham crackers with a rolling pin and add them to a mixing bowl, next, add the oats, walnuts syrup, and butter.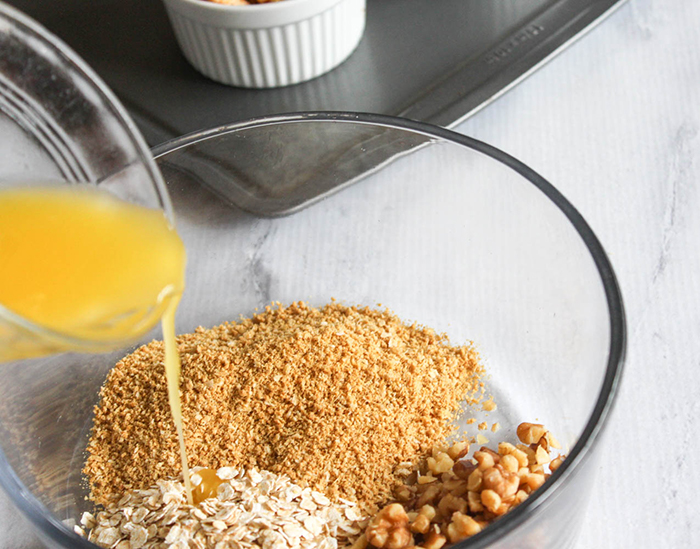 Mix the topping ingredients together.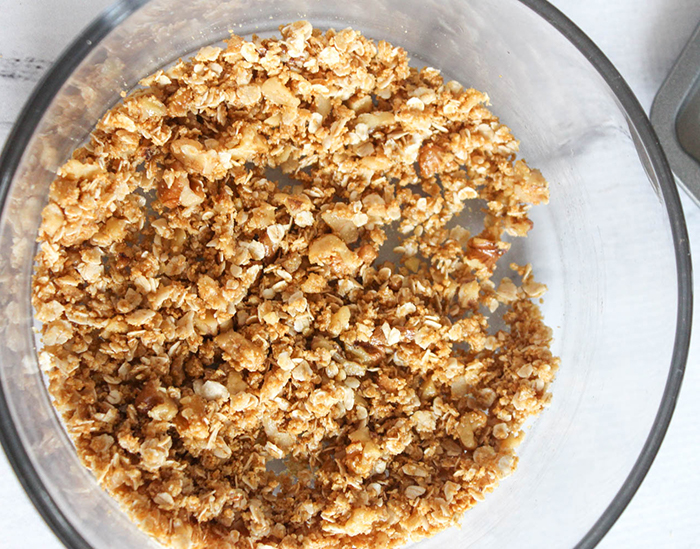 Pile the topping mixture over the top of the apples in the ramekins and bake.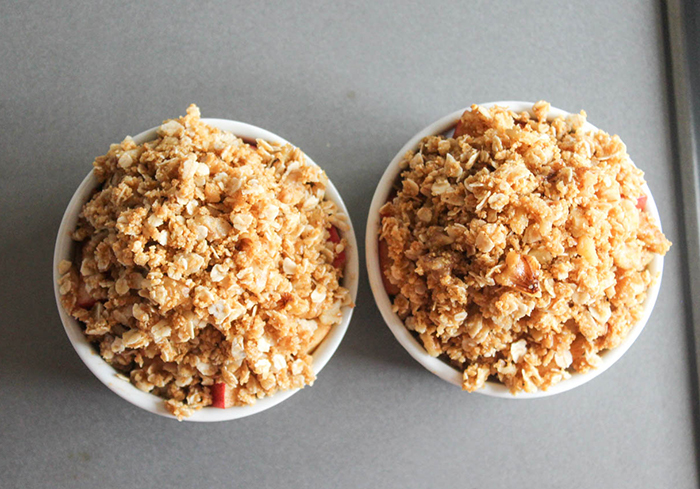 Estimated Time To Make This Recipe: 35 to 45 minutes.
Ingredient Notes
The best apples for apple crisp
You can really use any apple that you like in this recipe, but I think a sweet yet tart and crispy apple such as: Pink Lady, Granny Smith, Honey Crisp or Jonagold works best in this recipe. You can also mix and match apple varieties for a unique apple crisp.
Natural sweetener choices
This recipe has very little added sweetener, because I like to let the sweetness from the apples shine through. If you prefer a more sweet taste, you can add a little more sweetener.
I don't use refined sugar in my recipes, but if you prefer refined sugar you can use 2 tablespoons of it in place of the maple syrup. Other sweetener alternatives are 2 tablespoons honey, coconut or date sugar.
Graham Crackers
I like to use graham crackers that have very little sugar added to them, and Nairn's crackers are perfect for this with just a few grams of sugar. They are a little bit sweet and add a bit of crunch to the apple crisp, and they are gluten-free.
The Oats
Old fashioned rolled oats are the best choice of oats to use in this recipe. If they aren't available you can use quick oats. Steel cut oats are not recommended.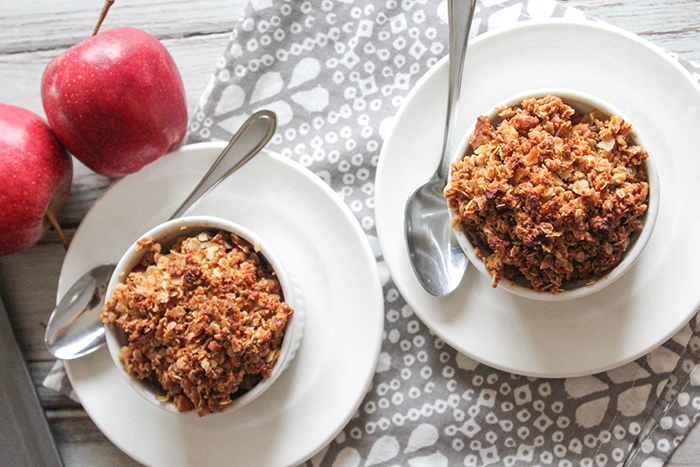 Recipe Tips & Variations
Make it vegan by substituting the butter with an equal amount of unrefined coconut oil.
Make it nut free by leaving out the walnuts. To add some crunch, replace the walnuts with pepitas or sunflower seeds.
Change up the nuts, by using chopped pecans or almonds in place of the walnuts.
Change up the fruit by using a combination of diced pears and apples instead of only apples. Or use only pears!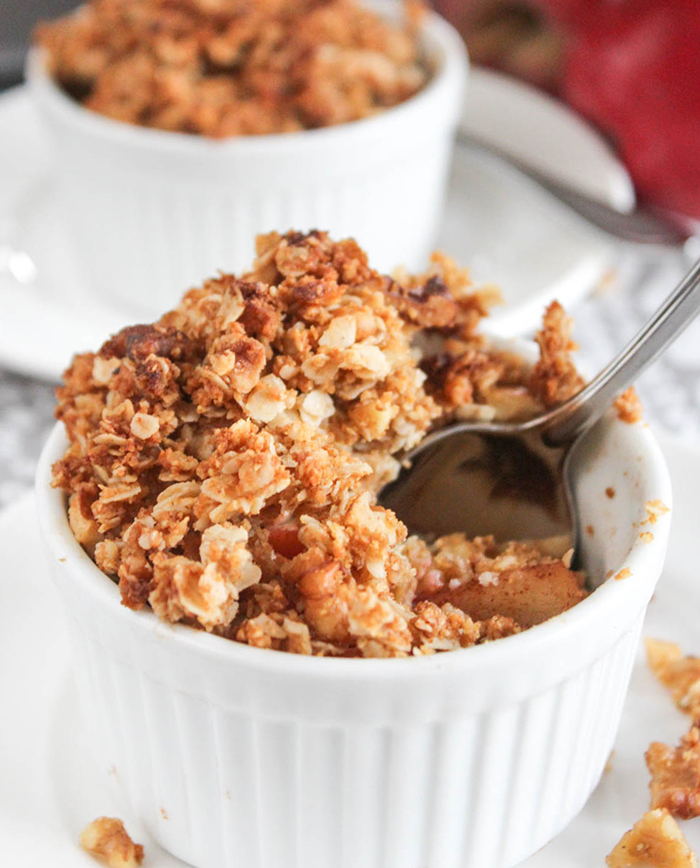 Make-ahead and Storage
Make-ahead: This recipe can be prepared ahead of time up to a day before baking it. Store the unbaked ramekins of apple crisp in the refrigerator. Remove them from the refrigerator about 30 minutes before baking it and bake them according to the instructions in the recipe card.
Storage: Baked apple crisp will stay in the refrigerator for up to five days. To re-heat them, remove them from the refrigerator re-heat them in the microwave or oven or you can enjoy them cold!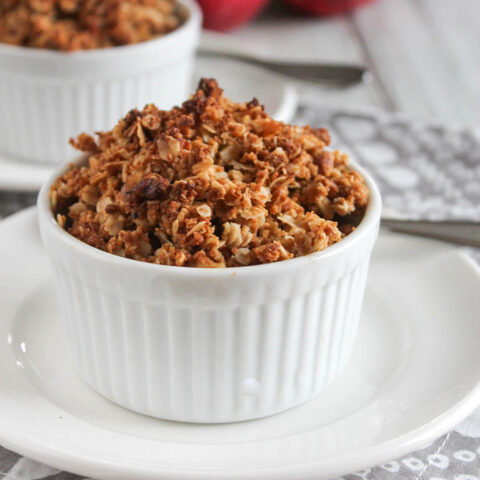 Mini Apple Crisp
Mini apple crisp is a healthy, individual apple crisp recipe. It's naturally sweet and delicious and easy to make.
Ingredients
2 apples, cored and diced (peeling is optional)
2 tablespoons maple syrup (divided)
1 teaspoon cinnamon
⅛ cup chopped walnuts
4 Narin's gluten-free graham crackers (¼ cup graham cracker crumbs)
3 tablespoons melted butter
½ cup rolled oats
Instructions
Pre-heat the oven to 350.
Dice the cleaned and dried apples and place them in a mixing bowl.
Add 1 teaspoon cinnamon and 1 tablespoon maple syrup to the apples in the bowl and mix everything together making sure the apples are coated with the syrup and cinnamon.
Place one half of the mixture into one 6 ounce ramekin and the other half into another 6 ounce ramekin and set them aside.
Crush the 4 graham crackers with a rolling pin which will make about ¼ cup crumbs and place the crumbs into a mixing bowl.
Add 3 tablespoons melted butter to crumbs along with ⅛ cup chopped walnuts and ¼ cup rolled oats to the crumbs in the bowl and stir to combine all of the ingredients
Spoon the topping mixture over each of the ramekins (the ingredients will overflow a bit, press them down with the back of a spoon) and bake for 30 minutes until the topping turns brown.
Nutrition Information:
Yield:

2
Serving Size:

1 ramekin
Amount Per Serving:
Calories:

458
Total Fat:

24g
Saturated Fat:

12g
Trans Fat:

1g
Unsaturated Fat:

11g
Cholesterol:

46mg
Sodium:

177mg
Carbohydrates:

60g
Fiber:

8g
Sugar:

33g
Protein:

5g
Nutrition information is provided by an online calculator and is meant to be used for informational purposes only. Even though I try to provide accurate information, these figures should still be considered as estimates.