This easy to follow recipe is the perfect balance of sweet and tart flavors in every bite !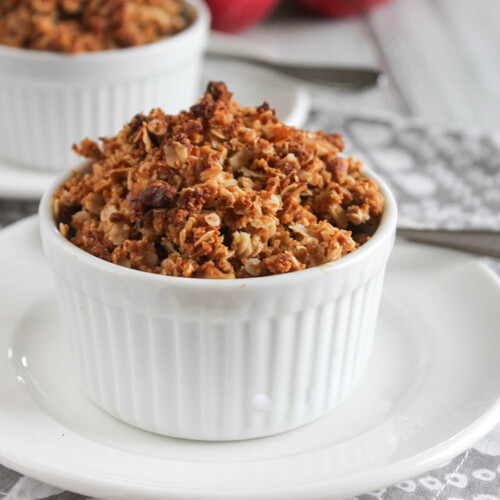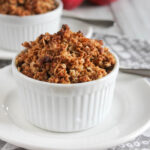 This recipe for apple crisp for 2 is a great choice if you're looking for a healthy and delicious dessert option. The best part is that it's a small batch recipe, so you won't have to worry about having leftovers.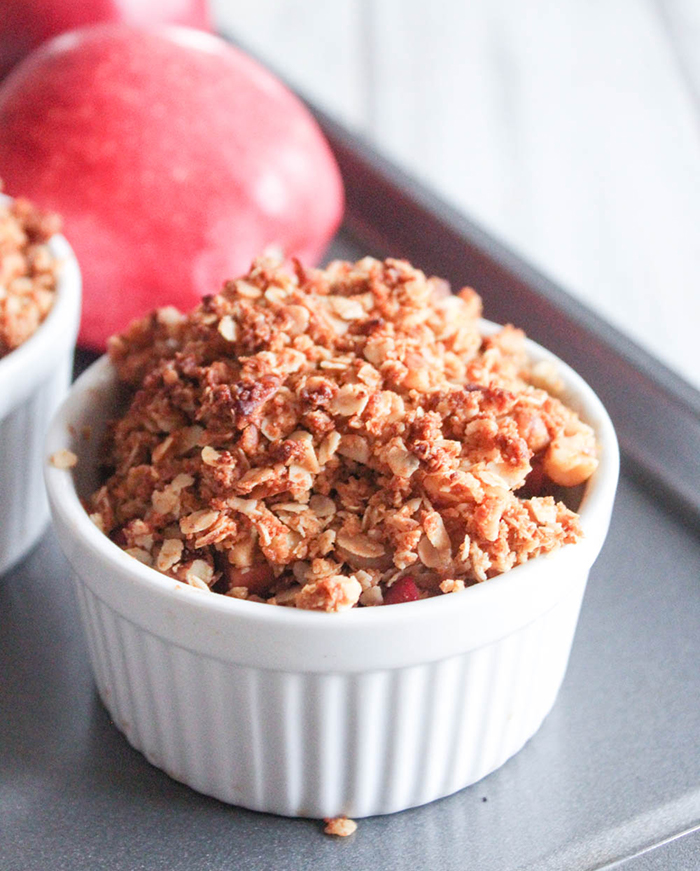 If you like naturally sweet desserts, check out these no-bake brownies or these chocolate bourbon balls.
This is the perfect small batch dessert. It uses natural sweeteners like maple syrup and fruit, making it a healthier alternative to traditional apple crisp. You can enjoy the same great taste and crisp topping with this recipe. You will love this easy apple crisp. It is quick to make, which is perfect for when you want a satisfying dessert without spending hours in the kitchen.
Jump to:
🤍Why you will love this recipe
It's a quick and easy dessert to make, perfect for when you don't have a lot of time.
This recipe is just enough for two servings which makes is perfect for a dinner for 2.
It's a healthier option. this apple crisp is sweetened by a touch fo maple syrup and naturally sweet fruit.
Here is what you will need
As an Amazon Associate, I earn from qualifying purchases.
This is an overview of the ingredients and steps to make this recipe; scroll down to see the ingredient notes and substitutions as well as a full recipe card with exact measurements and instructions.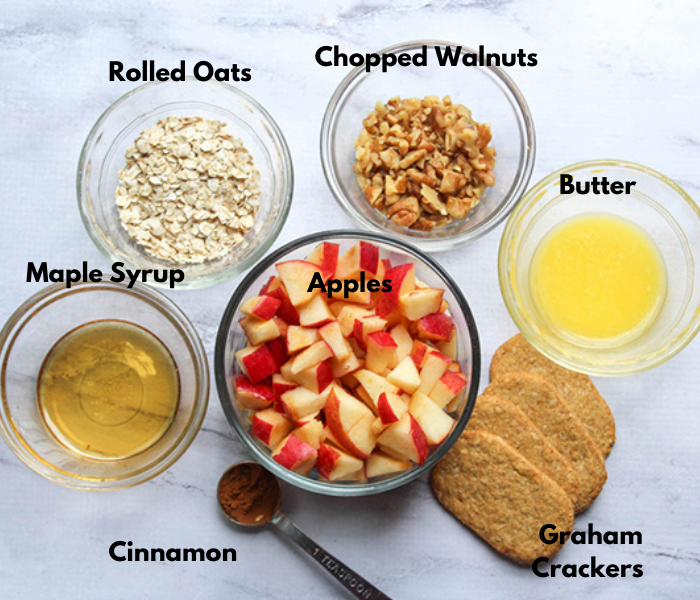 How to make individual homemade apple crisp
Prepare the Ingredients: wash and dry two medium apples or three small apples, dice them into bite-sized pieces.
Melt the butter and crush the graham crackers with a rolling pin or a food processor into coarse crumbs. Measure the cinnamon, oats syrup, and walnuts. Use a pastry brush to coat the bottom and sides of the ramekins.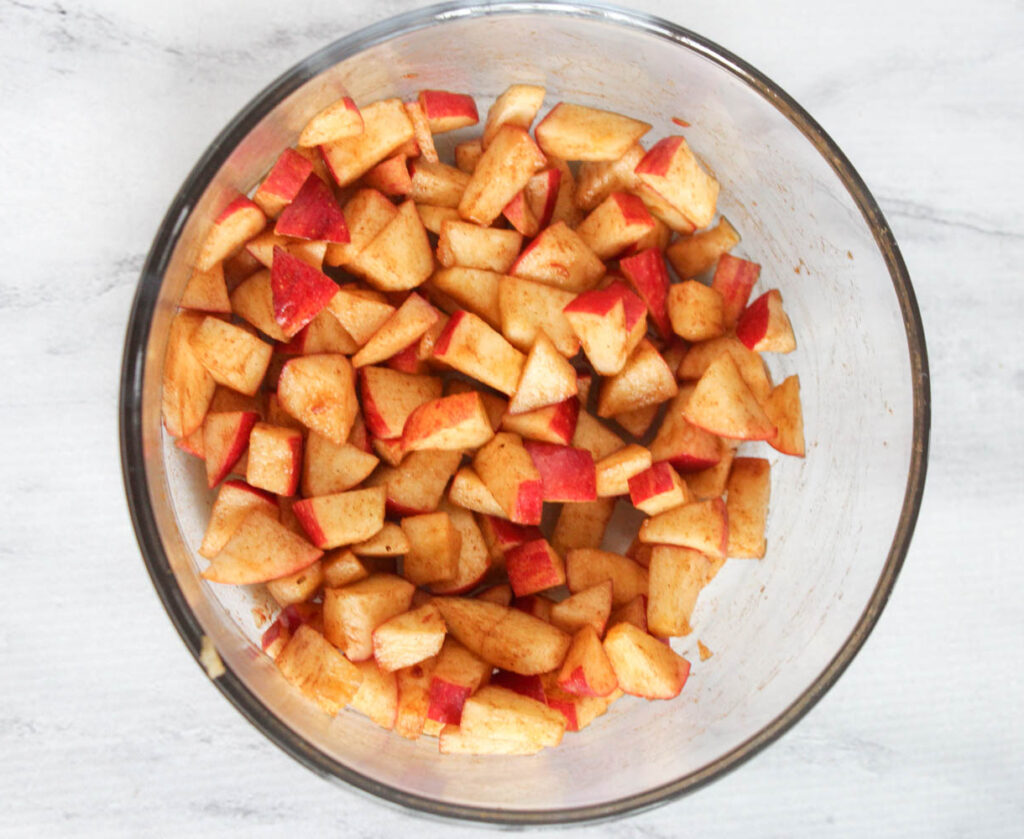 STEP 1: Place the apple pieces into a small bowl with the cinnamon and maple syrup; mix everything making sure the apples are coated.
STEP 2: Fill two ramekins with the prepared apple filling.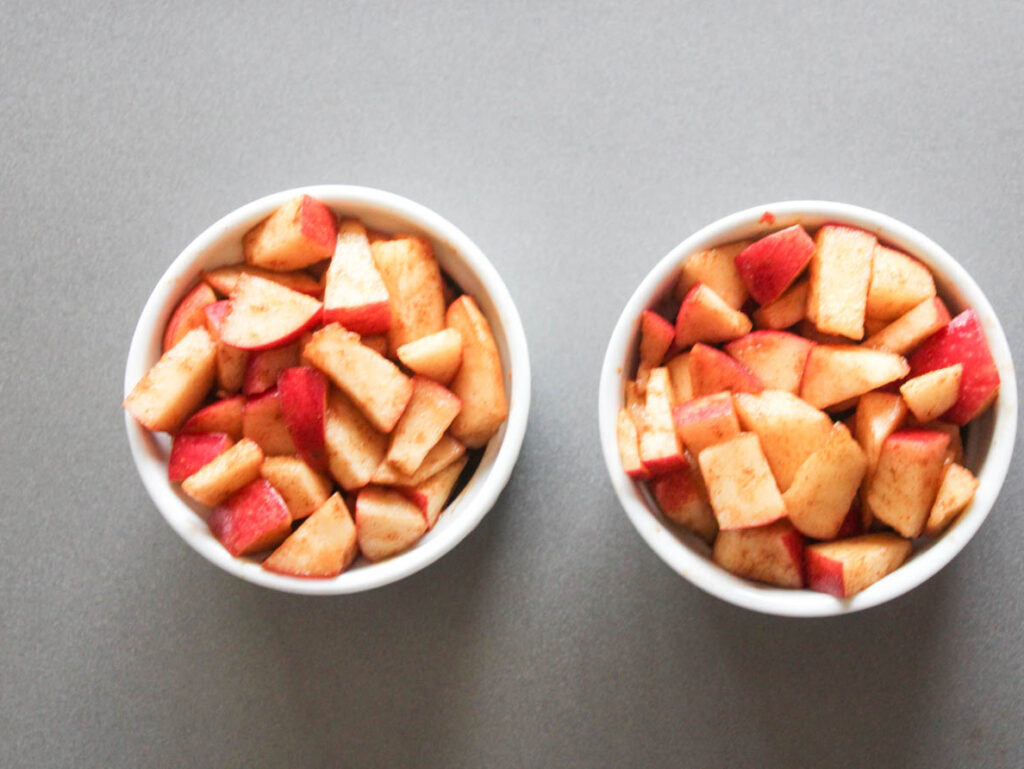 -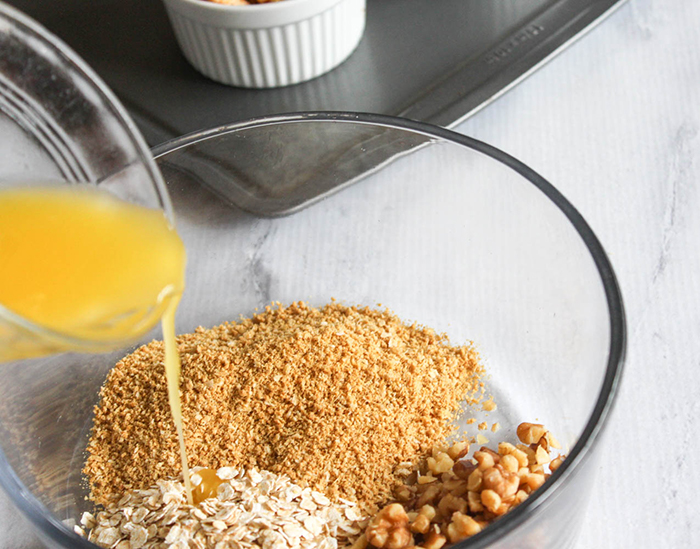 STEP 3. Add the cracker crumbs, oats, walnuts, and melted butter in a medium bowl.
STEP 4. Use a wooden spoon to mix all of the topping ingredients together.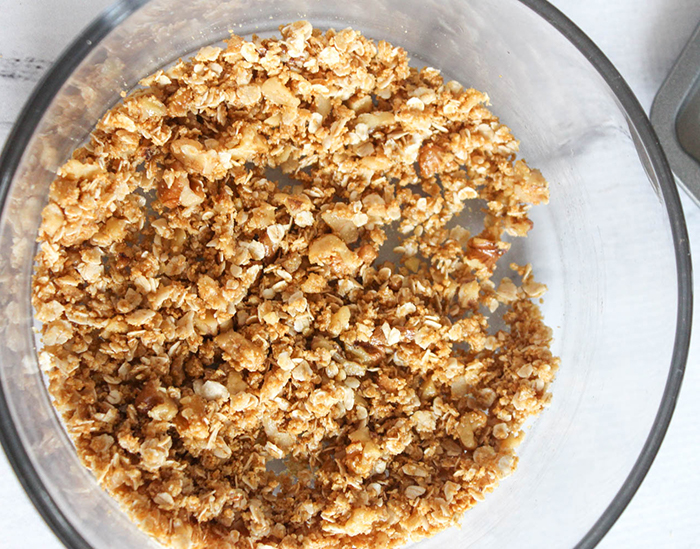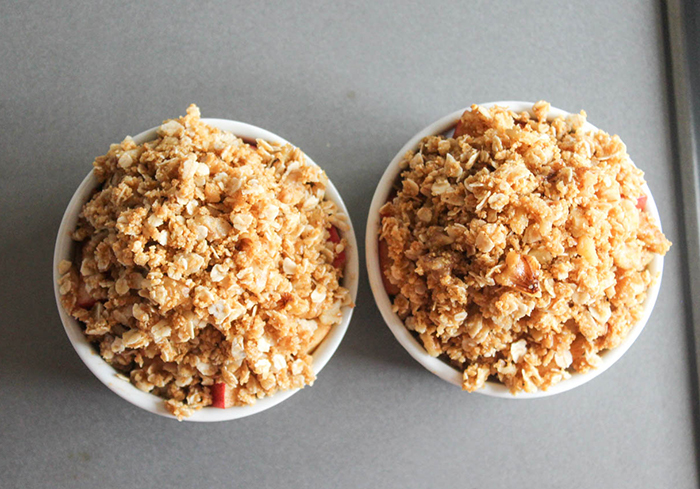 STEP 5. Pile the topping mixture over the top of the apples in the ramekins and bake until the topping turns golden brown.
Ingredient Notes & Substitutions
The complete list of ingredients to make this flatbread pizza is above. Below are notes about some of the ingredients, along with ideas for substitutes.
Apples - As with many apple recipes, you can use any variety of apple that you like to make this recipe. I like to use a combination of sweet and tart apples. Our favorite apple combination is a Granny Smith apple which is a tart apple and a Honeycrisp apple which is a sweet apple. Once they are baked, they are the perfect blend of sweet, tart, and tender apples.
Other good apple choices are Pink Lady, Jonagold, Braeburn or gala apples.
Maple syrup - This recipe is low in added sweetener (maple syrup) as the natural sweetness of the apples enhances the delicious flavor of fresh ingredients. However, if you prefer a sweeter taste, you can add a little more sweetener.
Substitutes for maple syrup" use an equal amount of honey, brown rice syrup or two tablespoons coconut sugar, date sugar or organic brown sugar.
Graham Crackers - The crackers that I use in this recipe are low sugar such as these from Nairins or Annie's Graham Crackers. But any of your favorite graham crackers will work in this recipe.
Oats - Old-fashioned oats are the best choice of oats to use in this recipe. If they aren't available, you can use quick oats. Steel-cut oats are not recommended due to their texture.
Walnuts - Chopped pecans or almonds are an excellent substitute for chopped walnuts in apple crisp.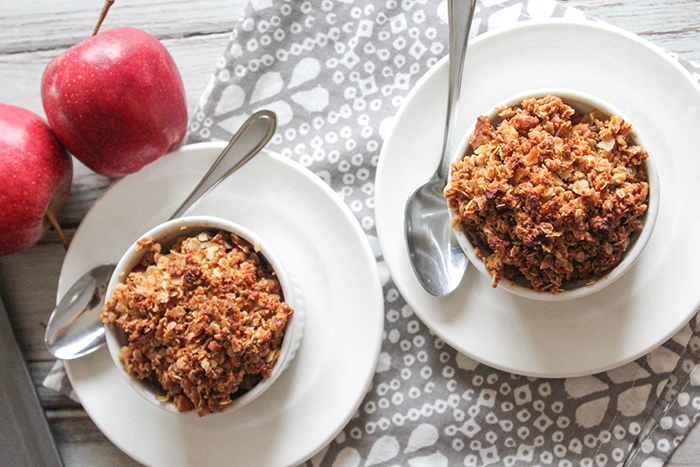 Recipe Tips & Variations
Vegan apple crisp - Substituting the butter with an equal amount of unrefined coconut oil.
Gluten-free apple crisp - Use gluten-free oats, crackers, or almond flour for the topping for a gluten-free version.
Nut-free apple crisp - leave out the walnuts. To add some crunch, replace the walnuts with pepitas or sunflower seeds.
Apple and pear crisp - Change up the fruit by using a combination of diced pears and apples instead of only apples for a mixed fruit crisp.
Coconut apple crisp - Mix shredded coconut into the oat topping for a tropical twist.
Berry apple crisp - Mix in some blueberries or raspberries with the apples for a burst of flavor.
Cranberry apple crisp - Add ¼ cup frozen cranberries and an extra tablespoon of sugar.
Serving Ideas
Serve individual mini apple crisps after a special dinner with a scoop of vanilla ice cream, fresh whipped cream or a few slices of cheddar cheese. These mini crisps are also a great addition to a dessert tray along with no-bake brownies, and cookies.
You can also make this apple crisp recipe in one serving dish, such as a small skillet or larger ramekin topped with a scoop of ice cream.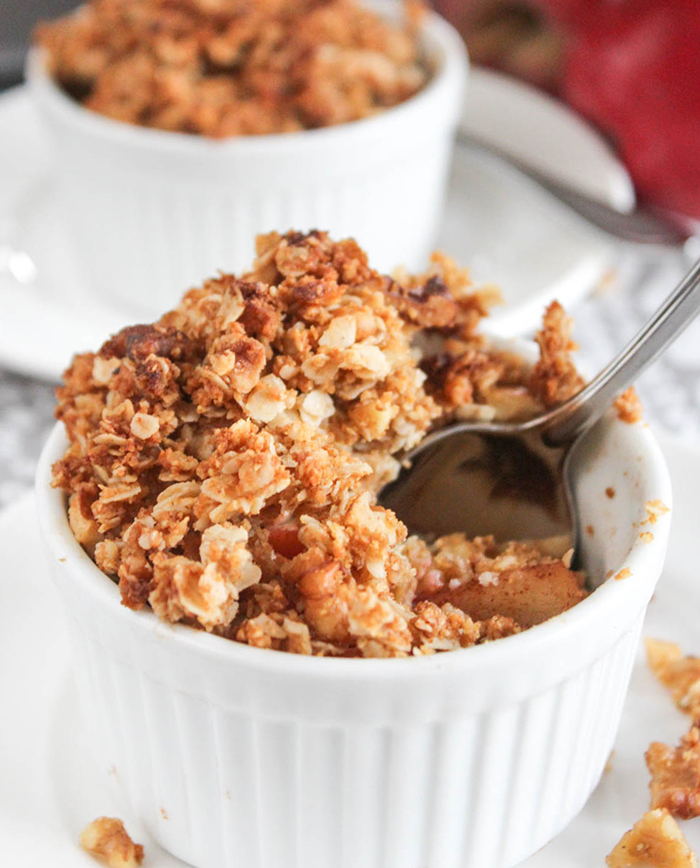 How to make mini apple crisp ahead of time
Make-ahead: This delicious dessert can be prepared ahead of time up to a day before baking it. Store the unbaked ramekins of apple crisp in the refrigerator.
Remove the ramekins from the refrigerator about 30 minutes before baking, and bake them according to the instructions in the recipe card.
How to store leftovers
If you end up with leftovers, you can store them in an airtight container in the refrigerator for up to five days.
Enjoy leftovers cold, at room temperature or reheat them in a 350-degree oven or in the microwave.
💡Tips
Squeeze a little bit of lemon juice into the apple filling mixture for a touch of freshness.
Allow the mini apple crisps to rest for a few minutes before serving which will help the flavors blend together.
Slice your apples uniformly to ensure even cooking of the apples.
What is the difference between apple crumble, apple cobbler and apple crisp?
An apple crisp layer of topping contains oats and nuts. The apple crumble topping is made with flour, butter, and sugar and does not contain oats and nuts. An apple cobbler is usually made in a deep dish, and the topping is made with dropped biscuit dough.
Can I freeze apple crisp?
It's best to thaw these before baking. Once they are assembled, wrap them well and freeze them for up to 3 months. When ready to enjoy, bake them from frozen. You may need to add a few extra minutes of baking time.
Can I use store-bought apple pie filling instead of making my own?
You can use store-bought filling. However, when you make your own, you can control the sugar and they will taste fresh.
Are you too tired to cook dinner?
If you're feeling uninspired when it's time to cook dinner, this free guide will help you make a quick and healthy dinner with ingredients you have in your kitchen.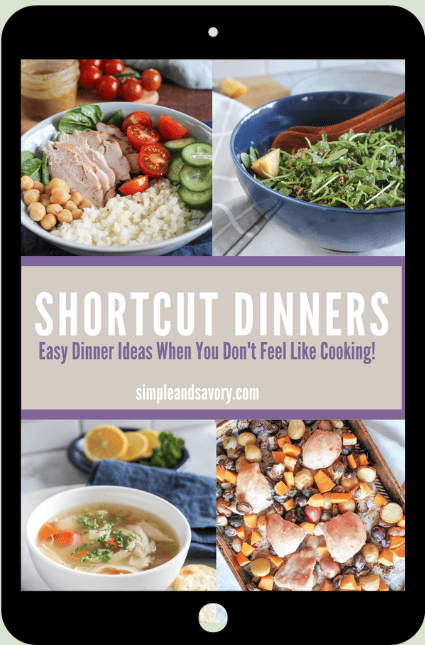 You Might Also Like These Apple Recipes
Do you like this recipe?
Please comment and give it a ⭐⭐⭐⭐⭐ rating below!
📖 Recipe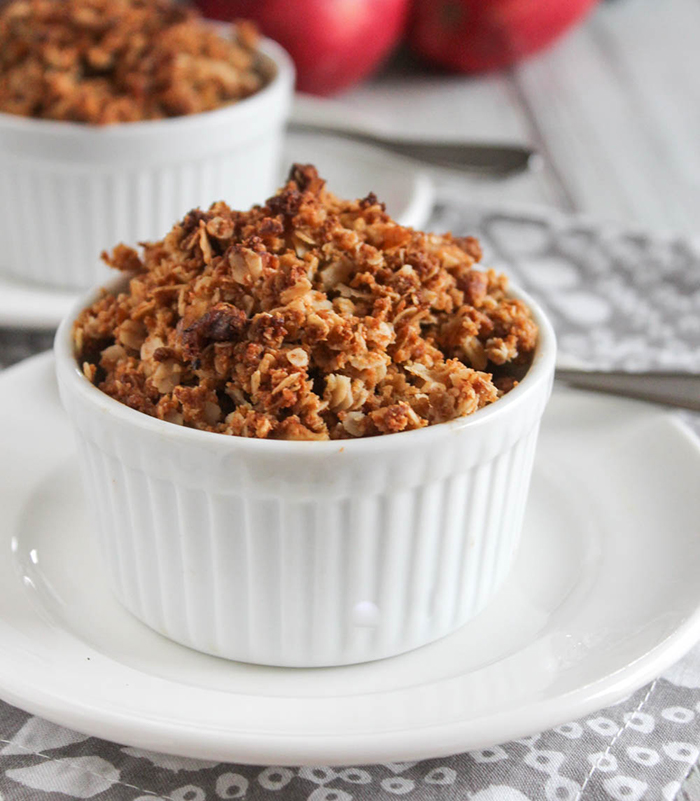 Click on serving size to scale this recipe
Ingredients
2

apples

cored and diced (peeling is optional)

2

tablespoons

maple syrup

divided

1

teaspoon

cinnamon

⅛

cup

walnuts

chopped

¼

cup

graham cracker crumbs

3

tablespoons

butter

melted

½

cup

oats

Old Fashioned Rolled
Instructions
Pre-heat the oven to 350.

Dice the cleaned and dried apples and place them in a mixing bowl.

Add 1 teaspoon cinnamon and 1 tablespoon maple syrup to the apples in the bowl and mix everything together making sure the apples are coated with the syrup and cinnamon.

Place one half of the mixture into one 6 ounce ramekin and the other half into another 6 ounce ramekin and set them aside.

Crush the 4 graham crackers with a rolling pin or a mini food processor. (this should make about ¼ cup crumbs) Place the crumbs into a mixing bowl.

Add 3 tablespoons melted butter to the crumbs along with ⅛ cup chopped walnuts and ¼ cup rolled oats to the crumbs in the bowl and stir to combine all of the ingredients

Spoon the topping mixture over each of the ramekins (the ingredients will overflow a bit, press them down with the back of a spoon) and bake for 30 minutes until the topping turns brown.
Notes
TIPS
squeeze a little bit of lemon juice into the apple filling mixture for touch of fresh flavor.
allow the mini apple crisps to rest for a few minutes before serving which will help the flavors blend together
Slice your apples uniformly to ensure even cooking of the apples
Store leftovers in the refrigerator for up to 5 days. Reheat in a microwave or oven.
See above for recipe variations and more!
Nutrition
Serving:
1
ramekin
|
Calories:
477
kcal
|
Carbohydrates:
63
g
|
Protein:
5
g
|
Fat:
25
g
|
Saturated Fat:
12
g
|
Polyunsaturated Fat:
5
g
|
Monounsaturated Fat:
6
g
|
Trans Fat:
1
g
|
Cholesterol:
45
mg
|
Sodium:
227
mg
|
Potassium:
369
mg
|
Fiber:
7
g
|
Sugar:
34
g
|
Vitamin A:
625
IU
|
Vitamin C:
8
mg
|
Calcium:
64
mg
|
Iron:
2
mg
Nutrition information provided is an estimate and can vary based on cooking methods and ingredients used
Check out my list of products and tools that I use all of the time in the kitchen!
Sign Up for Easy Recipes Straight in Your In-Box!
If you have a question that is not answered above, ask in the comment section below, and I will answer you as soon as I can.