A healthier twist on apple cider chicken that gets its apple flavors from tea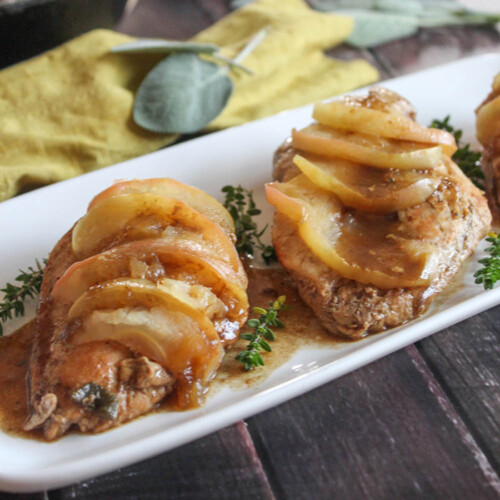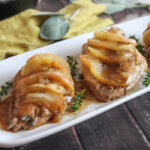 Apple flavor tea replaces the cider in tea-infused apple cider chicken; a delicious twist on traditional apple cider chicken. It's a super flavorful easy dinner that can be made in less than one hour.
This fall-inspired recipe will be your new favorite chicken dinner! I changed up traditional apple cider chicken for lower sugar, yet still tasty chicken dinner.
Thank you Republic of Tea and Melissa's Produce for sending me product to make this recipe. As always all opinions are my own.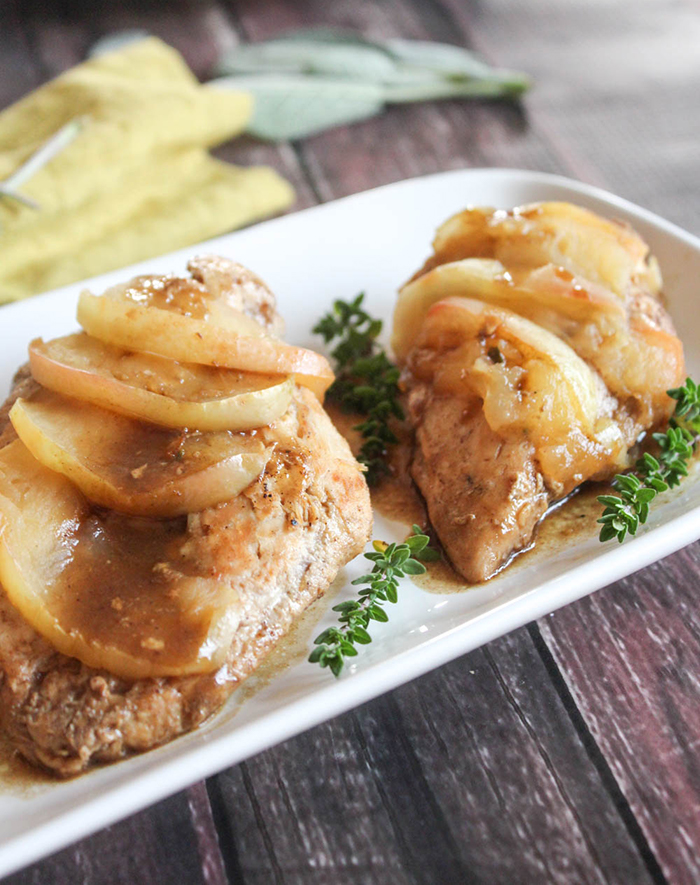 Recipe Highlights
It's healthy, made with wholesome ingredients including tea instead of apple cider which can contain added sugar.
It's quick and easy to make. Dinner in less than one hour, with only 12 ingredients in one pan.
What you will need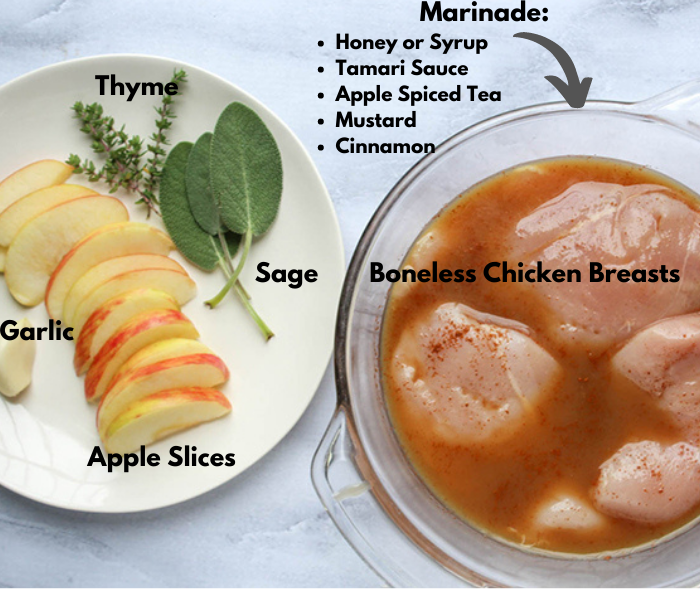 Ingredient Notes
Apple flavored tea such as Republic of Tea, Hot Apple Cider Tea that has been steeped in hot water when combined with fresh and juicy apples adds just the right amount flavor to this dish.
Olive oil or avocado oil forr their healthy benefits to brown up the chicken.
Boneless chicken breasts, boneless chicken thighs or a combination of both. Your choice!
Tamari sauce, soy sauce, or coconut aminos; This sauce adds a bit of umami flavor to the dish. My first choice is tamari sauce for its deep, rich flavor. If you don't like soy or have allergies, coconut aminos is a good choice too.
Maple syrup or honey - Either one of these natural sweeteners works and adds just enough sweetness to the dish.
Dijon or Brown Mustard - Dijon is my first choice. It's creamy and works well in sauces but a spicy brown will work too.
Fresh garlic, sage, and thyme - fresh herbs add so much flavor to this recipe. If you don't have access to fresh herbs, dried are a good second choice. Keep in mind that they will not taste as fresh, and more importantly, dried herbs have a more intense flavor so the amount that you need will be less.
Here are the amounts of dried herbs to use: ⅛ teaspoon of garlic powder, ¼ teaspoon dried thyme and 1 teaspoon dried sage.
Apples - any type of apple will work. I like to use crispy apples such as honey crisp, fuji, gala or Braeburn in this recipe.
How to Make it
Mix the liquid ingredients together and pour half of it over the chicken and marinate it for at least an hour.
Remove the chicken from the marinade and pat it dry. Discard the marinade and place the chicken in a heated cast-iron skillet and brown it. Flip the chicken breasts over and add chopped garlic. Cook for a few minutes longer.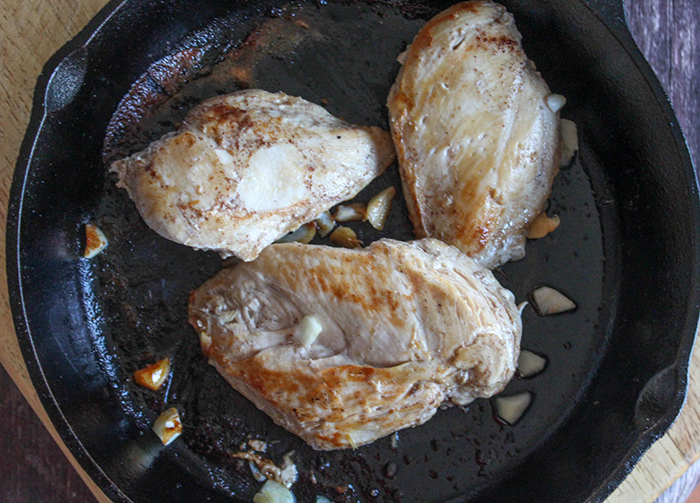 Add the remaining marinade to the skillet.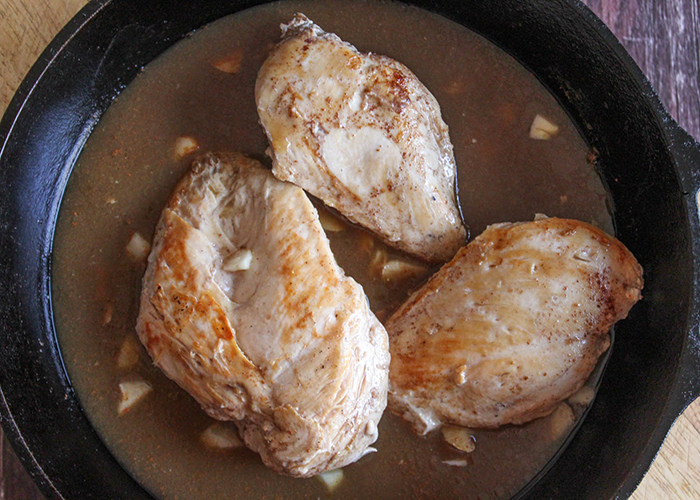 Add the thyme and sage. Top the chicken with sliced apples, cover and bake.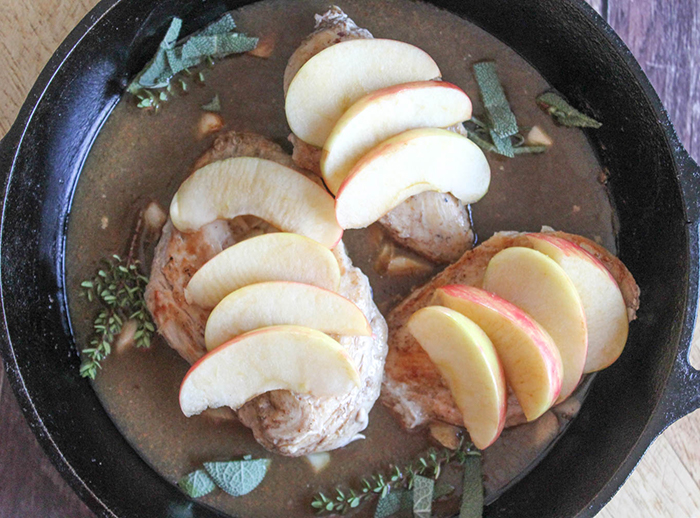 Remove the pan from the oven and thicken the sauce and serve.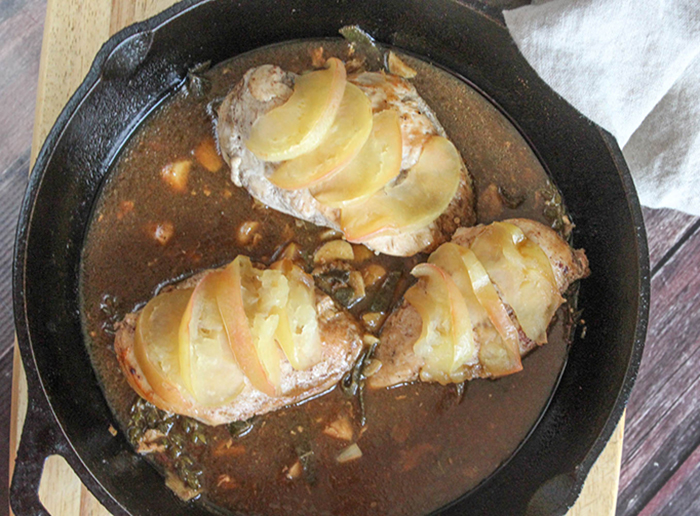 Estimated Time To Make This Recipe: 40 to 50 minutes (does not include marinating time)
Serving Suggestions
Serve apple cider chicken with smashed potatoes, mashed potatoes, brown rice, steamed broccoli, roasted brussels sprouts, or a salad.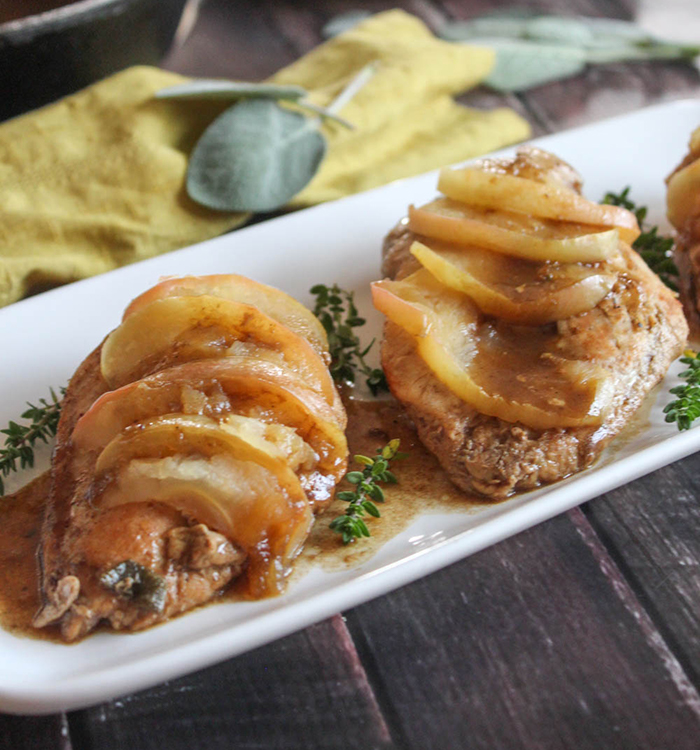 Make-Ahead, Storage and Leftovers
Make it ahead of time: This recipe can easily be made ahead of time and baked just before serving.
Here's how: Marinate the chicken as per the instructions. Then brown it in a pan with the garlic. Remove the chicken from the pan and store it in the refrigerator in an air-tight container for up to 2 days.
When you are ready to bake it, place the chicken into an oven-proof pan, add the marinade that was set aside, top with apples, sage and thyme and bake it.
Storage: Leftover apple cider chicken can be stored in the refrigerator for up to four days in an air-tight container. Freezing is not recommended, I have not tried it.
Leftovers: Served leftover chicken in a romaine or arugula salad or wrap with crispy apples or warm it up and serve it with rice.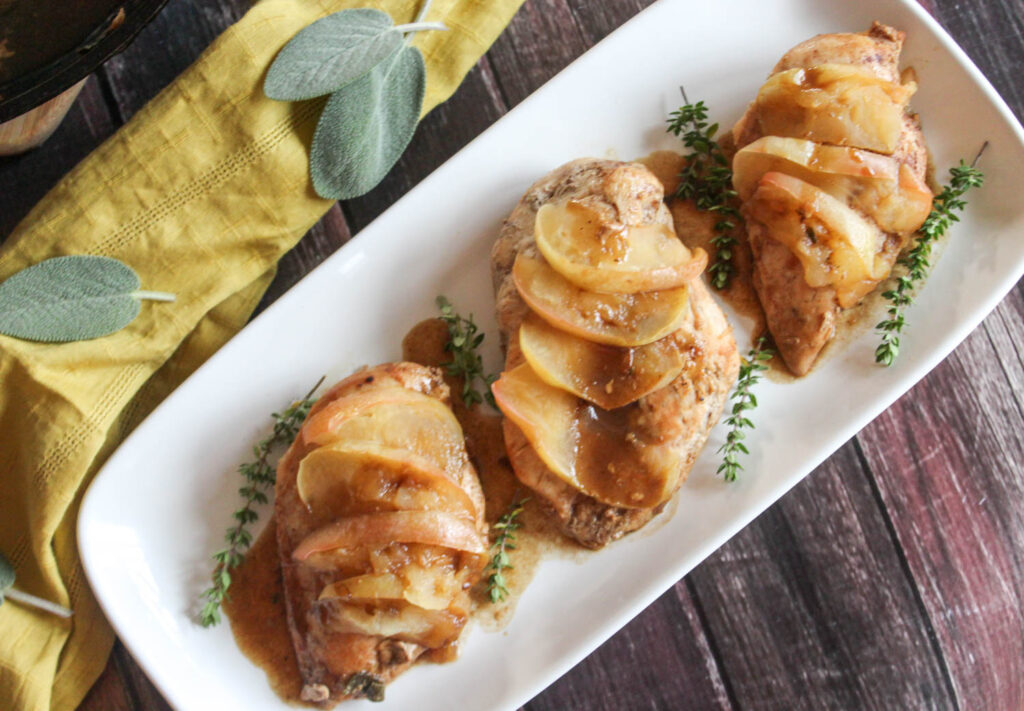 Recipe Variations
Substitute the boneless chicken breasts with boneless chicken thighs or boneless pork chops.
Change up the tea; try using a simple green or black tea and add an additional ¼ cup diced apples to the liquid in the pan before baking.
Replace the Apples with Pears and use pear flavored or plain tea.
You Might Like These Fall Inspired Recipes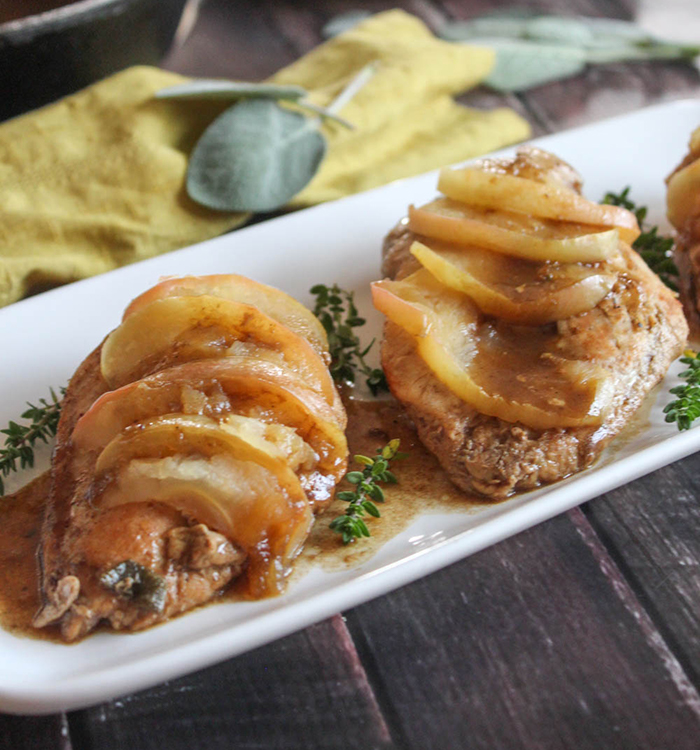 Click on serving size to scale this recipe
Ingredients
8

ounces

of water plus 1 tablespoon

1

tablespoon

olive oil

1

pound

boneless chicken breasts

2

Republic of Tea Hot Apple Cider Teabags or your favorite apple-flavored tea

1

tablespoon

tamari sauce

1

tablespoon

honey or maple syrup

1

teaspoon

cinnamon

1 ½

teaspoons

dijon or brown mustard

1

clove

of garlic

minced

1

tablespoon

chopped fresh sage

1

teaspoon

fresh thyme leaves

1

apple sliced thin
Instructions
Place two tea bags into 1 cup of warm water and let it steep and then return to room temperature.

Once the tea has cooled off, whisk the tea with one tablespoon tamari sauce, 1 tablespoon honey or maple syrup, 1 teaspoon cinnamon, and 1 ½ teaspoons of mustard.

Place the chicken breasts into a glass dish and pour half of the (½ cup) marinade over the chicken and refrigerate for at least one hour. Reserve the remaining half cup of marinade and set it aside.

Pre-heat the oven to 350

Heat a skillet over medium to high heat with 1 tablespoon oil. Add the chicken breasts and cook until they start to brown. Flip them over and add the minced garlic.

Cook for about 5 minutes longer until the underside of the chicken is golden brown.

Reduce the heat and add the reserved marinade and top the chicken with apple slices.

Cover the pan and place it in the oven and bake for 20 minutes.

Remove the pan from the oven and place the chicken breasts on a platter.

Strain the herbs and garlic from the sauce in the pan and gradually stir in 1 teaspoon of flour mixed with 1 tablespoon water to thicken the sauce.
Notes
Substitute the boneless chicken breasts with boneless chicken thighs or boneless pork chops.
Change up the tea; try using a simple green or black tea and add ¼ cup diced apples to the liquid in the pan before baking.
Nutrition
Serving:
1
/4 pound chicken
|
Calories:
332
kcal
|
Carbohydrates:
29
g
|
Protein:
36
g
|
Fat:
8
g
|
Saturated Fat:
2
g
|
Polyunsaturated Fat:
5
g
|
Cholesterol:
96
mg
|
Sodium:
409
mg
|
Fiber:
3
g
|
Sugar:
23
g
Nutrition information provided is an estimate and can vary based on cooking methods and ingredients used