Healthy apple nachos are made with slices of apples that are drizzled with protein-rich natural peanut butter, raisins, walnuts, and cacao nibs for a quick and healthy snack that is vegan gluten-free.
If you are looking for a quick, healthy snack, these peanut butter apple nachos couldn't get any easier. They are kid-friendly too. Let your kids help to build their own plate of apple nachos for an after-school snack that's naturally sweet and healthy.
This recipe was originally posted in 2018, it's been updated for content and photos.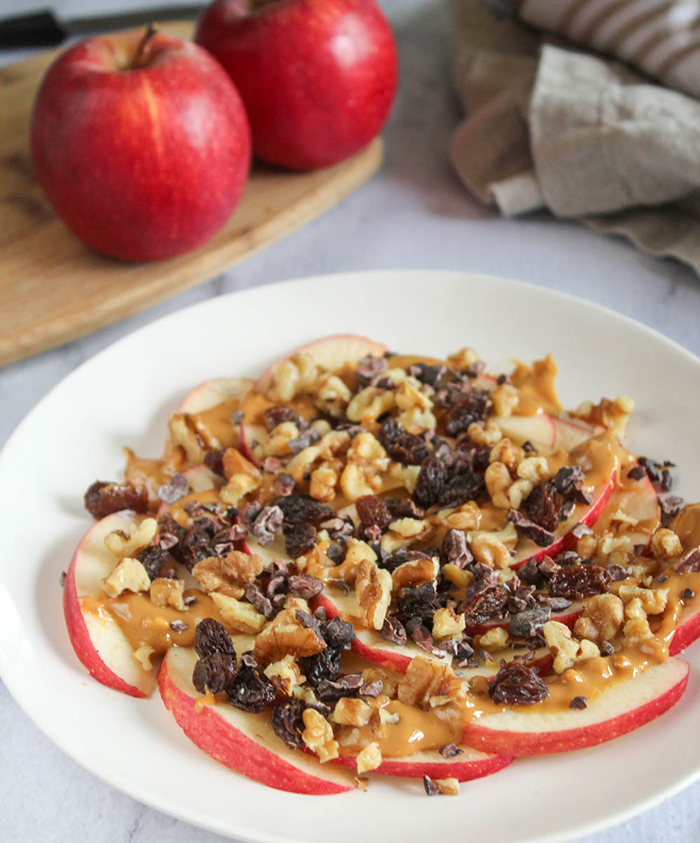 Recipe Highlights
It's easy! Anyone can make these in just a few minutes, no baking required.
It's healthy! Apples are rich in vitamins, minerals, and fiber. Peanut butter and walnuts are a good source of protein.
It's customizable! Sliced apples are a blank slate in this recipe. Pile on your favorite healthy ingredients for a delicious snack.
Here is what you will need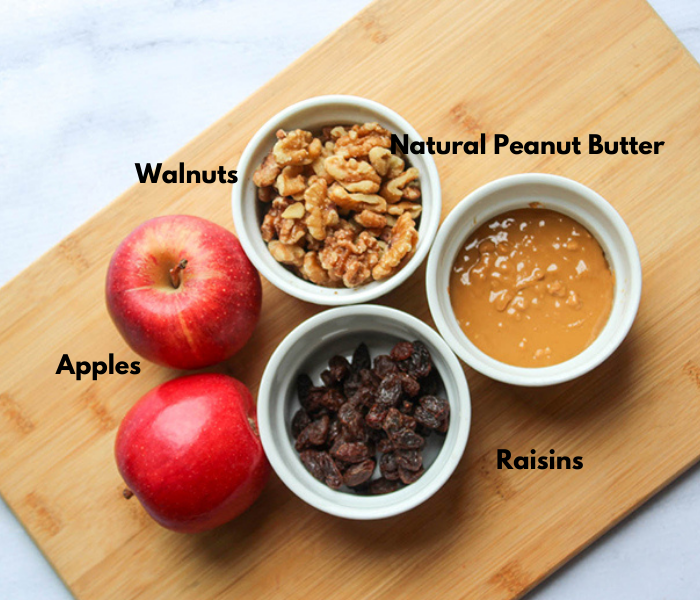 As an Amazon Associate, I earn from qualifying purchases
This is an overview of the ingredients and steps to make this recipe, scroll down for a printable recipe card with exact measurements and instructions.
This is a recipe that you can customize to your taste. Add more peanut butter if you like and leave out whatever doesn't appeal to you.
Apples - Any type of apple will work in this recipe. I like to use Fuji, Gala or Honey Crisp, they are sweet and crispy. You can also mix two varieties such as tart Granny Smith with a sweet Honey Crisp apple to add a little flavor contrast.
Raisins - Add a touch of natural sweetness.
Natural Peanut Butter - Is thinner and easy to drizzle, plus it is made with peanuts, and depending on the brand some salt, it should not contain added sugars. Chunky or smooth will work. I like to use chunky for a little extra crunch.
Walnuts - Add for more protein and texutre.
Estimated Time To Make This Recipe: 15 to 20 minutes
How to make it
Please note this is a summary of steps, please see the recipe card below for detailed instructions and ingredient amounts.
Apple nachos are easily made by slicing up apples and arranging them on a plate.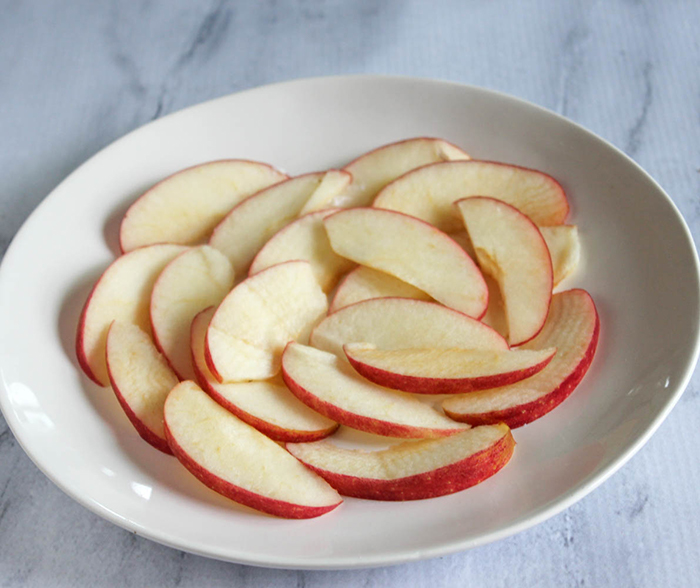 Add a a drizzle of peanut butter.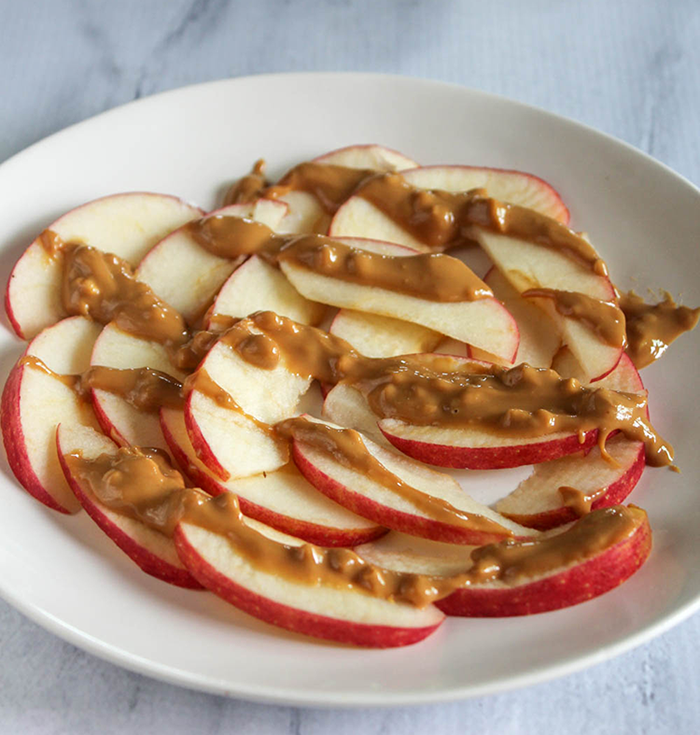 Add the remaining toppings and enjoy.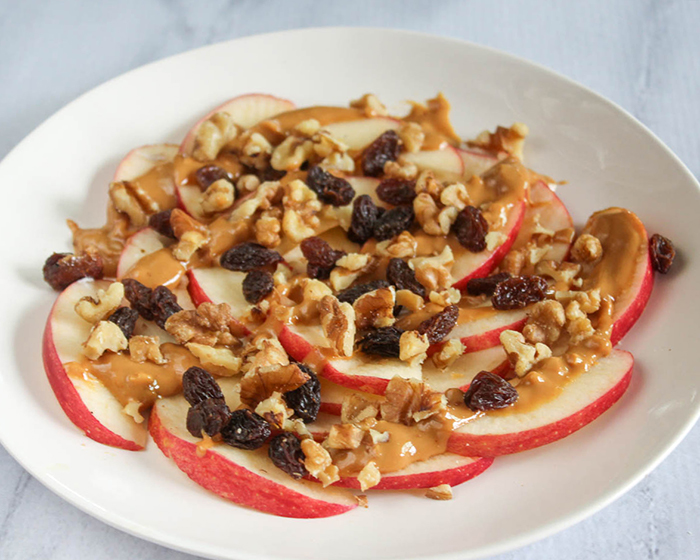 Recipe Tips
How to slice the apples - Slice an apple in half, remove the core with a knife, and then slice each half into quarters. Slice each quarter into half or quarters again depending on how thin you like your apple slices.
How to keep the apples from turning brown - squeeze a little bit of lemon juice on them before adding the peanut butter
Thinning the peanut butter - If your peanut butter is not thin enough to drizzle over the apples, you can place it in the microwave for about 30 seconds and stir it to thin it out or you can gradually stir in water until it reaches a good drizzling texture.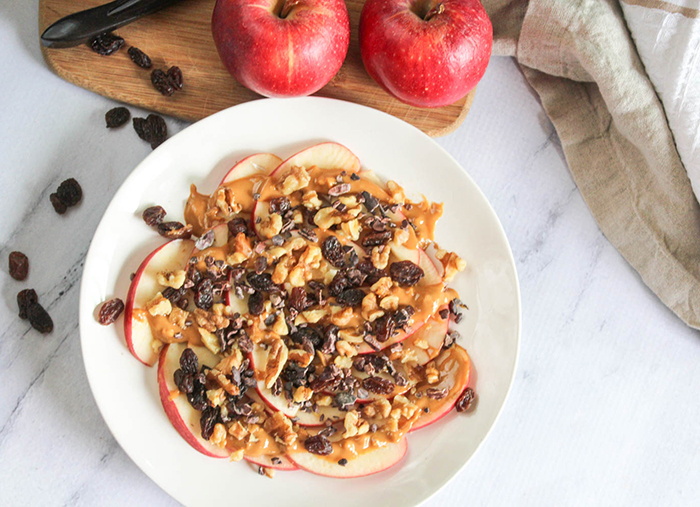 Variations
Substitute peanut butter for your favorite nut butter such as cashew, almond, or sunflower seed butter.
Change up the raisins and use any type of dried fruit such as craisins, dried cherries chopped up dried figs.
Substitute the walnuts with chopped almonds, pecans, cashews, pistachios or any combination.
Additional topping ideas: mini chocolate chips, shredded coconut, or granola, a sprinkle of cinnamon.
Make-Ahead and Storage Tips
Apple Nachos is a recipe that should be consumed shortly after it is prepared to prevent the apples from browing and getting mushy.
Apple nachos can, however, be made about an hour or two before serving and stored covered in the refrigerator until it's ready to serve.
Leftover apple nachos can be stored in the refrigerator for up to a day in an air-tight container.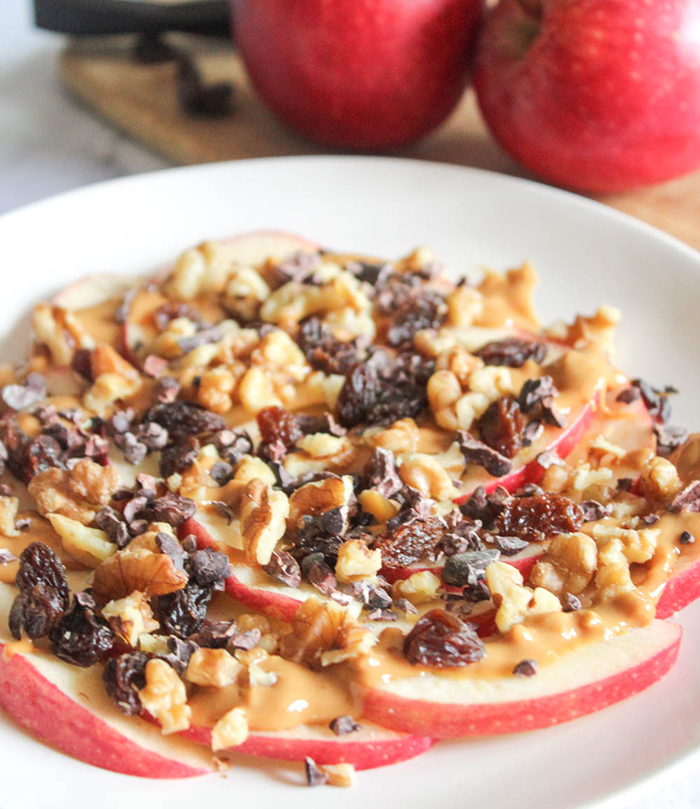 You Might Also Like these Apple Recipes