Make your own homemade ranch seasoning blend in just a few minutes with 5 spices that you most likely have in your pantry already. And it has the same great taste, not full of processed ingredients. Just plain and simple dried herbs and spices.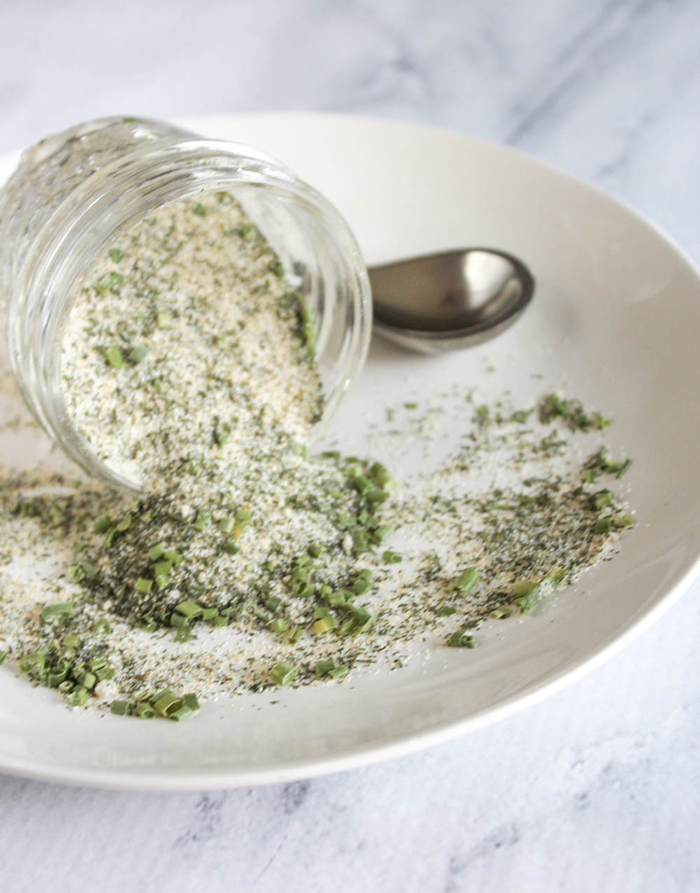 I used to use those little packets of dry ranch dressing for dips and salad dressing until I read the ingredient label. There are way too many additives, and then I realized how easy it is to make a DIY ranch season blend and so is this taco seasoning blend.
What You Will Need
It only takes four dried herbs plus sea salt to make this spice blend, here's the list: dried chives, dried dill, dried onion powder, dried garlic powder and sea salt.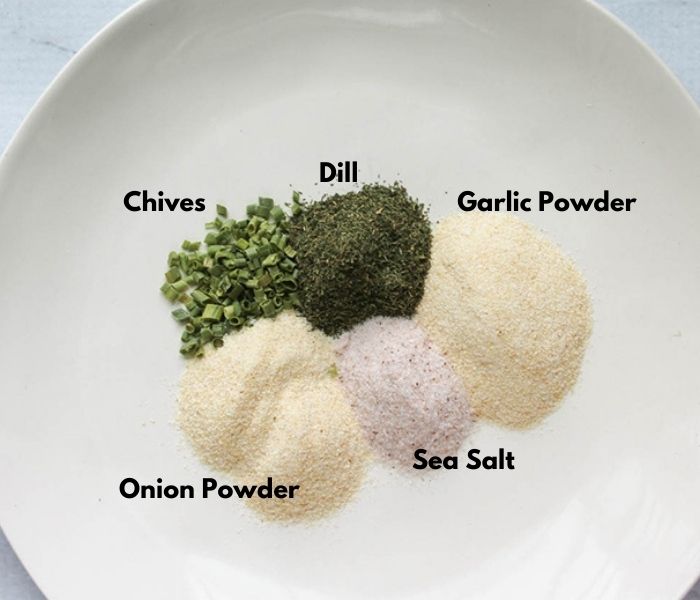 Ingredient Notes
Buttermilk powder is also an ingredient that most ranch season blends are made with. In the interest of trying to keep the recipe a simple season blend, I decided to leave it out. If you would like to try the recipe with buttermilk powder, add ½ cup of buttermilk powder to the blend.
How to Make Homemade Ranch Seasoning Blend
All that you need to do to make this season blend is to mix all five of the ingredients together.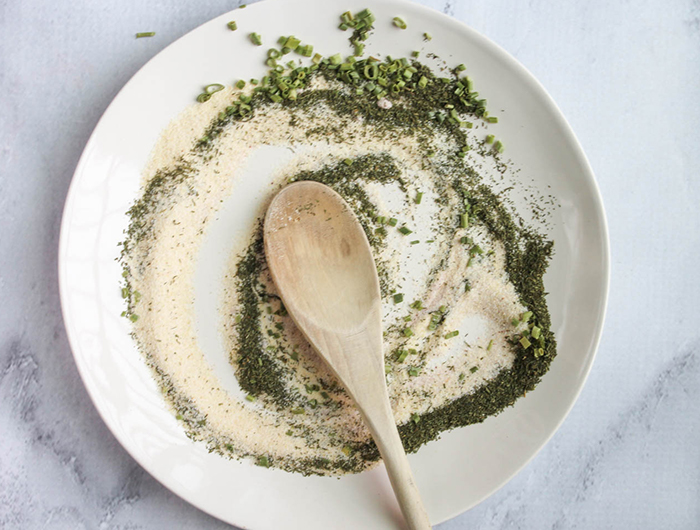 Once the ingredients are mixed together, store the mixture in a glass container, I like these little four-ounce mason jars for this.
Total Estimated Time to Make This Recipe: 5 to 10 Minutes
Season Blend Uses
You can make all things ranch with this blend and then some, here are a few suggestions:
Vegetables - Sprinkle the spice blend over steamed broccoli or green beans or try it in Green Beans with Almonds.
Popcorn - Stir in 2 teaspoons of ranch blend into 4 cups of popped corn.
Almonds - Toss 1 ½ cups raw almonds with 1 tablespoon of ranch season blend and 2 teaspoons olive oil. Roast in the oven at 400 for about 10 minutes.
Roasted Potatoes - Mix 1 tablespoon of ranch seasoning blend with 1 tablespoon olive oil and one pound of russet potatoes cut into chunks. Roast in the oven at 400 for 30 to 40 minutes until tender and golden.
Dip - mix ¼ cup of seasoning blend into Greek or Icelandic yogurt and a little bit of water or milk to thin it out. Use it as a veggie dip or dip homemade potato chips into it.
Salad Dressing - Here is my recipe for homemade ranch dressing.
Salads - I have not tried this blend in a creamy salad dressing yet, but we like to toss it into salad with a little bit of olive oil and lemon juice or white wine vinegar.
Grilled Meat - Sprinkle ranch seasoning blend with cracked pepper onto boneless chicken breasts, pork chops or steak before grilling it.
Butter or Oil - Mix ranch dressing with olive oil or soft butter and brush it on bread for a tasty twist on garlic bread.
Eggs - sprinkle the spice blend into scrambled eggs, or add a teaspoon to deviled eggs.
Avocado Toast - Smear a smashed avocado onto toast and top it with ranch seasoning.
For more simple and delicious recipes like this, subscribe to our newsletter and receive a free e-book and meal suggestions straight in your inbox!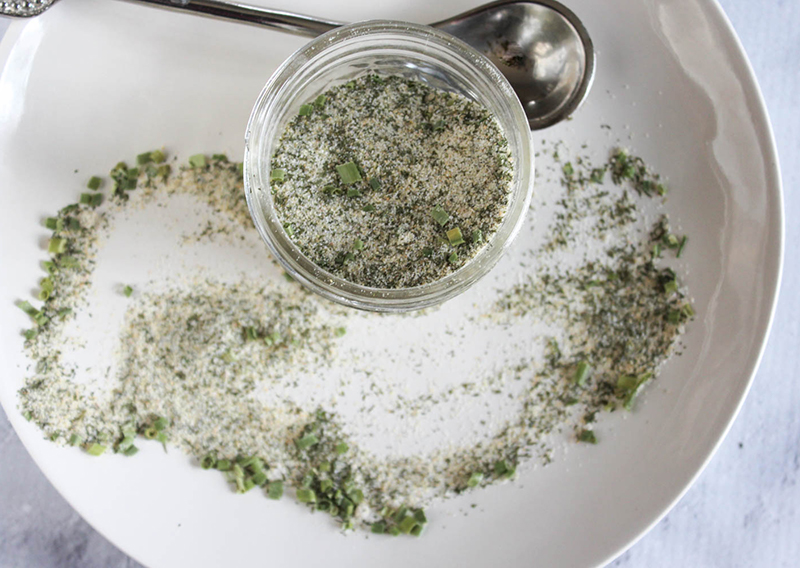 Storage
Store your seasoning blend in a glass jar at room temperature for up to 6 months.
You Might Also Like These Homemade Recipes
If you like this recipe, please comment and rate it below!
📖 Recipe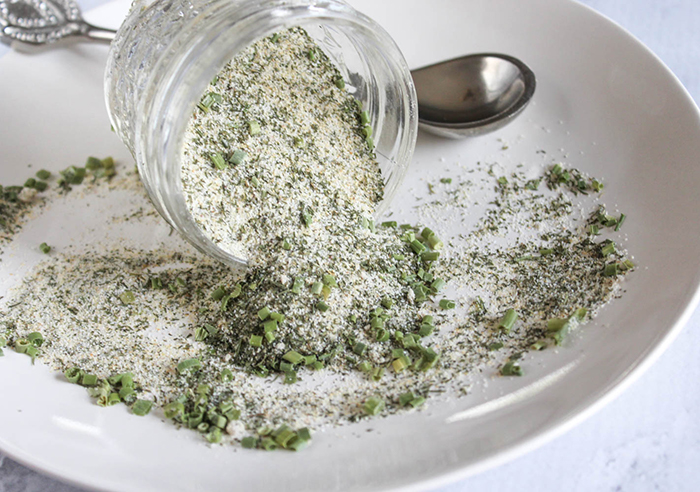 Click on serving size to scale this recipe
Ingredients
2

tablespoons

onion powder

2

tablespoons

garlic powder

1

tablespoon

dried dill

1

tablespoon

dried chives

2

teaspoons

sea salt
Instructions
Add all of the ingredients together and store them in a jar.
Nutrition information provided is an estimate and can vary based on cooking methods and ingredients used