This healthy ranch dressing recipe is tangy, creamy and delicious! It has all the same classic flavors as traditional ranch but with better ingredients. It's made with Greek yogurt as the base, and the ranch seasoning in this recipe is just a mix of dried herbs you probably already have in your kitchen.
The best part is that you can whip up this tasty homemade ranch dressing in just minutes! So skip the bottled stuff and make your own ranch salad dressing.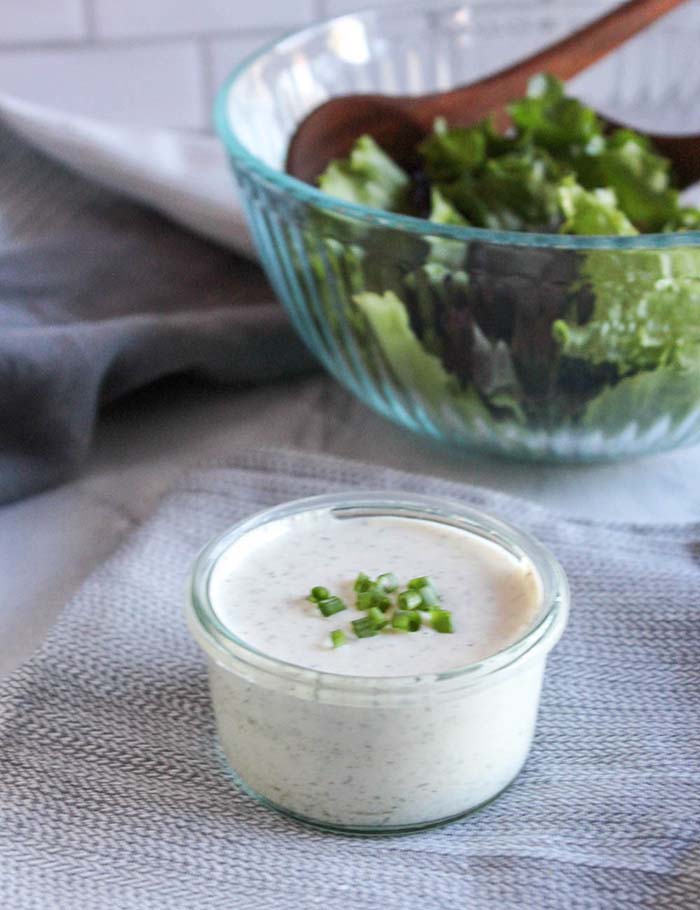 Homemade salad dressings are quick to make, taste amazing, and you won't ever want grocery store-bought dressings again! If creamy dressings aren't for you, try this honey balsamic dressing which is our go-to salad dressing.
What You Will Love About Homemade Ranch
It tastes fresh, and it's filled with healthy simple ingredients.
It's easy to make, you can whip up this creamy salad dressing in a matter of minutes.
Healthy Ranch Ingredients List
As an Amazon Associate, I earn from qualifying purchases.
This is an overview of the ingredients and steps to make this recipe, scroll down for a printable recipe card with exact measurements and instructions.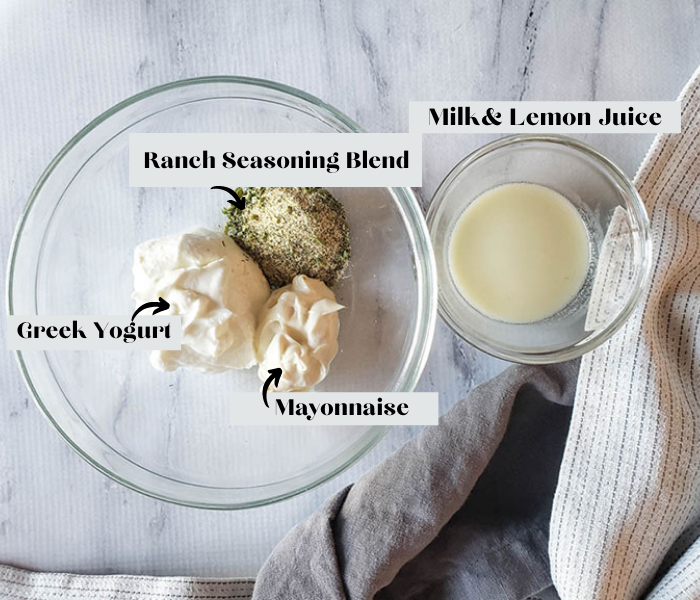 Greek yogurt
Avocado oil mayonnaise
Freshly squeezed lemon juice
Milk
Equipment Needed to Make Easy Homemade Ranch Dressing
Total Estimated Time to Make this Recipe: 10 to 15 minutes
How to Make Healthy Homemade Ranch Dressing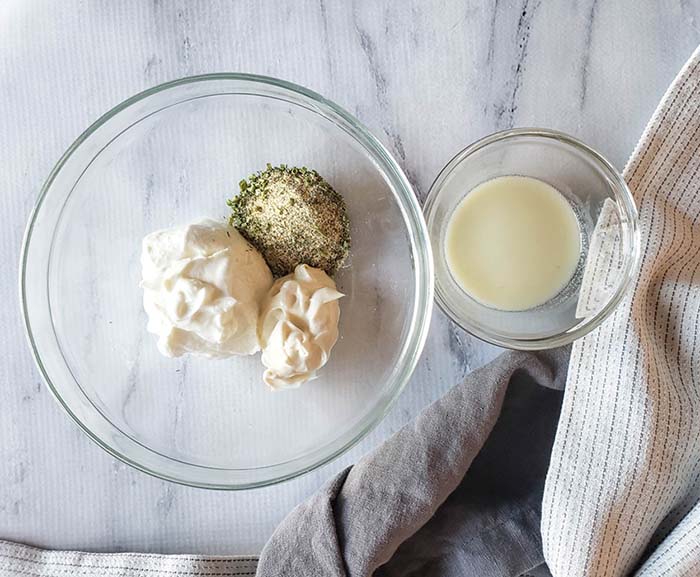 Step 1.
Add the seasoning blend, mayonnaise and yogurt to a small mixing bowl.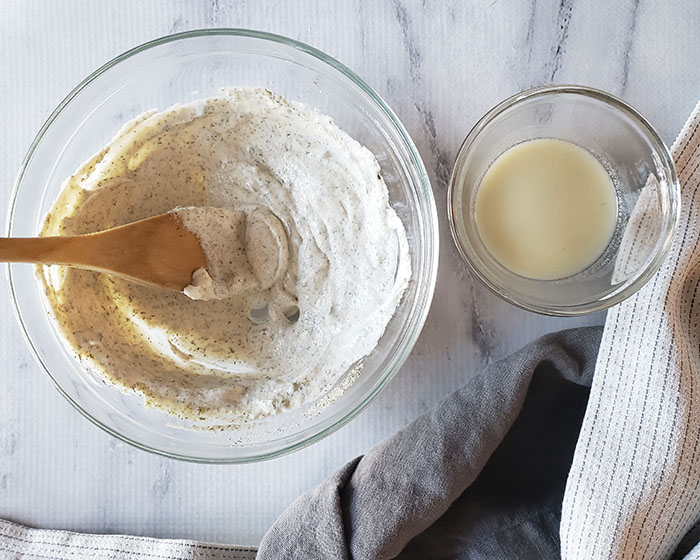 Step 2.
Use a wooden spoon or whisk and mix everything together.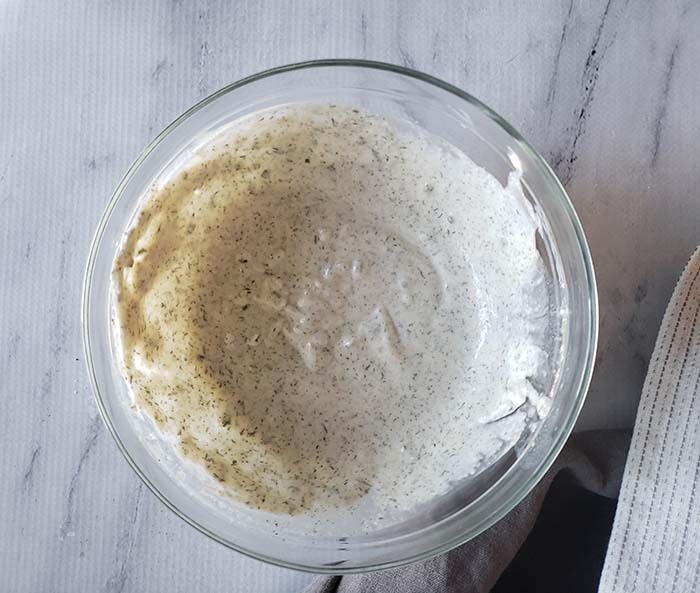 Step 3.
Gradually stir in the milk until the dressing is at a consistency that you like.
Note: You may not need to use all of the milk or you may need a little bit more.
Ingredient Notes & Substitutions
Greek Yogurt. Plain Greek yogurt takes the place of sour cream which is one of the main ingredients in traditional ranch dressing. It's a healthier choice, higher in protein and it is similar in texture and flavor to sour cream.
The fat content in the yogurt is your choice. A higher fat content will make a creamier salad dressing. If you are watching your calories or are on a low-fat diet, low-fat will work too.
Greek yogurt can be substituted with an equal amount of plain yogurt or if you prefer sour cream, you can use that too.
Lemon juice. Adds a little bit of tang to the dressing and when combined with the milk, it mimics buttermilk flavor which is also an ingredient in traditional ranch dressing.
Lemon juice can be substituted with an equal amount of apple cider vinegar.
Milk. You can use any type of milk in this recipe from regular milk to non-dairy milk. I've made it with coconut milk, almond milk and oat milk and they all tasted great.
Mayonnaise. The combination of mayonnaise and plain yogurt balance each other out. I find that just a little bit of mayonnaise helps to balance the tangy flavor of the yogurt and adds to the texture.
We like avocado mayonnaise. It's a healthier version of mayonnaise, but any type of mayonnaise will work in this recipe.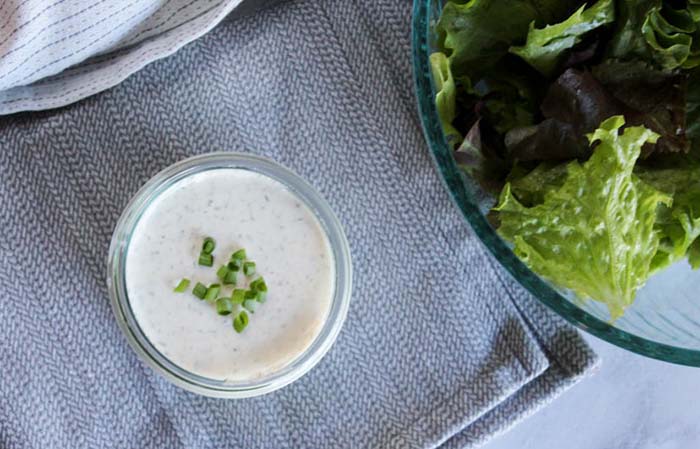 Recipe Tips
To use this homemade ranch dressing recipe as a dip, use less milk. Start by adding a few tablespoons of milk and adjust it to a consistency that you like.
Add freshness by mixing in a tablespoon of any combination of chopped fresh herbs such as fresh parsley, dill, or chives.
How To Store Ranch Dressing
Store leftover ranch dressing in the refrigerator in a covered jar or bowl for up to a week. If the dressing is thick after being stored in the refrigerator, stir in a little bit of milk or water to thin it out.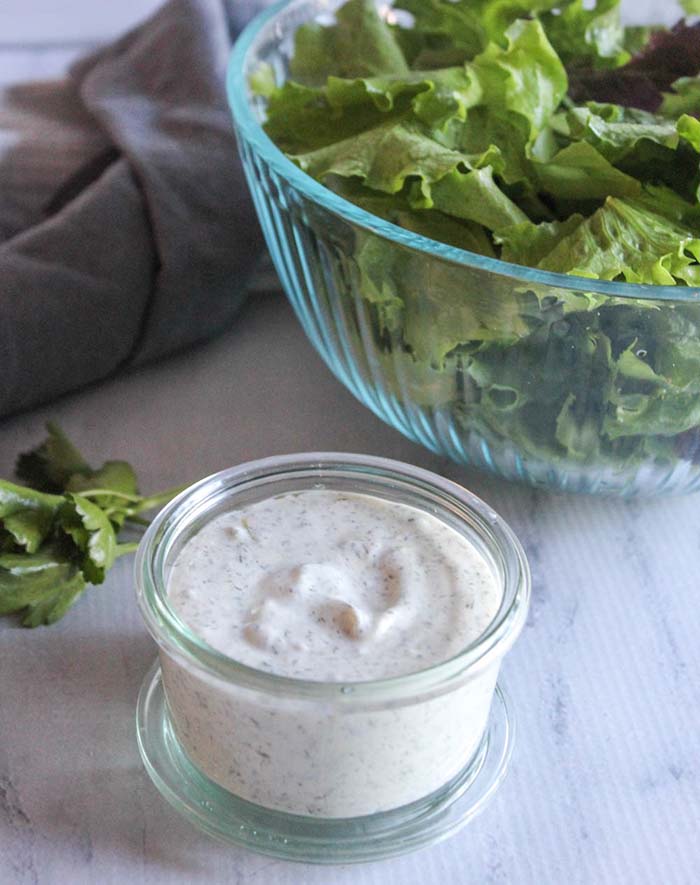 What to Serve Homemade Ranch Dressing With
In addition to drizzling homemade ranch on your favorite salad, here are a few more serving suggestions:
You Might Like These Homemade Salads, Salad Dressings and Dips
Sign up for our Mailing List to Receive Menu Ideas and More!
If you make this recipe, don't forget to come back and let me know how you liked it or you can tag me on Instagram @simpleandsavory, or Facebook simplensavory