The natural sweetness of sweet potatoes blends beautifully with the Asian Fusion Sweet/Spicy Rub in this easy sweet potato fritter recipe. The fritters are crispy on the outside and tender on the inside. And, the best part is you will only need 5 ingredients and less than one hour to make them! Serve sweet potato fritters with zesty sambal yogurt sauce for a great appetizer that everyone will love.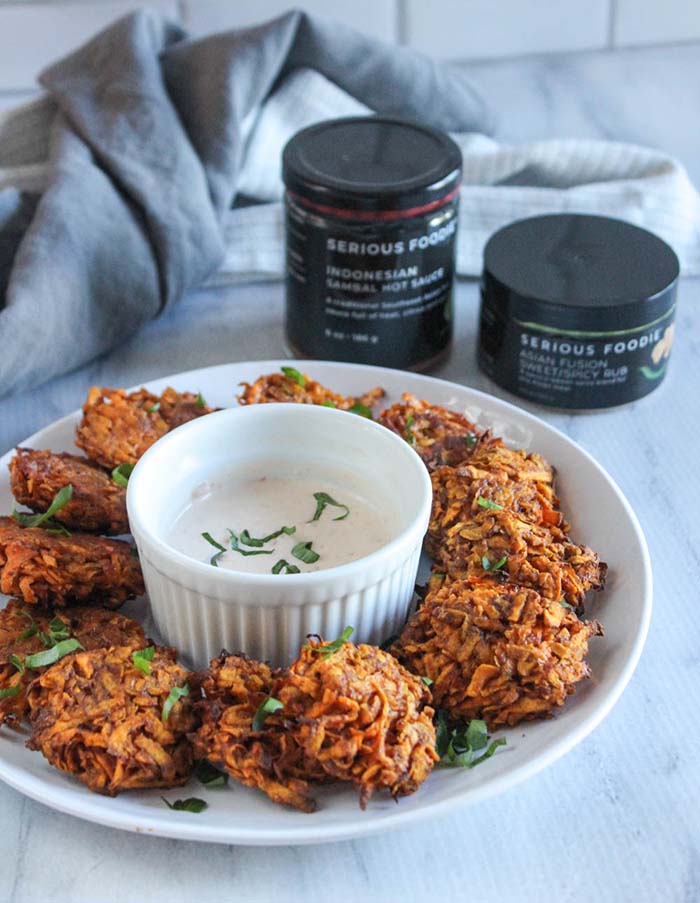 We love healthy appetizers, be sure to give these spinach balls a try too!
What You Will Love About This Recipe
Sweet potato fritters are a healthy and delicious appetizer or side dish.
They are so easy to make, and you can make them ahead of time!
Sweet Potato Fritters Ingredients List
As an Amazon Associate, I earn from qualifying purchases.
This is an overview of the ingredients and steps to make this recipe, scroll down for a printable recipe card with exact measurements and instructions.
Sweet potatoes
Egg
Olive Oil
Greek Yogurt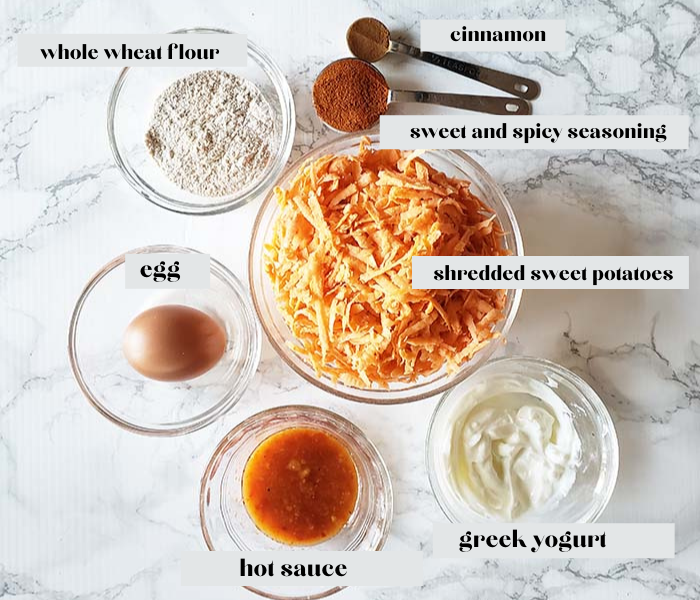 Equipment Needed to make This Recipe
How to Make Sweet Potato Fritters
Prepare the ingredients: shred the potatoes, whisk the egg in a small bowl, and measure the flour, Asian Fusion Sweet/Spicy Rub, Sambal sauce, and yogurt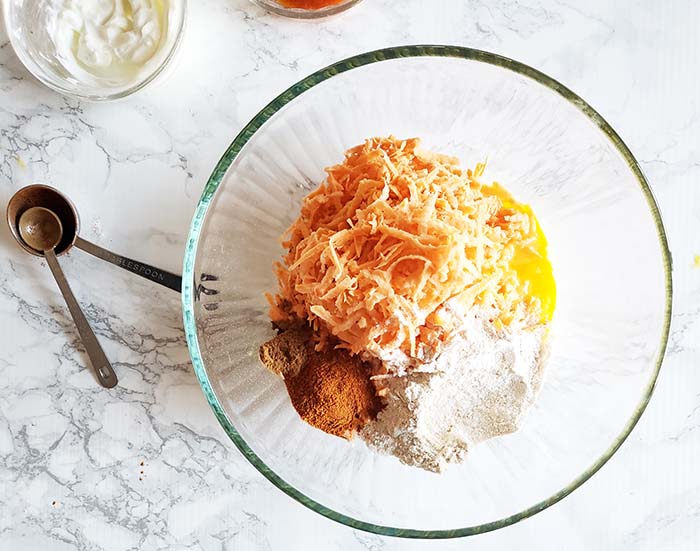 Step 1.
Place the shredded sweet potatoes, spicy rub, cinnamon, flour and egg into a large mixing bowl.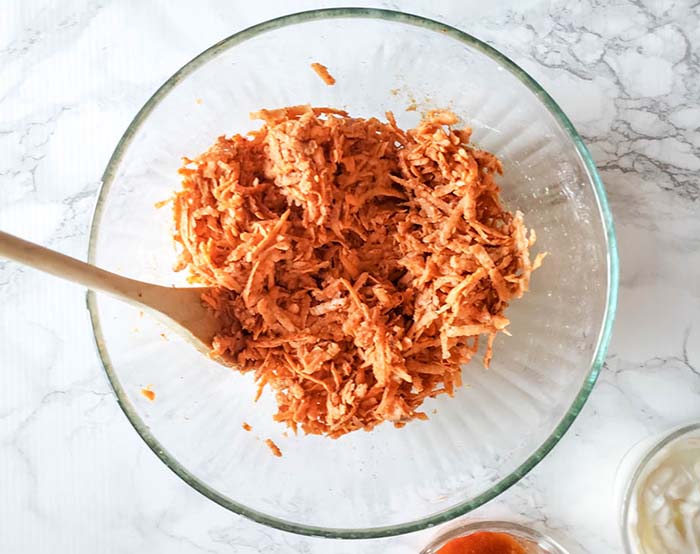 Step 2.
Use a wooden spoon to mix all of the ingredients together.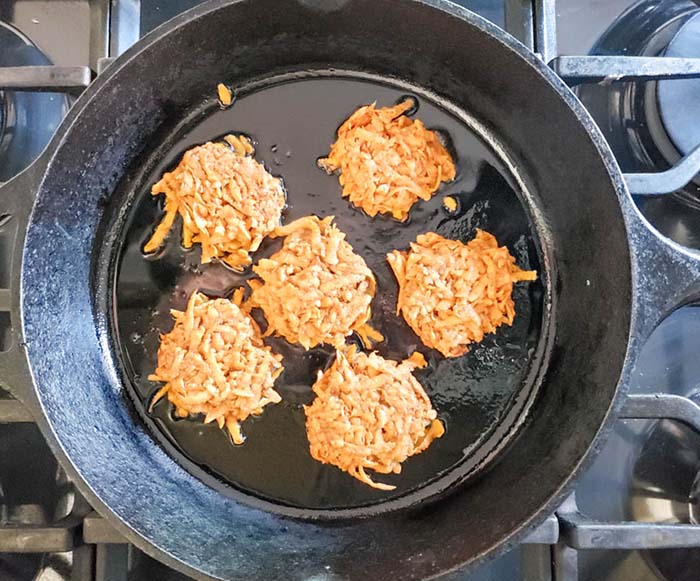 Step 3.
Add just enough oil to cover the bottom of a frying pan. Heat the oil over medium-high heat. Scoop out about ¼ cup of the fritter batter and form it into patties are about 1 ¾ inch to 2 inches in size and add them to the hot oil in the pan.
Tip! You will want to make sure the oil is hot so that the fritters cook quickly. If the oil is not hot enough you will end up with a soggy fritter.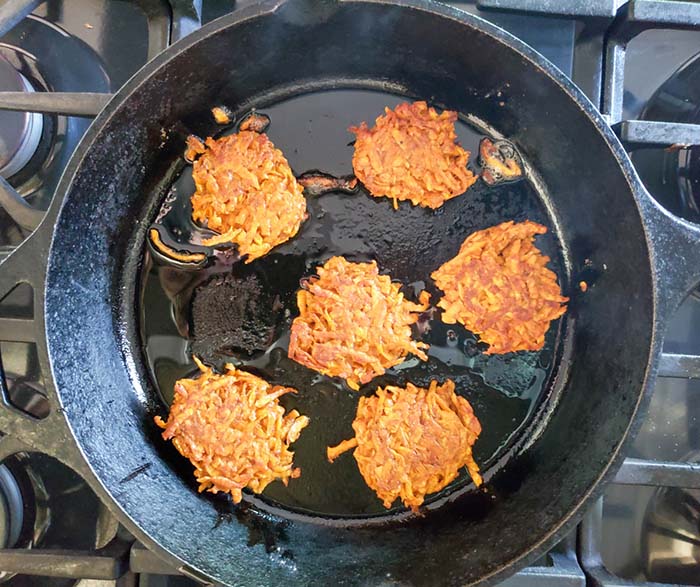 Step 4.
Cook the fritters in the hot pan until they become golden brown (approximately 3 minutes). Flip them over and cook for 3 minutes longer. Once they are cooked transfer fritters from the pan and place them on a plate lined with paper towels.
Tip! Keep the fritters hot by placing them onto a rimmed baking sheet lined with parchment paper in the oven at 200 degrees until they are ready to serve.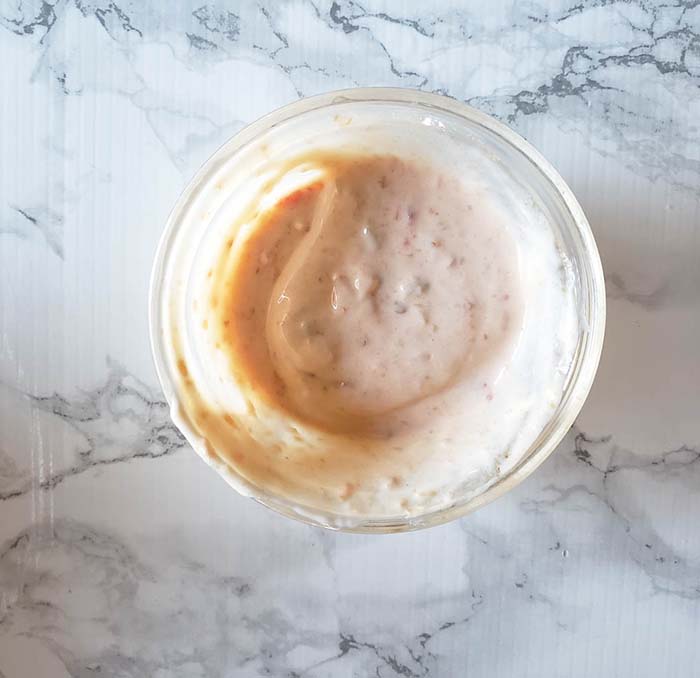 Step 5.
In a small bowl, mix the yogurt and hot sauce together. Serve the fritters the spicy yogurt sauce on the side.
Ingredient Notes & Substitutions
Sweet Potatoes are the star of this sweet potato fritters recipe, but they can be replaced with another sweet-tasting vegetable such as butternut squash or similar tasting root vegetables, such as yams.
Olive Oil. Since the fritters are not deep-fried, olive oil works great in this recipe. It can be replaced with an equal amount of coconut oil, avocado oil or your favorite cooking oil.
Greek Yogurt. Plain greek yogurt is similar in taste and texture to sour cream and can easily be replaced one for one with sour cream.
Flour. Substitute the whole wheat flour with an equal amount of white all-purpose flour or almond flour or rice flour for a gluten-free version.
Make Ahead and Refrigerate
Follow the recipe instructions in the recipe card to make the sweet potato fritters. Store the uncooked fritters in the refrigerator in an airtight container for a day.
To cook them, remove them from the refrigerator 15 to 20 minutes before cooking and follow the cooking instruction on the recipe card.
Make Ahead and Freeze
Follow the instructions in the recipe card. Once the fritters are formed, place the uncooked sweet potato fritters on a baking sheet and into the freezer. Once the fritters are frozen, place them in a freezer container or freezer bag and store them for up to three months.
Thaw the fritters in the refrigerator overnight and cook them according to the instructions on the recipe card.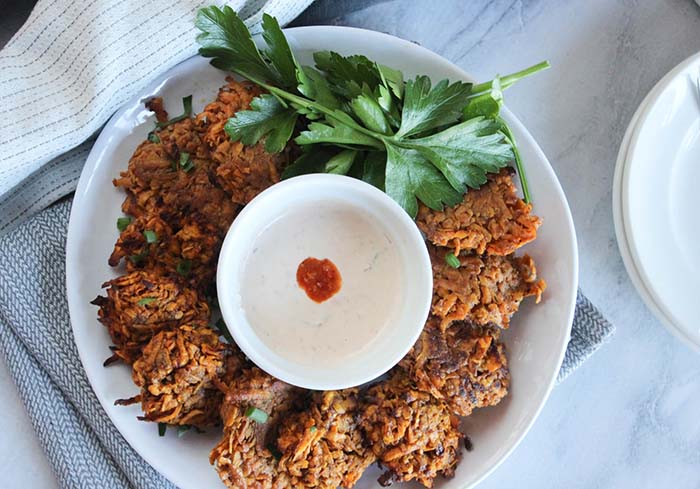 How To Store and Reheat Leftovers
Store leftover sweet potato fritters in the refrigerator for up to three days.
Freeze leftover fritters by placing the leftovers on a baking sheet and into the freezer. Once they are frozen place them in a plastic bag for up to 3 months.
Thaw them in the refrigerator overnight or reheat them from frozen.
Reheat leftover fritters in the oven at 350 or in a skillet with a little bit of oil.
Sweet Potato Fritters Serving Suggestions
Garnish
Serve sweet potato fritters garnished with any combination of the following: a sprinkle of sea salt and black pepper, chopped green onion, or chopped fresh cilantro.
Appetizers to Serve with Sweet Potato Fritters
If you are looking for a few other appetizers to serve with your sweet potato fritters? Here are some suggestions: Cilantro Lime Shrimp, Healthy Charcuterie Board, Zucchini Roll-Ups , Veggie Lover's Pizza Won Ton Cups.
Serve These as A Side Dish With
Sweet potato fritters are also a perfect side dish when they are served with Apple Cider Pulled Pork, Slow Roasted Pork with Apple Puree, Slow Cooker BBQ Pulled Pork with Homemade Sauceor Orange Cranberry Chicken.
They also taste great for breakfast with turkey sausage and scrambled eggs or a breakfast casserole.
Recipe Variations
Black Bean and Sweet Potato Fritters. Add ½ cup of roughly mashed black beans to the shredded sweet potato mixture.
Change up the Spice Blend with another blend from Serious Foodie, or make your own with any combination of cinnamon, chili powder, cayenne pepper and ginger.
Change up the Sauce with another blend of sauces from Serious Foodie, or use a few dashes of sriracha sauce or your favorite hot sauce.
Add Citrus. Stir in a teaspoon of orange or lemon zest for refreshing fritters.
Sweet and Spicy Sauce. Stir in ½ to 1 teaspoon of maple syrup or honey when mixing up the sauce.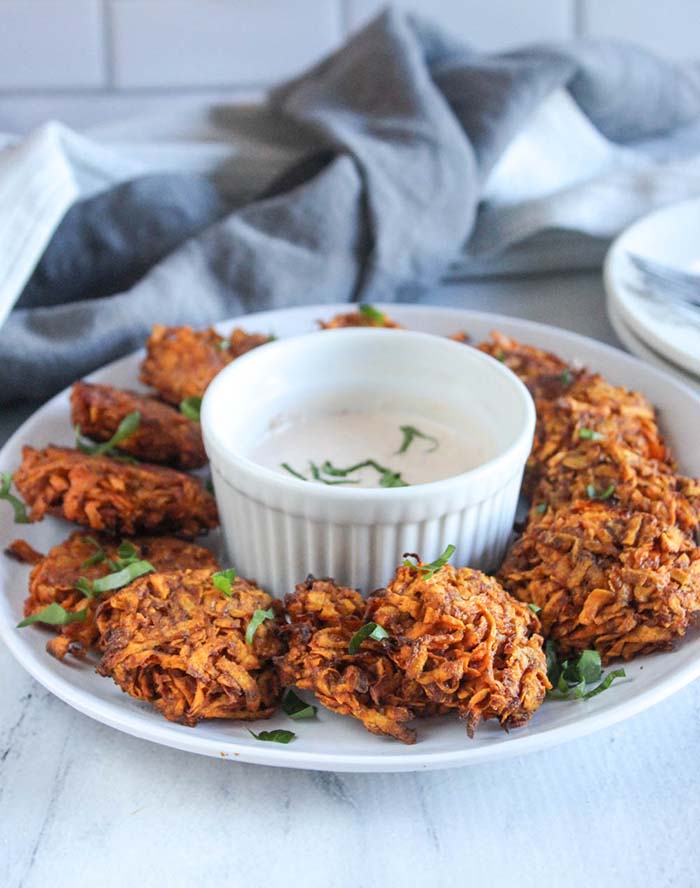 Can you Make Sweet Potato Fritters in an Air Fryer?
Yes, you can! Arrange the uncooked fritters in a single layer in an air fryer basket or tray, brush the formed fritters with a little bit of olive or avocado oil and cook them for 10 minutes at 400 degrees in the air fryer.
You Might Like These Sweet Potato Recipes
Sign up for our Mailing List to Receive Menu Ideas and More!
Don't forget to follow Serious Foodie on Social Media: FACEBOOK | INSTAGRAM | TWITTER
If you make this recipe, don't forget to come back and let me know how you liked it or you can tag me on Instagram @simpleandsavory, or Facebook simplensavory