Brunch boards are fun for entertaining or enjoying a lazy weekend morning.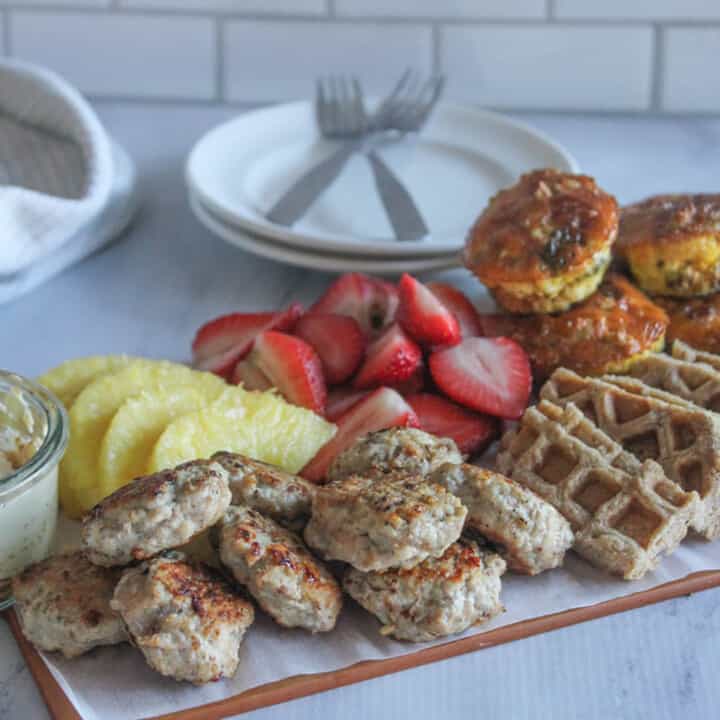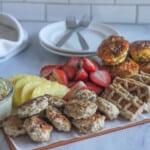 A brunch charcuterie board is a fun option for entertaining or for enjoying a lazy weekend morning. You can make a brunch board with any combination or variety of favorite breakfast foods. Here are some brunch charcuterie board ideas to inspire you for your next brunch get-together.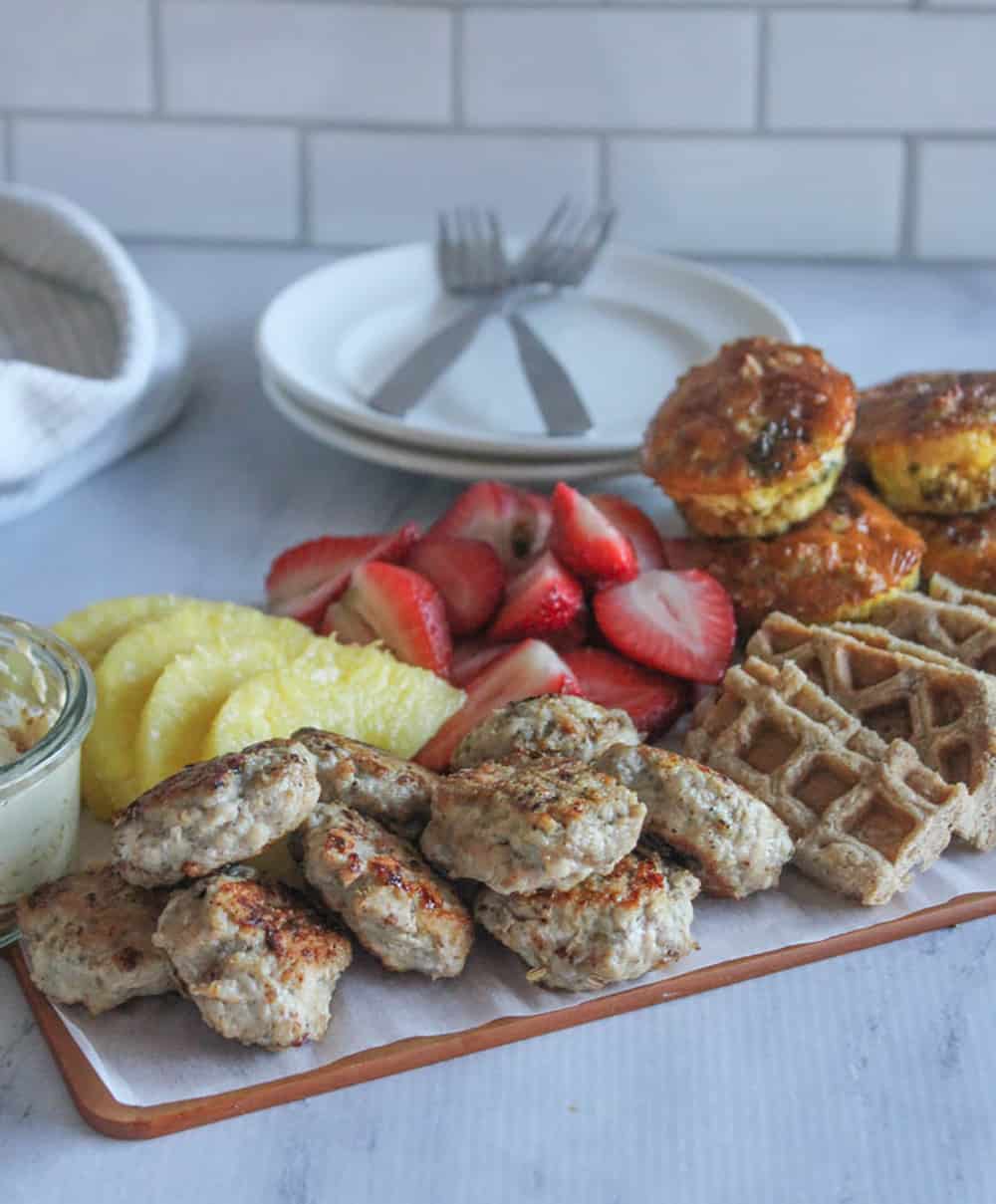 Similar to traditional charcuterie boards, a brunch or breakfast charcuterie board offers a variety of flavors, textures, and colors usually made with your favorite breakfast items.
The ingredients can be arranged on a large serving board, platter or a variety of smaller dishes. You can also customize your board to fit different themes or dietary restrictions, which makes it a versatile and crowd-pleasing option for any special occasion.
What you will need to make a charcuterie board
This is an overview of the ingredients and steps to make this recipe; scroll down for a printable recipe card with exact measurements and detailed instructions.
As an Amazon Associate, I earn from qualifying purchases.
🛒Ingredients
An assortment of your favorite brunch or breakfast foods such as meat, cheese, fruit, bread, pancakes, or waffles. (see below for details)
Shown on this board are: turkey sausage, air fryer egg bites, wholewheat buttermilk waffles, strawberries, pineapple, maple syrup and dessert hummus.
🥄Equipment
A board or platter
Small bowls
Cheese knives
Toothpicks
Butter or dip spreaders
What Goes on a Brunch Charcuterie Board?
As mentioned above, you can add whatever you want to your brunch board to make it just right. Typical charcuterie ingredients are meat, fruit, cheese, dips, and bread.
With a brunch board, you can also add breakfast-related items. Incorporate all of your favorite breakfast and brunch items with snack foods and make it your own.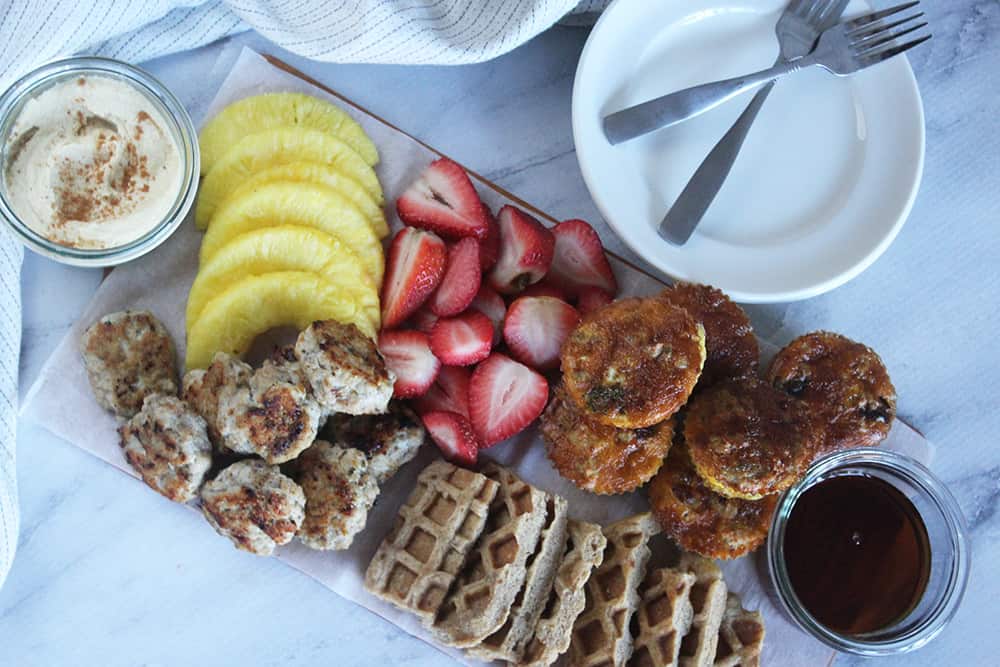 Meat
When it comes to adding meat to your breakfast or brunch charcuterie board, there are many options to choose from. You can use strictly breakfast meats such as sausage, ham, or bacon or you can mix in a variety of breakfast and cured meats. Here are some good meat choices for a brunch board:
Ham
Crispy bacon
Sausage links or sausage patties (I used my homemade turkey sausage on this board)
Canadian bacon
Smoked salmon
Prosciutto
Salami
Eggs
Including eggs in your brunch or breakfast charcuterie board is a great way to add healthy protein and variety. Egg items that you can easily pick up with your fingers such as hard-boiled eggs are a good option.
Cheese
Cheese is optional but adds a nice touch. If you are using cheese, consider various cheeses that are soft and creamy, semi-hard cheese and hard cheese.
Cream cheese (plain and flavored are great for bagels)
Goat cheese
Brie cheese
Manchego
Cheddar
Gouda
Fresh fruit
Fruit is an essential element of a charcuterie board. It adds color, flavor, and nutrition. Look for seasonal fruit as well as tropical fruit and dried fruit. Be sure to cut the fruit into pieces appropriate for easy snacking.
Berries (blueberries, raspberries, strawberries, blackberries)
Cherries
Mango
Pineapple
Grapes
Grapefruit slices
Orange slices
Clementines or oranges
Apples
Pears
Persimmons
Bread, pancakes, and waffles
Bread, pancakes, and waffles are delicious additions to a brunch board. Include a variety of types of bread for a savory options. Muffins, pancakes, and waffles are perfect to add a touch of sweetness or use a combination of both sweet and savory.
Whole wheat waffles cut into strips or mini waffles
Mini bagels or bagels cut into pieces
Fluffy pancakes or mini pancakes
French toast
Mini muffins
Baguette
English muffins
Dips and spreads
Dips and spreads are a great addition, especially when there is fruit or bread. If you are serving pancakes or waffles, syrup, and jam is a good idea. Peanut butter, jelly, and butter are great for boards with bread.
Peanut butter
Butter
Maple syrup
Hummus (I used dessert hummus on this board for dipping the fruit)
Honey
Jam or jelly
Extras
Consider adding some extras to complete your board. These extras will complement other foods on the board and make your board stand out. Here are some ideas for extras.
Granola
Yogurt
Nuts
Dried fruit
Trail mix
Chocolate chips
Chocolate
Olives
Pickles
Jellies and jams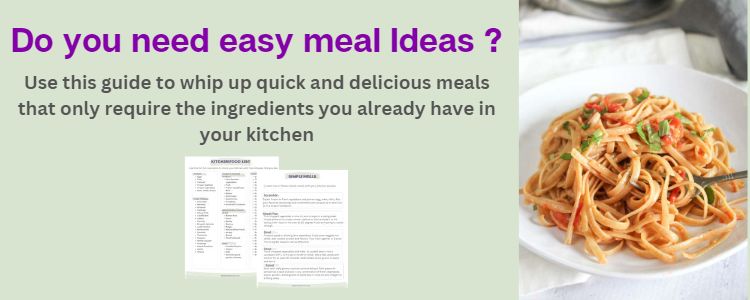 How to make a brunch charcuterie board
Get your board ingredients ready, line a board with parchment paper or grab a platter and start arranging.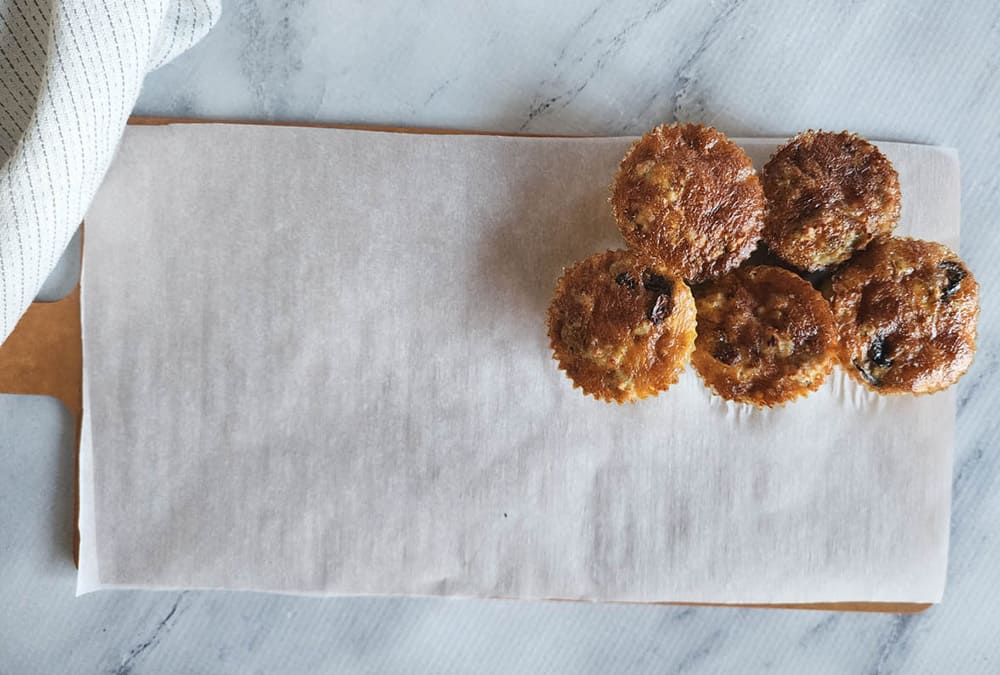 Start with one side of the board. If you are using fruit that contains a lot of moisture keep it away from the dry ingredients.
Continue to arrange the food around the board. This is a smaller board, so it fills up fast.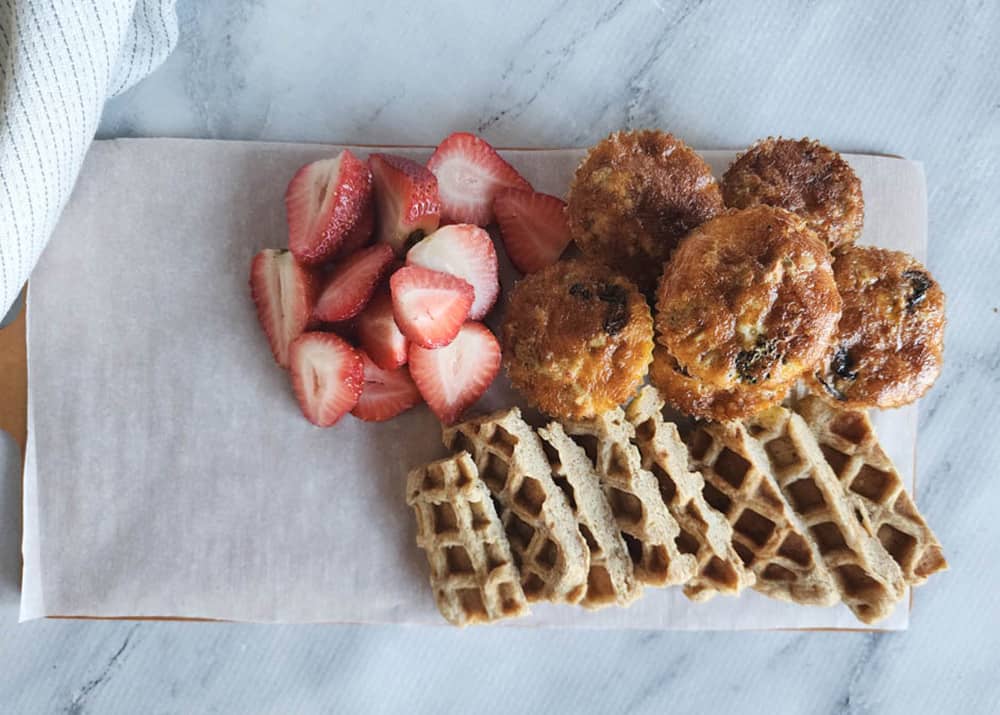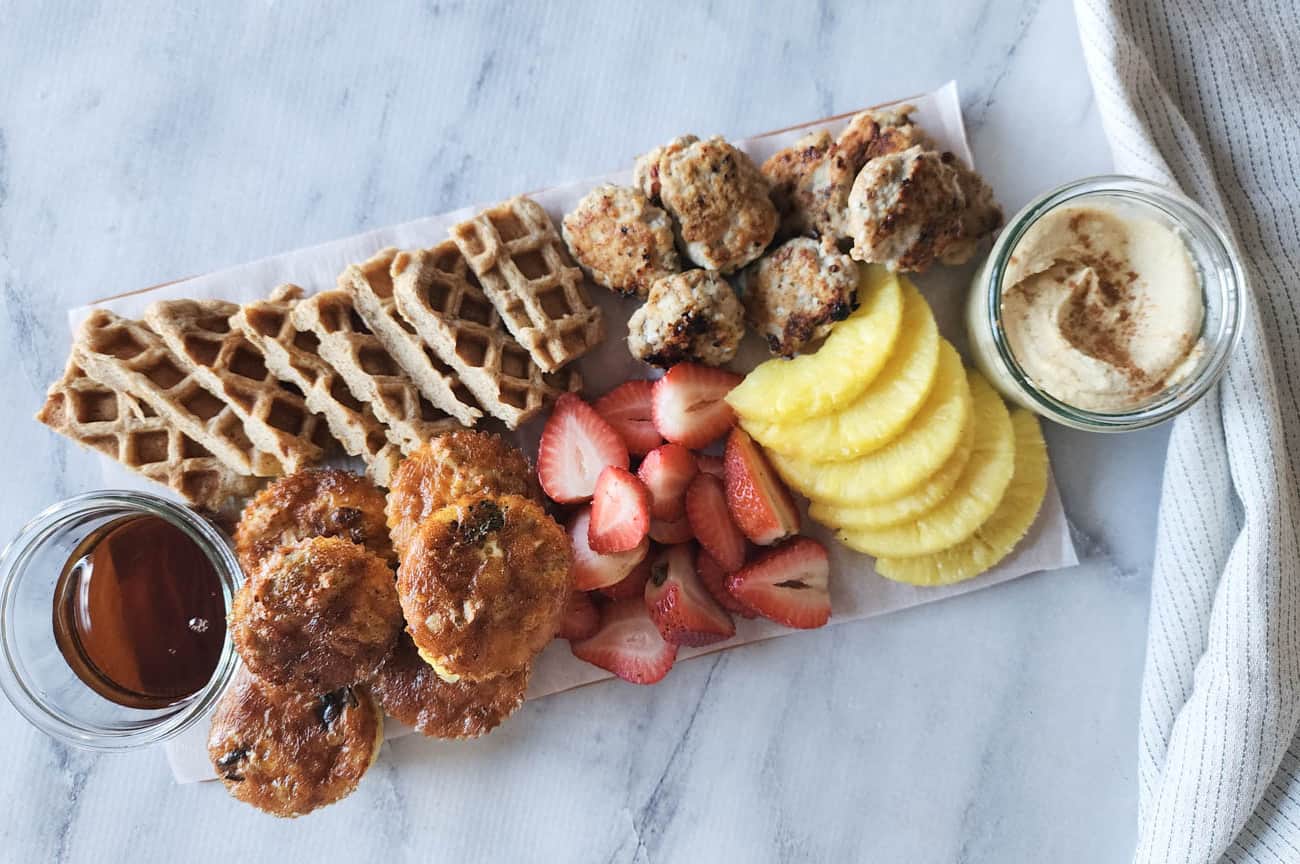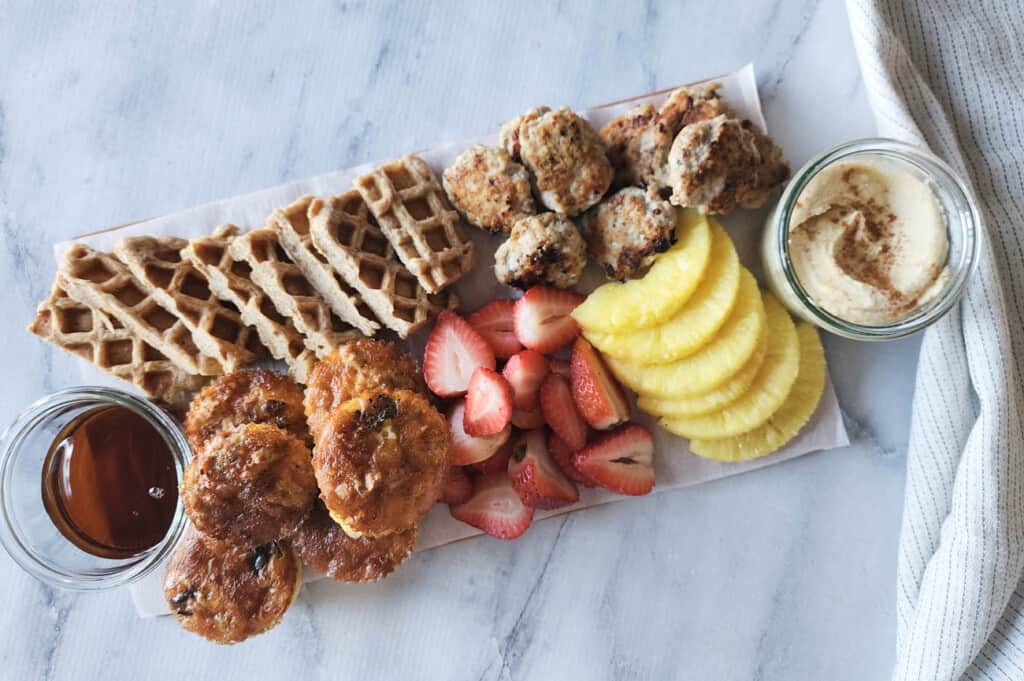 Finish up the board by adding bowls with bowls of dips and spreads.
This an easy brunch charcuterie board made with simple ingredients. You can go simple or make one of those epic boards with a wide variety of ingredients, the possibilities are endless!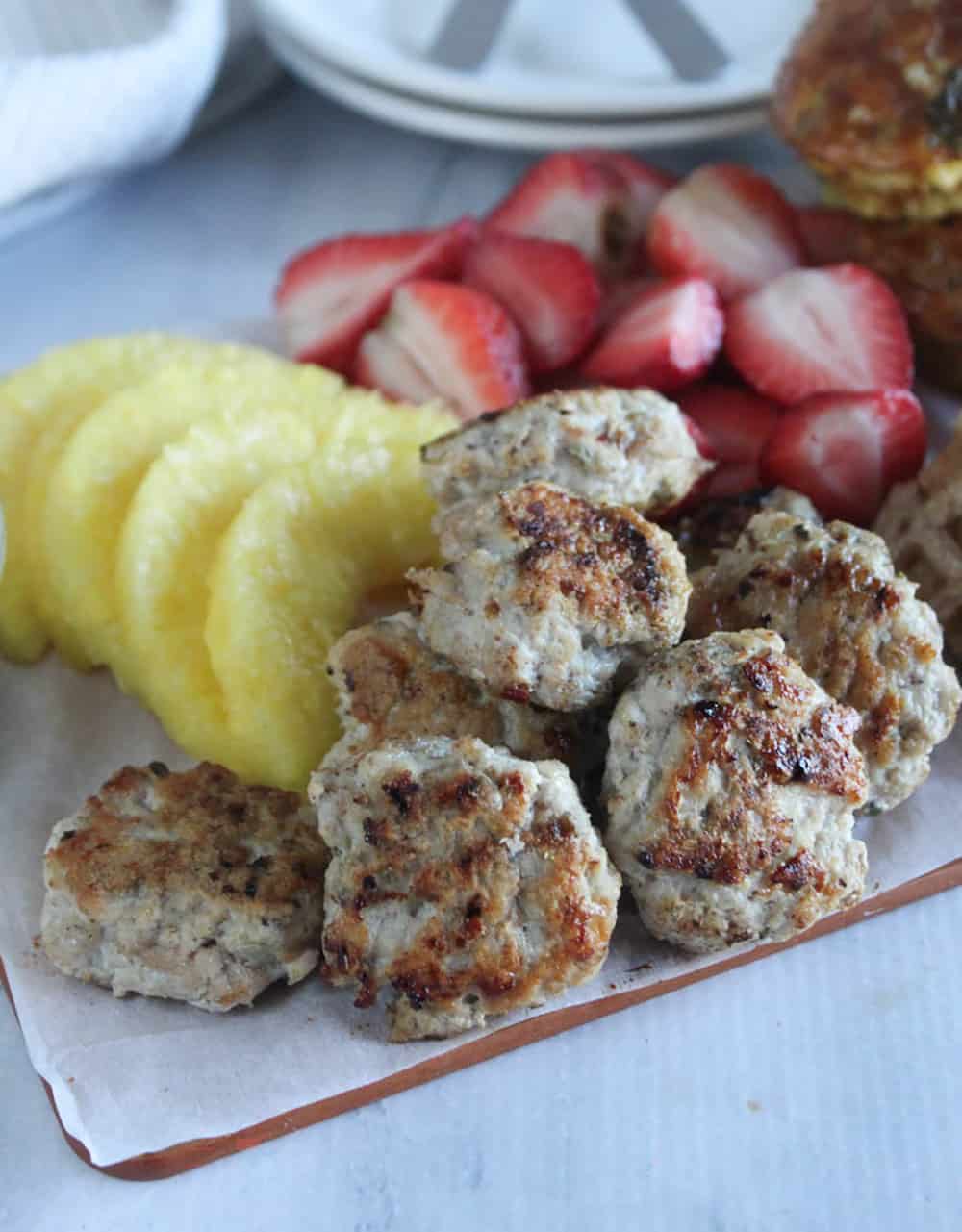 Theme Brunch Board Ideas
A themed charcuterie board can add a unique and creative touch to your entertaining. Here are some fun and inventive theme ideas for your next charcuterie board.
Seasonal charcuterie board - Start by choosing ingredients that are currently in season, such as fresh berries for summer or apples and pears for the fall. Include spices and flavors and colors of the season.
Mediterranean snack board - Use an assortment of Mediterranean foods such as hummus, olives, pita, feta cheese, hard-boiled eggs or a slices of Mediterranean quiche.
French charcuterie brunch board - French-inspired brunch charcuterie board can include croissants, brie cheese, quiche, baguette fresh fruit, herbed butter and honey.
Bagel breakfast board - This is perfect for a brunch spread that's centered around bagels. use foods such as smoked salmon, assorted cream cheese blends, a variety of jams, capers, red onion, and fresh dill You could also add some sliced tomatoes, cucumber and fresh fruit for extra freshness.
Waffle brunch board - Load up a board with a combination of sweet and savory waffles, toppings, spreads and dips. Add some bacon, ham or sausage and don't forget fruit, fruit spreads, butter, cream cheese, nut butters and nuts.
Brunch Cheese board - Skip the eggs and meat, and make an easy brunch bard with cheese. Fill it with a variety of cheeses of different textures. Add bagel baguette slices, mini bagels, pita bread and fresh fruit and jam.
💡Tips
Keep it sanitary and add a little bit of space between food items so it's easy to grab without touching other foods on the board.
Use toothpicks or small forks to grab the food instead of using your fingers.
Try not to put hot foods next to cold foods.
If you are using a wood board, line the board with parchment paper first.
If you are unsure of how to arrange the foods, sketch out a little diagram or cut a piece of parchment or waxed paper that is the same size as your board and arrange the food on there first.
How do you store leftovers from a charcuterie board?
Leftovers from a charcuterie board are easy to store. Place individual ingredients into an airtight container in the refrigerator for up to three days. Cured or salted meats may last a day or two longer than three days.
Can you make a charcuterie board ahead of time?
Yes, you can in most cases make a charcuterie board ahead of time. An easy way to do this is to prepare the ingredients and arrange them on a board, cover and refrigerate 1 to 2 hours. You can also prepare the ingredients, and store them in the refrigerator in airtight containers for a day. Just before serving arrange the ingredients on a board or platter.
You might also like these charcuterie boards
Do you like this recipe?
Please comment and give it a ⭐⭐⭐⭐⭐ rating below!
📖 Recipe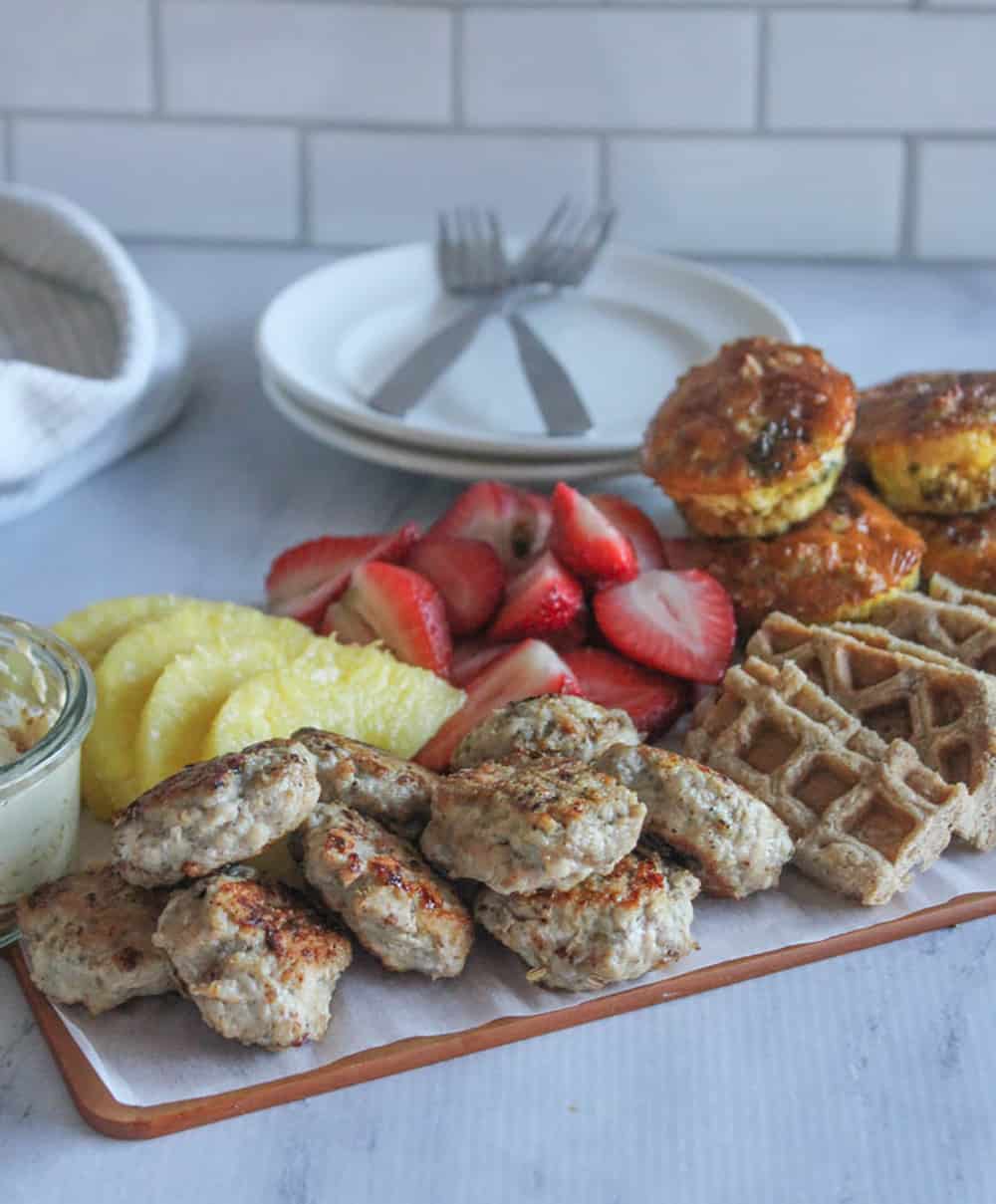 Click on serving size to scale this recipe
Ingredients
1

pound

Turkey Sausage Patties

8

Cooked egg bites

4

Buttermilk whole wheat waffles

1

pint

Strawberries

½

Pineapple

sliced

½

cup

Maple syrup

½

cup

Dessert hummus
Instructions
Cover a board with parchment paper and arrange the ingredients onto the board.

Once the board is full, add dips and sauces to compliment the board.
Nutrition
Calories:
653
kcal
|
Carbohydrates:
71
g
|
Protein:
39
g
|
Fat:
25
g
|
Saturated Fat:
6
g
|
Polyunsaturated Fat:
7
g
|
Monounsaturated Fat:
8
g
|
Trans Fat:
1
g
|
Cholesterol:
422
mg
|
Sodium:
1125
mg
|
Potassium:
914
mg
|
Fiber:
6
g
|
Sugar:
42
g
|
Vitamin A:
1182
IU
|
Vitamin C:
126
mg
|
Calcium:
241
mg
|
Iron:
7
mg
Nutrition information provided is an estimate and can vary based on cooking methods and ingredients used
Sign Up for Easy Recipes Straight in Your In-Box!