Easy baked spinach balls are low-carb, full of flavor and perfect to serve as an appetizer for holiday gatherings or any time of the year.
Even though they are full of nutrient-rich spinach, I've seen plenty of non-spinach lovers chowing down on these spinach balls too. Serve them piping hot right out of the oven, at room temperature or with a dip.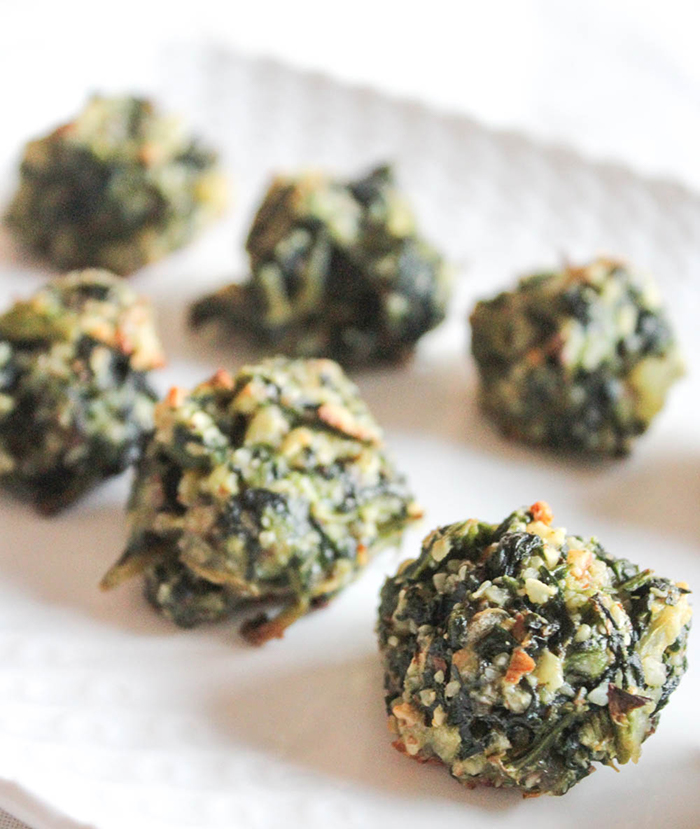 This recipe was originally posted in 2018, it's been updated for content and photos.
Recipe Highlights
They are healthy and super easy to make with only ten ingredients.
Spinach balls are gluten-free and filled with healthy protein.
They can be made ahead of time.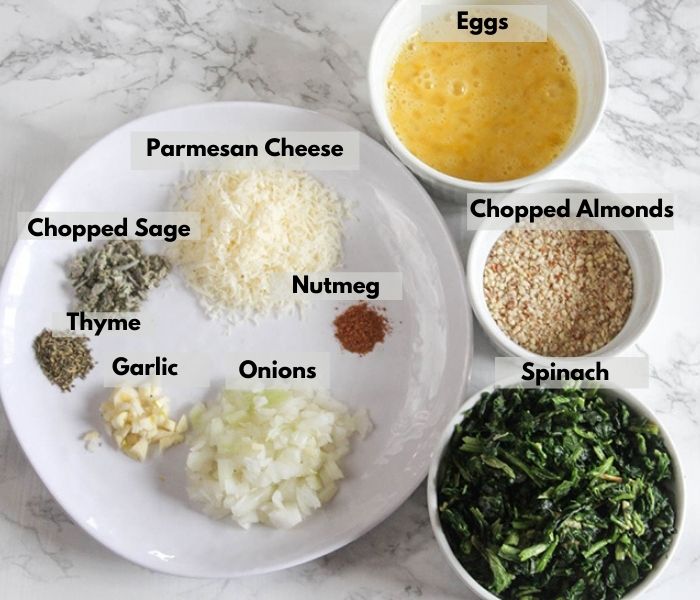 Here is What You Will Need
As an Amazon associate, I earn from qualifying purchases
Olive oil
Frozen spinach
Onion
Garlic
Almonds
Parmesan Cheese
Sage
Thyme
Nutmeg
Baking sheet
Parchment paper
Here is how to make Baked Spinach Balls
Heat the oil in a skillet and add the onions and garlic, cook until they begin to soften.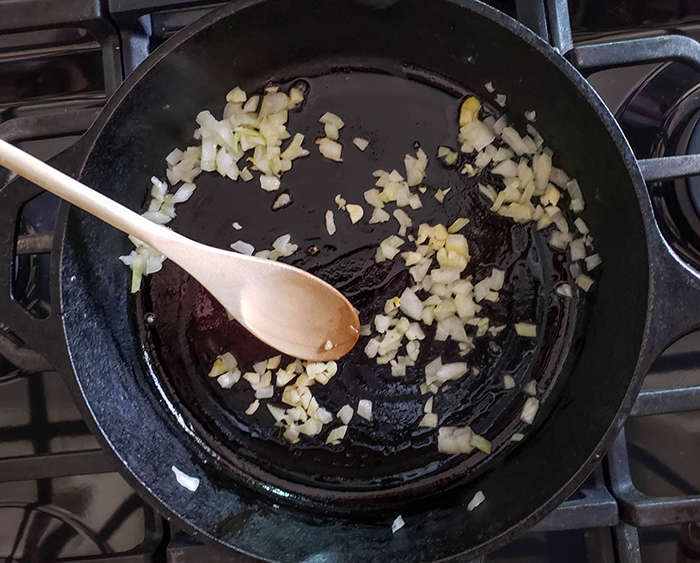 Add the thawed frozen spinach and cook until all of the moisture disappears.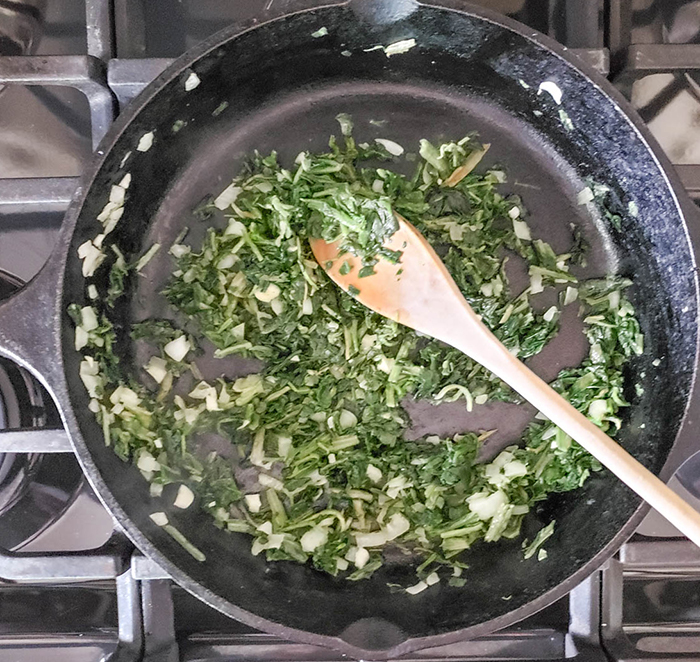 Add the nuts and the spices and cook for about 5 minutes and stir in the cheese.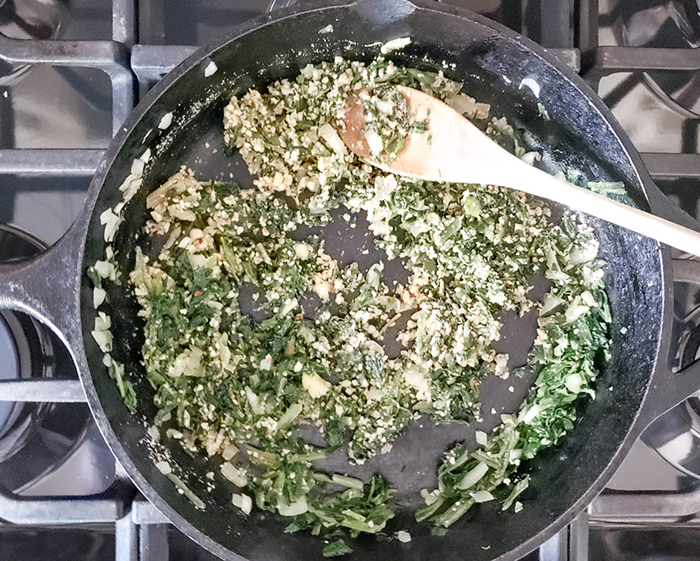 Remove the mixture from the pan, and place it in a bowl and refrigerate for at least 30 minutes. Roll the chilled mixture into balls and place them on a parchment lined baking sheet.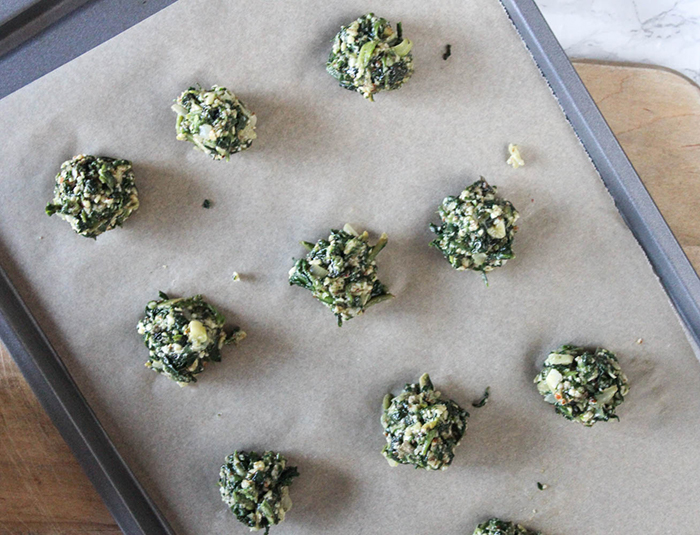 Total Estimated Time to Make This Recipe: 1 hour 15 minutes to 1 hour 30 minutes
Ingredient Substitutions & Tips
Fresh spinach can be used in place of frozen spinach. Here is how to do it: add one pound of fresh spinach into a pan of boiling water, turn off the heat.
Once the spinach has wilted in the water, drain, pat it dry, and add it to the pan with the onions and garlic; continue with the recipe instructions below.
Squeeze as much water as you can out of the spinach before combining it with the other ingredients. You can do this by placing the spinach into a strainer over a sink and pressing down on the spinach with a spoon squeezing out the liquid.
Don't skip the refrigeration step. Once the mixture is cold it's so much easier to form it into balls. If you are pressed for time, place the mixture into the freezer for 15 to 20 minutes.
You will get the best results for finely chopped almonds with a food processor or high-speed blender. If you don't have either one of those, you can use a sharp knife, but the almonds will not be as crumbly.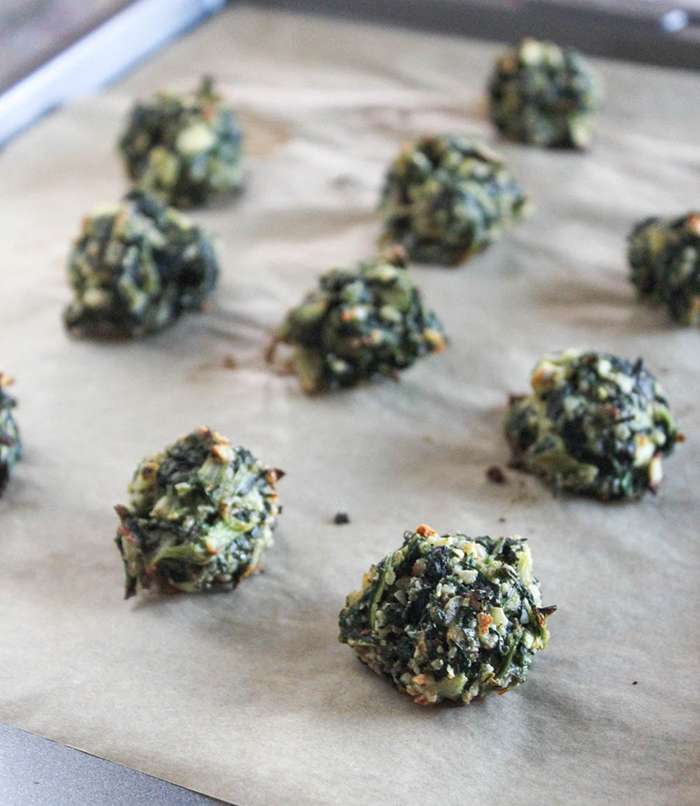 Make Ahead Instructions
Spinach balls can be made up to 2 days ahead of time. Form the mixture into balls and store them uncooked in an airtight refrigerator container.
Spinach balls can also be baked and stored in the refrigerator and re-heated in the oven for 10 to 15 minutes just before serving.
Serve them With
Spinach balls are more than an appetizer! Make up a batch of them and enjoy them for lunch stuffed into a crusty roll, with pasta topped with marinara sauce or a quick, healthy snack.
They also taste great dipped in homemade onion dip or homemade blue cheese dressing.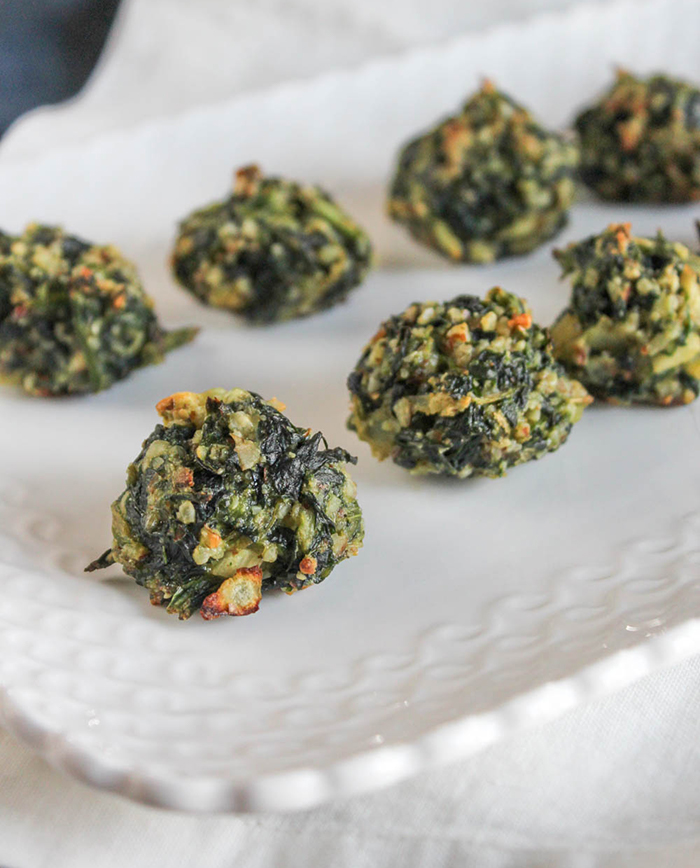 Storing and Freezing Spinach Balls
Store leftover spinach balls in an airtight container in the refrigerator for up 4 days.
Freeze Spinach Balls – Roll them up and arrange them on a baking sheet and place in the freezer. Once they are frozen, remove them from the baking sheet and store them in a freezer container, such as a stasher bag.
Once it's time to bake them, place the frozen spinach balls onto a baking sheet lined with parchment paper and bake at 350 until done.
Variations
Add two tablespoons of any combination of these to the spinach mixture: chopped kalamata olives, feta cheese, sun-dried tomatoes.
Replace the parmesan cheese with swiss, cheddar, mozzarella, or feta cheese.
Replace the Almonds with and equal amount of bread crumbs
For a vegan version replace the eggs with flax eggs (1 tablespoon flaxseed meal mixed with 3 tablespoons water per egg) and replace the parmesan cheese with an equal amount of nutritional yeast.
You Might Also Like These Recipes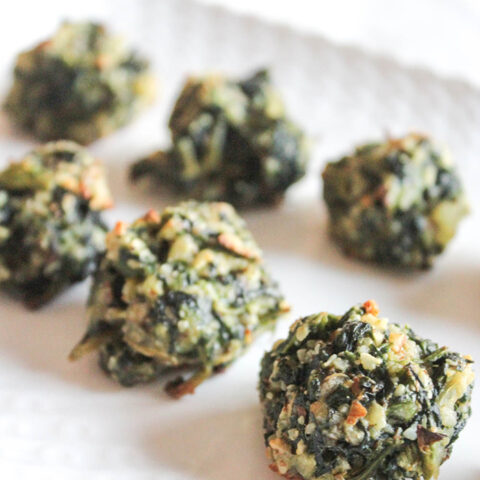 Easy Baked Spinach Balls
Yield:
Approximately 20 spinach balls
A healthy and tasty appetizer that's vegetarian, low carb and gluten-free. It can easily be adjusted to vegan.
Ingredients
1 tablespoon avocado or Olive Oil
1 12-ounce package of frozen spinach thawed and drained
½ cup chopped onion
2 cloves crushed garlic
½ cup chopped almonds that have been chopped in a food processor or blender
½ cup freshly grated parmesan cheese
1 tablespoon chopped fresh sage or 1 teaspoon dried
1 ½ teaspoons fresh thyme or ¾ teaspoon dried
⅛ teaspoon of nutmeg
2 eggs, beaten
Instructions
preheat the oven to 350 degrees
thaw the spinach at room temperature or place it in a microwave to thaw. Once it is thawed out, set it aside
heat the oil in a pan over medium heat, add the garlic and onions and cook them until they become translucent - about 3 minutes.
Stir in the spinach and cook for about 5 minutes until all of the liquid is absorbed.
Mix in the nuts, sage, thyme and nutmeg; cook the mixture for a few minutes longer
Add the parmesan cheese and mix it in well. Turn the heat off and allow the mixture to cool off for a few minutes before adding the eggs.
Once the mixture is close to room temperature, add the two beaten eggs and stir well.
Place the mixture in the refrigerator for about 30 minutes. This will firm up the mixture which will make it easier to form it into balls.
Once the spinach mixture has been chilled, use your hands to form the mixture into ¾ inch balls and arrange them on a parchment-lined sheet, and bake for 30 minutes.
Notes
Fresh spinach can be used in place of frozen spinach. Here is how: add one pound of fresh spinach into a pan of boiling water, turn off the heat. Once the spinach melts drain it and continue with instructions above.
Nutrition Information:
Yield:

20
Amount Per Serving:
Calories:

0
Total Fat:

0g
Saturated Fat:

0g
Trans Fat:

0g
Unsaturated Fat:

0g
Cholesterol:

0mg
Sodium:

0mg
Carbohydrates:

0g
Fiber:

0g
Sugar:

0g
Protein:

0g