Easy baked spinach balls are low-carb, full of flavor and perfect to serve as an appetizer for holiday gatherings or any time of the year.
This recipe was posted a few years ago during the holiday season and every year it appears on my popular posts during the season. I've updated the pictures, and added some helpful tips to make this classic holiday appetizer even better.
These spinach balls are healthy and  super easy to make.  It only takes 10 ingredients to make them. Here is what you will need:  olive oil, spinach, onion, panko bread crumbs, Parmesan cheese, garlic, eggs, sage, thyme, nutmeg, a baking sheet and parchment paper.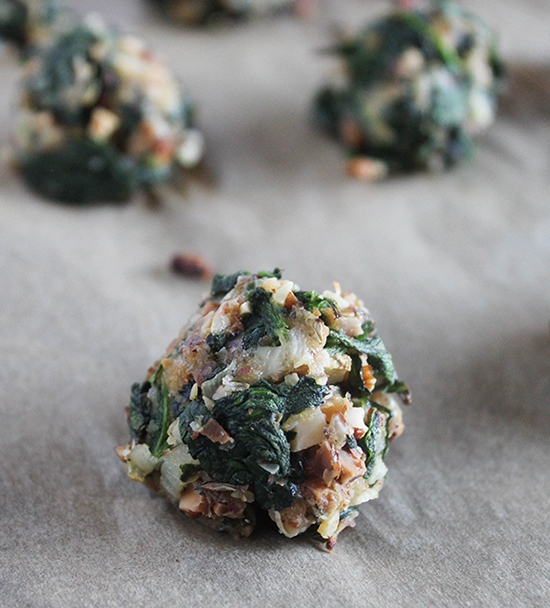 The original recipe for easy baked spinach balls, which is below is made with cheese and panko bread crumbs which contain gluten.  I have included tested variations to make these tasty bites gluten-free, vegetarian,vegan and dairy free because everyone should be able to enjoy them.  I prefer the gluten-free version because I like the extra protein and texture that the almonds add.
Once you have a taste of these spinach balls, I'm sure you will agree that the ingredients blend beautifully together.  Even though they are full of nutrient rich spinach, I've seen plenty of non-spinach lovers chowing down on them.  You can serve them piping hot right out of the oven, at room temperature or with a dip.  We like to serve them with homemade onion dip.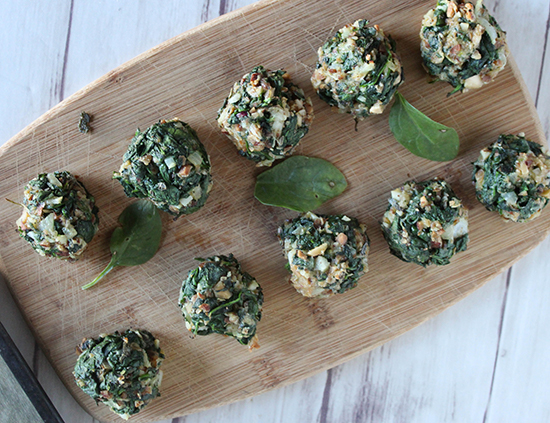 Here is how to make Baked Spinach Balls
Sautee onions and garlic
Cook and drain spinach
Squeeze out the water
Mix the ingredients together
Refrigerate the ingredients
Roll the mixture into balls
Bake the spinach balls
How to make spinach balls with fresh spinach
Trim and wash the fresh spinach leaves
Add the spinach to a pot of boiling water, turn the heat off and drain the spinach in cold water.
Squeeze the water out of the spinach and chop with a sharp knife
Add remaining ingredients and continue with remaining steps below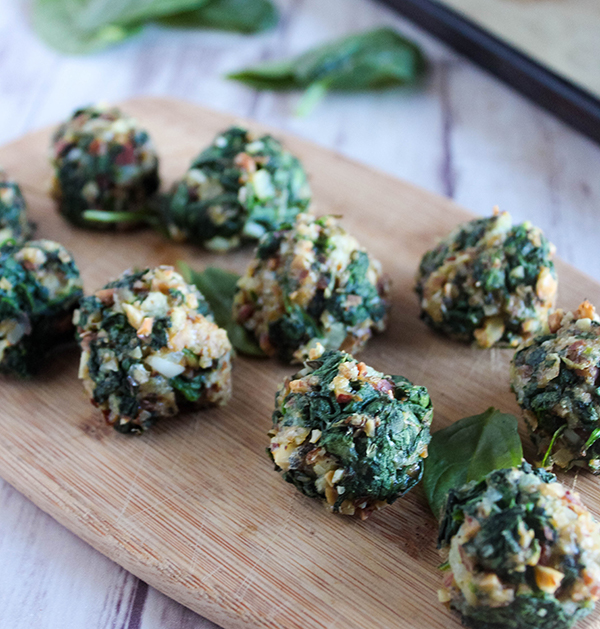 Can you freeze spinach balls?
Yes, you can freeze the spinach balls before they are baked.  Roll them up and place on plate or baking sheet and place in the freezer.  Once they are frozen, remove from baking sheet or plate and place in a freezer container. Once it's time to bake them, place the frozen spinach balls onto a baking sheet lined with parchment paper and bake at 350 until done.  It may take a few minutes longer.
Tips for making Spinach Balls
Squeeze as much water as you can out of the spinach before combining it with the other ingredients.  You can do this with your hands and simply squeezing the spinach or place in a salad spinner.
Don't skip the refrigeration step.  Once the mixture is cold it's so much easier to form it into balls.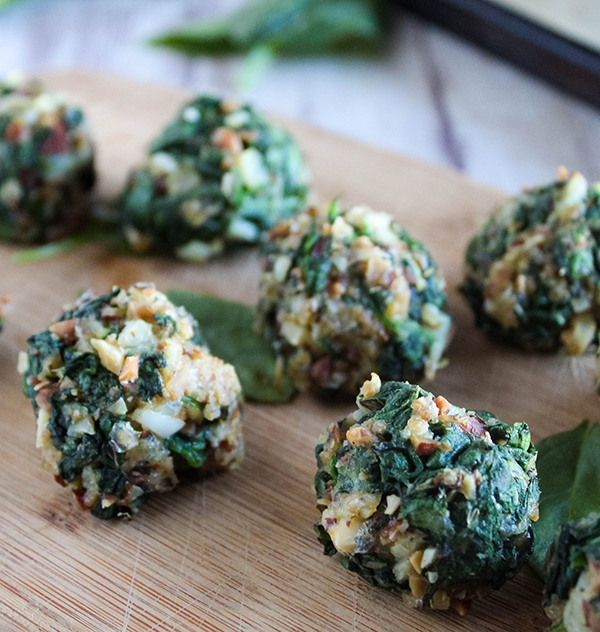 Make spinach balls gluten free and low-carb
Use a food processor to chop almonds to the consistency of panko
Substitute panko with finely 1/2 cup chopped almonds
Make spinach balls vegan
Replace eggs with flax eggs (1 tablespoon flaxseed meal mixed with 3 tablespoons water per egg)
Replace Parmesan cheese with an equal amount of nutritional yeast
Spinach balls variations
Add two tablespoons of finely chopped sun-dried tomatoes
Add a tablespoons of chopped kalamata olives
Use feta or mozzarella cheese in place of the Parmesan cheese
Add two to three tablespoons of pesto
Swap out Parmesan cheese for feta, mozzarella or swiss
Spinach balls are more than a holiday appetizer!  Make up a batch of them and enjoy for lunch or a quick, healthy snack.  Store them in the fridge for up to four days.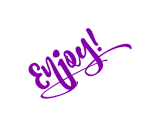 Print
Easy Baked Spinach Balls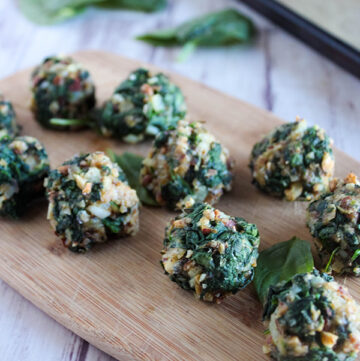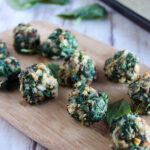 A healthy and tasty appetizer that's vegetarian, low carb and can be easily adjusted to gluten-free and vegan.
Author: anne
Category:

Appetizer
Scale
Ingredients
1 tablespoon avocado or Olive Oil
1   12-ounce package of frozen spinach thawed and drained
1/2 cup chopped onion
2 cloves crushed garlic
1/2 cup whole wheat panko breadcrumbs
1/2 cup fresh grated parmesan cheese
1 tablespoon chopped fresh sage or 1 teaspoon dried
1 1/2 teaspoons fresh thyme or 3/4 teaspoon dried
dash of nutmeg

2 eggs
Instructions
preheat oven to 350
heat oil in a pan over medium heat, add the garlic and onions and cook until translucent  – about 3 minutes
Add drained spinach into a bowl
Next, add the garlic onions, breadcrumbs, parmesan cheese, herbs and mix well
beat two eggs and add them to the mixture, stir well
place mixture in the fridge for about 30 minutes so that they will be easier to form into balls
using your hands form the mixture into 3/4 inch balls and place on a parchment lined sheet and bake for 30 minutes
Notes
Variations:
For a gluten-free version, use 1/2 cup finely chopped almonds in place of the breadcrumbs
For a vegan version,  Use 1/4 cup nutritional yeast in place of Parmesan cheese & 2 flax eggs  (1 tablespoon + 2 tablespoons water for each egg) for a vegan version
Use fresh Spinach 8 cups of fresh spinach – add to boiling water, rinse drain and chop.  Continue with recipe instructions above
Nutrition
Serving Size:

3 spinach balls
***Please note that there are affiliate links on this page. This means that if you follow one of the links and make a purchase we will receive a small percentage of the sale at no extra cost to you. This helps us to continue to bring you good content. Thank you for your support! Simple and Savory is a participant in the Amazon Services LLC Associates Program, an affiliate advertising program designed to provide a means for sites to earn advertising fees by advertising and linking to amazon.com.***