This easy falafel recipe is made in the air fryer for a quicker and healthier version of falafel. If you don't have an air fryer, I have included oven instructions too.
Traditional falafel is made with dried chickpeas that are soaked, usually overnight. I use canned and drained chickpeas which saves hours of time and the falafel is just as crispy and delicious as the traditional version, and it takes about an hour to make them.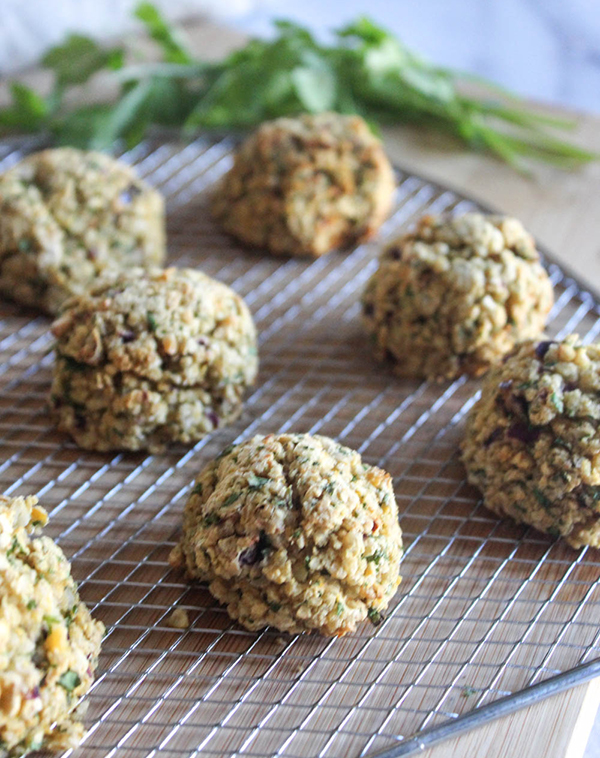 Air fried falafel balls are fresh and zesty and are so easy to make!
Why this Recipe Works
It's made with canned chickpeas, which means less time soaking dried chickpeas.
It's an easy meatless recipe for dinner, lunch or an appetizer.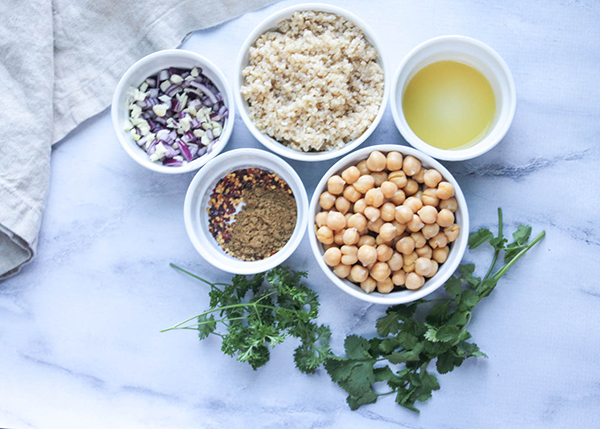 Here is What You Will Need
This is an overview of the ingredients and steps to make this recipe, scroll down to see ingredient notes and substitutions as well as a printable recipe card with exact measurements and complete cooking instructions.
As an Amazon associate, I earn from qualifying purchases
---
Ingredients
water
red or white onion
fresh garlic
cumin
canned chickpeas
fresh lemon juice
cilantro
parsley
---
Here is How To Make Air Fried Falafel
Preare the ingredients: Add the bulgur wheat to boiling water, remove it from the heat and cover it with a lid and set it aside for 15 minutes. Chop the onions and garlic, measure the spices, drain and rinse the chickpeas, squeeze the lemon juice.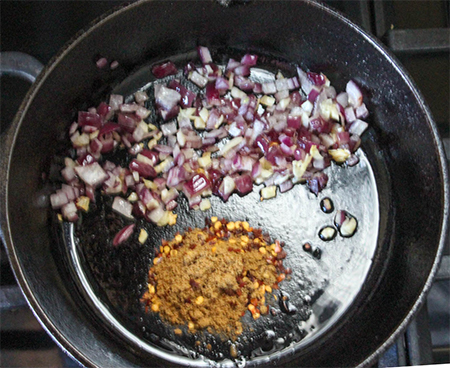 Step 1. Heat the oil in a skillet over medium to high heat. Add the onions and garlic to the heated pan and cook them for a few minutes until they become translucent. Stir in the spices and turn the heat off and allow the mixture to cool off for a few minutes.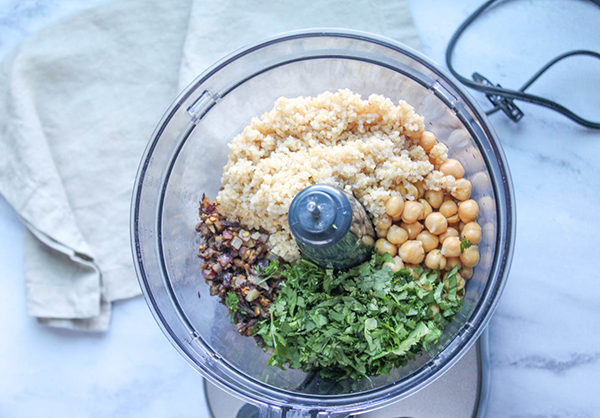 Step 2. Add the bulgur, onion/garlic, cilantro, parsley, and drained chickpeas to a food processor.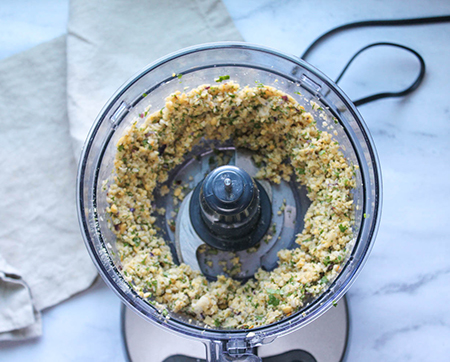 Step 3. Blend the ingredients together into a grainy mixture. Place the mixture into the refrigerator for 15 to 20 minutes which will make it easy to form the "dough" into balls.
TIP! If you are in a hurry, place the dough into the freezer for 8 to 10 minutes.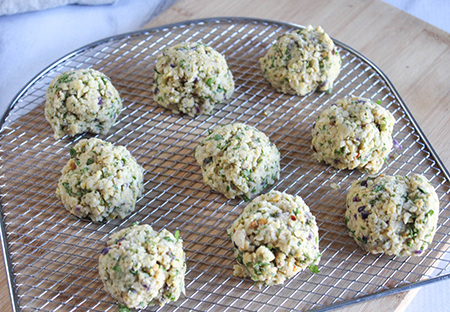 Step 4. Roll the falafel mixture into balls that are approximately 2 inches in size and place them on the tray of an air-fryer. Brush them with oil, place them into the air-fryer.
Tip! Use an ice cream scoop to form the falafel balls.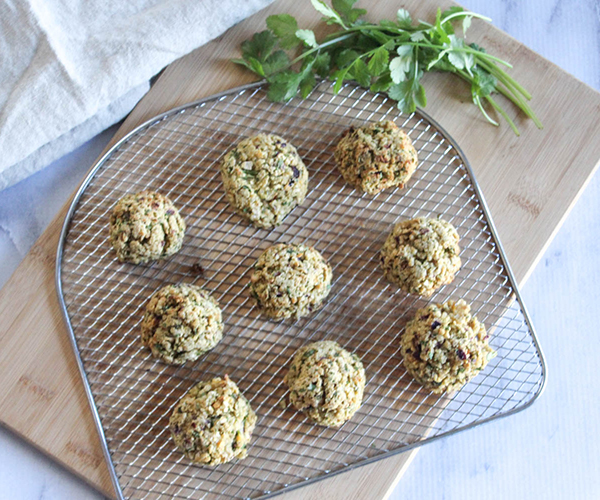 Step 5. Bake the falafel balls at 400 until they turn golden brown, about 12 to 15 minutes.
Tip! To make the falafel in the oven, place the falafel balls onto a parchment-lined baking sheet that is coated with oil and bake them in a preheated 415-degree oven for 15 to 20 minutes.
Total Estimated Time to Make This Recipe: 5 to 10 Minutes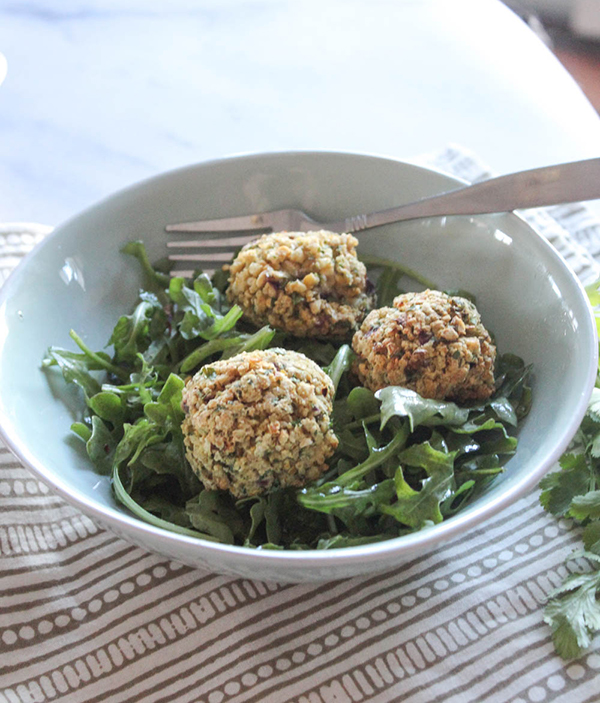 Ingredient Notes & Substitutions
Bulgur wheat adds a bit of crunch and texture to the falafel balls. It also helps to keep the falafel from becoming too soft.
Bulgur wheat can be left out, and adding ¼ cup more chickpeas. Please note that the texture will be softer.
Canned chickpeas are quicker and easier to use in this recipe, and they can be substituted with dried ones.
Dried chickpeas can be substituted with canned chickpeas, here's how:
Place ¾ cup of dried chickpeas into a bowl or measuring cup large enough for them to expand. Add enough water to cover them and allow them to soak overnight.
Drain the chickpeas and proceed with the recipe instructions.
Garlic can be substituted with ⅛ teaspoon of garlic powder per clove of garlic which would be ⅜ teaspoon in this recipe.
Onion can be replaced with 1 tablespoon onion powder.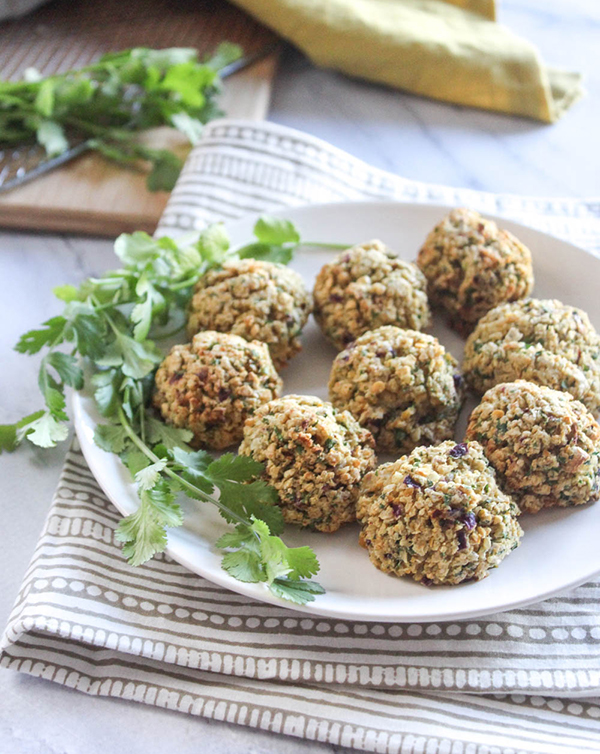 Make-Ahead Instructions
These are perfect for meal prepping ahead of time. The "dough" can be mixed together and stored in the refrigerator for up to three days before cooking. When it's time to serve them, form the dough mixture into balls and cook them.
Serving Suggestions
Falafel is versatile and perfect for meal prepping. Make extra and use them up during the week for lunch and dinner. Here are some serving suggestions:
Spread tahini sauce in a pita , add falafel and chopped fresh veggies.
Dip them in Greek yogurt for a sanck.
Served on top of fresh greens that have been dressed in olive oil and lemon juice.
Try them smashed in a lettuce wrap (Boston or Butter lettuce works well for this and top them with chopped cucmbers and tomatoes).
Air fried falafel also tastes great in a simple salad like this arugula salad or on a plate with sliced cucumbers, tomatoes, onions and hummus.
Storing and Using Leftovers
Store leftover falafel in an airtight container in the refrigerator for 3 to 4 days.
Re-heat them in the oven or on top of the stove.
Leftover suggestions, see serving suggestions above.
Freeze leftover falafel: place the cooked falafel balls onto a baking sheet and into the freezer. Once they are frozen, remove them from the baking sheet and place them in a freezer container.
Re-heat them on the oven or in the microwave,they do not need to be thawed before reheating.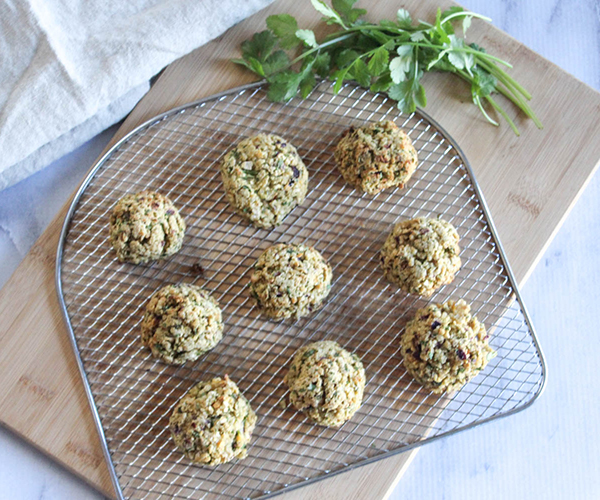 You Might Also Like These Mediterranean Recipes