This easy falafel recipe is full of zesty and fresh flavors. It's vegan and made in the air fryer with an oven option.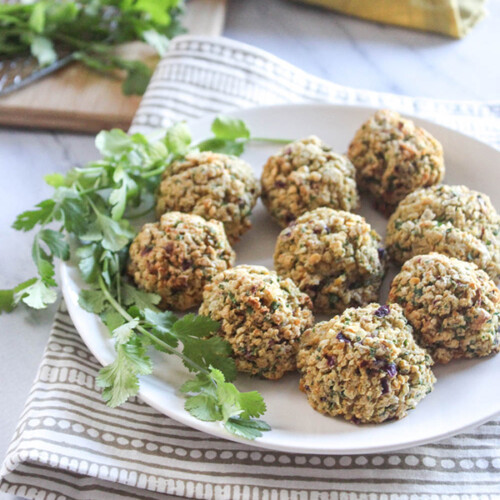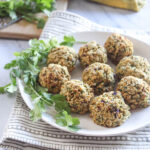 Air fryer falafel is a healthier version of falafel. It's made with similar ingredients and is just as delicious and crispy as traditional falafel.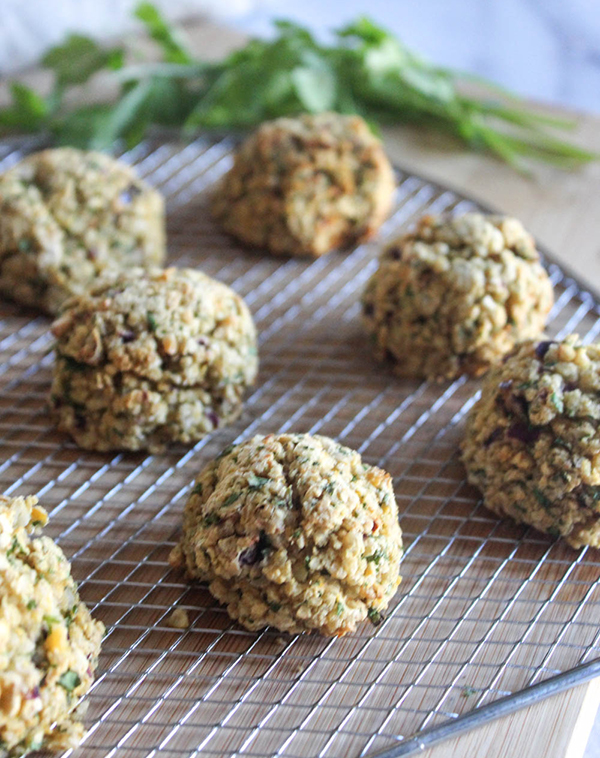 What is falafel?
Falafel is Middle Eastern street food, that is made with chickpeas, garlic, spices, and herbs that are blended into a dough-like mixture that is formed into balls, or patties and then deep fried. They are crispy on the outside and soft on the inside.
When falafel is air fried, it is healthier and tastes just as delicious just like these avocado fries.
Why this Recipe Works
It's made with canned chickpeas, which means less time soaking dried chickpeas.
It's an easy flavorful meatless recipe for dinner, lunch or an appetizer.
Air-fried falafel is healthier than fried falafel.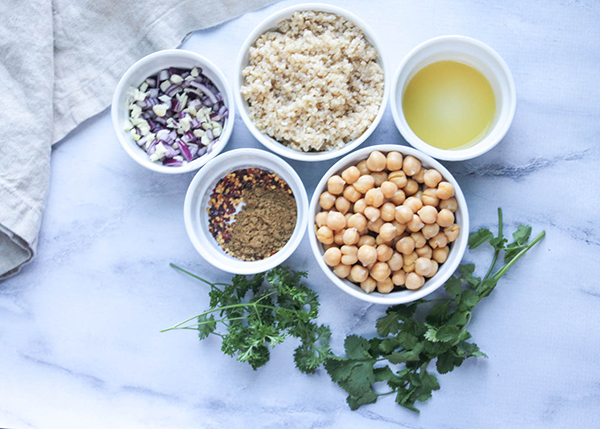 Here is What You Will Need
This is an overview of the ingredients and steps to make this recipe, scroll down to see ingredient notes and substitutions as well as a printable recipe card with exact measurements and complete cooking instructions.
As an Amazon Associate, I earn from qualifying purchases
Ingredients
water
white or red onion
fresh garlic
cumin
fresh cilantro
canned chickpeas
fresh lemon juice
cilantro
parsley
Equipment
How to make this air fryer falafel recipe
Prepare the ingredients: Add the bulgur wheat to boiling water, remove it from the heat and cover it with a lid and set it aside for 15 minutes.
Chop the onions and garlic, measure the spices, drain and rinse the chickpeas, and squeeze the lemon juice.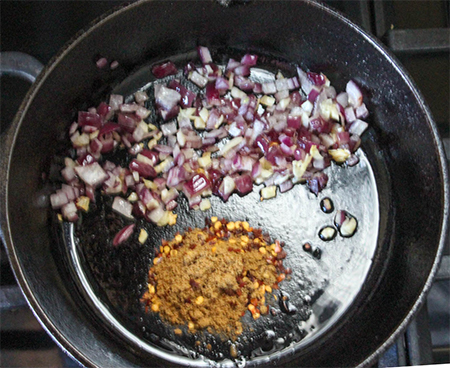 Step 1. Saute the veggies and spices
Heat the oil in a skillet over medium to high heat. Add the onions and garlic to the heated pan and cook them for a few minutes until they become translucent. Stir in the spices and turn the heat off and allow the mixture to cool off for a few minutes.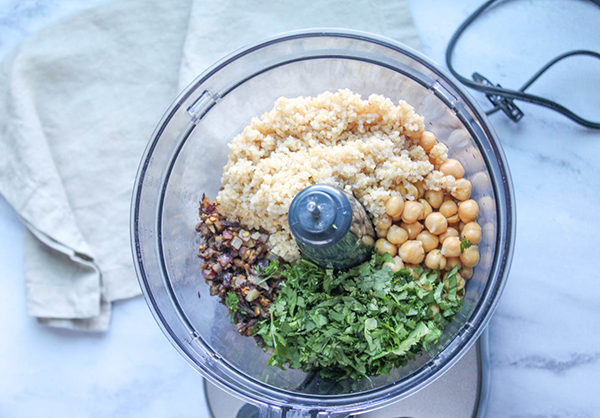 Step 2. Mix the dough
Add the bulgur, onion/garlic, cilantro, parsley, and drained chickpeas to a food processor.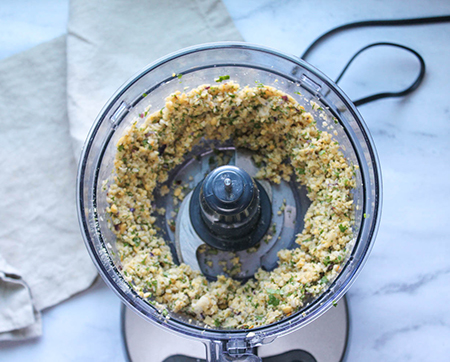 Step 3. Refrigerate the dough
Blend the ingredients together into a grainy mixture. Place the mixture into the refrigerator for 15 to 20 minutes which will make it easy to form the "dough" into balls.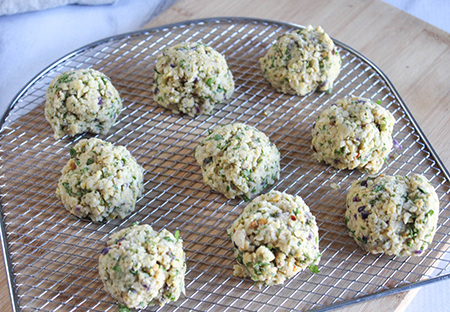 Step 4. Make the falafel balls
Roll the falafel mixture into balls that are approximately 2 inches in size and place them in an air fryer basket or tray of an air fryer. Brush them with oil, and place them into the air fryer.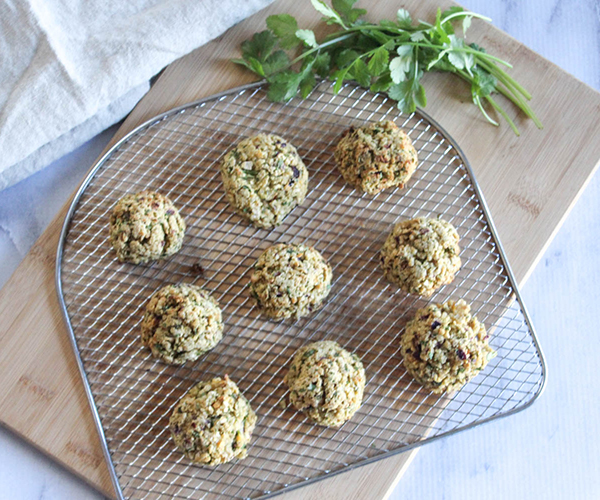 Step 5. Air fry falafel
Set your air fryer to 400 degrees and cook for 12 to 15 minutes until they turn golden brown.
Note: cook times can vary depending on your air fryer.
Ingredient notes & substitutions
The complete list of ingredients to make this recipe is above. Below are notes about some of the ingredients, along with ideas for substitutes.
Bulgur wheat adds a bit of crunch and texture to the falafel balls as well as holding the falafel balls together.
Bulgur wheat can be left out and replaced with ¼ cup more chickpeas for a gluten-free version.
Chickpeas - A traditional falafel recipe is made with dry chickpeas that have been soaked usually overnight. I use canned chickpeas when I make falafel because they are quicker and easier to use.
Canned chickpeas can be substituted with ¾ cup dried chickpeas covered with enough water and soak them overnight. Drain them the next day and make your falafel balls.
Fresh garlic can be substituted with ⅛ teaspoon of garlic powder per clove of garlic which would be ⅜ teaspoon in this recipe.
Fresh onion can be replaced with 1 tablespoon of onion powder.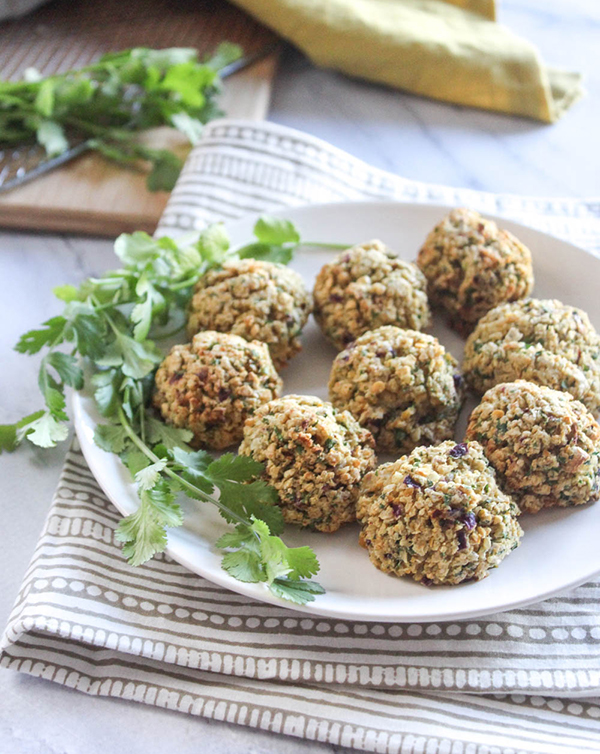 Make-Ahead Instructions
Homemade air fryer falafel is an excellent make-ahead recipe. The "dough" can be mixed together and stored in the refrigerator for up to three days before cooking. When it's time to serve them, form the dough mixture into balls and cook them.
Serving Suggestions
Serve crispy falafel with tahini sauce tzatziki sauce or Greek yogurt in warm pita bread or a lettuce wrap topped with chopped fresh veggies
Air-fried falafel also tastes great on top of a salad like this arugula salad or on a plate with sliced cucumbers, tomatoes, onions and hummus.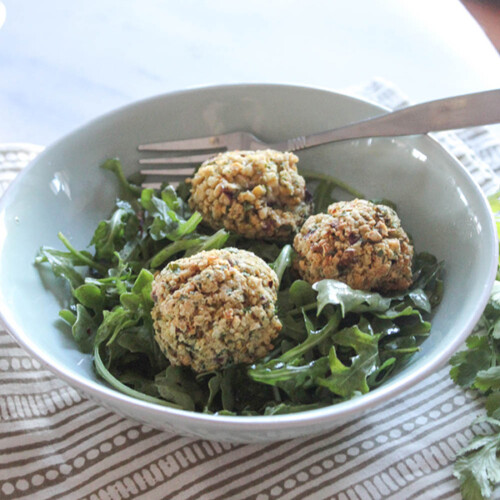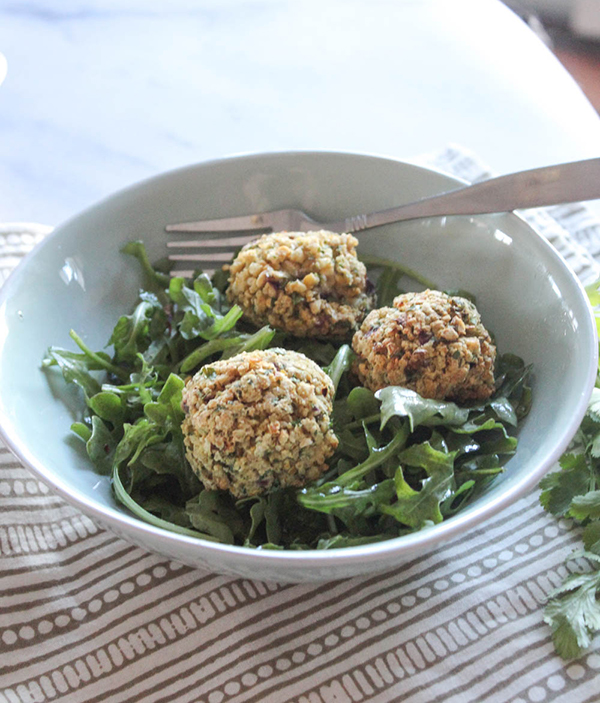 Storing and Using Leftovers
Falafel is versatile and perfect for meal prep. Make a big batch and use it over the next few days in salads or sandwiches.
Store leftover falafel in an airtight container in the refrigerator for 3 to 4 days.
Freeze leftover falafel: place the cooked falafel balls onto a baking sheet in a single layer and place it into the freezer. Once they are frozen, remove them from the baking sheet and place them in a freezer container.
Re-heat them in the oven or in the microwave. If you are using frozen falafel, they do not need to be thawed before reheating.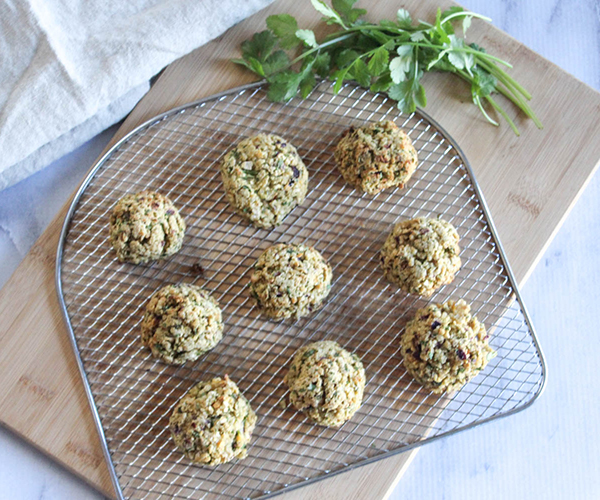 Recipe Tips
Use an ice cream scoop or cookie scoop to form the falafel balls.
If you are in a hurry, place the dough in the freezer for 10 minutes instead of the refrigerator for 20 minutes.
Add a pinch of baking soda to the falafel to make the falafel balls fluffy and light.
How to make air fryer falafel in the oven?
Place the falafel balls onto a parchment-lined baking sheet that is coated in oil and bake the falafel balls in a preheated 415-degree oven for 15 to 20 minutes. Until they are golden and crispy.
Are chickpeas and garbanzo beans the same thing?
Yes, they are the same thing. It just two different names for the same healthy food.
You Might Also Like These Mediterranean Recipes
📖 Recipe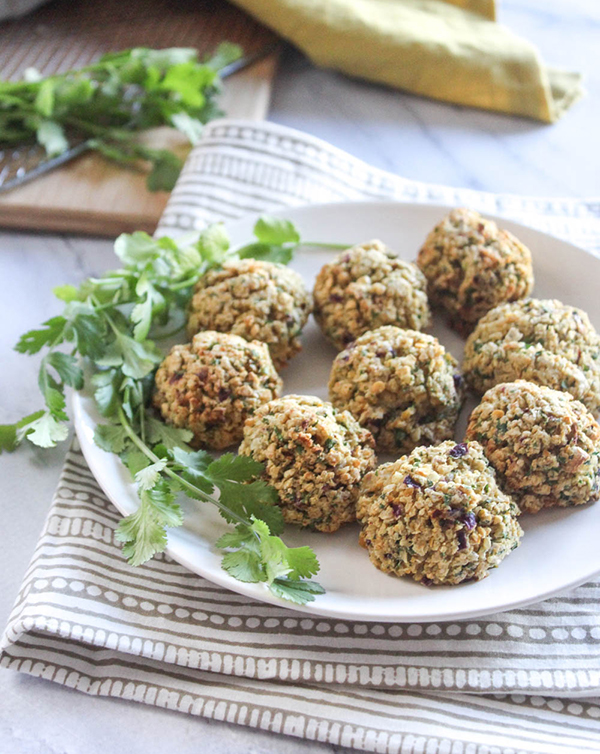 Click on serving size to scale this recipe
Ingredients
¾

cup

water

½

cup

bulgur wheat

1

medium red onion minced

3

cloves

fresh garlic

¼

teaspoon

crushed crushed red chili flakes

1 ¼

teaspoons

cumin

1 ½

cups

canned and drained chickpeas

1 ½

tablespoons

fresh lemon juice

⅛

cup

packed cilantro

chopped roughly

⅛

cup

packed fresh parsley

chopped roughly
Instructions
Bring the water to a boil and remove it from the heat. Pour the bulgur into the water and cover it with a lid. Allow the bulgur to sit for at least 15 minutes until it softens.

Prepare the ingredients: chop the onions, garlic and herbs. Set them aside.

Place the mixture into the refrigerator for 15 to 20 minutes which will make the dough easier to form into balls.

Use a pastry brush to the falafel balls with oil.

Set the air fryer to 400 and bake for 15 minutes.
Notes
Dried chickpeas can be used in place of canned. Here's how: Place ¾ cup of dried chickpeas into a bowl or measuring cup. Add enough water to cover them and allow them to soak overnight.
Fresh garlic and onions can be replaced with ⅛ teaspoon garlic powder per clove of garlic. The onion can be replaced with 1 tablespoon onion powder for medium chopped onion.
Bulgur wheat adds a bit of crunch to the falafel balls, it can be left out of the recipe and replaced with ¼ cup more of chickpeas.
Nutrition
Serving:
3
balls
|
Calories:
141
kcal
|
Carbohydrates:
20
g
|
Protein:
5
g
|
Fat:
5
g
|
Saturated Fat:
1
g
|
Polyunsaturated Fat:
4
g
|
Sodium:
15
mg
|
Fiber:
5
g
|
Sugar:
3
g
Nutrition information provided is an estimate and can vary based on cooking methods and ingredients used
Check out more of our air fryer recipes here!