You are going to love these vegetarian stuffed peppers with beans! They have a Tex-Mex flair and are made with colorful bell peppers filled with plant-based protein and flavor. They are so hearty and satisfying, that you won't miss the meat.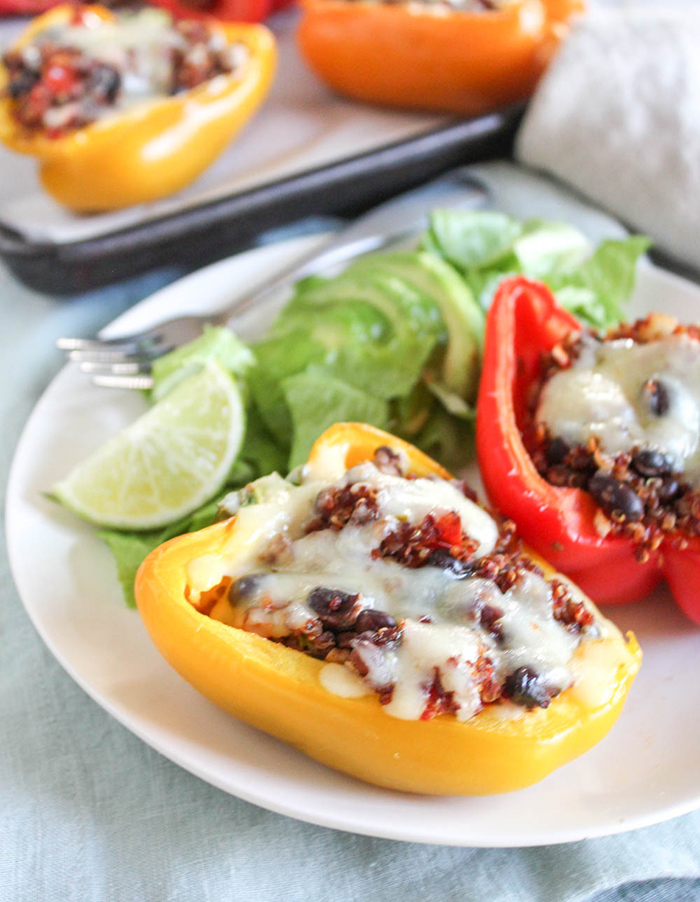 These easy healthy vegetarian stuffed peppers are an easy weeknight meal that the whole family will love and stuffed peppers recipes are so easy to make!
Peppers can be loaded with just about anything from ground meat and rice, cheese, beans, and vegetables. If you prefer the traditional-style stuffed peppers, try this recipe for deconstructed stuffed peppers.
Why you will love this recipe
It's an easy stuffed peppers recipe that can be on the table in less than an hour!
This delicious recipe is versatile, there are many different ways to make it!
Here is what you will need
As an Amazon Associate, I earn from qualifying purchases
This is an overview of the ingredients and steps to make this recipe, scroll down for a printable recipe card with exact measurements and instructions.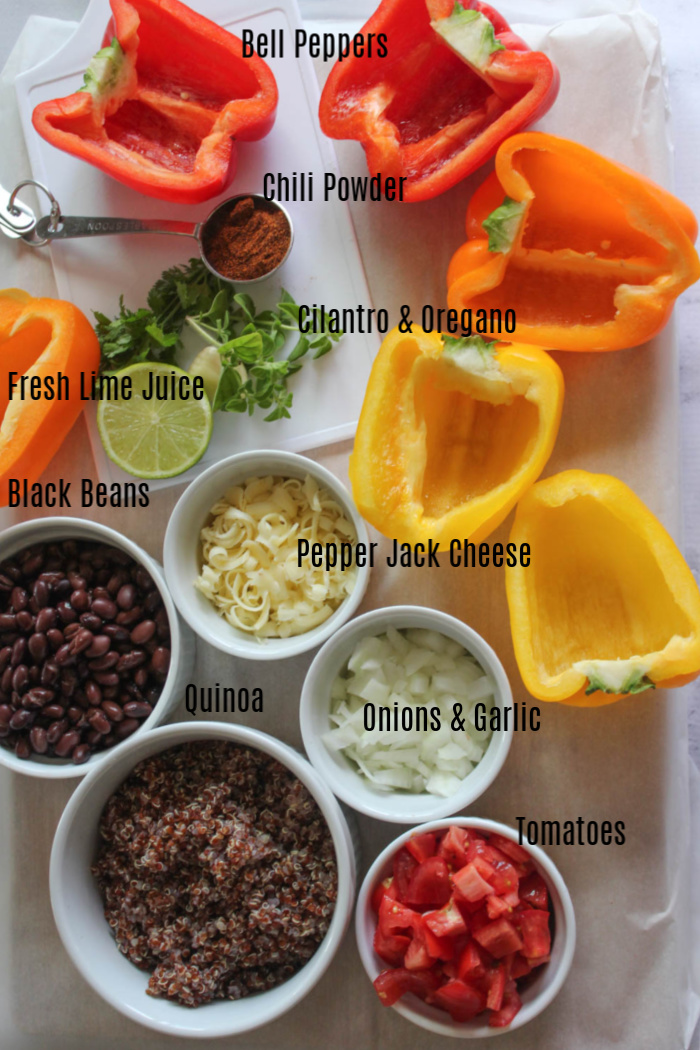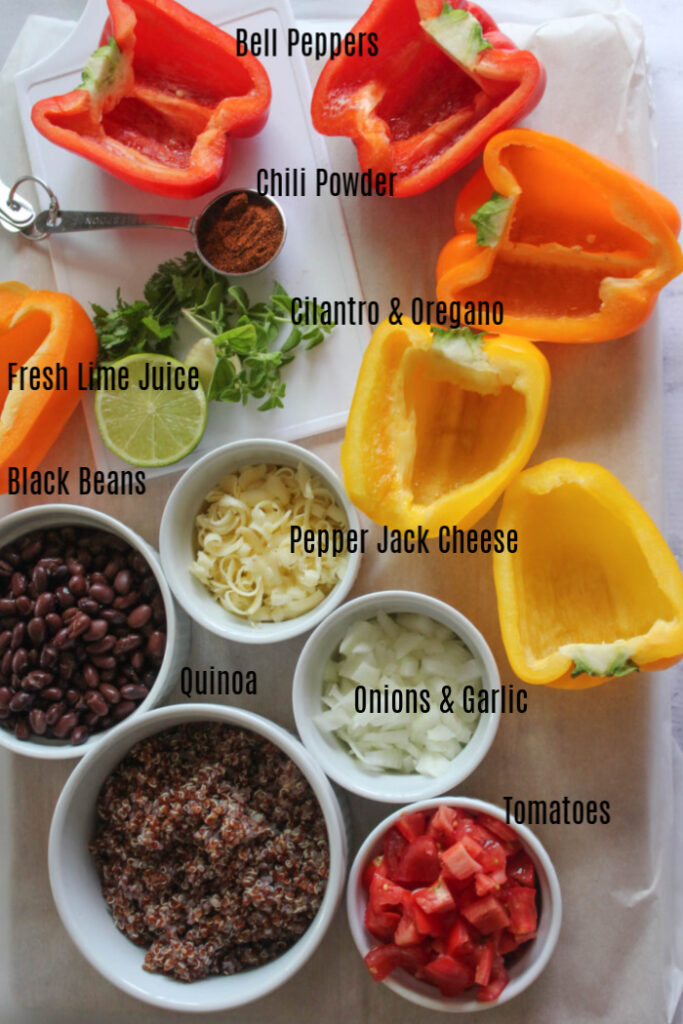 Ingredients List
Bell Peppers
Cooked quinoa
Onion
Fresh Garlic
Diced tomatoes
Chili powder
Fresh cilantro
Fresh oregano
Lime Juice from a lime
Shredded cheddar cheese
Equipment
How to make vegetarian stuffed peppers with beans
Prepare the ingredients: chop the onions, garlic, tomatoes, cilantro, and oregano. Squeeze the lime juice and shred the cheddar cheese.
Heat the olive oil in a large skillet over medium to high heat and line a baking sheet with parchment paper.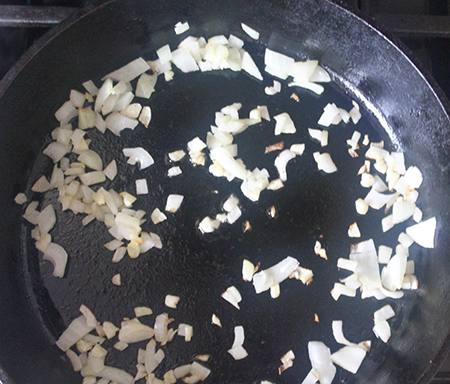 Step 1. Cook the onions and garlic
Once the oil is hot, reduce the heat to medium heat and add the onions and garlic; cook for a few minutes until they start to soften.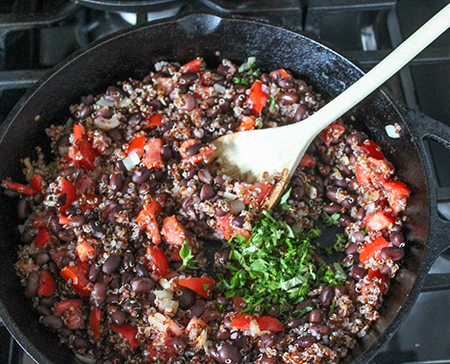 Step 2. Make the filling
Add the quinoa, tomatoes, beans, chili powder and cilantro to the skillet and mix well.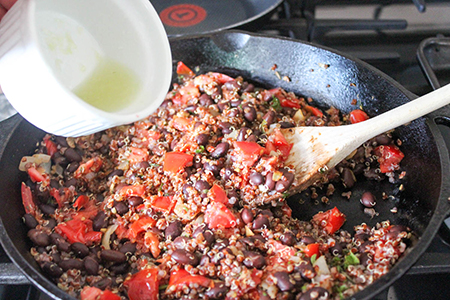 Step 3. Add the lime juice
Stir in the fresh lime juice and mix everything together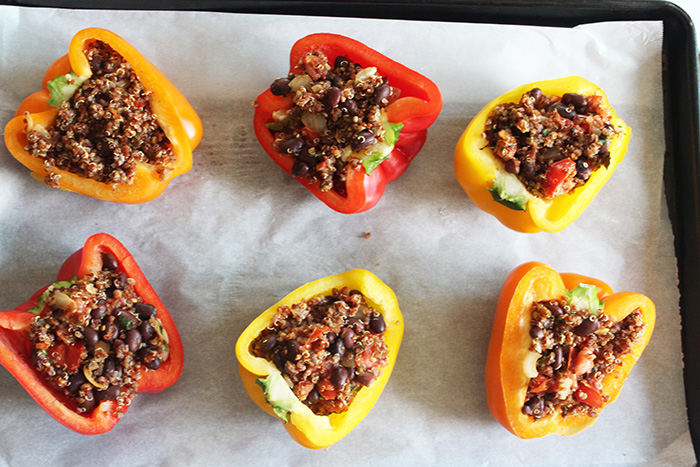 Step 4. Fill the peppers
Use a spoon to fill the bell pepper halves with the filling, and place them on a baking sheet.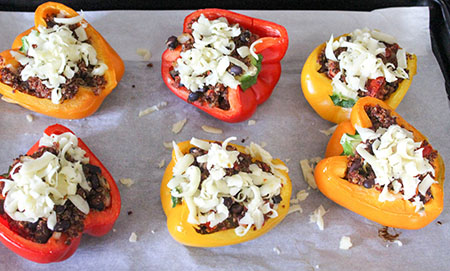 Step 5. Top with cheese
Sprinkle on the cheese and bake for 20 minutes.
Note: The peppers will be slightly cooked and crispy in this recipe. If you prefer your peppers more cooked and softer in texture, place them in the oven for about 10 minutes before stuffing them, or add them to a pot of boiling water for a few minutes. Remove them with a slotted spoon and dry them off.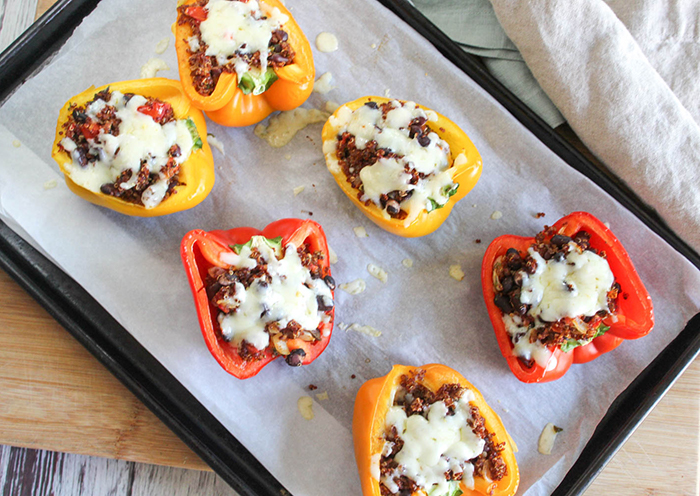 Ingredient notes and substitutions
The complete list of ingredients to make vegetarian stuffed peppers with beans is above. Below are notes about some of the ingredients along with ideas for substitutes.
Peppers - Any variety of bell peppers will work in this recipe. I like to use a variety for a colorful presentation such as green bell peppers, red bell peppers, and orange or yellow peppers.
Tomatoes- I like to use fresh chopped tomatoes when they are in season and they can easily be substituted with an equal amount of low sodium canned diced tomatoes or tomato sauce.
Cheese - The cheddar cheese in this recipe can be replaced with your favorite cheese. Try any combination of these: Monterey jack cheese, pepper jack cheese, cotija cheese, queso fresco, feta cheese or goat cheese.
Beans - I like to use black beans in this recipe, and they can be substituted with pinto beans or kidney beans.
Quinoa - Can be substituted with an equal amount of your favorite whole grain such as brown rice, wheat berries, millet, farro, or barley.
Make ahead instructions
This is a great recipe for meal prep. The entire recipe can easily be made ahead of time and stored in the refrigerator in an airtight container without the cheese for up to 2 days.
When it's time to serve, add freshly shredded cheese and pop the peppers in the oven for a quick 20 minutes.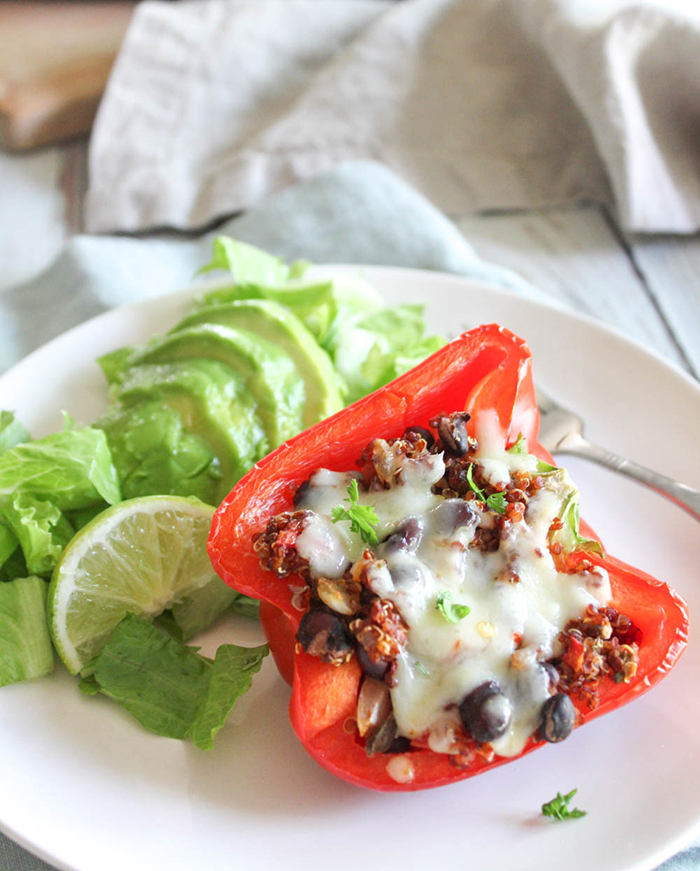 How to store leftover stuffed peppers
Leftover stuffed cooked stuffed peppers can be stored in the refrigerator for up to four days in an airtight container.
Reheat leftover vegetarian stuffed peppers in the microwave or cover and place in a preheated 350 oven for approximately 10 to 15 minutes.
Freezing vegetarian stuffed peppers is not recommended since I have not frozen them.
What to serve with vegetarian stuffed peppers
Vegetarian stuffed peppers taste great with a big green salad like an arugula salad, kale, and brussels sprouts salad, or spinach salad for a balanced meal.
Top the peppers with a dollop of Greek yogurt, sour cream or fresh, homemade guacamole, sliced green onions, or jalapeno peppers on the side.
Tip! Use baby peppers and serve these stuffed peppers as an appetizer!
Recipe Variations
Vegan stuffed peppers. Replace the cheese with 2 tablespoons of nutritional yeast or vegan cheese.
Ground meat stuffed peppers. Add a quarter to a half pound of ground beef, chicken, or turkey to the stuffing mixture, and reduce the cooked quinoa to 1 to 1 ½ cups.
Italian vegetarian stuffed peppers. Skip the chili powder, cumin, cilantro, and black beans. Instead, add 1 tablespoon chopped basil, 1 cup white beans, 1 cup cooked rice, farro or orzo, an extra clove of chopped garlic, and top them with mozzarella cheese.
Lower carb vegetarian stuffed peppers - replace the quinoa with cauliflower rice.
Add more veggies. Add a ½ cup diced zucchini or corn (or both) to the stuffing mixture.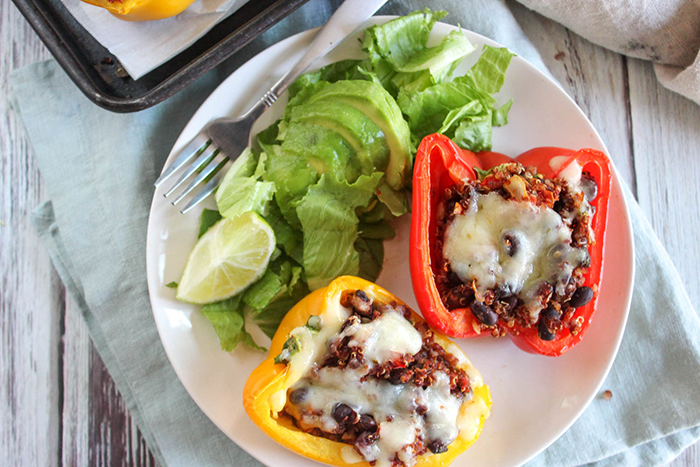 For more simple and delicious recipes like this, subscribe to our newsletter and receive a free e-book and meal suggestions straight in your inbox!
You Might Also Like these Plant Based Meal Ideas
If you like this recipe, please comment and rate it below!
Check out more of our Plant-Based Recipes Here!