Deconstructed stuffed peppers have all of the deliciousness of traditional stuffed peppers with less work.
Unlike traditional stuffed peppers, the savory beef filling is cooked on top of the stove in one pan with peppers for a quick, and healthy dinner.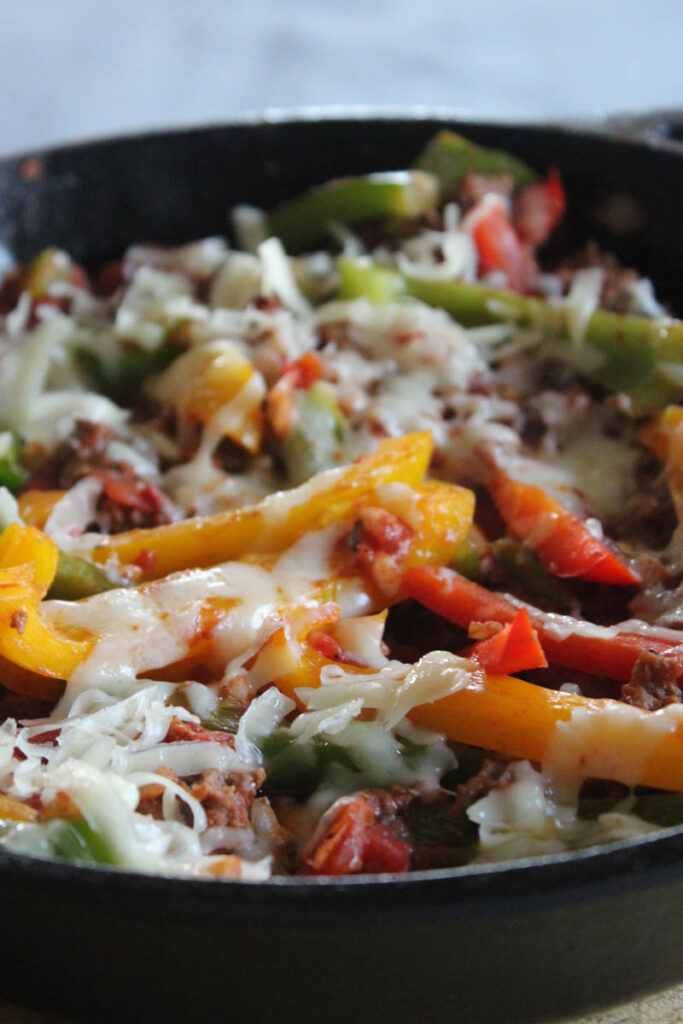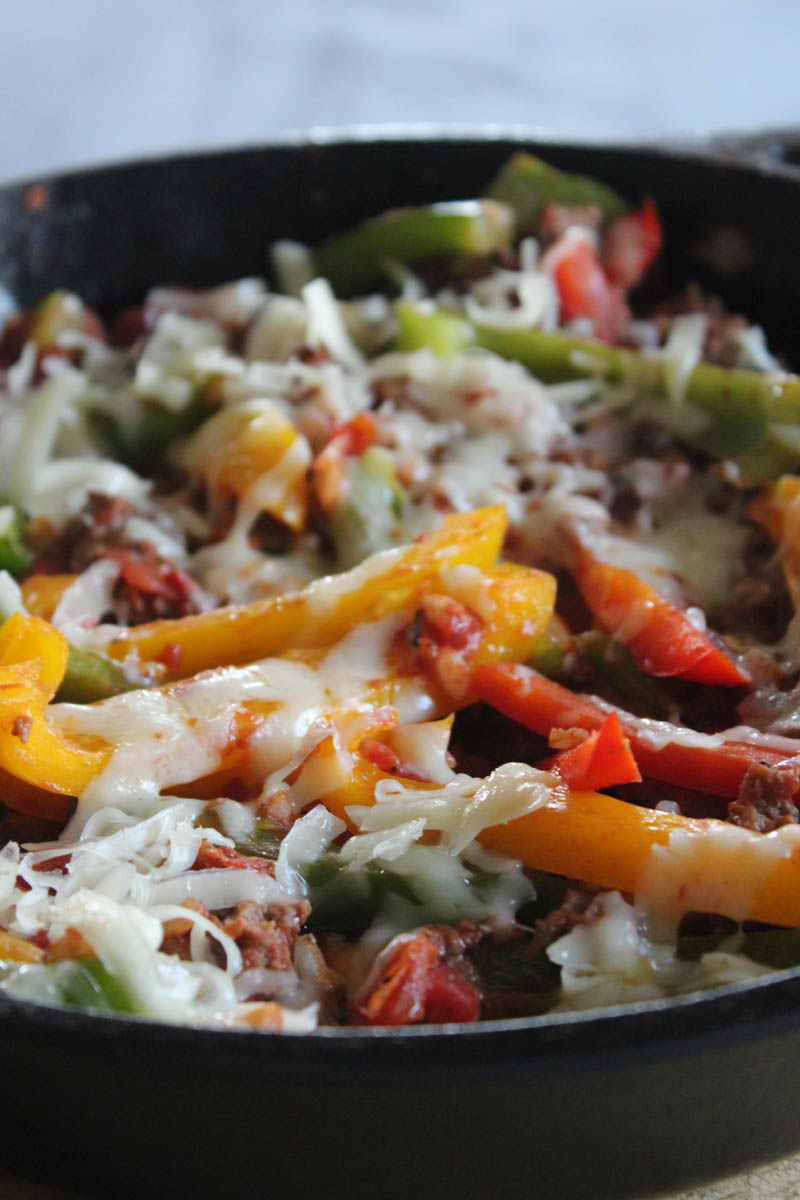 Unstuffed peppers are tender, slightly crispy, and full of flavor. If you prefer vegetarian stuffed peppers, give these vegetarian stuffed peppers a try.
Recipe Highlights
You only need 8 ingredients to make this recipe.
Deconstructed stuffed are a quick recipe, dinner will be ready in less than an hour.
It's healthy, made with ground beef, brown rice and nutrient-rich bell peppers.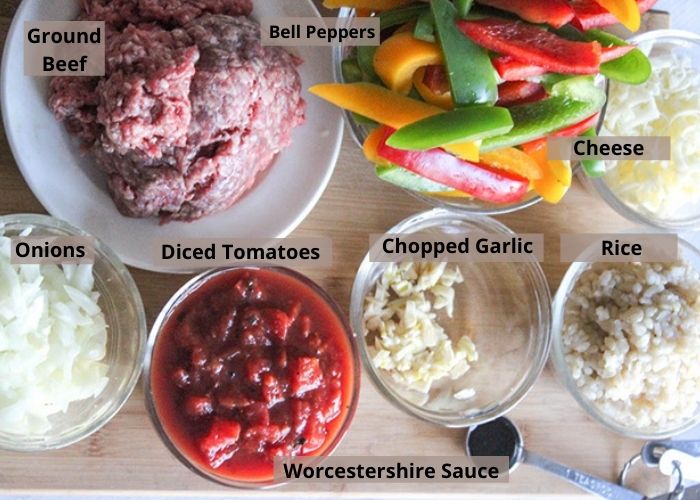 ---
Deconstructed Stuffed Peppers Ingredients
Equipment Needed to Make this Recipe
---
Here Is How to Make Deconstructed Stuffed Peppers
Get all of the ingredients ready: cook and measure the rice, chop and measure the onion & garlic, slice the peppers, shred and measure the cheese, measure the tomatoes and Worcestershire sauce.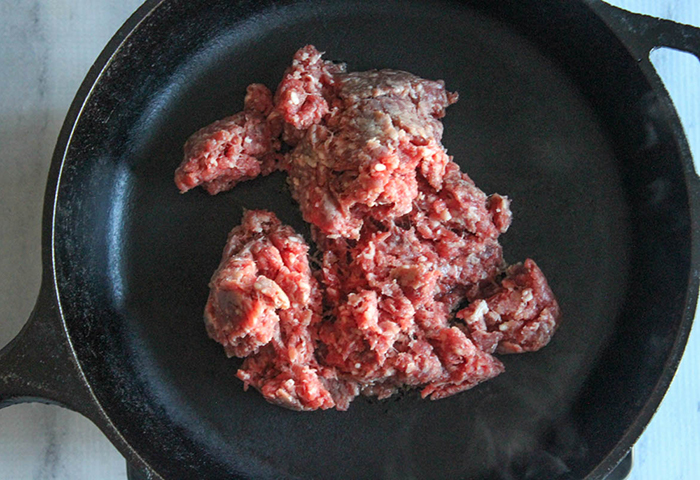 Heat a skillet over medium to medium to high heat. Once the skillet is hot, add the meat and cook it until it begins to turn brown.
TIP! You can add up to one tablespoon of olive oil to the skillet, if the meat is sticking to the pan.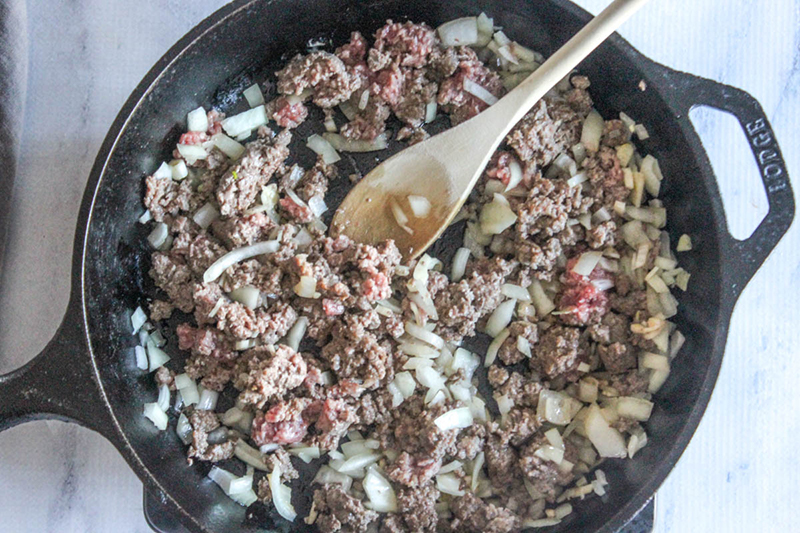 Add the chopped onions and garlic. Continue to cook until the onions begin to soften (about 3 to 5 minutes).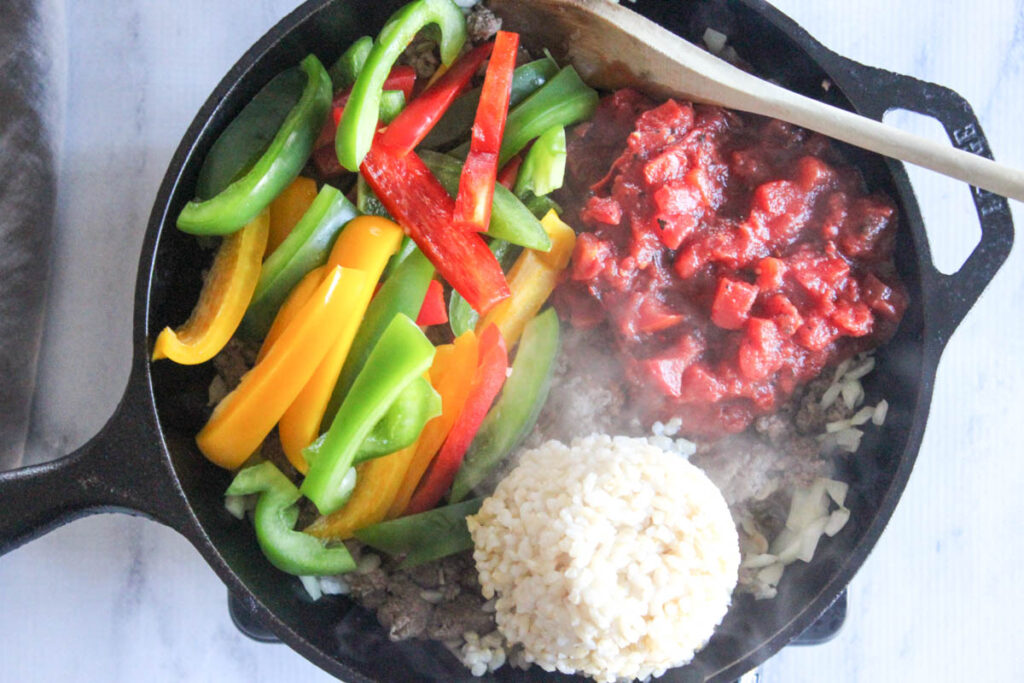 Add the tomatoes, peppers, Worcestershire sauce, and cooked rice to the skillet and mix everything together.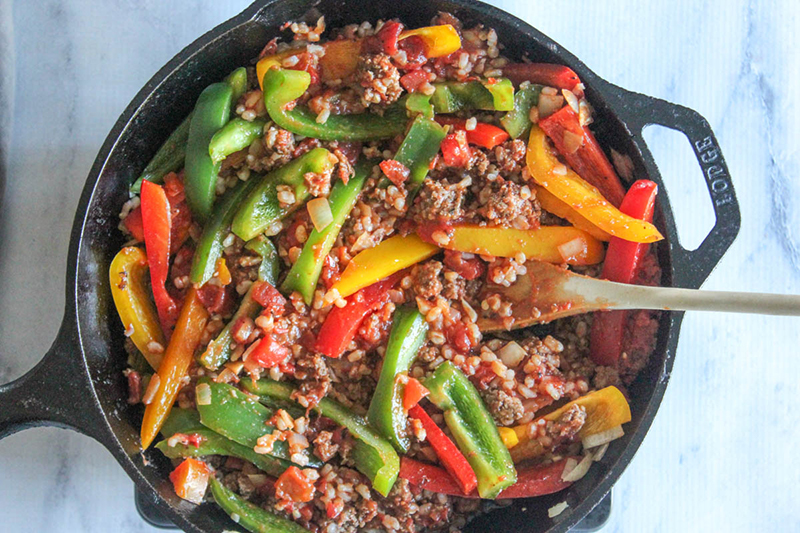 Reduce the heat to low and let the mixture simmer for 15 minutes or longer.
TIP! If you prefer your peppers soft, loosely cover the skillet while it is simmering.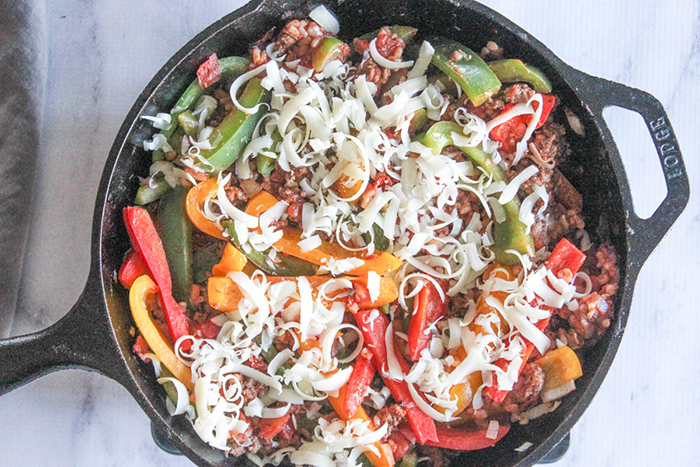 Sprinkle the deconstructed peppers with cheddar cheese and serve.
Total Estimated Time to Make this Recipe: 30 to 40 Minutes
Ingredient Notes & Substitutions
Ground Beef - The best ground beef to use in this stuffed peppers recipe is 85 to 90% lean beef. We like to get our ground beef from Butcherbox, their meat is sustainably raised and delicious!
Substitutes for ground beef in this recipe: an equal amount of ground chicken, turkey or pork.
Tomatoes - Fresh diced tomatoes or canned diced or crushed tomatoes will work in this recipe. If you choose to use fresh tomatoes, you might need to add ½ cup of tomato sauce if the mixture is dry.
Bell Peppers - Any color of bell peppers can be used in this recipe. I like to use various colors, but all of the same colors will also work. The peppers can also be cut into smaller pieces if that is your preference.
Rice - Short or long-grain cooked brown rice works best in this recipe. Instant rice is not recommended.
Worcestershire Sauce is a savory, salty, slightly tangy sauce that adds a hint of umami flavor to the deconstructed stuffed peppers. If you don't have Worcestershire sauce, you can leave it out or use one of the substitutes below.
Substitutes for Worcestershire Sauce - A one-to-one swap of tamari or soy sauce, or one-part soy or tamari and one part apple juice. In this recipe, you would use ½ teaspoon tamari and ½ teaspoon apple juice.
Shredded Cheddar Cheese - Freshly shredded cheddar cheese adds a nice flavor to round this dish out.
Substitutes for Cheddar Cheese - Mozzarella, American or Provolone. If you are on a dairy-free diet or don't like cheese, you can leave the cheese out.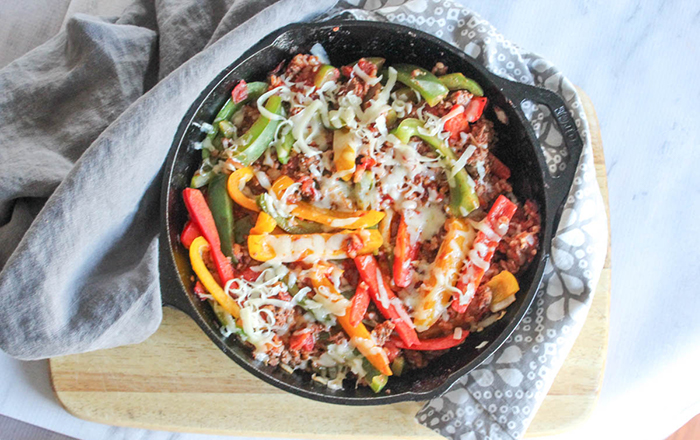 Make-Ahead Instructions
This recipe can be made ahead of time which is perfect for meal prep. Here are a few make-ahead options.
Up to three days ahead of time: cook the rice and brown the meat with the onions and garlic ahead time and cut up the peppers. Store the meat mixture, rice, and peppers in separate containers in the refrigerator.

To prepare the unstuffed peppers, add the cooked meat mixture, rice, tomatoes, Worcestershire, and peppers to a skillet and cook until the peppers begin to soften (about 15 to 20 minutes).

Day of: Cook the meat with onions and garlic ahead of time, add the tomatoes and Worcestershire and cook the rice. Store the cooked meat mixture and the rice separately in the refrigerator until just before serving.

To serve, add the peppers, cooked rice, and meat mixture - cook until everything is heated through and the peppers begin to soften.
Serving Suggestions
Serve deconstructed stuffed peppers with a side salad like this Arugula Salad with Pistachios or Spinach Salad with Basil for a full dinner.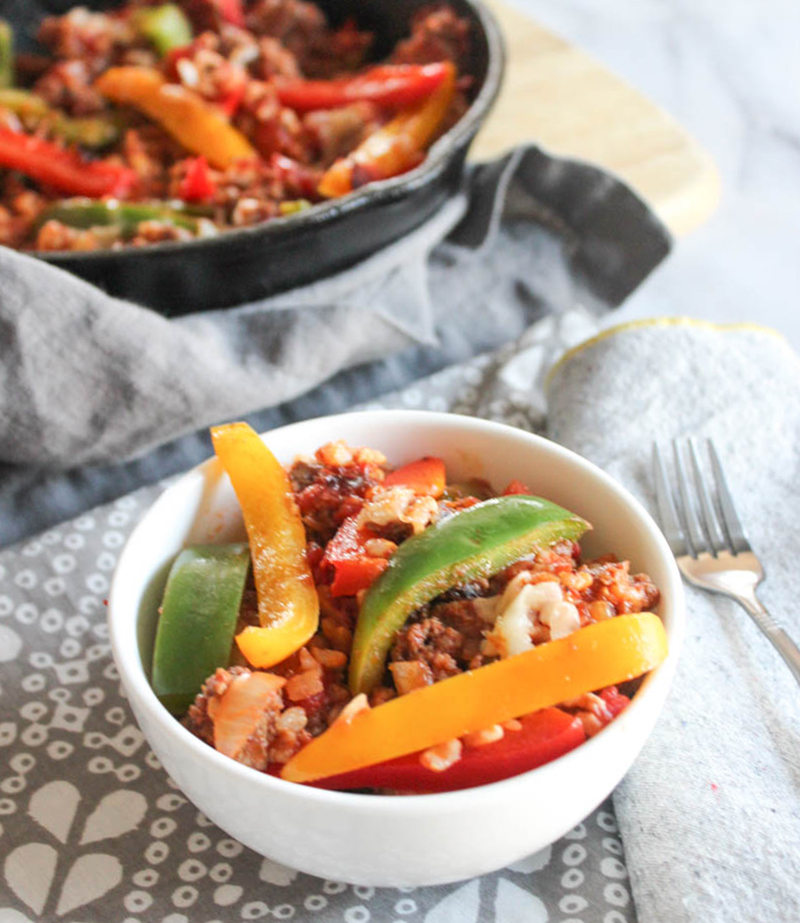 Storing and Using Leftovers
Store leftover deconstructed stuffed peppers in the refrigerator for up to three days in an airtight container.
Reheat leftovers on top of the stove over low heat until they are heated through or reheat them in the microwave.
Serve leftover stuffed peppers as they are or toss them with romaine lettuce for an unstuffed pepper salad, or stuff them in a pita pocket or a wrap for a stuffed pepper sandwich.
Freeze leftovers in a freezer-safe container for up to three months. Defrost the frozen pepper in the refrigerator overnight.
Try our recipe for stuffed zucchini with ground beef and rice!
Unstuffed Pepper Variations
Italian Unstuffed Peppers - Instead of diced tomatoes, use marinara sauce, a teaspoon of oregano or Italian seasoning and top it off with provolone or mozzarella cheese.
Mexican Unstuffed Peppers - Use salsa in place of diced tomatoes, add diced jalapeno or poblano pepper, and top them with a shredded jack or cotija cheese.
Greek Unstuffed Peppers - Keep the diced tomatoes and add ½ cup of sliced kalamata olives, oregano and top it with feta cheese.
Low Carb Unstuffed Peppers - Replace the rice with one cup of steamed cauliflower rice.
For more simple and delicious recipes like this, subscribe to our newsletter and receive a free e-book and meal suggestions straight in your inbox!
You Might Like These Recipes
If you like this recipe, please comment and rate it below!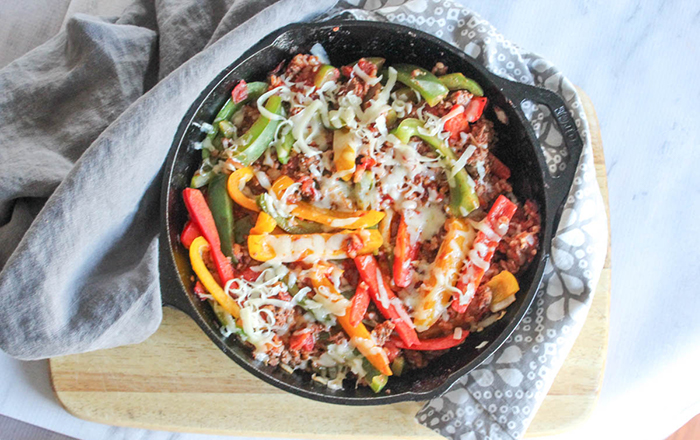 Click on serving size to scale this recipe
Ingredients
1

tablespoon

olive oil

1

pound

lean ground beef

¾

cup

chopped onion

approximately 1 small onion

2

cloves

of garlic

chopped

3

bell peppers

julienne sliced

2

cups

diced or crushed tomatoes

1

cup

cooked rice

1

teaspoon

Worcestershire sauce

2 to 3

ounces

grated cheddar cheese
Instructions
Cook the rice according to the package instructions.

Heat a cast-iron skillet over medium to high heat and add the

ground beef

, onions and garlic and cook until the beef begins to brown.

Stir in the rice, crushed tomatoes, Worcestershire sauce and peppers.

Reduce the heat to low. Simmer for about 20 minutes until the peppers begin to soften and the flavors blend together.

Top with shredded cheese and serve.
Notes
Cover the skillet loosely for softer peppers
If you prefer bite-sized peppers, chop them into smaller chunks.
Any type of cheese can be used in this recipe or you can leave it out
Nutrition
Serving:
1
g
|
Calories:
600
kcal
|
Carbohydrates:
32
g
|
Protein:
47
g
|
Fat:
32
g
|
Saturated Fat:
14
g
|
Polyunsaturated Fat:
14
g
|
Trans Fat:
1
g
|
Cholesterol:
143
mg
|
Sodium:
622
mg
|
Fiber:
4
g
|
Sugar:
10
g
Nutrition information provided is an estimate and can vary based on cooking methods and ingredients used